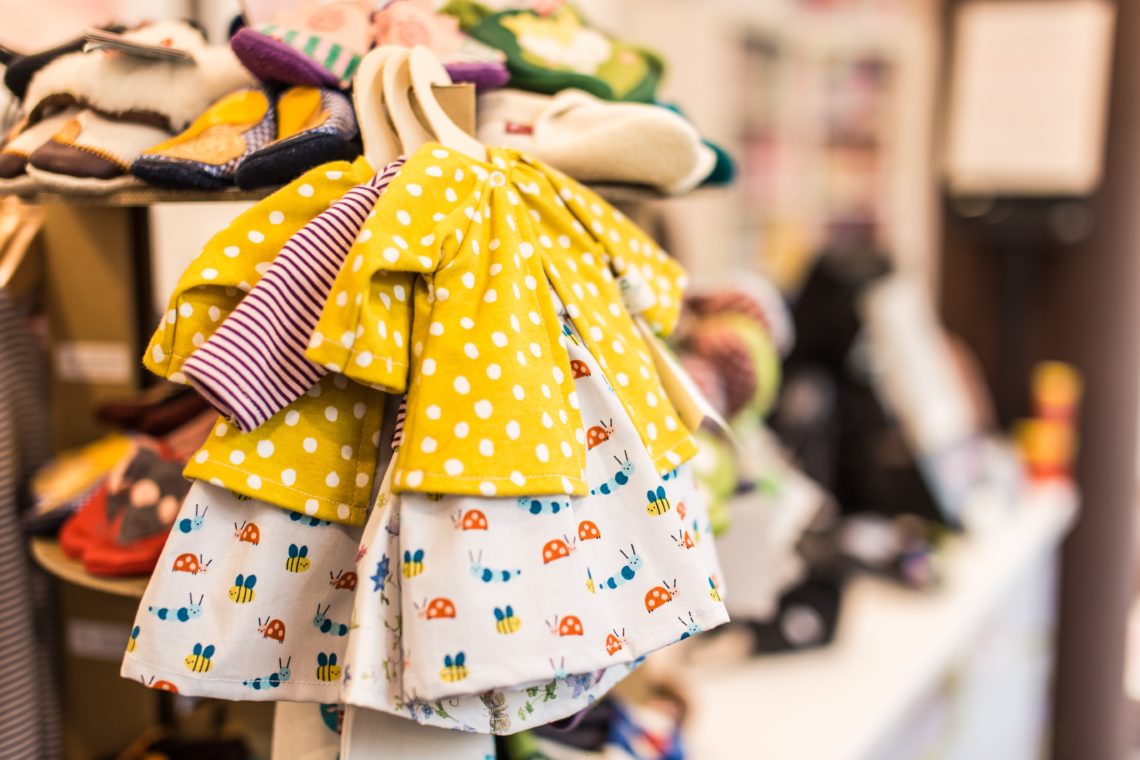 The Ultimate Guide to Stores for Baby, Toddler, and Children's Clothes and Products in Japan
This article has been a long time coming, and I apologize for the delay! If you've read my other articles, I tend to refer to "baby stores" a lot so I thought it might be useful to share a bit about what exactly these baby stores are in Japan and what they offer.
Most of these stores are one-stop shops for almost everything you need for babies, toddlers, and small children. I'm talking clothes, baby and toddler food, snacks, drinks, formula, diapers, wipes, and of course important supplies like strollers, car seats, cribs, and so forth. Oh, and so, so many toys (it can be a dangerous place to go when you need to pick up something quickly but have your toddler with you!). These stores also have online shops so you can also click on the store name to be taken to their website.
I've also created a Google Map that lists where a majority of stores in this article are located in Tokyo, so if you're interested in that you can find it at the end of this article.
Baby and Toddler Clothing Sizes in Japan
Before we get into where to shop in Japan, I thought I should give a quick overview of clothing sizes.
In terms of sizing, clothes for children in Japan are based on height (length) rather than weight. Newborns in Japan typically fit into the 50-60 cm size range. Here is a breakdown of baby and toddler clothing sizes in Japan according to height and kilograms:
Size
 Age
(in months) 
 Height
(cm)
Weight
(kg)
50
0-2
50
3-6
60
3-5
60
6-9
70
6-11
70
9-11
80
12-18
80
11-13
90
18-24
90
>13
Note that babies and toddlers are all different and that goes for sizing as well. They might be too big or too small for clothes in their age range, especially considering that Japanese babies tend to be on the smaller side, and different clothing brands fit differently. For instance, my daughter at 20 months fit perfectly into size 80 clothes from Japanese brands like Uniqlo and Nishimatsuya but the same size 80 clothes from Western brands like Gap and especially H&M were big on her. In fact, she wore some size 80 clothing from H&M up until she was almost four years old!
Stores for Baby, Toddler, and Children's Clothes, Food, Diapers, and Other Products in Japan
There are four main stores for babies and children across Japan: Babies R Us, Akachan Honpo (赤ちゃん本舗・アカチャンホンポ), Nishimatsuya (西松屋), and Birthday (バースディ). These stores offer a similar range of products for babies and toddlers, such as food, toys, furniture, clothing, and diapers.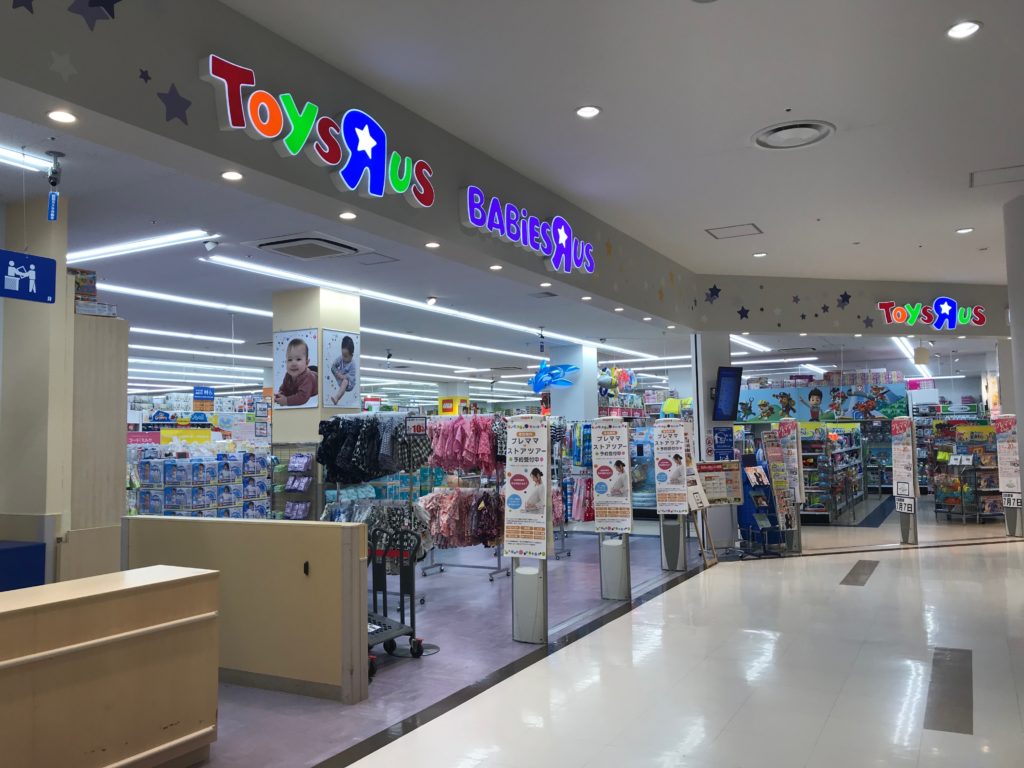 This is a name that you might be familiar with. Although it is typically the more expensive out of the four main stores for babies in Japan, Babies R Us in Japan offers great deals on a range of products when they have sales. For instance, diapers can be quite cheap if you get them on sale and there are frequent 25% off sales for baby food. I love their selection of toys for babies as well.
They have frequent sales where things like tummy time mats, play gyms or activity stations can be up to 60% off, so I always check their online store or flyer if I'm thinking about getting something new for my daughter. (And of course compare the price to Amazon Japan, because Amazon is sometimes cheaper.)
If you sign up for a point card while you're pregnant, you will receive a welcome gift that contains a lot of samples and full-size products, as well as a ton of points that you can use towards future purchases. We've gotten a lot of things "for free" because we used our points to pay for it!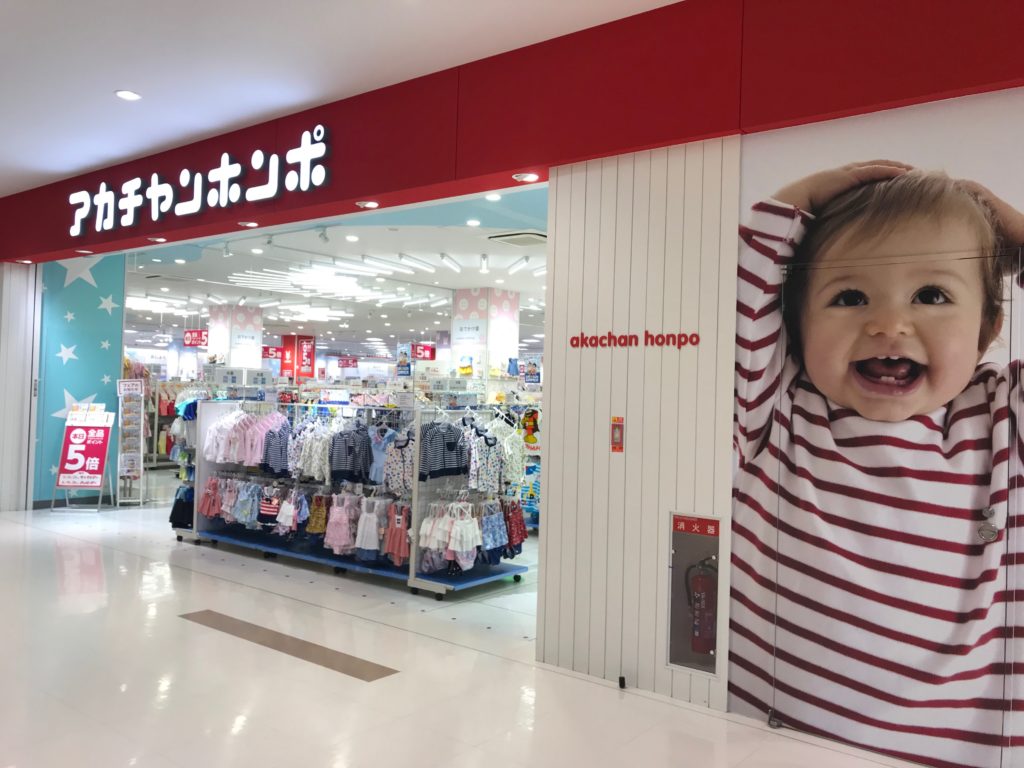 Akachan Honpo is a mid-range store that is sometimes cheaper than Babies R Us depending on the product and sale. We always got our daughter's ICREO formula from here when it was on sale because it was a pretty good deal in comparison to other stores. I'm not a fan of their baby clothes, however, as the quality is a bit lacking.
They also have a free point card so you can accumulate points every time you shop and then use those points towards another purchase. (Keep your eye out for 5x point days.) If you sign up while you're pregnant, you'll get a lot of free products like small packages of diapers for newborns and caffeine-free drinks.
Their online store offers free shipping if your purchase is more than 5500 yen. You can also get your online purchase sent for free, regardless of how much you buy, to a nearby 7-11, Seibu Sogo, or Ito Yokado. How great is that?!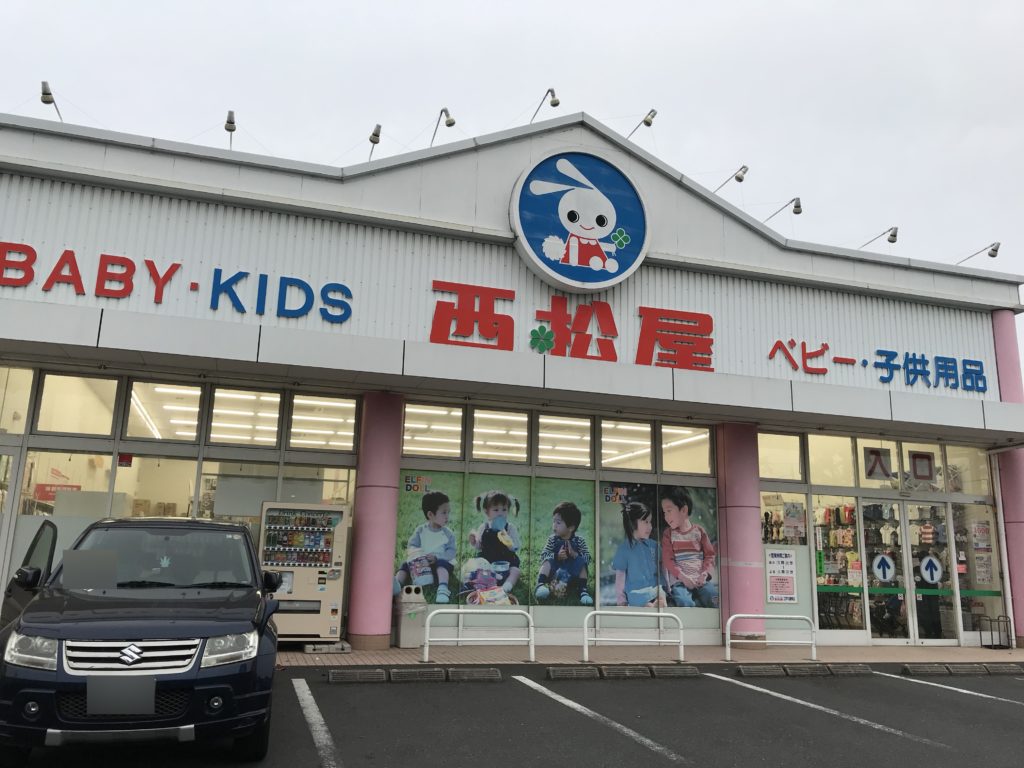 Nishimatsuya is known for its low cost. In fact, their end-of-season sales have brand-new baby and toddler clothes marked down to 99 yen sometimes! You can also get a great deal on diapers and baby food/formula when there's a sale. They also carry a great range of clothes for older kids, including items with popular characters on them like Hello Kitty and Anpanman. Its online store is not the best, however, and you can typically find cheaper deals if you go to the actual store.
Keep in mind, though, that their clothing quality is sometimes not the best and tend to start looking worn after a few washes. Since the prices are so cheap, though, Nishimatsuya is my go-to for getting daycare clothes in Japan.
As of 2021, they also have a free point card via their app!
西松屋 has a point system now! 😮 They also have a little sample set of their Smart Angel baby goods for expecting moms (I wish that had been around when I was pregnant!)

If you want to sign up, just download their app 📱 pic.twitter.com/CqTTgzNsU6

— Kay 🌙 (@tinyintokyo) March 2, 2021
Birthday is owned by Shimamura Group, which operates a variety of popular chain stores in Japan, such as Shimamura, Avail, etc. According to their website, they offer a "wide variety of products for babies and young children in any situation".
I've visited this store once and was impressed with how much they carried, especially when it comes to anime-themed baby clothes like Pokemon, Kimetsu, Anpanman, etc. The prices are also quite reasonable, although their sale items aren't that great. They also don't have an online store, unfortunately.
I think if I had to rank the above stores, Nishimatsuya would be at the top of my list, followed by Birthday, Babies R Us, and then Akachan Honpo.
Online Retailers for Baby, Toddler, and Children's Clothes, Food, Diapers, and Other Products in Japan
Given the current global circumstances surrounding COVID-19, you might be wondering where you can get baby products online. You can buy products online from all of the stores mentioned above except for Birthday. Amazon Japan also offers a huge variety of baby products (pretty much everything you need)
I've mentioned this a few times but Amazon Japan can be an excellent place to get baby products, and can sometimes be cheaper than in stores. You can use Amazon Japan in English and although it's machine-translated, this can be a lifesaver if you can't speak Japanese or prefer to do your shopping in English.
Amazon Japan also has a free baby registry service that you can sign up for. Not only will you get a box of freebies, but having this registry can also help you keep track of what you need, get discounts, and allows family and friends abroad (and of course, those in Japan too) gift you with items that you need for your baby.
This is an e-commerce marketplace that offers a variety of products. Although there are no reviews for sellers/products, we've been pretty satisfied with everything we've purchased from Rakuten for our daughter. For instance, we got a baby gate from here, as well as some stamps to label items for daycare.
This is an online retailer that offers a lot of new as well as second-hand products, such as clothing and toys. We have been using this site to purchase items as well as sell ones that our daughter no longer uses. Once we got a brand-new Fisher-Price toy that was much more expensive on Rakuten, so you can find some pretty amazing deals on Mercari.
Similar to Mercari, Yahoo Auction offers both new and used goods. However, the difference is that some items require you to bid on them. The nice thing about Yahoo Auction is that the sellers aren't as… intense, if you will, when it comes to how you interact with them (some sellers on Mercari will give you a bad review if you don't do something as simple as say thank you after a transaction). We haven't had any negative experiences with buyers or sellers on Yahoo Auction.
Clothing Stores for Babies, Toddlers, and Children in Japan
There are a lot of clothing stores for babies in Japan, so many that I went a bit crazy when I was pregnant and buying things for my soon-to-be-born daughter (oops). Provided this, the list below is only a fragment of where you can get clothes for your little one in Japan.
MIKI HOUSE is a well-known children's brand in Japan. It is quite pricey but the quality is excellent. We got a few items for our daughter from here, such as a jinbei, bibs, a few rattles, hats, and a towelkete (a light blanket that's basically a towel).
If you're looking to get a present for something who has recently had a baby, you can't go wrong getting them something from MIKI HOUSE (MIKI HOUSE has an entire gift section on Amazon Japan, which makes purchasing something for someone and sending it straight to them super easy!).
This is another pricey store in Japan that carries baby goods. When our daughter was born, my husband's coworkers gifted us with a set that included a bath towel, a small bear, and a washcloth, and I loved everything.
UNIQLO offers a great selection of affordable and cute baby clothes. I've spoken about this in multiple posts but I absolutely love their AIRism onesies for summer. I've also been very impressed with their snowsuit for babies as well as their multi-way blanket that can be used on strollers or baby carriers.
I LOVE Baby Gap, especially when they have sales. I've gotten absolutely adorable onesies and dresses for my daughter for as low as 400 yen (maybe some of you who have shopped there before have gotten even better deals!) and the quality has always been great. This store is one reason why my daughter had a lot of clothes as a newborn (I've learned to scale back since then). If you sign up to be a member, you can get additional discounts.
H&M has so many cute, affordable clothes for babies that I admittedly went a bit crazy buying things before my daughter was born. I like this store in particular for its sleepsacks and headbands. Similar to Baby Gap, if you become a member you can get some nice discounts.
I've found clothes from H&M to be quite large on my daughter so because of that, I don't get clothes from there as often anymore.
Zara has a lot of adorable clothing and can be very affordable if you keep your eyes out for end-of-season sales.
I bought maternity clothes from here but didn't get any baby clothes as they didn't suit my style. However, they carry well-made clothes for babies and children, which are an excellent investment if you get them during a sale such as during New Year's.
This store is primarily known for selling cute and super comfy pajamas but they also carry a few baby clothes and products such as 母子手帳 cases, changing pads, and diaper cases.
If you're looking for something traditionally Japanese for your baby to wear in the fall or winter, Sweet Mommy offers absolutely adorable hakama for babies. They also have cute matching mom and baby outfits.
I stumbled upon this store on Instagram and I was instantly hooked by their adorable collection of frilly tutus. I bought my daughter's first birthday outfit from here as well as another tutu set, and I anticipate I'll be getting more when she's older. They also have incredibly cute "birthstone" tutus, so you can get one for your child's birth month!
This is one of my favorite online shops for baby and toddler clothes. They carry brands like Anna Sui Mini, petit main, mezzo piano, and Paul Smith Junior. They usually have sales where you can save up to 20% off your entire purchase, so I make sure to take advantage of that when it's time to update my daughter's wardrobe.
Second-Hand Stores for Baby, Toddler and Childen's Clothes and Products in Japan
As mentioned earlier, you can get (and sell) second-hand clothing online from sites like Yahoo Auction and Mercari. Here are some other stores that you can visit in person or browse online. If you want to go to one of these second-hand stores, I would recommend heading to a more affluent area as the clothes there tend to be better quality and at times brand new.
Personally, I like 2nd STREET as the clothes tend to be of higher quality and sometimes you can find new things that still have the tag attached for as low as 300 yen.
Other Stores for Baby, Toddler, and Children's Products in Japan
This is a great place to get furniture for your baby. We got our daughter's crib from IKEA, as well as a babycare mat, changing mat, and a small wardrobe. She's also completely obsessed with a plush dolphin we got for her on sale for 499 yen and these stacking cups.
Similar to IKEA, Nitori is a home furnishing store that also sells products for babies, ranging from cribs to bibs and diaper caddies. Everything is super affordable and you can purchase items from their online store as well, with free shipping if you purchase a certain amount.
Shimamura carries a small selection of baby goods that are reasonably priced, especially if there's a sale.
10mois has a variety of baby goods, such as furniture, bedding, diaper bags, and of course, clothing. I'm personally a huge fan of their adorable dishes and mats that you can use when your baby starts solids. This store is on the pricier side, however.
This store sells a lot of products from overseas, like Bugaboo strollers and DockATots. You can find a lot of these items online but it's always nice to see the real thing and decide from there whether it's something you want to buy.
---
Keep in mind that there are a lot more stores where you can get products for your child — this is just the tip of the iceberg, especially if you live in a larger city like Tokyo or Osaka. (If you're in Tokyo and interested in higher-end clothing for your little one or to get a very nice gift for someone who just had a baby, you may want to check out Isetan in Shinjuku, which sells popular Japanese brands as well as brands like ANNA SUI, Burberry, Baby Dior, etc.)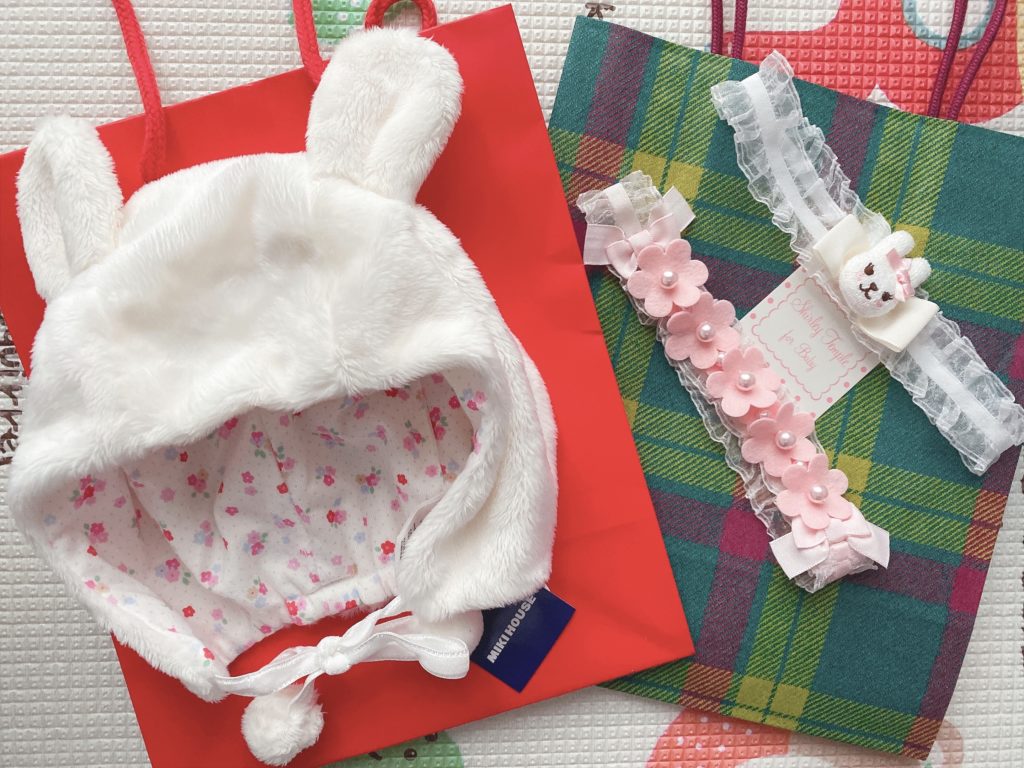 Some cute accessories I got for my daughter from the Shinjuku Isetan when I visited a baby-friendly cafe on their 6th floor.
You can also rent products such as toys and cribs from services like Babyrenta.
If there's any store you feel like should be included in this article, please let me know!
☆
☆
☆
☆
Locations of Baby Stores in Tokyo, Japan