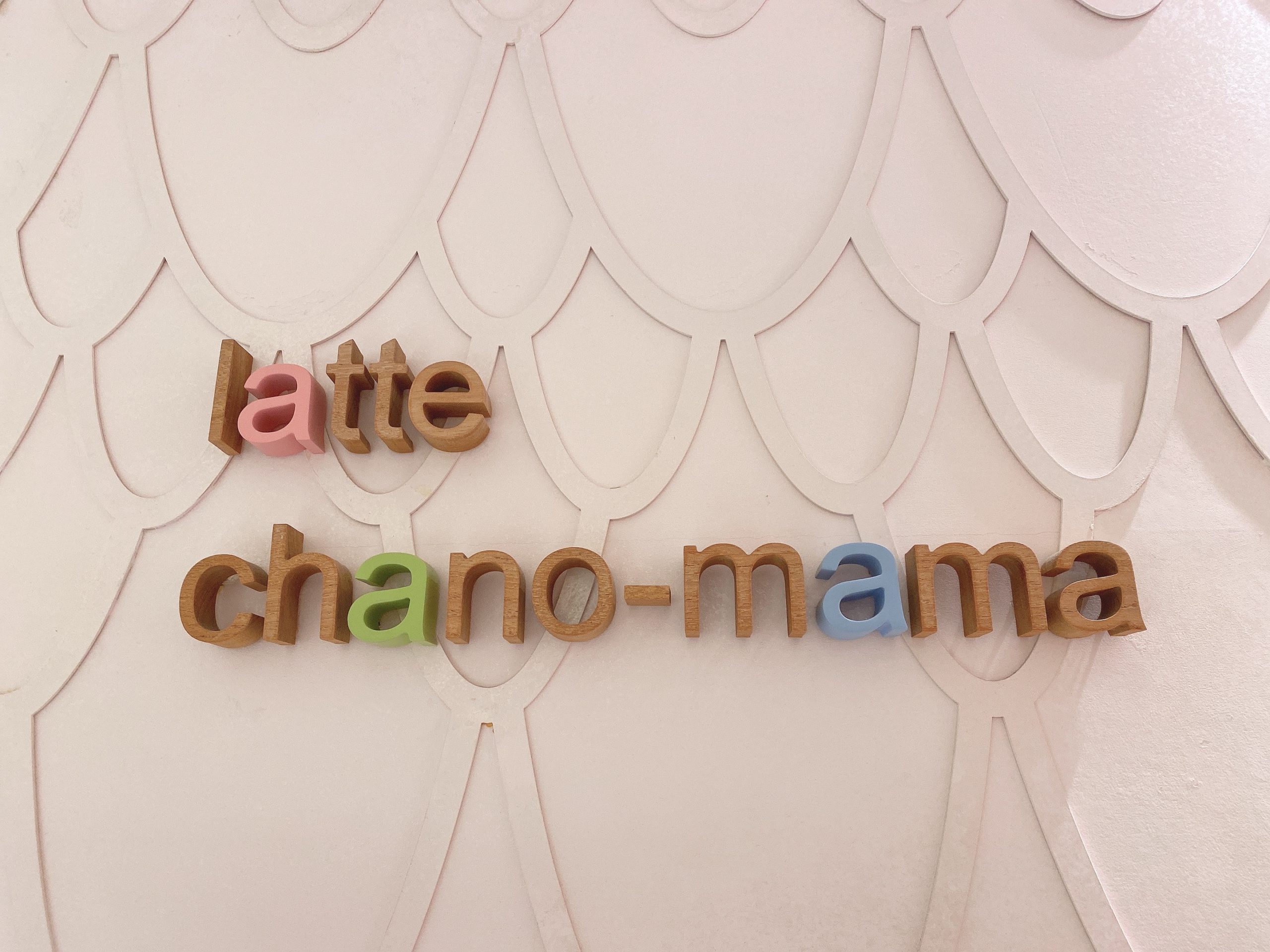 Baby-Friendly Cafes in Tokyo: A Review of latte chano-mama
Having a baby means changing a lot of things in your life, and eating out is one of them. Not many restaurants and cafes are baby-friendly, from a lack of proper changing tables to having to worry about offending other customers. As a mom, however, sometimes you just want to be able to go somewhere and relax with your baby while being served something nourishing (because who has time to cook properly for themselves when they have a baby to take care of?).
This is why one winter day I decided on the spur of the moment that I would brave the train with Baby A and check out latte chano-mama, a popular cafe in Tokyo for moms. Latte chano-mama is a baby-friendly version of chano-ma, which is a cafe chain known for their relaxing and cosy atmosphere. I had gone to several chano-ma locations in both Tokyo and Hiroshima so I was interested to see how the baby-friendly version would be like, especially as its reviews online were relatively high.
Latte chano-mama is located on the 6th floor of Isetan in Shinjuku. I arrived at 1:30 PM, after the lunch rush, and put my name on the waiting list before taking a seat on a bench where some other moms were waiting. One thing that struck me immediately was the number of strollers at the entrance. I felt a little nervous about the thought of leaving my stroller there, especially as I wasn't sure how I would get it out if someone else put their stroller behind mine, but thankfully when it was my time to be seated, I was told I could bring my stroller with me.
The cafe has two different kinds of seating, one resembling a bed where your baby can crawl around while you enjoy your meal, and regular table seating. I chose a table, which may have been why I was seated after a 15 minute wait and allowed to bring my stroller. After I was seated, I was given a large menu and I quickly chose the Special Plate for Mama, which consisted of steak, rice and salad, before popping out briefly to change Baby A's diaper. Thankfully there was a baby changing facility right next to the cafe so I was able to change her diaper and return back to my table within a few minutes.
There was some space next to me for me to lay Baby A down so I put her on a blanket I brought with me (she wasn't constantly rolling over or crawling yet at the time, otherwise it would have been impossible). I felt nervous about her touching the booth seat, though, as it was clear that it needed a slight scrub-down. The cafe overall seemed a bit worn but I think there are very few places for babies and small children in Tokyo that would meet my personal standards in terms of maintenance or cleanliness. (I carry sanitizing wipes all the time.)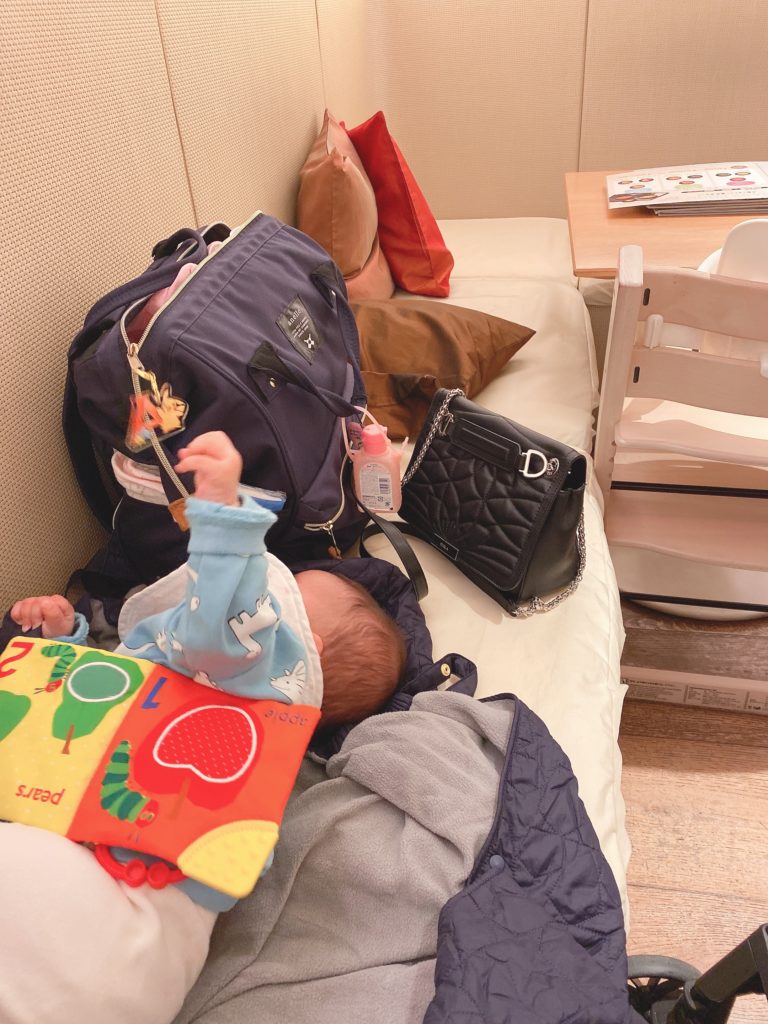 Baby A lying on the booth seat
My food arrived quickly and of course, that was Baby A's cue to start fussing. I ended up feeding her formula and then having my own lunch with her on my lap. One thing I noticed was that the items on the lunch plate were perfect for eating one-handed. It also tasted good with a variety of dishes but at ¥2431, it was expensive for lunch. I also felt like the steak was a bit tough for my liking.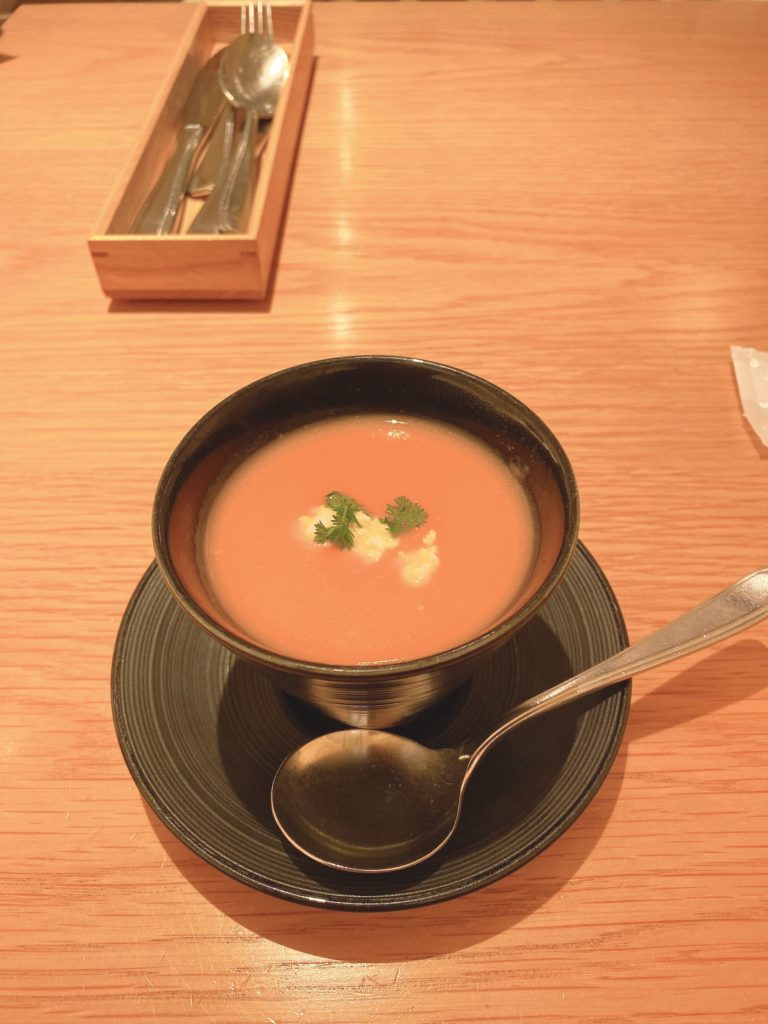 A soup that came with the Special Plate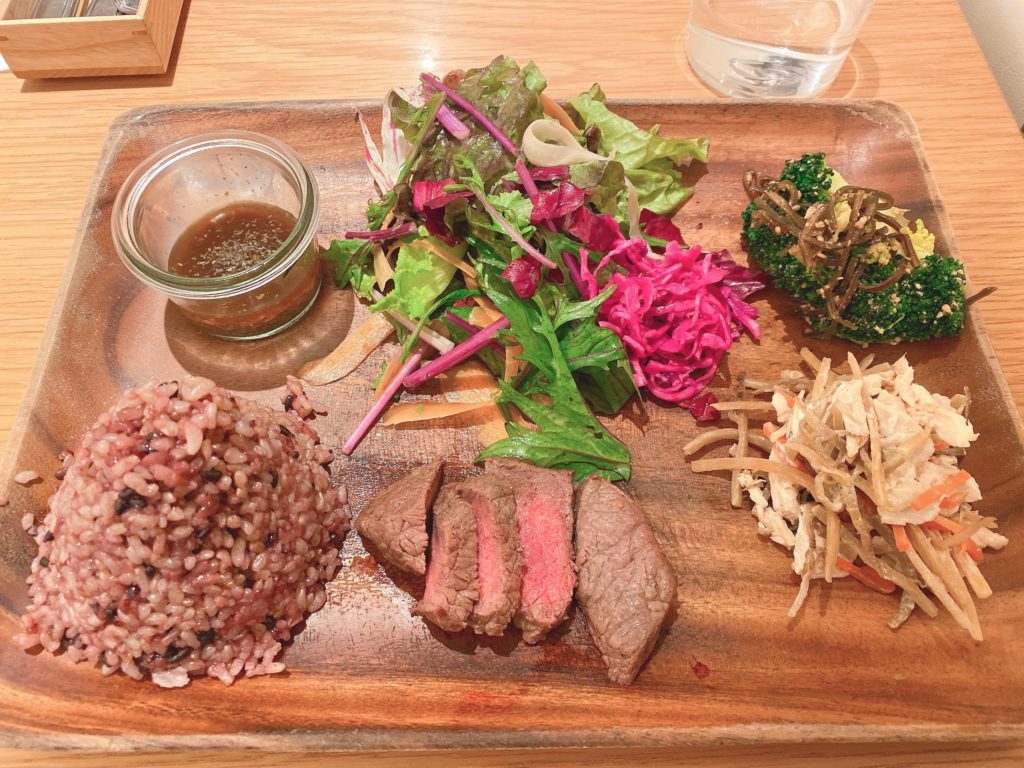 The Special Plate for Mama (子育てママのためのごちそうプレート)

When it came time to pay, I had to wait for a few minutes as the staff were swamped so I had the chance to see some of the moms at the bed seating and it appeared like it was quite difficult for them to lean down and eat. As the table was directly on the bed seating, kind of like a giant tray, it also seemed like it would be easy for a child to knock something over if they weren't being supervised. However, the babies were happy and there was much more space for them to play when compared to the booth seats.
Overall, it was a pleasant experience and I think I would go again, especially with a friend or my husband. Now that Baby A is eating solids, I want to try their baby food plate (月齢にあわせた離乳食), which they adjust according to your baby's age. Chano-ma also has excellent desserts and the ones I saw on the menu at latte chano-mama looked delicious. Lastly, I want to try the bed seating to see how practical it really is, although the germaphobe in me is a bit worried about letting Baby A crawl around where other babies have been moments before and people have put their feet. (I'm hoping the staff take a moment to wipe down and sanitize the area but my husband said not to hold my breath.) I'll make sure to update this post when I go again.

Latte chano-mama is expensive, though, so that's something to keep in mind if you want to go with a friend, and there's usually a wait so I recommend making a reservation in advance if you can. When I left at 2:30 PM, there was a line of moms waiting. The nice thing is that you can look around the floor while you wait, which has lots of baby goods (although again, perhaps not so nice for your wallet!).

Latte chano-mama also has workshops once a month, usually consisting of baby handprint art, so it might be something worth checking out if you're interested.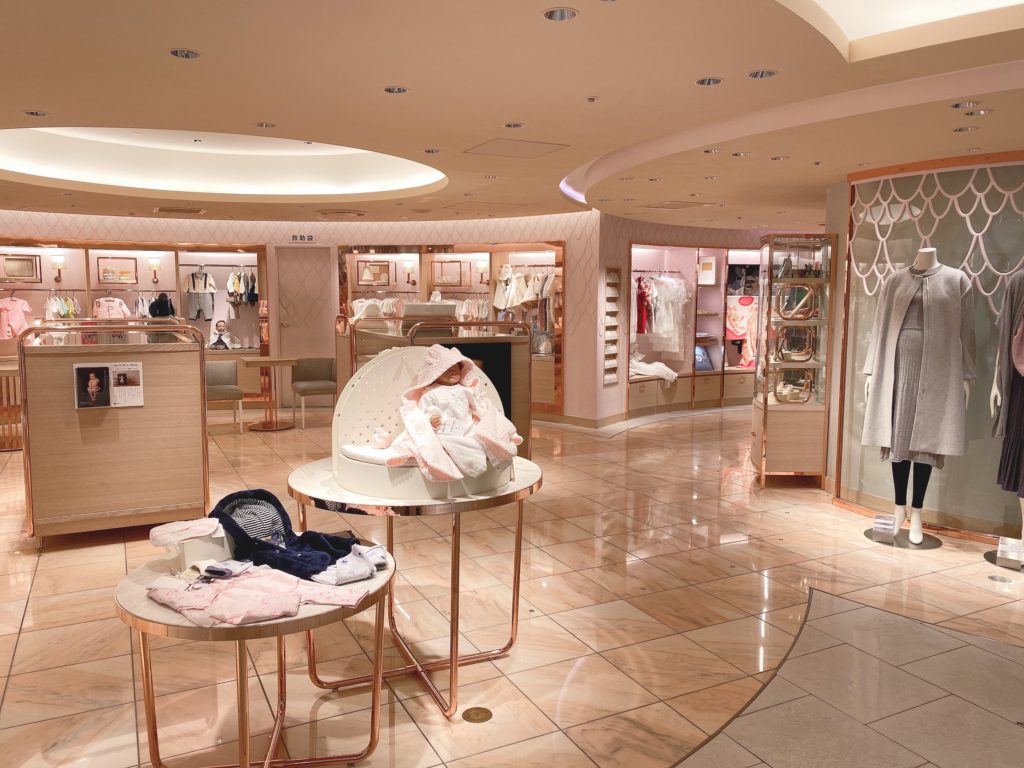 One of the stores selling baby goods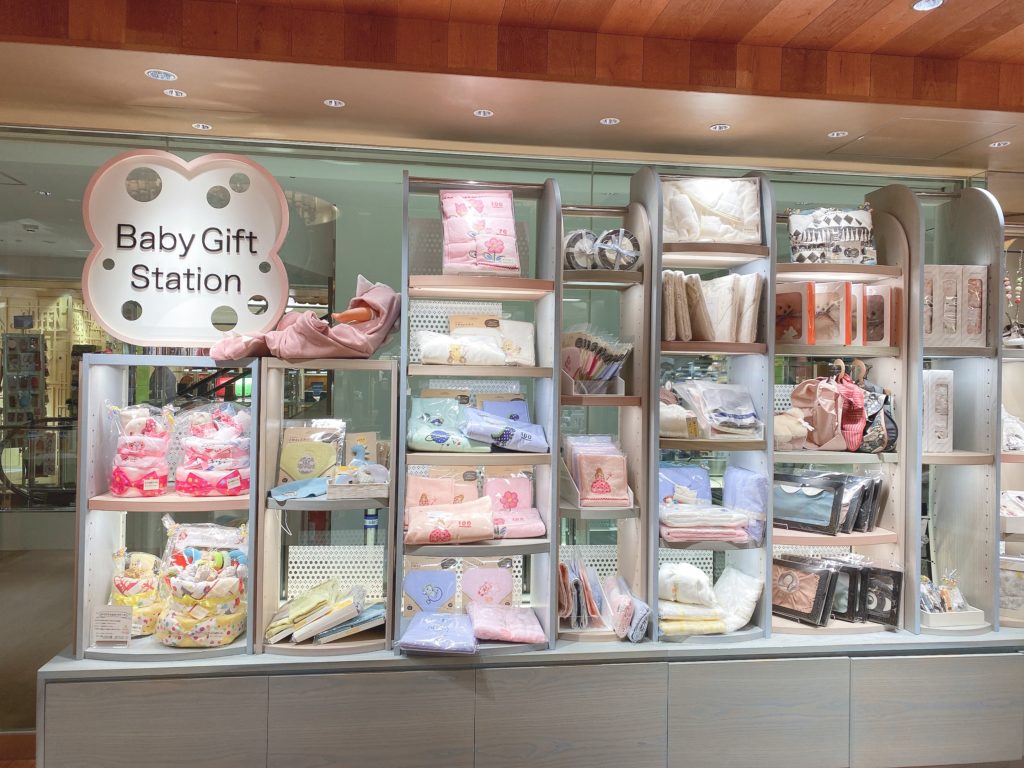 latte chano-mama

☆Address:
3-14-1 Shinjuku Shinjuku-ku Tokyo
Shinjuku Isetan 6F Main Building

☆Telephone #:
03-5341-4417

☆Hours of Operation
10:30~20:00
For more information, check out their website.

---

This is not a sponsored post.