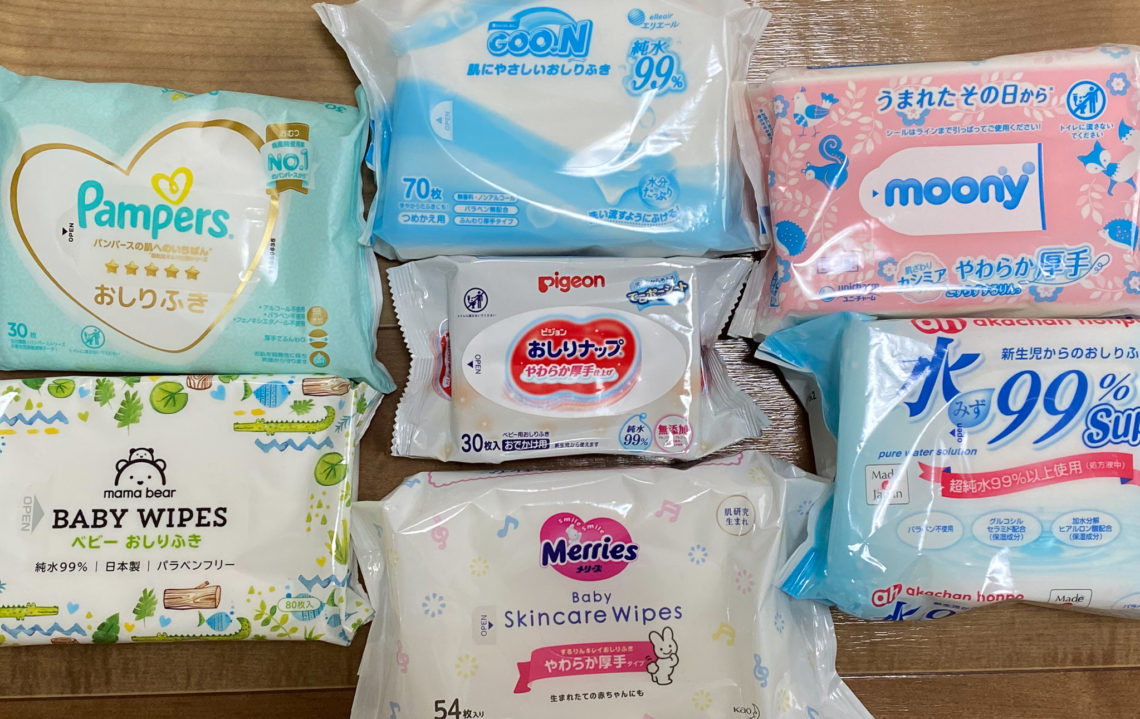 Reviewing Baby Wipes in Japan
There's a lot to learn for first-time parents when it comes to all the different baby products out there, so similar to my review of newborn diapers in Japan and M-size pull-up or pants-type (パンツタイプ) diapers, my husband and I reviewed seven different baby wipes (おしりふき) in Japan. Specifically, we looked at factors such as scent, moisture, performance, thickness, texture, durability, usage, and cost. We also used all of these wipes on our then 13-month-old daughter over the course of a month (and made sure to finish each package).
Hopefully, the information in this article will help not only new parents narrow down what to use on their newborn's delicate little tush but parents with older babies or toddlers as well. In fact, we changed the wipes we were religiously using for over a year after doing this review, so I wish we had done it earlier!
Note that this review only covers non-flushable wipes. Flushable wipes (流せる, nagaseru) are typically used when your child has harder poops that can be flushed alongside the wipe down the toilet (this can be a personal preference too if you want to ensure your home is free of odor) or when a child is toilet-training.
Wondering about how to tell the difference when purchasing? Flushable wipes will have this illustration (encircled on the bottom left side of the image below in purple):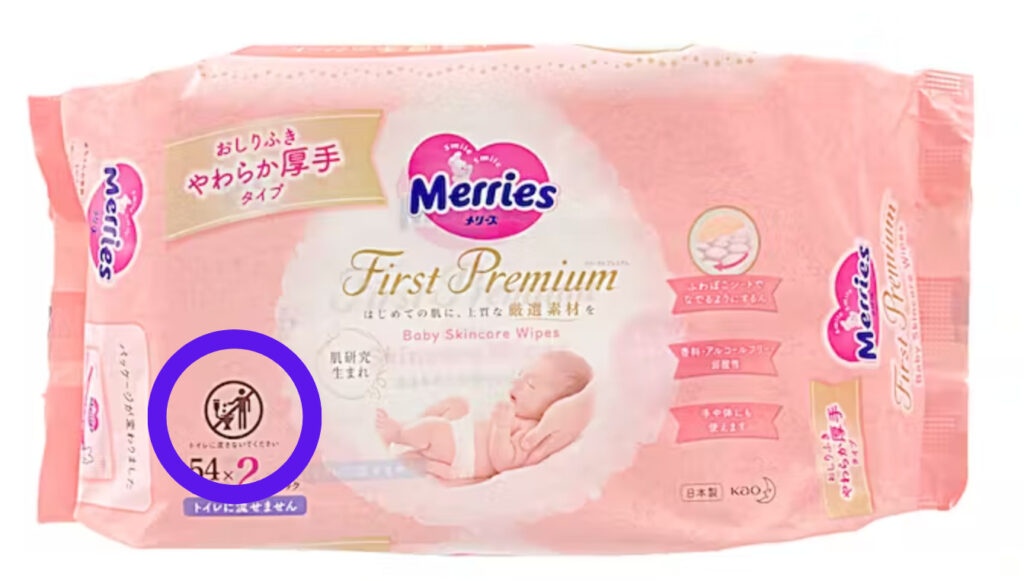 While flushable wipes will have 流せる (flushable) written on the package (below on the green part):
If you're interested in any of these baby wipes, click on the name or image of the package to find out more or to purchase online.
Baby Wipes in Japan — The Contenders
Thick wipes (厚手)
Additive-free (無添加), alcohol-free (ノンアルコール・アルコール不使用), paraben-free (パラベン無配合・パラベン不使用)、phenoxyethanol-free(フェノキシエタノール不使用)
Mildly-acidic (弱酸性)
Contains lotion that helps protect skin from irritation
Dermatologist-tested
Made in Spain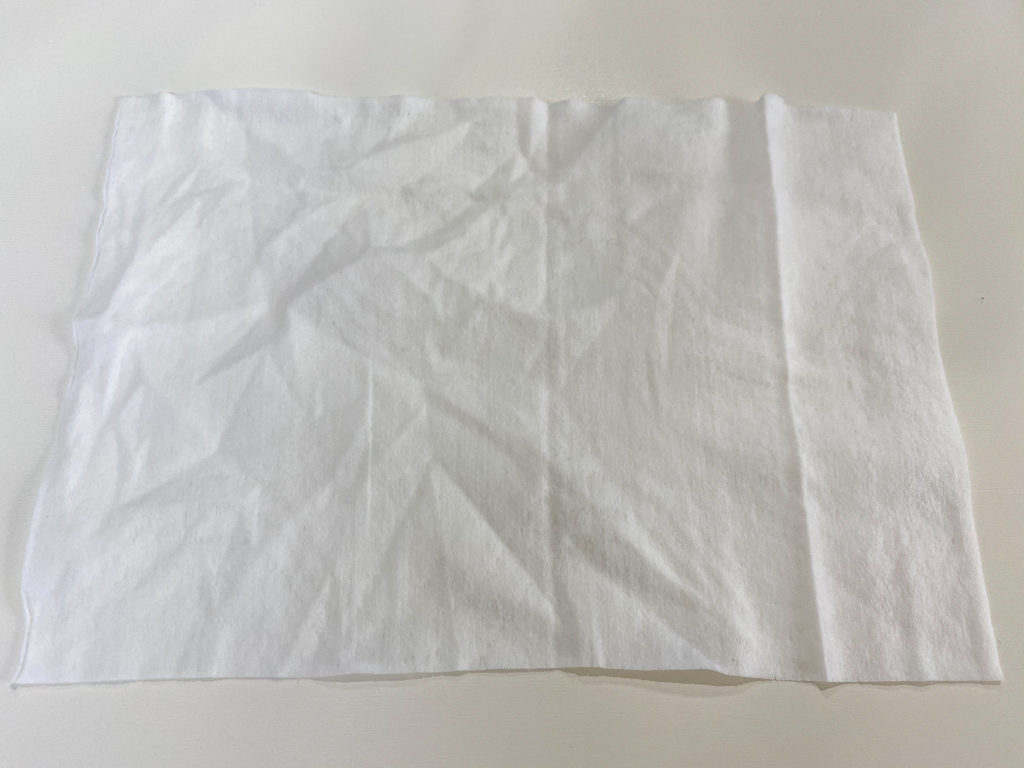 Pampers wipes are thick and gentle on the skin. Their website claims that one wipe is enough to clean up messes.
Similar to their diapers for newborns, Pampers baby wipes are widely used by hospitals and clinics in Japan for newborn babies. In fact, these were the first wipes we used on our daughter in the hospital. At the time my husband and I had never used baby wipes before but we both remember liking Pampers wipes because they were durable (the second thickest among the wipes we tested), moist, and gentle on our daughter. We decided against buying them, though, because these wipes are expensive. However, one thing we noticed with the more pricey wipes when we tried them again on our daughter almost a year later was that we needed fewer of these wipes in comparison to the cheaper thin ones.
One drawback was that these wipes had a bit of a chemical smell to them, almost like chlorine. We did not recall such a scent when we used them on our newborn but as Pampers wipes were the first we had ever used (and given that we were exhausted), perhaps we just didn't notice. (I thought it might have been the package I got, so I went and got another, and sure enough, the smell was still there.) The texture of the wipe felt quite rough to us as well, but that likely helped with cleaning up messes incredibly well as these wipes did the best job when it came to cleaning poop.
These wipes were voted third-best in a poll asking mothers in Japan which wipes they preferred for newborns. 
Thick wipes
Non-flushable
Fragrance-free, alcohol-free
Dermatologist-tested
Mildly acidic
Made in Japan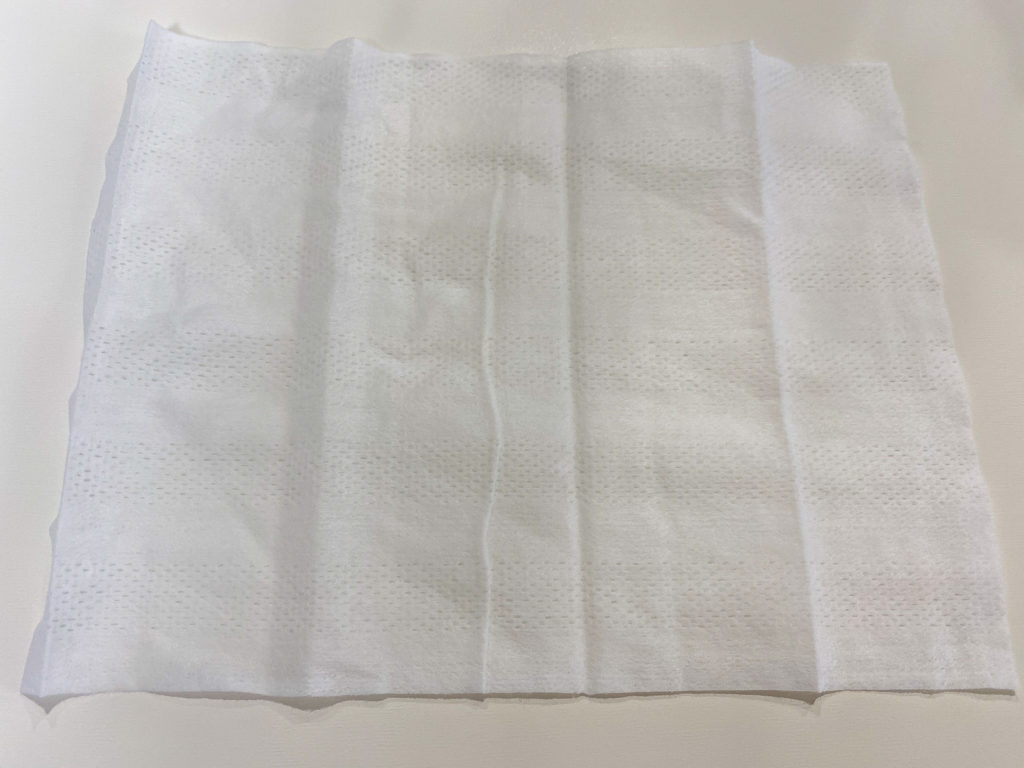 As mentioned in my articles on diapers in Japan, Merries is a very popular brand with Japanese parents. These wipes are supposed to be gentle on the skin due to their all-natural moisturizing ingredients and similar to Pampers, in their description online they claim that you only need one wipe to get the job done.
My husband and I were pleasantly surprised with their wipes and after doing this review, we ended up converting from the wipes we had been using for a year and buying a box of Merries wipes during an Amazon Family sale.
These wipes were the thickest and most durable out of all of the wipes that we tried. They were also moist but not sopping and felt incredibly soft, almost like cloth, with a small dotted texture throughout, which helped immensely with cleaning up messes. According to their website, these wipes also contain a lotion that aids in getting runny poop and sticky poop off your baby's bottom. We didn't have to use many wipes in comparison to the other brands — in fact, as they claimed, most of the time we only needed one wipe, maybe two at most, so although Merries wipes can be costly if you don't buy them on sale, it's far more cost-effective in the long-run.
These wipes are included in the free Amazon Japan Baby Registry Welcome Box (as far as I know for 2020; it was not included in my 2019 box) so if you want to try it out, I suggest signing up because it will cost you zero yen to find out if these wipes are for you and your baby. (Had I gotten these wipes in my welcome box, I probably would have continued using them!)
Note: I have been using the flushable version of these wipes since my daughter began toilet training at age two, and I'm still using them! They're super durable yet gentle and clean nicely.
Thick wipes
Easy to pull out of the package
Moisture-rich 3-layer structure
Contains 99% purified water
Additive-free
Non-flushable
Made in Japan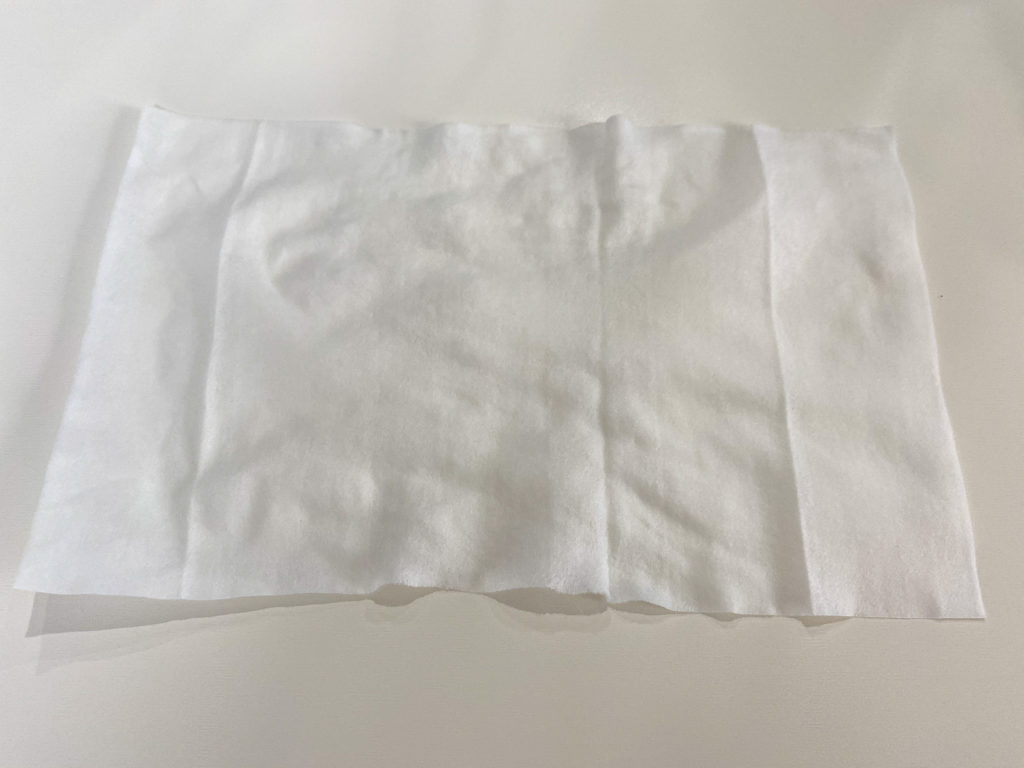 After trying out a few different baby wipes when our daughter was a newborn, my husband and I had settled on Moony because it was affordable yet good quality. The wipes are moist and durable, are among the thicker and larger wipes in the bunch, and rarely do several come out of the package at once when you're using them. We also found these were the softest and smoothest wipes out of all the ones we tested (true to their claim of feeling like cashmere or "肌ざわりカシミアタッチ"), although that sometimes isn't the best thing as a more textured wipe can be better at cleaning up messes (like Pampers and Merries).
These are the only baby wipes that indicate when you're about to finish the package as the fifth-last wipe in a package is marked with a blue line. My husband and I found this immensely useful, especially with a newborn because then we knew to have an extra package close by as we were going to run out soon.
Moony wipes came in second place in a poll given to mothers in Japan about the best wipes for newborns. 
Thick wipes
Contains 99% purified water
Additive-free, alcohol-free, paraben-free, scent-free
Non-flushable
Made in Japan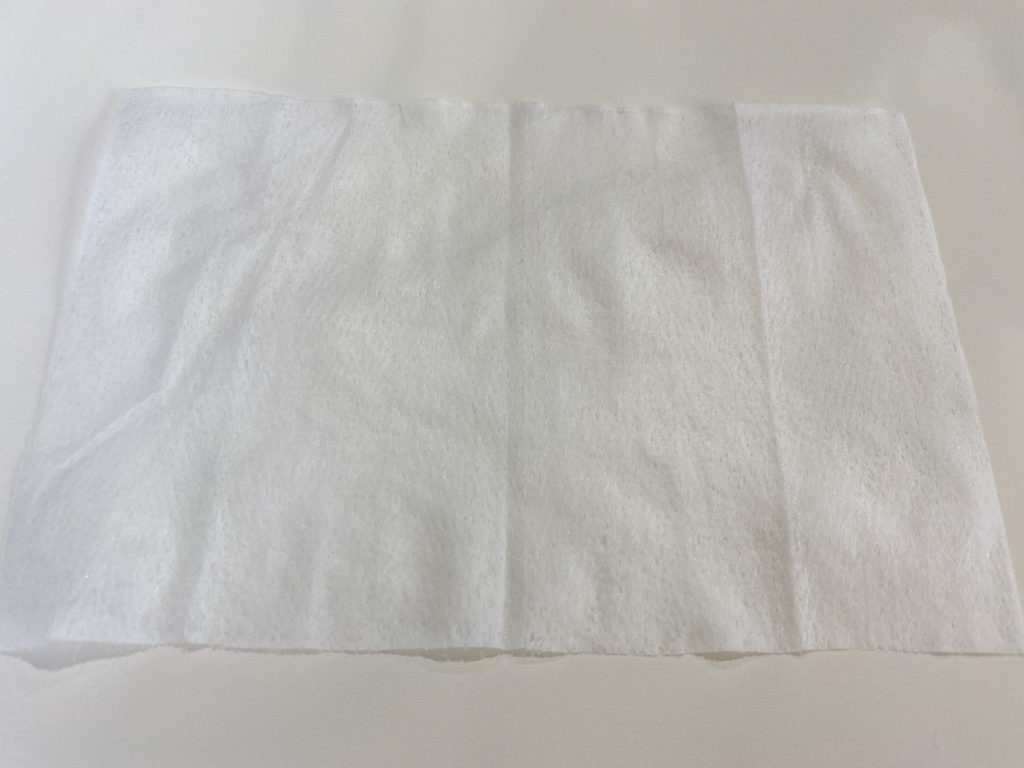 Like with most GOO.N products, these wipes are low in cost. We found they were moist and didn't stick together when we pulled one out of the package, which was nice. These wipes had a slight scent to them and felt a tad bit rougher than the other wipes, likely because they were textured to help catch messes. However, despite being labeled as "thick-type" wipes, they seemed quite thin, meaning that they stretched, tore easily, and were flimsy, so these wipes are perhaps not the best to use if you want to keep your hands relatively clean.
Thin wipes
Affordable
Contains 99% ultrapure water
Paraben-free, propylene glycol-free
Contains a moisturizing ingredient (hydrolyzed hyaluronic acid) to keep skin soft
Mildly acidic
Non-flushable
Made in Japan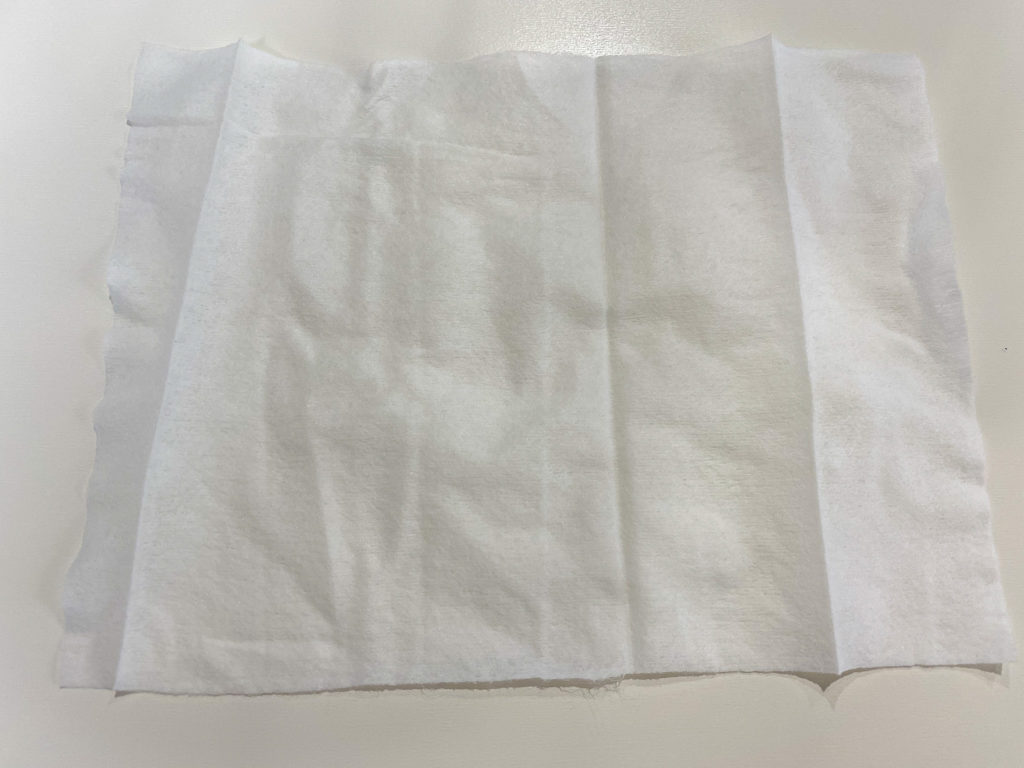 Although these wipes are budget-friendly and very moist, which makes it a popular choice for parents in Japan, it wasn't without some issues. Akachan Honpo wipes had the tendency to stick together when you try to pull out only one, which we found very frustrating, and dried out quickly, so if you don't use these wipes often (for instance, if they're in your diaper bag and you don't go out too often, especially during these ever so fun COVID-19 times), you may end up having to throw the package away. However, mothers in Japan didn't seem to have much of a problem with these wipes and voted for them as their favorite for newborns in 2022.
The reviews for the thick wipes on the Akachan Honpo website are higher than the thin so if I have the chance, I want to try the thick wipes as well and update this review with that information.
Thick wipes
Contains 99% pure water
Additive-free, paraben-free, fragrance-free, and alcohol-free
Textured design
Affordable
Non-flushable
Made in Japan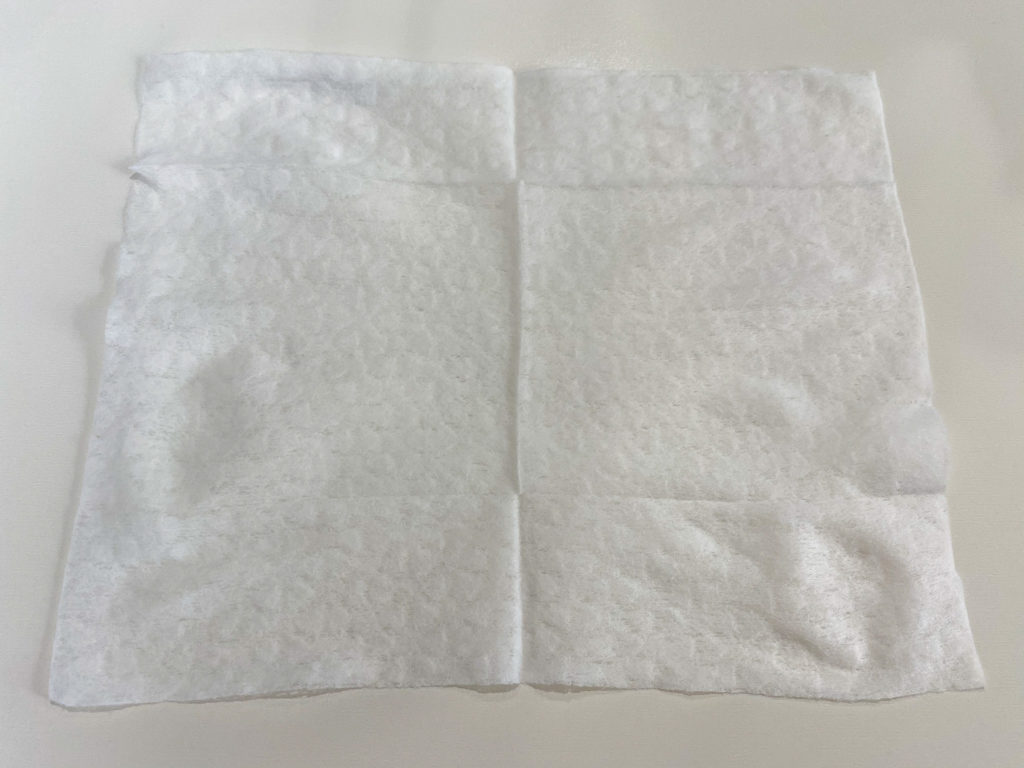 We bought these when our daughter was a newborn because of the familiar brand and low cost (1 yen per wipe!). Pigeon claims that these wipes are gentle for newborns and you only need to use one to clean your baby. Unfortunately, these proved to be disappointing as they are quite thin despite being 厚手 wipes and are not as moist as some of the other brands, drying out quite quickly.
These wipes have a textured design that is supposed to help with clean up but we found that it was more smooth than でこぽこ as they claimed. But these wipes are indeed soft!  The ones used in this test were travel-sized so if you need wipes to take on the go, then these are an okay option.
Thin wipes
Contains more than 99% pure water
Non-flushable
Affordable
Made in Japan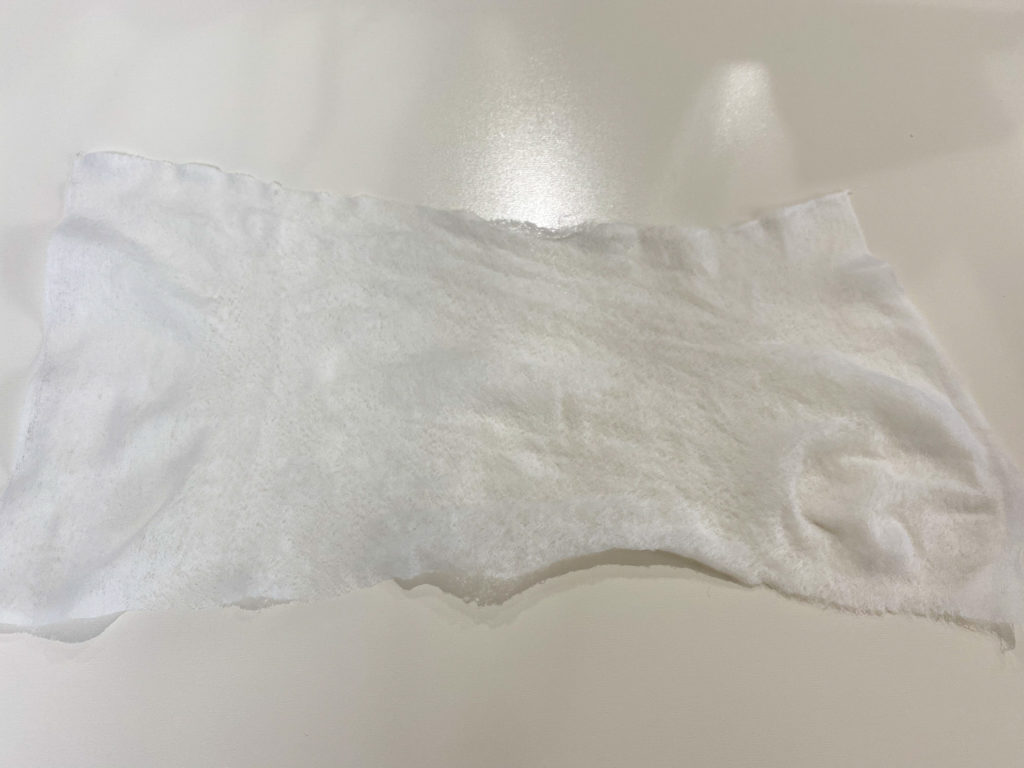 Mama Bear is an Amazon brand and has a variety of baby products, such as wipes and diapers. We received a package of these for free from the Amazon Japan Baby Registry Welcome Box and thank goodness we did because these were the most disappointing wipes out of all the ones we tried. The size made it difficult to use, they were incredibly thin, tore easily, and dried out very quickly. But if you sign up for the Amazon Japan Baby Registry and get these for free, it's a good chance to see what thin wipes are like without having to spend any of your precious yen.
Cost per Baby Wipe
Below are the online prices per wipe from popular retailers for baby products in Japan. Keep in mind that thicker wipes tend to be more expensive than thinner wipes (see the section on "Baby Wipes in Japan – Thickness" below) — however, you will likely use less thick wipes than thin when cleaning your baby's bottom.
| | | | |
| --- | --- | --- | --- |
| Wipe | Akachan Honpo | Amazon | Babies R Us  |
| Pampers | ¥4 | ¥3 | ¥4 |
| Merries | ¥3 | ¥3 | N/A |
| Moony | ¥2 | ¥2 | ¥2 |
| GOO.N | N/A | ¥1 | N/A |
| Akachan Honpo | ¥1 | ¥2 | N/A |
| Pigeon | ¥1 | ¥1 | ¥1 |
| Mama Bear | N/A | ¥1 | N/A |
Prices as of Wednesday, October 28, 2020. These prices are subject to change, for instance if there's a sale or if you're buying in bulk or single packages. The prices listed above are for the cheapest bulk packs of wipes.
Based on these prices, Pampers is the most expensive while Mama Bear, Pigeon, and Akachan Honpo are the cheapest. Note, however, that the Akachan Honpo wipes looked at in this review were thin ones (Akachan Honpo thick wipes are 3 yen per wipe). Therefore, Pigeon is the cheapest thick wipe out of the lot. However, despite the Akachan Honpo wipe being thin, its performance was actually quite good for the price and better than some of the thicker wipes!
Tips to Get Cheaper Baby Wipes in Japan
Sign up for store mailing lists, download their app, friend them on LINE, and make a point card
Stores like Babies R Us, Akachan Honpo, and Nishi Matsuya have frequent promotions and discounts for diapers, which you can find out about right away if you sign up for their mailing list, download their app, or add them on LINE. You can also sometimes get exclusive discounts or coupons if you sign up for a Babies R Us or Akachan Honpo point card (if you're currently pregnant, you'll also get free diaper samples as well as other goodies if you sign up so if you haven't already, I highly recommend it). Even if you don't have a Babies R Us store nearby, the online store (as well as Akachan Honpo) offers free shipping if you buy a certain amount so it's worth looking into.
Check online flyers for stores
As mentioned above, stores have promotions on diapers and if you don't want to sign up for their mailing list, take a look at their online flyer to see the latest deals.
Join Amazon Family or Rakuten Mamawari
By joining one or both of these, you can get discounted diapers.

Amazon Family offers a variety of discounts for diapers, wipes, and other products for all members and 15% off diaper subscriptions if you are a prime member. You also get a 300 point (300 yen) present for signing up and there is no fee involved whatsoever, even if you're not a prime member. (Yay free money!)
Rakuten Mamawari (楽天ママ割) offers coupons as well as special discounts. You can also enter to try to snag a free box of samples that are given to 150 lucky winners every month.

Buy in bulk
Buying wipes in packs tend to be cheaper, especially if a store is having a promotion. However, it's always a good idea to try one or two packages of a certain baby wipe first before committing to buying in bulk in case you or your baby doesn't like it.
Baby Wipes in Japan — Size
| | | |
| --- | --- | --- |
| Wipe | Length* (cm) | Width (cm) |
| Pampers | 19 | 14 |
| Merries | 20 | 15 |
| Moony | 20 | 13.5 |
| GOO.N | 18.5 | 13 |
| Akachan Honpo | 20 | 14 |
| Pigeon | 19 | 15 |
| Mama Bear | 18 | 15 |
Overall, Merries wipes are the largest in size while GOO.N wipes are the smallest. Although Merries wipes are large, I didn't find them that difficult to handle, perhaps because they were thick and sturdy, which made them not flimsy like some of the others.
Baby Wipes in Japan —  Scent
Most of the wipes didn't have any scent to it; however, Pampers, GOO.N, and Pigeon did give off some type of smell compared to the others. Pampers smelled a bit like chlorine, GOO.N my husband and I couldn't exactly put our fingers on (I have, "smells a little bit weird" written in my notes) while Pigeon had a faint alcohol scent to it.
Baby Wipes in Japan —  Smoothness and Texture
This was a bit difficult to rank because, as mentioned earlier in this article, more textured wipes are better at cleaning up messes. However, smoother wipes feel better on the skin and therefore may be less irritating.
When looking at the smoothness, we ranked the wipes as follows:
Moony
Pigeon
Akachan Honpo
Mama Bear
Merries
Pampers
GOO.N
In terms of texture, the ranking is almost a reversal of the above:
Pampers
Merries
GOO.N
Pigeon
Moony
Akachan Honpo
Mama Bear
Baby Wipes in Japan —  Moisture
Below is our ranking in terms of moisture. We felt the wipes straight out of the package and then about 30 minutes later after leaving them out.
Pampers
Merries
Moony
GOO.N
Akachan Honpo
Pigeon
Mama Bear
We found that Pampers was the moistest (according to my husband, "It's almost too moist" if that's even a thing). Akachan Honpo would have been ranked higher had it not dried out so quickly. Pigeon was a little drier while Mama Bear was both the least moist out of the package and dried out quite quickly.
Baby Wipes in Japan —  Performance
As mentioned earlier, my husband and I tested the performance of these wipes by using them to clean our daughter over the course of a month until each pack was finished. We also looked at how efficient the wipes were at cleaning up a streak of peanut butter on the kitchen table. (My husband was incredibly grossed out by the photos and is horrified that I'm posting them but it's just peanut butter!)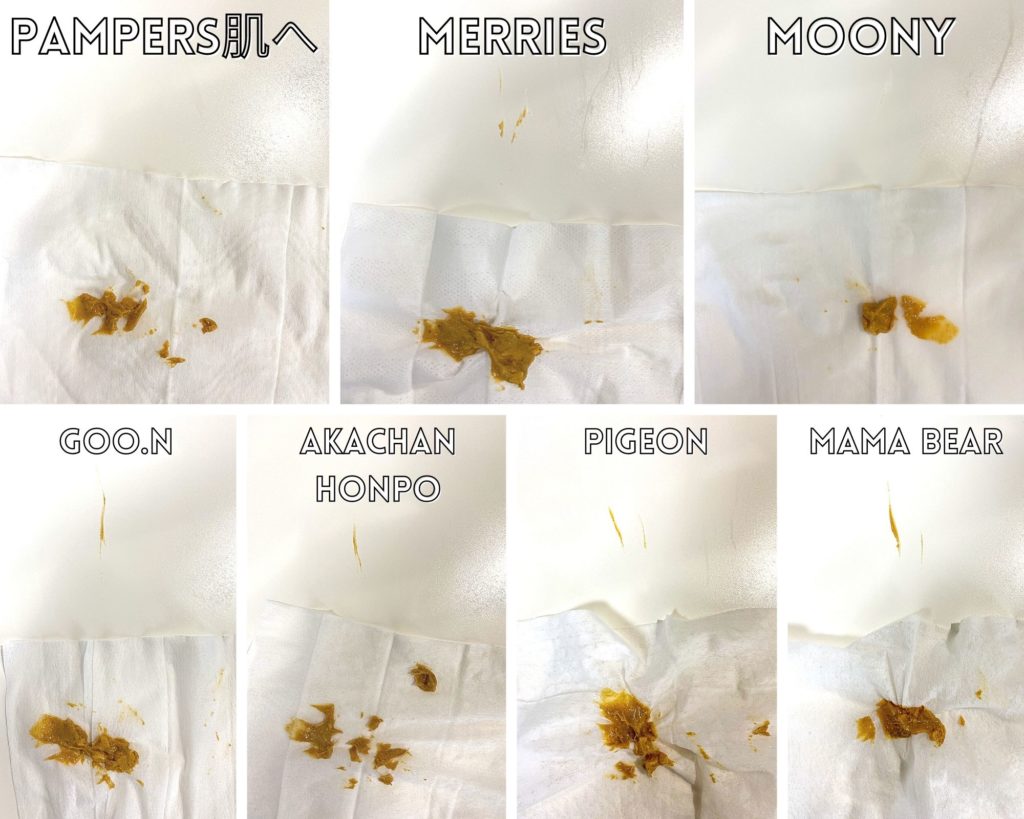 In terms of how well the wipes cleaned up messes, here is our ranking:
Pampers, Moony
Merries
Akachan Honpo
Pigeon
GOO.N
Mama Bear
Pampers and Moony wipes were both impressive at cleaning up both peanut butter and baby with only one quick and effortless swipe! Merries did leave some peanut butter behind but we found it easy to use on the baby as the wipe fit our hands perfectly. My husband and I also found that since it was thicker than Moony, our hand felt less… soiled, if you will, after using it. The other wipes performed relatively equally decently except for Mama Bear (surprise, surprise…).
Baby Wipes in Japan —  Thickness
Thicker wipes tend to be more durable and better at cleaning up messes (like poop) than thinner wipes but with it comes a higher price and less wipes in a package. Thick wipes in Japan are called 厚手 (atsude) while thin wipes are called 薄手 (usude). Given that thicker wipes are more expensive, some Japanese parenting blogs recommend using them to clean your child after they poop and use thin wipes for pee.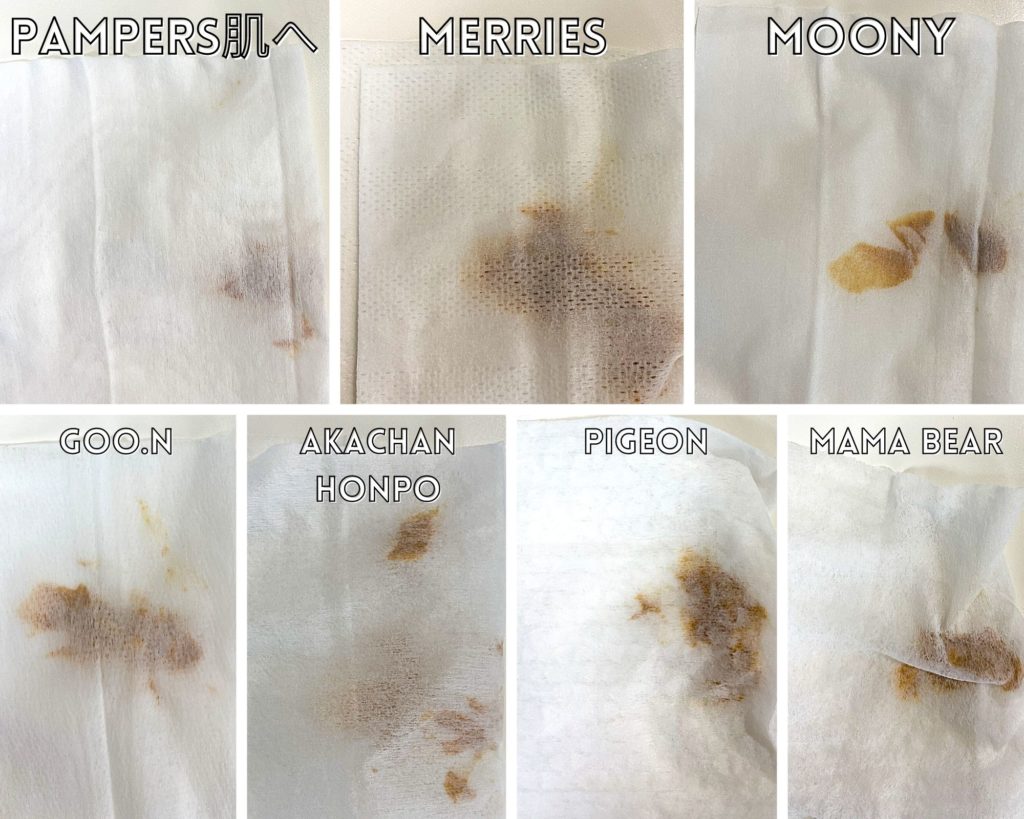 A picture of the "poop" inside the wipes to try help give you an idea of the thickness of each wipe
As mentioned earlier, most of the wipes we tested were labeled as "thick" except for Akachan Honpo and Mama Bear, so we omitted those two from this ranking. (However, Akachan Honpo's thin wipe is actually quite good and I dare say a bit better than GOO.N and Pigeon's wipes.)
Merries
Pampers
Moony
GOO.N
Pigeon
Baby Wipes in Japan —  Durability
This was also another category that was difficult in terms of ranking as most of the wipes did stretch and tear if enough force was applied. When thinking about it, though, durability in a wipe isn't necessary that important because when using it to wipe a baby's nether regions, you're unlikely to tear or stretch it.
Pampers
Merries
Moony
Akachan Honpo
Pigeon, GOO.N
Mama Bear
Baby Wipes in Japan — Overall Ranking
Based on everything we looked at above, here is our overall ranking of the above baby wipes in Japan from best to worst:
Merries
Pampers
Moony
Akachan Honpo
Pigeon
GOO.N
Mama bear
Although Pampers performed the best overall, we couldn't get over the smell and its cost, so those factors knocked it down to second place. Having used Moony for a year, we found it was a good brand but we preferred Merries over it in the end as Merries wipes are thick, cleaned our daughter well, gentle, and were easy to use. As mentioned at the beginning of this article, we ended up switching to using Merries baby wipes for our daughter after examining the wipes above and using them on her. I truly wish we had done it earlier! Merries wipes weren't included in my particular Amazon Japan Baby Registry Welcome Box, which I received in 2019, but there is a package in the 2020 one — if I had gotten it, I definitely would have used Merries from the beginning.
This also isn't to say that all of the other wipes are inferior (for instance, Moony outperformed Merries on the peanut butter test), this was just our preference after comparing the wipes. We used Moony for over a year and were quite satisfied with it, so if you want to try something cheaper, I would recommend starting with that brand for thick wipes, or Akachan Honpo for thin ones (if you think you can handle multiple wipes coming out of the package at once… and when you're a new mom, it can be very frustrating when that happens).
For newborns, I would recommend Pampers if you're okay with its scent because its textured surface is excellent for cleaning all different kinds of newborn poop. In fact, Pampers probably would have been in the top place if it wasn't for its high cost and scent.
As a reminder, if you're interested in getting free samples of baby wipes in Japan, check out this article on the free Amazon Japan Baby Registry Welcome Box or this article on additional ways to get free samples of baby products in Japan.
Also, if you want to keep your wipes moist, it's a good idea to invest in a lid (or several) like the one pictured below, which you can find at any 100 yen store, baby store in Japan, or Amazon Japan. (Keep in mind that if your child is anything like mine, they will derive lots of joy from ripping these off the package once they're able to.)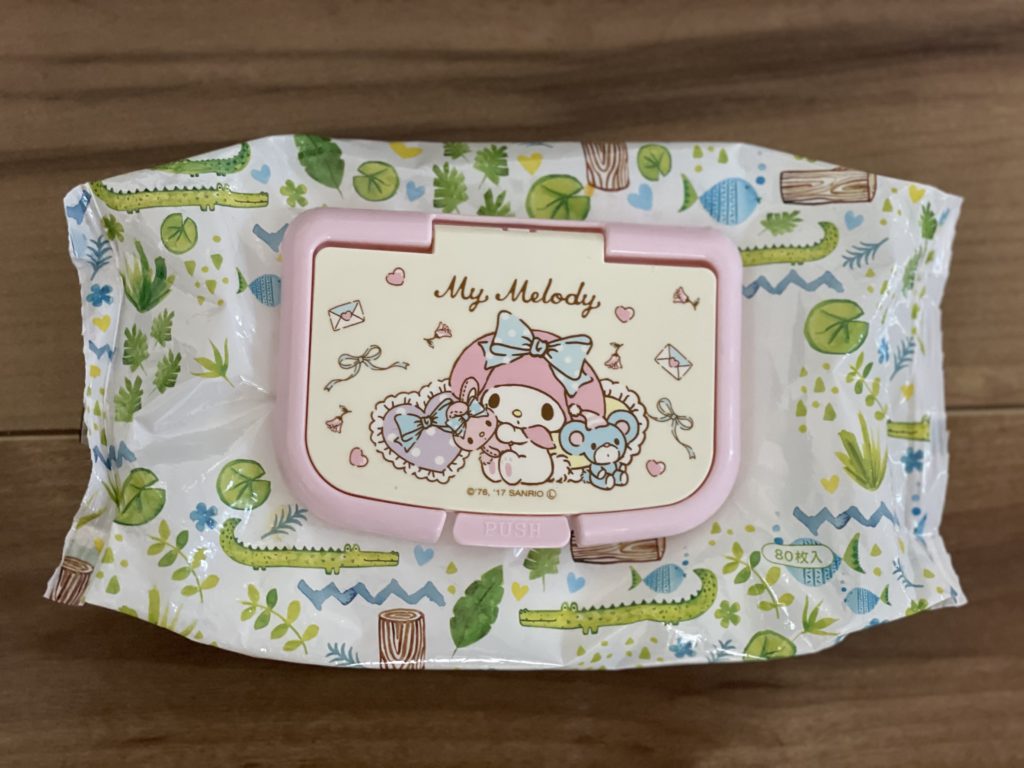 You can also these cuter baby wipe cases, which I absolutely love because I find the wipes come out easier (and my daughter hasn't been able to destroy it yet).
There are also cases that warm up the wipes as well. We have one but so far haven't had to use it; however, now that we live in a house that's colder than our previous apartment, things might change.
I also came across this interesting device, which allows you to clean your baby using hot water and a cotton pad.
Not reviewed in this article were Kirkland baby wipes from Costco. I've heard good things about it but I'm too cheap to invest in a box in case I don't like it — however, these wipes did win the 2020 ママ口コミ大賞 for best baby wipes.
There's also the environmentally-friendly option of cloth baby wipes, which you can make yourself. These wipes are especially good for babies with very sensitive skin and allergies — keep in mind, however, that if you're planning on putting your child in daycare, the daycare may ask for flushable wipes anyway unless you have a doctor's note stating your child can only use cloth wipes.
Lastly, when looking for wipes in Japan, here are some terms that you may want to pay attention to or look for:
Thick wipes (厚手 ー atsude)
Thin wipes (薄手 ー usude)
Flushable (トイレに流せる ー toire ni nagaseru)
Non-flushable (トイレに流せませんーtoire ni nagasemasen)
Additive-free (無添加 ー mutenka)
Alcohol-free (ノンアルコール・アルコール不使用*)
Paraben-free (パラベン無配合*・パラベン不使用*)
Phenoxyethanol-free(フェノキシエタノール不使用*)
Mildly-acidic (弱酸性 ー jyakusansei)
Unscented (無香料 ー mukouryou)
*Note: 不使用 or fushiou, as well as 無配合 or muhaigou, means not used, so if you want to make sure that a certain ingredient was not used in a baby wipe, look for ノン before that ingredient or 不使用/無配合 after. 無 (mu) before an ingredient, such as 無添加 listed above, will also indicate that ingredient was not used.
---
I hope this look at baby wipes in Japan has been helpful, and if you already have a favorite brand of wipes, what is it and why? Let me know in the comments, I'd love to hear from you!