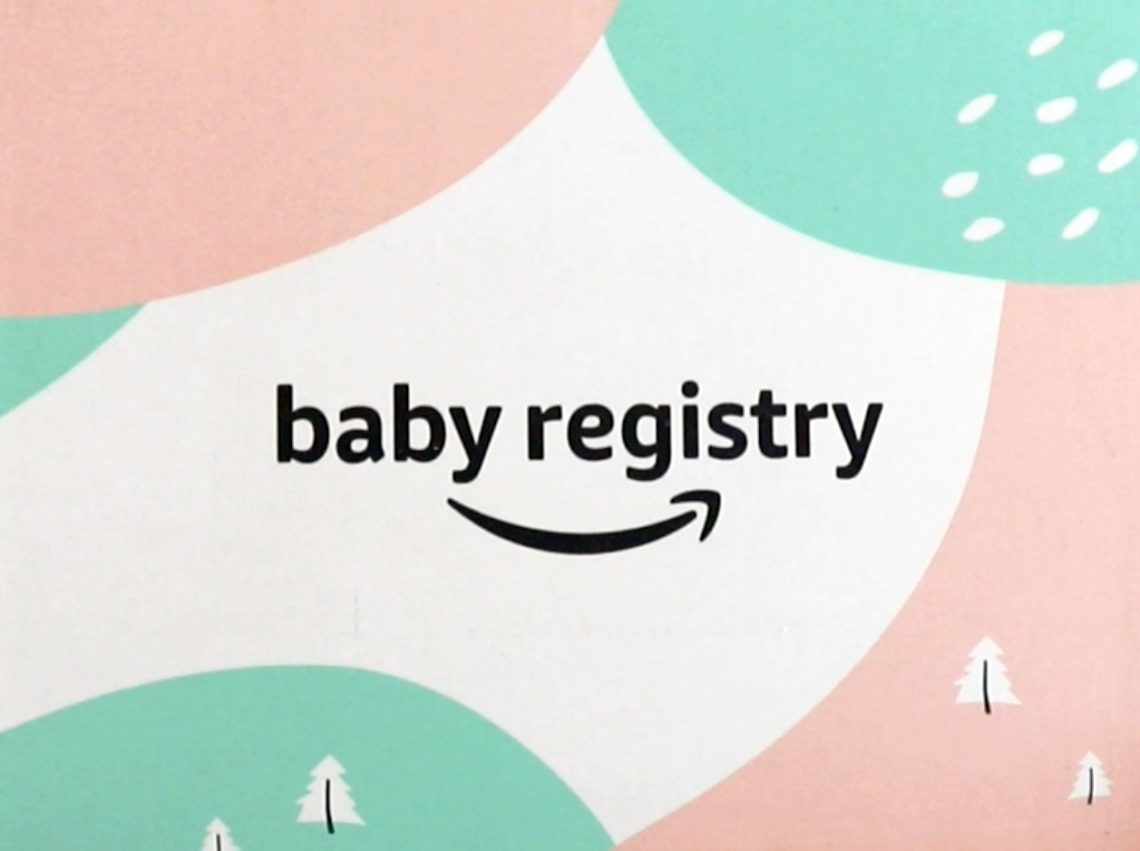 All About the Amazon Japan Baby Registry
Baby registries are very common in North America but not so much in Japan. To the best of my knowledge, the only place to make a baby registry in Japan is the Amazon Japan Baby Registry, which is great because Amazon is a name that people in most countries are familiar with and a service that many have used. This means your family and friends back home and in Japan can easily (and perhaps without hesitation) get you and your baby gifts that you need and don't have to worry about sending something from home and international shipping.
I talked about my experience using the Amazon Japan Baby Registry in a post about free baby products in Japan but I didn't go into detail about the registry. Signing up is fairly straightforward but getting your Welcome Box can be a bit tricky, which is why I thought I would write a more detailed post about the registry and how to get your free goods.
Note that the Amazon Baby Registry is now called Raku Raku Baby (らくらくベビー). It still has the same features as the Amazon Japan Baby Registry but is more geared toward preparing for your baby. You can still share it with friends and family if you like, though! 
Why Sign Up?
As mentioned earlier, signing up for an Amazon Japan Baby Registry/Raku Raku Baby is a great way to help your family and friends if they want to purchase some baby items for you that you need.
And for those who feel uncomfortable sharing it with others or would rather just buy everything you need yourself, don't worry. Amazon Japan has adapted its registry for Japanese culture as it's now called Raku Raku Baby, so it's less focused on being a registry for gifts and more on having a place where you can keep a list of everything you need to purchase, as well as perks!
Here are the benefits of registering:
You get a two-time 5% completion discount (10% if you're a Prime member) if you have more than ¥20,000 yen worth of products on your list. You have up to a year to use this discount on up to ¥100,000 worth of items on your list
The Welcome Box! This box contains free samples and full-sized products for your baby
Most items can be returned within 30 days  
You are able to see special member-only sales
Signing Up
As this explanation is in English, please change your language settings to English (EN) on your Amazon page to make these instructions easier to follow.

Visit the Amazon Baby Registry/Raku Raku Baby page and click or tap the "Create Baby Registry" box.

Click or tap on this image to be taken directly to the Amazon Baby Registry/Raku Raku Baby page — easy peasy! 
If you already have an Amazon account, you'll be asked to fill out very simple information about your due date, whether this is your first child, email options, etc., before being taken to your registry page.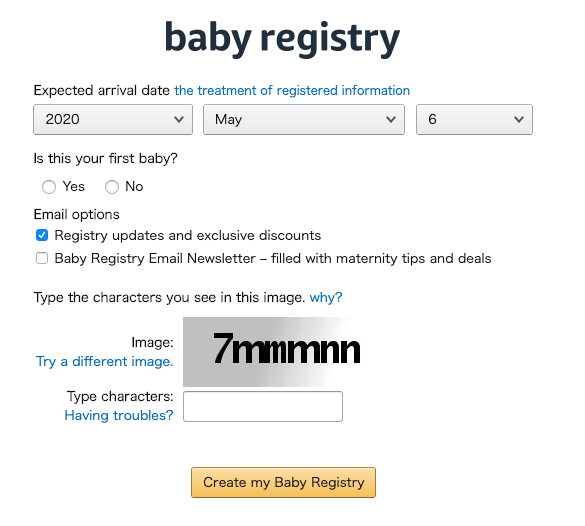 Registering is super quick as they don't ask for much!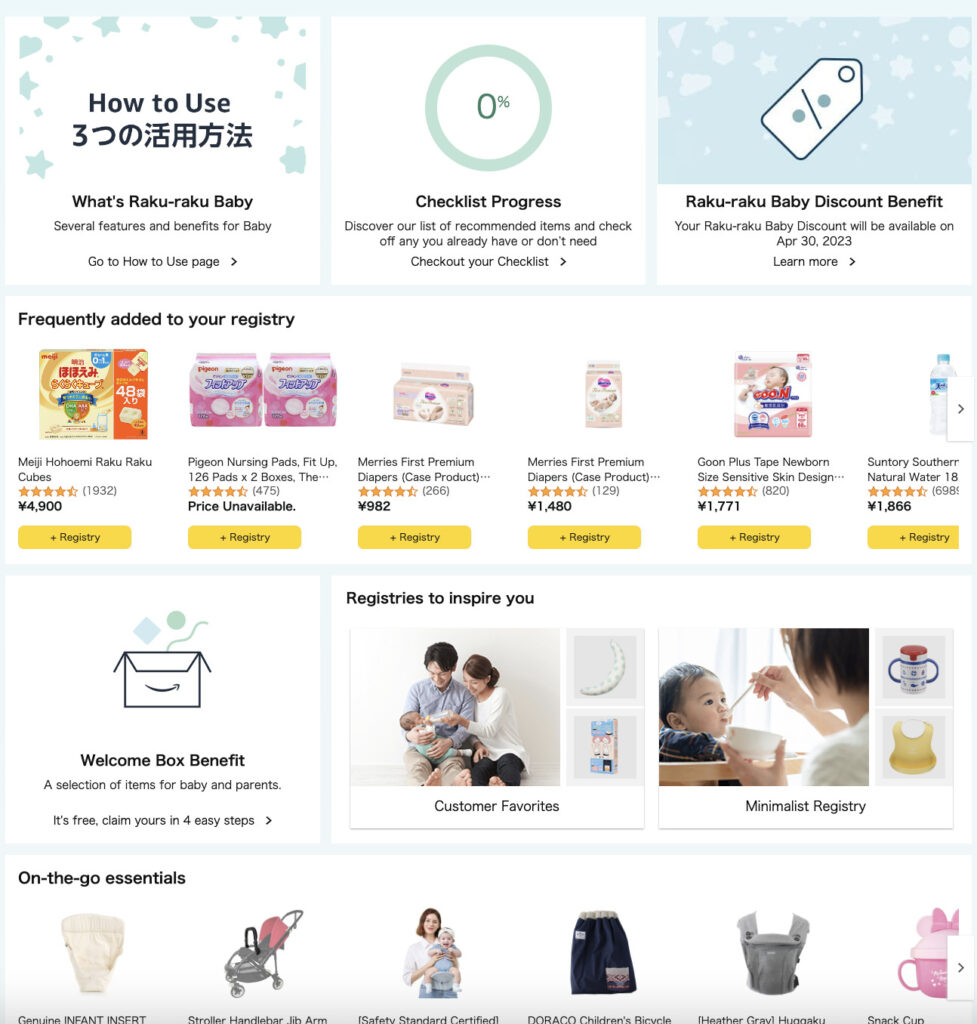 This is what your new Baby Registry will look like
Now comes the fun part — adding things to your registry!
There are so many easy ways to add items, such as by clicking on Checklist Progress, which will give you categories of essential items and recommended items, or just clicking on any of the featured items on the main page.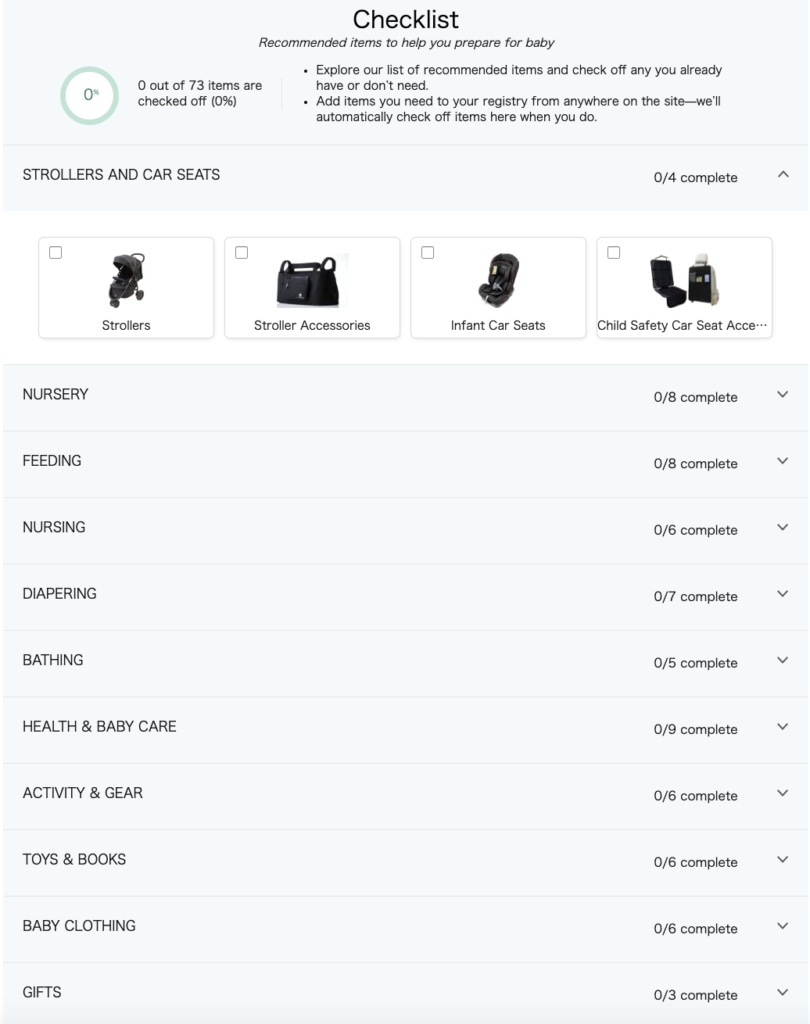 For ideas on what might be good to add to your registry, check out my post on must-have newborn items as well as popular newborn products for 2023 as voted by parents in Japan.
You can also browse through the bestsellers list for popular baby products on Amazon.
If you want to add a product that is not from the Registry Checklist page, simply click the "Add to Baby Registry" button, which should be below the "Add to Wishlist" button on the right-hand side of the page.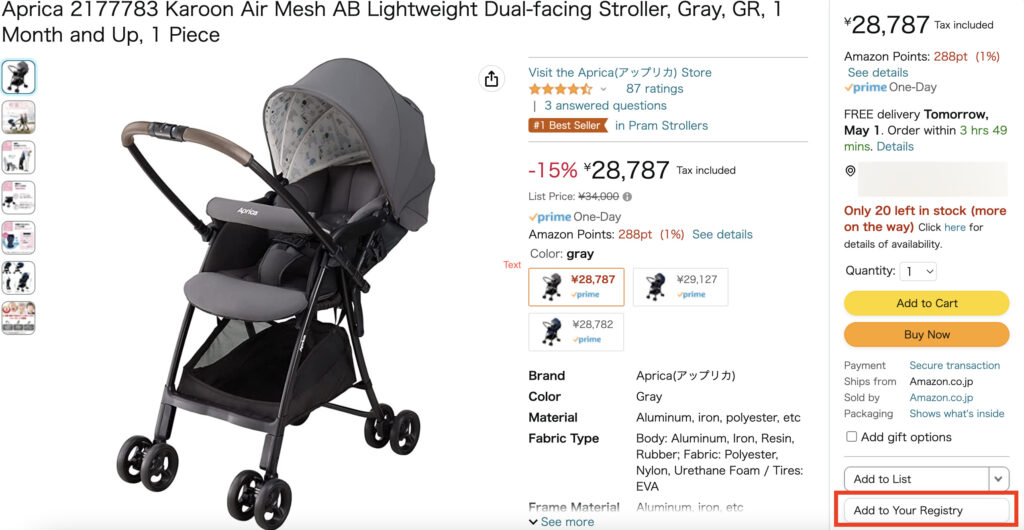 The "Registry Checklist" is an essential page to visit not only to start filling out your registry but to also get the Welcome Box as you need to add 30 items to the list to be eligible.
You can also see who purchased what under "Thank You List & Returns".
You can customize your registry under "Registry Settings" to include a welcome message for people who visit your registry or adjust privacy settings. For instance, we decided that our registry would only be visible to those who had the link (Shared), and after our baby was born we changed the setting to Private.
The Free Amazon Japan Baby Registry Welcome Box
We all love free things, especially when you're a parent-to-be trying to figure out what products would work best for your baby and don't want to waste money trying to find out. This is why the Amazon Baby Registry Welcome Box is a huge plus to create a registry, even if you are not planning on sharing the registry with anyone.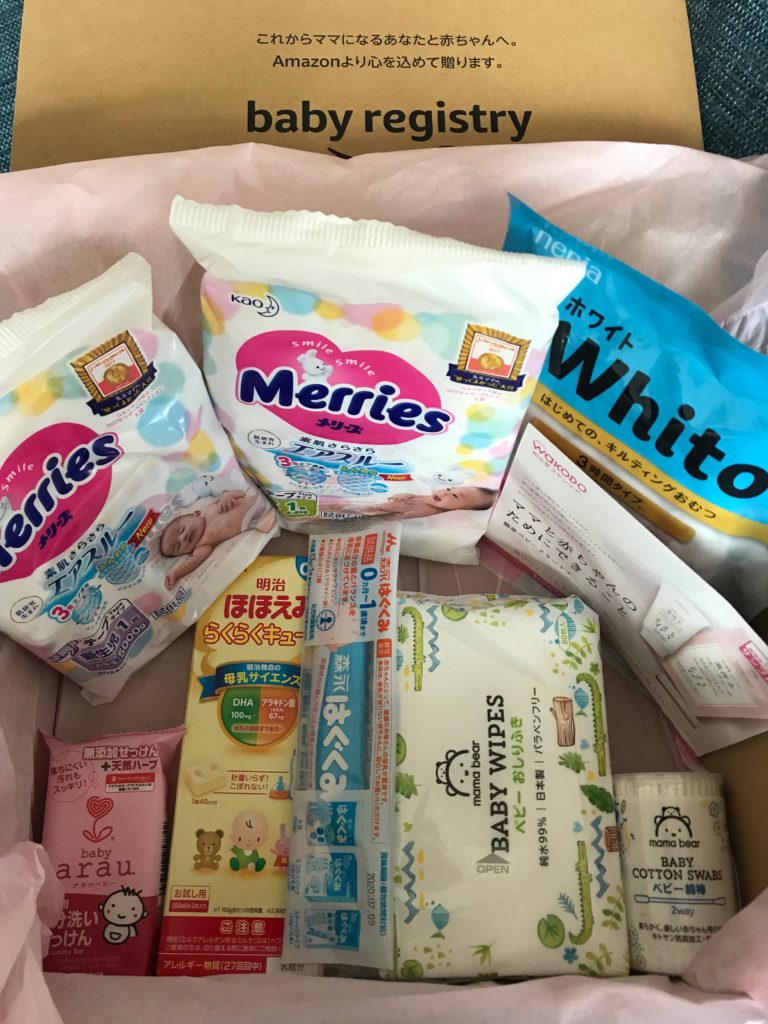 My box, pictured above, contained:
Merries diapers (newborn and S-size)
Whito newborn diapers
baby arau laundry soap
Hohoemi rakurakucube (ほほえみらくらくキューブ) – powdered formula cubes
Hagukumi (はぐくみ) powdered formula stick
mama bear baby wipes
mama bear baby cotton swabs
wakodo cream
The contents of the box vary and sometimes you may receive more or less than others depending on when you apply for your box. I received my box in May 2019 and unfortunately didn't get as many diaper samples as other people who were able to get the box earlier or later in the year but I did get some other samples instead.
My friend, who got her box in April 2020, received the following: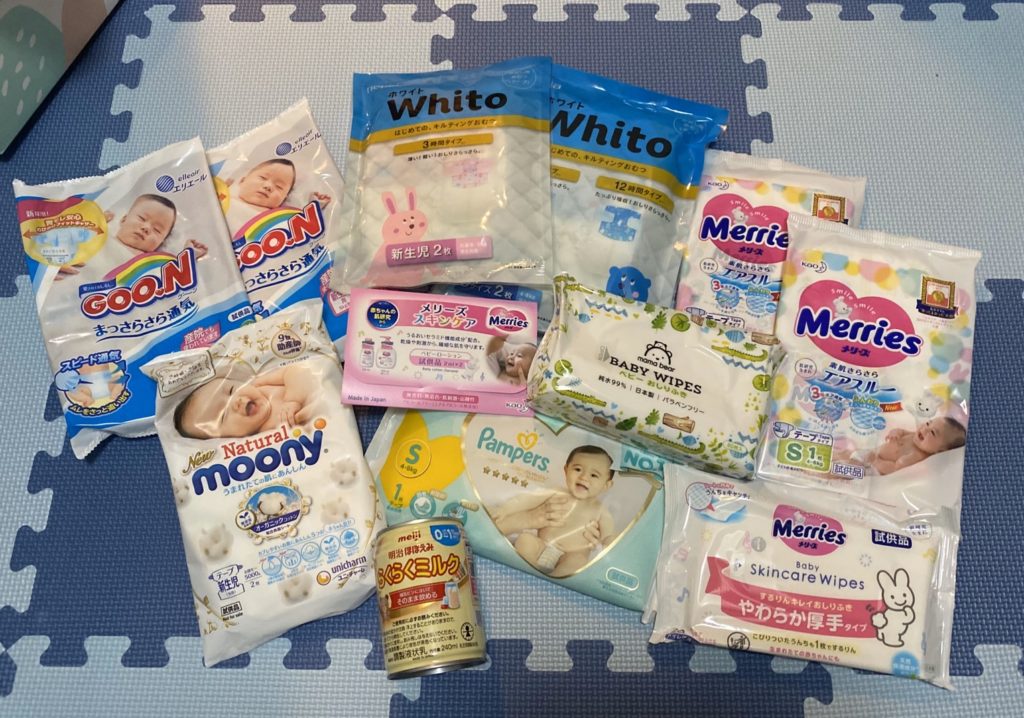 Merries diapers (newborn and S-size)
Natural moony newborn diapers
Pampers diapers (S-size)
Whito diapers (newborn and S-size)
GOO.N newborn diapers
one can of ほほえみ らくらくミルク (ready-made liquid formula)
mama bear wipes
Merries skincare wipes
Merries baby skincare sample
How to Get the Free Welcome Box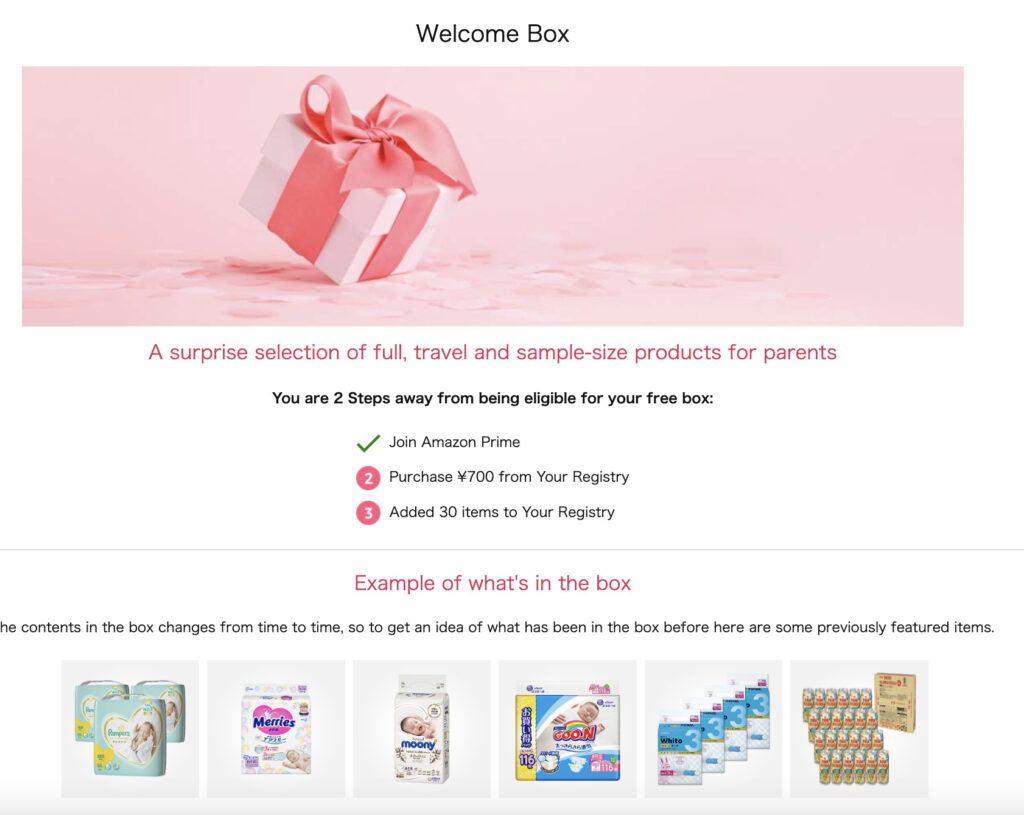 You must be an Amazon Prime Member (if you're not, you can sign up for a free trial. We ended up keeping our Prime membership because with a baby, we felt like the benefits were worth the monthly fee)
At least a 700 yen purchase (770 yen with tax) needs to be made from your registry
You need to add 30 items from the Registry Checklist (出産準備チェックリスト) to your registry (you don't need to buy all of these in the end unless you want the benefits of the completion discount).
Once you've fulfilled the requirements above, you can get the box!
(The image below is from 2019 so the Raku Raku Baby image will look different.)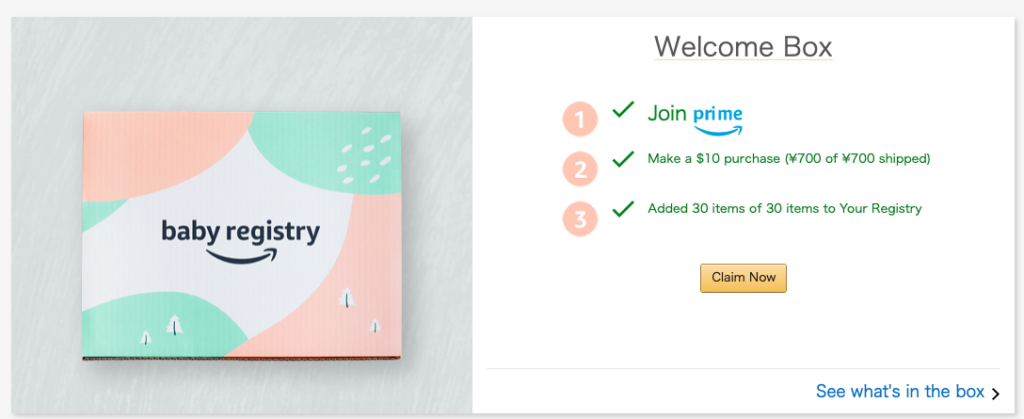 Go to your Baby Registry (from your Account & Lists drop-down menu)
Click on

Benefits

located on the navigation bar at the top of the page and then scroll down to the

Welcome Box

Claim your box!
The box will be priced at ¥920 in your Shopping Cart but don't panic — simply proceed to checkout, select your shipping address, and on the next page a ¥920 discount will be applied.
Ignore the very questionable automated English translation of the Welcome Box's Japanese name (出産準備お試しBox). Note that this image is from the 2019 box. However (and this is very important), on the payment page under "Amazon Points, Gift Card, and Product Voucher", make sure you select "Use your ¥920 Promotional balance" to bring your order total to ¥0.
Don't forget to click this…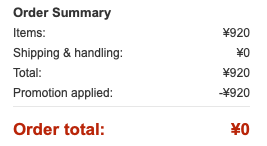 …to bring the cost of your Welcome Box down to this
And then you're done!
Keep in mind that sometimes the box is sold out, which is what happened when I initially tried to get the box, but don't lose hope. It might just take some time for you to get it, so keep checking!
I hope this information about the Amazon Baby Registry/Raku Raku Baby has been helpful and as always, I am wishing you a safe, healthy, and happy pregnancy.