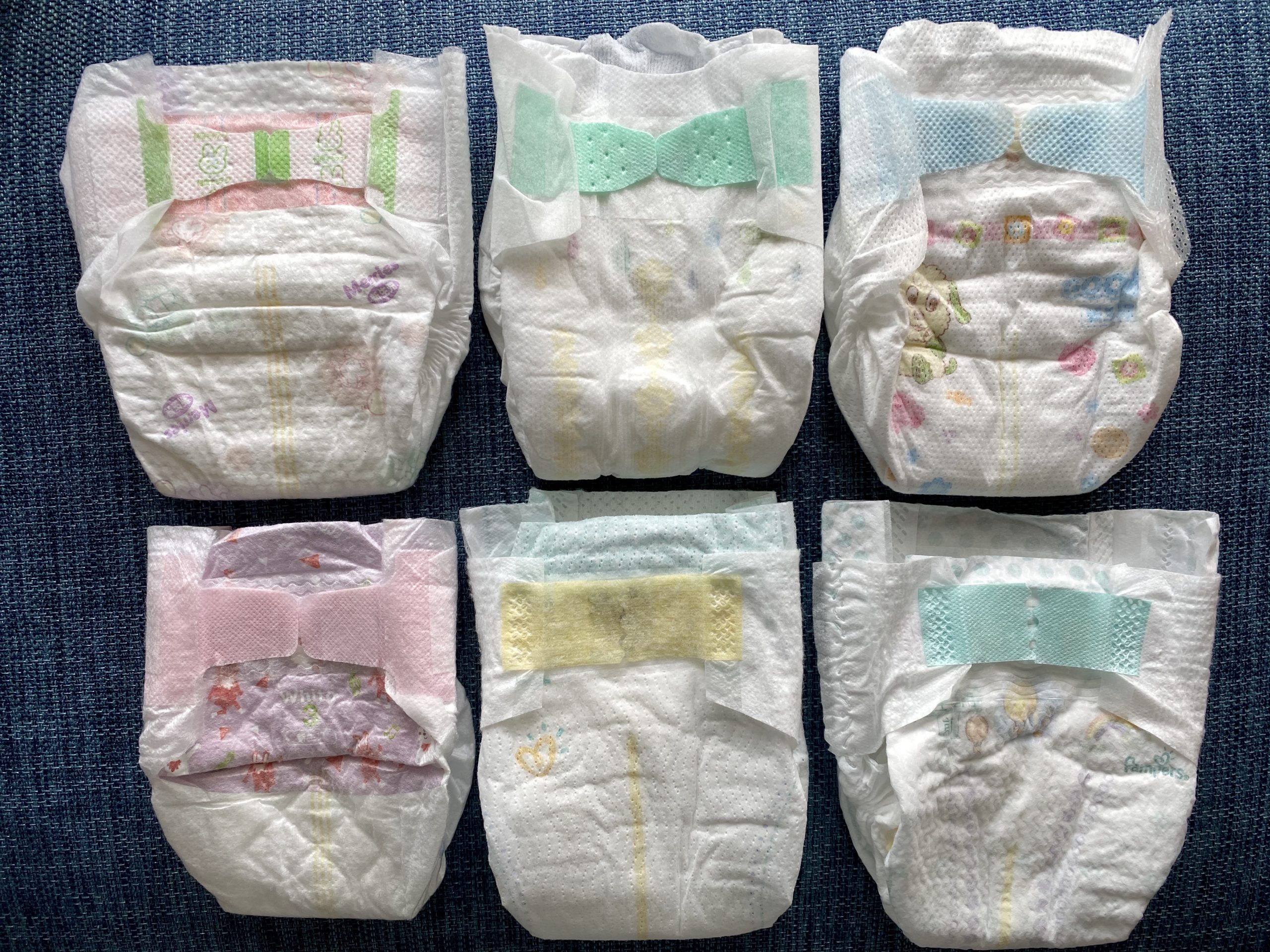 Reviewing Diapers in Japan for Newborn Babies
As a new parent, it can be overwhelming trying to figure out what kind of diaper is best for your newborn (新生児・shinseiji), and if you're a foreign parent in Japan, perhaps you're wondering what kinds of diapers are available in Japan and what is popular with parents. In a poll I did on Twitter, 135 parents in Japan kindly answered what diaper they used on their newborn. Here are the results:
赤ちゃんが新生児の時、どんなおむつを使いましたか?

たくさんのママの意見を聞きたいので、リツイートお願いします。また、他のおむつを使われた場合、コメントでお知らせください。

— Kay 🌙 (@tinyintokyo) May 16, 2020
I didn't expect this many responses so thank you to everyone who answered and retweeted this!
As you can see above, パンパース (Pampers) はじめての肌へのいちばん was the most popular with 39% of parents having used these on their newborn, followed by Merries at 26%, Pampers さらさらケア at 25%, and Natural Moony at 10%.
I also asked respondents to indicate if they used any newborn diapers outside of the poll but none apparently did (it is possible they just didn't want to leave a comment!). Based on these answers, you might be thinking that Pampers はじめての肌へのいちばん is clearly the diaper to go with, right?
Well, not so fast.
Over half of the respondents indicated that they used other diapers on their babies, which is no surprise as these tiny humans come in all different shapes and sizes, so what works for one baby might not be the best for another. Cost is also something to think about as newborns go through at least six diapers a day, and sometimes even over twenty (speaking from experience, which is why we bestowed the nickname "Pee Pee Monster" on our daughter for the first few months of her life)!
There is no one perfect diaper for all babies but to help make your work a little easier in terms of what to look for and what might be best to start with, my husband and I examined six different newborn diapers in Japan. Below I will talk about each diaper and how it performed in the tests. After that, I will delve into the criteria of the tests and rank the diapers overall.
All of the newborn diapers reviewed are for babies who weigh up to 5 kg (although your baby may need to size up before hitting the weight limit depending on the fit of the diaper).
As a quick overview, here are the typical diaper sizes in Japan, which are written on the bottom corner of packages. The maximum weight may vary depending on the brand, but in my experience, I've found that I graduated my daughter to a larger size far before she hit the weight limit for a particular diaper, especially when she began to move more and needed pants-type (pull-up) diapers. 
| | |
| --- | --- |
| Size | Weight (kg) |
| 新生児 ・shinseiji (Newborn) | up to 5  |
| S | 4-9 |
| M | 6-12 |
| L |  9- 14 |
| ビッグ (BIG) | 12-22 |
| ビッグより大きい (XXL) | 13-28 |
If you're a parent of an older baby or toddler and are interested in learning about pull-up diapers, then check out this article reviewing pull-up diapers in Japan. 
Diapers in Japan — The Contenders
These Pampers diapers claim to be used the most by hospitals and clinics for newborns, and as we were given a package from the hospital when our daughter was born, this may very well be true. The Pampers website states that this diaper is soft like a feather with plenty of breathability due to its 3D mesh layer, which boasts 30 small holes to absorb moisture and keep your baby's bottom dry.
What moms in Japan like about it:
Very soft
Long from back to front which means fewer leaks and blowouts
Additive-free (No scents, parabens, or latex)
Point program where you can collect points for rewards by scanning a QR code on the inside of the package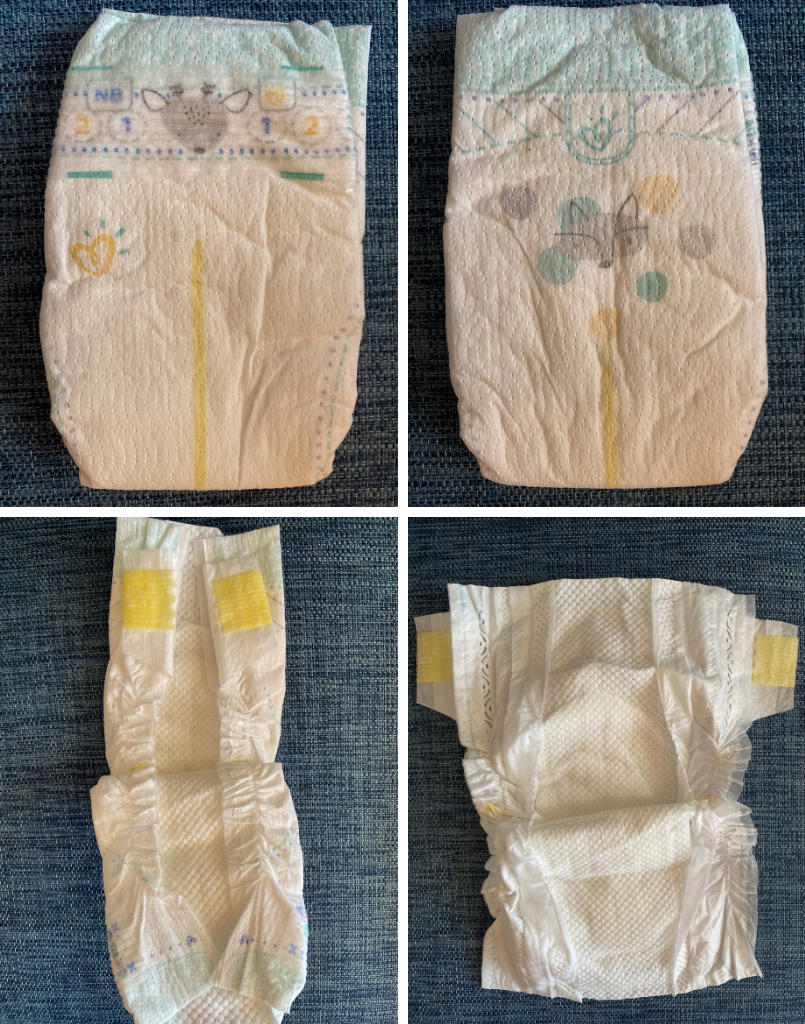 Our take: We weren't really considering using Pampers for our daughter as it was one of the few newborn diaper samples I wasn't able to get a hold of at the time. After trying out all of the sample newborn diapers we had as well as Pampers はじめての肌へ, we liked these the best for our daughter and have continued to use it ever since. She has never had any leakage or blowouts over the ten months we have been using these diapers (she's 8.2 kg currently and wearing M-size tape-type diapers although we are going to make the transition to pants-type soon).
When comparing Pampers はじめての肌へ to the other diapers, we found that we loved the elastic the most. Pampers was the only brand that had elastics at the side (near the tape or tabs) instead of the back and the most elasticity. It was also the longest from front to back, which meant more coverage and less of a chance of leakage from the back.
The inside of the diaper was quite soft, almost like it was lightly coated with lotion, with lots of tiny holes to allow for breathability, just as they claimed. The design was also simple and cute with most of the illustrations at the waist so it didn't distract from the wetness indicator (a line running down the middle of the diaper that will change color, usually from yellow to blue, when wet).
Out of all the diapers, we felt like this one was also the most durable and performed the best in the liquid test, absorbing water immediately and feeling surprisingly dry even after we poured 100 ml of water onto it. It was also the heaviest diaper, however, which meant it wasn't the most portable.
Although these diapers aren't usually the cheapest, you can get a great deal on them if you look out for sales, particularly from Babies R Us. I talk more about how to save money on diapers later on in this post.
These are more affordable than the above Pampers and can be used for up to 12 hours so it's a good option for an overnight diaper. The tape also stays firmly in place.
What moms in Japan like about it:
The fit is great for a range of newborns
It's affordable and can be found at many places outside of baby stores such as grocery stores, drugstores, home centers, etc.
Point program where you can collect points for rewards by scanning a QR code on the inside of the package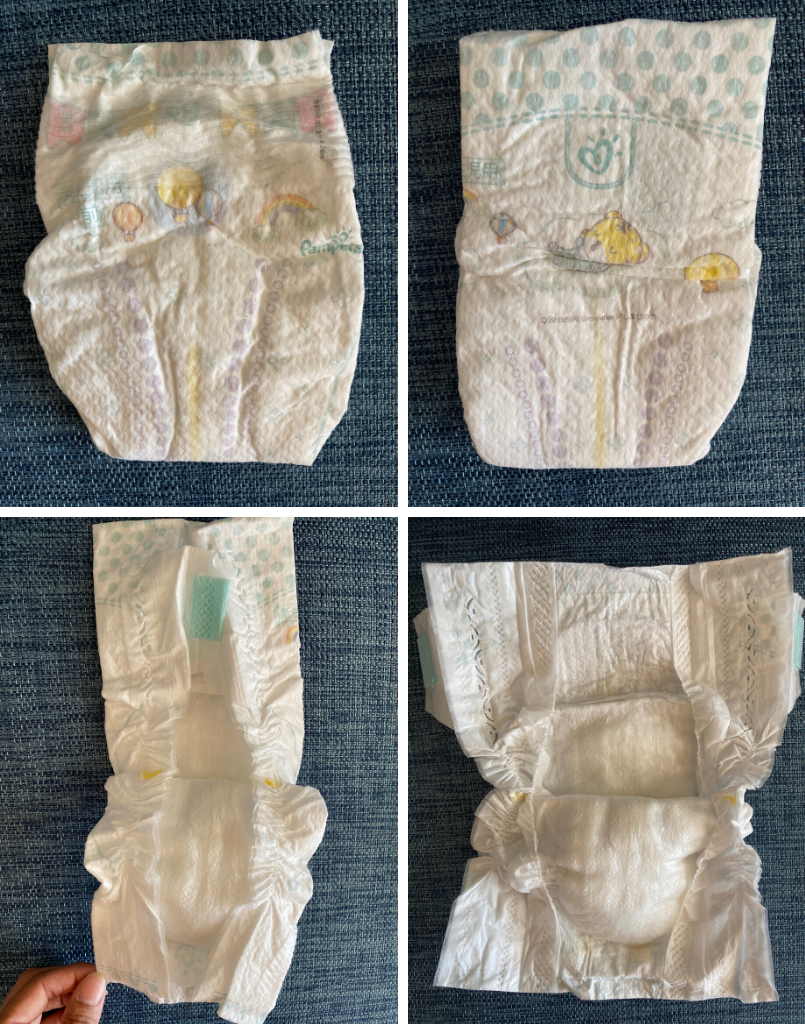 Our take: There was a clear difference in the feel of this diaper compared to Pampers はじめての肌へ. It was much more lightweight but the outside was not that soft, feeling a bit like plastic, and although the inside had a nice feel, it didn't have any noticeable air pockets (or holes) to absorb liquid or for breathability and was less padded. This may be why this diaper performed very poorly in the liquid test. Like Pampers はじめての肌へ, there was no elastic at the back of the diaper as it was located at the sides near the tape instead, which meant that the stretchability and elastic quality was equally as good. The tape was small but surprisingly stayed on fairly well as the ridges made it easy to refasten. We felt that the design was really busy, which made it hard to see the wetness indicator.
Although this product claims it can be used for 12 hours, I would personally not do that based on the liquid test. It does not absorb large amounts of liquid very well so your baby will likely have a wet bottom quite quickly and this may lead to leakage. In fact, this was the only diaper where water leaked through the leg cuffs as well as the back. In general, it was very slow when it came to absorbing liquid. We never experienced leaks when we tried these diapers on our daughter as a newborn but it didn't absorb as much as the more expensive Pampers and we didn't like the fit nor the feel, so although the diaper itself was cute with its Shimajiro design and budget-friendly, we decided
not to continue using it.
These are made out of organic cotton as well as three plant-derived oils (olive oil, jojoba oil, and rice oil), and are also additive-free so it's supposed to be gentle on your baby's skin. Alongside being the only diaper with three wetness indicators, one in the middle and then one on the left and ride side, Natural Moony diapers also have an "absorbing zone" that is supposed to catch and contain loose stools to keep your baby's skin nice and clean. These diapers also claim to be absorbent for up to 12 hours.
What moms in Japan like about it:
The leg cuffs fit around the baby quite nicely, preventing leakages
Very soft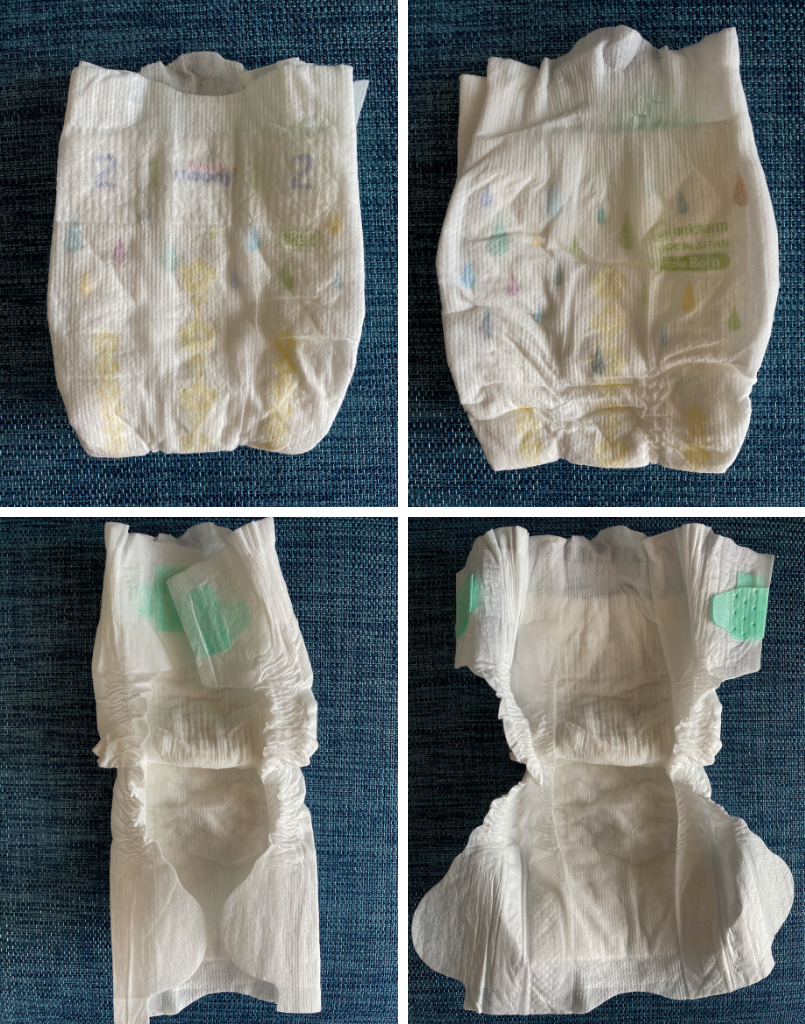 Our take: We got two packs of these for free from Akachan Honpo when I signed up for their card. Unfortunately, we were not fans when we used these on our newborn back in the summer of 2019. One of our biggest complaints with the previous design was the wetness indicator, which was very hard to see. However, it seems like we weren't the only ones who felt that way because they recently came out with a new design with three large wetness indicators that are impossible to miss. The top of the redesigned diaper also had a notch, which is great for the umbilical cord stump. These were the only diapers with these unique features.
The outside was quite soft but we both felt like the inside was disappointingly scratchy. We were also confused as to why there were only two locations to attach the tape instead of three but despite this, because of the stretchy and very soft elastic at the back, its overall stretchiness at the waist was not too shabby in comparison to the other diapers. The elastics at the leg cuffs, however, seemed quite loose. The design wasn't bad, a bit boring if anything, but my husband and I both felt that the raindrops were a bit odd. The tape was quite secure and easy to use.
It performed nicely in the liquid test and absorbed a large amount of liquid quite quickly and easily, which surprised us because we disliked these diapers so much when we used them on our newborn. (I guess their "absorbing zone" really works!) There were also no leaks from the sides or the back. Overall, the new Natural Moony has a lot of good points — however, one huge drawback is the price as it's the most expensive out of all the diapers we looked at.
(Note that the
re is also a hypoallergenic version as well!)
These are considered some of the most popular diapers in Japan. It prevents leakages and can be used for a long time, so it's great for nighttime and outings.
What moms in Japan like about it:
Quite stretchy so it fits active babies very well and has a breathable layer so it is gentle on their skin
Cheaper than Pampers はじめての肌へ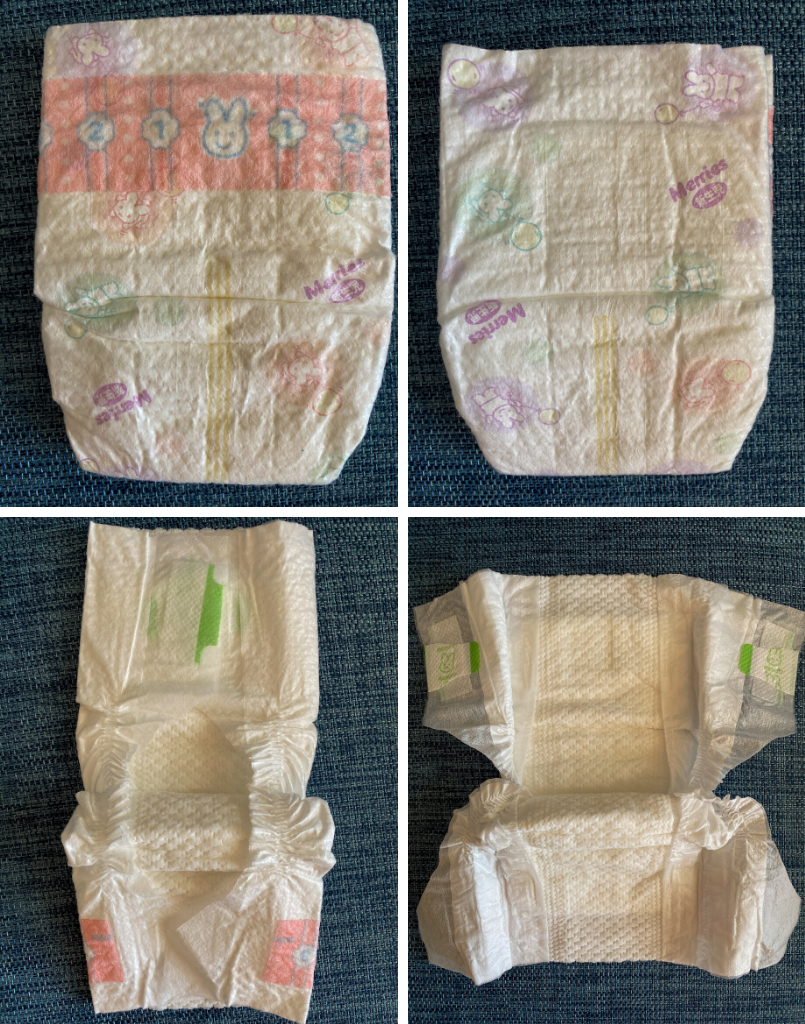 Our take: We put a pack of these on our Amazon baby registry as my mother-in-law used them when my husband and his twin were babies back in the 80s. In the end, we decided not to buy a new pack after using them on our daughter as we preferred Pampers はじめての肌へ, but my Japanese mom friends are loyal fans. These were also the second-most popular newborn diapers according to the Twitter poll I did, and there are good reasons for that.
After carefully examining the Merries newborn diaper and comparing it with the rest, we found that it was the softest, both inside and out, with the thickest padding that went right up to the top of the diaper. My husband found the padding to be a bit bulky, which is probably why these weigh the second most next to Pampers はじめての肌へ, but I quite liked it, especially the small quilted inner lining — it felt really nice and comfy while allowing for breathability.
The elastics around the leg cuffs were stretchy and very soft, albeit a bit loose. The design was cute with pastel bunnies, probably my favorite design out of all the diapers. However, this diaper was the only one without any elastic around the waist, which meant that it didn't stretch as much as the Pampers diapers or Natural Moony. The tape was also quite smaller than the rest and I remember my husband found that annoying when we used this diaper on our daughter as a newborn as he found it difficult to use.
In the liquid test, Merries didn't absorb the second 15 ml batch of liquid we poured onto it right away so there were droplets on the inside of the diaper. After pressing down, though, the liquid was completely absorbed and Merries ended up being one of the driest diapers even an hour after absorbing 100 ml of liquid. As it's a bit slow at absorbing liquid, a tiny amount of water also escaped from the back of the diaper although there were no leaks from the sides.
Merries has also created a video for parents on how to put a diaper on your baby. Of course, you'll be taught this at your clinic or hospital when you give birth but just in case, I thought I would include it here for your reference
Update: Merries now has a new diaper especially for newborns called
First Premium
. This diaper contains argan oil and supposedly has a "cashmere" feel to it. 
GOO.N is known for being affordable and is actually the only diaper you can find at Daiso if you're in a pinch! It contains vitamin E and claims to absorb odors.
What moms in Japan like about it:
The tape makes it very easy to use
It's among the cheapest diapers out there but does a good job
Great for bigger and chubbier babies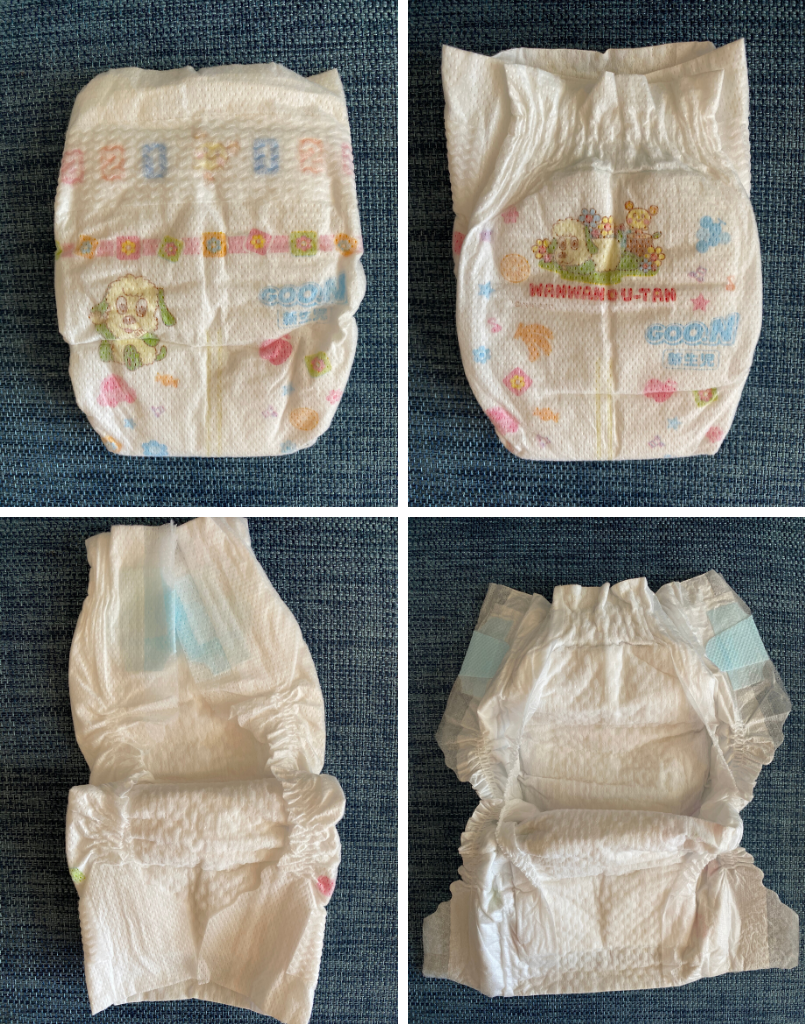 Our take: The area to attach the tape at the front of the diaper was the smallest out of all the diapers we looked at and the velcro wasn't that strong so it easily detached. The leg and back elastics were quite stretchy but not as soft as the other diapers and seemed looser. The inside and outside of the diaper were also more scratchy than soft, which is why we ranked GOO.N the lowest in terms of feel. The inside had quite a bit of padding, which seemed good for absorbency and comfort but also made the diaper quite bulky. We also found that the diaper was the least durable out of all of them, with the material near the tape starting to come off after a short period of time. My husband and I weren't fans of the pattern and found the two-lined wetness indicator a bit hard to see.
However, this diaper performed surprisingly well in the liquid test, ranking third among all of the diapers. There were no leaks even after we poured 100 ml of water on the diaper and it was only the slightest bit damp after 1 hour. Considering that these diapers are among the cheapest but absorb more liquid than Pampers さらさらケア, GOO.N is a definite yes if you're looking to save some yen.
Update: GOO.N has discontinued this type of diaper for newborns (
although it is still available for sizes M and up
). Instead, GOO.N is now selling a
special kind of diaper for sensitive skin
. 
Whito is a brand of diapers by the company Nepia, which you may know from their very soft tissues in very cutely designed boxes with animals on it. These diapers will apparently absorb liquid and keep your baby's bottom dry for up to three hours, which sounds pretty good, especially if you're out and about.
What moms in Japan like about it:
It's incredibly soft and can be used for up to three hours
It's light so it's quite portable
Has a cute design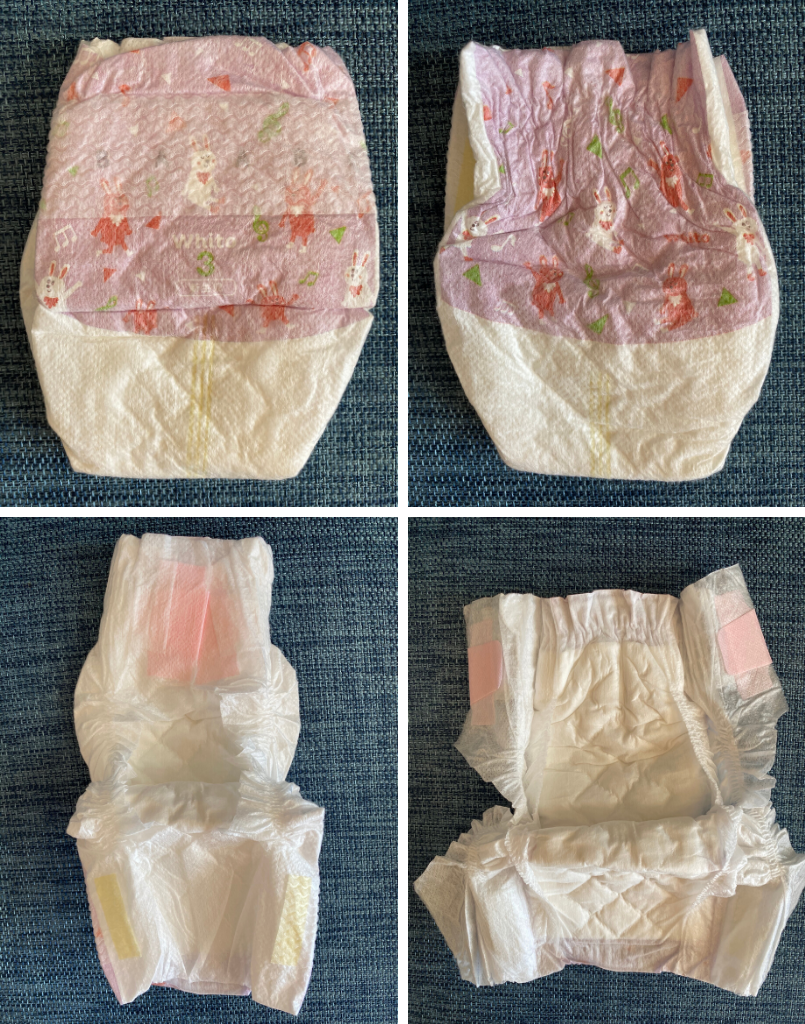 Our take: These diapers were the smallest, which I liked because it was light and compact but this may be a problem if you have a baby who's bigger than average Japanese babies. I liked using these on my daughter because they felt nice and she seemed really comfortable in them, but the price and difficulty getting these at the time turned me off of them. These diapers were very soft both inside and outside. The quilted padding on the inside felt heavenly; however, it was very thin.
The elastics around the legs were soft but very loose. The elastic at the back was quite stretchy although compared to the other diapers the overall stretchiness around the waist was among the lowest. The tape was easy to attach although it was hard to see the letters where you attach it. The design with bunnies was definitely one of the cuter ones.
However, we were surprised that these diapers performed the worst in the liquid test, despite claiming that they can be worn for three hours. Provided this, I do not recommend these in terms of absorption and keeping your baby's bottom dry (which really is one of the most important things when it comes to a diaper!). Furthermore, none of the mothers polled in my Twitter survey stated that they used this brand.
Diapers in Japan — Cost per Diaper
I checked the online price per diaper for one pack (unless otherwise stated) of the following diapers from popular retailers for baby products in Japan. Keep in mind that these prices are subject to change, for instance if there's a sale or if you're buying in bulk.
Prices as of Saturday, June 6, 2020
*Price based on a box containing two packages
**Price based on a box of 204 diapers (Costco also sells larger sizes in the other brands but we could only find Pampers はじめての肌へ for newborns)
Tips to get cheaper diapers:
Sign up for store mailing lists, download their app, friend them on LINE, and make a point card

Stores like Babies R Us, Akachan Honpo, and Nishi Matsuya (西松屋) have frequent promotions and discounts for diapers, which you can find out about right away if you sign up for their mailing list, download their app, or add them on LINE. You can also sometimes get exclusive discounts or coupons if you sign up for a Babies R Us or Akachan Honpo point card (if you're currently pregnant, you'll also get free diaper samples as well as other goodies if you sign up so if you haven't already, I highly recommend it). Even if you don't have a Babies R Us store nearby, the online store (as well as Akachan Honpo) offers free shipping if you buy a certain amount so it's worth looking into.

Check online flyers for stores

As mentioned above, stores have promotions on diapers and if you don't want to sign up for their mailing list, take a look at their online flyer to see the latest deals.

By joining one or both of these, you can get discounted diapers. Amazon Family offers a variety of discounts for diapers, wipes, and other products for all members and 15% off diaper subscriptions if you are a prime member. You also get a 300 point (300 yen) present for signing up and there is no fee involved whatsoever, even if you're not a prime member. (Yay free money!)  Rakuten Mamawari (楽天ママ割) offers coupons as well as special discounts. You can also enter to try to win a box of samples which are given to 150 lucky winners every month.

Buy in bulk

When you buy diapers in packs, the diapers tend to be cheaper, especially if a store is having a promotion. For instance, Babies R Us had a promotion where if you bought four boxes of diapers (containing three packs of diapers each), you would get ¥300 yen off per box and get a free package of Pampers diapers of your choice. The M-size Pampers はじめての肌へのいちばん diapers I bought at the time ended up costing only ¥14 per diaper, which was a really great deal.

However, keep in mind that babies do grow fast and these boxes take up room (which is quite valuable in small Japanese homes) so I would suggest buying in bulk for newborns after you've determined what diaper works best for your baby and if your baby is not at the latter end of the weight cutoff. It's also good to mix and match sizes if you can, so for instance buy two boxes of newborn diapers and a box of S-size. That way you reduce the chance of having leftover diapers if your baby has a growth spurt, and you've already prepared for them to size-up!

One last tip is that if you have a very active baby or one that pulls off the tape from the tape-type diapers, you may need to consider pants-type (パンツタイプ) diapers. These are available starting from S-size (4-8 kg).
Diapers in Japan — Dimensions and Weight
Diaper

Length* (cm)

Width (cm)
Weight (g)
Pampers
はじめての肌へ
18
19
21
Pampers
さらさらケア
18
19
17
Natural Moony
17.5
19
17
Merries
16.7
17.1
20
GOO.N

17.7

16
19
Whito
16.5
16
15
*Measured from the top to the bottom of a folded diaper
Diapers in Japan — Elasticity
We looked at the elasticity and quality of the elastic at both the waist and leg cuffs. For the waist, we attached the tape at three points (or landing zones) on the diaper's waist (two for Natural Moony) and then stretched it to see the elasticity. Therefore, the measurements below are for the diameter of the waist and not the circumference.
Diaper
1
2
3
Pampers
はじめての肌へ
20.5 cm
22.5 cm
25 cm
Pampers
さらさらケア
19.5 cm
20 cm
23 cm
Natural Moony
18.5 cm
20.5 cm
N/A
Merries
17.5 cm
20 cm
22 cm
GOO.N
16 cm
18.1 cm
19.4 cm
Whito
16 cm
18 cm
19.5 cm
As shown above, Pampers はじめての肌 had the most elasticity around the waist while GOO.N and Whito had the least.
When looking at the leg cuffs, we felt that Pampers はじめての肌 and Merries were the most secure but soft while Whito was too loose, which may be why there were leaks when it came to Whito in the liquid test.
Diapers in Japan — Wetness Indicator
We looked at how fast the wetness indicator changed color after pouring 15 ml of water on the diaper and how easy it was to see.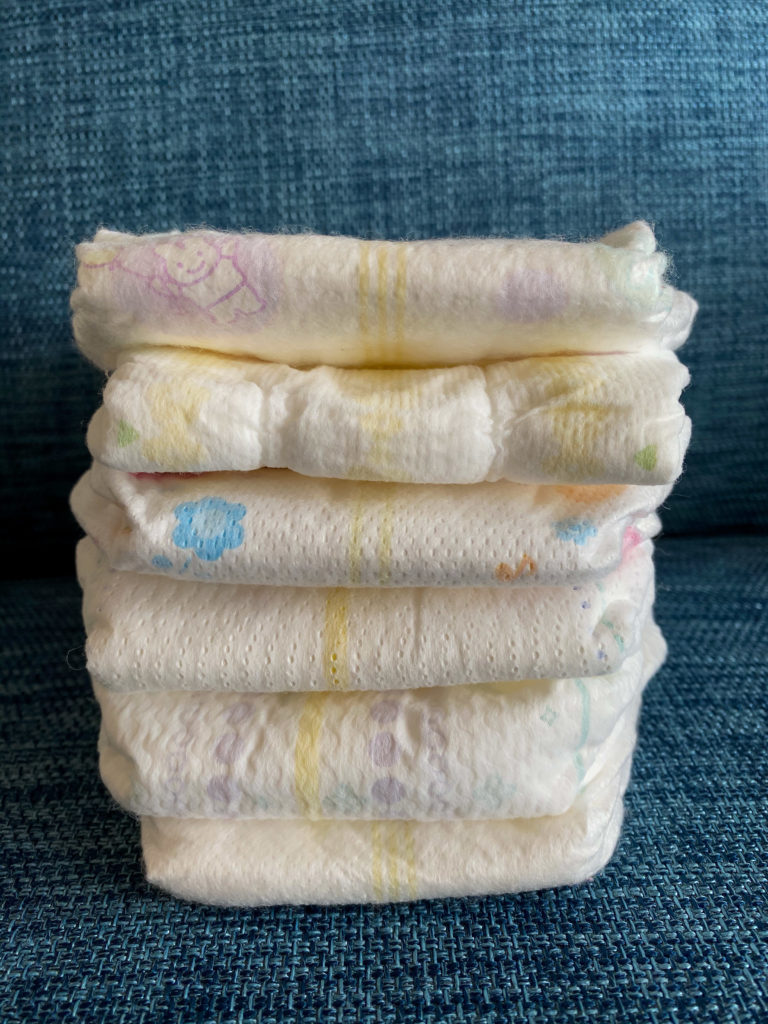 Diaper
Type
Time to Change Color (after 15 ml of liquid)
Pampers
はじめての肌へ
Single line
4 seconds
Pampers
さらさらケア
Single line
24 seconds
Natural Moony
Single patterned line (flowers) in three spots
8 seconds
Merries
Triple line
9 seconds
GOO.N
Double line
5 seconds
Whito
Triple line
2 seconds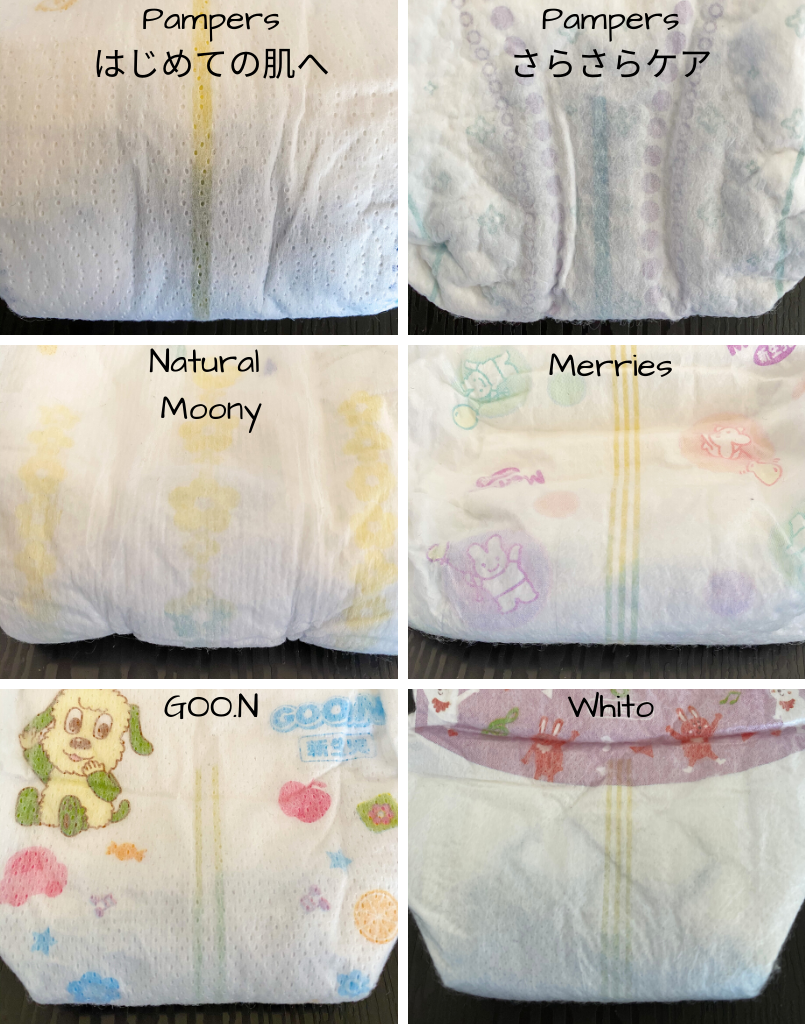 In general the wetness indicator was easy to see for most of the diapers and changed color quite quickly. Whito was the fastest to change color, although after the liquid test (which I will go into next) this may have been due to it having very little padding. It was also the hardest to see out of all of the diapers. Pampers さらさらケア performed the worst as it took quite a bit of time to change color in comparison with the other diapers. It was the darkest once it changed color but the busy pattern also made it a bit difficult to see. Considering how long it took in comparison to the other diapers, though, there may have been a problem with the particular diaper that we looked at.
Diapers in Japan — Feel
This is pretty self-explanatory. We felt the inside and outside of the diaper and admittedly, we both found this a bit hard as it's quite subjective and the quality of Japanese diapers is generally very good. We decided to ignore the outside of the diapers in the end as the feel of the inside of a diaper, since it will be right against your baby's little tush, is more important.
Here is how we ranked the feel of the inside of the diapers, from best to worst (although take worst with a grain of salt):
Merries
Pampers はじめての肌へ
Whito
Pampers さらさらケア
Natural Moony
GOO.N
Diapers in Japan — Liquid Test
For the liquid test, we poured 15 ml of salty dyed water onto each diaper as a newborn baby releases about 15 ml of urine each time they pee. We waited for 1 minute before seeing how well the diaper absorbed the liquid by placing a piece of washi paper on top of the diaper and then pressing a 3000-gram weight on it to simulate the weight of a newborn baby.
We also felt the inside of the diaper as well and then repeated this process three times for each diaper. For the first round, all of the diapers felt quite dry except for Goon and Pampers さらさらケア. In the second round, Merries failed to absorb some of the liquid and Whito was quite damp. By the third round, all of the diapers felt quite damp except for Pampers はじめての肌へのいちばん.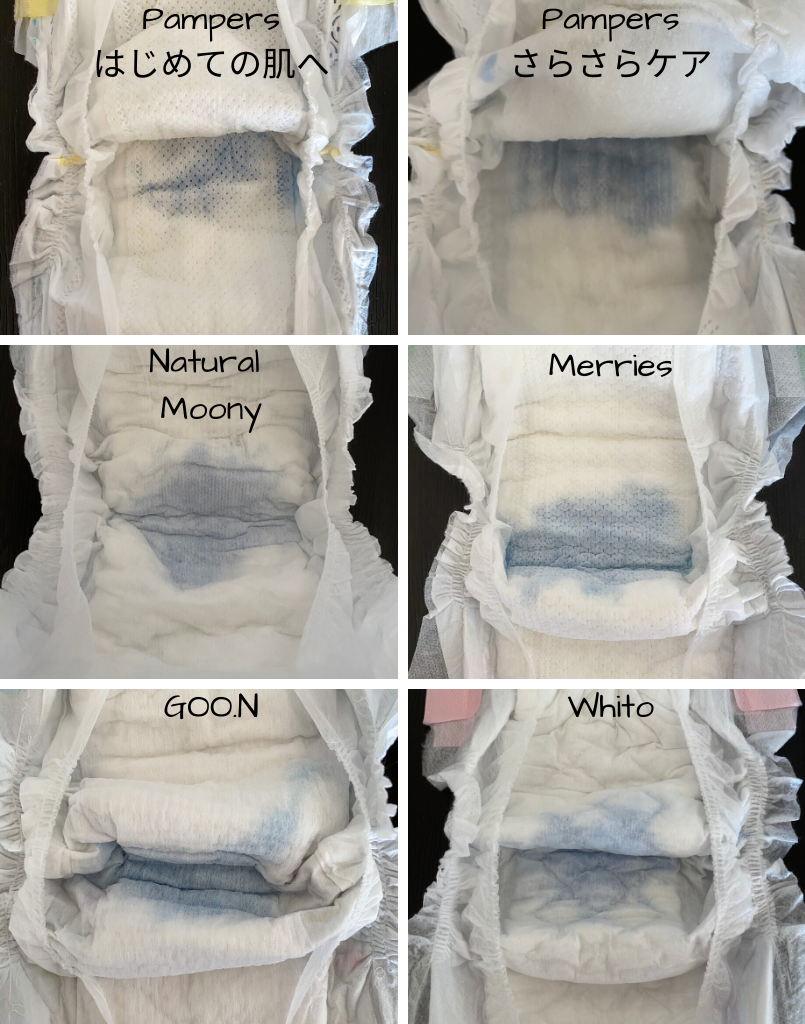 First-round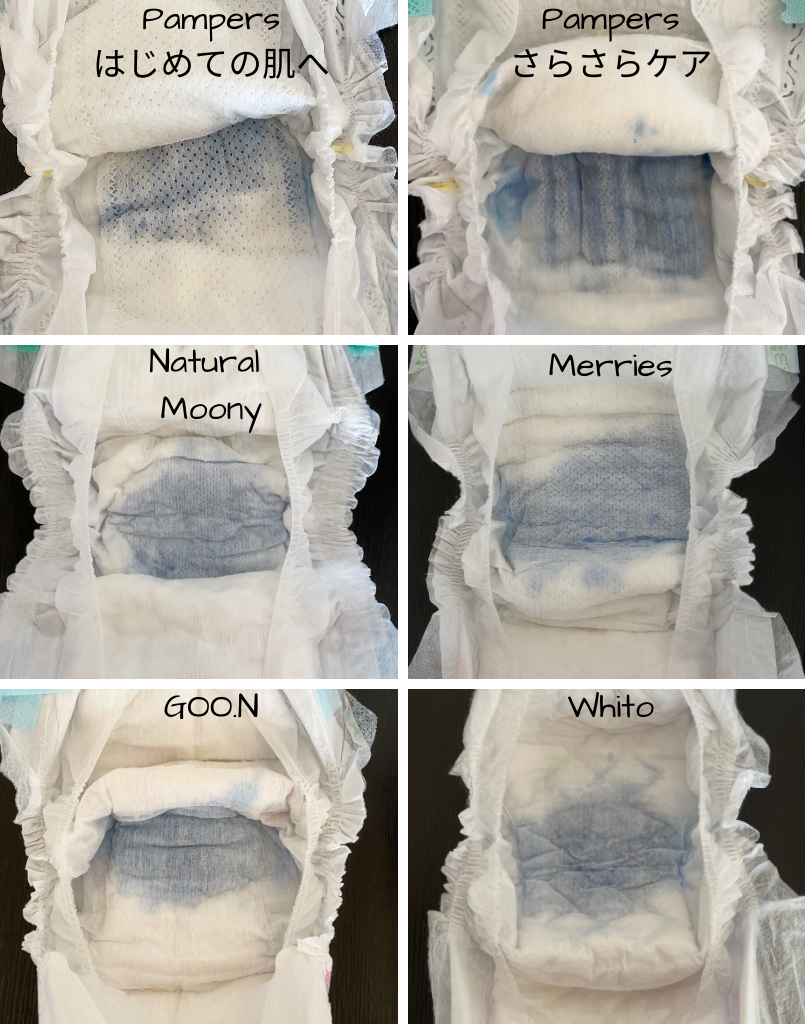 Second round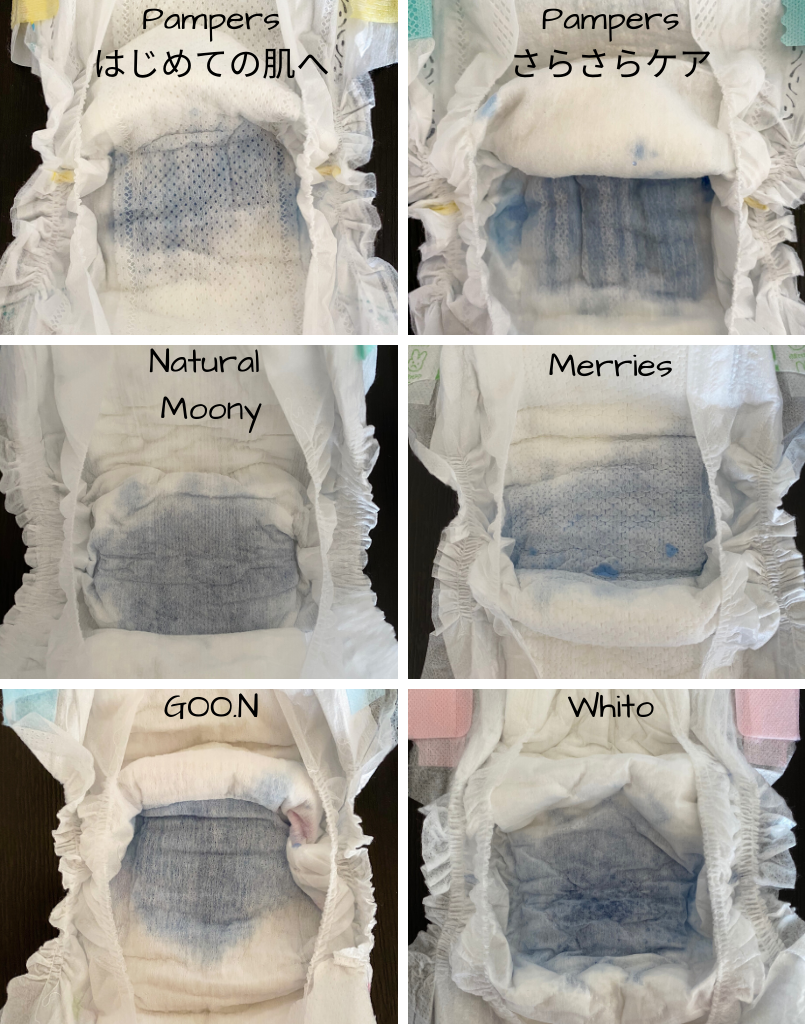 Third round
We then poured 15 ml of water three times down the back of the diaper while holding it at an angle to see how well it would protect against leaks when a baby is lying down. In this test, some liquid was not absorbed and leaked through the back for Pampers さらさらケア and Merries.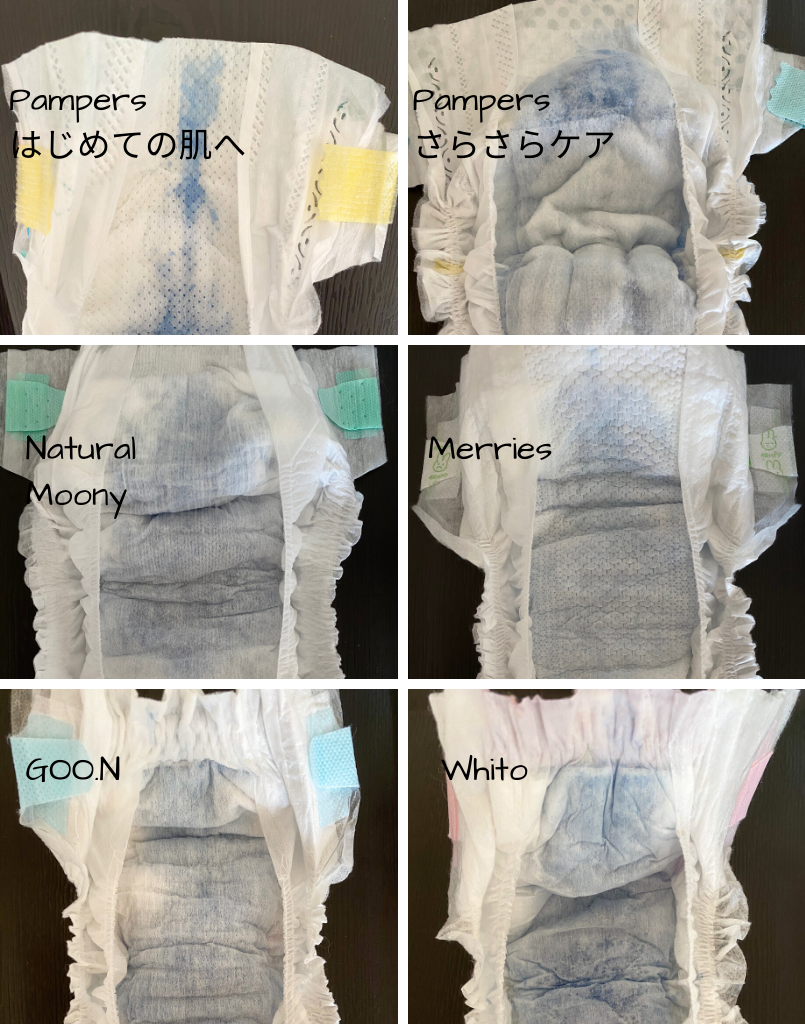 Finally, we poured 100 ml of water to see how much water the diaper could hold and the condition of the diaper one hour later. Pampers はじめての肌へのいちばん performed the best as it still felt dry both inside and out. Despite some water having not absorbed in the second 15 ml test for Merries, it was also surprisingly dry after one hour. Pampers さらさらケア and Whito performed the worst as they were both soaked and in poor condition even before the final 100 ml of water.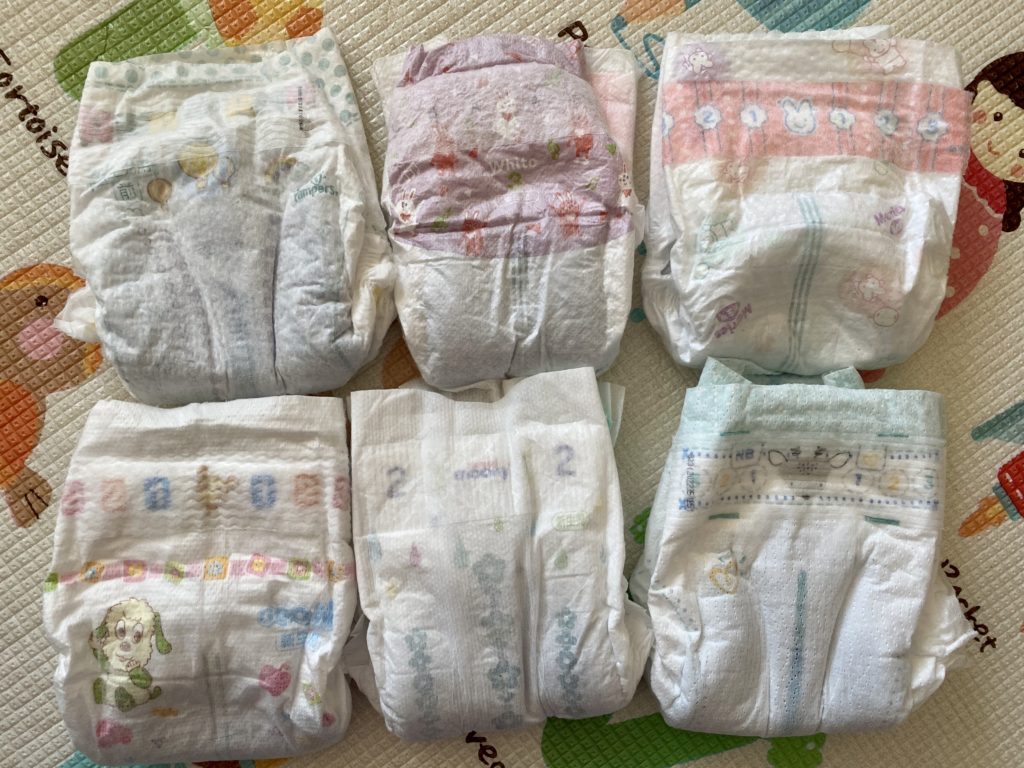 The outside of the diapers after one hour, which all felt dry except for Pampers さらさらケア and Whito
The inside of the diapers. As Pampersはじめての肌へ did an excellent job at absorbing all of the liquid, the inside isn't as dark as the other diapers after one hour.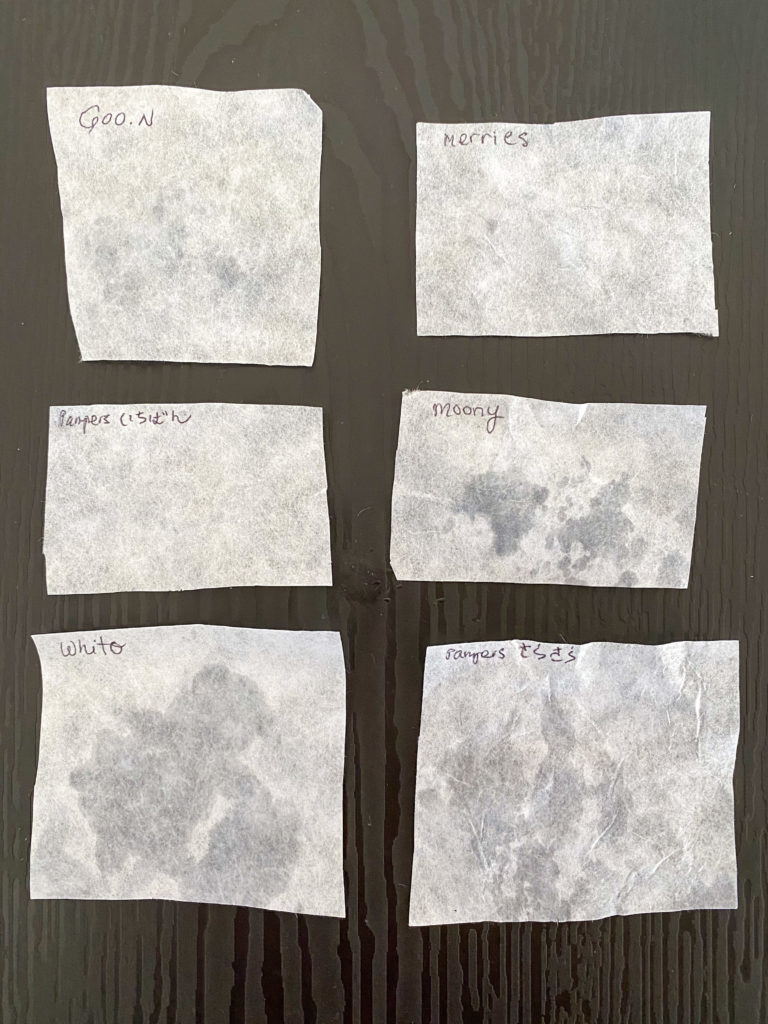 The pieces of washi we used on the diapers to see how dry they were after one hour (please excuse the poor cutting job!). Pampers はじめての肌へ and Merries hardly transferred any liquid onto the paper while the washi used on Whito and Pampersさらさらケア were quite wet.
Here is how the diapers performed overall in the liquid test from best to worst:
Pampers はじめての肌へのいちばん
Natural Moony
GOO.N
Merries
Pampers さらさらケア
Whito
It's important to remember that ideally, you will not be leaving your baby in a diaper for a long time so how much liquid it absorbs isn't as important as how quickly it absorbs. Because of this, although Merries felt considerably dry after an hour, it fell in our ranking due to not immediately absorbing the water and allowing a bit to escape from the back.
Diapers in Japan — Overall Ranking
Based on everything we looked at above, here is the overall ranking of the above newborn diapers in Japan from best to worst:

Pampers はじめての肌へのいちばん
Natural Moony
Merries
GOO.N
Pampers さらさらケア
Whito
The results from these tests may explain why Pampers はじめての肌へのいちばん was the most popular newborn diaper for parents in Japan in my Twitter poll, so if we were to recommend diapers to try on your infant, that one may be the best to start out with. As it's popular with hospitals and clinics, there is a chance you will receive a pack for free when you give birth (if you haven't already), so there's no harm asking your birth clinic/hospital in advance if you don't want to spend money on a pack in case it doesn't work out for your baby.
---
I hope this look at newborn diapers in Japan has been helpful for you future parents out there. Stores in Japan like Akachan Honpo and Babies R Us usually have samples as well on display, although the diapers aren't in the best shape due to being handled by many people. (I also wouldn't recommend doing this when these stores open again considering the current circumstances surrounding COVID-19.)
If you can, try to get as many samples as possible to see what works best for your baby. You can check out my post on how to get free diaper samples). For instance, signing up for the Amazon Japan Baby Registry is a great way to get free diaper samples as well as discounts on diapers. Watch my video of unboxing the welcome box below and check out my post all about the registry and how to get your free welcome box.