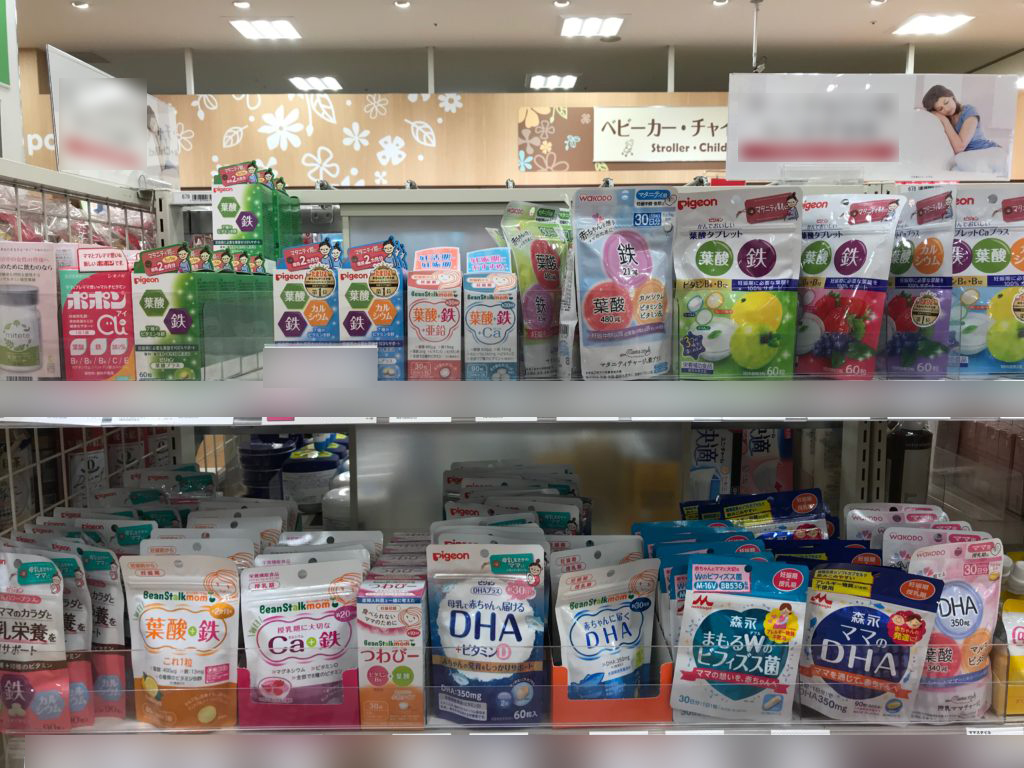 Prenatal Vitamins in Japan
I have a confession: I knew nothing about pregnancy before I was pregnant.
I know, shocking, right?
But I did find out while I was trying to conceive (thanks to Jean Twenge's The Impatient Woman's Guide to Getting Pregnant) that I needed to take folic acid, which is called 葉酸 or yousan in Japanese.
What is Folic Acid?
Folic acid is a B vitamin that helps reduce the chance your baby will be born with a neural tube (brain and spinal cord) defect. Some examples of neural tube defects are spina bifida when the baby's backbone and membranes around the spinal cord haven't closed properly, and anencephaly, which is when the baby is missing parts of their brain and skull.
It's most important to take folic acid daily for preventative purposes in early pregnancy, which is why women who are trying to conceive are also recommended to take the vitamin. The recommended daily dosage seems to vary online but tends to average around 400 μg for those who are not at high risk of possibly having a baby with a neural tube defect.
Thankfully, getting your hands on this essential prenatal vitamin is not difficult in Japan.
Here are some kinds available in Japan, some of which I have tried:
Folic Acid in Japan
Other Prenatal Vitamins
DHA (docosahexaenoic acid) helps with the development of your baby's eyes, brain and central nervous system, which is especially important in the third trimester. You can get the benefits of this if you eat fish regularly, especially salmon, but if you don't like seafood, you may want to invest in DHA capsules such as ones geared for pregnant women or just fish oil capsules. One package contains 90 capsules and the dosage is three per day.DHA: 350mg

These are geared towards women who are breastfeeding. Each package contains 40 strawberry-yogurt flavored tablets and you take two per day. These tablets also boast a variety of vitamins such as Vitamins B1, B2, B6, B12 and D, as well as magnesium and folic acid.Calcium (two tablets): 150 mg
Iron (two tablets): 2.5 mg
Everything listed above can be found online (you can click on the image or name of the product you're interested in and buy it directly from Amazon, which is what I did), in various drugstores, or in stores that sell baby goods like Babies R Us, Nishimatsuya, and Akachan Honpo.
If you're interested in more traditional prenatal vitamins that are packed with various vitamins and minerals, or popular western brands like One-A-Day, you may want to visit the website iHerb (use the code AZA5034 for 10% off your entire purchase). Some Western mothers in Japan who I know ordered their prenatal vitamins from this website, and I have also ordered items from there with no issues and my package arrives in less than a week.
Amazon Japan also sells the following prenatal vitamins by NatureMade, although it is quite pricey when you factor in shipping.
I hope this overview of prenatal vitamins available in Japan was helpful for you and wherever in Japan or the world you are, have a happy and healthy pregnancy!
---
Having a baby in Japan? Then check out these articles to help make preparing for pregnancy and birth in Japan as easy as possible: