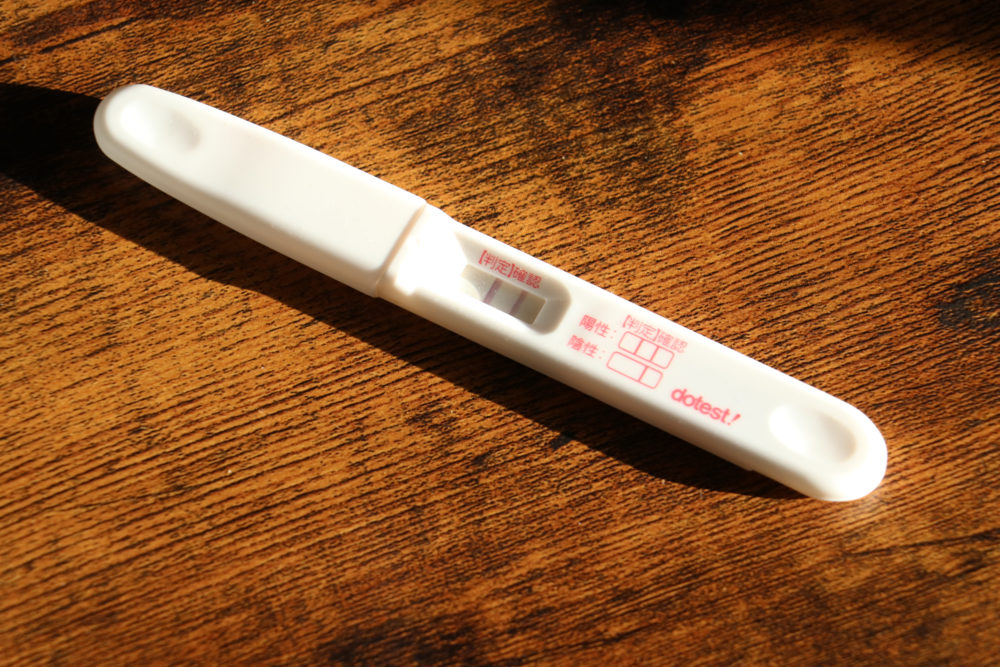 A Short Guide to Japanese Pregnancy Tests and Ovulation Predictor Kits
Whether you're planning on a baby or not, having a baby in another country is daunting, to say the least. Especially challenging is trying to figure out what to buy when it comes to certain products. Sometimes it's not as easy as waltzing into the closest drug store and quickly snagging the first pregnancy test you see and paying for it in under 1 minute before your nosy neighbor happens to see you.
As I had been trying to conceive (TTC) for about a year, I've had my fair share of experiences with pregnancy tests in Japan. (I found myself buying a pregnancy test when my period was merely a day late just in case. I wouldn't say it's overreacting to test before your missed period though — I found out I was pregnant almost a week before my expected period!) So based on this, I've compiled a list of available pregnancy tests and ovulation tests in Japan, which can be found at almost any pharmacy.
Pregnancy tests are called 妊娠判定テスト (ninshin hantei tesuto) or 妊娠検査薬 (ninshin kensayaku) in Japanese while ovulation tests are called 排卵日予測テスト (hairanbi yosoku tesuto). These tests are usually located near the feminine products or in the family planning (e.g., condoms) section.
For those who want a bit more privacy and would rather your coworker or student not see you purchase one at the local drugstore (you'd be surprised by how many people I know have seen me in public when I didn't even notice them, and what I was doing ended up being the latest gossip at work, even if it was mundane like waiting at a train station), you can also order some of these tests via Amazon by clicking on the pregnancy test name or images below.
Pregnancy Tests in Japan



These tests all work the same way as ones in North America (and perhaps your home country), meaning that you take off the cover of the stick and then pee on the strip or dip the strip into a cup of your urine for a few seconds. After that, you wait one to three minutes for the result to show up in the box(es) or window(s). Japanese pregnancy tests tend to have either one large box or two separate boxes — one line should always show up in one box, which indicates that the test is not defective, and then if another line shows up next to it or in the second box, that means you may be pregnant! So, to put it simply, one line means negative (陰性 or insei) and two lines mean positive (陽性 or yousei). 

How a test with two boxes should look like before you take it. There should not be any line in either box.

A negative result or 陰性 (not pregnant) will have only one line; that is, no line appears in the second box (or next to the first if the test has only one box).

A positive result or 陽性 (pregnant) will have two lines; that is, a second line will appear in the second box (or next to the first line if the test has only one box).
The pregnancy tests available in Japan that I will be sharing below are recommended to be used one week after your missed period for 99% accuracy. Now, I've never really waited until one week after my missed period and tested either a week before my period or the day after (what can I say, I'm impatient), and I've never gotten a false negative and a false positive only once, which I'll mention below. However, this may not be true for everybody because we all have different bodies. Keeping this in mind, if you want to test before your missed period and want the most accurate test, you can get an early pregnancy test or 早期妊娠検査薬 (souki ninshin kensa yaku); however, note that these are sold behind the counter so you will have to ask the pharmacist for it and fill out some information. Also remember that pregnancy tests are testing for hCG, which increases the longer you are pregnant. So if you want the highest accuracy early on but don't want to go through the trouble of getting an early test from the pharmacist, I would recommend following the instructions of the test you get and waiting until after your missed period.
Now without further ado, here is a brief list of some of the over the counter pregnancy tests you can pick up in Japan:
Available in a one or two-pack
Most affordable
This may be a familiar name for many of you and is one reason why I bought this test in the beginning. I was hoping that like the North American Clearblue, it would give me accurate results before the date of my missed period (even though this is not written on the box). Unfortunately, the lines were not very clear and I had a very, very thin and faint blue line show up in the "pregnant" box. This would have been great news except that I used another test and it turned out to be a false positive, so that experience alone makes me not want to recommend this brand.
Available in a one or two-pack
I've used this brand a few times with no problems — in fact, this was the test I used when I found out I was pregnant this time around and I took it a few days before my expected period. It has 99% accuracy, needs just a little bit of pee and your results will show up in one minute, and given my experience, it's true to its word. 
Available in a one or two-pack
Similar to dotest, HiTester has 99% accuracy and results will appear in about one minute. It's a bit on the pricier side but I've also used this a few times.
matsukiyo 初めての方でも簡単妊娠検査薬 (easy pregnancy test for even beginners)


Available in a one or three-pack
This test is a drugstore brand by the popular drugstore Matsumotokiyoshi, so you can only buy it there. I've actually never used it so I can't say how accurate it is based on my own experience, but similar to the other tests, it claims to have 99% accuracy. 
Available in a one or two-pack
Like the other brands, this has 99% accuracy and results will appear in a minute. It also comes with instructions in English. I've also never used this brand so I can't speak for it based on personal experience. 


Ovulation Predictor Kits in Japan
Ovulation predictor kits (OPKs) are great for those who are trying to conceive (TTC). It measures a hormone in your urine called luteinizing hormone (LH), which increases 24 to 36 hours before ovulation. Once you ovulate, you only have 24 hours to get pregnant if you didn't happen to have sex within 5 days beforehand so the window is quite small. 
This comes in kits of 5 or 10 testers, which you start using 17 days before your expected period. The price is quite hefty, especially when considering that one kit is meant for tracking only one cycle. 

In my experience, you have to get this directly from the pharmacist (there will be a box on display but it will be empty). The pharmacist will then explain how to use it. Similar to a pregnancy test, you pee on the tester (you need to really soak it, for lack of a better word – I didn't pee on it enough the first time so I used the cup included to just dip the tester into my urine). Then you wait 10 minutes. The window has four areas where a line(s) should appear: R, 1, 2, and 3. R is the reference line. The first day you test, a line should show up at R. On the second day (it may show up on the first day though), if your LH is increasing, another line should show up at 1 or even at 2 or 3. A line at 2 or 3 means that you're going to ovulate so you have to get on it! You can test twice a day for more accurate results, which is why there are 5 testers included.

I really only needed two for each cycle, but maybe I should have been testing more because the timing just didn't work out for me. 


I never used this brand but it's a bit more affordable than HiTester. It comes in packs of 7 or 12. It's a lot simpler than HiTester as well, showing results in 3 minutes and there being only one line to indicate whether or not you're going to ovulate. If the line that appears is just as dark as the reference line, it's time! 

There's also a digital one, which seems to be very easy to use and straightforward.


Another one I haven't used. It comes in packs of 5 or 10 and is the cheapest OPK as far as I know. Similar to Clearblue, results appear in 3 minutes. It also only has one line in addition to the reference line. The darker the line, the better.


You can get this test in packs of 7 or 12 (although the 12 pack only costs a fraction more than the 7 pack, so why not get more bang for your buck?). Results show up in 5 minutes. There are two boxes on the tester. The smallest box furthest to the right lets you know whether or not the test is working. Within the bigger box next to it, the line on the right is the reference while the line that should appear on the left lets you know if you're going to ovulate.


Ovulation thermometer
After I experienced a miscarriage and my body had some trouble getting back to its normal cycle, my doctor recommended that I buy an ovulation thermometer in order to track my basal body temperature and see whether I was ovulating properly. I found this to be the best way to test whether or not I was ovulating and I believe it helped immensely when it came to conceiving again soon after my cycle went back to normal. 


I used WOMAN℃ by TERUMO and what I liked was that it had an alarm I could set so that I wouldn't forget to take my temperature in the morning. The thermometer also saved my temperatures along with the time and date so that I could go back and easily chart my fertility. (Who has time to write all that down before rushing to work, anyway?) It's a bit pricey; however, when you think about the price of ovulation tests, I think it's well worth the investment.
---
So there you have it! Hopefully this guide has been helpful to you when it comes to figuring out which test to get and again, please remember that although I got accurate results before my missed period, the pregnancy tests listed above all state that for 99% accuracy, it's best to wait until one week after your missed period.

Let me know in the comments if you've tried any of these out and how it was, I'd love to know! 
Having a baby in Japan? Then check out these articles to help make preparing for pregnancy and birth in Japan as easy as possible:
10 Things To Do When Pregnant in Japan
Giving Birth in Japan: Cost Breakdown

What to Buy (and Not Buy) for Your Newborn
All About the Amazon Japan Baby Registry
How to Get Free Baby Products in Japan
Hospital Bag in Japan Checklist: What to Pack

You can also check out the pregnancy category of my blog, which has lots more articles, as well as read interviews by women from various countries who have given birth in Japan.