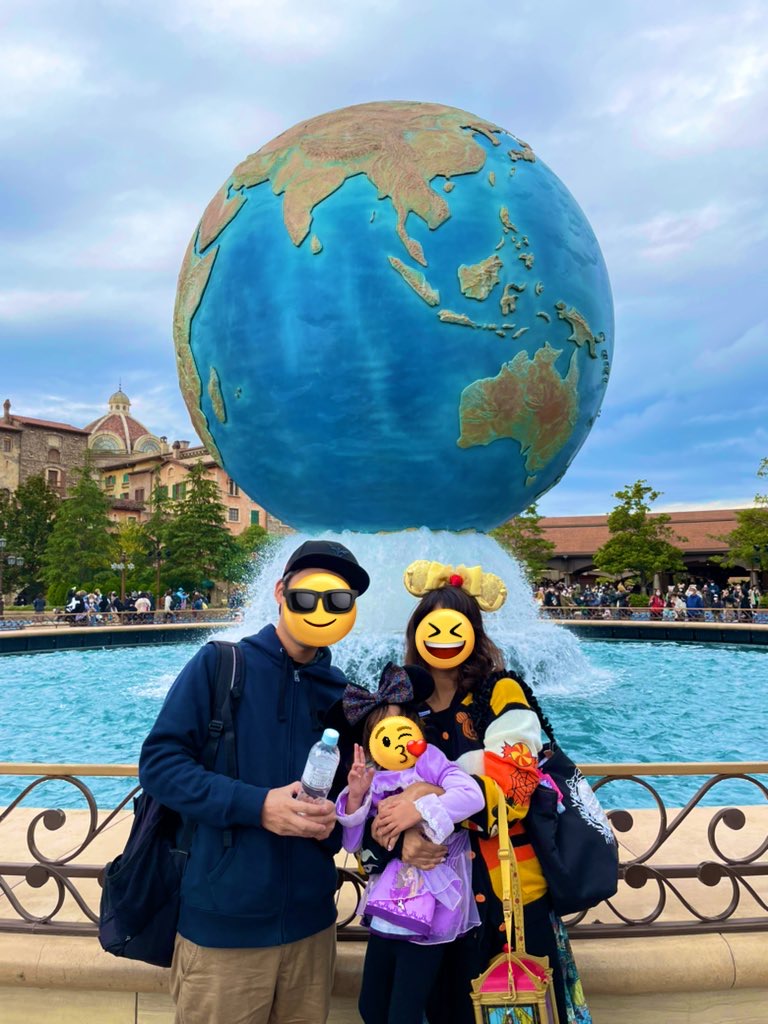 Tokyo DisneySea with a Toddler: Tips and Ride Reviews
Tokyo DisneySea is undeniably magical and a perfect place for parents to take children and make unforgettable memories. I've been fortunate enough to visit twice with my daughter when she was a toddler and she enjoyed both times (she had considerably more fun when she was three).
Similar to my article on Tokyo Disneyland, I'll be sharing my experience taking my toddler to Tokyo DisneySea as well as providing some helpful tips that I feel parents should know before their visit. 
Tickets and Hours at Tokyo DisneySea
Getting tickets was quite the experience. I don't think this is something that commonly happens but I thought I should share anyway, just in case.
At the time, the Disney theme parks in Japan were offering discounted tickets. This had never really happened before, so (unsurprisingly) the website was extremely congested. My husband and I spent more time than we would have liked trying to access the website through both the Tokyo Disney Resort app and the official website.
What was more frustrating was that we didn't even care about the discount! We wanted to visit at the time to celebrate the ten-year anniversary of our first date, which had been at DisneySea!
The good news was that when we finally got in (hours later), it was easier to get tickets since we only needed to purchase two for adults as children ages three and under are free.
I don't know if something like that will happen again, though, so under normal circumstances, you can purchase your tickets on the day you're visiting and up to two months in advance. Keep in mind that the website can also be congested sometimes even if there's nothing special going on. For instance, while I was double-checking information for this article, I couldn't access the website at times and had to refresh the page.
Weekends and holidays are popular times for people to visit so I recommend trying to go on a weekday. 
You can also change the date of your ticket if something happens, such as your child getting sick beforehand or if it's going to be raining all day. This is really helpful and we were able to change our tickets when there was another COVID wave back in 2022.
Note that from October 1, 2023, Tokyo Disney will be increasing their ticket prices and offering variable pricing on park tickets, meaning that some days are cheaper than others. 
Hours of operation have thankfully gone back to what it was pre-pandemic, 9:00 AM to 9:00 PM.
Helpful Tips for Visiting Tokyo DisneySea with a Toddler
Many of my tips for enjoying Tokyo DisneySea with a toddler or small child are the same as for Tokyo Disneyland:
Watch Disney movies with your little one that features characters and areas that are in Tokyo DisneySea such as:

The Little Mermaid 
Aladdin
Finding Nemo
Toy Story

Bring your own beverages to save money
Note that you're allowed to bring in baby food, just not food for adults
Download the Tokyo Disney Resort App, which will allow you to buy tickets for the park (in Japanese only), get Entry Requests, get reservations for restaurants, Standby Passes, etc.
Download the CASTEL Disney Wait Time app, which shares information about how long you may need to wait for rides (in Japanese only)
You can also pay for a service called Disney Premier Access, which gives you designated entry times for certain attractions, shows, and parades. Kids ages three and under are also free if a parent purchases one.
Get a "My 1st Visit" sticker for your child from these locations. Cast members are also more likely to interact with your child if they notice your child with the sticker.
If you need a stroller, you can rent a cute Mickey Mouse one for 1000 yen. And honestly, it's worth it. We rented one when our daughter was three because she got tired quickly and we didn't want to carry her — completely lifesaver! 
If you're an expectant mother, Tokyo Disney offers a "Separate Wait Service" where you can sit in a designated area instead of having to stand while you wait for a ride. Your party, however, needs to remain in line and you rejoin them when it's time to go on the ride. This service also doesn't shorten the wait time.
The souvenir stores get crowded near closing, so when it comes to buying souvenirs, the earlier the better.
If your child's clothes get wet or dirty and you don't have any spare clothes on hand, check out Kiss de Girl Fashions in Mermaid Lagoon. Galleria Disney in Mediterranean Habor also sells cute, warm parkers, and I made sure to grab one when we visited in October and there was a sudden cold snap. My toddler still wears it to this day! 

There are several helpful spots for parents of young children at DisneySea:

The Baby Center in the Mediterranean Habor, where you can change your child's diaper or nurse them. The Baby Center also has high chairs, microwaves, and hot water to prepare food/formula. (Keep in mind that you can only bring baby food into the park.) You can purchase diapers, formulas, wipes, and so on as well.
The Baby Care Room in the Mermaid Grotto is another spot for changing diapers and nursing.

The Nursing Mother's Lounge next to the Tower of Terror at the American Waterfront

The Baby Center in the Mediterranean Habor also has the Lost Children facility, which is where you can (hopefully!) find your kid if they become lost.
If you're staying in Tokyo, you might want to consider this service that will take you to the park from your hotel and back again in a private car, as well as get you tickets. 
Note that in celebration of Tokyo Disney's 40th anniversary, they're currently offering a Tokyo Disney Resort 40th Anniversary Priority Pass for free through the app. This allows for timed entry to certain attractions so you don't have to spend ages waiting in line. This is something I wish was around when I went with my toddler!  
Baby and Toddler-Friendly Attractions at Tokyo DisneySea
I want to start off by saying my experience visiting both Tokyo Disney parks with my daughter when she was two years old versus three was like night and day. 
When she was two, she was very cranky. She didn't like the rides that much and didn't really understand or care about the characters apart from Jasmine, so we actually didn't go on many rides. I was also overwhelmed with taking her by myself when she was two, so I spent most of the time just pushing her around in her stroller so she could see all the sights. She also took a two-hour nap, which cut down on time for rides. 
However, when she was three she was SUPER excited to visit the Tokyo Disney parks. We packed Belle and Rapunzel dresses as well as headbands I had from previous visits. She was practically bouncing off the walls in anticipation! (Note that it's totally fine for kids to wear Disney costumes throughout the year but adults can only wear costumes during Tokyo Disney's Halloween season.)
And thankfully, she had a great time and there was a lot for her to see and do! 
In Mediterranian Harbor and American Waterfront
DisneySea Transit Steamer Line

The Transit Steamer Lines are two boats that you can take to get from the Mediterranian Harbor to the American Waterfront and back again.
This is obviously a great way to cut down on walking time and get from one spot to another quickly, but it's also a lifesaver when you have a tired toddler who doesn't want to walk anymore. 
My daughter liked riding on the boats, especially at night since she could see the beauty of the park all lit up. 
Parent Fun Factor: ★★★★☆
2 YO Toddler Fun Factor: ★★★★☆
3 YO Toddler Fun Factor: ★★★★☆
In Mediterranean Harbor
Fortress Explorations
This is not really a ride but more of an experience where kids explore a fortress and can complete "The Leonardo Challenge"if they're up for it. My toddler at age three was still too young to do the challenge but she liked looking around the inside of the fortress, especially as she was really into planets at the time. 
If you're stretched for time, I recommend perhaps skipping this. Note that once it's dark, you can't go inside.
Parent Fun Factor: ★★★☆☆
2 YO Toddler Fun Factor: Didn't go!
3 YO Toddler Fun Factor: ★★★☆☆
In Port Discovery
Nemo & Friends SeaRider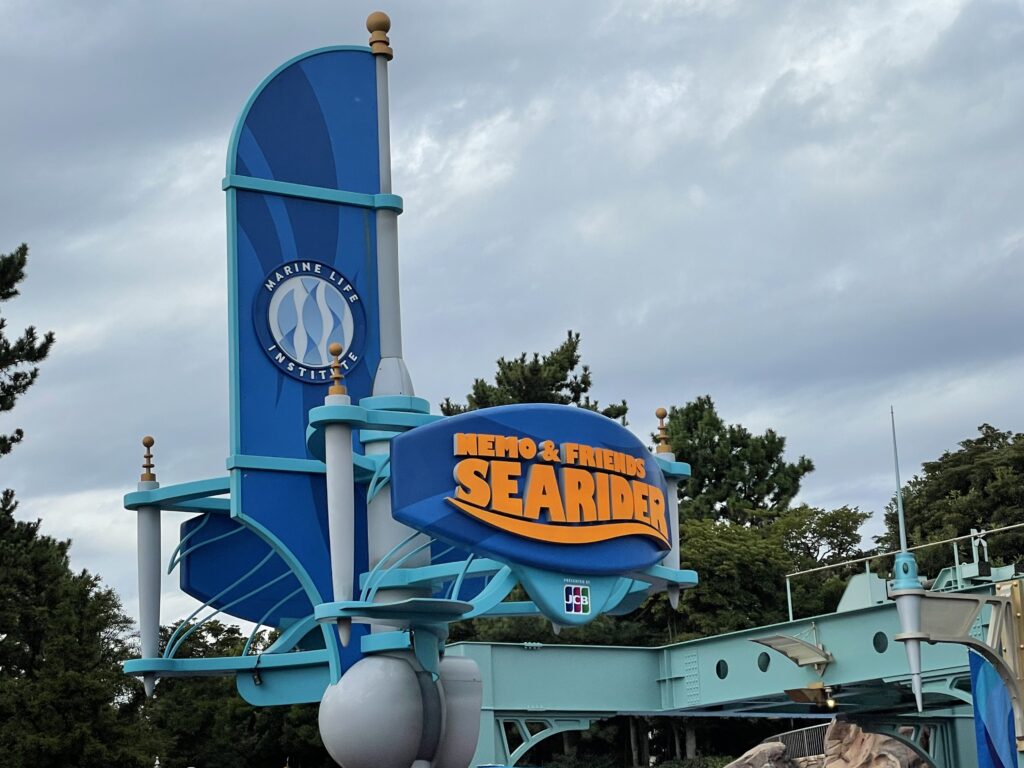 My daughter loves Finding Nemo, so of course she was happy to try out this ride. We didn't have to wait very long, only 15 minutes, which was good. However, once the lights dimmed, my daughter got scared. She also didn't like how the seats moved, so unfortunately, this wasn't for her. Maybe she'll enjoy it more when she's older. 
Parent Fun Factor: ★★★★☆
2 YO Toddler Fun Factor: Didn't go!
3 YO Toddler Fun Factor: ★★☆☆☆
☔ Recommended if it's raining
In Arabian Coast
Caravan Carousel
My daughter didn't want to ride the Merry-Go-Round at Disneyland, but when we went to DisneySea the next day, she decided to take up the challenge. I think the Aladdin theme of Caravan Carousel helped as well. 
Unlike Universal Studios Japan (article coming up!), kids can ride with their parents on the same animal, so my daughter rode with my husband and had a blast.
Parent Fun Factor: ★★★★★
2 YO Toddler Fun Factor: Didn't go!
3 YO Toddler Fun Factor: ★★★★★
☔ Recommended if it's raining
Jasmine's Flying Carpets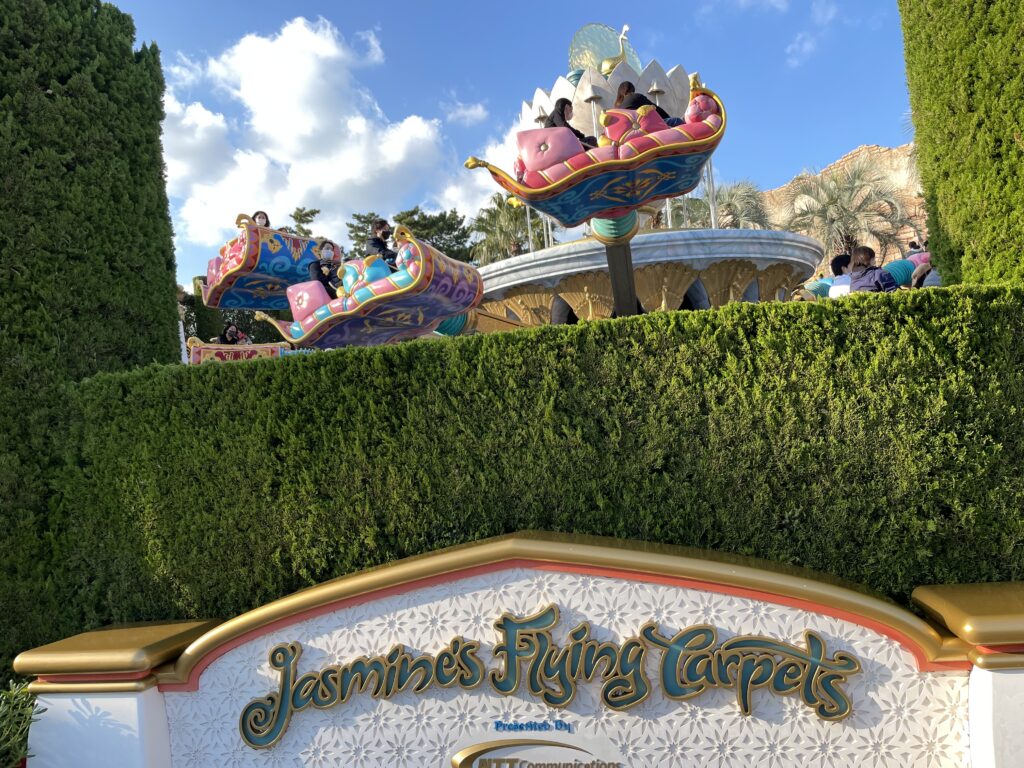 Now this was interesting because she was happy to go on this ride not once but twice when she was two. However, she absolutely refused to ride this when she was three. I think she's more aware of heights and that she doesn't like rides that go into the sky and move in a circle (like the Snoopy ride at USJ, which she also refuses to ride.)
One strange thing was that a staff member asked if I was my daughter's parent for some reason. I wonder why… It's not like I stole some kid and took them to DisneySea! Maybe they thought I was a nanny or something?
Parent Fun Factor: ★★★★★
2 YO Toddler Fun Factor: ★★★★☆
3 YO Toddler Fun Factor: Didn't go!
Sindbad's Storybook Voyage
My husband and I have a fond memory of being stuck on this boat ride for an hour or so on our first date. Truly a bonding experience.
We were a bit nervous to go on again because the last thing we wanted was to be stuck on a boat with a toddler but it was cold and rainy and there was no line, so we figured, "Why not!"
My daughter liked looking at all the different moving characters while the boat glided through the scenes of Sindbad's story. And thankfully, the boat never got stuck! 
Parent Fun Factor: ★★★☆☆
2 YO Toddler Fun Factor: Didn't go!
3 YO Toddler Fun Factor: ★★★★★
☔ Recommended if it's raining
In Mermaid Lagoon
Mermaid Lagoon is the place to take small children at DisneySea. It should honestly be your first stop, especially if you're short on time and/or it's raining/cold! There is so much for little kids to do here, not to mention a room to change diapers and nurse. 
Ariel's Playground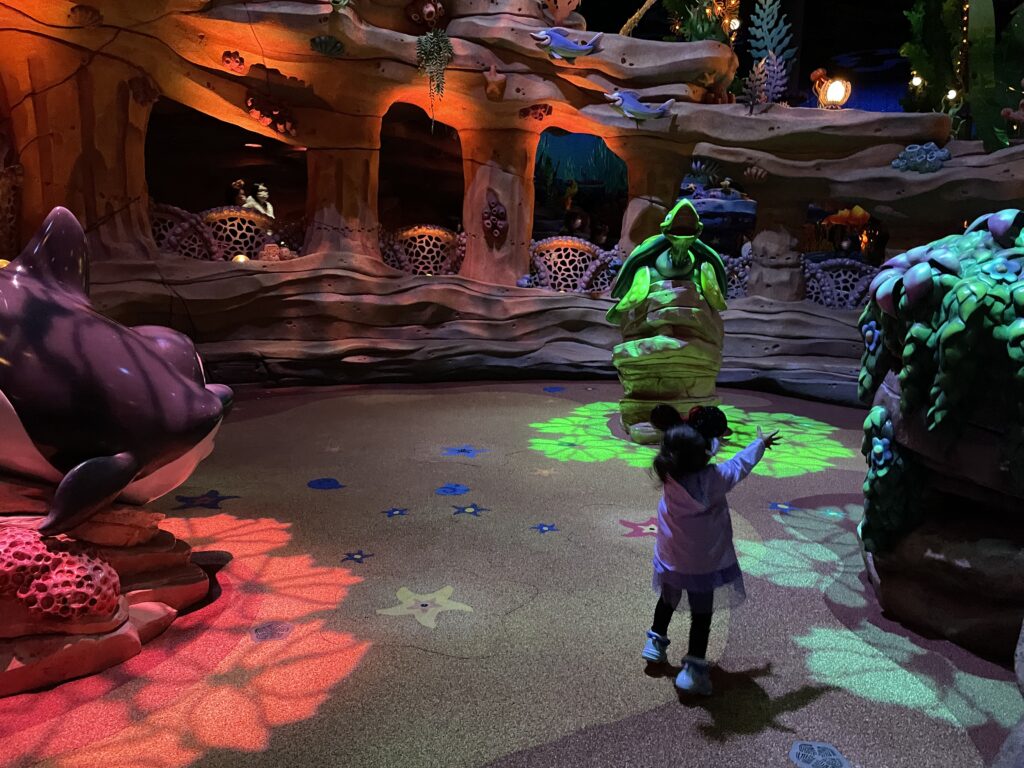 This is an area where kids can explore Ariel's cavern and treasures. There's also a turtle that spouts water so that's something to keep in mind in case you don't want your kid getting wet!
My daughter had fun here when she was two as well as three. Everything here is kid-friendly and exciting for little ones to experience.
Parent Fun Factor: ★★★★☆
2 YO Toddler Fun Factor: ★★★★★
3 YO Toddler Fun Factor: ★★★★★
☔ Recommended if it's raining
Jumpin' Jellyfish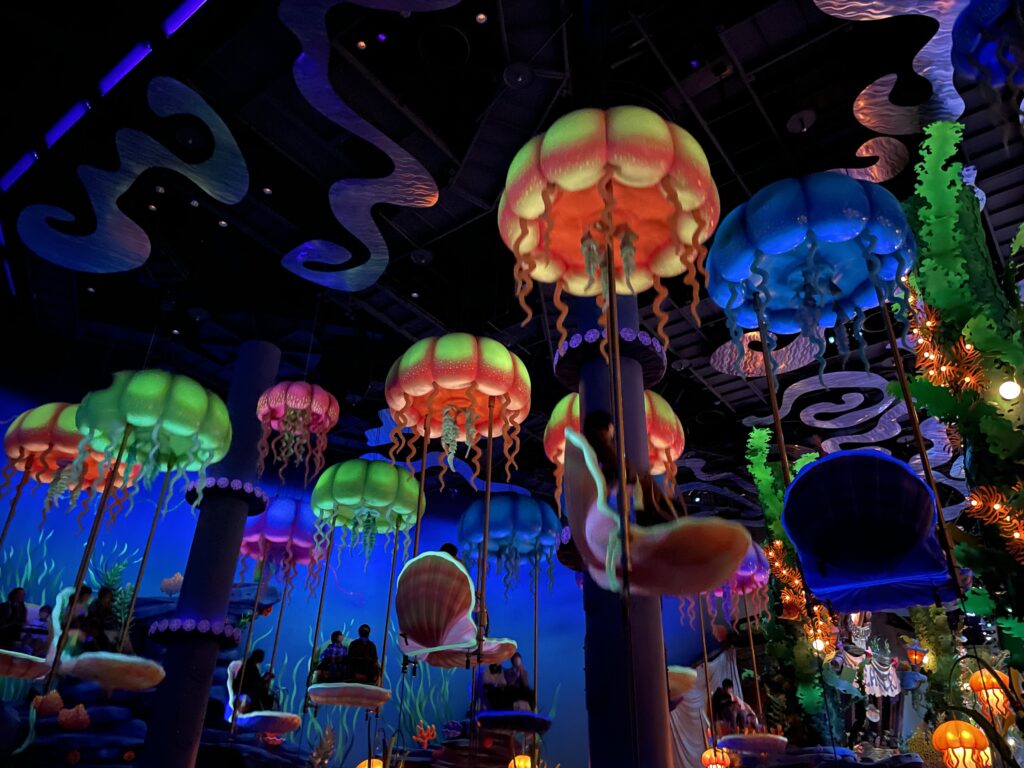 This is a very gentle ride where you sit alongside your child on a seat that is slowly brought up and down by a jellyfish. It's perfect for small children and the wait time is also usually quite short, so if your child is like mine, they can ride it repeatedly. My daughter loved this ride so much that when she was three, she ran back to the line as soon as the ride finished! 
Parent Fun Factor: ★★★★☆
2 YO Toddler Fun Factor: ★★★★★
3 YO Toddler Fun Factor: ★★★★★
☔ Recommended if it's raining
The Whirlpool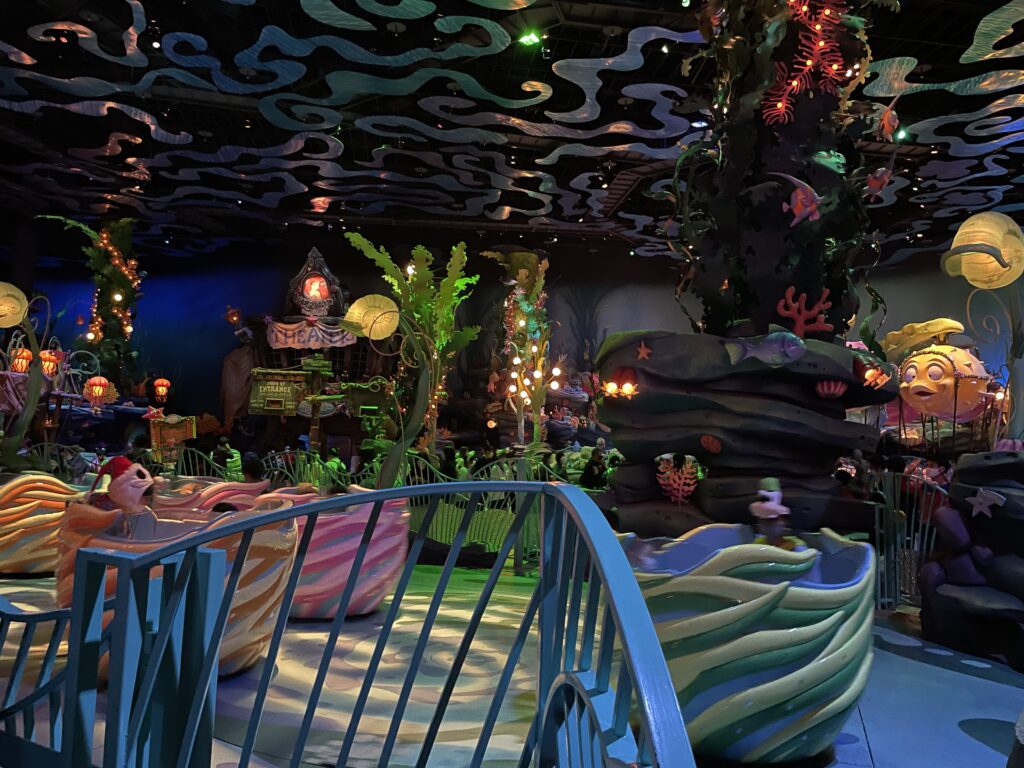 This is essentially a spinning teacup ride but under the sea! My daughter had a blast turning the wheel and spinning us around while my husband protested. 
Parent Fun Factor: ★★★★☆
2 YO Toddler Fun Factor: Didn't go!
3 YO Toddler Fun Factor: ★★★★★
☔ Recommended if it's raining
In Mysterious Island
20,000 Leagues Under the Sea
I was kind of surprised that my daughter was able to ride this! I thought she would be too small but there is no height restriction and since the wait time was short, we decided to give it a try.
My daughter sat on my husband's lap inside the pod so she wasn't too scared of the creepy undersea world. The ride does have some loud noises and some jerky movements, which she wasn't the biggest fan of but she had fun overall.
Parent Fun Factor: ★★★☆☆
2 YO Toddler Fun Factor: Didn't go!
3 YO Toddler Fun Factor: ★★★☆☆
☔ Recommended if it's raining
Other Attractions For Babies and Toddlers
Below are baby and toddler-friendly rides that we didn't have a chance to experience, either because of a time constraint, long wait time, or my daughter didn't want to go on the ride:
Toy Story Mania! (☔ Recommended if it's raining, child must be able to sit on their own, ride can be scary)
Big City Vehicles 
Aquatopia (Child must be able to sit on their own)
DisneySea Electric Railway (☔ Recommended if it's raining)
Turtle Talk (☔ Recommended if it's raining)
The Magic Lamp Theatre (☔ Recommended if it's raining)
Scuttle's Scooters (Child must be able to sit on their own)
Flounder's Flying Fish Coaster (Child must be at least 90 cm tall and be able to sit on their own)
Blowfish Balloon Race (Child must be able to sit on their own)
Note that if your child needs to go to the washroom while you're in line, talk to a cast member. You might be allowed to leave the line and then be given priority when you return. 
To avoid long wait times for popular rides, try to get a Priority Pass right when you enter the park through the Disney Resort App.
You can also pay for Disney Premier Access to get timed entry into rides such as Toy Story Mania, as well as view parades or shows from a specified area.
Shows and Parades at Tokyo DisneySea
The shows fill up super quickly so I recommend trying to get a spot using the Entry Request on the Disney Resort app as soon as you get through the gates.
Big Band Beat
Jamboree Mickey! Let's dance!
Duffy and Friends' Wonderful Friendship (this is a new show at Cape Cod Cook-Off that wasn't around when we went!)
We were able to attend Big Band Beat, which is a jazz show featuring Mickey Mouse and other classic Disney characters. I loved the theatre, which made me feel like I had paid to watch the show, and my daughter was able to see everything from her seat. However, I don't think this was the best show for kids as the theatre was a bit dim and my daughter ended up falling asleep! 
Jamboree Mickey! seems more kid-oriented, which is probably why the seats were snagged quickly by parents.
There are also different greetings held in the Mediterranean Harbor throughout the day. I think Disneyland's parades win in comparison to these greetings as Tokyo DisneySea's are shorter and farther away, making it harder for little ones to see. Nonetheless, my daughter liked watching them, especially the Halloween Greeting.
The list of shows and their times can be found on the official Tokyo DisneySea website.
The fireworks show at 8:30 PM can be seen from most locations in the park. It only lasts five minutes so make sure you're not on a ride when it starts!
Character Greetings at Tokyo DisneySea
Currently, you don't need an Entry Request to meet characters at Tokyo DisneySea and instead, you line up and wait.
I found that among the attractions for kids, the Character Greetings took the longest, mostly because adults on their own wanted to meet the Disney characters as well. 
The wait to meet Minnie Mouse was 40 minutes (!) and my sweet, kind husband waited with our daughter while I quickly rode Journey to the Center of the Earth. Luckily, I made it back in time to take a family photo with Minnie!
We also got to meet Donald Duck in the Mermaid Theatre, which was about a 30-minute wait.
Toddler-Friendly Food at Tokyo DisneySea
Since we didn't want to have to wait in line to get food with our toddler, we made a reservation for the Horizon Bay Restaurant using the Tokyo Disney Resort app and it was definitely the right choice.
I was quite impressed with the quality of the food, and of course I loved how everything was Halloween-themed.
My daughter also got a cute kids' meal, which she partially ate before passing out for a nap. Thank goodness the restaurant had booths!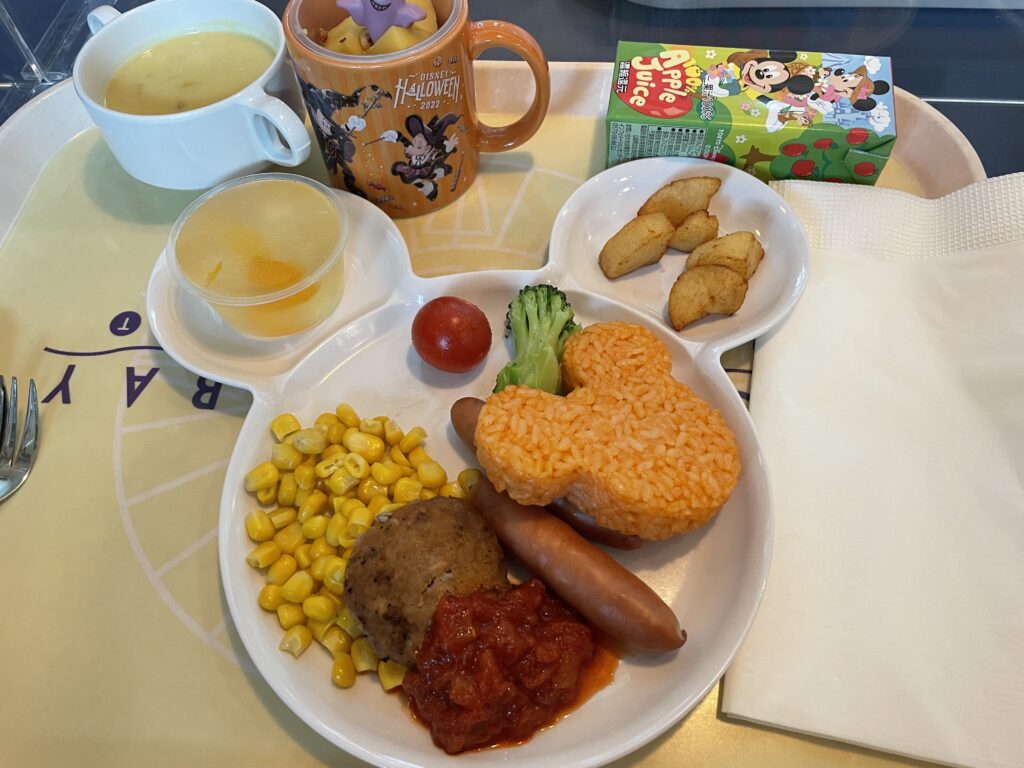 Other Tokyo DisneySea restaurants that offer kids' meals include:
Cafe Portofino (Mediterranean Harbor)
Magellan's (Mediterranean Harbor)
Ristorante di Canaletto (Mediterranean Harbor)
S.S. Columbia Dining Room (American Waterfront)
Cape Cod Cook-Off (American Waterfront)
Restaurant Sakura (American Waterfront)
Yucatan Base Camp Grill (Lost River Delta)
Vulcania Restaurant (Mysterious Island)
Overall Impression of Tokyo DisneySea with a Toddler
Despite the rain and cold, we had a great time celebrating our 10th anniversary at DisneySea with our daughter. There was so much for her to do and lots of enclosed attractions so she could stay dry and warm. And even if your child doesn't want to go on rides or they're still a little baby, it's nice to just walk around the park like I did when I went when my daughter was two years old and look at all the colorful sights (and who knows, they may even be up for a ride or two!). Children ages three and under are free so there's nothing to lose if you, as a parent, want to go to Tokyo Disney and see how your child reacts.
While writing this article, I really felt like I wanted to go again as soon as possible! However, I'm going to be honest with you dear readers, I was not impressed with how slow and at times completely unresponsive the Tokyo Disney website was on the various days I spent writing this, and that killed my desire pretty quickly. One would hope that a website for a big company like Disney would be able to handle a large amount of traffic but it seems like even now, with no special event occurring, they are having trouble.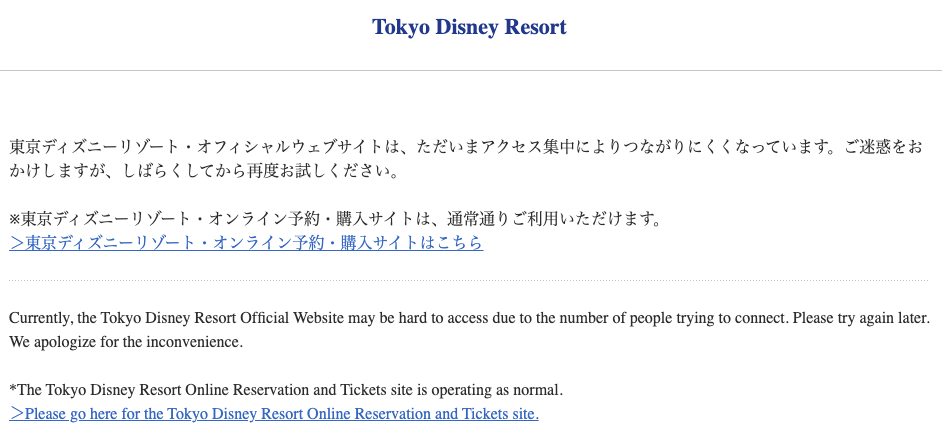 The screen of death, which I saw any time I tried to go to a new page…
---
I've also updated my article on visiting Tokyo Disneyland with a toddler so make sure to check it out as well!