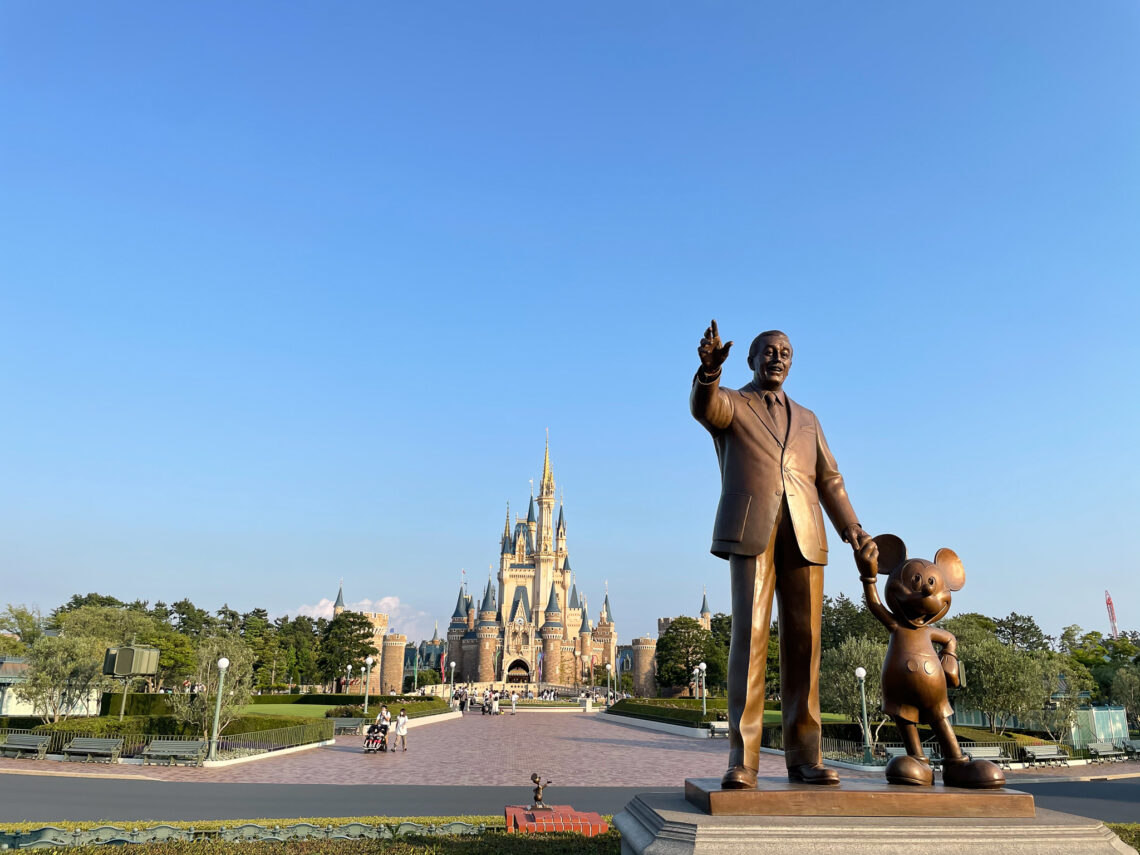 Tokyo Disneyland with a Toddler: Tips and Ride Reviews
In my June newsletter, I mentioned that my daughter visited Tokyo Disneyland for the first time! (Psst, make sure to sign up for my monthly newsletter if you haven't already! I talk more in detail about what's going on in my life and A's, and I also try to share helpful Japan-related tips.)
Tokyo Disneyland is a must-visit place if you have a child, but at 22-months, I wondered if A was too young to enjoy everything. However, as Tokyo Disneyland was limiting the number of guests due to the pandemic, my husband and I figured that it would be nice for A (and us) to enjoy the theme park when it was less crowded. Children under the age of three are also free so we wanted to take advantage of that as well.
Tickets and Hours at Tokyo Disneyland
As mentioned earlier, Tokyo Disneyland was (and still is, at the time of writing) limiting the number of guests, which is why 1-Day Passport sales open online around the middle of each month for entry the following month. We chose a weekday, hoping it would be even less crowded compared to weekends, and kept our fingers crossed that it wouldn't rain. Although you need to buy your tickets ahead of time, the good thing is that you can change the date, but only if there is still availability.
(In pre-pandemic times, you could buy the tickets on the day, but even when things go back to "normal", I would still recommend getting tickets in advance as you'll be able to get into the park much faster.)
The park's hours are usually from 8 AM to 10 PM but changed to 10 AM – 7 PM. We drove (note that parking costs 2500 yen for the day) and didn't end up arriving until 10:30 AM because, well, we have a toddler and with toddlers comes always being late to everything. I was worried we would have to wait to get in but there was no line whatsoever. It was very unusual to just glide into Tokyo Disneyland without having to queue.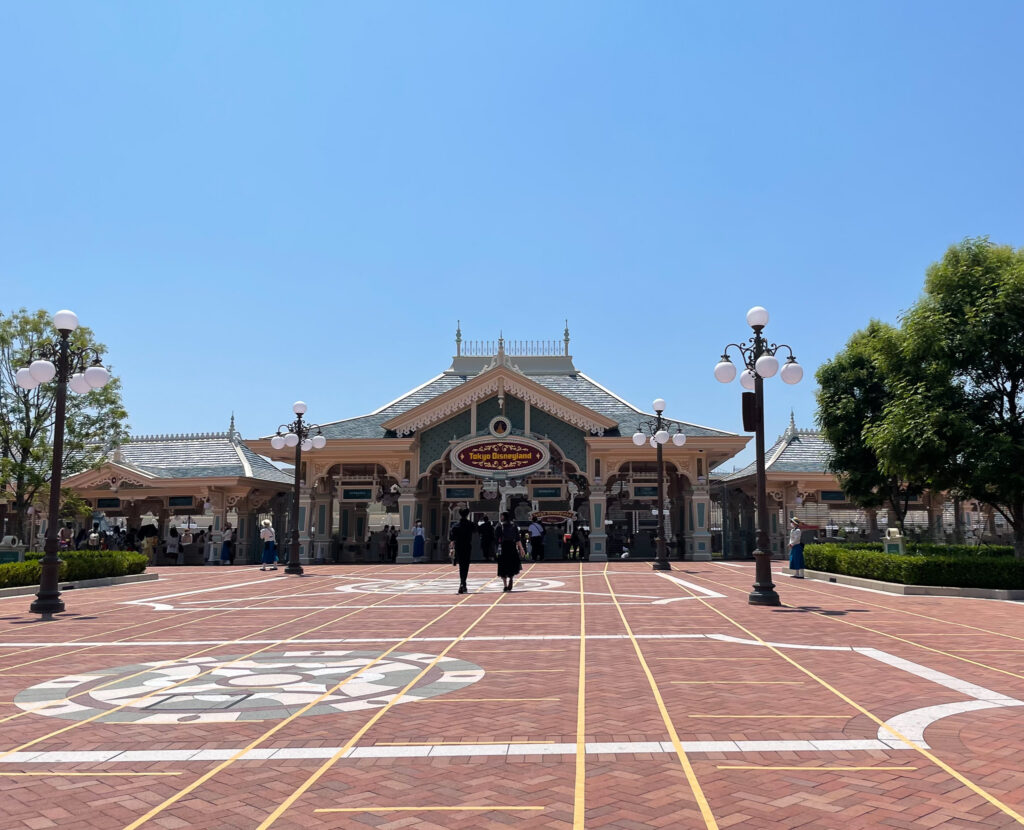 So empty!
There were a number of people inside but nothing compared to how crowded the park usually is. We decided to take A's stroller but you can rent a cute Mickey Mouse one as well for 1000 yen.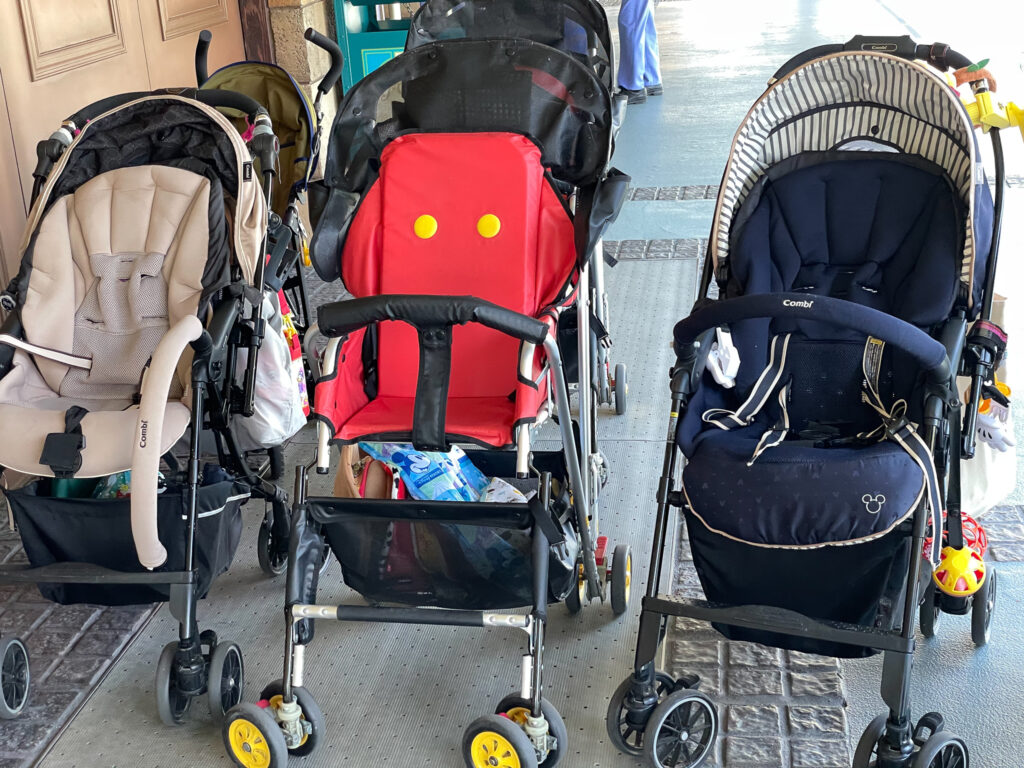 Guess which one is a rental?
It was a hot day (about 29 degrees) when we went and perhaps because of that, A was a little crankier than usual. (We joked that she's probably the only kid making a sour face in almost every photo at Disneyland!) Despite this, it was still an enjoyable day, maybe because the last time I had seen the place so empty was on a weekday back in 2012!
My husband and I have been to Tokyo Disneyland and Disneysea many times over the years (in fact, our first date almost a decade ago was at Disneysea!) but going to Tokyo Disneyland with our toddler was a completely new experience. I didn't do very much research before I went because I figured it wouldn't be that different from the usual but looking back, I wish I had! This is why I decided to write about our visit along with tips and ride reviews so that everyone else with little ones can be better prepared than me!
Helpful Tips for Visiting Tokyo Disneyland with a Toddler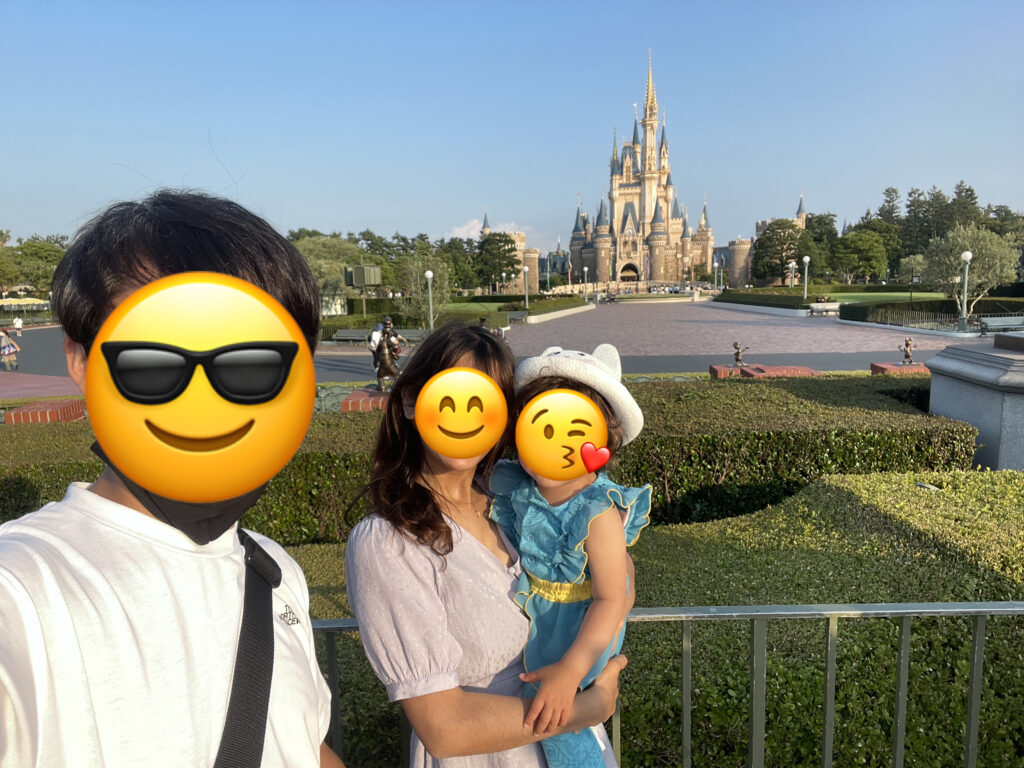 This might seem like a no-brainer but have your kid watch a few Disney movies before they go! A had seen a few but not Beauty and the Beast (big mistake on my part) and the last Disney movie she saw was a few weeks before our visit, which may also be why she seemed more confused than excited.
Bring some drinks with you, as the drinks inside the theme park can be expensive.
You're not allowed to bring food for yourself, but food and snacks for your little one are perfectly fine.
Download the Tokyo Disney Resort App, which will allow you to buy tickets for the park (in Japanese only), get Entry Requests (required for Enchanted Tale of Beauty and the Beast and The Happy Ride with Baymax), get reservations for restaurants, Standby Passes, etc.
Download the CASTEL Disney Wait Time app, which shares information about how long you may need to wait for rides (in Japanese only)
If you want to do a meet-and-greet with a character, you need an Entry Request, which you can get through the Tokyo Disney Resort App.
Get a "My 1st Visit" sticker for your child from these locations. This is something I found out about after I took my daughter and I regret not getting it because it makes a nice memento. Also, cast members are more likely to interact with your child if they notice your child with the sticker.
If you're an expectant mother, Tokyo Disneyland offers a "Separate Wait Service" where you can sit in a designated area instead of standing in line for a ride. Your party, however, needs to remain in line and you rejoin them when it's time to go on the ride. This service also doesn't shorten the wait time.
The souvenir stores get crowded near closing, so when it comes to buying souvenirs, the earlier the better.
If your child's clothes get wet or dirty and you don't have any spare clothes on hand, head to Town Center Fashions in the World Bazaar or Brave Little Tailor Shoppe in Fantasyland where you can pick up something cute to clothe them in. (Makes a nice souvenir, too!)
If your little one wants to dress like a princess and it's their birthday, you can make a reservation for them at the Bippity Boppity Boutique where they can choose a princess dress, shoes, get their hair and makeup done, and get photos taken. Your child can also take some of the items home depending on the package you choose. (Note that this service is closed at the moment due to COVID-19.)
Toddler-Friendly Attractions at Tokyo Disneyland
I was pleasantly surprised that my toddler was able to go on many of the rides. Since there weren't very many people, the longest we had to wait in line was under 5 minutes! Tokyo Disneyland is massive, however, so although we barely had to wait to get on a ride, it took some time to get from one area to another, which is why it's important to have a general idea about what rides you want to go on, where you want to eat, naps, etc. If you don't have very much time and/or there are a lot of people, head to Fantasyland as it has the most toddler-friendly rides.
Below are the rides that we tried and our thoughts. (Note that all kids are different — just because my kid liked/disliked a ride, that doesn't mean your child will have the same reaction!)
In Adventureland
Jungle Cruise: Wildlife Expeditions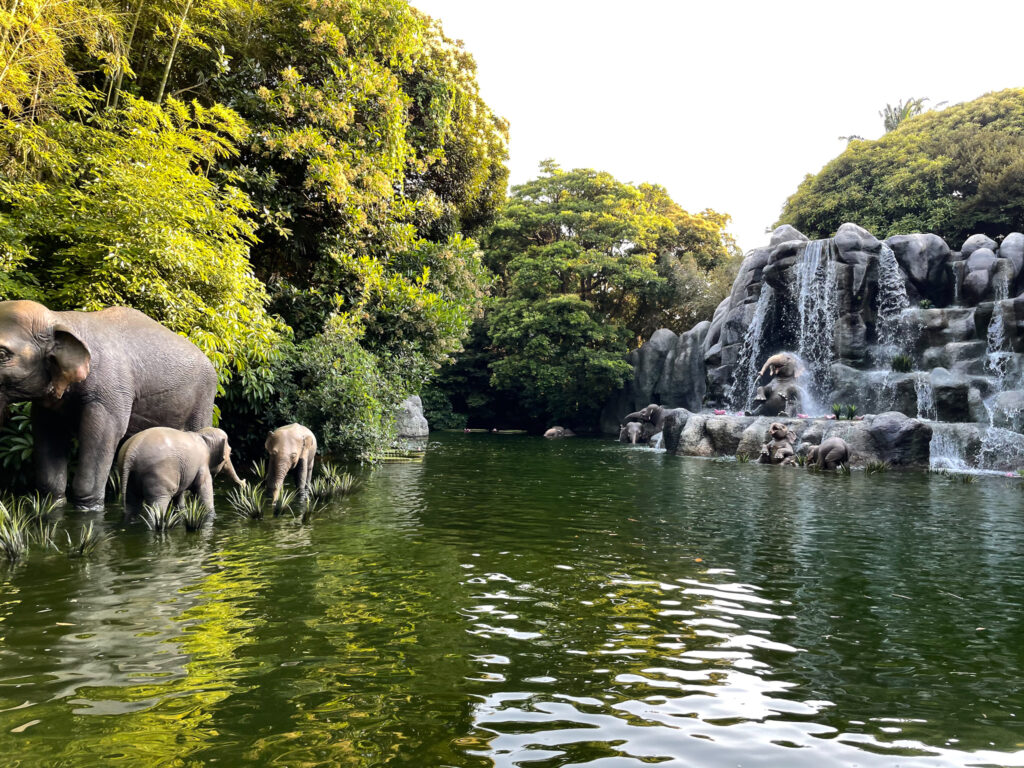 This is a boat ride that travels through a jungle filled with animals. The guide was great and the ride is relaxing in a sense but is dated. A didn't have much of a reaction but she may have been quiet because she had never been on a boat before and was taking in the scenery.
Parent Fun Factor: ★★☆☆☆
Toddler Fun Factor: ★★★☆☆
In Fantasyland
My husband haaaates this ride because he gets really dizzy and sick on it… although that was probably my fault in the past. With A, I didn't touch the wheel and it was just the right speed — my husband didn't hate it! A didn't have much of a reaction to this ride either, however, although I think it was because sitting in a moving cup surrounding by other colorful cups and saucers spinning around was a bit overwhelming for her.
Parent Fun Factor: ★★★★☆
Toddler Fun Factor: ★★★☆☆
"It's a small world"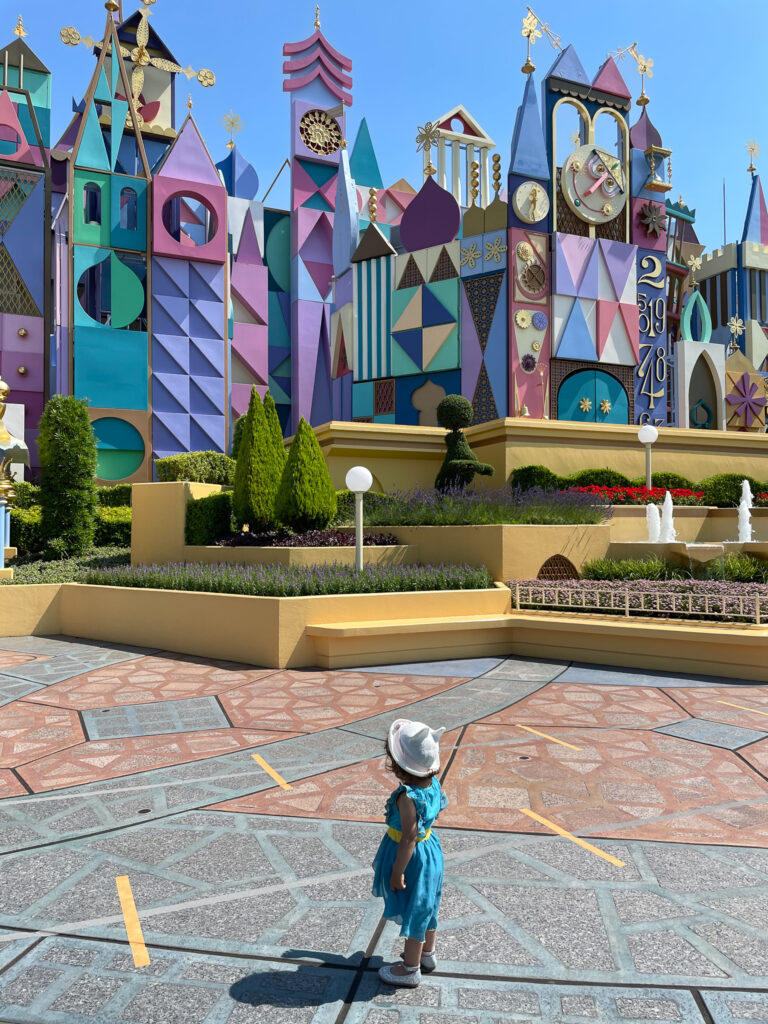 The outside of this ride is so big, colorful, and inviting but underneath its lovely exterior is a ride that we absolutely regretting getting on. I forgot how annoying the song "It's a small world" is, especially when it goes on and on and on and… I am now shuddering at the memory. The dolls from different countries were cute, although at times creepy. Overall, this ride is the perfect setting for a horror movie. Our toddler, once again, had no real reaction and was probably wondering why her parents decided to make her sit on a boat ride through a forest of dolls. One point goes to her not crying or trying to jump out of the boat.
Parent Fun Factor: ★☆☆☆☆
Toddler Fun Factor: ★★☆☆☆
☔ Recommended if it's raining
Castle Carousel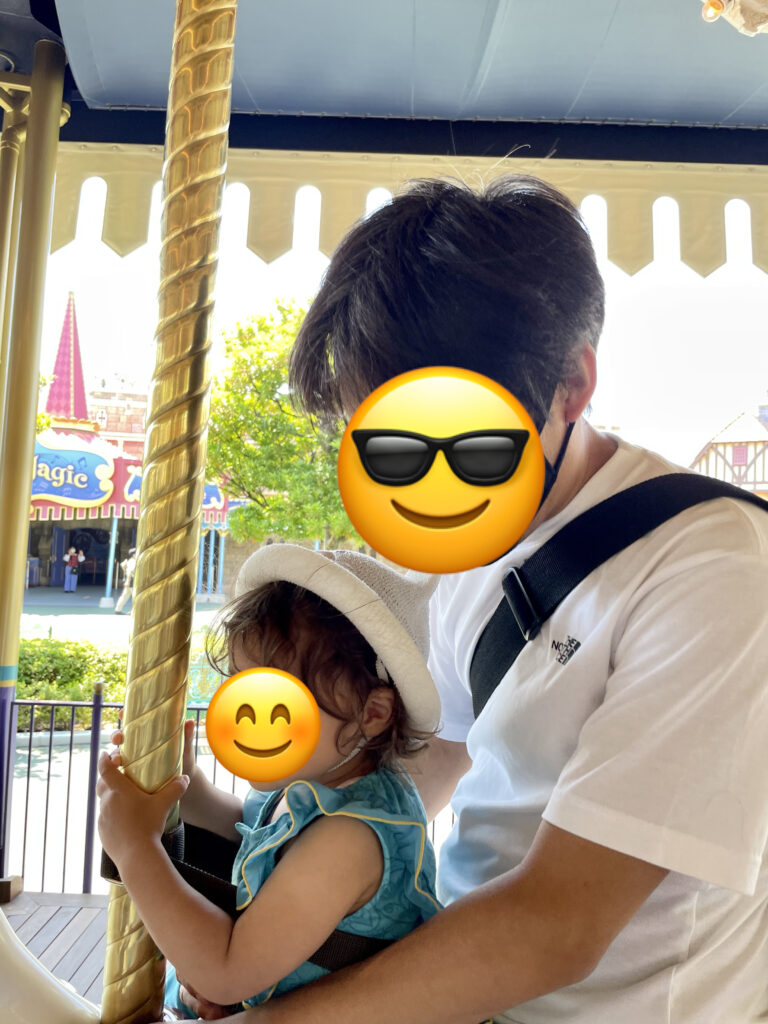 My toddler had ridden on a merry-go-round a few months prior at a small amusement park, but she had been sitting in a tiny sleigh. This time, she was not happy about being placed on the horse despite her father sitting behind her. She had a small belt strapped around her waist and the pole for extra security but I think that bothered her as well. She was in full panic mode until the ride started and gradually she calmed down. She wasn't thrilled or happy like she was the first time she rode on the merry-go-round but after she got off, she did point to the ride repeatedly and smile, so I'm guessing she had fun.
Parent Fun Factor: ★★★☆☆
Toddler Fun Factor: ★★★☆☆
Cinderella's Fairy Tale Hall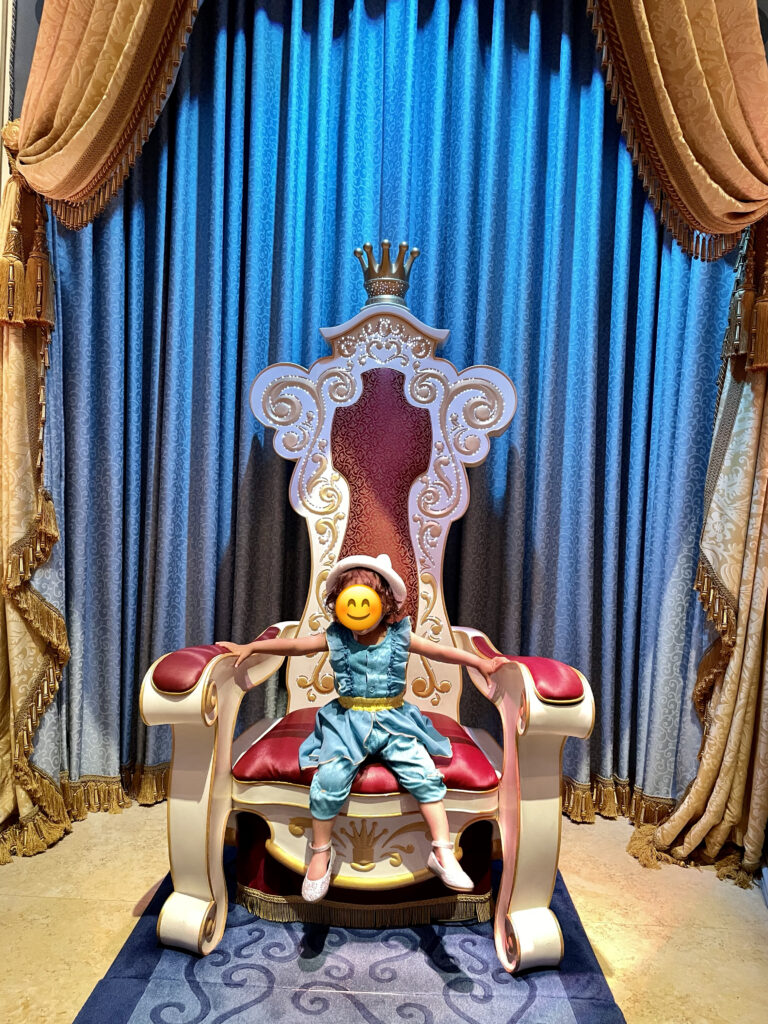 This is a nice place to check out if it's raining but other than that, I wouldn't recommend it unless you're a big fan. There's not enough to engage small children, especially since most of the little dioramas are too high up for tiny tots to see.  Our daughter did enjoy sitting on the throne, though!
Parent Fun Factor: ★☆☆☆☆
Toddler Fun Factor: ★★☆☆☆
☔ Recommended if it's raining
Dumbo The Flying Elephant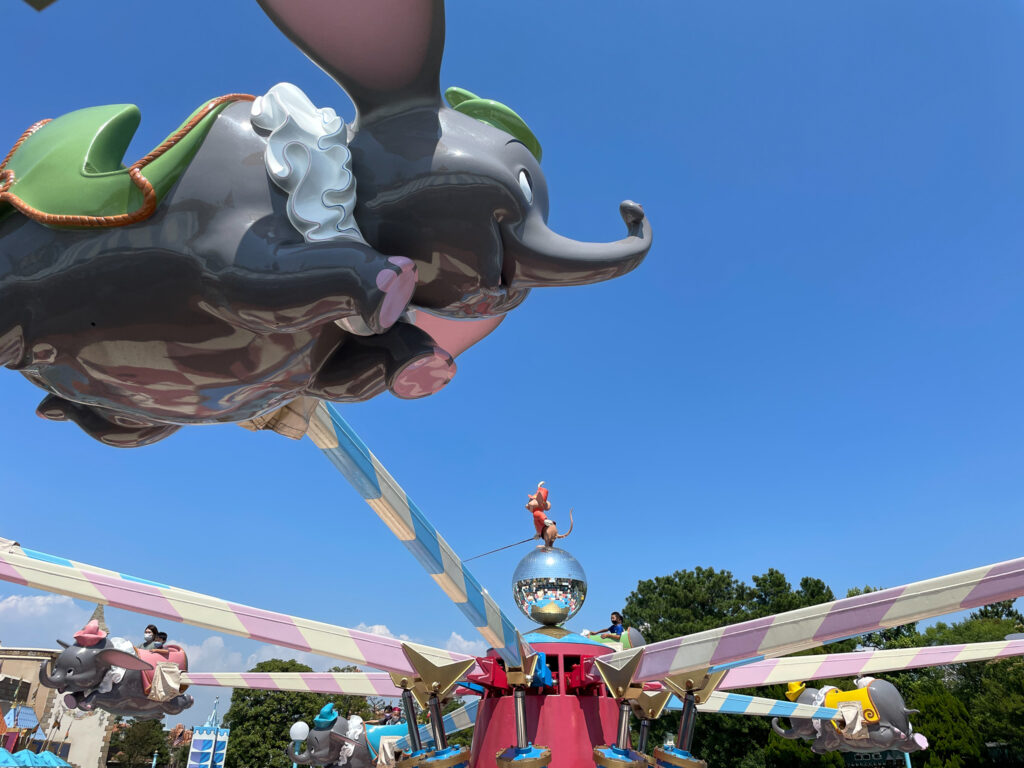 We thought our daughter would enjoy this ride as she rode something similar at a small amusement park, but we were wrong. She was panicking in the beginning and I started to get worried she would try to climb out as the belt was quite loose. She calmed down after a bit but I don't recommend this ride if you have a fussy child as it's quite high for toddlers and they might get scared.
Parent Fun Factor: ★★★★☆ (minus worrying my kid would try to jump out)
Toddler Fun Factor: ★★☆☆☆
This was really fun. A liked sitting in the giant honey pot while following Pooh Bear to different places in the forest, although she got a bit scared when we entered Pooh's strange and dark dream sequence. The ride can also move quite fast at some points, so the sudden movement might scare young children.
Parent Fun Factor: ★★★★★
Toddler Fun Factor: ★★★★☆
☔ Recommended if it's raining
Mickey's PhilharMagic
Okay, this one was a bad idea. A loves music so we figured she would enjoy this concert; however, I should have known the moment we were handed 3D glasses, which didn't even fit on A's face (I don't know why they don't make sizes for children instead of a "one-size-fits-all" deal). It took a while for us to get seated and then we made the mistake of sitting near the front.
This attraction (concert?) is loud. A immediately freaked out and started crying, so we moved to the very back and she calmed down. She liked some of the music sequences but overall, with her being unable to wear the glasses and the loudness of it, she wasn't a fan and neither were we. The sequence at the beginning with Donald Duck looked incredibly dated as well.
Parent Fun Factor: ★☆☆☆☆
Toddler Fun Factor: ★★☆☆☆
☔ Recommended if it's raining
Enchanted Tale of Beauty and the Beast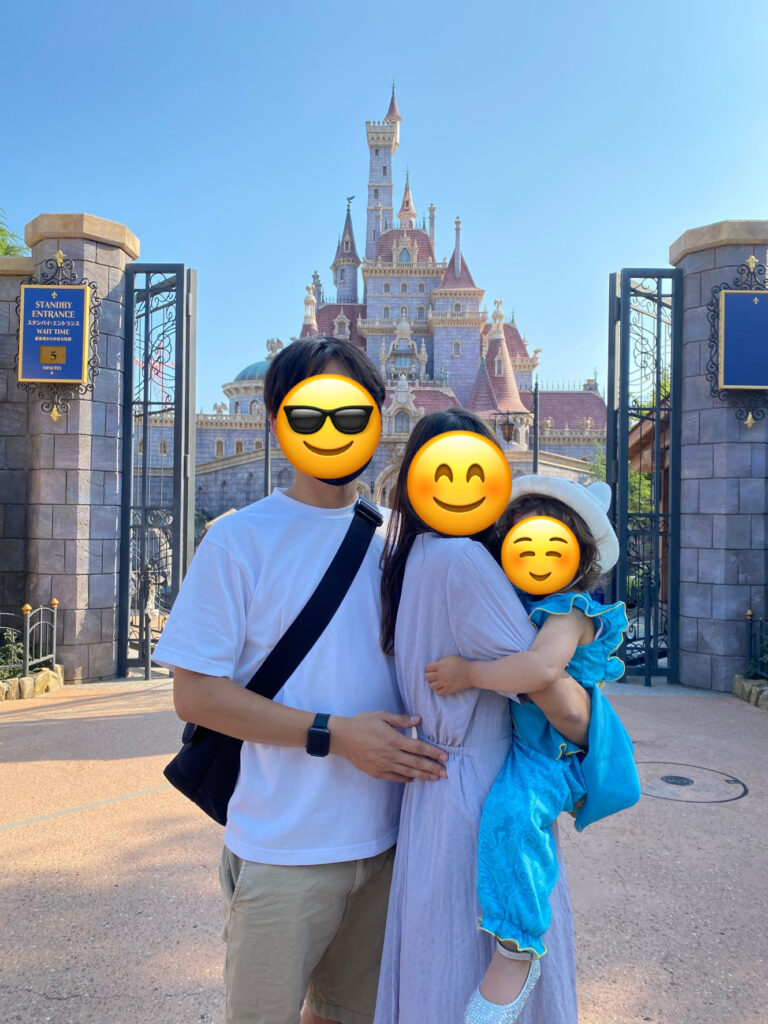 This is a brand new attraction that opened in 2020. The castle from the outside is gorgeous and it's fun to look at everything inside while you wait. There was no line for the ride when we went at around 3 PM but in the morning there were many people waiting. You also need an Entry Request to ride this attraction.
This was one of the last rides we went on, and I don't know if it's because A got used to rides but she really enjoyed this one, and so did we! The transformation of the Beast into the Prince at the end was amazing! A really liked the ballroom and after the ride, she asked to go again! (We did not, however.) I will say, though, that if I had to wait for hours to ride this attraction, I would have been disappointed.
Parent Fun Factor: ★★★★★
Toddler Fun Factor: ★★★★★
In Toontown
Goofy's Paint 'n' Play House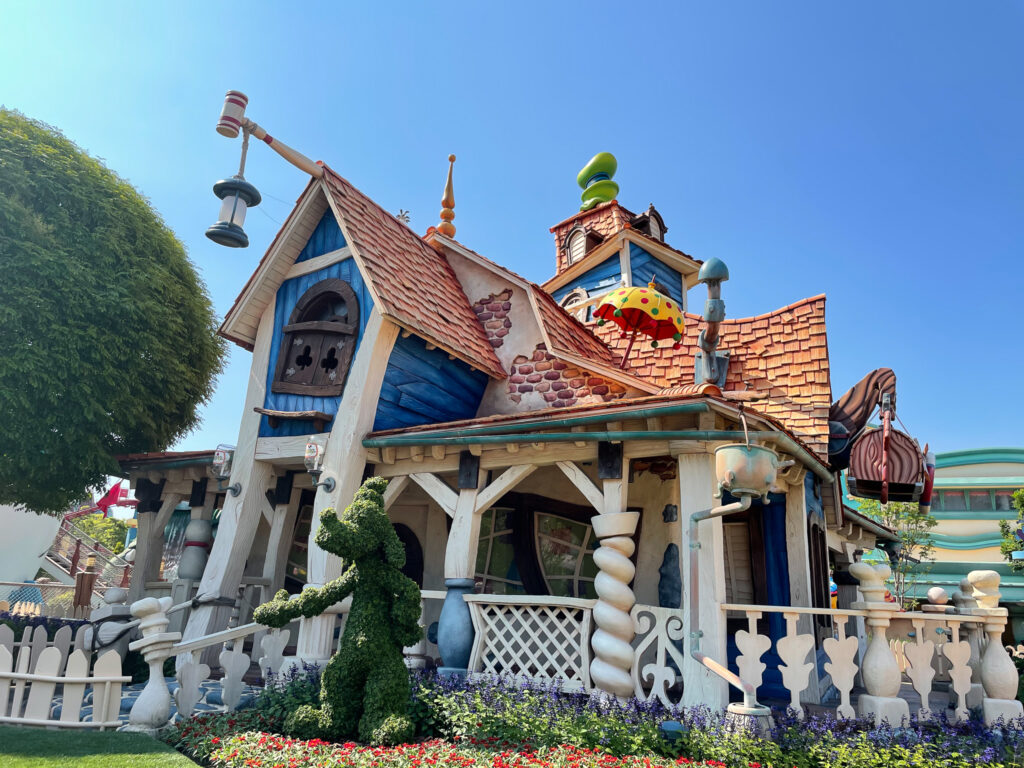 We mainly went to this attraction because the house itself is so cute! A instantly walked up to it and I think she liked the outside more than the actual attraction inside, In this attraction, you shoot paint from guns at the projection on the wall and try to cover the scene with your color as much as possible. A was far too young to do it and she wasn't interested. It was also boring for us, but perhaps older toddlers and elementary school kids would get a kick out of it?
Parent Fun Factor: ★☆☆☆☆
Toddler Fun Factor: ★☆☆☆☆
Chip 'n Dale's Treehouse
This was an easy attraction to visit since it just involved climbing up a small treehouse. There wasn't much, to be honest, but the view from the top was nice. I wouldn't wait in line for this.
Parent Fun Factor: ★☆☆☆☆
Toddler Fun Factor: ★★☆☆☆
Other Attractions For Toddlers
Note that some of these attractions may be closed due to the pandemic. 
Stitch Encounter (in Japanese only; ☔ Recommended if it's raining)
Buzz Lightyear's Astro Blasters (☔ Recommended if it's raining)
The Happy Ride with Baymax (must be at least 81 cm tall and be able to sit on their own)
Monsters, Inc. Ride & Go Seek! (must be able to sit on their own)
Western River Railroad
Pirates of the Caribbean (must be able to sit on their own; can be scary)
Swiss Family Treehouse
The Enchanted Tiki Room: Stitch Presents "Aloha E Komo Mai!"
Country Bear Theater
Mark Twain Riverboat
Tom Sawyer Island Rafts
Snow White's Adventures (must be able to sit on their own; can be scary)
Peter Pan's Flight (must be able to sit on their own)
Pinocchio's Daring Journey (must be able to sit on their own)
This is not a toddler-friendly ride whatsoever, but I quite enjoyed being able to take a quick ride on Space Mountain while my husband waited with my daughter. I didn't have to line up at all! I would have ridden it again but it kind of hurt my neck (not sure if that's because the ride is old or I'm getting old… maybe both!)
Overall, the rides are fun to try out with your toddler but I don't know whether I would spend more than maybe 20 minutes waiting in line, especially if your child is fussy and it's hot. It's just not worth it. Pre-pandemic times, I remember waiting for around two hours for something like Space Mountain, but I'm not sure how long the wait is for children's rides.
Note that if your child needs to go to the washroom while you're in line, talk to a cast member. You might be allowed to leave the line and then be given priority when you return.
I think our toddler enjoyed the parade the most as she was smiling, waving to all the characters on the floats, and generally having the time of her life. There are different parades and the schedule changes depending on the month, so visit the Tokyo Disneyland website to find out more.
Toddler-Friendly Food at Tokyo Disneyland
As the restaurants get crowded closer to noon, it's best to try to get lunch out of the way as soon as possible. We decided to get something to eat at 11 AM, and even then there were lines and we were lucky to find a table.
Unlike the rides, there wasn't much in terms of what my 22-month-old could eat. A good number of restaurants were closed so our options were limited. (At the time of writing, there are only 11 restaurants with kids' menus and three are closed.) We ended up going to  Tomorrowland Terrace, which does not have a kids' menu, and A happily ate some of my cheeseburger and some of my husband's chicken burger. I know, great parenting, but hey, it's Disneyland so we made an exception. Both tasted pretty good, although I preferred the cheeseburger.
I saw some parents had brought Kewpie baby bento boxes for their little ones, so that's always an option depending on your child's dietary needs.
While A took a nap in the afternoon, we took the opportunity to head over to La Taverne de Gaston. You have to make a reservation to get seated inside, but there are standing tables outside where you can eat as well if you don't have a reservation.
The inside is true to the tavern in the animated film and made me want to burst out singing the "Gaston" song but I refrained because I didn't want to wake up A.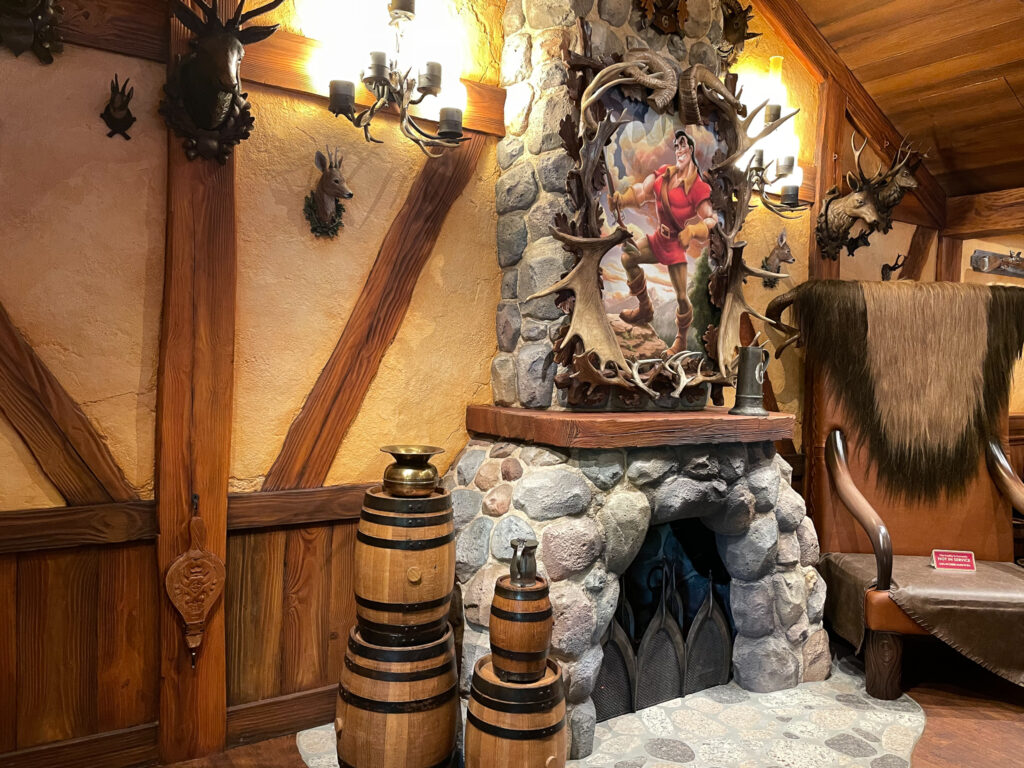 Inside Taverne de Gaston
After taking our seats, my husband and I dug into our tiny feast, which consisted of the French Toast Sandwich  (フレンチトースト・サンド), the Hunter's Pie (ハンターズ・パイ) and a drink called Berry Cheers (ベリーチアーズ).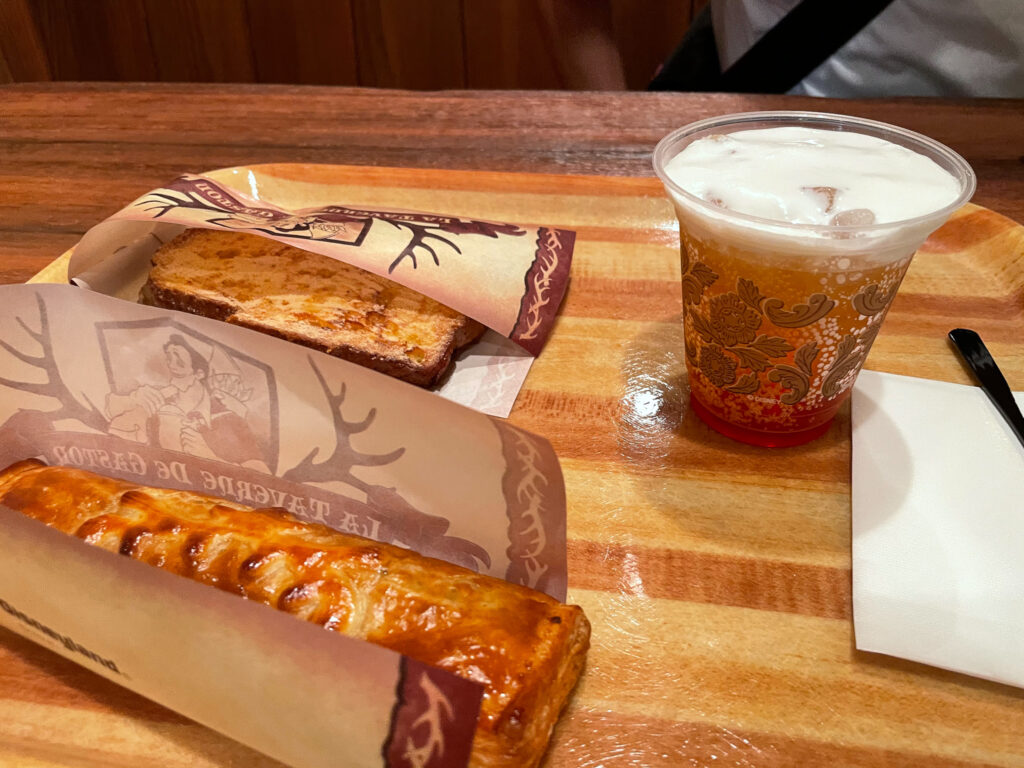 French Toast Sandwich, the Hunter's Pie, and Berry Cheers
I was excited about the sandwich because I thought it would be like a grilled cheese sandwich, but the chicken inside was bland and there wasn't enough cheese for me. It wasn't something I would get again. Similarly, the drink was somewhat disappointing. It was good for the first few sips but quickly became too sweet. The pie filled with beef stew, however, was pretty good. It was piping hot, even when I had almost finished it, and messy, but quite delicious compared to the other two items we got. I think if A was awake, perhaps the best thing for her would have been a big bite croissant.
Changing Rooms and Baby Centers
One thing I liked about the Tomorrowland Terrace was that they had a proper diaper changing room with changing tables. It was at times hard to find a changing room that both parents could enter and when we were in Fantasyland near Pooh's Hunny Hunt, the only nearby option was a multifunction restroom that had a line of parents waiting to use it. However, all women's restrooms have changing tables.
Tokyo Disneyland offers two areas for parents called a "Baby Center", where you can change diapers and nurse, but they only have two — one in Toontown and the other in the World Bazaar. The Baby Centers also sell diapers, formula, and baby food, as well as rain covers for strollers.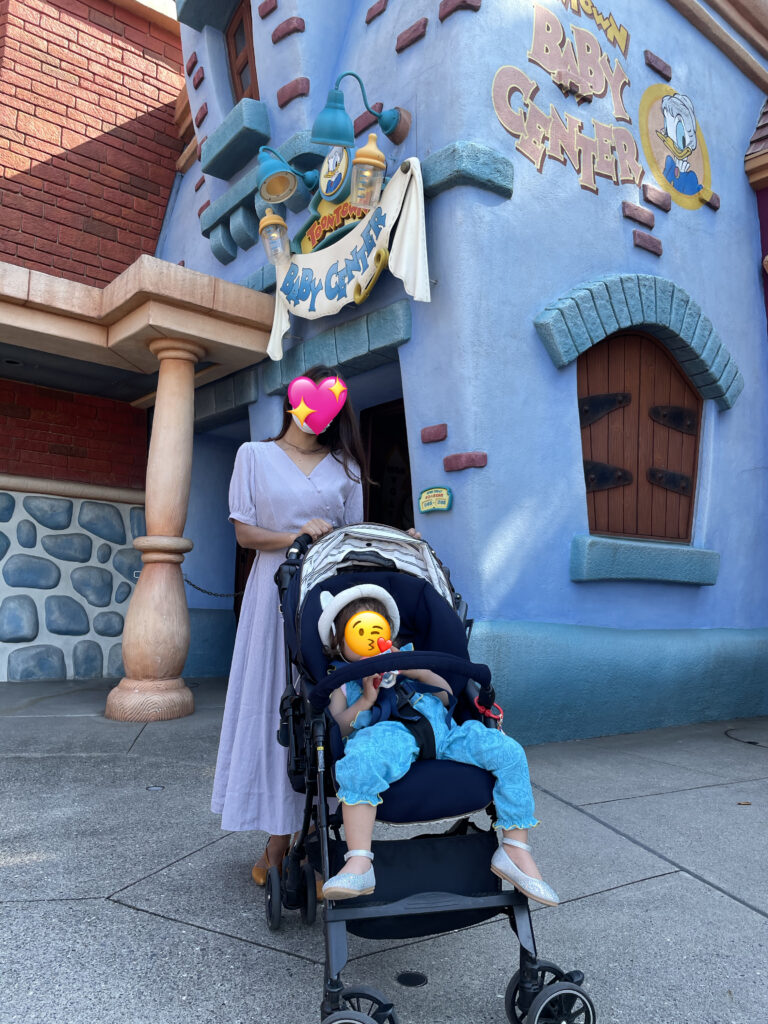 The Baby Center in Toontown
---
Overall, at 22-months-old, my husband and I both felt that A was a bit too young to fully enjoy Disneyland. The rides were at times a bit too scary for her. Although she had seen Disney characters before and is currently in a Disney Princess phase, I think everything was overwhelming and she didn't really piece together what had happened until right before we left and we bought her a small plush Belle doll. (She loves that doll so much now!) I think her favorite part of the entire experience was waving back to all of the friendly staff at Disney.
Next year (2022) will be the 10th anniversary of my first date with my husband, which was at Tokyo Disney Sea, so we are planning on going there again but this time with A. Hopefully she will have a more enjoyable time, especially since she's a huge fan of Jasmine!