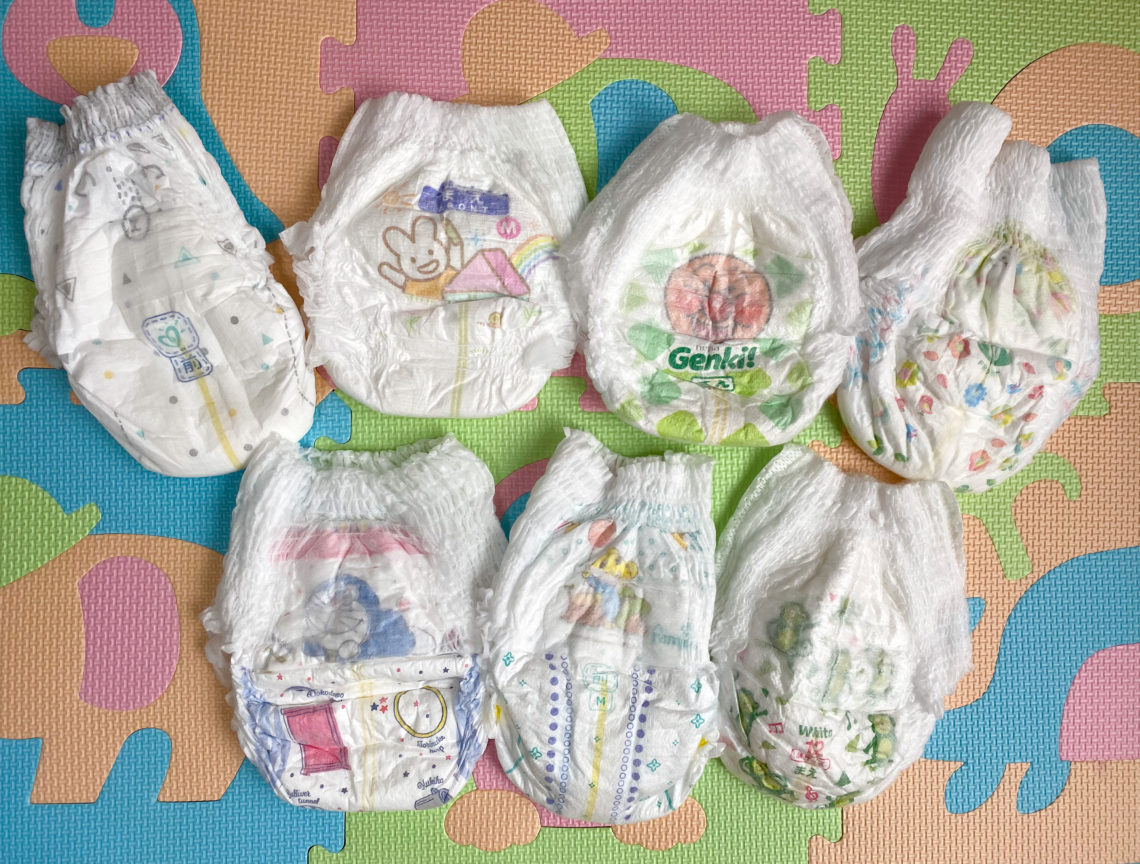 Pull-Up Diapers for Babies in Japan
As promised in my review of newborn diapers in Japan, here's a look at M-size pull-up or pants-type (パンツタイプ) diapers in Japan.
In Japan, you'll find that diapers come in tape-type (テープタイプ) or pants-type (パンツタイプ). You likely used tape-type on your newborn, which has tabs on each side that you attach to the front of the diaper. However, as your baby gets older and more active, you may want to think about switching to pants-type diapers (which I'll refer to as pull-ups from now on), which you slip your baby or toddler into like a pair of underpants.
This video by the Japanese diaper brand Merries gives a nice explanation about how to put pull-ups on your child, and it has English subtitles as well!
Most pull-up diapers in Japan are available starting from S-size (4-9 kg) and are great for babies when they start to:
become more active (turning over, crawling, standing, walking, etc.)
pull off the tape from tape-type diapers
try to escape or flip over during diaper changes
feel uncomfortable and need more room and flexibility than tape-type diapers provide
experience more leaks when wearing tape-type diapers
As a quick overview, here are the typical diaper sizes in Japan, which are written on the bottom corner of packages. The maximum weight may vary depending on the brand, but in my experience, I've found that I graduated my daughter to a larger size far before she hit the weight limit for a particular diaper.
| | |
| --- | --- |
| Size | Weight (kg) |
| 新生児 ・shinseiji (Newborn) | up to 5 |
| S | 4-9 |
| M | 6-12 |
| L |  9- 14 |
| ビッグ (BIG) | 12-22 |
| ビッグより大きい (XXL) | 13-28 |
My husband and I decided to start using pull-up diapers when our daughter started walking at 10 months old and weighed around 8.2 kg, although I wish I had tried them earlier to be honest. I was worried about the baby peeing while I put on a pull-up diaper (hasn't happened so far, though!) and I found it annoying to have to completely take off her pants during diaper changes (it's not that bad now that I'm used to it).
To start the process, we decided to get a box of M-size pull-up diapers samples from Amazon Japan and then see what fit our daughter the best. (The box we got that contained Merries diapers is no longer available, unfortunately.) After that, we bought packages of our favorite diapers to try out longer-term, which I also tested in a similar fashion to the newborn diapers by looking at their absorbency. Therefore, this review will be broken into two main parts: the Amazon diaper samples and their fit on our daughter, and then a more detailed look at several M-size pull-up diaper brands in Japan.
If you're interested in any of these diapers, click on the name or image of the package to be taken to their Amazon Japan page.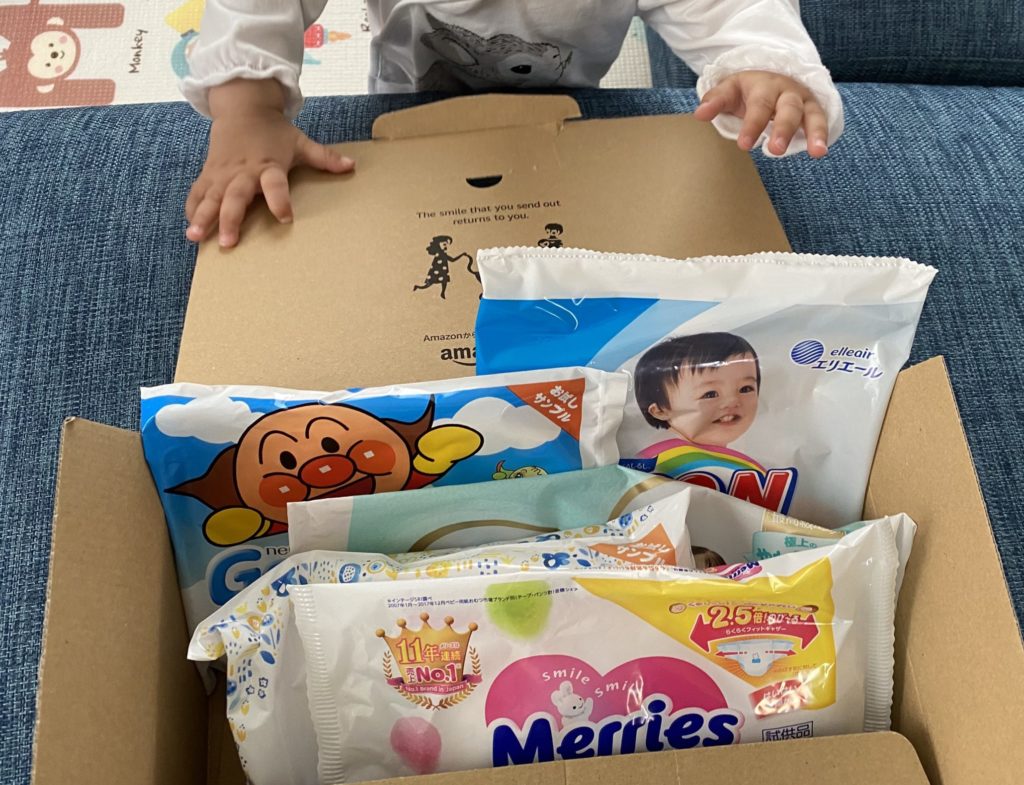 This box was a great way to try out M-size pull-up diapers without having to invest in a package and possibly waste diapers if it didn't fit properly. The box contained five brands of M-size pull-up diapers as well as a sample of meiji's ステップらくらくキューブ, cubed formula for children ages 1 to 3.
M-size for babies between 6-11 kg
Long from back to front which means fewer leaks and blowouts
Additive-free (no scents, parabens, or latex)
Has a point program where you can collect points for rewards by scanning a QR code on the inside of the package
After trying out various samples of newborn diapers and a pack of Merries diapers, Pampers 肌へのいちばん ended up being the only tape-type diapers my husband and I used on our daughter from when she was a newborn up until 10 months, so we expected that we would like the pull-up type ones, too.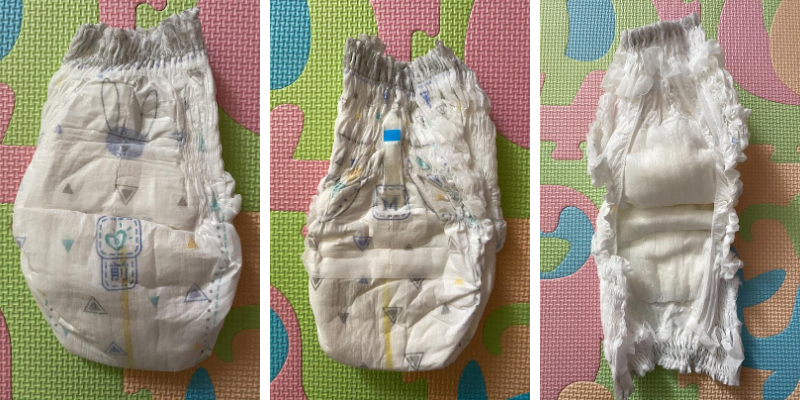 Pampers 肌へのいちばん are thin in order to allow active babies to move easily but claim to still be absorbent for up to 12 hours due to its three absorbent layers.
The diaper sample felt a bit hard on the outside but was quite soft inside, although it didn't have the breathable air holes that the tape-type diapers have. The elastic at the waist was soft and stretchy but firm at the same time.
Unlike the other diapers, which used hiragana or English, the front of the diaper was labeled with 前 (mae). It's pretty easy to tell what is the front of a pull-up diaper due to the small piece of tape at the back (which you use to seal a rolled-up dirty diaper before throwing it away); however, if you don't know kanji, this may be a problem. Even my husband, who's Japanese, found this to be a bit bothersome because he said it was hard to see.
When I put the diaper on our daughter, it was surprisingly bulky on her, especially in the crotch area. However, I did like the high waist and how it conformed to her shape. The back of the diaper was also wider, which meant more coverage for her bum.
When it came time to change her, the wetness indicator was easy to see thanks in part to the simple design on the outside of the diaper, and the sides of the diaper tore easily although when I did the liquid test later on, it didn't rip as easily, which was a bit annoying.
M-size for babies between 6-11 kg
Recipient of the 2017, 2018, and 2019 "Mother's Selection Award" from the Japan Mother's Association for being the product veteran mothers are most glad they used
Recipient of a Good Design Award
As mentioned in my article on newborn diapers, Merries is a very popular brand for parents in Japan and has been the recipient of multiple awards.
I wasn't that impressed with the newborn diapers so I wondered if the pull-ups would be any better. The outside of the diaper sample felt a bit paper-like but the inside was very soft with a quilted pattern similar to the newborn tape-type diapers, which is meant to be absorbent and prevent poop from running, and allow for breathability.
The elastics at the legs and waist were not the softest but still felt nice, and were very stretchy. These were the only diapers that had two layers of leg cuffs, suggesting further protection from leaks.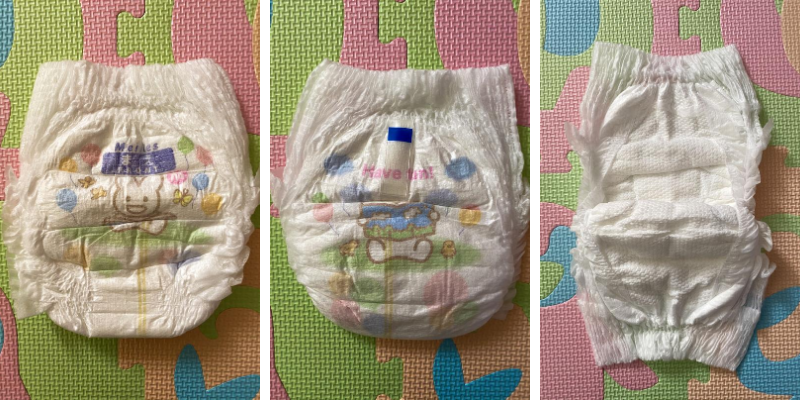 This diaper fits our daughter perfectly. The bunny design on the outside was cute but didn't distract from the wetness indicator, which made it easy to see when she needed to be changed.
The front of the diaper was also marked with both "まえ" and "FRONT" in a blue box, so it was also very noticeable.
The sides ripped easily, making the diaper change very quick and easy.
The tape at the back of the diaper to seal it after use was also the widest, which I liked.
The diaper performed fairly well in the liquid test but similar to the Merries newborn diapers, there were a few droplets on the surface of the diaper as they hadn't been absorbed.
Available from M-size (7-10 kg)
mama bear is an Amazon brand and has a variety of baby products, such as wipes and diapers.
It's only sold on Amazon so it was nice to be able to try this sample. Amazon claims that these diapers are good for active babies as it contours to their shape when they move. It's also supposed to be breathable and very soft, and absorbs quickly so that your baby's skin is protected and they're comfortable. Sounds pretty good!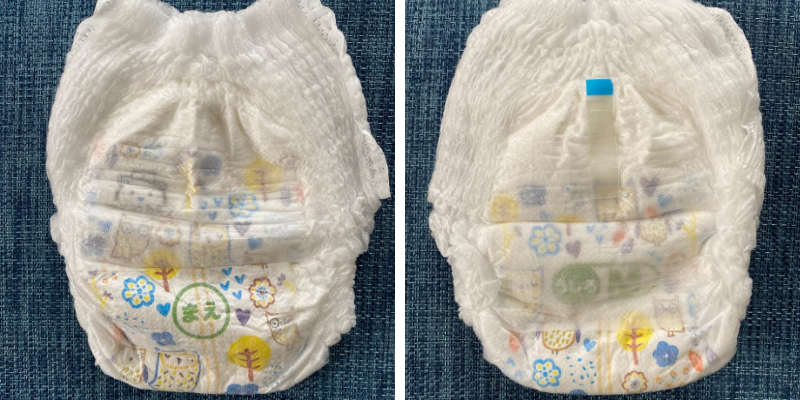 The sample contained two diapers. These diapers were very soft and had a stretchy and tight elastic waist. Although these diapers are meant to fit babies that are between 7 to 10 kg and being longer than Merries, Genki and GOO.N, they had a small fit and were a tad bit too small for our daughter, who is quite tiny to begin with, and didn't cover her bum entirely. Maybe the L-size would have been better but I wasn't about to buy a pack to find out (although I might consider it if there's a decent sale).
The wetness indicator was also hard to see because of the busy design and it required a bit more effort to tear away the sides in comparison to the other diapers. The front of the diaper had まえ on it, the back うしろ, and both labels were easy to see.
We did not do a liquid test for this diaper as we did not like it enough to invest in a pack.
M-size for babies between 6-12 kg
Budget-friendly
These diapers are popular for being both affordable and durable. GOO.N claims their diapers can be used for several hours as the liner locks wetness away and reduces odor. Your baby should also feel comfortable in the diaper as the liner, as well as the waistband, are both made of breathable, flexible, and soft material. GOO.N pull-up diapers are also supposed to conform to your child's shape as they move.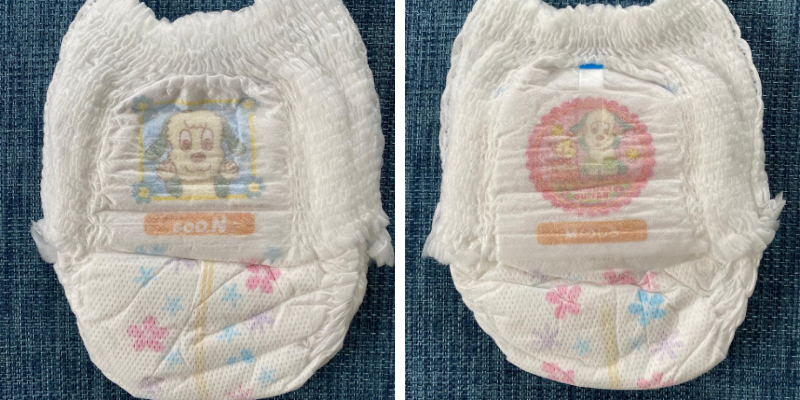 The front of the diaper sample was a little difficult to recognize as it was the only diaper without the word "front" in English or Japanese on it. Instead, it had "GOO.N" printed on it while the back had うしろ as well as the size.
I was also not a fan of the design and it was the least soft out of all of the diapers in the Amazon box.
The diaper fit our daughter pretty well; however, it was the only one to feel mushy (for lack of a better word) when it came time to change her diaper. The wetness indicator was easy to see and it ripped off easily.
We ended up not doing a liquid test for this diaper as we did not like it enough to invest in a pack.
Available from M-size (6-11 kg)
Budget-friendly
Anpanman design with 15 different characters
Their diapers are popular with parents due to their low cost and Anpanman design (I had a pack of these in my office and a coworker commented that she also uses Genki! because her child loves Anpanman). They claim to be very comfortable and breathable around the waist due to their triple ventilation technology. Their diapers are also supposed to prevent leaks while being gentle on the skin.
Genki! had a similar shape to Merries, which made it also a great fit for our daughter, and had a firm but stretchy elastic.
The outside was so soft and the inside of the diaper was the softest out of all of the diapers in the Amazon box.
The wetness indicator was a bit hard to see because the pattern on the outside of the diaper sample was also blue/green.
The front and back of the diaper were very easy to recognize as the front always had Anpanman on it and was labeled with "まえ". The back was labeled with "うしろ" and as we would find out when we bought a pack, each diaper has a different character from Anpanman on the back, which is hilarious to see on your baby's butt.
I should note that there were no leaks when our daughter wore the diapers above and she was able to move around quite easily. However, at 8.2 kg at the time and 70 cm tall, she was (and still is) fairly average-sized when it comes to Japanese babies, with chubby thighs and a round belly, and slightly below the world average according to WHO. Provided this, a different diaper may work better for your baby depending on their body shape and size.
As mentioned earlier, the box that I got is no longer available but there is another one on Amazon Japan that is similar but doesn't have Merries diapers and instead comes with a small pack of Pigeon baby wipes. I highly recommend getting this box if you want to see what kind of pull-up diapers work best for your baby before committing to an entire pack.
Testing Pull-Up Diapers in Japan
After narrowing down the samples, we decided to buy packages of Merries, Genki, and Pampers diapers — Merries and Genki because they fit our daughter the best and Pampers mainly because we were long-time fans and still wanted to give it a shot.
I also picked up a package of moonyman エアフィット diapers on sale as it wasn't included in the Amazon box and I was curious about it since it tended to always be sold out at the drugstore near my house. We were also in process of trying to figure out which 12-hour diaper would work best for our daughter overnight so we included those as well in the test, bringing the total diapers in this test to seven.
The Newcomers (12-Hour Type)
M-size for babies between 6 to 12 kg
12-hour type
Long from back to front
Additive-free (no scents, parabens, or latex)
Available in two types: one for sitting/crawling babies (おすわり・はいはい) and another for babies who can stand by holding onto things (つかまり立ち)
Moonyman M-size diapers come in two types, one for babies who can sit up and crawl (おすわり・はいはい、5-10 kg) and then another for those who can stand/walk (つかまり立ち、6-12 kg). The ones used in this review are つかまり立ち type.
The diapers have a high elastic waist to prevent leaks, and the elastic is soft and flexible to fit your baby's body even when they move around. The elastics at the leg cuffs also conform to your baby and prevent leaks.
These diapers have a ribbed pattern on the inside that is meant to help with quickly absorbing both urine and stool. Moonyman also claims to be absorbent for up to 12 hours so it can be used overnight as well. The front of the diaper is marked with 前 as well as FRONT.
Note that the おすわり・はいはい diapers do not have tape at the back (as the つかまり立ち ones pictured below do) but instead have green tape at the sides. Therefore, you have to be extra careful not to mix up the front and back. Remember, the front will have the kanji 前 and FRONT while the back will have the letter M for the size.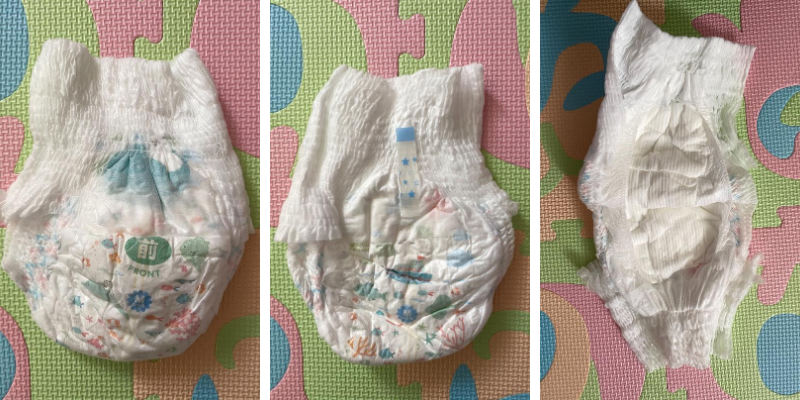 These didn't fit our daughter as well as I had hoped as they were a bit bulky on her.
It was also very hard to see the wetness indicator due to it being very thin and the busy (though very cute) design on the diaper. The sides were also hard to rip. However, these diapers were quite soft, both inside and out.
In terms of the liquid test, they were the best at absorbing 100 ml and 200 ml of liquid but when it came to 300 ml, they were the worst. As they are marketed as 12-hour type diapers, we also decided to try them out as overnight diapers, and… the diapers leaked from the leg cuffs, which the package states that they are supposed to protect against!
Our daughter still slept peacefully throughout the night but it was enough for us to stop using them as overnight diapers. Given that the diapers were big on her to begin with, we think that the leg cuffs were not as secure on her.
Available from M-size (6 to 12 kg)
Budget-friendly
12-hour type
Doraemon and Mickey Mouse designs
These diapers are known for being among the cheapest you can get and claim to provide 12-hour protection from leaks due to their absorbent gel while having a breathable liner. The waistband is stretchy to conform to many sizes and movements, which prevents leaks.
They come in Doraemon and Mickey Mouse designs (although the drugstores near my house only have the Doraemon ones) and have a spot in the back where you can write or stamp your child's name, which is great for daycare.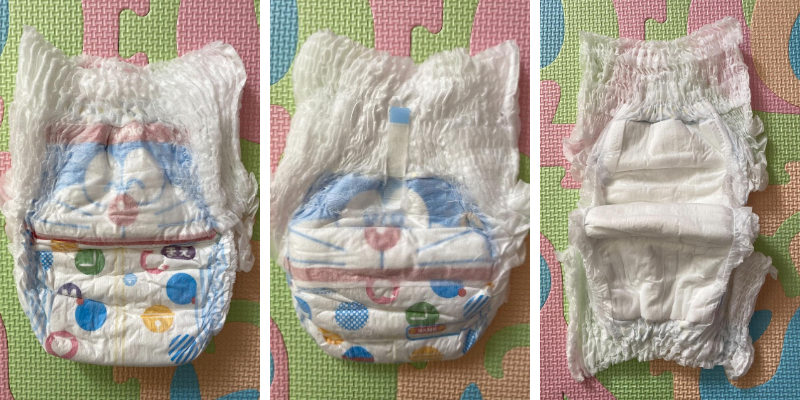 The outside of these diapers felt very hard, like paper, and the inside felt a bit rough. The elastics at the leg cuffs also felt scratchy and thin.
It seemed difficult for our daughter to move around in these diapers, so we decided to use them as nighttime diapers… And she woke up at least once a night during the time we used them. Coincidence? Possibly.
Her bum was also damp when I took the diaper off in the morning so it's possible she felt uncomfortable in them, especially as these diapers weren't very absorbent in the liquid test. In fact, after feeling all of the wet diapers in the liquid test, Mamy Poko felt very… mushy (for lack of a better word), perhaps because of the absorbent gel. As my husband put it, "it doesn't feel nice." However, despite it not feeling that great, our daughter never experienced any overnight leaks while wearing these diapers.
M-size for babies between 6 to 11 kg
Long from back to front
Budget-friendly
12-hour type
Has a point program where you can collect points for rewards by scanning a QR code on the inside of the package
Pampers さらさらケアパンツ are very affordable, especially in comparison to their counterpart, Pampers肌へのいちばん. These diapers are supposed to be breathable and gentle on the skin. They are also marketed as "overnight" diapers as they are supposedly absorbent and prevent leaks for up to 12 hours.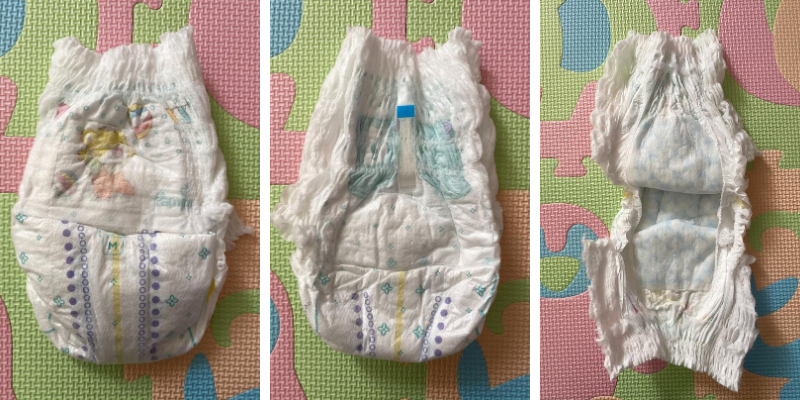 Similar to Pampers 肌へのいちばん, these diapers were longer than the other diapers and had the front marked with the kanji 前.
The elastics at the leg cuffs were noticeably harder than the other diapers and felt like plastic.
I was hoping the M-size pull-up diapers would perform better than they did in the newborn diaper test and they didn't do such a bad job. They were among the worst when it came to how fast they absorbed the liquid. However, after having 300 ml of liquid poured onto it, the diaper felt very wet after 30 seconds but after one hour, the diaper was very dry — in fact, it was the driest out of all of the diapers! It was also the only "overnight" diaper that didn't feel mushy after soaking up liquid.
When our daughter wore these diapers at night, she slept pretty well but in the morning the diaper felt very heavy and the outside was damp. She also experienced some leaks from the leg cuffs, but it was very minimal compared to moonyman.
Available from M-size (7 to 10 kg)
12-hour type
Whito tape-type diapers performed very poorly in the newborn diaper test, so it's a wonder I bought a pack of M-size pull-up ones for our daughter. But since there was a sale at Akachan Honpo, I ended up buying a pack of 12-hour ones as I wasn't quite ready to rule them out and the number of diapers that are marketed as "overnight" are quite slim for M-size (although a majority of diaper brands claim on their website that they are absorbent for up to 12 hours).
Whito pull-up diapers have a breathable elastic around the waist to prevent the build-up of sweat and are made of a soft material to protect the delicate skin of babies.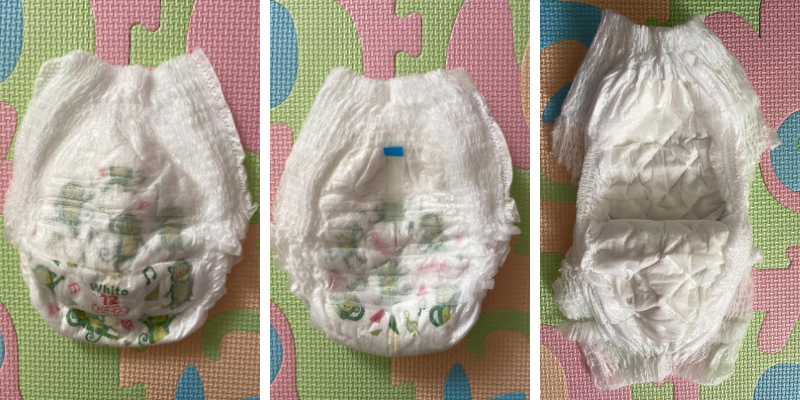 These diapers were very soft all around, as expected, and had a quilted pattern on the inside, similar to their newborn diapers. Our daughter slept relatively soundly in these diapers although when it came to the wetness test, they weren't the best (though not the worst) at absorbing a large amount of liquid.
The wetness indicator was also tough to see. I think these would be a good candidate for an overnight diaper in summer, though, because it's light and designed to prevent sweat from building up around the waist.
These, as well as Mamy Poko, were also the only diapers from which our daughter did not experience any leaks.
Additive-Free (Scent-free, Paraben-free) Diapers in Japan
If you're looking for gentle diapers for sensitive skin and without additives (無添加, mutenka), you may want to consider the following:
Two of those will be reviewed in this article while the tape-type version of natural moony man was reviewed in this article.
Also note that all of these diapers come in tape-type as well.
Pull-Up Diapers in Japan — Cost per Diaper
I checked the online price per diaper for one package (pkg) and/or box of the following diapers from popular retailers for baby products in Japan. Keep in mind that these prices are subject to change, for instance if there's a sale.
I'm currently updating the table to reflect 2023 prices but in general, Mamy Poko tends to be the most budget-friendly diaper while Pampers 肌へのいちばん is the most expensive.
Tips to get cheaper diapers:
Sign up for store mailing lists, download their app, friend them on LINE, and make a point card
Stores like Babies R Us, Akachan Honpo, and Nishi Matsuya (西松屋) have frequent promotions and discounts for diapers, which you can find out about right away if you sign up for their mailing list, download their app, or add them on LINE. You can also sometimes get exclusive discounts or coupons if you sign up for a Babies R Us or Akachan Honpo point card (if you're currently pregnant, you'll also get free diaper samples as well as other goodies if you sign up so if you haven't already, I highly recommend it). Even if you don't have a Babies R Us store nearby, the online store (as well as Akachan Honpo) offers free shipping if you buy a certain amount so it's worth looking into.
Check online flyers for stores
As mentioned above, stores have promotions on diapers and if you don't want to sign up for their mailing list, take a look at their online flyer to see the latest deals.
Join Amazon Family or Rakuten Mamawari
By joining one or both of these, you can get discounted diapers. Amazon Family offers 15% off diaper subscriptions if you are a prime member as well as a variety of discounts for diapers, wipes, and other products for all members. You also get a 300 point (300 yen) present for signing up, even if you're not a prime member. Rakuten Mamawari (楽天ママ割) offers coupons as well as special discounts. You can also enter to try to win a box of samples, which are given to 150 lucky winners every month. I'm personally an Amazon Family member and as it's free to sign up and no monthly fee (and you'll receive 3oo yen to use towards any purchase), it doesn't hurt to try it out.Although this is not exactly baby-related, from now until January 11, 2021, if you sign up for a free three-month trial of Amazon Music, you'll also receive 500 points (500 yen) for free, which can also go towards buying much-needed baby products (or even something to treat yourself!).
Buy in bulk
When you buy diapers in packs, the diapers tend to be cheaper, especially if a store is having a promotion. For instance, Babies R Us had a promotion where if you bought four boxes of diapers (containing three packs of diapers each), you would get ¥300 yen off per box and get a free package of Pampers diapers of your choice. The M-size Pampers はじめての肌へのいちばん diapers I bought at the time ended up costing only ¥14 per diaper!
Pull-Up Diapers in Japan — Dimensions and Weight
Diaper
Length* (cm)
Width (cm)
Weight (g)
Pampers
肌へ
20.5
11
28
Merries
17.5
13
36
Genki!
17.5
12
32
moonyman
20
14
34
Mamy Poko
19
13
33
Pampers
さらさら
20
11
27
Whito
18.5
12
30
*Measured from the top to the bottom of a diaper
Pampers肌へのいちばん was the longest diaper, followed closely by moonyman and Pampers さらさらケア. These diapers would be suitable for babies with long torsos. Merries and Genki! were the smallest in length.
Despite being fairly small in size, Merries was the heaviest out of all the diapers, weighing almost 10 grams more than the lightest diaper, Pampers さらさらケア. This is something to consider if you're looking at portability. In terms of whether a heavier diaper will restrict movement, I haven't seen my daughter have any trouble walking around in Merries. Merries also claims to be breathable and based on personal experience, my daughter hasn't had any problems (increased fussiness, rashes, etc) while wearing these diapers. It may be heavier but I believe the weight is due to its absorbent padding, which has done a great job at keeping my daughter dry.
Pull-Up Diapers in Japan — Elasticity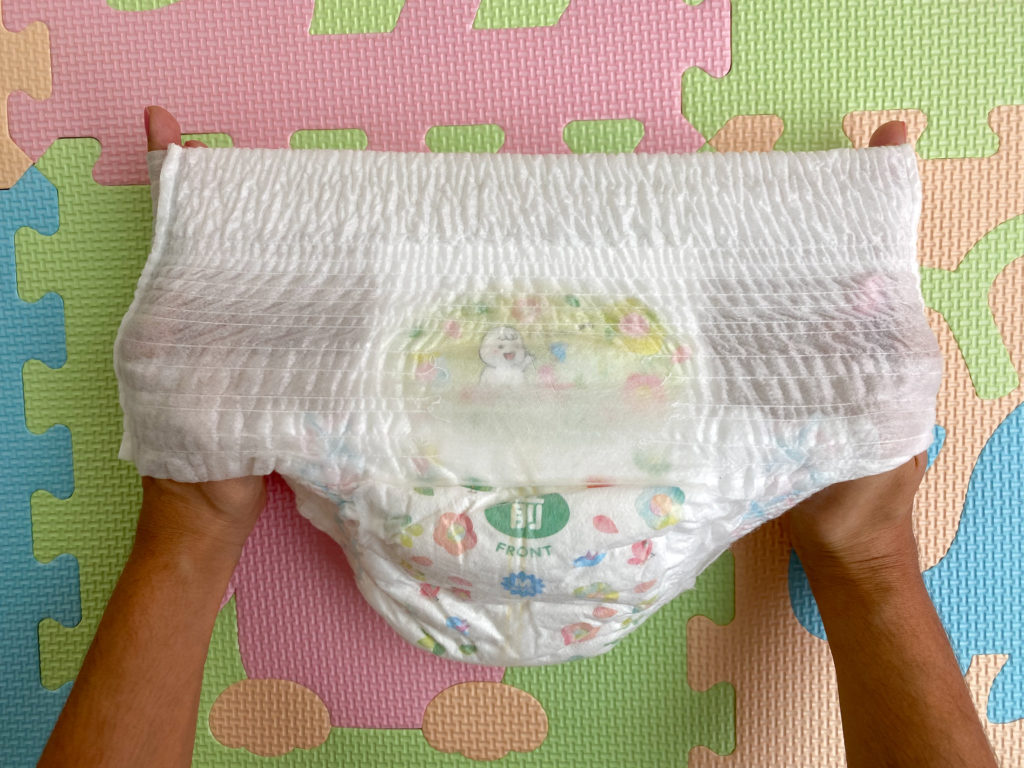 We looked at the elasticity and quality of the elastic at both the waist and leg cuffs. We stretched the waist of each diaper and then measured the diameter, and then the circumference of the leg cuffs.
Diaper
Waist Diameter
(cm)
After Stretching (cm)
Leg Cuff Circumference (cm)
After Stretching (cm)
Pampers
肌へのいちばん
11
31.5
17.5
38.5
Merries
13
32
18
40
Genki!
12
30
16.5
38
moonyman
14
30.5
17
40
Mamy Poko
13
32
21
40
Pampers
さらさらケア
11
33
21
38.5
Whito
12
30
15.5
39
Pampers, Mamy Poko, and Merries had the stretchiest diapers although they didn't beat the other diapers by much. Moonyman had the biggest waist before stretching while Pampers were the smallest, so Pampers might be a good choice for more slender babies.
In terms of the leg cuffs, Mamy Poko and Pampers さらさらケア had the widest, which may be a problem if you have a baby with more slender legs as it could lead to leaks, while Merries, moonyman, and Mamy Poko were the stretchiest.
Pull-Up Diapers in Japan — Feel
As with the newborn diaper test, we looked at how the inside of the diapers felt rather than the outside.
Here is how we ranked the feel of the inside of the diapers and the waist, from best to worst:
Whito
Genki!
moonyman
Merries
Pampers肌へのいちばん
Pampersさらさらケア
Mamy Poko
As mentioned earlier, Whito felt incredibly soft both inside and out while Mamy Poko was quite hard.
Pull-Up Diapers in Japan — Liquid Test
For the liquid test, we poured 100 ml of salty dyed water onto each diaper and waited for 30 seconds before seeing how well the diaper absorbed the liquid by pressing a small sheet of paper towel onto the diaper and also feeling it with the back of our hands. We repeated this twice, pouring a total of 300 ml onto the diapers. Then we poured 15 ml of water once down the back of the diaper while holding it at an angle to see how well it would protect against leaks when a baby is lying down. We also checked the condition of the diapers, both inside and outside, one hour later.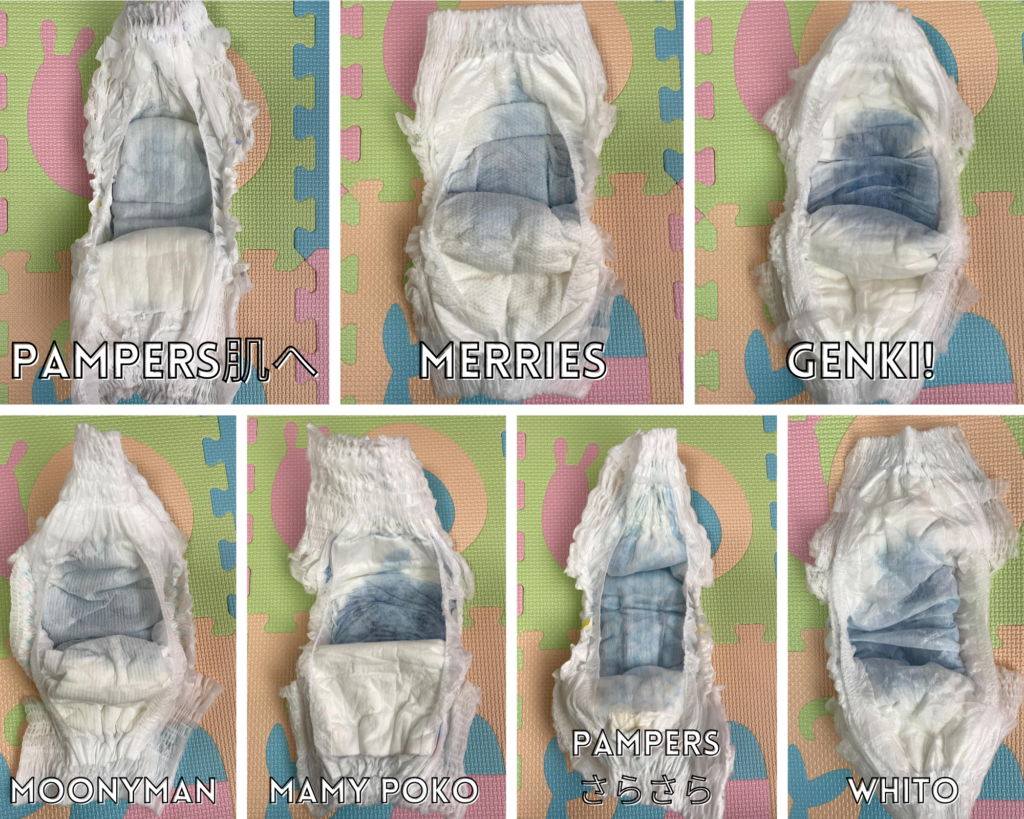 We decided to split the performance of the diapers in the liquid test into two categories: how dry they felt 30 seconds after absorbing 100 ml at a time and how dry they felt after absorbing 300 ml of liquid for one hour.
Dryness After 30 Seconds
Ranking
100 ml
200 ml
300 ml
1
moonyman
moonyman, Merries, Whito
Merries
2
Merries
Genki!
Genki!
3
Pampers
肌へ
Mamy Poko
Whito
4
Genki!
Pampersさらさら
moonyman
5
Mamy Poko
–
Both Pampers diapers, Mamy Poko
6
Whito
–
–
7
Pampers
さらさら
–
–
Dryness After 1 Hour (300 ml)
Pampers さらさらケア
Merries
Whito
Pampers 肌へのいちばん
Genki!
Mamy Poko
moonyman
None of the diapers had liquid escape from the back, surprisingly, although Pampers さらさらケア was close. Both Pampers diapers were slow at absorbing liquid; however, after one hour, Pampers さらさらケア was the driest diaper. The diaper felt cold, though, which could bother your baby when they're sleeping and cause them to wake up. Similar to the newborn diaper test, Merries had a few visible droplets on the surface even after one hour. Despite this, however, it overall felt very dry, almost like fabric. Moonyman and Mamy Poko claim to be 12-hour type diapers but I would not recommend using either overnight based on this test. Whito, despite being quite wet when 100 ml of liquid was poured onto it, surprisingly became quite absorbent with larger volumes. Genki performed quite consistently throughout as it was not the best but not the worst.
We did not look at how long it took for the wetness indicators to change (although they all changed color within 10 seconds). Moonyman was the most difficult to see while both Pampers diapers were the easiest.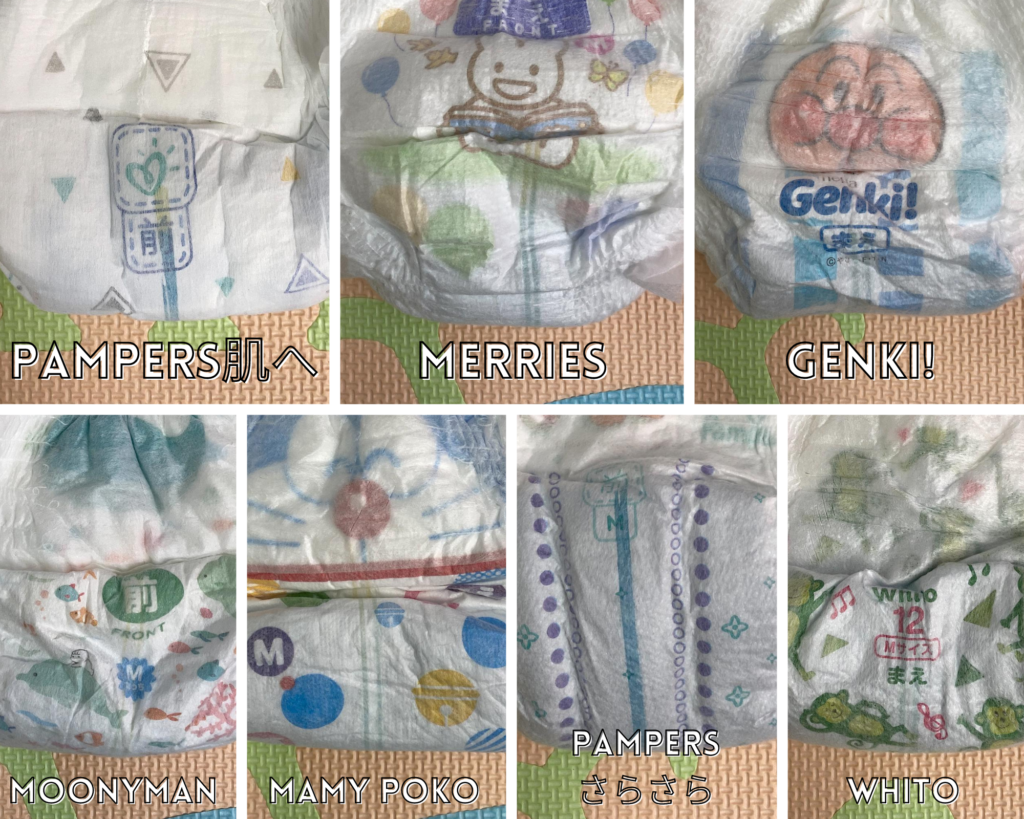 Pull-Up Diapers in Japan — Tape
Lastly, we looked at how well the tape at the back worked when it came time to dispose of the diaper. Pull-up diapers are supposed to be rolled up and then sealed using the tape.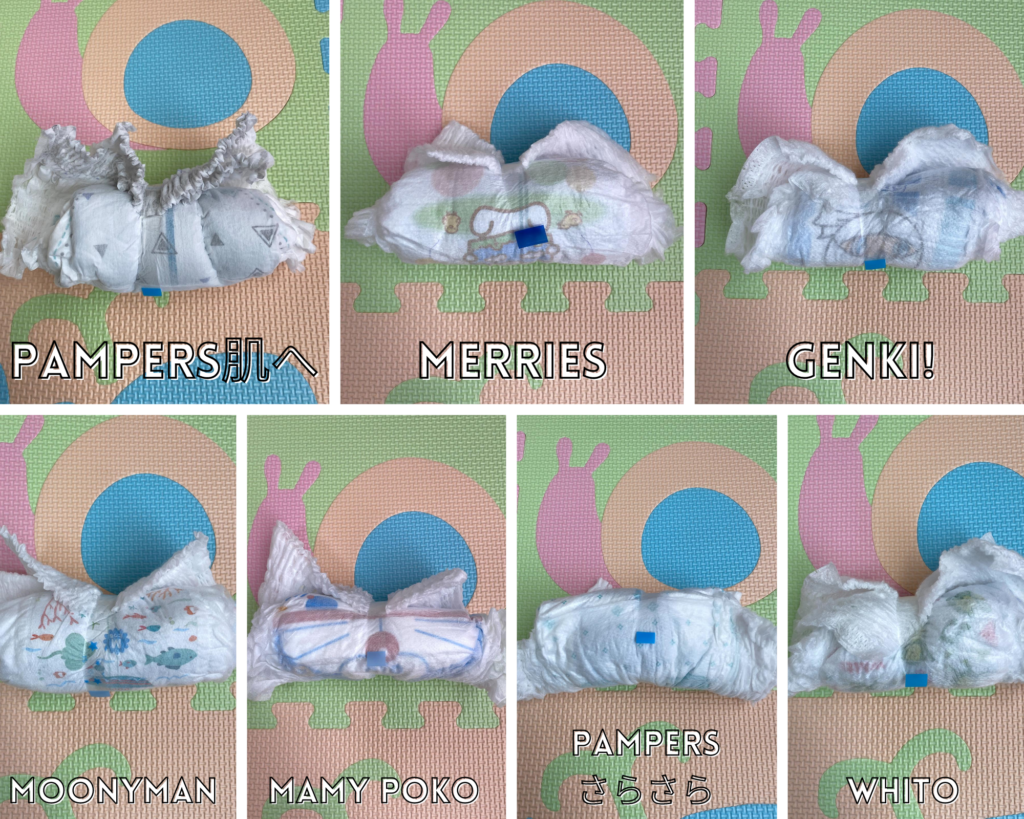 We experienced no issues with the tape on any of the diapers as all were easy to use and kept the diapers sealed. Merries diapers had wider tape that was a bit shorter than the others but that wasn't a problem.
Pull-Up Diapers in Japan — Overall Ranking
Based on everything we looked at above, here is our overall ranking of the above pull-up diapers in Japan from best to worst:
Merries
Genki!
Pampers さらさらケア
Whito
moonyman
Pampers肌へ
Mamy Poko
Genki! is cheaper than Merries and softer; however, Merries was more absorbent and it felt much nicer than Genki! after 100 ml to 300 ml of liquid was absorbed, both after 30 seconds and after 1 hour. When our daughter started getting bigger, Merries also fit her better than Genki!. Pampersさらさらケア was in third place for how dry it felt after 1 hour and its affordability in comparison to Whito, another 12-hour diaper that absorbed well but was quite expensive. Moonyman ticked off a lot of boxes for a good diaper (absorbs quickly, cheap, and soft); however, it did leak from the leg cuffs when our daughter wore it overnight and didn't handle 300 ml of liquid very well. The sides can also be difficult to rip and is the last thing you want to deal with if you have a fussy baby who hates diaper changes, and the wetness indicator is hard to see. Pampers肌へのいちばん was a huge disappointment due to the cost and its failure to absorb as well as some of the other, more affordable diapers. Mamy Poko, although the cheapest, ranked the lowest in a number of categories that we looked at. It's not a horrible diaper, though, and if it fits your child and your budget, then it's perfectly fine to use.
In general, I am impressed with the overall quality of Japanese diapers. Our daughter is now 13 months and has never experienced any leaks during the day with the diaper brands we have tried, but of course, all babies are different and time can only tell what will happen in the future. I should also note that although she's now only 8.5 kg and hasn't reached the M-size weight limit yet, we are currently transitioning her to L-size pull-ups, specifically Merries, as we feel that she's becoming too big for M-size diapers. (Interestingly, L-size Merries does not have the quilted lining, which I really loved on the M-size diapers, so I wonder if that would change how it absorbs and feels after liquid is poured onto it.)
If you're interested in getting free samples of pull-up diapers, you can try applying for some on each brand's website (some are listed here).
Update:
Soon after I wrote this article, we began using オヤスミマン as overnight diapers. I will not be testing this diaper as it is quite expensive; however, I feel like it's worth the price because of its absorbency and fit. Baby A has slept through most nights while wearing オヤスミマン. It is much cheaper on Amazon Japan than in stores, especially when there's a sale! (Sometimes Nishimatsuya has it marked down to 899 yen a pack).
Also, our daughter has started at a new daycare from April 2021 and the daycare is using… Merries pants-type diapers as well for all the toddlers!