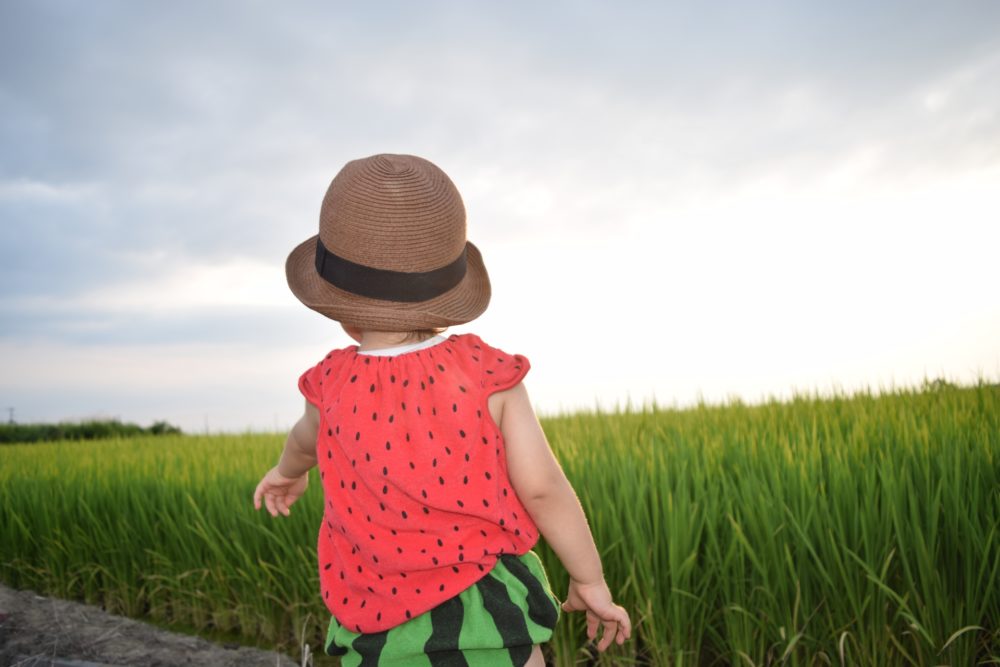 Keeping your Baby Cool During Summer in Japan
Summers in Japan are getting hotter by the year, so when I found out I was going to give birth in July when temperatures are at their peak, I was quite concerned. This is why I thought I would share how I prepared for having a newborn baby in summer, what I did to make sure she was okay, ways to keep newborns and older babies cool in Japan, and Japanese words you should look for when buying something for summer.
How I Kept my Summer Newborn Cool
in Japan
Newborns are very sensitive to temperature changes and are still getting a hang of sweating, which is why we invested in a few things to try to offset the heat.
How I Cared for my Summer Baby in Japan
On top of using the items listed above, I checked for signs to make sure that my daughter wasn't overheating. In particular, I checked up on her a few times at night and felt the back of her neck while she was in the swaddle to see if she was too hot. If I felt like she was hot or her face was getting red, I would lower the temperature of the room, wipe her face with a damp washcloth and gently fan her with a sensu. Also, to try to prevent my newborn from getting a heat rash, I made sure to wipe the folds of her skin, particularly her neck, arms and legs, with a damp washcloth throughout the day.  It's also recommended that babies are not left in their diaper for too long as this can also cause a heat rash (my daughter as a newborn screamed whenever she needed to be changed so I  never had a problem with this since I was frequently changing her diaper). You can read more about signs of overheating on Dr. Harvey Karp's website, Happiest Baby.
I also didn't take her for walks during the day (particularly between 11 AM to 2 PM) if it was hot and sunny and waited until the early evening and stuck to air-conditioned malls as much as possible if I felt like I needed to get out. If you need to take the baby out during the day, I highly recommend using a parasol if you're going to be wearing them in a carrier. Make sure to also have a light blanket or swaddle on hand if you are going to a mall or an air-conditioned building so your baby doesn't get too cold or sick from the change in temperature.
(Check out this post for ideas on what to put in a summer baby's diaper bag in Japan.)
How to Keep Older Babies Cool in Japan
There are a lot of great ways to keep older babies cool during the summer in Japan. Here are a few:
Perhaps you already have one of these for your bed or futon as it's excellent at keeping you cool during a hot and humid summer night. I bought one of these for my daughter as a newborn but I was too paranoid to use it as I was afraid it would come off the mattress and smother her (yes, I was and still am a 心配性ママ). Now that she's older, I've started using it on her futon for naps as I find that the air conditioner in her room does a good enough job that I don't need to put it on the mattress of her crib. However, if you don't have an air conditioner or don't want to use it too often and instead use a fan, it's probably a good idea to put one of these on the crib mattress.

These are must-haves for your older baby for hot summer nights as these types of blankets are made out of breathable and light material. Towelketes (タオルケット) look like a large towel — we may have accidentally bought one for our daughter last year thinking it was a normal towel but it can be used for both sleeping and drying purposes. These and gauze blankets can be found any baby store or online.

If you don't feel comfortable having your baby sleep with a blanket yet, you can buy sleepsacks for summer from the H&M online store (which are reasonably priced and can be bought on sale for ¥1250 sometimes, just look up スリープバッグ). Gauze sleepers are also very common in Japan and can be found at any baby store or Amazon Japan.

Drinks

Staying hydrated is essential during the summer, which is why it's good for your baby to have something to drink frequently, such as water. Depending on your baby's age, you can also give them the following, which can be found at most grocery stores, drug stores, or baby stores in Japan:
Remember, do not replace formula or breastmilk with one of these drinks as they do not contain the nutrients or calories a baby requires in a day. My daughter, who is 11 months right now, only has formula two or three times a day as she primarily gets her nutrition from solid food three times a day, so I give her mugicha or water throughout the day so she's hydrated.
These squeezable jelly drinks are one of my daughter's favorites and are recommended for babies who are one and up. I bought them after her daycare teacher told me that these are good to give babies when it's hot. You can freeze them as well so it's like a little slushy beverage for your little one. They also contain no artificial ingredients. 

Cooling stroller pad/seat liner

These are similar to the cooling mattress pads and are supposed to keep your baby cool when they're in the stroller. You don't need to cool it in the fridge/freezer or anything in advance, just attach it to the stroller and wash when needed. We bought ours from Nitori.

Airy clothing and hats

I mentioned airy onesies earlier for newborns but they also have them for older babies, so just keep your eyes out for anything that says さわやか. It's also important that your baby has a hat to keep the sun off their face. I got the one pictured for my daughter from Nishi Matsuya during their end-of-season sale last year for 99 yen.

Speaking of airy clothing, jinbei are perfect for summer, not to mention are super adorable.  

This might seem extreme for some but in Japan, it's quite common for people to use these small tents outside to help block the blazing sun. It also works well in stopping the wind from blowing light things away. We use something similar to the one pictured for our daughter and love it because it's really light and portable, although we are considering getting one that closes in the front to provide more protection from both the heat and bugs.


Although space can be an issue, it's easy to set up a small inflatable pool on your balcony for your little one to splash around in and get some reprieve from the heat. My daughter had so much fun in her little pool and the mushroom top was an added bonus as it provided her with shade.

Taking them somewhere air-conditioned

I mentioned earlier that I took my newborn to the mall during summer as it was cool and had all the facilities I needed. This might be more difficult considering the current global circumstances surrounding the pandemic; however, considering that there are less tourists right now, an aquarium might be a great idea.

Candace, an American mom who had a baby in August in Japan, has also contributed a great piece about taking her child to jidoukan and kosodate shien centers when it was hot, so make sure to check out her article if you want to know more. 
Japanese Words Related to Keeping Cool
Here are some words in Japanese to look out for when you're shopping for products that will help keep your baby cool.
ひんやり: cooling
保冷 (ほれい or horei) : To keep cool
さわやか:breezy, airy
快適 (かいてき or kaiteki):comfortable
クール:cool
冷感 (れいかん or reikan):cooling sensation, cool feeling
冷却 (れいきゃく or reikyaku):cooling
---
I hope this information was helpful and perhaps put some anxious parents at ease when it comes to tackling summers in Japan with a (new) baby.
If you're a parent in Japan and this isn't your first summer with a baby, how do you keep your baby cool? Let me know in the comments!