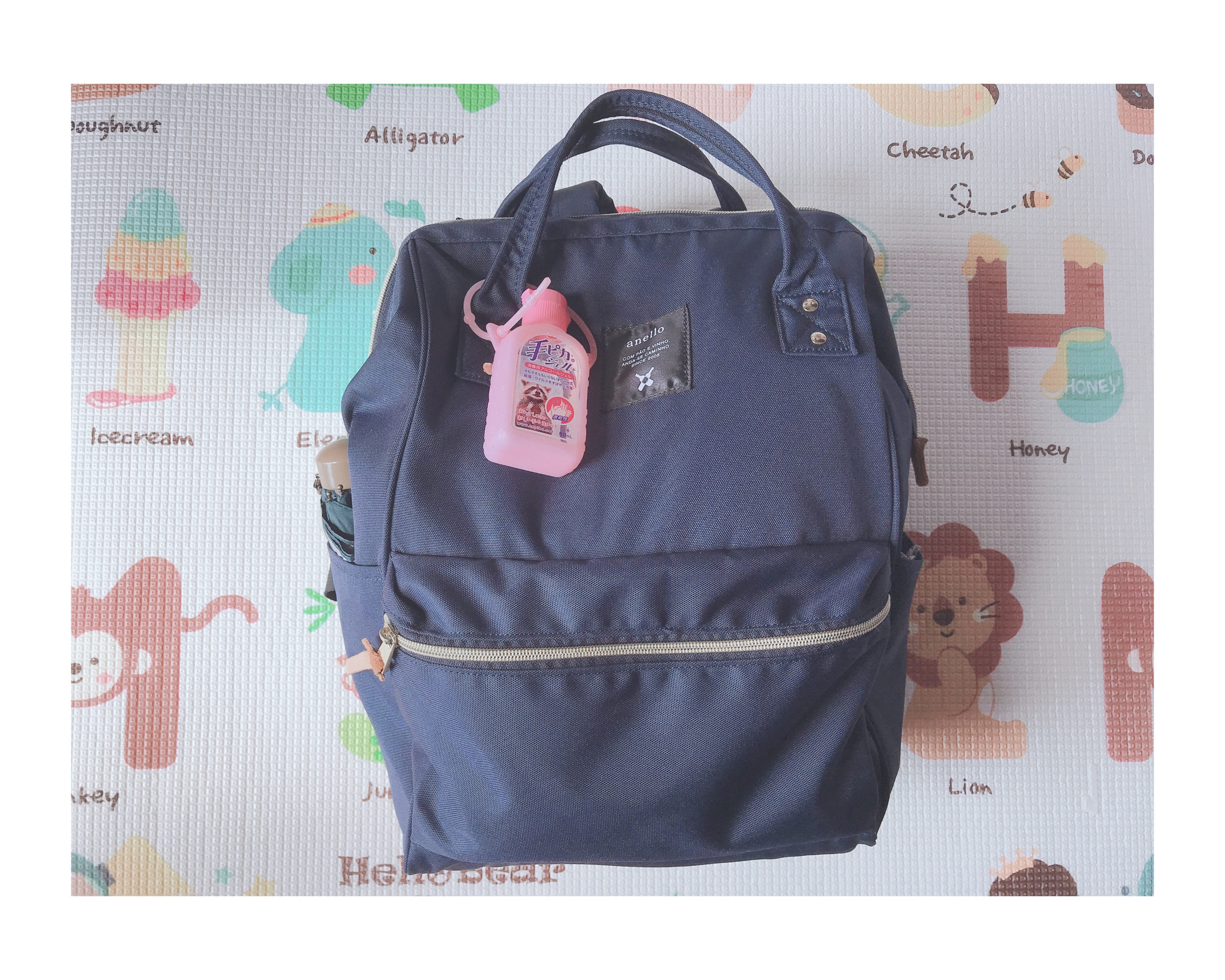 What's in a Diaper Bag in Japan? (3 Months Edition)
As a Canadian living in Japan, I thought it would be fun to share what I have in my diaper bag (or マザーズバッグ in Japanese). I never really did any research into recommended items to put in a diaper bag and instead packed it based on what I felt Baby A needed (and trying to keep it as light as possible because I'm a weakling). I'm sure as Baby A gets older the contents will change but hopefully this will be helpful for any new moms or future moms out there who are wondering what to carry.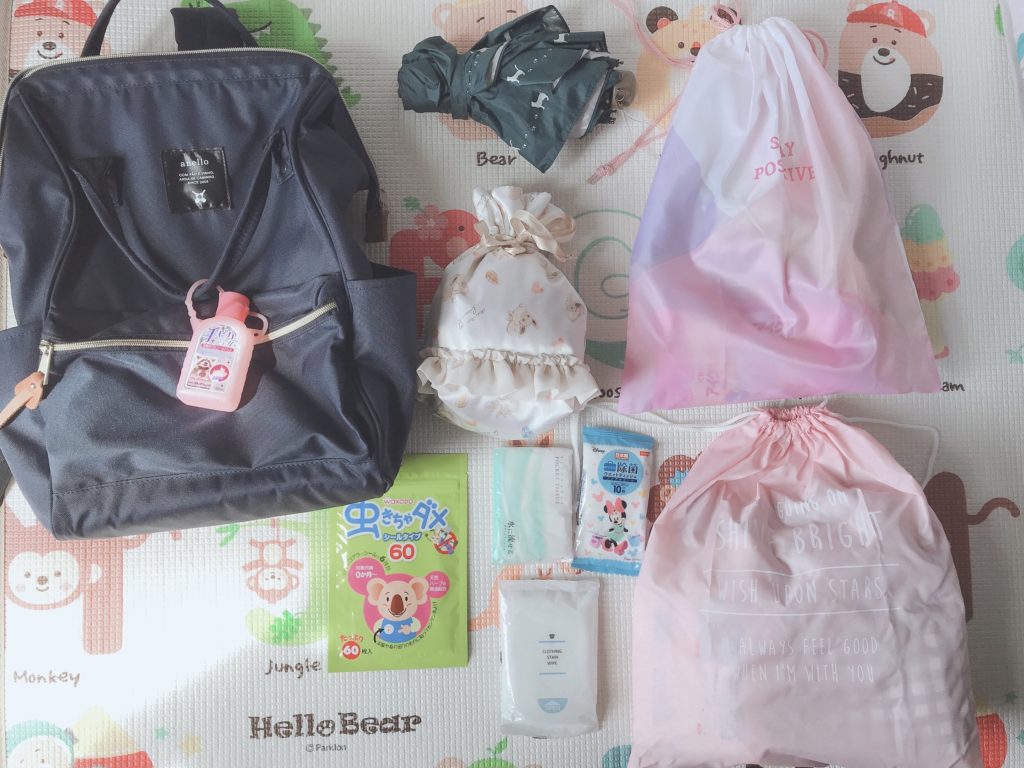 The Bag
I had spent a lot of time searching for the ideal bag for me, preferably something that was lightweight and easy to access. I had been eying a MIKI HOUSE diaper bag for months but in the end I couldn't justify the cost and ended up deciding to try using an anello bag I already had. I was hesitant about using a backpack at first because I thought it would be hard to access things if I was wearing Baby A but this wasn't the case and I couldn't be happier with my decision. As of now (Baby A is 4.5 months), it works perfectly. However, I think if I had to do it again, I would get this diaper bag by Cosyland because although similar to the anello backpack in style, it has so many pockets and seems easier to access things, and also comes with a USB charging port. 
The Contents
In the small pockets inside the anello bag and on the sides, I have:
A small bottle of hand sanitizer
An umbrella for rain or shade
Alcohol-free wipes to wipe down tables or the handles of the stroller (I think this goes without saying but never use these on the baby or on the baby's toys. There are other kinds of wipes for that.)
Tissues (not pictured is the hand towel I use to wipe Baby A's mouth whenever she spits up)
Disposable wipes to remove stains. I got this from Daiso after I swatted a mosquito that was hovering near Baby A and it left a stain on her stroller (gross, I know). It's good to use in a pinch when you're out and can't wash something right away. Again, don't use this on your baby or their clothing.
Small mosquito repellant stickers. I don't know whether these actually work but I will say that they don't stick on fabric for very long and have a very strong smell. I don't think I will use this again next year.
A small bag that contains a lightweight swaddle for Baby A. I lay her on this in restaurants with booth seating or over her lap when she's in the stroller. (It's hard to see but there are adorable Eevees all over this bag. I'm not that into Pokemon but Eevee is too cute to resist!)

I also have two larger bags, one that contains Baby A's food-related items and the other that contains her diaper-changing items. I decided to split these into two portable bags because it was annoying having to dig for things and now I don't have to take my entire diaper bag to the changing room, just the one smaller bag. (I know, both bags are pink and it confuses my husband. My love of pink knows no bounds!)
The Food Bag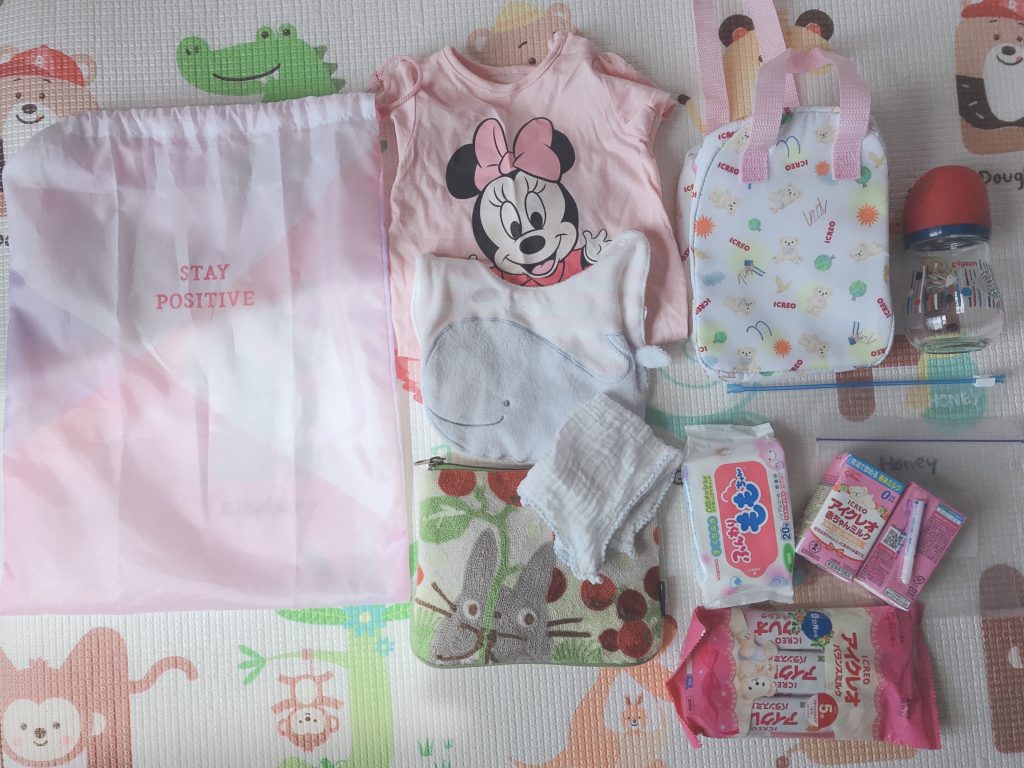 The following three items are inside of the Totoro pouch:
An extra outfit if Baby A spits up all over herself, which has happened. Considering babies have blowouts that get all over their clothes, why isn't this in the changing bag? Well, Baby A has (so far, knock on wood) not had a blowout. Once she does, I'll rethink things. (Also note that this is my diaper bag from October when Baby A was 3 months old and the temperature outside was still quite warm. Since then, I've changed Baby A's extra outfit to a long-sleeved onesie and pants.)
An extra bib
A washcloth
The next items are inside of the white ICREO bag:
A bottle (of course)
Two 125 ml boxes of ICREO formula
ICREO powdered formula sticks (I've actually taken this out of the bag recently as I didn't find it necessary)
Two resealable bags for used bottles, trash, or bibs/clothing that's been spit up on
For those of you who are not using boxed ICREO formula but formula-feeding, having a small thermos of hot water alongside a 500 ml bottle of distilled water for babies (赤ちゃんの水)is good to have on hand. Also keep in mind that changing rooms in Japan at family-friendly malls like Lalaport provide hot water and sometimes vending machines that sell distilled water as well.
The Changing Bag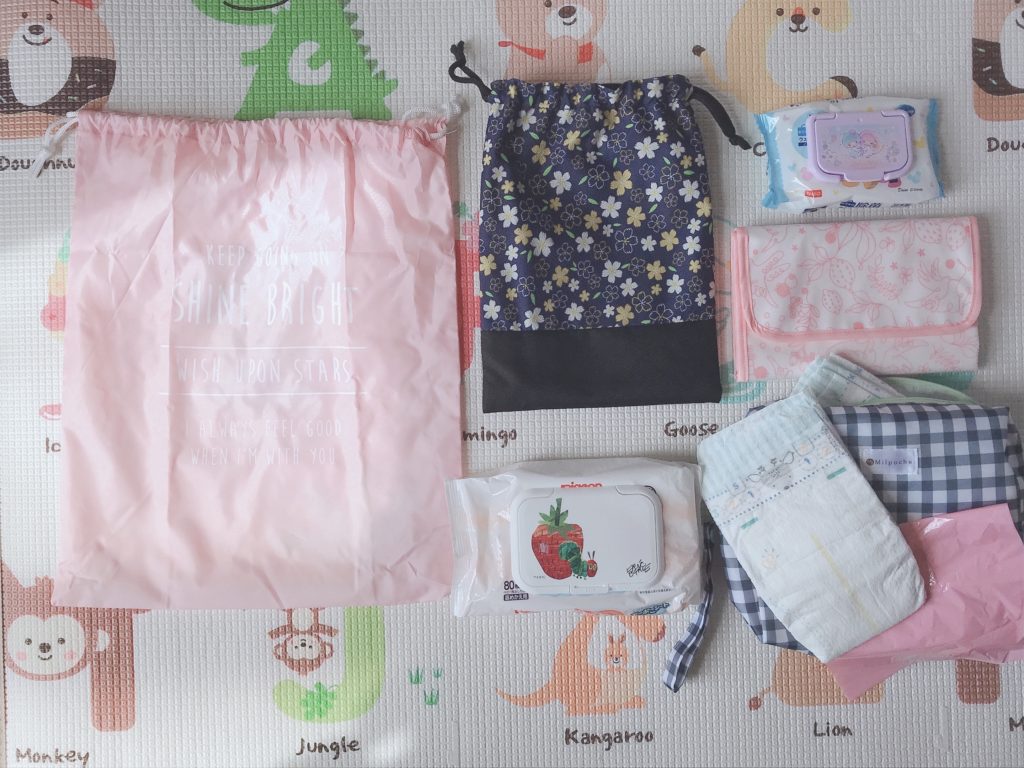 Inside the blue pouch with flowers:
Inside the checkered pouch:
Several Pampers diapers (I tend to keep eight on hand)
Several diaper trash bags (these are a must, especially for places like hospitals and clinics where you're required to take soiled diapers home)
So there you have it! I didn't take a picture of my wallet, keys, and lipstick but those are usually in the front pocket of the bag or sometimes in a small purse.
What's in your diaper bag?