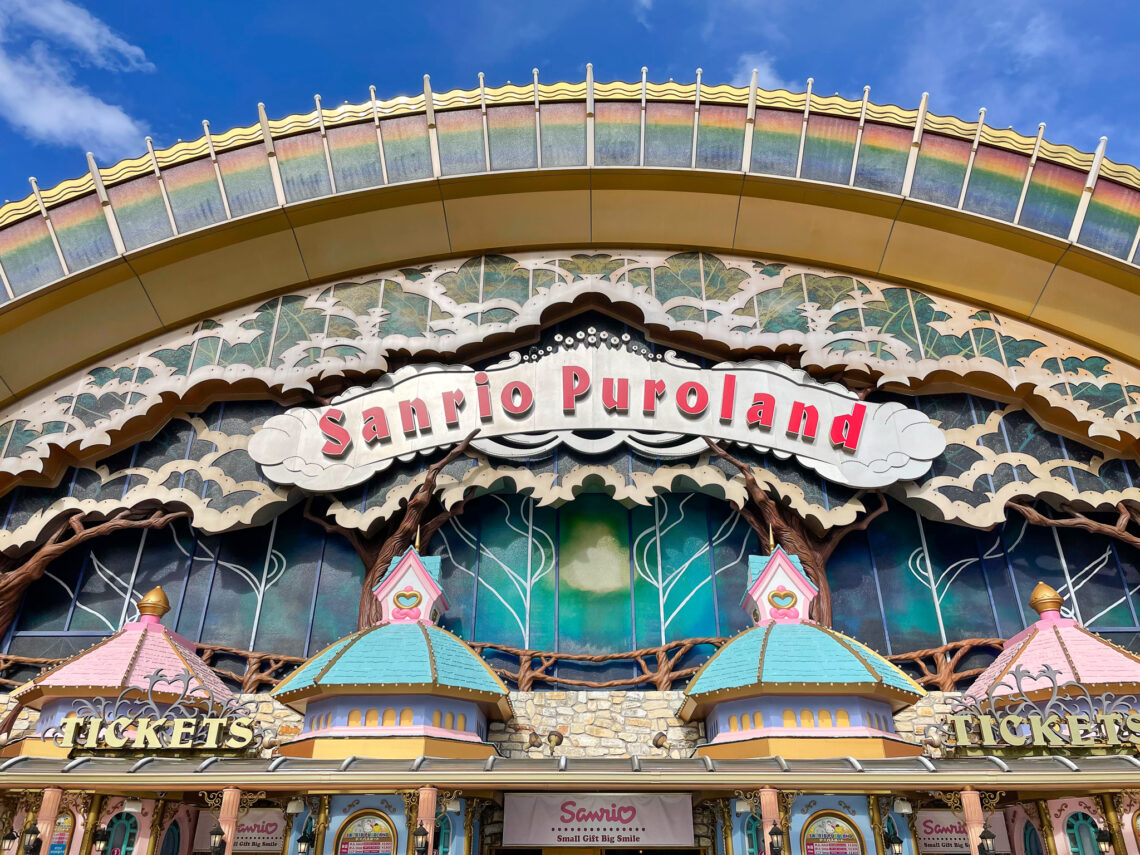 Visiting Sanrio Puroland with a Toddler
In early August this year, my little family visited Sanrio Puroland for the first time. Sanrio Puroland is a Sanrio theme park and the ultimate place to visit if you're a fan. Even if you don't care too much about Sanrio characters (although you're likely to be familiar with Hello Kitty), it's still a great place to take your little one, especially if it's raining as everything is indoors.
I had never visited Puroland before because although I think Sanrio characters are very cute, I'm not that big of a fan. However, my daughter loves Sanrio characters, especially after watching the children's show Fun Fun Kitty!, so I figured that I may as well take her before Japan opened to tourists and it would become crowded again. (I planned this back in June before the Delta variant ruined everything.)
Buying Tickets and Heading to Sanrio Puroland
It's best to buy tickets in advance on their website, although you can buy tickets at Puroland as well. You need to have both a 【来場予約】(to reserve the day you're going) and【パスポートチケット】 (a passport ticket to enter the theme park). You also need to register your information (basically become a member) in order to get the ticket and reserve the day you're going, but you get some benefits, like receiving a birthday card and other items if you visit during your birth month. All the steps are outlined here (in Japanese only). If you need to change your plans, there's no need to worry —you can change the date you're going online, no problem. Tickets are more expensive during vacation periods for students, such as summer vacation, so you may want to try to avoid going during this time if you want to save some yen.
Children under the age of 3 are free, so we didn't have to pay an entry fee for our newly turned 2-year-old. You can also get a special Puroland "debut" ticket if you're taking your baby or toddler for the first time. This ticket covers the entry fee of both parents and you also get a free photo album!
If you don't want to wait in line for attractions, you can get a Puropass. Similar to the Disney Fastpass, you head to the attraction at the designated time, show your pass, and you're on your way.  Puropasses cost 1000 yen per attraction.
The theme park is located in Tama, which is about 30 minutes by train from Shinjuku station. If you take the train, get off at Tama Center and Puroland will be a 10-minute walk away. Hours of operation vary and on the day we went, a weekday, Puroland opened at 9:00 AM. We decided to drive because of COVID and intended on arriving right when it opened, but because of heavy traffic, we ended up reaching Puroland at 9:30 AM. The parking lot was more than half full already and the cars kept coming. I suppose with COVID, most people want to drive instead of taking public transportation.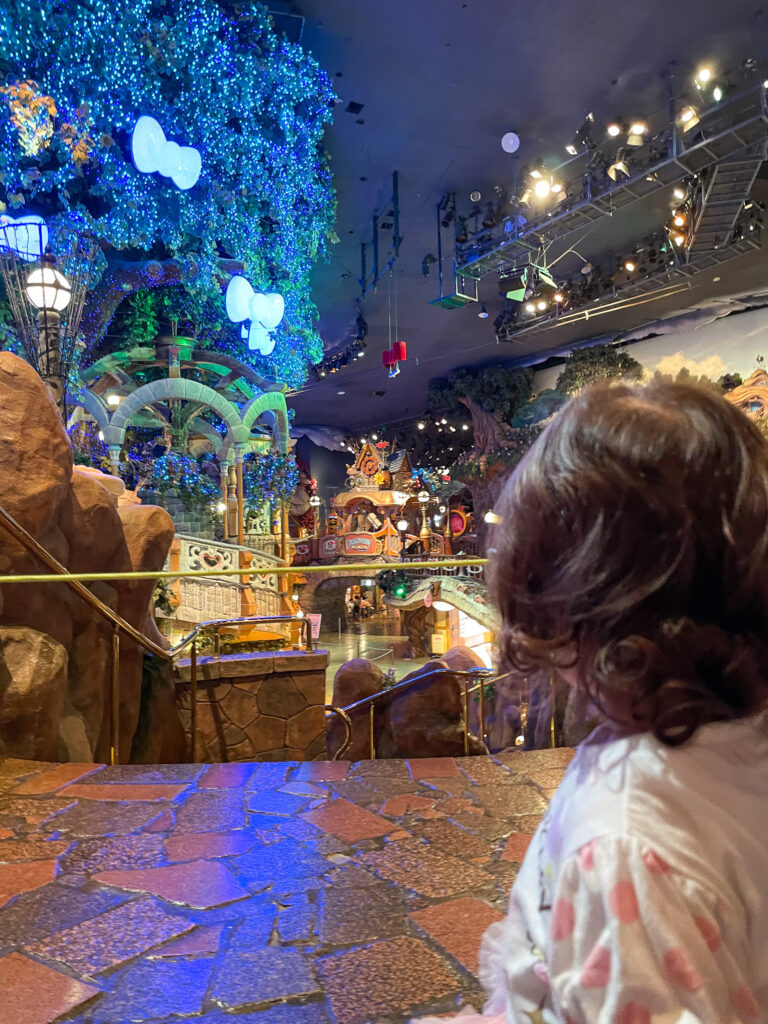 Heading to the 1st floor. So cute! So magical!
Sanrio Puroland has four floors. The first floor has one ride, the theatres for the shows, games, as well as a food court and some shops; the second floor has one ride and two areas where you can take cute pictures; the third floor is the entrance and also has the largest souvenir shop in the theme park, as well as an area where you can make a personalized Sanrio keychain; and the fourth floor has some more photo spots, a restaurant, a cafe, and some more shops. One annoying thing is that there is only one elevator you can use and it's not that big, so it can get crowded, especially when it comes to people with strollers. I would recommend leaving your stroller on the 3rd floor in the designated stroller area, which is what we did for most of our visit. (We ended up getting it in the afternoon as A started to get sleepy.)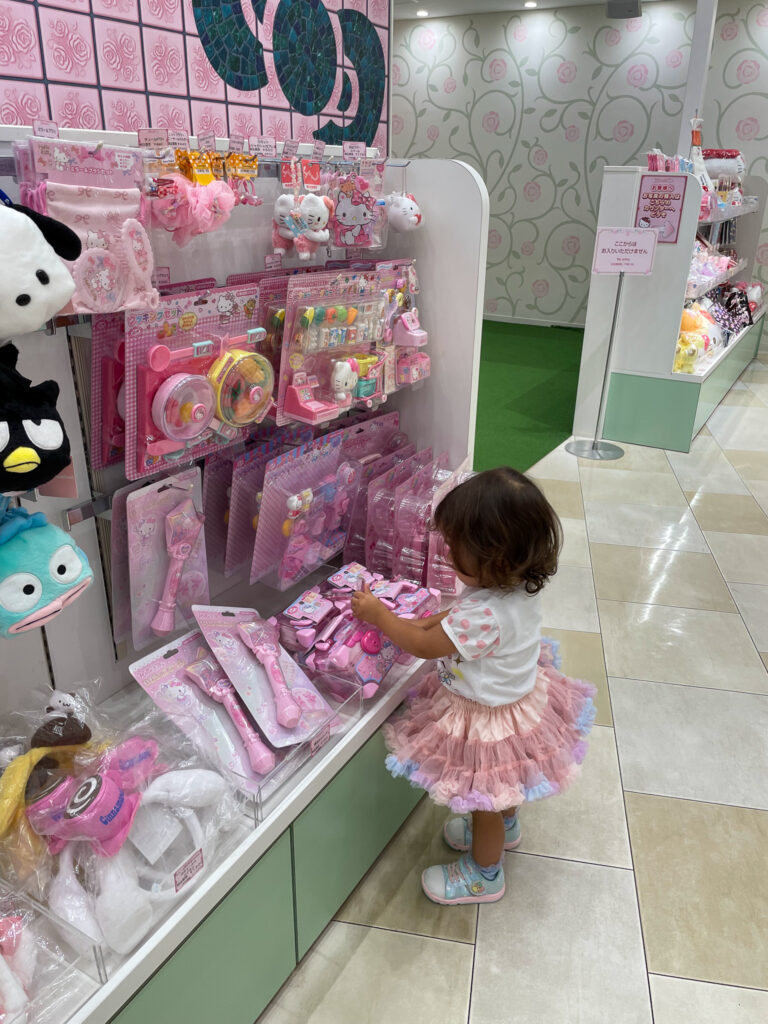 If your little one likes headbands, you might want to buy one to really get the full Sanrio Puroland experience!
My daughter sadly does not like headbands, but maybe that'll change in the future?
Although we got a pamphlet with a map at the entrance, finding out where everything was in the theme park was a bit challenging as the map isn't that great for first-time visitors (in my humble opinion). I think a lot of time was wasted trying to figure out how to get to one place or another, although the staff are quite helpful.
It's best to take a look at the pamphlet when you first arrive to find out the schedule of the shows. That way, you can plan the rest of your visit around the shows you want to watch. Shows tend to start at around 9:30 AM and the last show is around 4-5 PM. Note that some shows, such as the summer ハローキティのポップンファンシー夏まつり, are very popular so it's best to try to see it in the morning as the later it gets, the more likely you will have to wait in line (or there will be no seats left). I'll talk about our experience with that more later on.
Rides at Sanrio Puroland
Puroland is more known for its shows, Instagram-worthy photo spots, and cute food, so unlike Disneyland, it only has a few rides. This surprised me and was disappointing at first; however, the two rides we went on are perfect for a toddler and enjoyable for parents as well!
Sanrio Character Boatride
(サンリオキャラクターボートライド)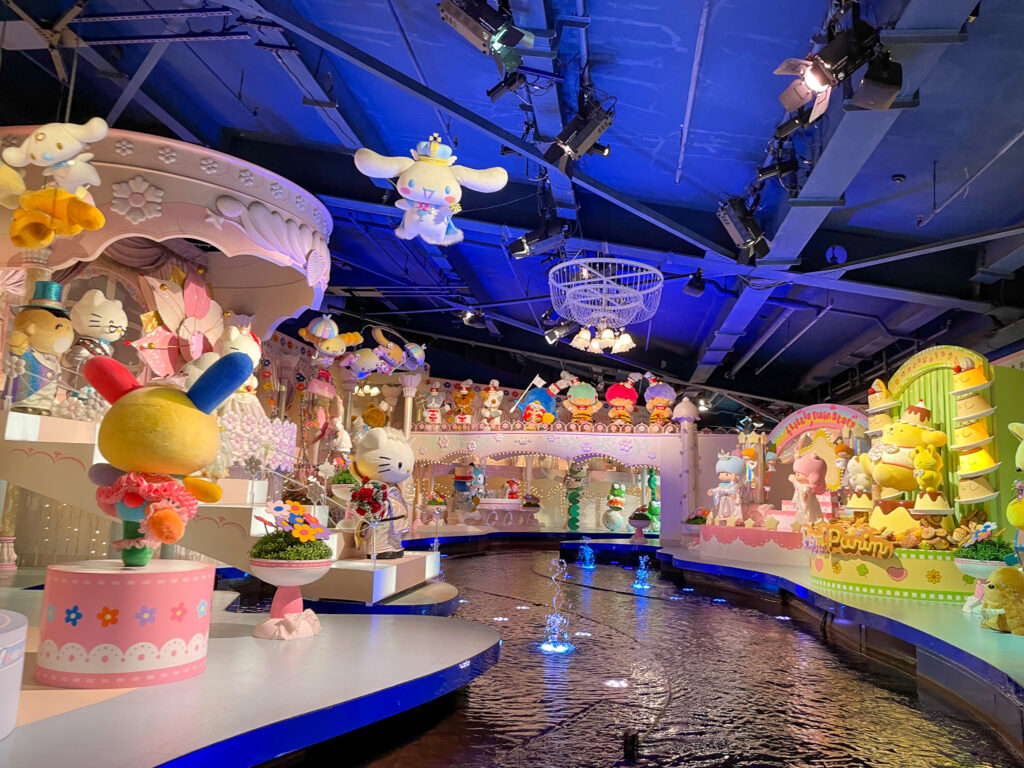 After riding It's a Small World at Disneyland about a month prior, I was nervous about going on another boat ride. Thankfully, this ride was much better than the Disneyland one! The ride is near the escalators that descend from the entrance, so it's typically the first ride people go on when they arrive at Puroland. When we decided to go on it, it was a little past 10:00 AM and there weren't too many people. Although the estimated wait time was 20 minutes, we only waited for 10 minutes. My daughter didn't mind the wait either, as there were plenty of Sanrio characters to look at (she excitedly exclaimed, "My Melo-chan!" or "Kitty-chan!" while pointing to the character, which was so adorable).
My toddler and I sat at the front of the small Sanrio-themed boat while my husband sat behind us. Right at the beginning of the ride, the boat goes down, almost like a children's rollercoaster. Although we were buckled in, I still held onto A as I was worried she'd get scared (and yes, I did worry about her falling out because as an anxious mother, that's what I do best). A didn't have any reaction, though, and this continued throughout the ride. She was looking around a lot but very quiet with a serious look on her face.
The Sanrio characters and displays throughout the ride were very cute and well done. At the end of the ride, the boat ascends back to the platform. During that time, my husband and I were talking about how fun the ride was and, surprisingly, A suddenly piped up, "楽しかった!" ("It was fun!") It was the first time we had ever heard her say that, so that made this ride very memorable for all of us!
I definitely recommend trying this ride if you're at Puroland with your little one. (I even saw a mom with her baby in a baby carrier ride on it!) We wanted to go on it again in the afternoon but at around 3 PM, the estimated wait time for the ride had ballooned to 40 minutes. So if you want to go on this ride, the morning is the best time.
~My Melody & Kuromi~ Mymeroad Drive
(~マイメロディ&クロミ~マイメロードドライブ )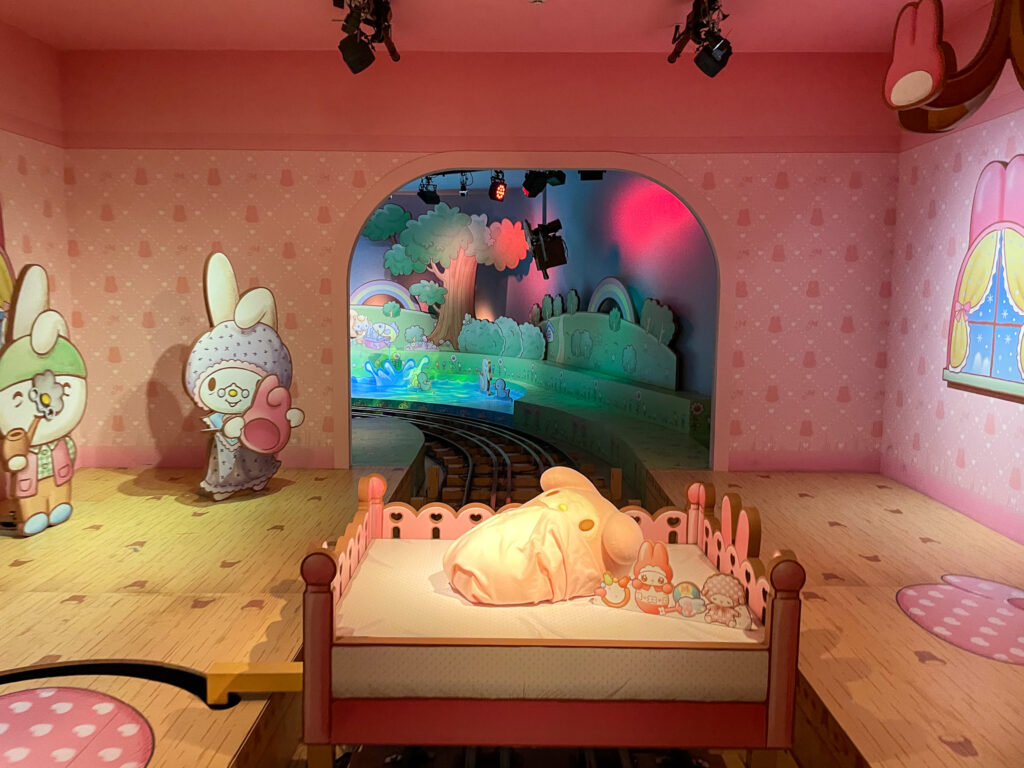 This ride involves sitting in a little car and traveling through an adorable land featuring My Melody and Kuromi while getting your photo taken a few times. We were told that we could take off our masks for the ride since your photo is taken throughout the ride. We weren't sitting with strangers and our car was distanced from the ones in front and behind us, I didn't feel at risk.
I wasn't prepared for the first photo, especially since I was focusing on A's reaction to everything, but I soon learned to pay attention to the kawaii voice of My Melody or Kuromi telling us that a photo was going to be taken.
After the ride, A didn't want to get off and asked to ride it again!
There are little booths to the side where you can select and decorate your pictures that were taken on the ride. The decorations on the machine are a bit dated (think purikura from 2008) and there isn't much to choose from, so I didn't do very much. After decorating the photos, you can choose three and have them printed in collage form (so three pictures on one page) and placed in a cute paper My Melody frame for 900 yen. We don't have many pictures as a family so we decided to pay for the printed photos. If you purchase the pictures, you will also be able to access the photo collage online and download it.
Photo Spots
Puroland is the perfect place to get the ultimate kawaii photos of your dreams, so I'm especially glad I dressed my daughter up in an adorable tutu from Panpantutu. (Nope, this is not sponsored, I just think their tutus are unbelievably cute and wanted to share.)
~キキ&ララ~トゥインクリングツアー
~Kiki & Lala~ Twinkling tour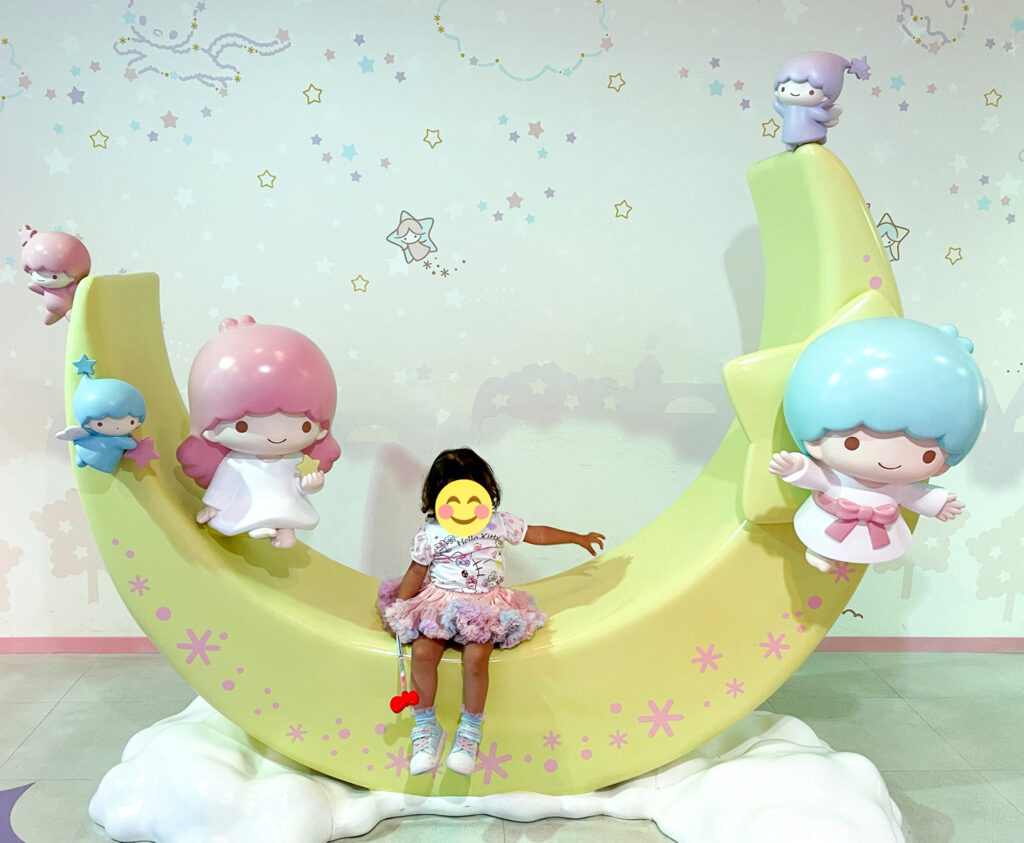 This place is everything dreams are made of. It's like walking into a pastel fairy wonderland, which perfectly represents Kiki and Lala. The lights changed color, from pink to lavender, to white, giving everything a dreamy feel. I had a lot of fun taking pictures of A in all the different adorable areas, and there weren't that many people so we didn't have to wait in line to get in and could enjoy ourselves.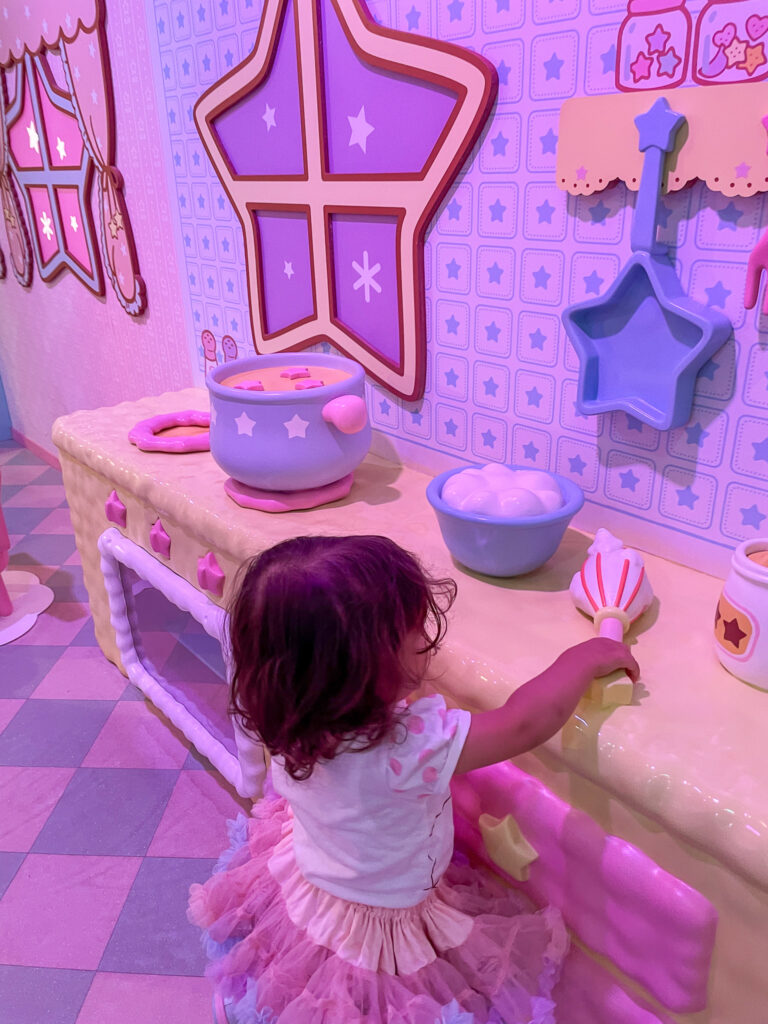 The little kitchen and vanity table were my daughter's favorite places in the theme park — she didn't want to leave! Thankfully there weren't too many people around so she could take her time pretending to cook and having a tea party with me.
レディキティハウス
(Lady Kitty House)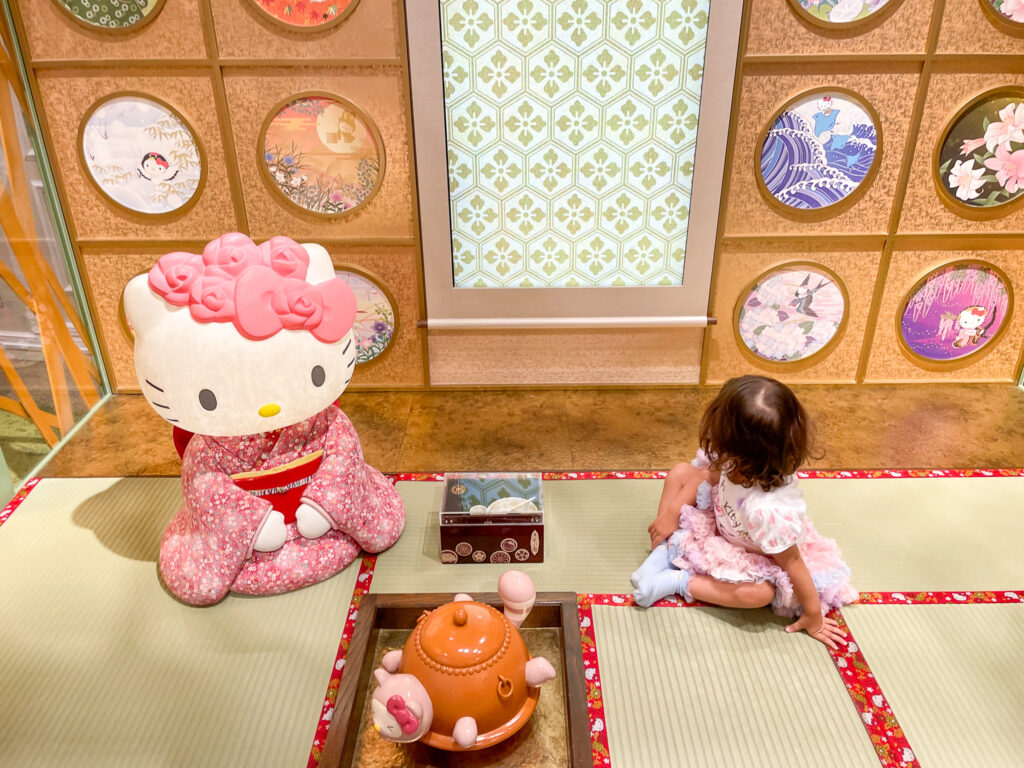 I wasn't completely sure what this would be like but I was pleasantly surprised. There was no line to get in when we went in the morning (although a few hours later there was a huge line).
This attraction has tons of spots where you can take super cute photos, such as a Japanese tearoom with Hello Kitty, a massive teacup you can go inside, a giant compact blush you can sit on, and a gorgeous bed full of sweets.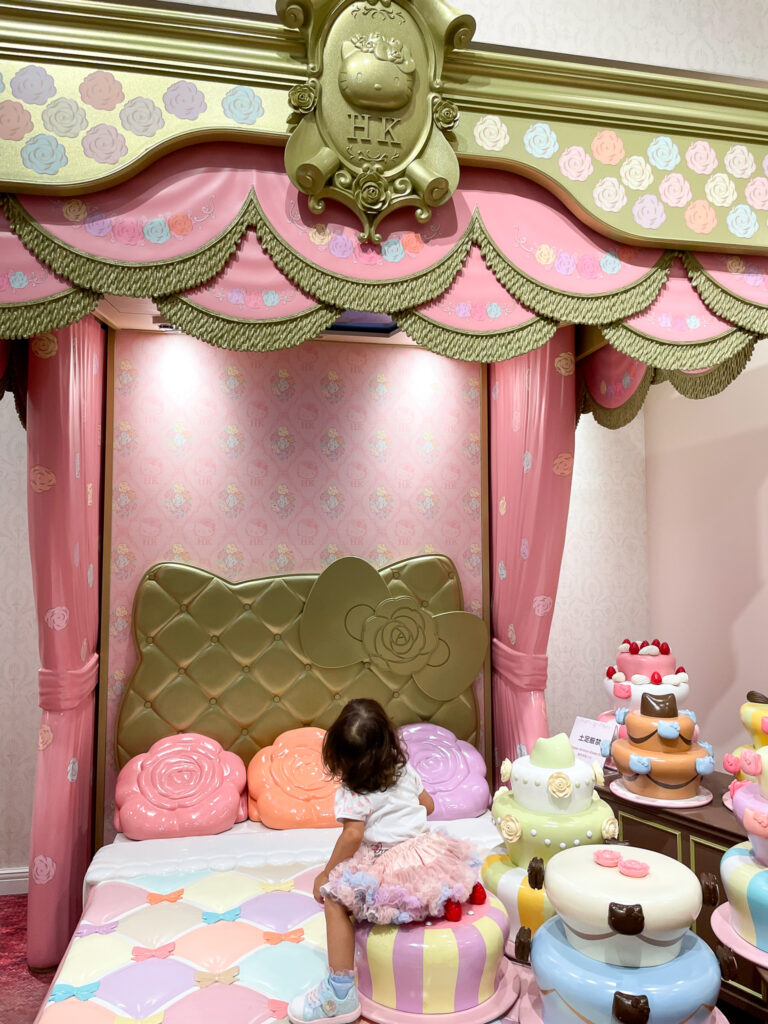 A was likely wondering why her bedroom didn't look like this!
My daughter really liked getting her photo taken in all the different areas, and she was especially thrilled about being able to take a picture with Hello Kitty at the end! We sat on a lovely sofa while Hello Kitty stood behind us, and A kept turning around to look at her instead of the camera. It was adorable. We ended up buying the photo, which was very pricey at 1600 yen, but figured it was a nice memory, would make A happy, and we didn't have many photos as a family so why not?
4th Floor Photo Spots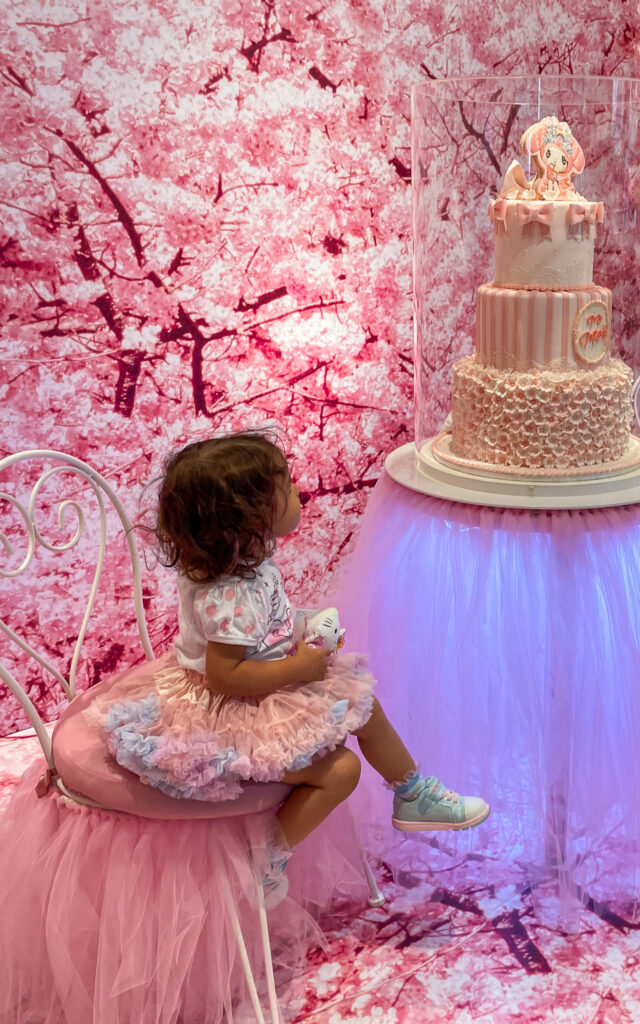 The fourth floor also had a few cute spots where you can take photos, such as this sakura-themed area pictured above. There weren't too many people so we were able to get quite a few nice photos.
Food at Sanrio Puroland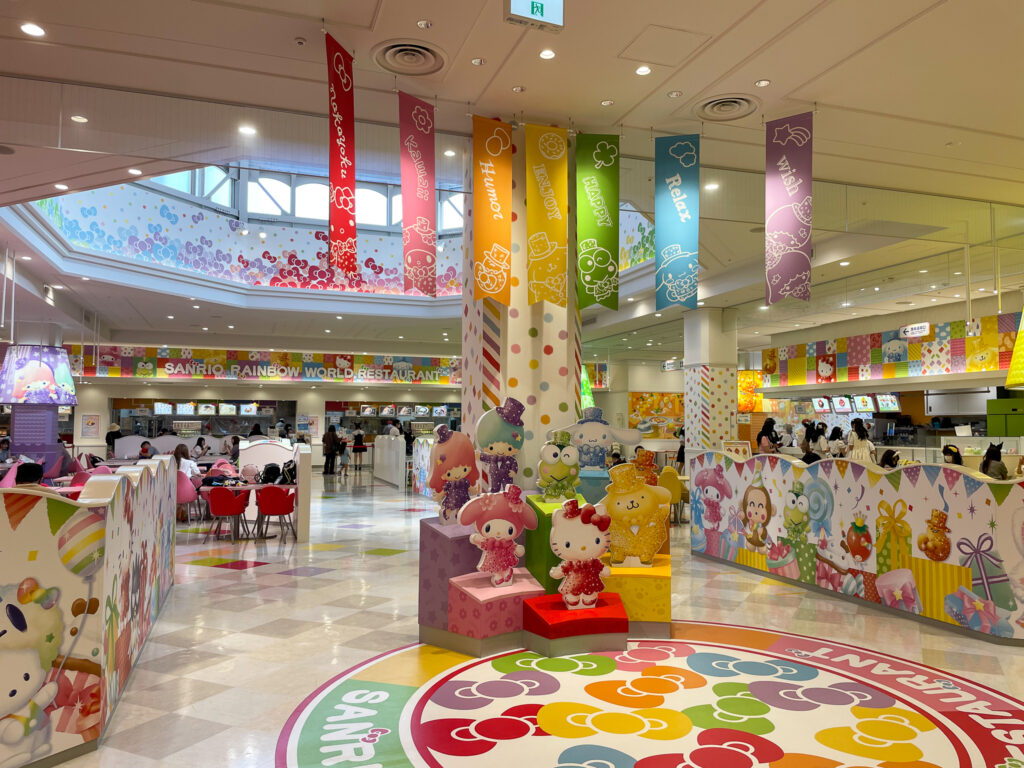 A view of the Sanrio Rainbow World Restaurant
There are tons of options when it comes to finding food at Sanrio Puroland, including for little ones!
Character Food Court (1st Floor)
Sweet Parlor (1st Floor)
Cinnamoroll Dream Cafe (4th Floor)
Sanrio Rainbow World Restaurant (4th Floor)
Restaurant Yakata (4th Floor)
Since we were on the first floor and wanted to try to watch a show (ハローキティのポップンファンシー夏まつり) at noon, we decided to eat at around 11:30 AM at the Character Food Court on the 1st floor. I had been looking at the food menu online during our drive to Puroland in the morning and I decided I wanted omurice, but that was unfortunately only available at the Sanrio Rainbow World Restaurant on the 4th floor, and we didn't have enough time to go all the way up and then back again if we wanted to make the show.
The food court wasn't too crowded at the time but after we grabbed seats, it started to fill up fast. If you have a little one, try to eat as early as possible to avoid the lunch rush!
The food we got didn't taste the best, especially considering the cost, but it wasn't terrible. One nice thing, though, was that we got some useful freebies with our meals.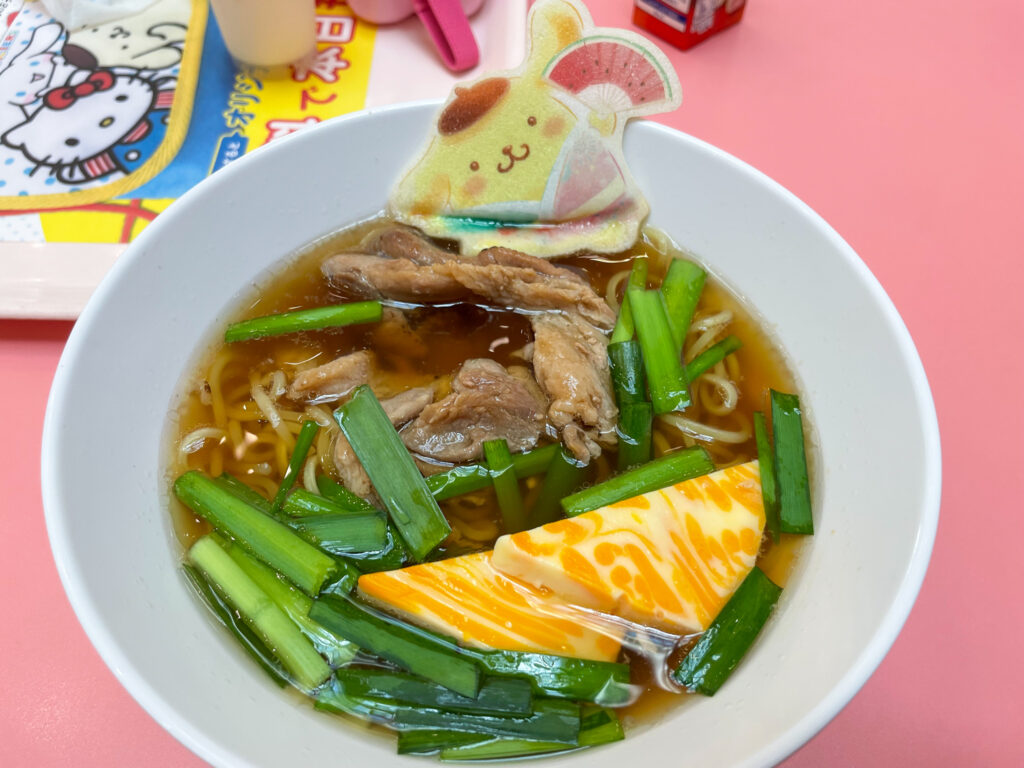 Pompompurin ramen, which came with a free uchiwa. My husband said the ramen tasted like the food in his high school cafeteria, which wasn't a bad thing but also not really worth the price. However, my daughter loves the uchiwa.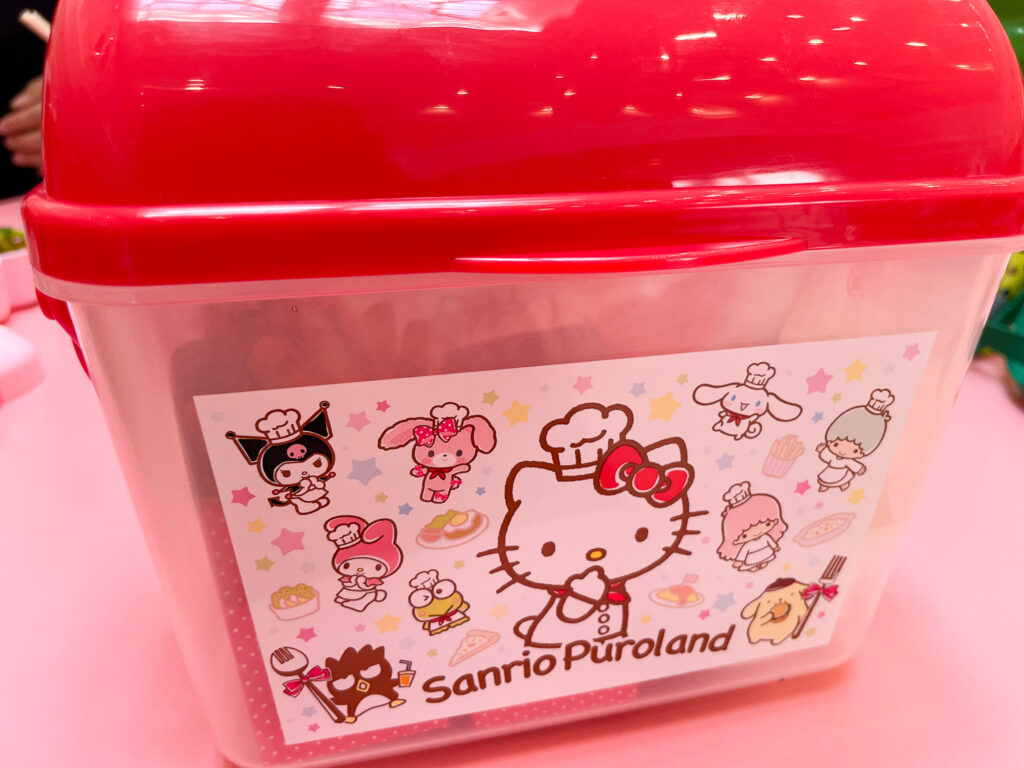 My Pompompurin teriyaki mayo burger set, which came in this cute plastic box that has a handle and a strap.
This box is now being used to store some of A's toys at home.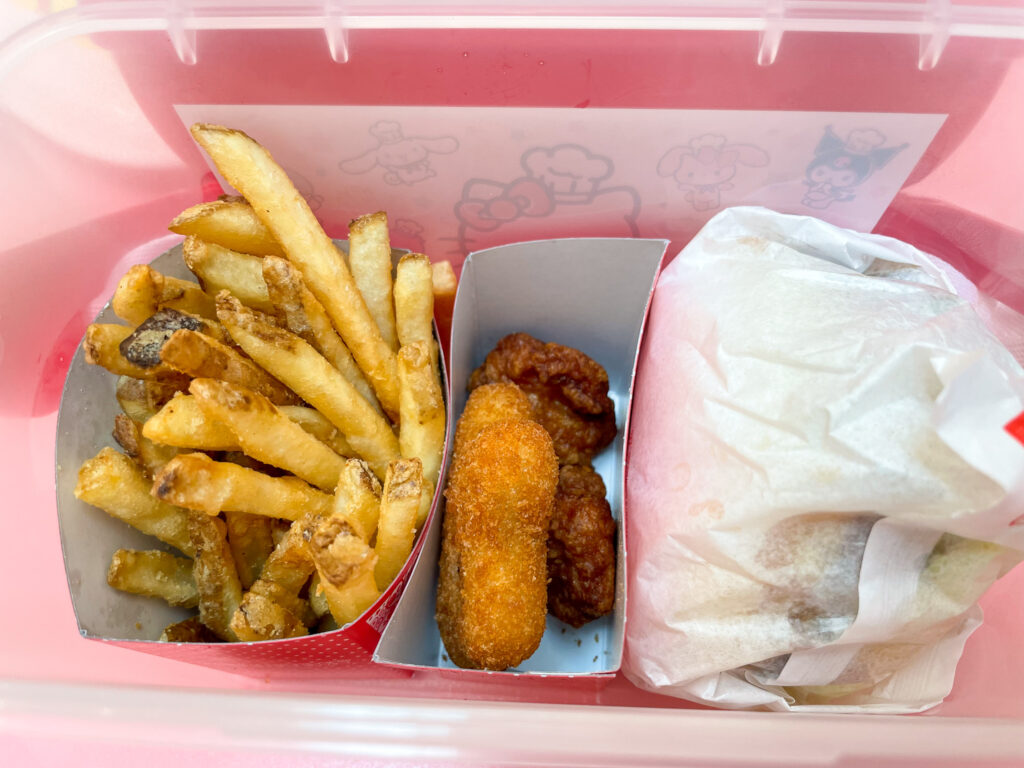 The food inside the box. Fries, fried chicken, and a burger.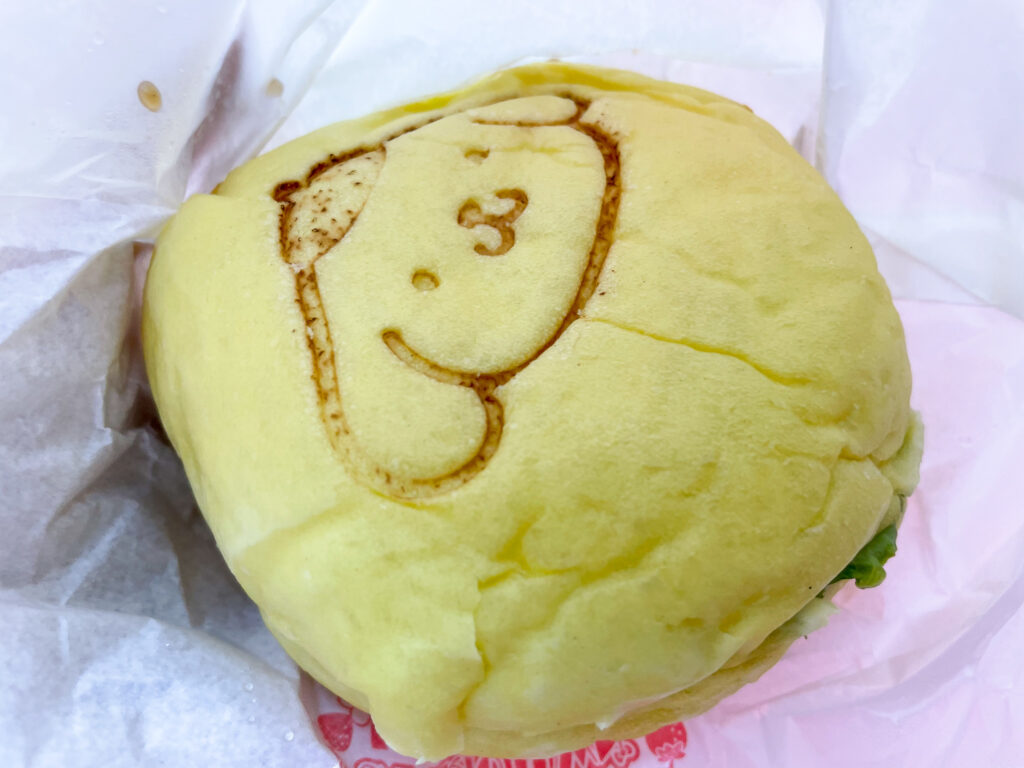 The burger tasted okay. The patty reminded me of a microwavable burger patty sold by Pal System.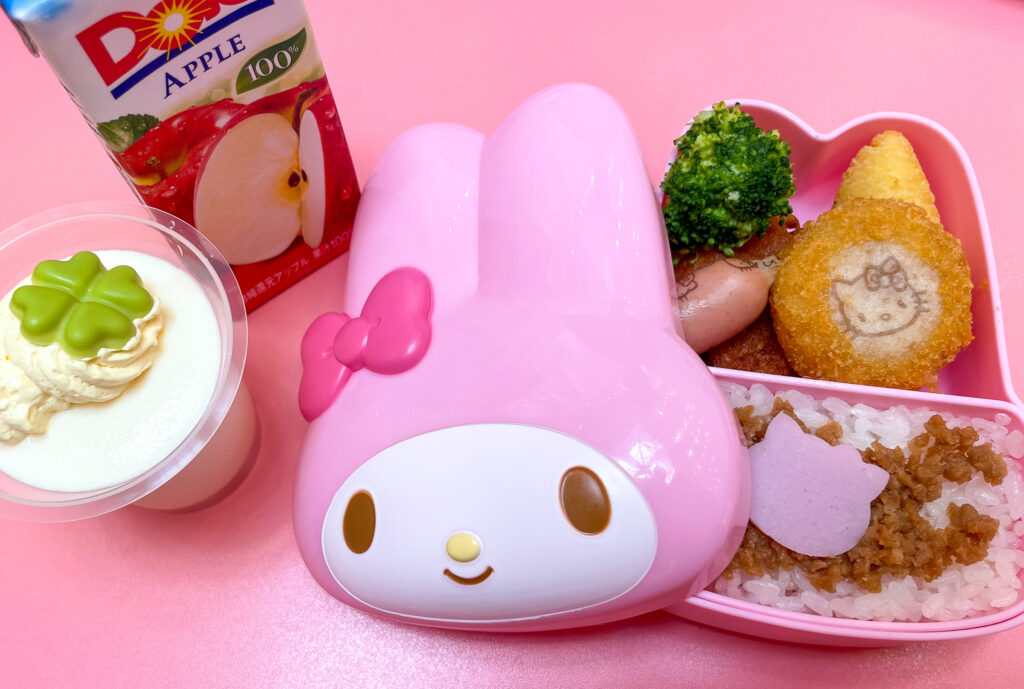 Bento for A, which came with apple juice (the dessert actually came with my Pompompurin set)!
I really liked how you can keep the bento and use it again.
I wanted to get something to drink and a dessert at the Cinnamoroll Dream Cafe in the afternoon but it was packed with a huge line by then, so if you're set on getting one of their adorable sweets, it's best to go in the morning.
Shows at Sanrio Puroland
One of the best parts of Puroland is the shows. They have different shows throughout the day, which also change throughout the year. (I noticed that they will have Halloween-themed shows starting from September and I'm not going to lie, I'm tempted to go again for that!).
I really wanted to see the summer show  ハローキティのポップンファンシー夏まつり but other than that, I didn't have much of a preference regarding what to watch and I wasn't sure what my daughter would like (and, of course, my husband had no clue what was going on). We ended up watching two shows: ミュークルドリーミーマーチ~集まれ☆ドリーミーメイト and ハローキティのポップンファンシー夏まつり. Each of these shows were 25 minutes long and ran three times during the day. I was also interested in KAWAII KABUKI but at 40 minutes, we felt like it would be a tad bit too long for our toddler. (The theatre for the show looks gorgeous, however.)
Also note that the English website doesn't have information about a few shows for some reason, so if you want to see the full range of shows available, visit the Japanese Sanrio Puroland website.
ミュークルドリーミーマーチ~集まれ☆
ドリーミーメイト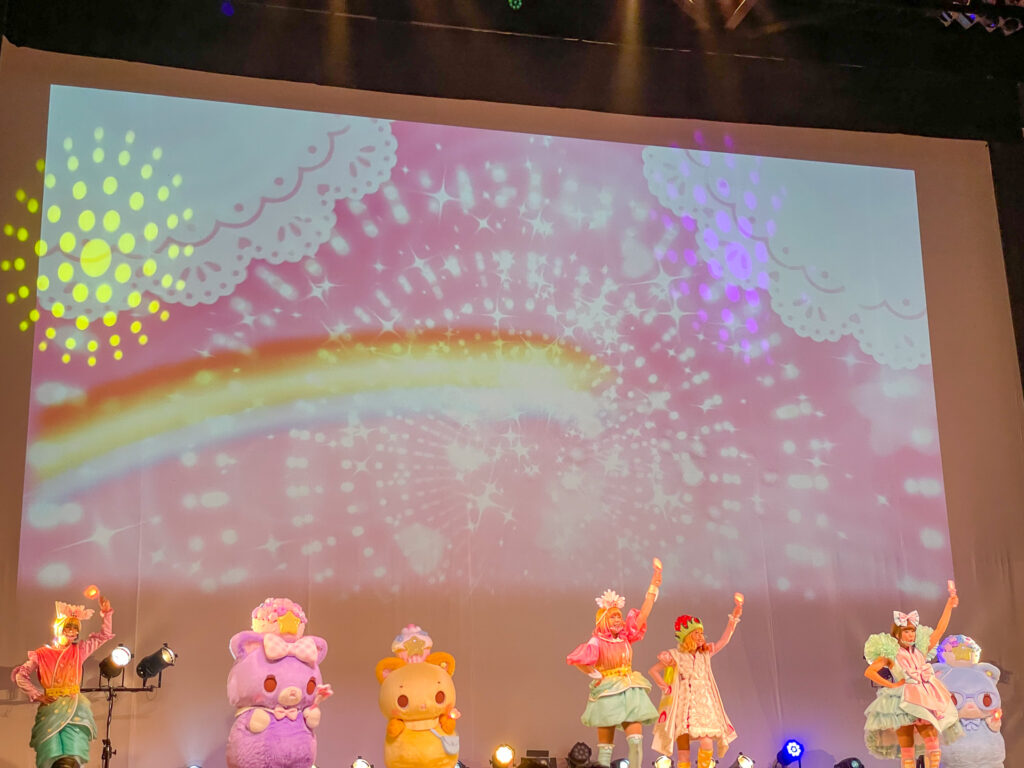 Although I've seen commercials for the television show ミュークルドリーミー(Mewkledreamy), which features a magical purple stuffed cat, I had no idea what exactly the character or the show was all about. We had some time, however, and figured that we may as well check it out.
What I liked about this show was that seats near the front were reserved for families only. Unfortunately, by the time we arrived (5 minutes before the start of the show), it was completely filled. We did find a decent seat though next to the aisle, which allowed A to see the show without anyone blocking her view.
The show was cute, with characters realizing their dreams and lots of singing and dancing. It was also interactive, requiring audience members to use a special wand (which they need to purchase beforehand from one of the stores) to defeat a villainous cat. Hello Kitty also showed up, which made A happy.
Since my toddler wasn't that familiar with the characters from this show, she started to get a bit antsy near the end and I was getting a bit bored too, despite the show being only 25 minutes long. I would recommend watching this show only if your little one is a fan.
ハローキティのポップンファンシー夏まつり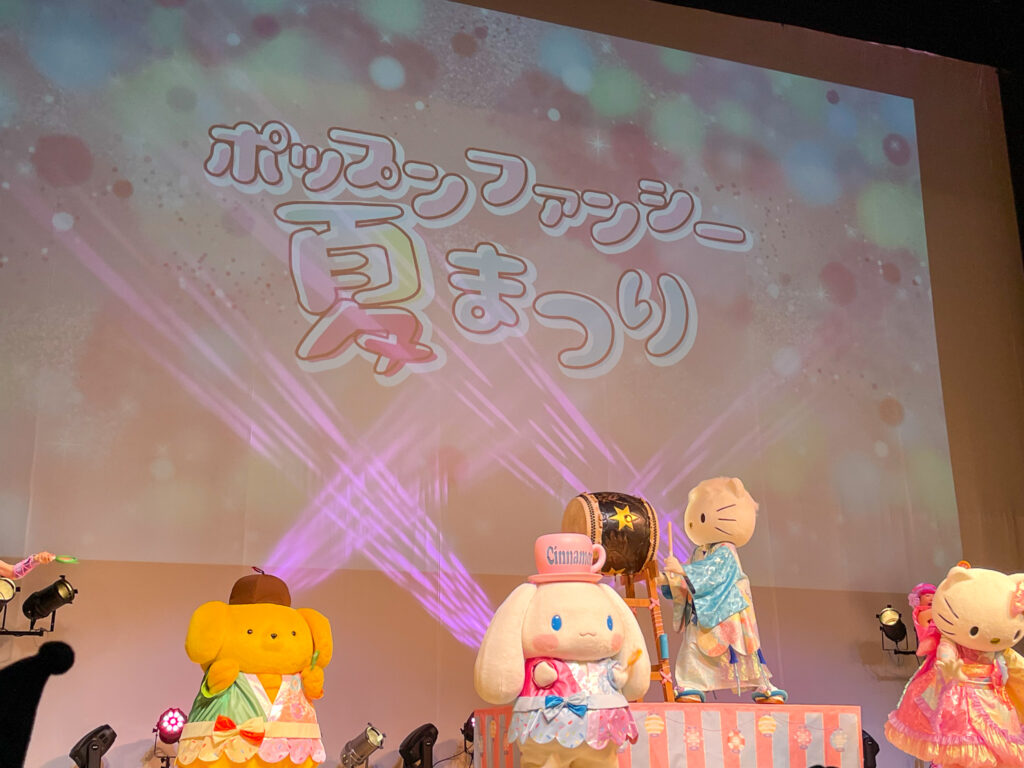 As this show is limited to the summer, it was something I really wanted to watch. We tried to watch the first show at 12:30 but there were no seats available when we got to the theatre 20 minutes beforehand. We decided to try to get seats for the second show at 2:10 and decided to start waiting in line 40 minutes in advance. And by "we", I mean my husband. I intended to walk around Puroland with A and look at some shops but she started to get sleepy, so I let her nap a bit in her stroller.
They started letting people inside the theatre about 10-15 minutes before the show started. Strollers weren't allowed inside so I had to take my sleepy toddler out and carry her to my husband who was in line. We managed to get seats near the front and decided to sit next to the aisle again so A could see.
For about ten minutes, a video about how to play some taiko toy kept playing repeatedly, which was driving us insane but the other audience members (who had this toy in hand) were really into it. Interestingly, the audience members in this show were mainly adults and there were very few children, unlike the ミュークルドリーミー show.
It was a relief when the show finally started. After yet another explanation about the taiko toy (ahhhh!), the show started off with Daniel playing the taiko and it was quite enjoyable! Other characters joined him on stage and they all broke out into song and dance. I really liked the songs in this show and A was having the time of her life, especially since Pompompurin and Cinnamoroll came down to the audience. Of course, her favorite character was Hello Kitty.
I could understand why people would line up for this show despite it being only 25 minutes long. It was fun, the music was great, and the costumes were beautiful! After the show, A noticed the taiko toys in one of the shops and wanted one (she ended up getting a plush doll of Hello Kitty in a yukata instead).
Overall Impression of Sanrio Puroland
We ended up spending a total of six hours at Puroland, the perfect amount of time so that when we left, we were completely exhausted but felt like we had a fun and fulfilling day. Surprisingly, I found Sanrio Puroland to be more enjoyable than Tokyo Disneyland and I think my daughter did too!
Unlike at Disneyland, she was in a much better mood and I believe it was because Puroland is indoors. Disneyland when we went was hot and that likely contributed to my daughter being cranky. She also prefers Disney Princesses to characters like Mickey Mouse, and there just weren't enough Disney Princess for her at Disneyland. There's a lot more girly cuteness at Puroland, so if that's what your kid is into, they will likely really enjoy it.  (Also, one of the bathrooms on the 1st floor is forest-themed and adorable. And it has a cute changing table!)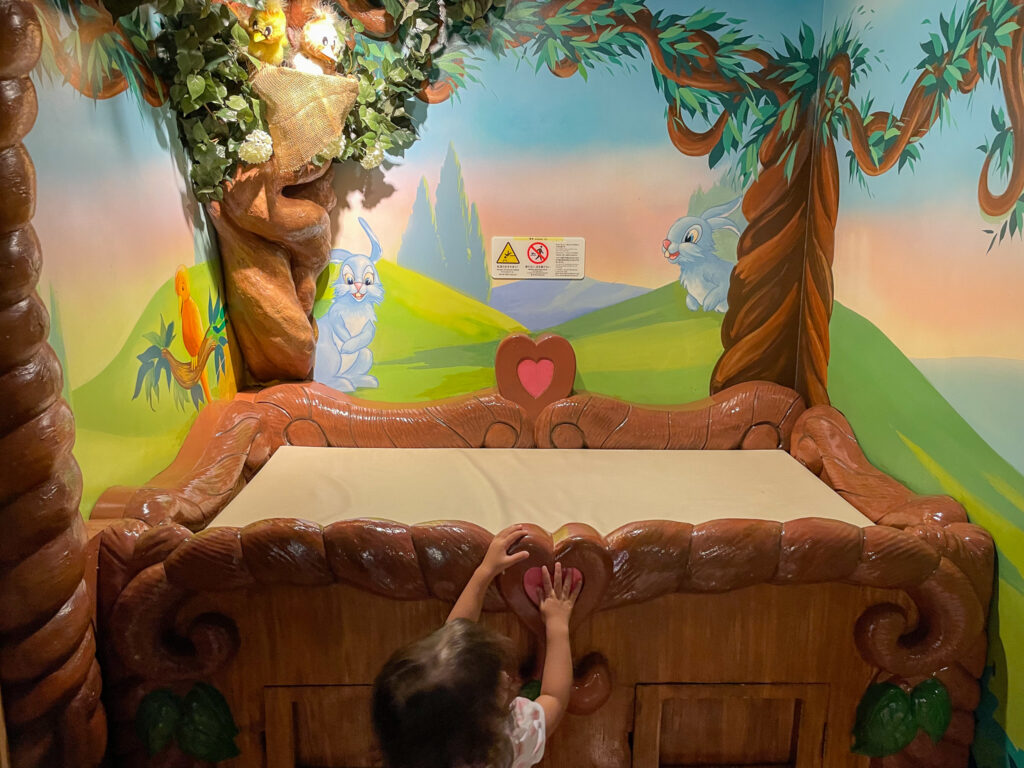 However, Puroland became quite crowded in the afternoon, likely because tickets are discounted after 2 PM, so I recommend getting there as early as possible so that you can enjoy more without having to wait.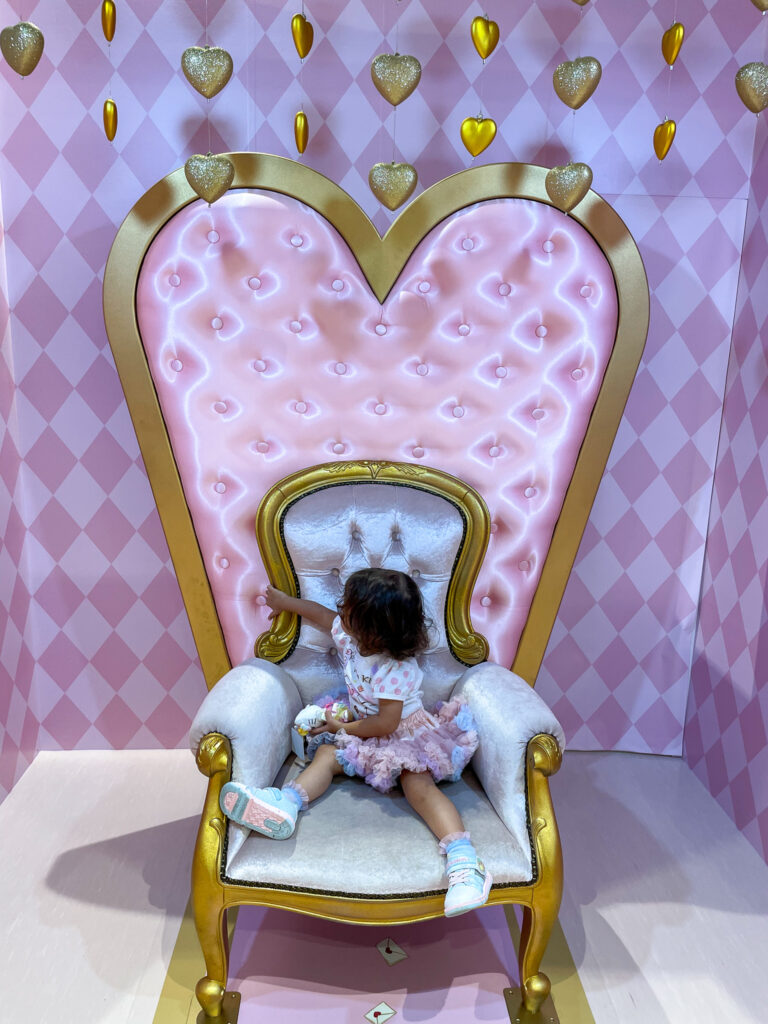 My Princess in her element
If it weren't for COVID, I would want to go again soon with A, especially since just yesterday she was looking through the pamphlet and saying, "行きたい!" ("I want to go!").
Update: I took my daughter again a few months after she turned two and she had even more fun!