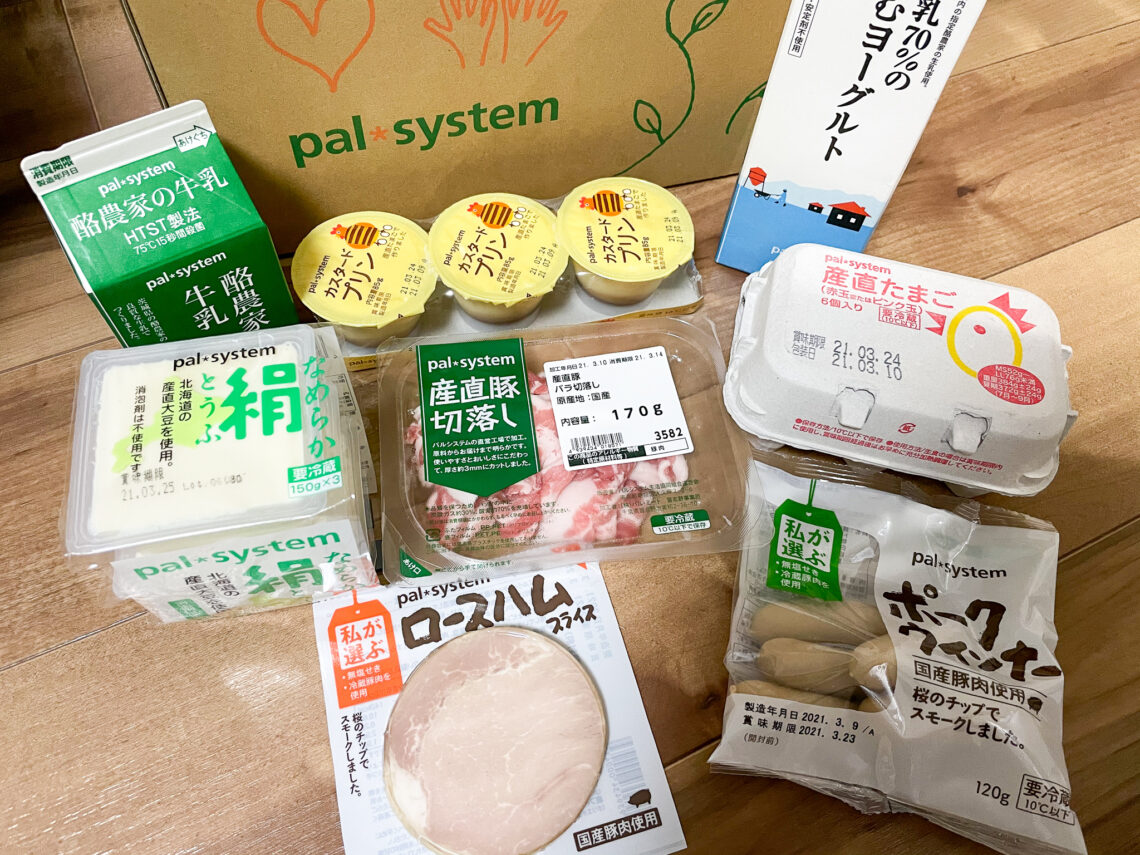 Pal System: Grocery Delivery in Japan
After reviewing Co-op Deli and Oisix, I'm here with a review of another grocery delivery service in Japan: Pal System.
One reason why I waited so long to try Pal System is that I (okay, mainly my husband) assumed that a lot of their items would be the same as Co-op Deli (spoiler: it's not). However, my curiosity got the best of me and I caved. I've had a good experience with Co-op Deli so far so I figured it wouldn't hurt to try Pal System out, and I'm glad I did!
So what is Pal System?
Similar to Co-op Deli, Pal System (パルシステム) is a grocery delivery service that is a co-op:
You may be familiar with the name co-op, which is short for cooperative and is owned and controlled by its consumers/members. This is an organization that is worldwide and Japan is no exception. In Japan, co-ops are represented by the Japanese Consumers' Cooperative Union (JCCU), the national federation of consumer co-ops in Japan. As co-op (コープ) is short for cooperative, it is also known as seikyou (生協) in Japan, meaning "cooperative" in Japanese. There are over 300 consumer co-ops in Japan and almost 30 million people throughout Japan who are members.

There are various kinds of co-ops in Japan, such as insurance co-ops, health co-ops, and retail co-ops.
It may be no surprise, then, that Pal System works in the same manner as Co-op Deli in that:
you pay a one-time membership fee (1000 yen), which is refunded if you decide to cancel your membership
they send you weekly catalogs of their grocery and household items
you order from the catalog or online
they deliver your order to your home once a week
they have meal-kits
They also carry a lot of food and daily products for babies and toddlers as well, which I'll explain later.
The delivery fee depends on where in Japan you live, which ranges from 198 yen to 220 yen. However, if you have a child younger than 1, delivery will be free. This is called the ベビー特典. After that, delivery is free until they are in elementary school as long as your order is at least 3000 yen (キッズ特典).
Where in Japan is Pal System Available?
You can sign up for Pal System if you live in:
Tokyo
Kanagawa
Chiba
Saitama
Ibaraki
Tochigi
Gunma
Fukushima
Yamanashi
Nagano
Shizuoka
Niigata
(*cue exit of readers living elsewhere*)
Why Join Pal System?
When you sign up for Pal System, you'll be able to get the following for four weeks: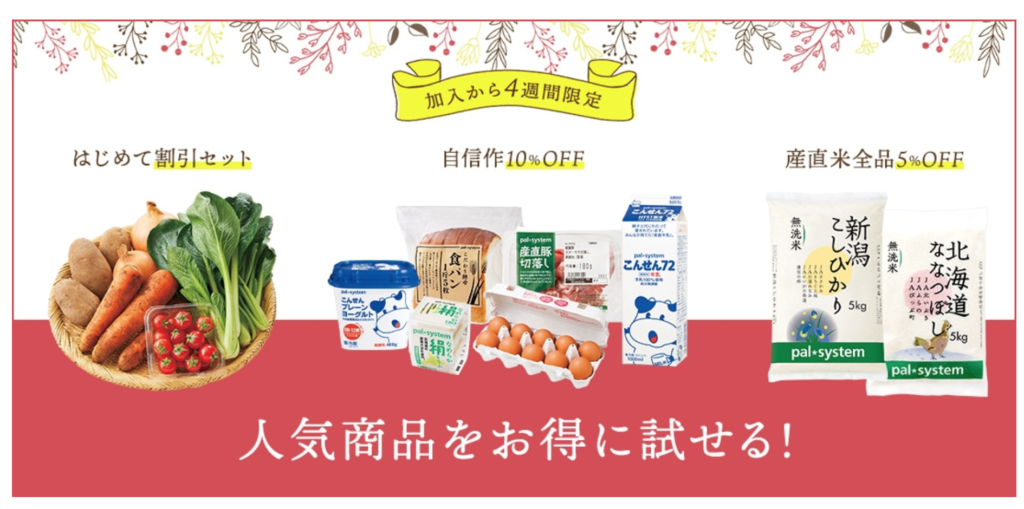 discounted introductory grocery boxes ranging from 586 to 1058 yen
10% off select items
5% off packages of rice
three 1000 yen coupons. (Only one coupon may be used per transaction.)
Depending on where you live and when you sign up, you may also get some items for free.
As with Co-op Deli:
The prices are competitive and the cost of fruits and vegetables also tend to be stable, so even if the cost in grocery stores soars due to poor crops, Pal's prices will generally be unaffected.
If you order online, you can see reviews for products.
The delivery fee per week is between 198 to 220 yen unless you have a young child, which in that case the delivery fee will be waived
They deliver straight to your door, so it's great if you have to buy heavy things like bottles of water or rice.
They carry a huge variety of food and also have an impressive selection of frozen food, which typical grocery stores in Japan tend to lack.
As you have a week to place your order, you can take your time to shop in the comfort of your own home.
If you have any problems with a product you ordered, they will readily address your concerns and possibly issue a refund.
You can cancel your membership at any time at no cost. (You will also be refunded your membership fee.)
The downsides to Pal System are almost exactly the same as Co-op Deli:
Pal System only delivers groceries once a week and if you miss the deadline to order, you have to wait until the next week (and some sales or items may no longer be available).
You can't choose the delivery time so if you miss the order, the box will be left outside your door. In my delivery area, the boxes aren't picked up until the following week, but some areas may pick up the box sooner than that. (Also, it's important to note that Pal System may deliver your order quite early in the morning, depending on where you live. In that case, they may not ring the doorbell as they have received complaints from people who were woken up, so you have to tell them to ring the doorbell.)
Their prices are competitive but not necessarily the lowest.
They will charge a delivery fee even if you do not order anything. (Unless you're using the ベビー特典 or キッズ特典. See below.)
They send you a mountain of product catalogs weekly. You can call and ask for them to stop sending so much but there are certain catalogs that they have to continue to send.
For parents, there are also several benefits to joining:
Certain areas offer special presents for parents. For instance, at the time of writing, Pal System in Kanagawa gives parents free baby food when their child turns 5 months old, and one free baby food item until they turn one. How great is that?
As mentioned earlier, delivery is free if you have a child younger than 1 (called the ベビー特典) and you will not be charged if you don't order anything. After that, delivery is free until they are in elementary school as long as your order is at least 3000 yen (キッズ特典); therefore, if you don't order anything, you will be charged.
They have an impressive selection of baby and toddler food to help make your life easier, such as frozen purees, meal kits for the whole family, as well as products like diapers. I haven't tried their frozen baby food as I didn't join until my daughter became a toddler, however, if it's anything like Co-op Deli, I would definitely recommend it because it takes all the prep-work out and is nice to have on hand if you're exhausted and just don't have the time or energy to make something fresh. In terms of food for toddlers, my 22-month-old daughter (at the time of writing) prefers Pal System toddler food over Co-op Deli, and I have to say, it tastes pretty good. (I'll share what I got later on, so please keep reading!)
Their meal kits are easy to make, taste great, and are perfect for busy parents who don't have enough time to cook. I also found their portions to be much bigger than Co-op Deli's meal kits. These meal kits are also great for people who aren't parents and want to quickly prepare a home-cooked meal and not have to worry about planning, prep, and food waste.
How to Join Pal System
Signing up for Pal System is incredibly easy. There are a lot of steps below but it's not complicated and doesn't take very much time.
Scroll down and click on the red 加入申し込みはこちら (apply) button to sign up right away. (If you want them to send you more information about Pal System, click on the orange 資料請求 button.)

After that, you'll be taken to another page. Click the 加入申し込みをする button and go from there.

When you're done filling out all the required information, Pal System will send you your membership number via email and a confirmation code by SMS. Once you're approved and can log into your account on the website and start to order.

(I haven't gone into detail about how to sign up as it's pretty self-explanatory, but please feel free to leave a comment or contact me if you need help or want some clarification.)

Ordering Online from Pal System

***If you're a parent of a child who isn't in elementary school yet, make sure you visit this page before you order and apply for your ベビー特典 or キッズ特典 to be eligible for free shipping.***

There are two ways to order: their website or their app. Both mostly work in the same way.

Here is what the website homepage looks like:

And here is the app:

When ordering from the Pal System website, you can search for items according to order number (注文番号, which is a number in a grey box next to each item in the physical catalogs), the online catalog (カタログ) or category (カテゴリ).

The app allows you to search by category or catalog. Personally, I like using the app because it has an actual online catalog that looks the same as the physical catalog, unlike the website.

⇧Products according to category⇧ 

⇧The website's online catalog⇧

⇧The app's online catalog⇧

Each listing has reviews (クチコミ) so you can see what other people thought. I've been ordering based on reviews and unlike with Oisix, I haven't been disappointed in anything from Pal System with high reviews yet.

Another thing I really like about Pal System is the ベビー&キッズ catalog (yum yum for baby & kids) and category online, which lets you narrow down food options for your little one according to age and has meal recommendations that's safe for the whole family (depending on what stage your child is at when it comes to solid food).

⇧Meals for the whole family for kids one and a half and up⇧

⇧Food categorized by age⇧

Ordering online from Pal System is considerably easier than Co-op Deli as you simply click on the red button reading カゴへ to add something to the cart.

If you're ordering from the online catalog on the app, click on the picture of the item you're interested in and then click the red カゴに入れる button if you want to buy it. Click もどる to go back to the catalog.

Removing an item from the cart is also quite easy as well, simply click 削除 to the right of the item and it's done!

Unlike Co-op Deli, food in your cart will not be automatically ordered. You have to click on your cart and then the red button reading 注文確認へ進む. Proceed to the next page, apply whatever points you have, and then click the red button reading 注文を送信する and you're done! (And don't worry, unlike Oisix, nothing will be automatically added to your cart.)

On the order confirmation page, you're able to see the total, shipping fee, capital increase* (I am not a finance person, if you know a better word for this, please share), available points, and your main catalog. Click the 注文を送信する button if everything looks good and you're done!

If you have coupons (like those three 1000 yen coupons you'll get when you sign up), they will not be applied to the total that's shown on the confirmation page when you order. It was quite confusing for us until we found out that the coupons are applied to our monthly invoice. Pal System only charges your credit card once for everything you bought the previous month on the 6th of the following month, so you don't pay per transaction.

To check your monthly invoice, click the green box labeled Myメニュー in the upper right corner of the page (this is just メニュー in the app) and click 請求金額.

My Experience with Pal System

At 7:20 AM on a weekday morning, someone who was clearly out of their mind decided to ring the doorbell. There was no way I was answering it, I was in my pajamas after all and still half-asleep, but lo and behold, it was our grocery delivery from Pal System. Since I hadn't answered the door, everything was left in styrofoam containers on our doorstep. We would have to keep those containers until the following week, which was annoying but I guess it was my fault.

Thankfully, that has been the only somewhat negative experience so far.

My husband and I have been quite pleased with the items we ordered from Pal System so far. We used the sausages on homemade pizza and it was perfection! The potatoes, onion, and carrots were also great for curry rice. The frozen gyoza was also surprisingly good, although I will admit that the fried rice needed some work.

Veggies for 586 yen including tax.

Frozen food for 1058 yen including tax.

Dairy and meat products for 1017 yen including tax.

My daughter has also loved their frozen toddler food, which is surprising because as she got older, she fell out of love with Co-op Deli's frozen food. We found that Pal System offers more variety in terms of baby and toddler food, as well as food for toddlers that the entire family can enjoy as well.

Food that's friendly for both toddlers and parents: frozen variety croquettes, chicken wrapped in nori, sausage with cheese inside, and nikuman. All of this tasted SO. GOOD. (Our picky kid liked it too, although my husband and I wouldn't have had an issue eating it all if she didn't!)

I highly recommend getting the frozen nikuman, chicken, and croquettes (pictured above) for your little one to try, as well as the frozen peeled edamame and corn. It also makes preparing meals incredibly easy, which is important for any parent, working or not.

Their meal kits are also affordable and taste quite good. Like other grocery delivery services that offer meal kits, you have to prepare your own rice but considering how easy it is to do that, I don't think of it as much of a problem, especially since unlike Oisix, everything is prepped so all you need to do is toss it into a frying pan or into the microwave and you're done!

Sweet and sour pork (酢豚) meal kit. (We didn't give this one to our daughter.)

Everything inside the meal kit.

The finished meal! It was pretty good, although a little on the sour side and needed a bit more sweet.

The bibimbap meal kit pictured below was prepared in the microwave and took about 5 minutes to get on the table. I wasn't expecting much but I was pleasantly surprised — even my toddler liked it! It tasted much better than meal kits from Oisix and was less than half the price.

My family (including the child) also quite liked this dry curry, which took five minutes to cook in the pan. No prep required whatsoever.

So Should You Try Pal System?

I would absolutely recommend trying out Pal System, whether it's for a nice stash of frozen and delicious otsumami (snacks) in your freezer to stop you from ordering late-night fast food after a few glasses of wine (is this only me?), if you're going to have a baby soon and want to have meal kits and other ready-made food delivered straight to your door, if you're a parent who wants healthy but easy-to-make food for your little one, and even for busy people who don't want to resort to eating out all the time.

However, I want to emphasize that you will be charged for shipping even if you don't order anything if you don't have the ベビー特典 (for a child under the age of 1) or キッズ特典 (a child who hasn't entered elementary school yet, and your order has to total at least 3000 yen).

Overall, out of all the three grocery delivery services that my family has tried so far in Japan, Pal System has been the best and we regret not using it earlier! I especially recommend it for those who have a baby under the age of 1 as you won't be charged any shipping fees, even if you don't order, until your child turns 1.