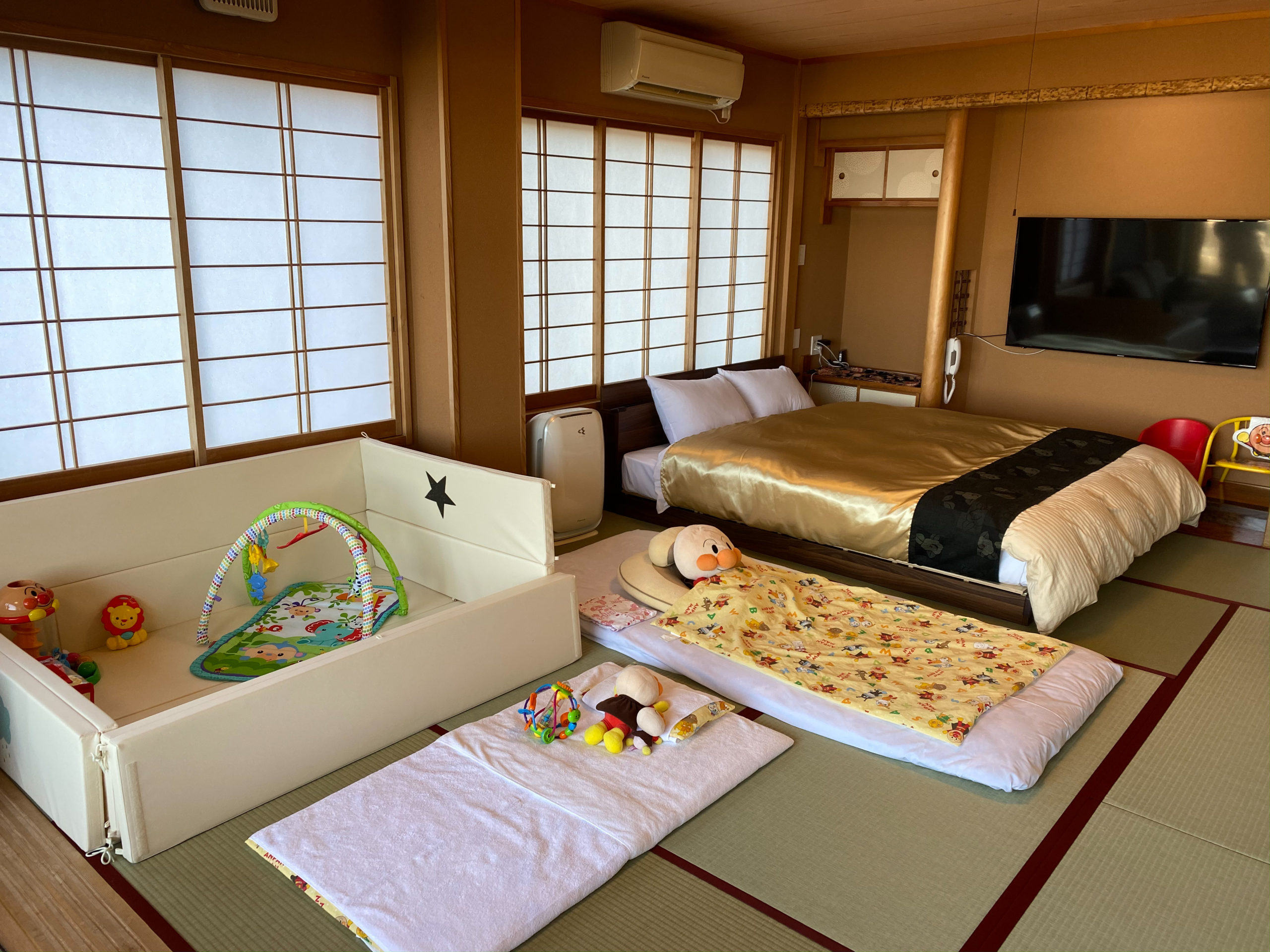 Staying at a Baby-Friendly Ryokan in Japan: Baby A's First Vacation
One thing I absolutely love about living in Japan are all the wonderful Japanese inns, or ryokan (旅館), where you can have a relaxing getaway complete with onsen and fantastic meals. The last time my husband and I had gone to a ryokan was during our babymoon so when Baby A was six months old, I was getting pretty antsy. It took some convincing as my husband wasn't sure that Baby A could handle a long car ride but in the end, he agreed to my demand—I mean, request to go on a family vacation, especially since there was the possibility I would be going back to work in April (right before we went on vacation, we found out that Baby A got into daycare, so I'm especially glad we went on this trip!).
This is not a sponsored post.
Booking Baby-Friendly Accommodation in Japan
We knew we wanted to stay somewhere that was baby-friendly so we would have less to bring or worry about. This is why we turned to じゃらん (Jalan), a popular website in Japan for travel. They have a search function that allows you to find baby-friendly and maternity-friendly accommodations throughout Japan.
We didn't have a specific place we wanted to go to in mind, just somewhere that was within a 4-hour one-way trip, had a nice view, and a private onsen in the room. Despite looking for places more than a month in advance, not very much was available, so if you're planning on vacationing with your baby, try to book as soon in advance as possible. After narrowing down our options, we decided on そらのうえ  (Sora no Ue) in Izu  (I must really like Izu!) because the room and view looked fantastic, they were able to change the menu to suit my needs, and it provided a lot of things for the baby, which I'll go into later.
Some things you may want to consider when looking for a place to stay are:
Room Type: Is there space for your baby to safely move around if they are mobile?
Sleeping Arrangements: Is a crib or baby/kid-sized futon provided? Do you have to pay extra for it?
Appliances: Do you need a microwave or kettle to prepare your baby's formula and meals?
Bath: Are bath products, such as a chair, tub and/or soap, for the baby provided?
Meals: Are meals included and appropriate for your child's age? Is there a chair provided for the baby to eat meals? How about utensils?
Cancellation Fee: As there might be a chance your child may get sick or it may not be as safe to travel, how much will it cost to cancel the room last minute? Does the ryokan make any exceptions when it comes to cancellation fees?
Packing for a Trip with a Baby in Japan
Before Baby A was born, my husband and I were able to fit everything we needed into one small backpack (actually, the same one I use as a diaper bag now!) but with a baby things became a bit more complicated. We ended up taking about three bags, two of which were filled with things for Baby A (a lot of these things were already in my diaper bag):
Bottles
Formula (ICREO powdered formula in stick packets for the ryokan and cartons for the road)
Baby oatmeal in a container for breakfast with a package of apple sauce, and instant powdered rice porridge (米がゆ) and veggies for dinner
Utensils
Two disposable paper bibs
Two cloth bibs
A snack
Diapers
Wipes
Bath towel
Baby lotion
Bottle brush
Gauze washcloth
Pyjamas
A sleeper
Two pacifiers
Three sets of clothes
A book and a few small toys
Alcohol-free wipes for toys/surfaces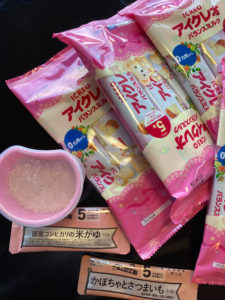 As we were traveling by car, we felt it was better to be over-packed than under. However, the ryokan provided toys so in the end we didn't use any of the books or toys that we brought.
If you're traveling by public transport or don't want to haul a bunch of things to your travel destination, you can ask the ryokan if you can send some of the baby's items in advance through a delivery service like Yamato Transport. There are also disposable bottles you can get (steri-bottle and chu-bo!) so you don't have to worry about lugging multiple bottles back with you or having to sterilize them; however, your baby may not like the nipple and have trouble drinking from it or downright refuse it. For instance, we bought an attachable nipple for ICREO formula cartons but Baby A absolutely hates it and won't drink from it.
Driving with a Baby in Japan
We scheduled the trip on a Friday to avoid congested roads (and it worked out quite well with little to no traffic jams). We had planned to leave early at around 10 or 11 AM as that was after Baby A's breakfast but as parents may know, when you have a baby you usually end up being late to things and we ended up leaving an hour later than planned.
Baby A was never the type to fall asleep in the car, and she typically hates even 15-minute car rides so we were worried about how she would do during a 3-hour trip. This is why I decided to sit in the back despite my motion sickness so I could quickly comfort Baby A if needed. I think being next to her really worked because she was quite content during the ride and didn't cry once — it was a miracle! We had an Oball attached to her car seat as well as a soft book from Ikea so she kept herself busy with those and then slept for a little while. If she started getting a bit fussy, I would play a video on YouTube calledトマトちゃん on my phone or some sounds on the ぐっすりベビー app.
When it came time to feed Baby A, we stopped at a convenience store parking lot and I took the opportunity to change her diaper in the back seat as well. There are also different kinds of rest areas in Japan that have washrooms with changing tables; however, I didn't end up having to use any.
I think this goes without saying but do not feed your baby, change their diaper, or take them out of their car seat in a moving car as it's incredibly dangerous. Someone in my July 2019 Bumper group gave their baby a wafer in the car and he started choking on it while she was driving in the car unaccompanied. Even if you're feeding the baby, the driver may need to stop suddenly or you may get into an accident so it's just not worth the risk.
The nice thing about driving was that we were able to stop briefly at Atami before going to the ryokan. We got the stroller out of the backseat, popped Baby A in and walked near the ocean for a bit before taking a stroll around the town. Atami isn't the most stroller-friendly town and my husband found himself having to carry Baby A's stroller up and down stairs multiple times. However, it was nice to get out of the car for a bit and enjoy the sun and some gelato.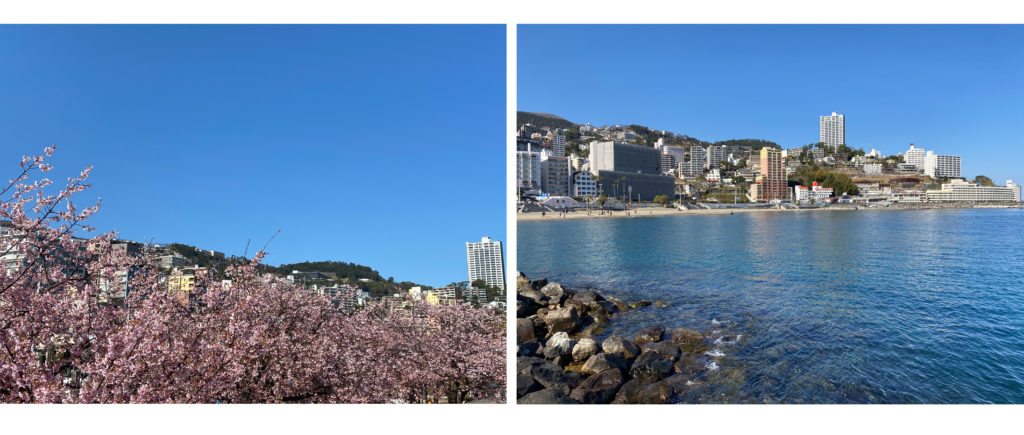 Cherry blossoms in Atami and a view of the city next to the ocean
Staying at a Ryokan with a Baby in Japan
True to its name, そらのうえ is located on the top of a hill and is quite small with only five rooms available, one of which is baby-friendly. When we arrived, the staff came out and greeted us immediately and helped carry our luggage to our room in the ryokan.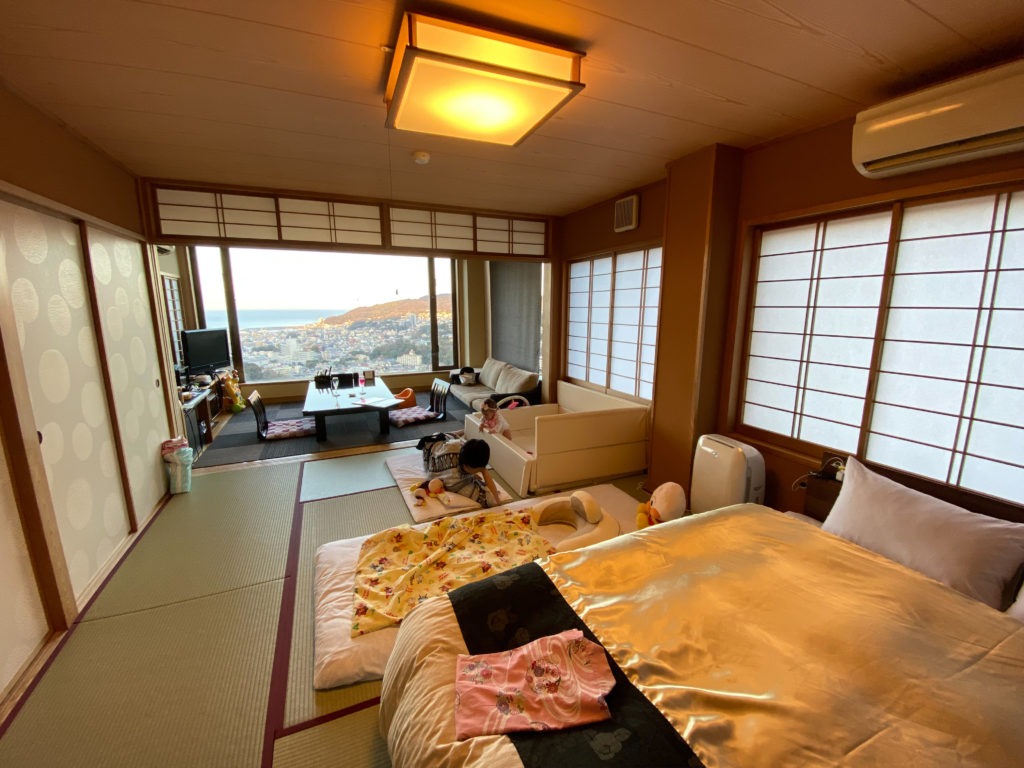 The room was beautiful with a stunning view of the town and the ocean. Baby A was incredibly excited when we put her in the playpen and immediately began exploring her new surroundings and toys she had never seen before.

This little girl couldn't stay still — there was so much to do! 
Baby Items Provided by the Ryokan
Pigeon Baby Soap
Milton Sterilizer
Dishes and utensils
Bumbo chair with a removable tray
Bath chair (I didn't use this)
Playpen
Toys
Baby wipes (I didn't use these as I preferred to use the ones I brought)
Two futon
Yukata (this was too big for Baby A and seemed more suited for a toddler)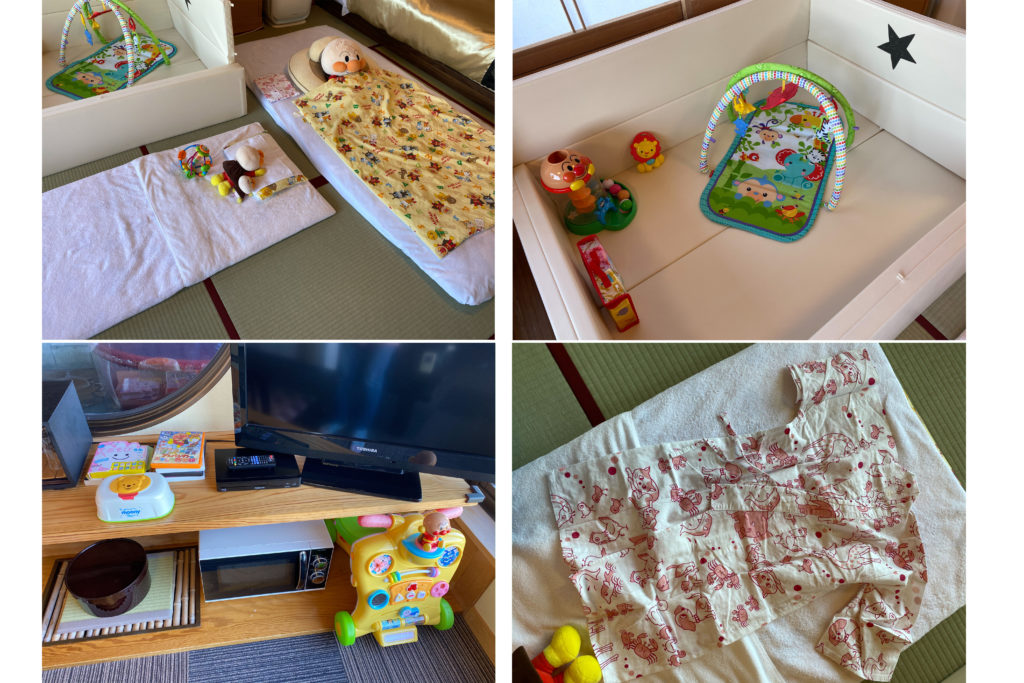 Check-in was from 3 PM but as we had stopped in Atami briefly, we didn't arrive until 4 PM and I regretted not leaving earlier so I could enjoy the view with my fruity welcome drink a little longer before the sunset. The staff member who was taking care of us that night was also incredibly kind and friendly. Baby A, who usually doesn't like strangers, liked her right away and kept flashing her smiles and giggling.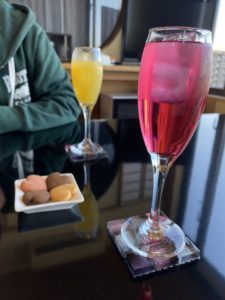 The staff asked us when we wanted dinner, pointing out that it was around a 2-hour course. We needed to consider Baby A's dinner (usually 6 PM), bath (7 PM), and bedtime (7:30 PM), which didn't leave us with a lot of time to eat as we couldn't have a dinner in the room when she was sleeping since we would be brought one course at a time.
We decided to start the dinner at 5 PM and feed Baby A halfway through our meal. Baby A was happily playing by herself so we figured that gave us time to eat together but in true Baby A style, she started whining when we stopped paying attention to her so one of us had to hold her while the other one ate and the meal ended up taking a bit longer than usual because of it. Despite this, the dinner was quite good and the staff prepared a cute little dessert at the end of it to celebrate our first family vacation.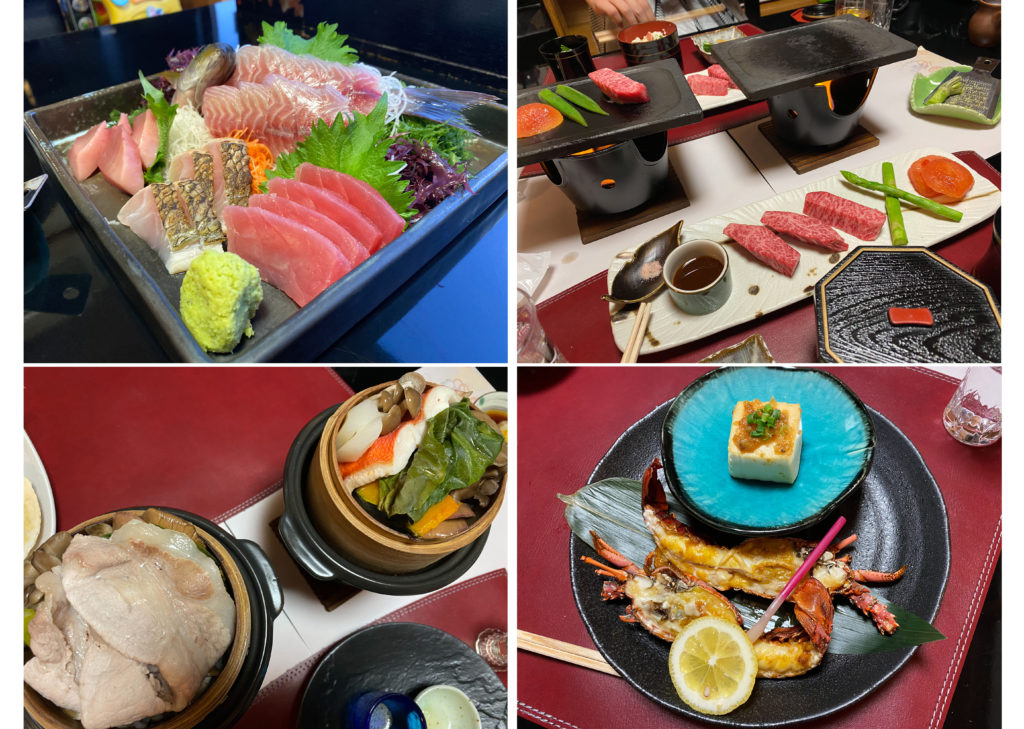 A few of the courses we had for dinner: (top left) sashimi, (top right) wagyu, (bottom left) steamed pork and fish, (bottom right) ise ebi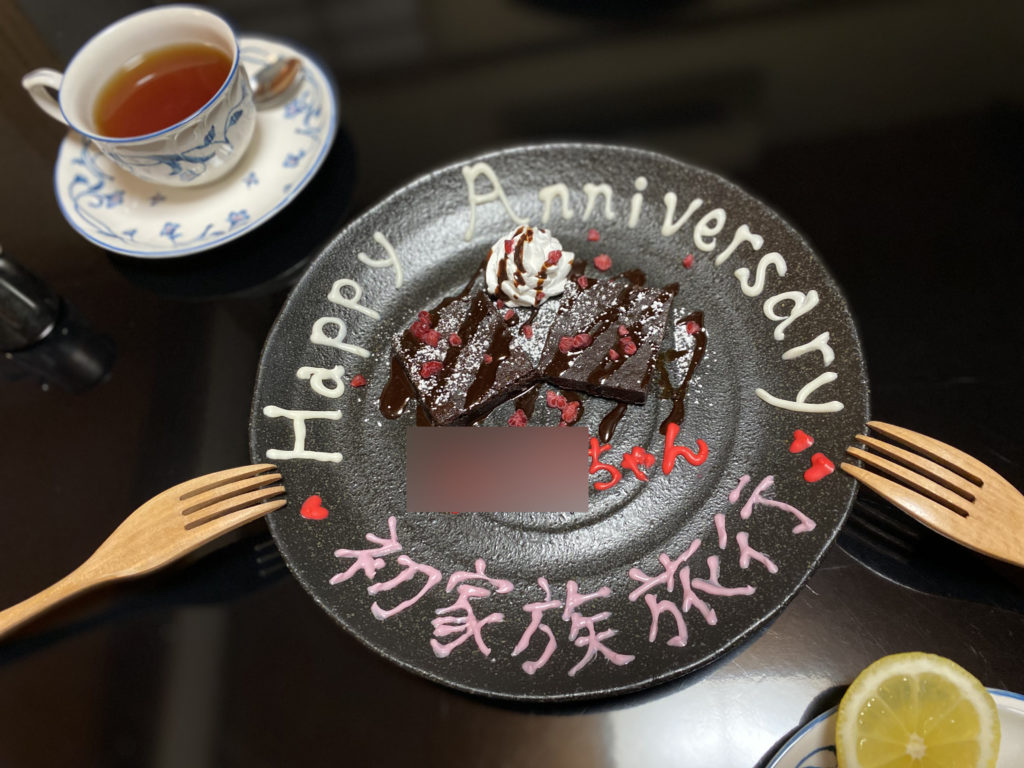 An adorable chocolate cake for dessert. We were quite stuffed so it was the perfect size. 
Our room had an onsen, which my husband and I enjoyed after Baby A went to bed, but there was also a private family onsen on another floor that we could reserve and use for free because we had a baby.  This onsen was not as hot as typical onsen so babies and children could enjoy it. The temperature of the onsen was also adjustable, which we didn't know until we went inside and it was a tad bit too cool. However, Baby A seemed to enjoy her first onsen experience and it was really nice to be able to have a bath as a family.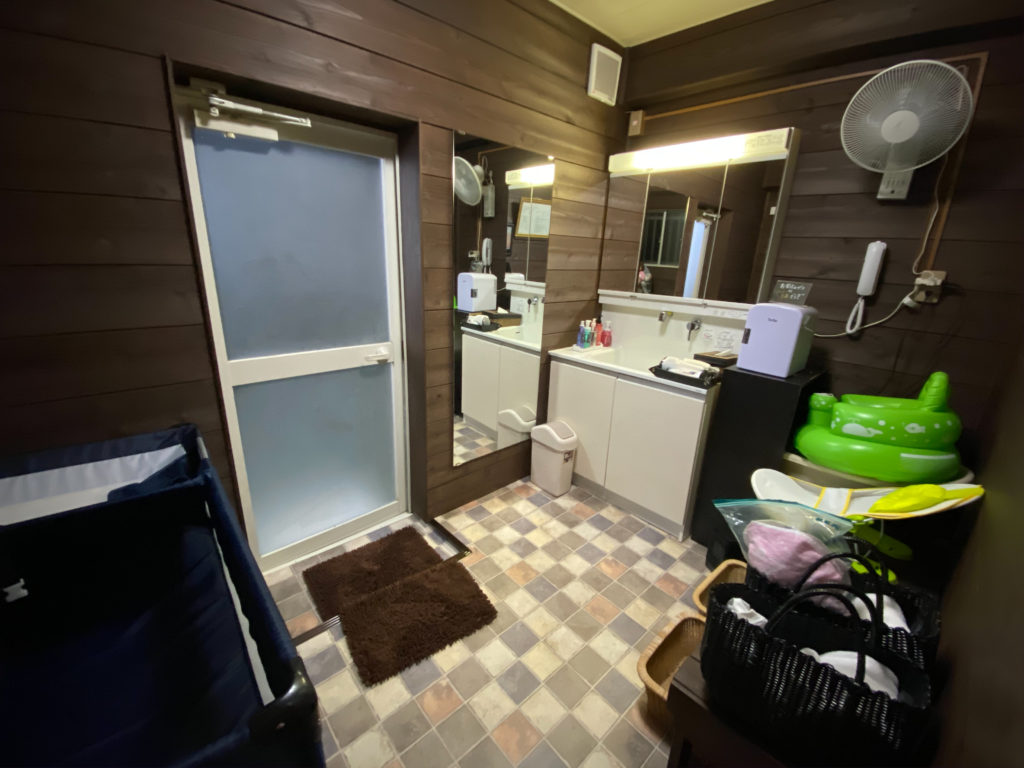 The changing room inside the family onsen. 

A pack-and-play on the right where you can change baby or have them hang out for a bit, and two different bath chairs on the left. We didn't use either one as Baby A prefers to have her shower on my lap.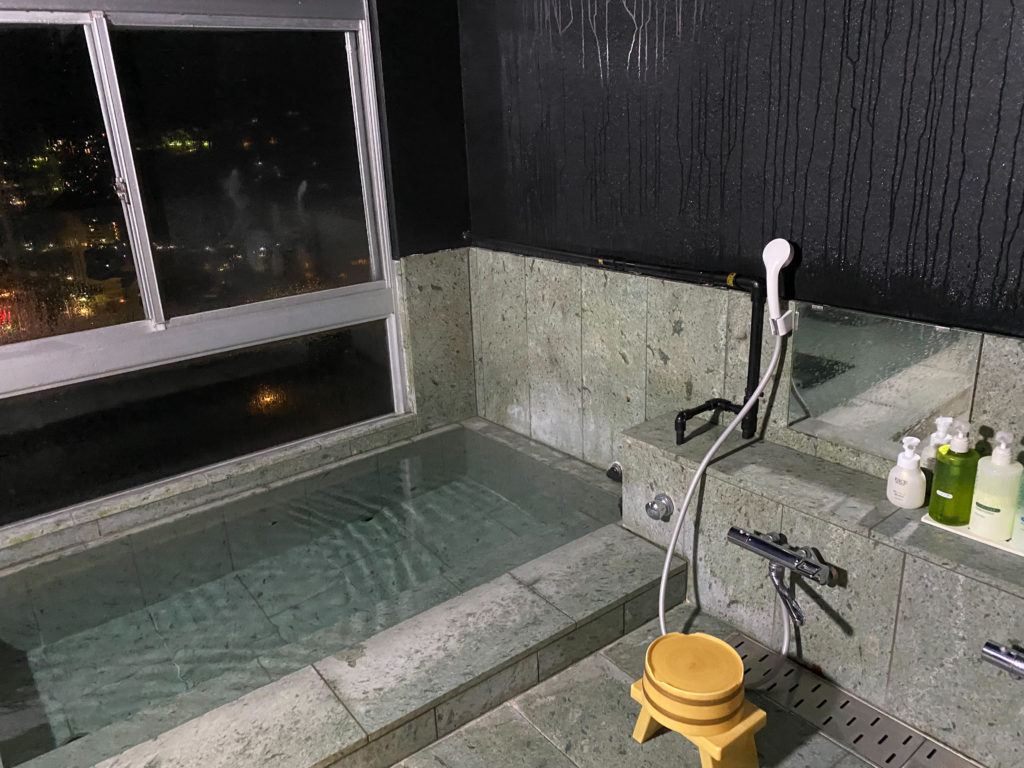 The perfect size for a small family
When it came time for Baby A to sleep, I was worried about the futon next to the bed because I felt like she would start crawling somewhere while we were sleeping or roll over and hit herself on the bed-frame. Therefore, I took all the toys out of the playpen, pulled up the walls, wiped it down with an alcohol-free disinfectant wipe, and then put Baby A inside. I was concerned about how safe it would be but I rationed that it was quite spacious and seemed similar to a Finnish baby box so my daughter would be fine. The arrangement worked out well and Baby A slept peacefully.
After she went to sleep, my husband and I decided to wash her bottles and sterilize them using the Milton sterilizer that the ryokan provided and boy, we regretted not bringing our own microwave sterilizer. With Milton, we had to let the bottles sit in the solution for at least an hour, while a microwave sterilizer only takes 5 minutes. We were tired and wanted to go to sleep but unfortunately, we had to wait for the bottles to finish sterilizing. It was also really hard to take out glass bottles from the solution using the tongs on the underside of the lid. But at least during that hour, we were able to enjoy the night view from the onsen in our room.
The next morning, we had breakfast brought to our room and ate alongside Baby A, who was sitting in the Bumbo chair that the ryokan provided. My husband and I also quickly took turns taking a last soak in the onsen before we had to pack and check-out.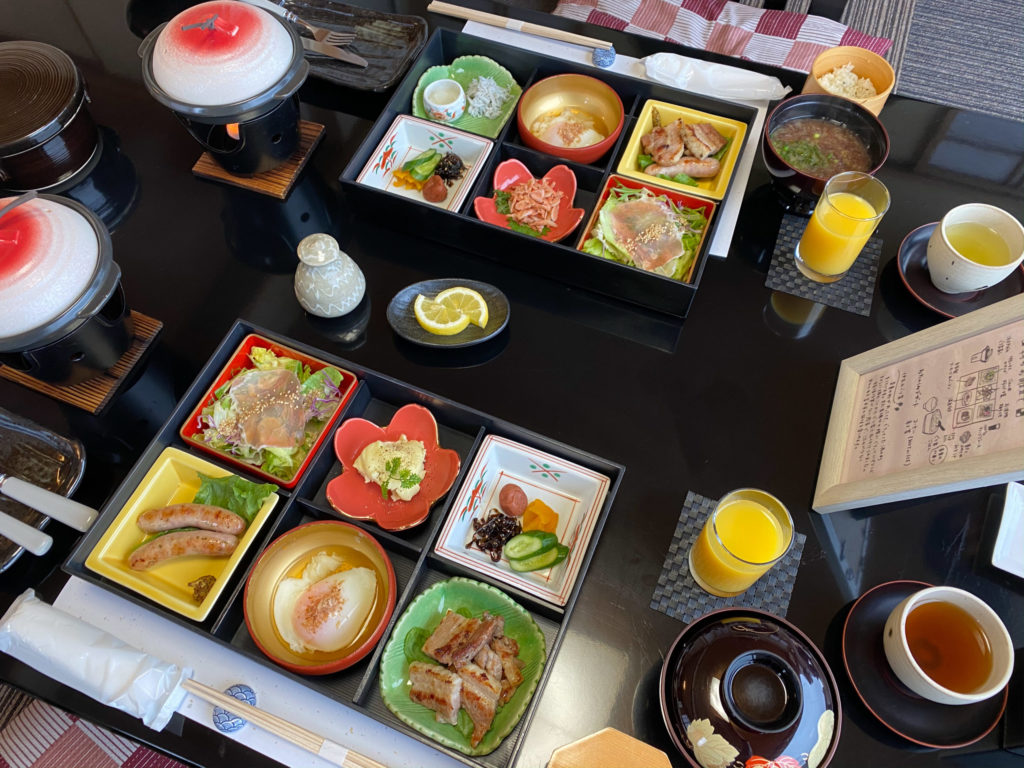 Breakfast: Western for me, Japanese for the husband. We also had abalone.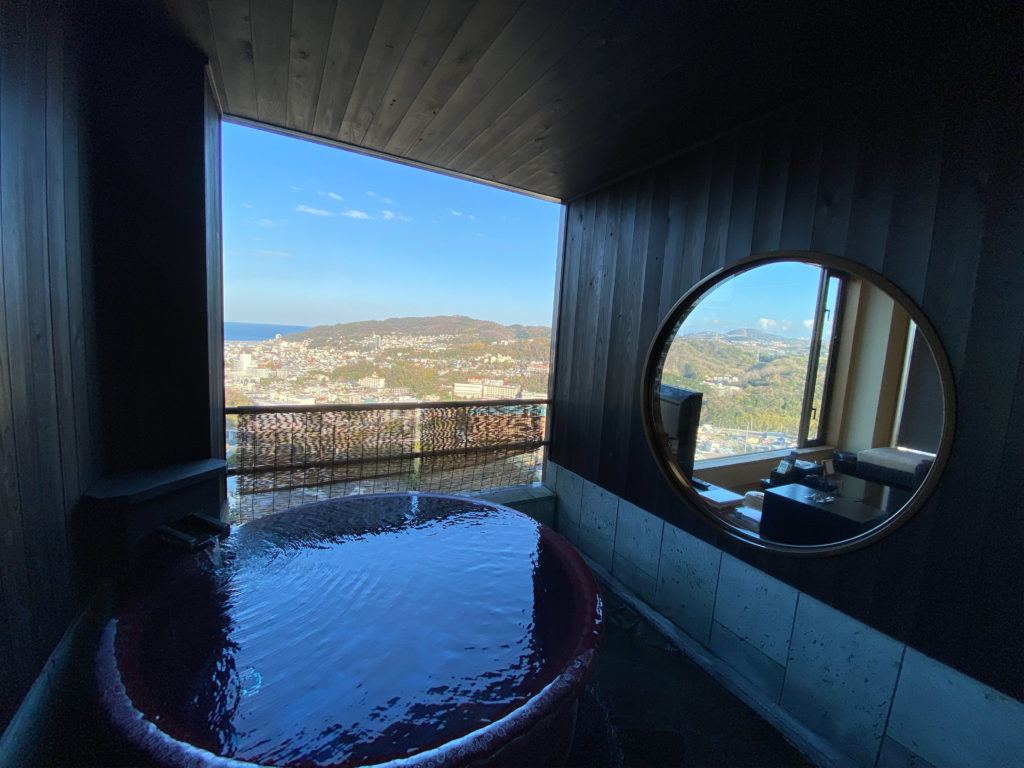 I wish I could take in this view from a personal onsen everyday!
Overall, my husband and I (and I think Baby A, too) really enjoyed our first family vacation. It was a great way to relax and the food, atmosphere, and service was impeccable. Staying in a room specifically for parents with young children was also a great idea because we were provided with a lot of amenities that we didn't have to bring ourselves. However, one drawback was the baby futon as I didn't feel comfortable having Baby A sleep on it without some sort of enclosure while we were high above her on a bed, so if I were to do it again, I'd try to find a place with a crib.
When we left, we were also presented with a photo the staff had taken of us as a family in a wooden frame. It was a really sweet gesture and reminds us of our first trip as a family every time we look at it.
---
If you are visiting Japan, I highly recommend getting the JR Pass. This pass will give you unlimited travel all over Japan using trains operated by the Japan Railways (JR) Group. This includes Shinkansen (or the bullet train)! I honestly wish I was able to use the pass because it would save me so much money.
With the JR Pass, you can also secure seat reservations for free, and this is especially recommended if you're traveling during peak seasons like Golden Week (end of April to the beginning of May), Obon Season (mid-August) or the New Year (late December to early January). It's also worth making a seat reservation if you wish to guarantee a seat on a specific service or are in a large g roup that wants to sit together.