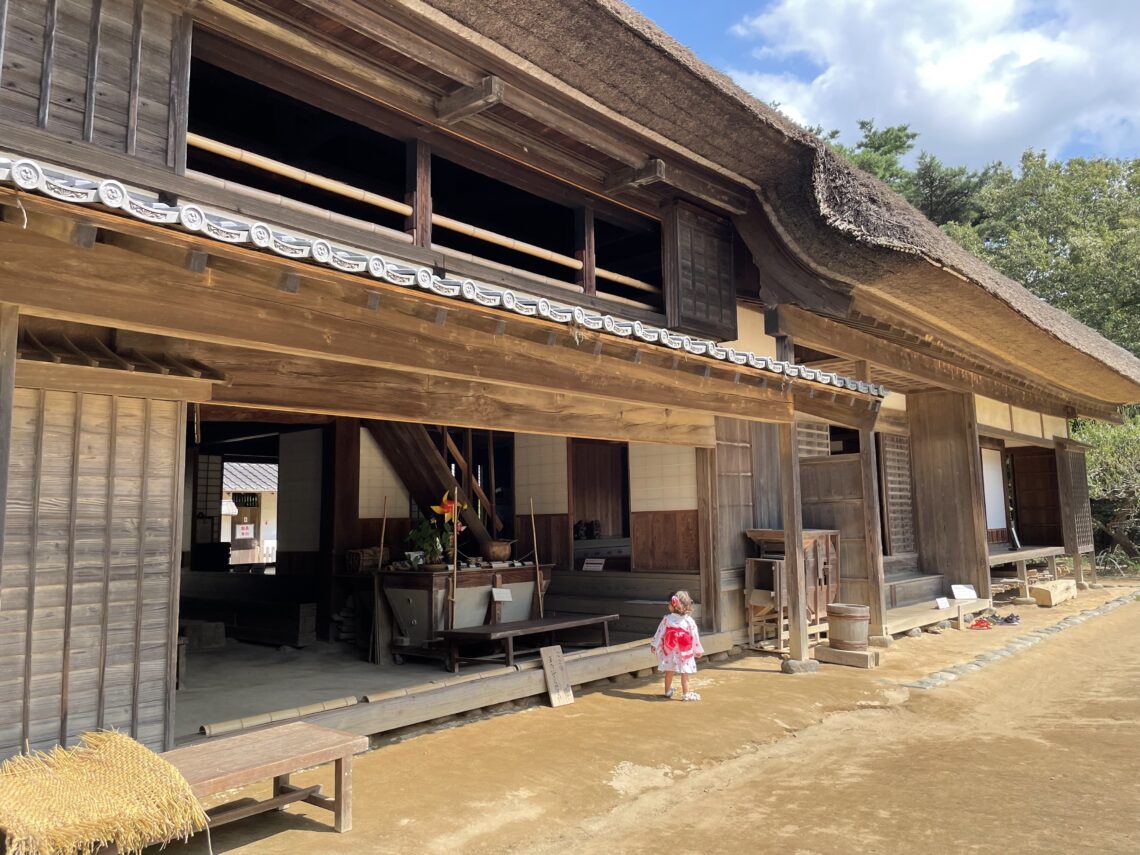 Japan Travel with Kids: Kanto Guide (Tokyo, Kanagawa, Chiba, Ibaraki, Saitama, Gunma, Tochigi)
When people think of Japan, Tokyo is usually the first city to come to mind. However, there's so much more to the Kanto region than just the capital.
In this article, I'll be sharing all the places I traveled to with my child in the Kanto region (Tokyo, Kanagawa, Chiba, Ibaraki, Saitama, Gunma, and Tochigi), as well as the ones I visited before she was born and would recommend to parents, and highly rated places that I want to visit. Note that as this article doesn't cover everything there is to do in Kanto with kids, it will be updated when I learn something new. If I do update this article with a new location, I'll make sure to share it on my Instagram.
This article has been a long time coming, and I'm very excited to be able to share this information. I hope you have the chance to give some of these places a visit, too!
I've also made a map with all of the locations, so please use it to help figure out what's closest to you!
Where to Visit in Tokyo with Kids
teamLab Planets Tokyo
I visited teamLab Planets before my daughter was born and I'm hoping to take her to the one in Osaka in the future because it was definitely a memorable experience. I think kids, and even babies, will be enthralled by the various dazzling areas, which make you feel like you've traveled to another world.
Note that it can get quite crowded and it's best to reserve your tickets in advance. Also, I wouldn't recommend it if your child is scared of the dark.
Sunshine City
It's likely that if you're living in Tokyo or even visiting, you will (or should) visit Ikebukuro. As it's along the JR Yamanote line, it's quite easy to get to and Sunshine City, a huge shopping complex in the area, has a ton of things to do.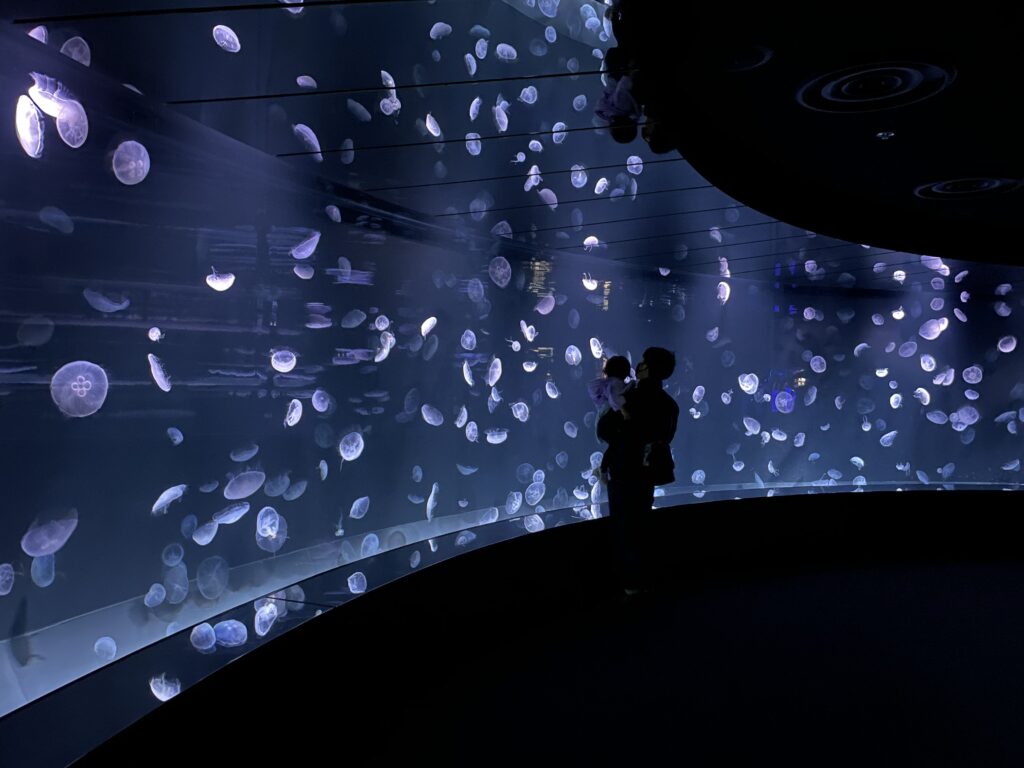 Some places you might want to check out while here with your kids include:
Tokyo Sea Life Park
Tokyo Sea Life Park was the first aquarium I took my daughter to when she was a baby, and we all had a great time. The area is beautiful and I love how the aquarium is nestled in a nature park (tip: go during spring to see tons of cherry blossom trees).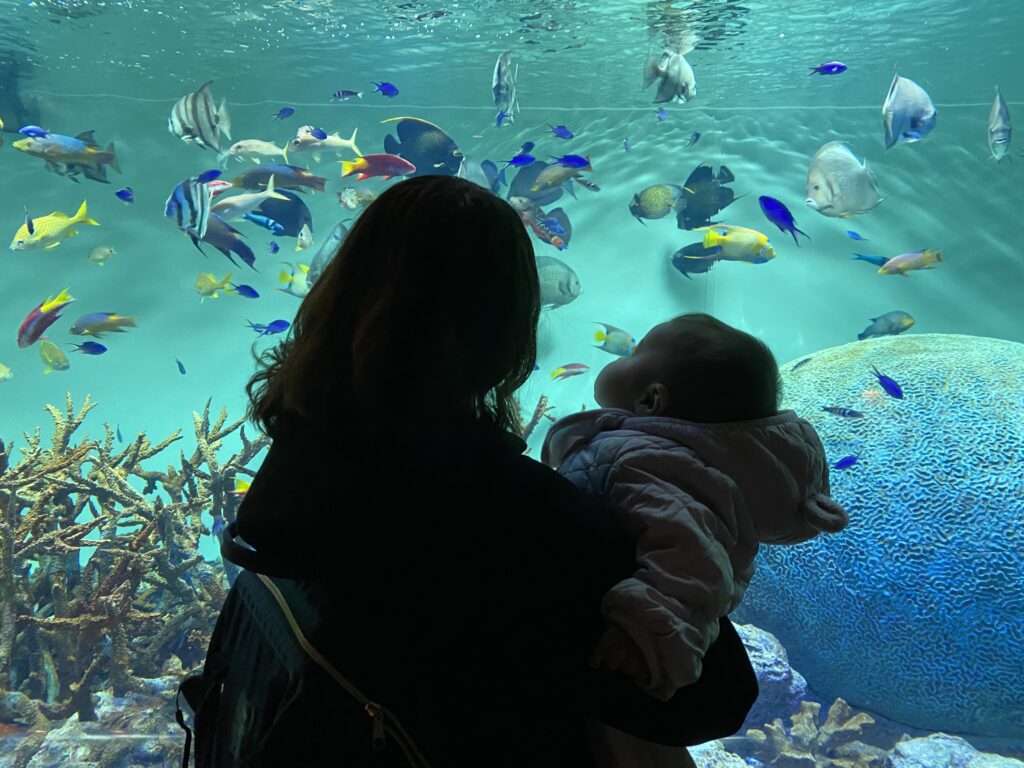 If you want to know more, I wrote an article all about it.
Tokyo Asobi Mare
If your child wants to play with snow all year round, Tokyo Asobi Mare is a great place to take them. There are also other indoor play areas with ball pits, mini bullet trains, and cars for kids to ride on, toddler-friendly bouldering, inflatable slides, and more!
Asobi Mare is also located in other areas of Japan such as Kanagawa, so try to look in your area to see if there's one nearby!
I took my daughter to the Osaka location and she had so much fun that she didn't want to leave. Her favorite spot was the dress-up area where she could wear different Pretty Cure (プリキュア) outfits and go on a mini-stage where parents can use Bluetooth to play music from their phones. Most parents didn't know this so when my husband started playing プリキュア songs, he started a serious dance party!
The crane games are also 100 yen per try and much easier than in typical arcades. My husband isn't the best at them but he won our daughter a huge Pokemon stuffed animal for only 100 yen!
The National Museum of Nature and Science
This museum is located in Ueno and is a great place to take curious little minds. The museum covers all things about our earth, such as living things, dinosaur skeletons, rocks, as well as technology (I like the area about technological advancements during the Edo period on onwards). There's an indoor playground for little ones and they also have special exhibitions featuring creatures such as dinosaurs.
Miraikan (The National Museum of Emerging Science and Innovation)
Miraikan is a massive science museum in Tokyo where kids of all ages can learn about various areas of science such as the earth and universe, as well as information and technology. The giant model of the Earth hanging from the top of the museum alone is worth going to see.
Tokyo Toy Museum
If your kid loves toys (and what kid doesn't?), they will likely love exploring the Tokyo Toy Museum. They have different areas according to age (0-2 years old, 3-6 years old, and elementary school) so kids can play with toys from around the world that are perfect for their developmental stage. They also have crafts, which I know my daughter would enjoy doing.
Kidzania Tokyo
Kidzania Tokyo, a Mexican company with locations worldwide, is a great place to bring kids who love to play pretend and want to try out different jobs. The best part is that they can actually do things like bottle ponzu or put together a computer!
Every Wednesday also has English staff, so if you can't speak Japanese or you want your child to speak more English (which is my struggle right now), I would recommend visiting then.
Note that it can get very crowded as school trips tend to come here. I also recommend buying tickets in advance and looking carefully at the website and planning what your child will do as it can be overwhelming!
Sumida Aquarium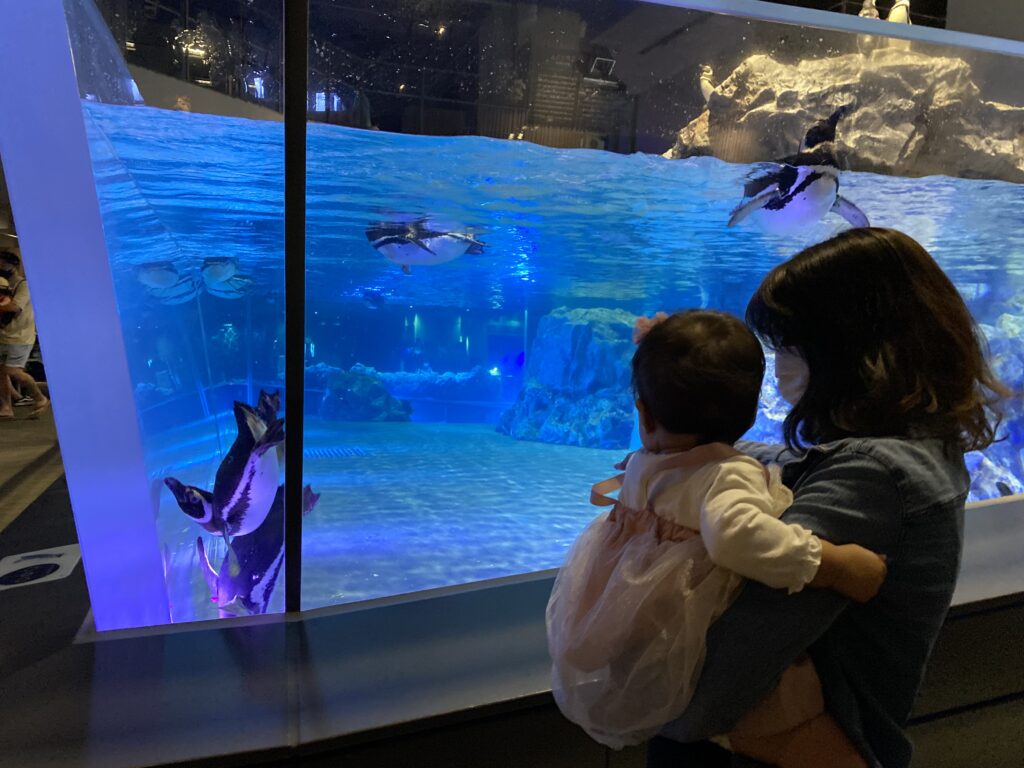 This is a beautiful aquarium in Tokyo Skytree Town, although a little small. But if you're in the area, it's worth visiting. I especially loved how some of the areas have a Japanese theme to them, so it's like walking through a summer festival.
Ghibli Museum
Even if your child hasn't been introduced to Ghibli movies yet (and if they haven't, I recommend starting with My Neighbor Totoro), I think they'll enjoy the atmosphere of the Ghibli Museum. They can watch a short movie, play in a giant Cat Bus, and take in the lovely surroundings that make them feel like they're in one of Miyazaki's creations.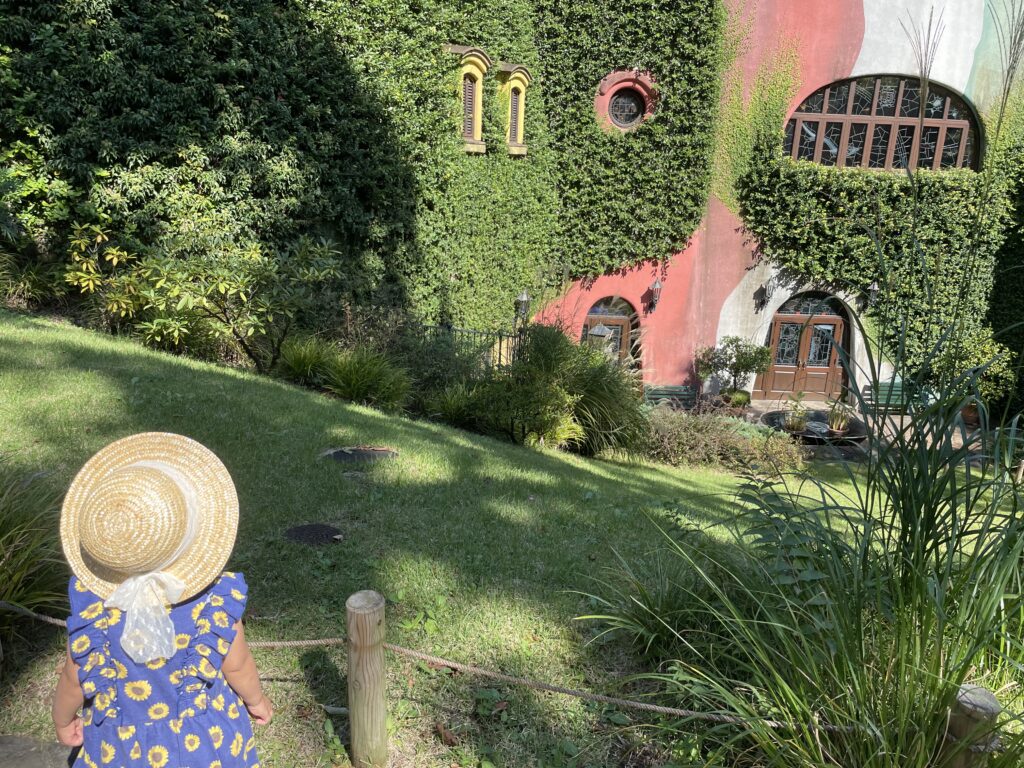 As it's located in Inokashira Park, I recommend going on a sunny day so you and your family can enjoy the park grounds as well.
Pure Heart Kids Land
This indoor playground seems like it's perfect for rainy days. It has a massive ball pit, inflatable slides, toy cars to ride, a sand park, an area to play house, as well as a play area for infants. It also looks like they have a place where kids can dress up and take photos.
There are several branches throughout Japan, including Chiba and Saitama.
Galaxity (ギャラクシティ)
Galaxity is a children's museum where kids can learn while playing. There's a climbing wall, a giant net for kids to crawl all over, as well as special workshops. They also have the largest planetarium in Tokyo's 23 wards!
View this post on Instagram
Sanrio Puroland
My daughter visited Sanrio Puroland twice when she was two and she had a blast each time. It's filled with Sanrio characters, games, and rides, and everything is pastel and picture-worthy.
View this post on Instagram
If you're interested, I've written an article all about the experience.
Yomiuri Land
Yomiuri Land is an amusement park located in the far east part of Tokyo. It's filled with rides for all ages as well as an outdoor waterpark. But I think the best part is its stunning illuminations from around the end of October to early April, which covers the entire park.
Machida Squirrel Garden
Okay, so Machida is quite far from central Tokyo, but if you're in the area for some reason, then you might want to check out Machida Squirrel Garden, which is a park filled with squirrels, as well as other small animals. They even have cute little squirrel houses!
Where to Visit in Kanagawa Prefecture with Kids
Enoshima Aquarium
Enoshima Aquarium, called Enosui for short, is a lovely place to visit with kids in Fujisawa, Kanagawa. It has all sorts of aquatic creatures ranging from those from the Pacific Ocean to penguins and seals. My daughter had a lot of fun at the outdoor dolphin show.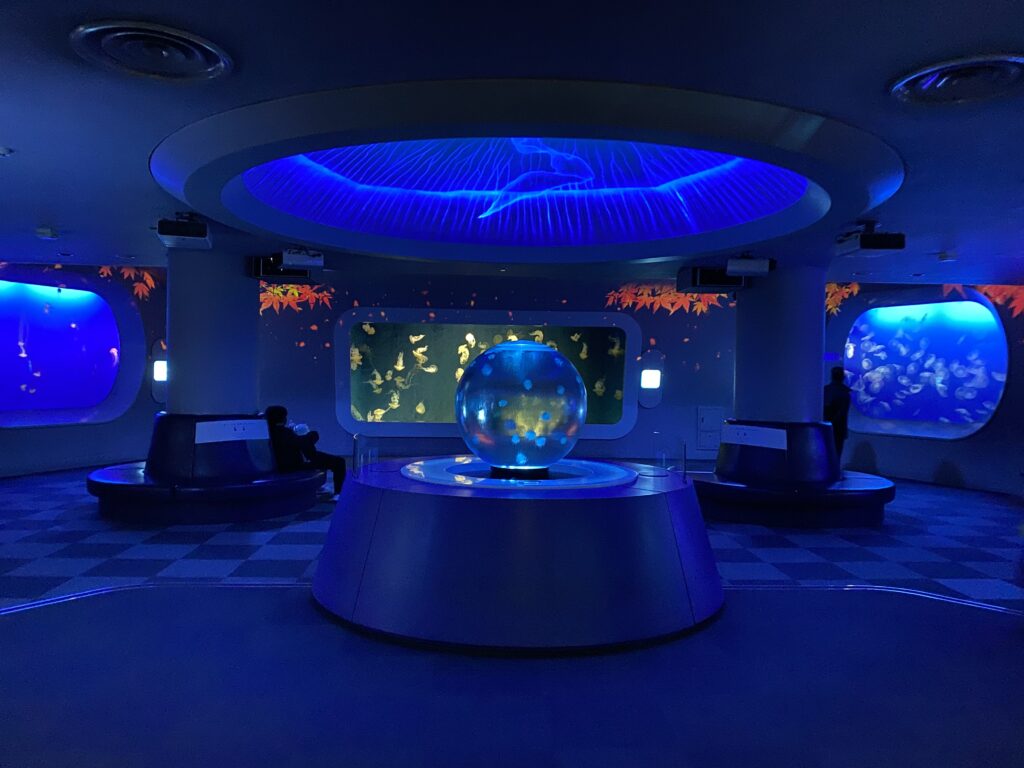 My daughter's favorite place was the Jellyfish Fantasy Hall, which has tanks of jellyfish alongside beautiful projections on the walls. She's usually scared of dark places but I think the projected images of things like maple leaves made her forget her fear of darkness.
Yokohama Hakkeijima Sea Paradise
Yokohama Hakkeijima Sea Paradise is a sea-based theme park boasting four aquariums, an indoor play area, as well as an amusement park. Some rides might be too intense for little ones but there's still plenty to enjoy.
View this post on Instagram
CUPNOODLES Museum
Even if your child is too young to really understand the world of the instant cup ramen, I think they'll still have fun at the CUPNOODLES Museum. They can create their own flavor of cup noodles at the factory and decorate the cup and play in the CUPNOODLES Park. Eating at the NOODLES BAZAAR might be fun for them as well.
Children's Forest Wanpaku Land
Wanpaku Land is a huge outdoor park in Kanagawa with trains, various playgrounds, and tons of nature for kids to enjoy.
Kodomonokuni
True to its name, which means Children's Land, Kodomonokuni in Yokohama is an excellent place to bring children. At almost 1 million square meters, it is massive and filled with playgrounds, trains, paddle boats, a farm and mini zoo, pony riding, an ice skating rink AND a huge swimming pool in the summer.
View this post on Instagram
If you are in the area, I absolutely recommend checking it out!
Where to Visit in Chiba Prefecture with Kids
Boso-no-Mura
Boso-no-mura is an area that replicates a traditional Japanese village from the past. It's fun just to walk around and take in the atmosphere, and there are also lots of activities for kids to do.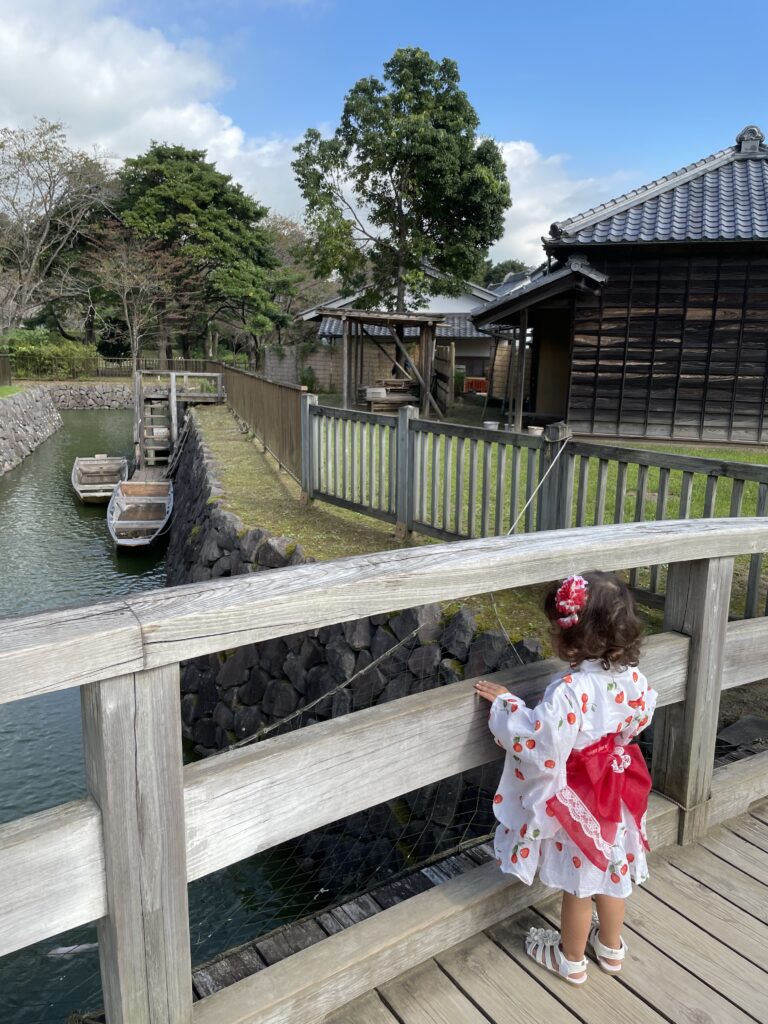 Kids can make and decorate pottery (we had our then-two-year-old paint some clay plates, which were then mailed to our home in Japan), make washi paper, and decorate traditional masks.
Chiba Museum of Science and Industry
The Chiba Museum of Science and Industry is a fun place for kids to learn, and it's only one stop outside of Tokyo on the Shinjuku Line. I took my daughter here when she was around two and she had fun! There are lots for kids to see and do to experience science, especially in the Experimental Plaza. They have a planetarium (Science Dome) as well but it was closed when we visited.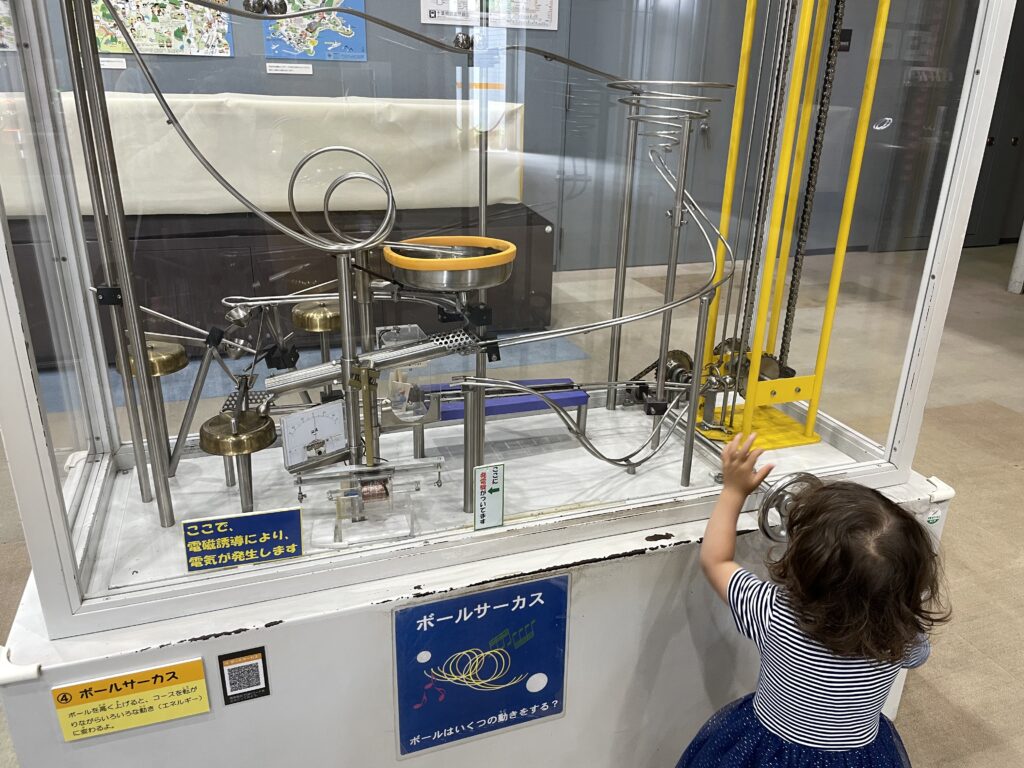 This museum is conveniently located next to a mall that has the Chiba location of Pure Heart Kids Land, which might make it worth the trip.
Funabashi Andersen Park
Funabashi Andersen Park, a beautiful park in Funabashi, Chiba, is meant to be a mini-replica of Odense, Denmark, which is the hometown of Hans Christian. Complete with little child-sized houses, an actual windmill, many gardens with various kinds of flowers, as well as small rivers and ponds, it makes a perfect location for little ones to explore.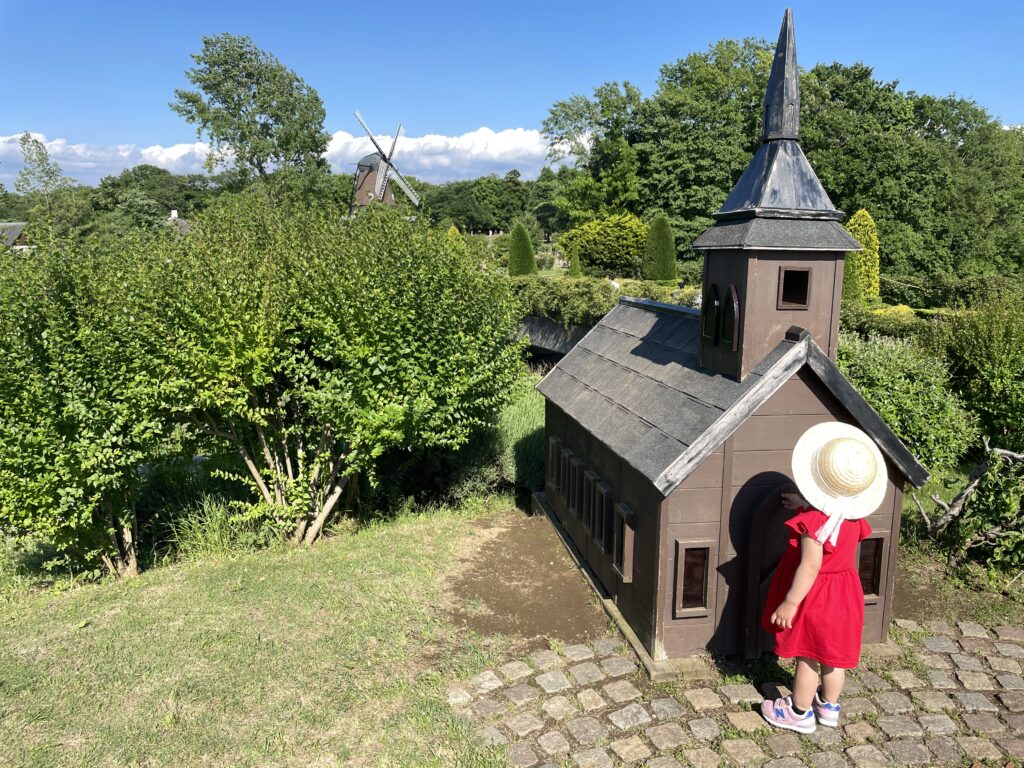 Chiba Zoological Park
I'm going to admit that I am not a fan of zoos, but I figured I should take my daughter to at least one. I found that Chiba Zoological Park was one of the better ones I've experienced. It's very spacious so animals like cheetahs and lions have more room than I've seen at other zoos. There is also an aquatic area with a sea lion, which my daughter really enjoyed.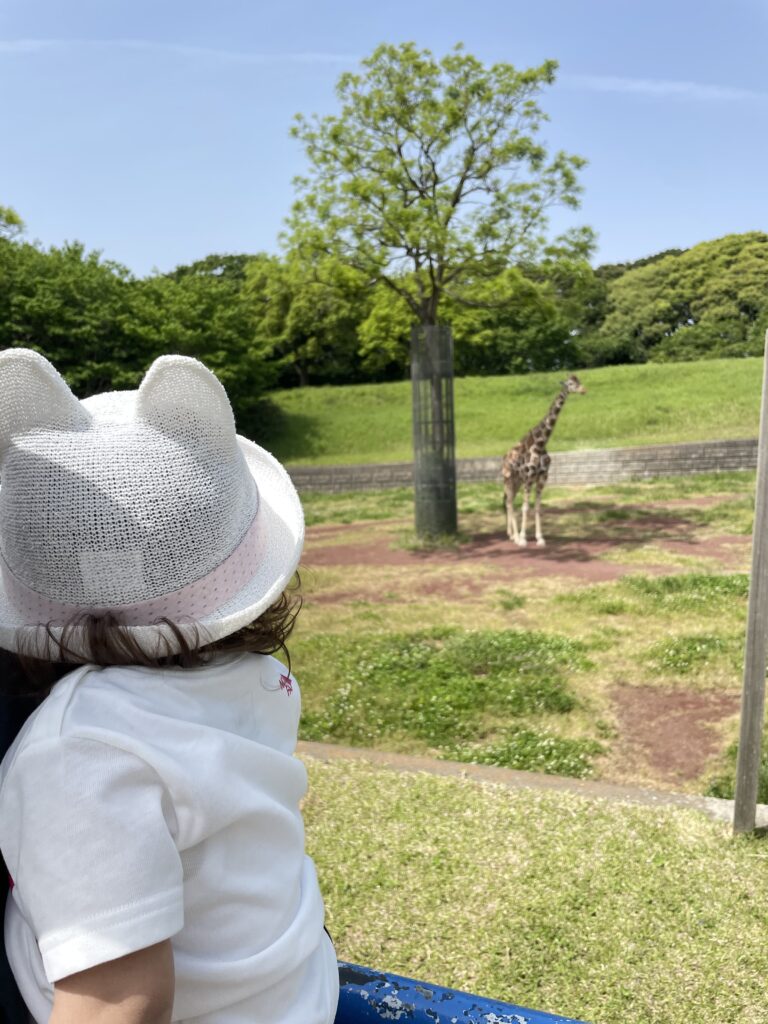 Kamogawa Sea World
Located in the southeastern part of Chiba Prefecture, Kamogawa Sea World is an aquatic park where your child can see all sorts of marine animals such as killer whales, belugas, sea lions, dolphins, sea turtles, and penguins.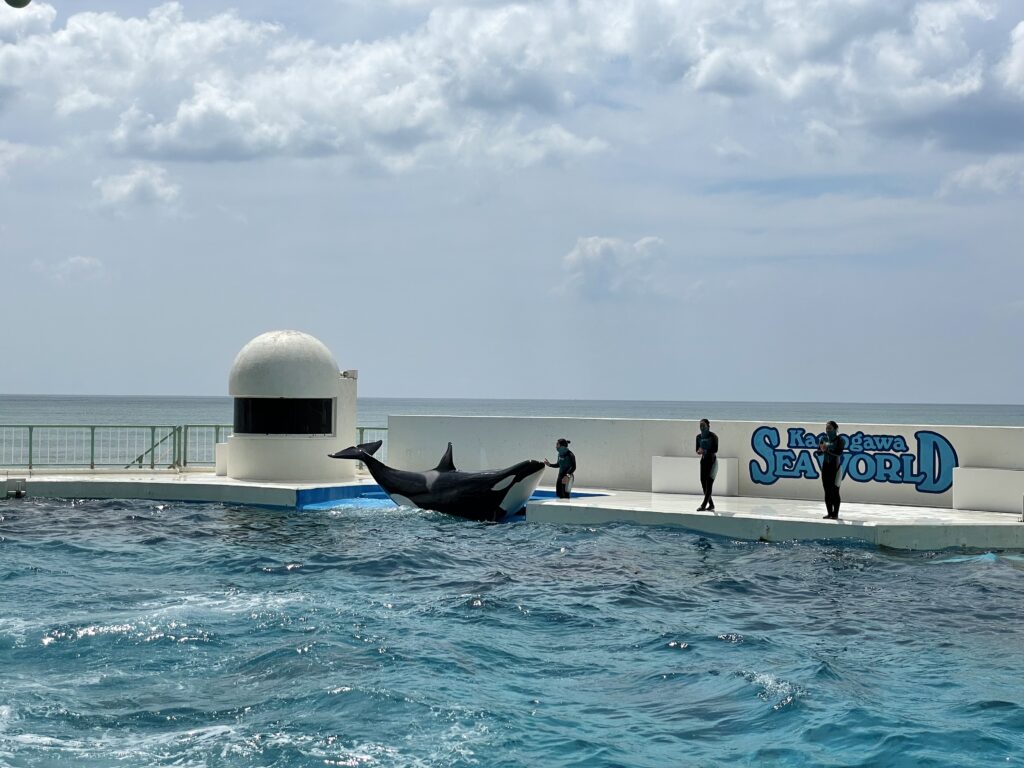 While you're there, make sure to check out Maebara Beach, which is said to be one of the nicest in the Kanto region (and I did find it gorgeous when I went)map.
Tokyo Disneyland and Tokyo Disneysea
Despite what the name implies, Tokyo Disneyland and Disneysea are both in Chiba! It's undeniable that kids will have fun here, although I feel like children under the age of three might not enjoy it as much (there was a huge difference in my daughter's reaction when she went at age two versus three).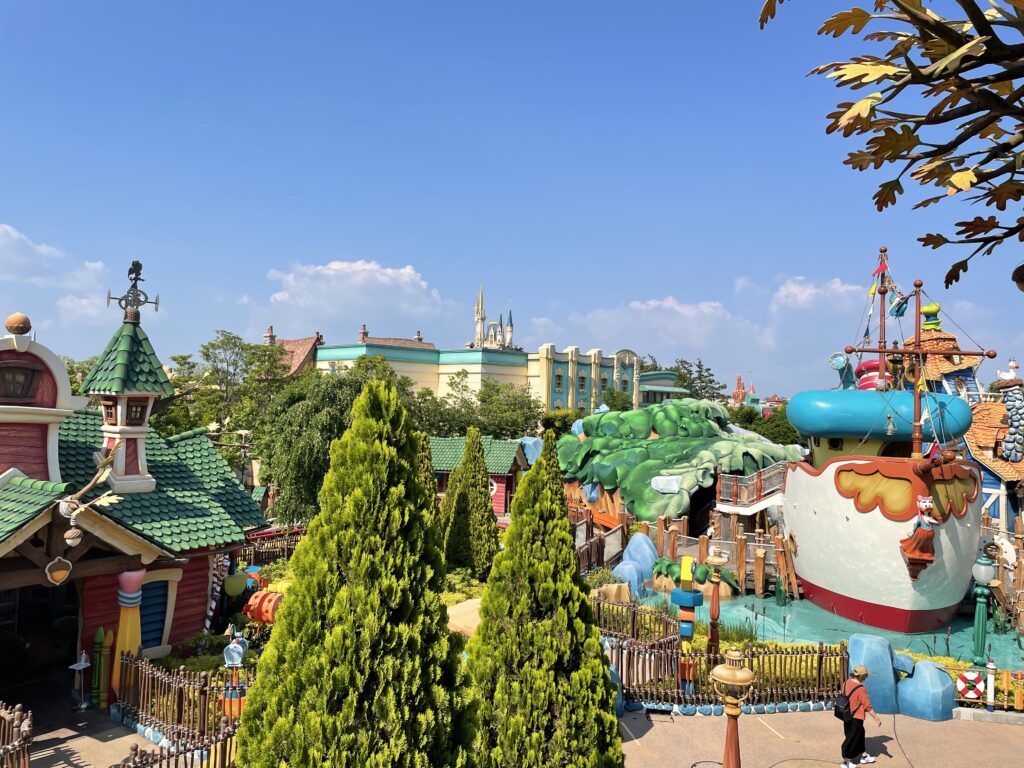 Check out my article on Tokyo Disneyland to read about my experience taking my child there!
Where to Visit in Ibaraki Prefecture with Kids
Sylvanian Park
If you or your child are a fan of Sylvanian Families, then you'll want to visit Sylvanian Park. It's like a place where Sylvanian Families come to life as there are child-sized replicas of the houses that kids can explore and life-sized characters! It's not only picture-worthy but your child can engage in tons of activities. Kids also have a chance to get a free Sylvanian Families doll at the end!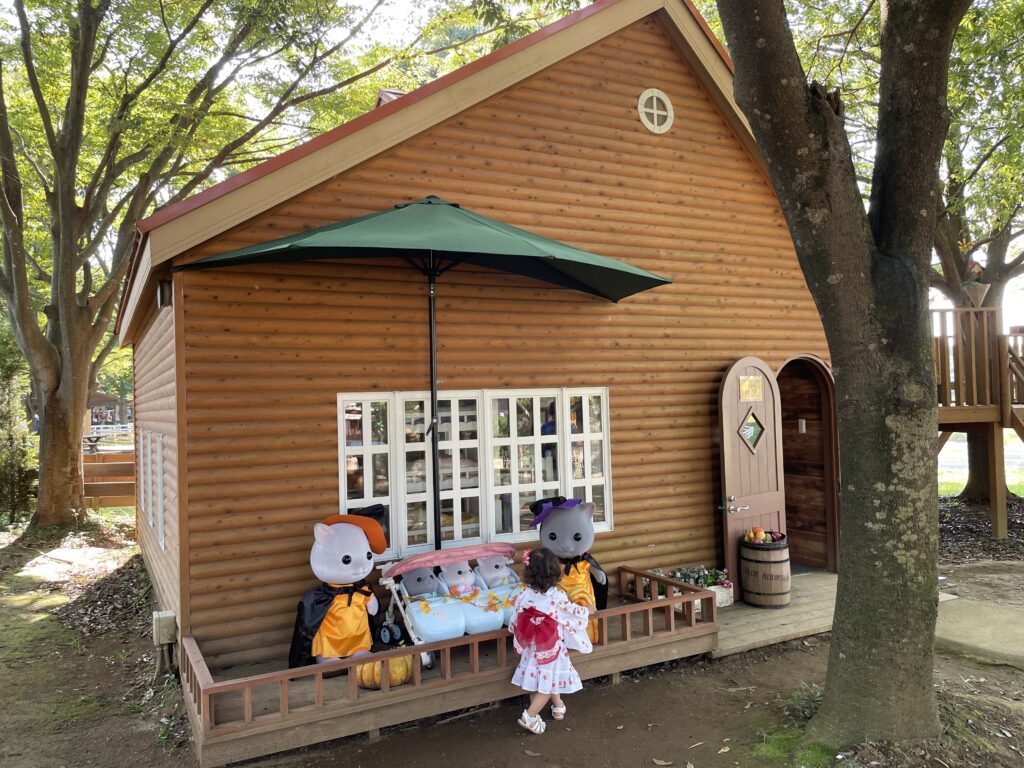 The park is fairly close to the aforementioned Boso-no-Mura in Chiba Prefecture so if you're traveling by car, you might want to put this on your list as well.
Hitachi Seaside Park
Hitachi Seaside Park is a place I have visited with my husband multiple times. Although we never got the chance to take our child, I think it's a great place for kids (especially as I saw many little ones running around when I went).
You can see different kinds of flowers depending on the season. The nemophila in the spring are especially beautiful. There is also a seaside train that kids might enjoy riding, a small splash park in the summer, giant egg-shaped trampolines, a playground, as well as a small area to play golf.
There is also a small amusement park called Pleasure Garden with different rides for toddlers and small children.
Where to Visit in Saitama Prefecture with Kids
Musashi no Mura
This park offers a ton of things for kids to do as it has an amusement park, a playground, an area with animals (kids can also ride on a pony), and a little farm where kids can pick seasonal fruits.
Tobu Zoo
Tobu Zoo is considered one of the best zoos in the area, with around 1200 animals, including white tigers, as well as rides for kids. They also have illuminations in the winter.
View this post on Instagram
The Railway Museum
If your child loves trains, then they'll likely enjoy this museum all about Japanese trains. Children can also learn about how trains operate as well as the history of trains in Japan and their future.
Sayama Ski Club/Kids Park
This is an indoor park that offers snow in winter and transforms into a waterpark in the spring. The waterpark has slip and slides, small pools, as well as a pool filled with foam.
本日の泡イベントの様子です☁️

スッキリしないお天気でしたが、
お子さまは水着でイベントを楽しんでいました🙆‍♂️

GW明けは土日でも目立った混雑なく
ご利用いただける日が多くなっております。

ひと足早く夏気分はいかがでしょう?😉
ご来場お待ちしております!🌊✨ pic.twitter.com/nMHboE50iP

— 狭山スキー場 (@Sayama_ski) May 20, 2023
Shirakobato Aquatic Park
Shirakobato Aquatic Park not only has several pools (my daughter would be in heaven!), but it also has a playground and beautiful nature with trees and flowers, and an area to do barbeque.
View this post on Instagram
Tokorozawa Aviation Museum
This aviation museum is great for kids who love airplanes. They have various planes on display and kids can also try different things like a flight simulator or experience what it's like to walk in on the moon and in space.
Tove Jansson Akebono Children's Forest Park
Tove Jansson Akebono Children's Forest Park is so cute, which should be no surprise considering it's named after the Finnish creator of the Moomins. The area also lights up at night and looks absolutely magical.
Saitama Aquarium
This aquarium is a little small with primarily (only?) freshwater fish and otters. But it is nestled in a huge park called Hanyu Riverside Park with a massive park and little streams of water and a pond, so there's a lot for kids to do and explore.
View this post on Instagram
Saitama Children's Zoo
This zoo has over 160 different kinds of animals, including koalas, red pandas, capybara, and penguins. There's a petting zoo, a playground, and kids can ride ponies. When it's hot out, there's also a very shallow pool where your kids can cool off their feet.
View this post on Instagram
Musashi-Kyuryo National Government Park
Musashi-Kyuryo National Government Park is the first government park in Japan and according to their website, is as big as 65 Tokyo Domes! They also boast the largest air trampoline in Japan and have tons of other play areas for kids, including a splash pool in the summer. Kids can also enjoy different seasonal flowers as well as cherry blossoms and plum blossoms.
Where to Visit in Gunma Prefecture with Kids
Gunma Kids' Country
Just as the name implies, Gunma Kids' Country is a perfect place to bring little ones. It has different playgrounds, a splash park, rides, bicycles, a summer bobsled, and lots of nature.
View this post on Instagram
Gunma Children's World Children's Hall
The Gunma Children's World Children's Hall allows kids to learn about science in different ways, such as through books or hands-on experiences. They also have a planetarium for kids to enjoy looking at the stars or watching educational movies as well as an outdoor playground.
Auto Mirai Kezoji Amusement Park
This amusement park has attractions for different age ranges, including ones for babies!  They also have a "cycle monorail" where you can ride through a sakura tunnel during spring.
View this post on Instagram
Usui Pass Railway Heritage Park
Another great place for train fans, Usui Pass Railway Heritage Park has different kinds of trains on display. Kids can also ride a small steam locomotive!
Gunma Museum of Natural History
The Gunma Museum of Natural History contains fossils and other exhibitions about the earth and Gunma. They also have special exhibitions, such as this one about Pokemon and fossils!
Gunma Safari Park
Experience what it's like to go on a safari by visiting Gunma Safari Park. You can drive or ride a bus through the grounds to see animals from different countries (divided into zones).
Minakami Kogen Ski Resort
This ski resort looks like so much fun! Of course, there's the typical skiing and snowboarding available but little ones can enjoy a ton of winter activities, like sledding on a toboggan or an inflatable inner tube, exploring a tiny snow how, or riding on a snow liner.
Karuizawa Toy Kingdom
My daughter has been to the one in Hyogo Prefecture and she had so much fun, so if Karuizaka Toy Kingdom is anything like that, your child will have a blast. There is so much to do, such as going on rides, playing with a range of toys (dolls, trains, etc), and having fun on the huge playground.
Luna Park
This is a small amusement park with rides costing only 10-50 yen! Based on the rides, I think it's best for younger children.
Kannonyama Family Park
This massive park is an ideal place to take the family to explore some nature on the walking trail and maybe have a picnic or barbeque. There's a small splash area for kids, trampoline hills, a massive roller slide, and a playground.
Where to Visit in Tochigi Prefecture with Kids
Nasu Animal Kingdom
Nasu Animal Kingdom allows kids to see animals up close and interact with some of them — they can even feed Capybara! There are also shows featuring cats and birds (although I don't know how I feel about that).
Edo Wonderland Nikko Edomura
Edo Wonderland Nikko Edomura is probably the most "Japan" experience on the list. Kids can experience the Edo Period (1603-1867), which might not seem fun until they realize they can experience being a ninja or a samurai.
Tochinoki Family Land
Tochinoki Family Land is an amusement park with numerous rides for kids. The Hayabusa Shinkansen rollercoaster looks especially fun!
View this post on Instagram
Nasu Highland Park
Nasu Highland Park, another amusement park, offers more than 40 different rides, including ones for children ages 1-2. There are some rides that allow dogs as well, so if you have one, bring them along!
本日もご来園お待ちしています☀️ pic.twitter.com/mwN6Qm3shU

— 那須ハイランドパーク🎢🐶 (@NASUHAI) May 16, 2023
Nakagawa Aquatic Park
Nakagawa Aquatic Park, the only aquarium in Tochigi Prefecture and also the largest river aquarium in Japan, features local freshwater fish as well as tropical. Children can see 60 different tanks and they can also go fishing in ponds. There's a park and a water play area (Aqua Plaza) as well.
Mibumachi Toy Museum
The Mibumachi Toy Museum has three floors filled with toys and play areas for small children. It looks like a perfect place to take kids on a rainy or hot day.
Bandai Museum
If your child is a fan of Japanese shows like Sailor Moon, Pretty Cure,  Gundam, Power Rangers (Super Sentai), or Kamen Rider, then they might enjoy the Bandai Museum! This museum displays toys from these shows as well as a ton of other ones. (This recommendation comes from Tochigi local, Roxy! Thank you so much!)
Tochigi Wanpaku Park
This is another recommendation from Roxy, a mother who lives in Tochigi. This is a gorgeous nature park that also has little cars for kids to ride, bouncy castles, a train that goes throughout the park, an indoor playground with a giant pink dinosaur, and an area where kids can pretend to do things like go shopping.
---
All of these places are marked on the map below, so feel free to use it as a reference when planning your trip!
Is there a place in Kanto where you would recommend taking small children? Let me know in the comments!