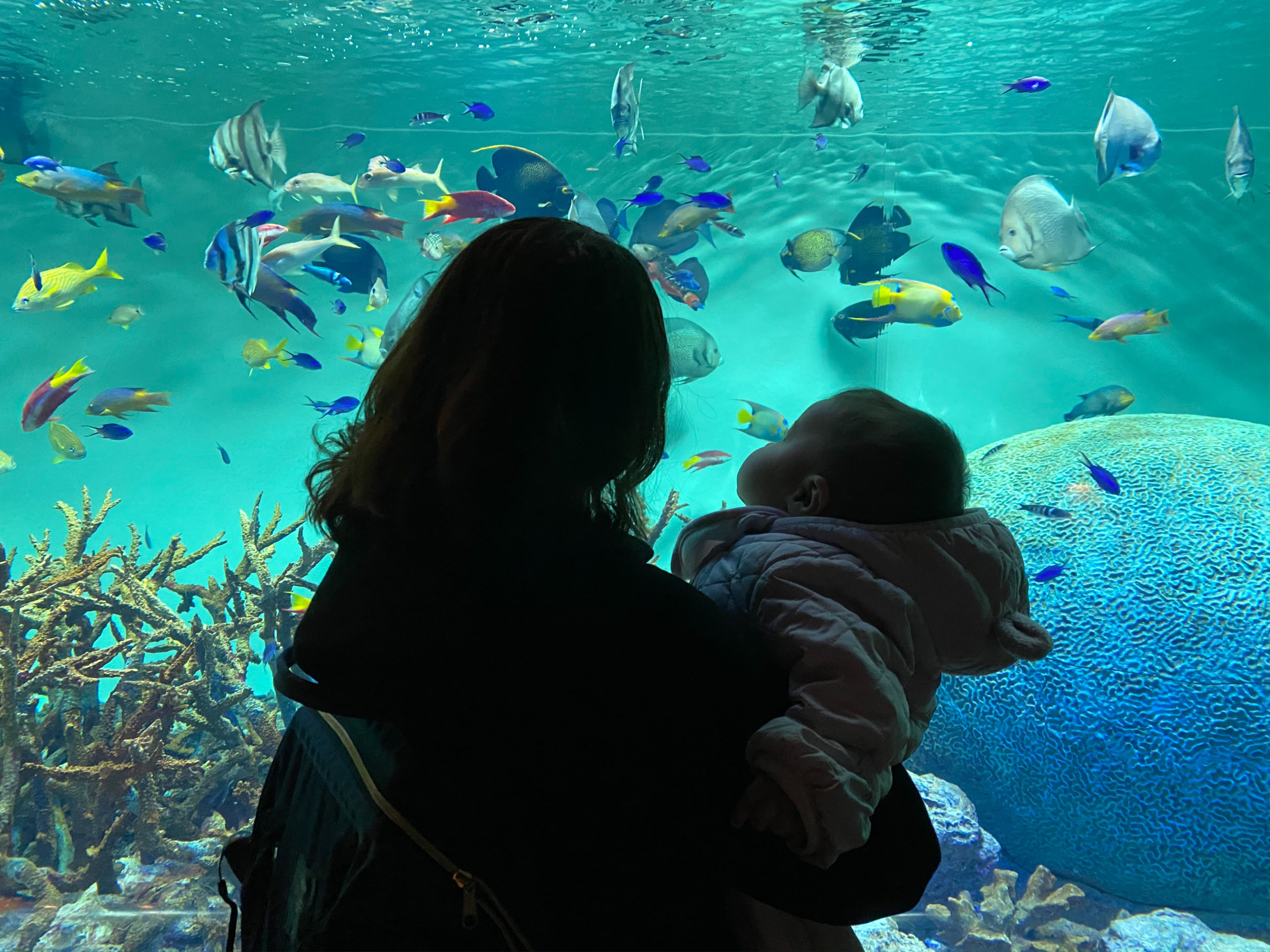 Places to Take Baby in Japan: Tokyo Sea Life Park
One of the great things about Japan are its many aquariums, especially in Tokyo. Aquariums are a wonderful place to take your child, even if they're an infant. Although they might not understand exactly what they're seeing, all the colors and movement in aquariums are fascinating for a baby. This is why on a sunny weekday afternoon in February, my husband and I decided to take our 7-month-old daughter to a nearby aquarium called Tokyo Sea Life Park.
Tokyo Sea Life Park is located in Kasai Rinkai Park (葛西臨海公園), which is in the southern tip of Edogawa Ward. It's a smaller aquarium compared to others in Tokyo but apart from its close proximity to our place (20 minutes by car), a big reason we chose to visit this particular aquarium was the low entrance fee at 700 yen for adults and lack of crowds compared to other aquariums like Ikebukuro's Sunshine Aquarium, especially since the waterbus that transports people from Asakusa and Odaiba to Kasai Rinkai Park wouldn't be in operation until April.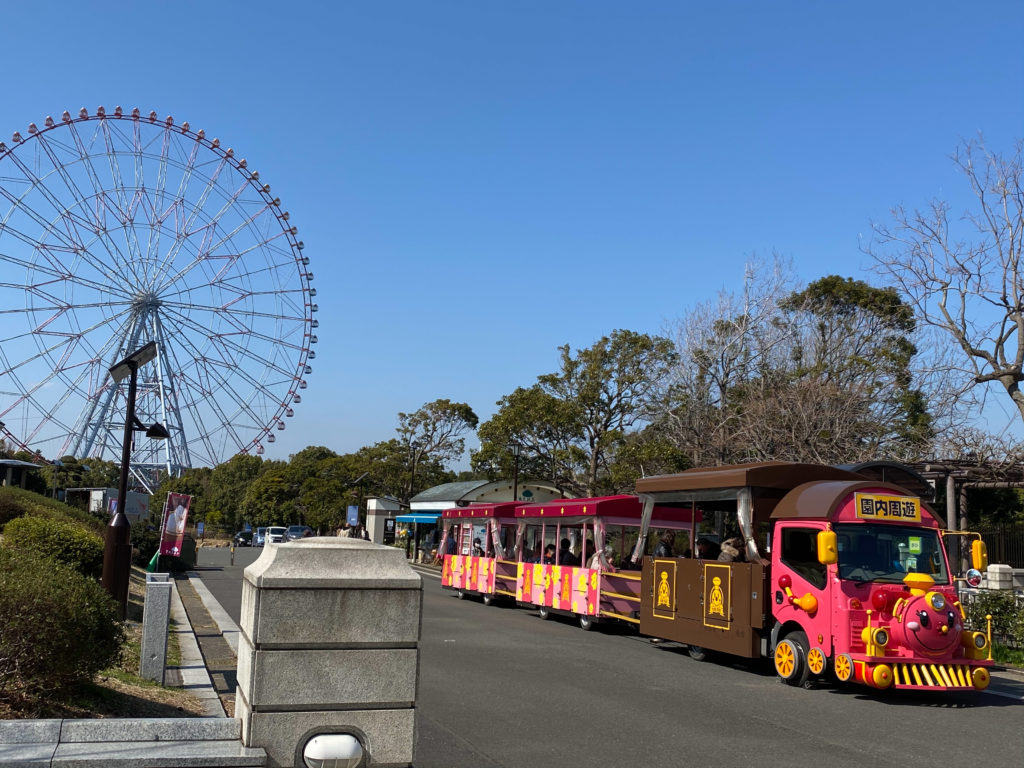 A cute train in Kasai Rinkai Park. For a small fee, you can ride this train around the entirety of the park.  
We arrived by car a little before 1 p.m. and more people were leaving than entering as some of the events had just ended. (The schedule can be found on the aquarium's Japanese website.) At the entrance there's an area to leave your stroller, which is encouraged on busy days, but as it was quite empty we decided to keep Baby A in her stroller. We were given a map of the aquarium which also indicated what routes to take with a stroller, and as we soon found, the aquarium was very stroller-friendly.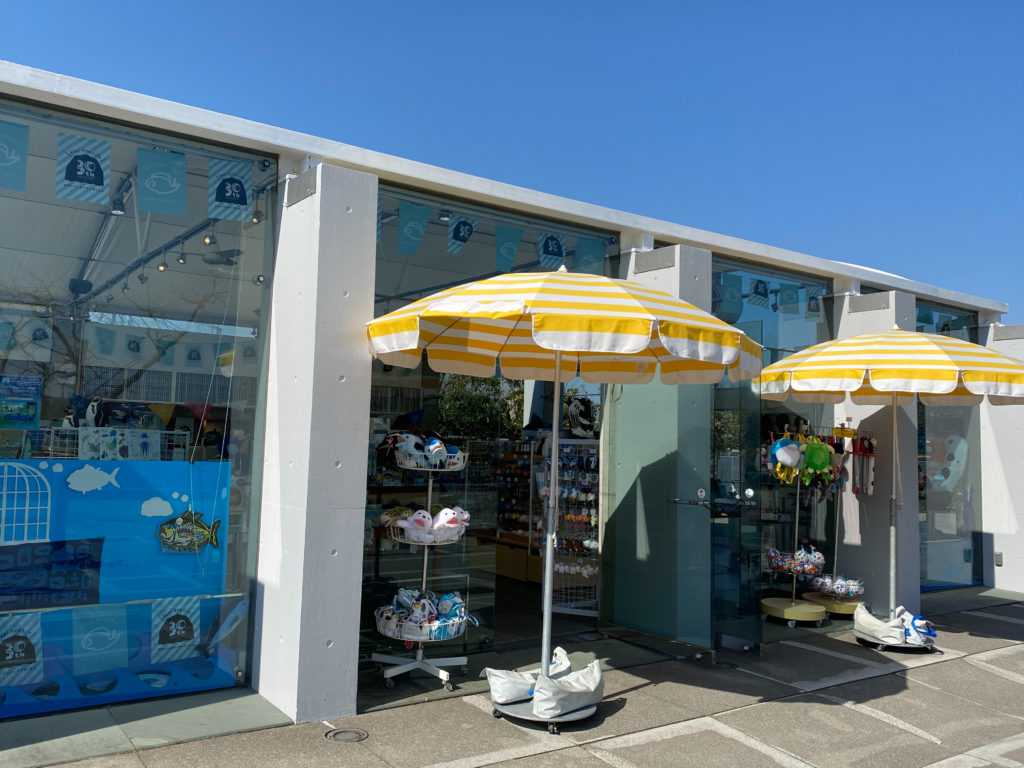 The outdoor gift shop. The rest area to the left had a room for mothers to breastfeed.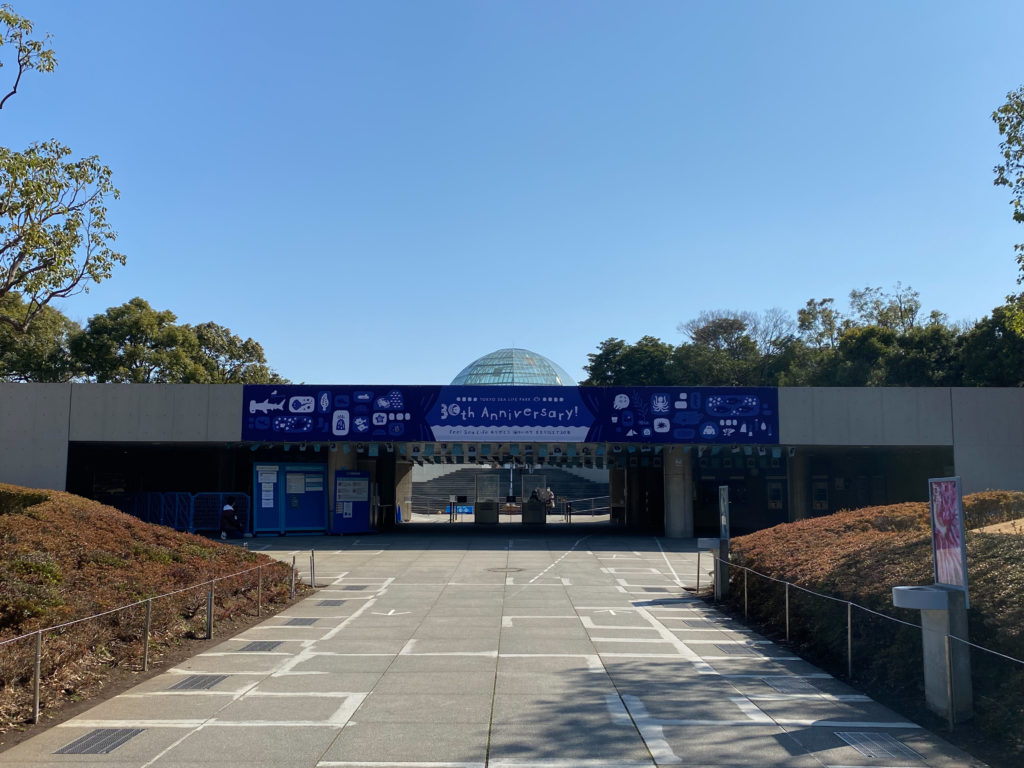 The entrance of the aquarium. This year, Tokyo Sea Life Park is celebrating its 30th anniversary.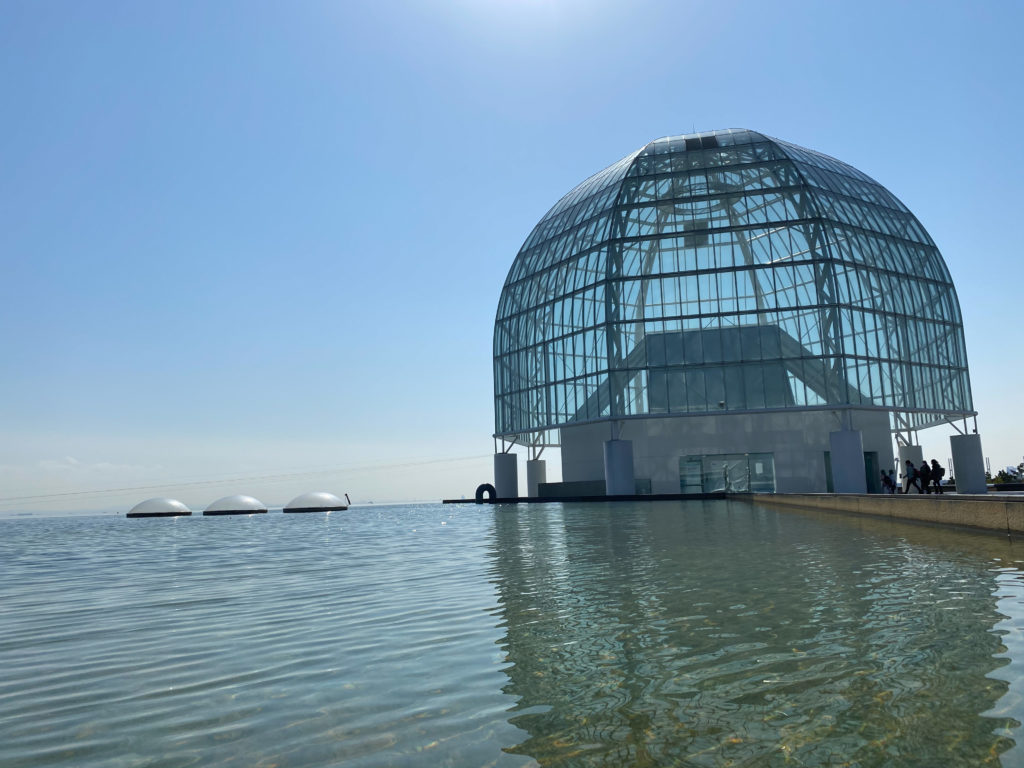 The Glass Dome after the entrance was absolutely stunning in the sun. This picture doesn't do it any justice!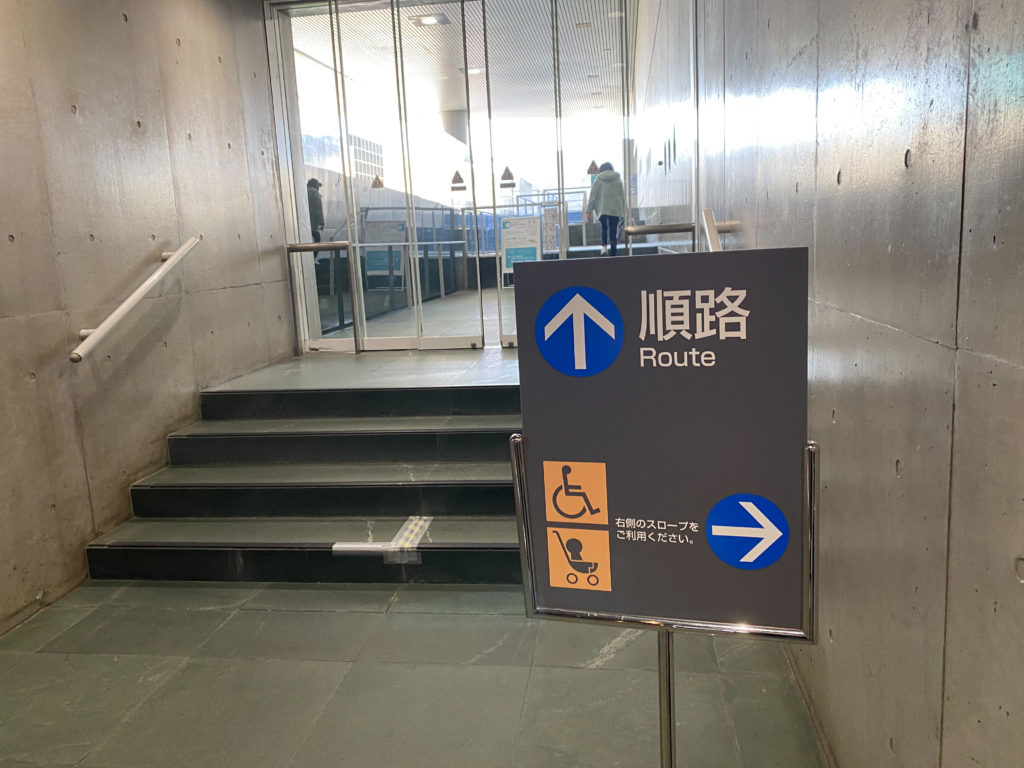 Pathways for strollers and wheelchairs are clearly marked throughout the aquarium.
We had to take an elevator to reach the start of route on the first floor and I was happy to find that the washrooms near the elevator had two changing tables. After changing Baby A, we headed to the first of twelve areas that feature aquatic life from various seas, oceans, and rivers around the world. I was pleasantly surprised that there were hardly any people inside (which is rare in Tokyo) so we were able to park Baby A right in front of a tank and she could enjoy watching all the different kinds of fish. We also took her out of the stroller a few times and held her up so she could see the fishes closer. I was worried Baby A would be a bit too young to enjoy the experience but she was enthralled, looking around with wide and curious eyes. Unfortunately, she was too little for things like the touchpools.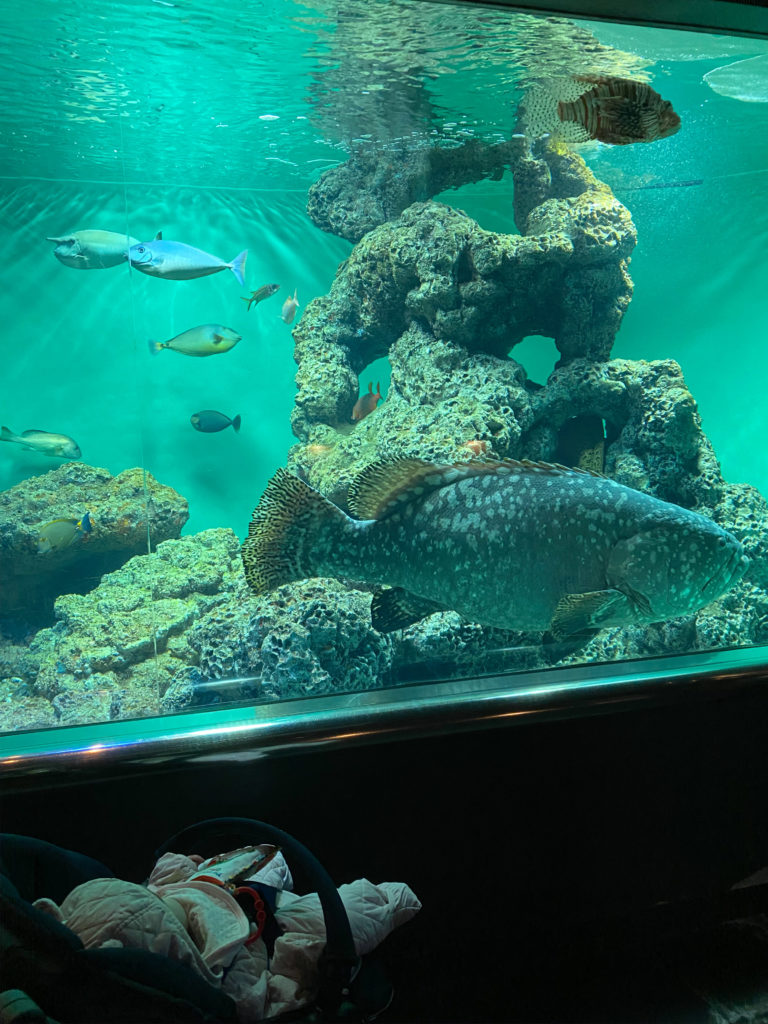 I think that fish swimming at the bottom of the tank is larger than my 7-month-old daughter!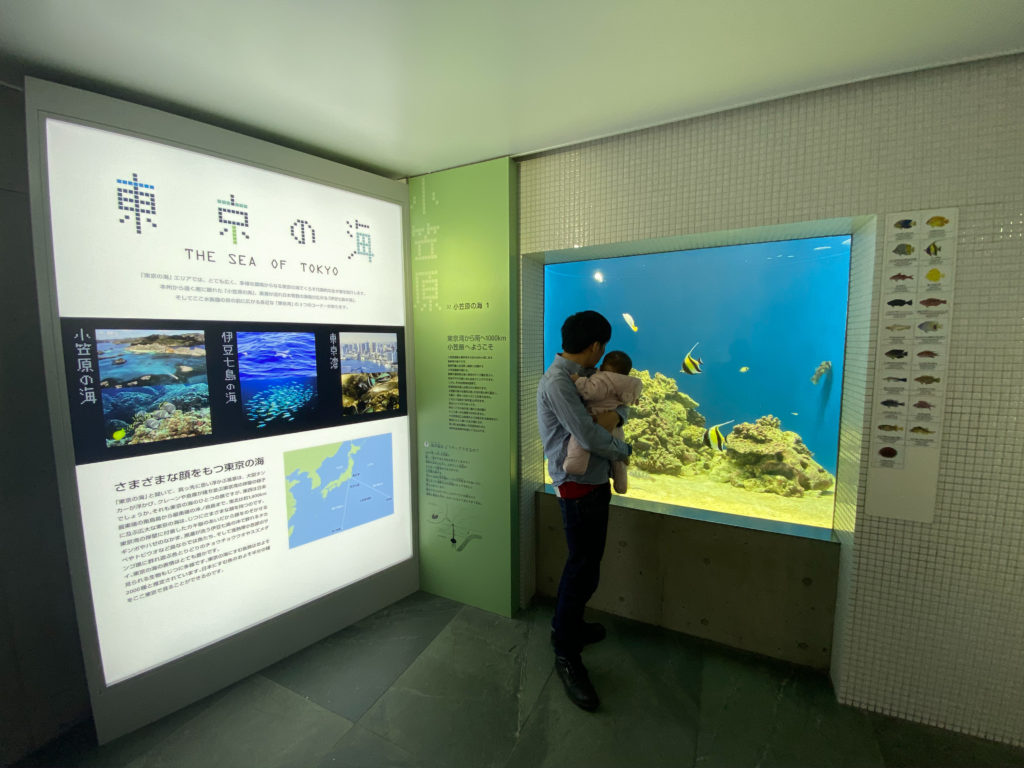 She really enjoyed the colorfish fish in the brightly lit tanks.
Our favorite areas were a 2,200-ton tank that featured massive bluefin tuna and the penguin exhibition outside on the second floor. It was mesmerizing watching the silver school of bluefin tuna glide through the water.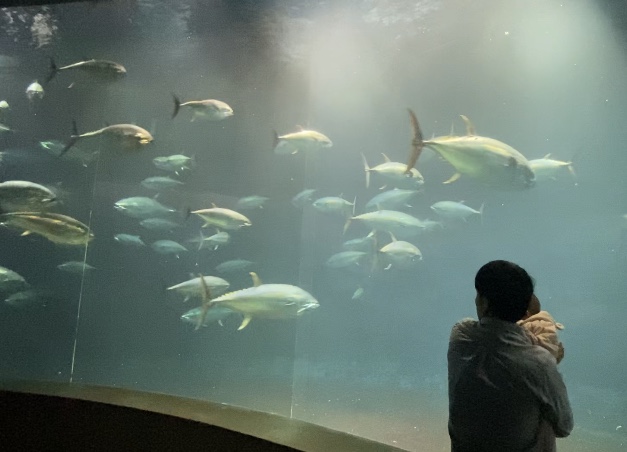 Baby A gazing at the bluefish tuna. 
The beautiful weather made the penguin exhibition especially enjoyable to watch. The penguins had a lot of space to jump and zoom through the water and there was even a huge, fluffy baby king penguin, which was adorable.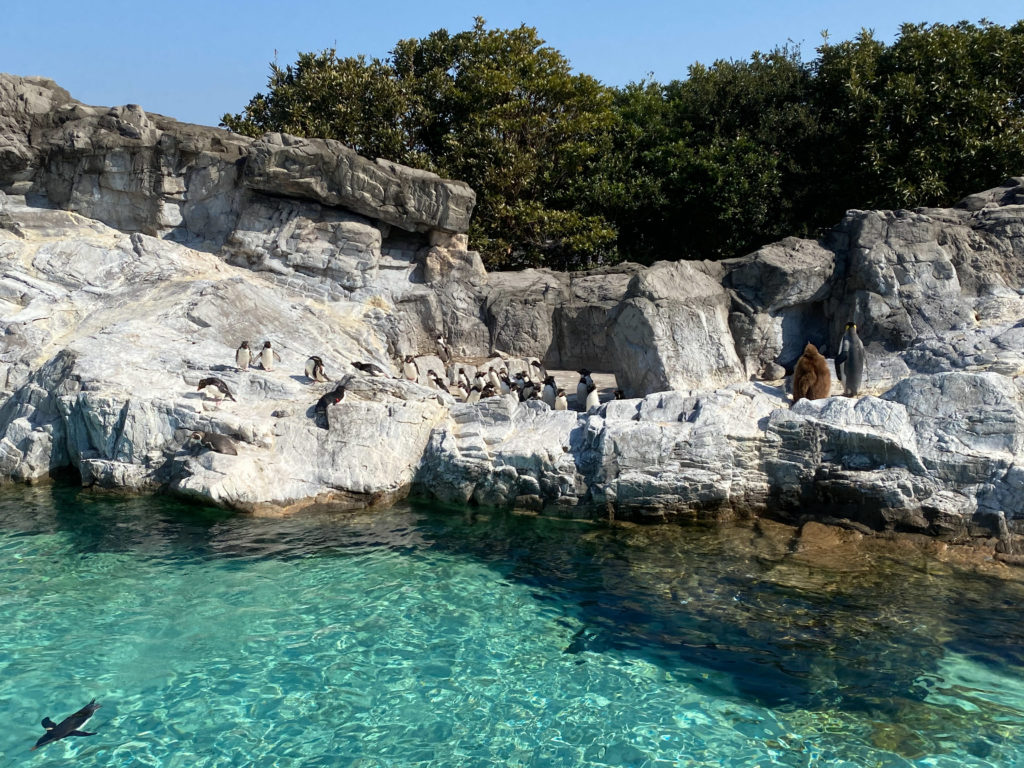 The Penguin Exhibition. Look at that cute baby king penguin on the right!
It took us about an hour to go through the aquarium and my husband and I both had fun introducing our baby for the first time to various aquatic animals. The aquarium was also the perfect size as within that hour, our fussy little girl seemed quite content. One thing I was a bit disappointed about were the jellyfish. I had heard that babies are quite captivated by glowing jellyfish but the ones at the aquarium were quite small and in a bright area so it was hard to see them and Baby A wasn't interested at all. The restaurant also didn't have very many unique options for food other than their tuna curry and tuna spaghetti so we decided to skip it.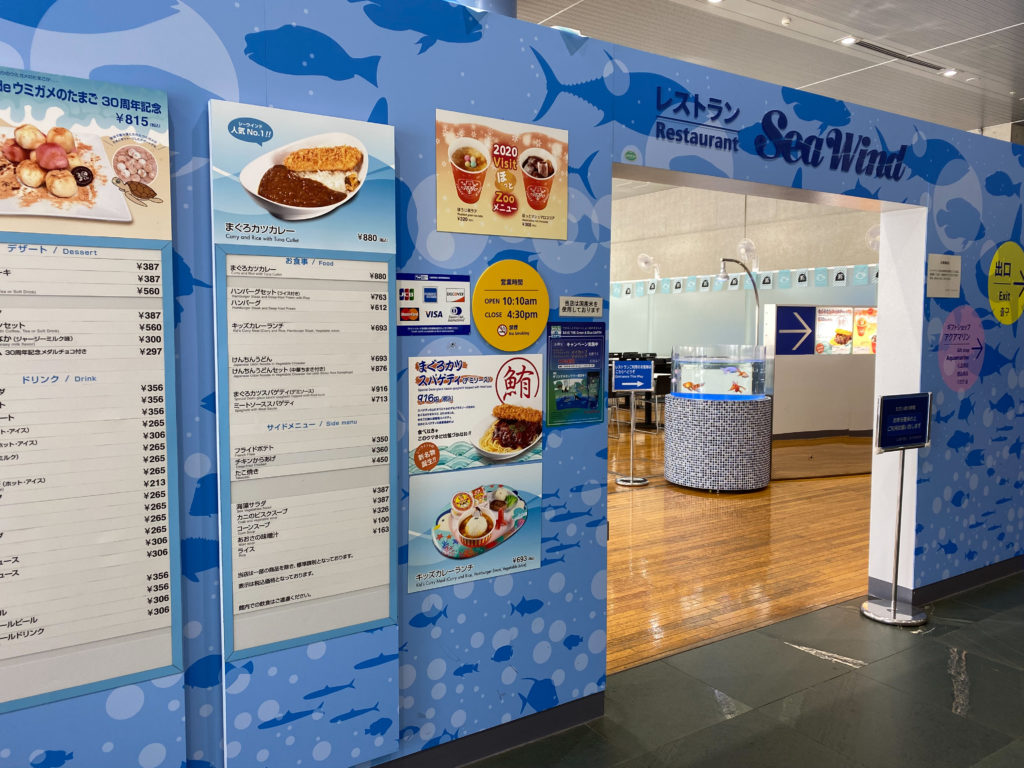 The Sea Wind restaurant, which was fairly empty.
If you like you can take the scenic route when you leave the aquarium, which is a path that makes you feel like you're in the Japanese countryside. You can see various Japanese waterbirds as well as Japan's freshwater life. There's even an area where you can sit down on the grass and have a picnic, which is a nice way to conclude a visit to the aquarium with the family. Had we known, we would have brought a picnic mat and some food ourselves!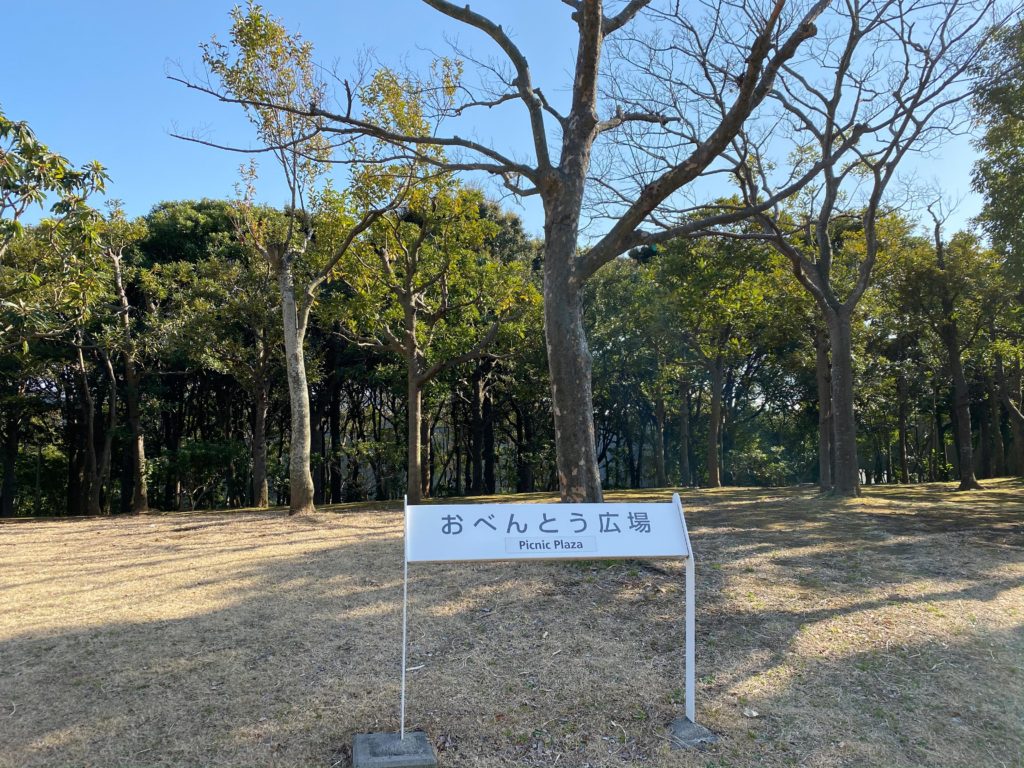 The おべんとう広場 or Picnic Plaza, where you can sit outside and enjoy lunch or just relax.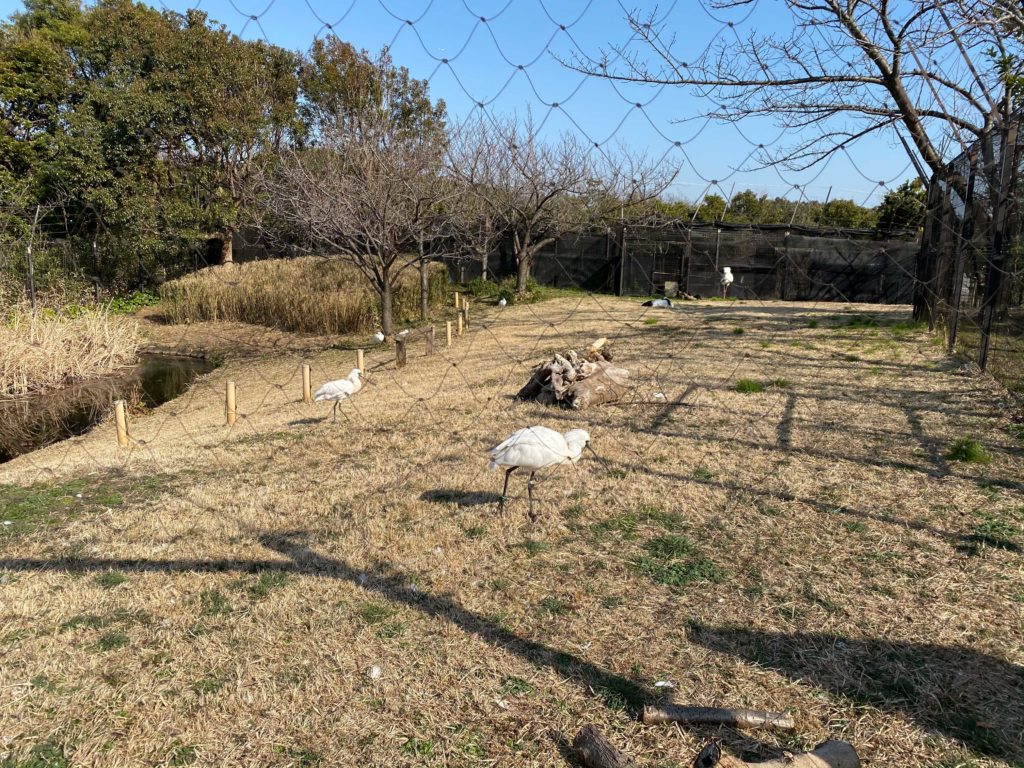 Japanese Waterbirds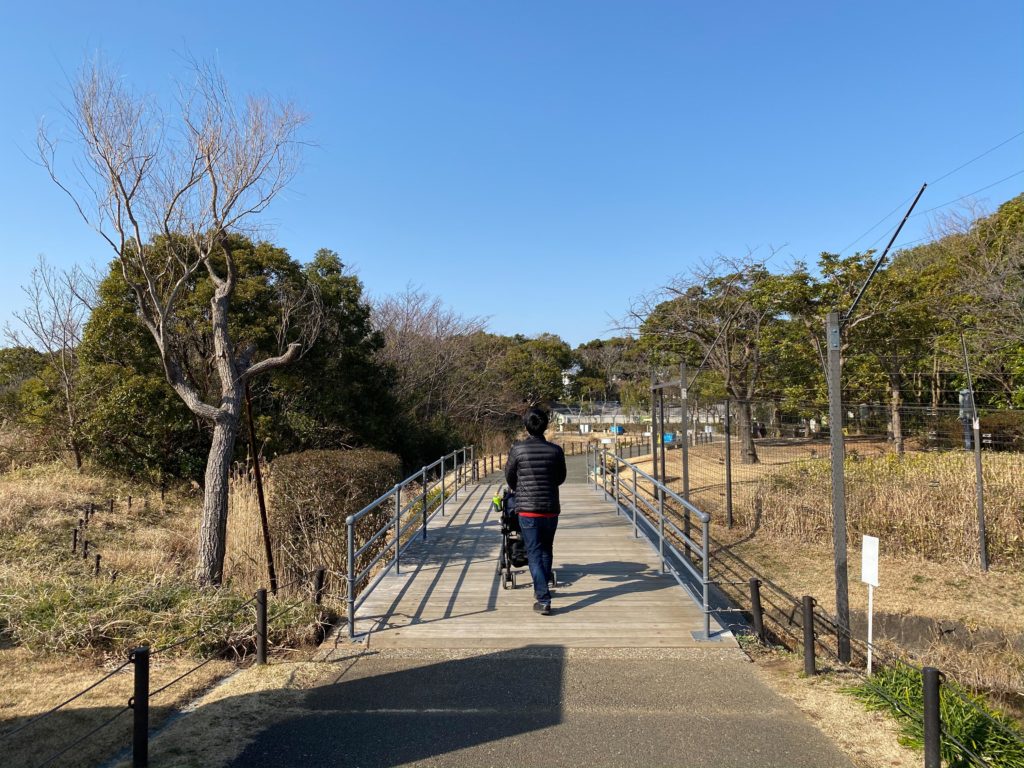 Walking to the Freshwater Life building.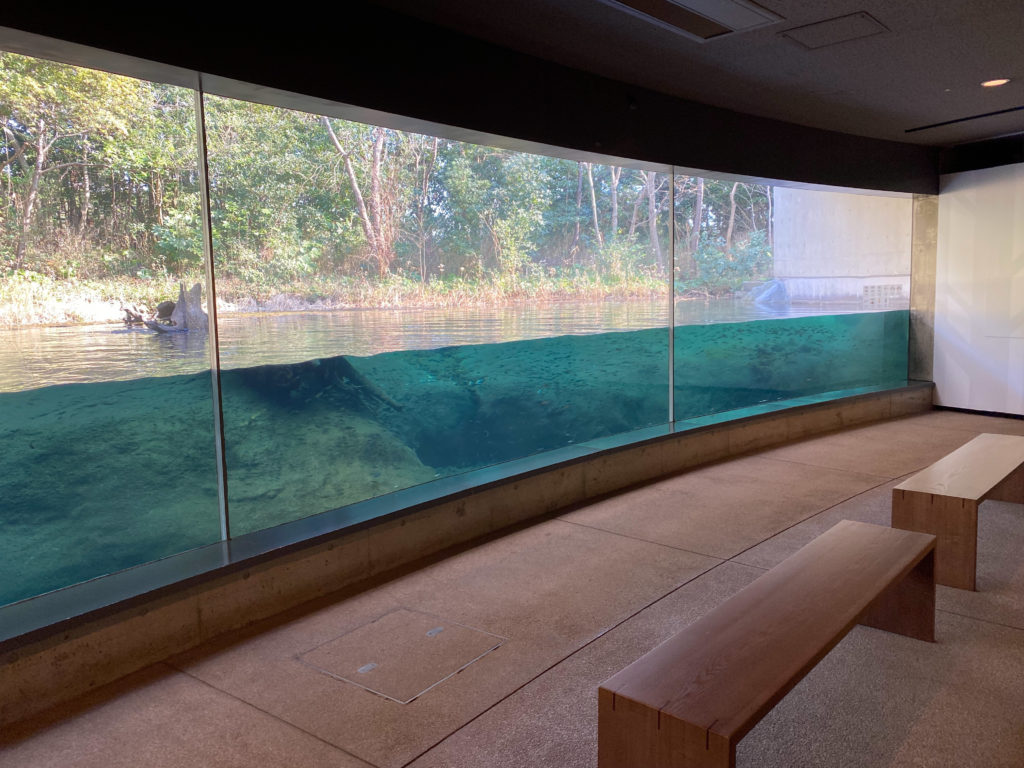 I loved how this allows kids to see freshwater life in their natural habitat.
Since our daughter was in such a good mood and it was warm and sunny outside, we decided to take a walk around Kasai Rinkai Park. As it's right on Tokyo Bay, we were able to see the ocean, which is something I always appreciate having grown up in a landlocked province in Canada. We were also pleased to find multiple plum blossom and cherry blossom trees. Baby A loved looking at the pink flowers and tried grabbing some (perhaps as a souvenir? Don't worry, we stopped her!).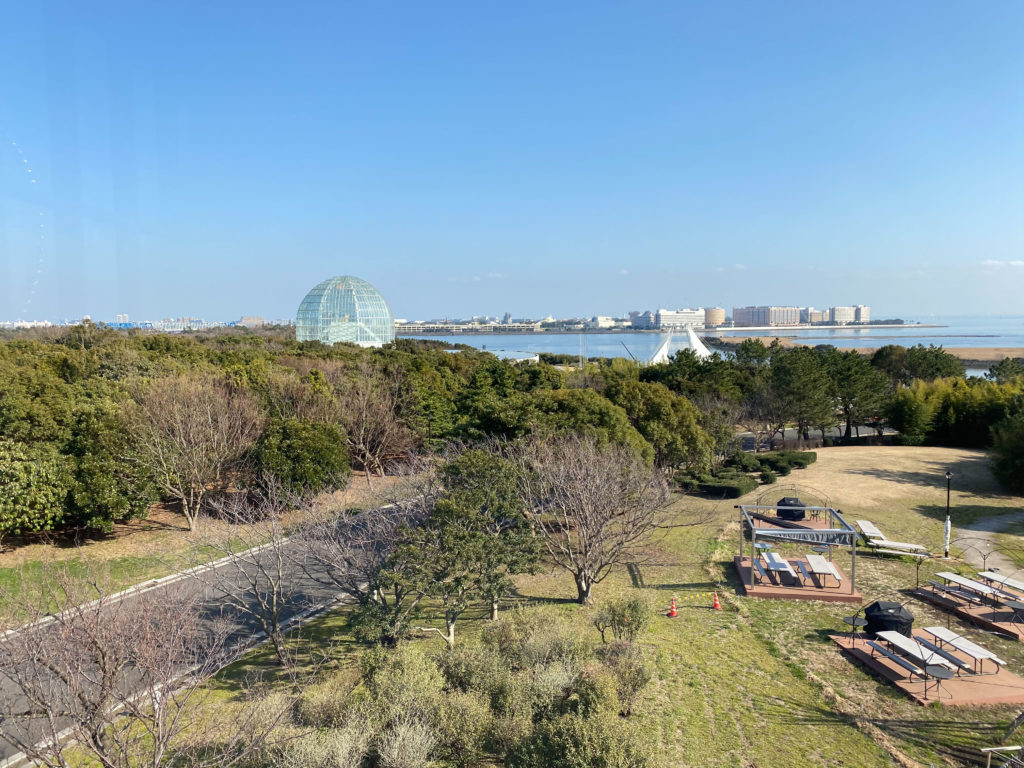 You can see a lovely view of Kasai Rinkai Park and the Glass Dome of Tokyo Sea Life Park from the Crystal View Observation Square. Keep in mind that when it's sunny it gets very hot!
Baby A enjoying looking out at Tokyo Bay. To the right there's an area where you can go straight up to the water, although swimming is not recommended.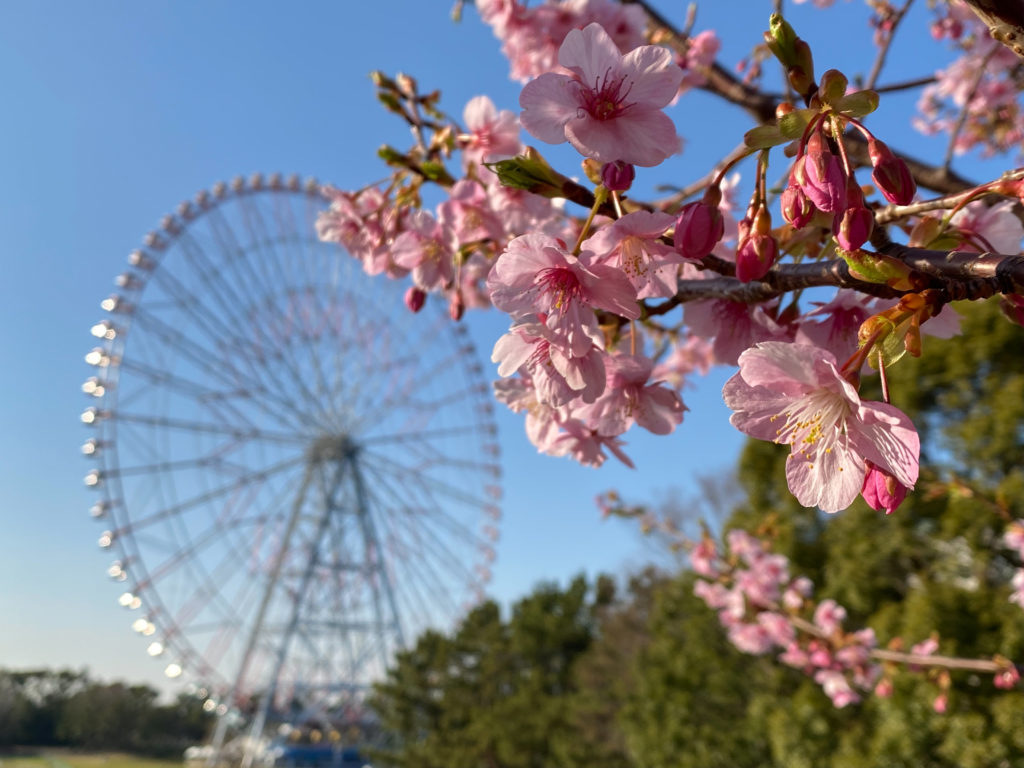 Cherry blossoms and the Flower Ferris Wheel, which gives riders a beautiful view of various iconic landmarks in Tokyo and its surrounding areas such as the Tokyo Disney Resorts and Mount Fuji. 
Overall, it was a really nice and relaxing outing. I highly recommend visiting Tokyo Sea Life Park, especially for people living in Edogawa, as the admission cost is quite cheap at ¥700, there are not many people, and you can enjoy Kasai Rinkai Park as well. 
---
For more information on Tokyo Sea Life Park, such as how to get there and hours of operation, please visit their website.  
Lastly, if you are visiting Japan, I highly recommend getting the JR Pass. This pass will give you unlimited travel all over Japan using trains operated by the Japan Railways (JR) Group. This includes Shinkansen (or the bullet train)! I honestly wish I was able to use the pass because it would save me so much money.
With the JR Pass, you can also secure seat reservations for free, and this is especially recommended if you're traveling during peak seasons like Golden Week (end of April to the beginning of May), Obon Season (mid-August) or the New Year (late December to early January). It's also worth making a seat reservation if you wish to guarantee a seat on a specific service or are in a large g roup that wants to sit together.