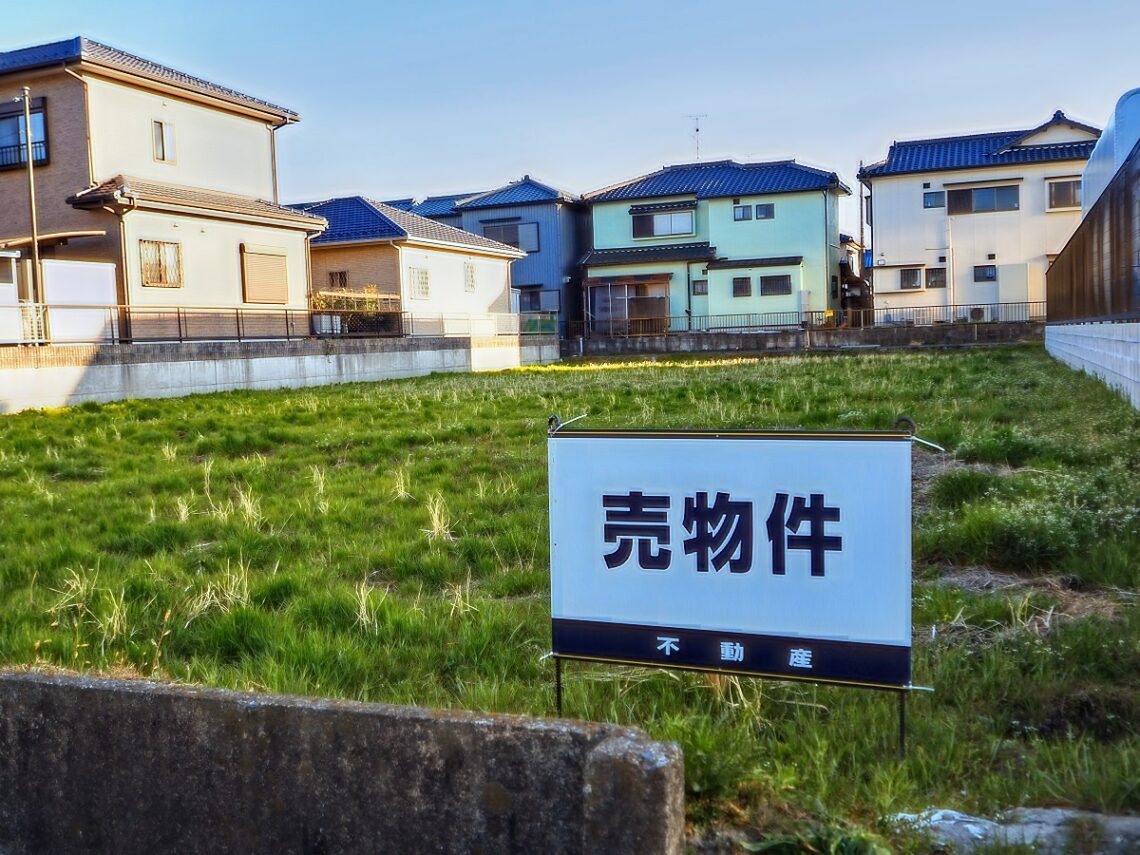 We're Landowners! Buying Land to Build a House in Japan
I'm finding it a bit surreal that I'm writing this but… we're finally landowners!  The search is over! (Note that the image above isn't our land, it's a stock image.)
If you've been following my blog for a while, you may know that we have been looking for land to build a custom house (注文住宅|chuumon jyutaku), although our journey hasn't been so straightforward. We had been waffling for years between living in Japan or Canada permanently, and then two years ago we made the decision to stay in Japan.
Buying or building property in Japan isn't necessarily an investment as it is in other countries like the US and Canada. Houses in Japan are known to depreciate in value the minute someone lives in them (the land itself tends to have more value). However, we aren't interested in selling at any point. This is a house we want to design just for us and enjoy living in until we die (or get sent to a retirement home, whichever!). And A will get at least some money if she decides to sell it. Of course, with the pandemic we know that things may change in an instant but for now, this is our plan.
Also, our decision to build a custom house doesn't mean we didn't consider a  ready-built house (建売|tateuri) or a pre-owned house (中古一戸建|chuuko ikkodate). We did and looked at a few, but none were exactly what we wanted, and we didn't know how long we would have to wait until something we liked showed up.
We lived in a ready-built house that was two years old and found it was cold and the quality was not the greatest. Our current house that we're renting is also ready-built and we are the first tenants. Although it's an improvement over the last one (and better than many of the other new, ready-built houses we looked at for sale), there are still many things we want to change to make it more comfortable for us.
And in terms of pre-owned houses, renovations for the ones we had considered (built within the last twenty years so it would be up to current earthquake safety standards) would also bring the cost up to the same as building a house from scratch, so we decided against that in the end.
Initially, we wanted to buy land in Kanto and had decided on an architect but finding land was another issue. We were thinking of two cities to build a house, Abiko and Ichikawa, which are both in Chiba but close enough to Tokyo for us to easily commute to work. But the land in Ichikawa was quite expensive for the size and good land in Abiko went fast. (And we never heard back from a real estate agent we asked to let us know about new land…)
Then we ended up moving to Kansai at the end of last year! Perhaps some people may think that our decision to buy land here after living in the region for only half a year seems drastic, but we knew it was right. We have never had a doubt about living in Kansai since we moved here. The feeling is very different from what we experienced when we lived in other regions across Japan. It just feels right. It feels like home.
(As an aside, if you've lived in only one prefecture in Japan, I highly recommend trying to experience living in another if you're able to. I've lived in four prefectures and spent a month in another while my husband has lived in five, and the differences are so interesting. You might just find a place that suits you better! Again, I know that this isn't possible for everyone when considering work and the cost of moving.)
Now that we've bought land (still feels surreal typing this), I thought I would write about our experience and what you should consider if you want to buy land and build a custom house in Japan.
First Step: Do Your Research About Buying Land and Building a House in Japan
There are a lot of resources you can use to read up on buying land and building a house in Japan. The last thing you want to do is buy land that is unsuitable for your needs (or even worse, completely the opposite of what you expected). This will also help you tons with Step Two (Finances).
We used the following books (which are all in Japanese, apologies!):
This is an easy-to-read manga to help you learn basic information about building a house in Japan.
Written by a Japanese architect, this book looks at what to be careful about when buying land and building a house.
This book covers the importance of building a high-quality house with insulation.
If you want to design your house yourself (that is, work with an architect to come up with the layout), then this book is a must. About half of the book contains easy-to-understand illustrations, so even if your Japanese isn't the best, you may be able to still understand the gist of it.
Second Step: Determine Your Budget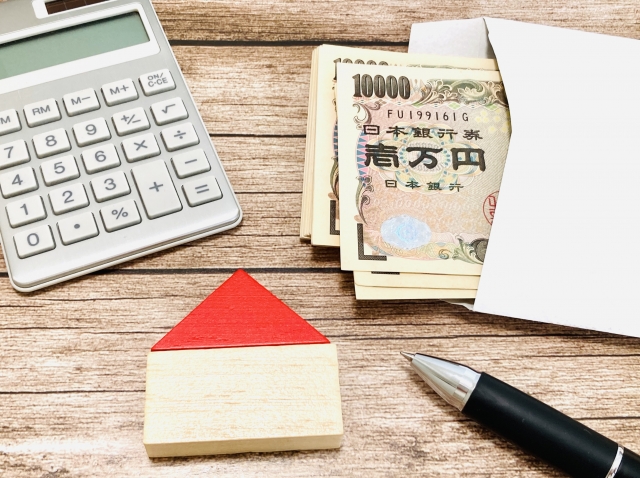 This may seem obvious but when you decide to build a house, you need to determine your budget. A useful way to think about how much you'll be able to afford on a mortgage loan over the years is to make a financial life plan. There are many sites that will help you do this, and if you're looking at building a house in Japan, it's best to use a Japanese site. I recommend trying this site.
There are also a lot of financial surprises to keep in mind, so what you think may be enough yen to build a house may not actually be. For instance, with the pandemic, the price of wood has increased, meaning houses are more expensive to build than before. The price of land has also gone up. (Our generation is really having a great time financially, aren't we?) And then when you start designing your house, sometimes you can't help but want the fancier options as the initial quote is typically always the most basic of the basic.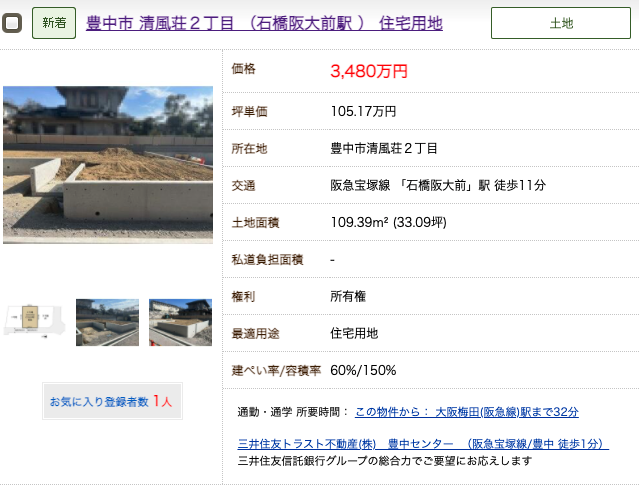 An example of a plot of land for sale in Osaka Prefecture
There are a lot of factors that play into the cost of land (where in Japan you want to live, distance from the station, the surrounding area) while the cost to build the house itself will depend on a number of factors, such as size, material, and the type of company you go with (more on that next).
To help you get an idea of the range, here are some stats for 2021 (if you're on mobile, swipe to the left to see the rest of the table):
Average Total Floor Area
(㎡)

Average Land Area
(㎡)

Average Construction Cost
(万円)

Average Land Cost
(万円)

Average Total Cost
(House + Land)
(万円)

Tokyo (most expensive)
98.5
110.3
2,648
3,462
6,110
Osaka
109.7
132.2
2,743
1,995.2
4,738.2
Akita (least expensive)
107.5
290.6
2,779.7
581.1
3,360.8
National Average
111.1
219.1
2,961.2
1,436.1
4,397.3
Source: https://ie-daiku.org/totikomi.html
The nice thing about Japan is that interest rates are very low (although they seem to be creeping up… When will we get a financial break, here?!). Here are the stats for average mortgage interest rates in 2022:
| | |
| --- | --- |
| Floating |  ∼0.4 |
| 5 year |  ∼0.8 |
| 10 year |  ∼1.0 |
| 35 year |  ∼1.4 |
Source: https://diamond-fudosan.jp/articles/-/127188 
This book is a good read to help learn about costs related to buying land and building a house in Japan, as well as getting a mortgage:

Third Step: Determine Who is Going to Build Your House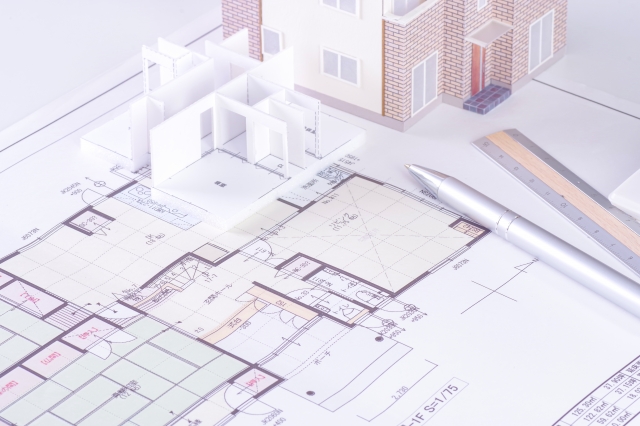 The aforementioned books mention that before looking for land, you should decide how you're going to build your house. This is the most important step as the company you go with will be the ones responsible for designing and then building your dream house.
There are three main options:
Housing developer (ハウスメーカー)
Local contractor (地域工務店)
Architectural firm (建築事務所)
Below are the general pros and cons of each (remember, swipe if you're on mobile to see the rest of the table!):
Type
Pros
Cons
Housing developer

They check the structure of the house carefully
Houses are durable and last long
Housing quality is usually consistent if they use the same builders. Some companies don't do this. For instance, some with in-house architects hire a building company that the architect recommends or has a connection with. This can sometimes lead to variation in the quality of the houses as it depends on the builder the architect has decided to go with.
One company tends to have branches throughout Japan, meaning that you're not limited in terms of exactly where you build your house. For example, if you live in Osaka but it turns out there's a nice plot of land in Himeji, then it's no problem if they have an office near there.
The design layouts are done for free
Low risk of bankruptcy so they can check and maintain your house for a long time in the future
Two-in-one as they both design and build houses

Not many choices in terms of design and layout
A sales representative usually designs the layout instead of an architect. The architect mainly works on the structure of the house and ensures that it meets city regulations.
Most expensive out of the three options, especially as they spend a lot of money on advertising (like those annoying TamaHome commercials), which you end up having to cover a portion of when you decide to pay them to build your house.
The level of insulation may not be the greatest

Local contractor

Flexible design and layout
Usually the most affordable out of the three
Different companies have their own specialties in terms of house design
Two-in-one as they both design and build houses, meaning they usually don't outsource construction to a third party and the quality of their homes is consistent.
You're more likely to find companies that specialize in high-quality, insulated homes
You're also more likely to find companies that specialize in SE工法 (more on that later)

The quality and design depend on the company, so you really have to do your research before going with a company
Can be time-consuming when it comes to looking for a contractor and then working with them to design the house
Takes longer to build a house and only a certain number of clients are accepted each year
There is the risk of a small contractor potentially becoming bankrupt while your house is being built. Again, do your research.

Architectural firm

The most flexibility in terms of design and layout
The house designs tend to be the best out of the three

There is no in-house contractor to build the house, meaning you have to hire one
Many banks won't give loans in this case because the cost to construct the house is through a third party and won't be known until the design is finalized by the architectural office. Therefore, you have to find a bank that will allow you to take out a loan only knowing the cost of the land and house design.
The most time-consuming out of the three
The construction company is decided after the design is finalized, meaning the time to build the house is up in the air.
Most of the three types of companies mentioned above will also help you with the following when you're searching for land:
The ideal land size you should look for
What price range you should aim for based on your total budget
Whether a plot of land is overpriced
Whether the land is in a dangerous area
Whether additional costs will be needed to fix the land (more on that later)
Some people will buy land before having anyone responsible for designing/building the house look at it. I highly recommend against this, as there can be problems that real estate agents won't tell you about.
For instance, we looked at a large plot of land that had a decent view of the city and mountains in Suita, Osaka. However, the local contractor we hired told us that the land was not stable and only a small part of the land could be used to build a house. They also advised us against buying land that has an old house that needs to be torn down because the cost of tearing down the house could be higher than expected if there are any problems (which in their experience happens quite often). This also went for land located on top of a retaining wall.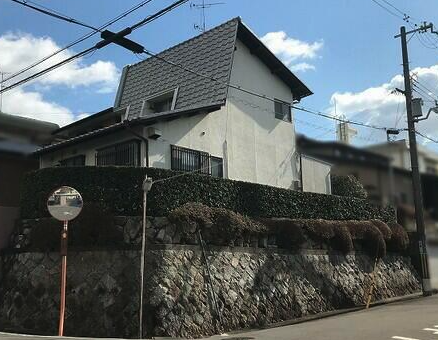 Try to avoid buying land with an old wall like this because it isn't stable and can be costly to fix
What should you consider when looking for a company to design and build your house?
Quality and Design

One key reason people decide to construct a custom house is to have a house of higher quality (compared to ready-built homes). So does the company meet this requirement? And this is likely obvious but if you don't like the kind of houses a company designs, you probably don't want to go with them.

Budget

Some companies specialize in sturdy and beautiful houses but can be pricey. Larger companies, in particular big housing developers, also tend to overcharge.

Needs

Do you want an insulated and air-tight house? Make sure to consider the insulation (UA値) and air tightness (C値) that companies offer when they build the house, especially since Japanese houses can be notorious for having hardly any of either!

Below are the levels of UA値 in Japan — the lower the better. For reference, a UA値 of 0.87 is considered quite poor insulation:

| | |
| --- | --- |
| 等級7 | UA値≦0.26 |
| 等級6 | UA値≦0.46 |
| 等級5 | UA値≦0.60 |
| 等級4 | UA値≦0.87 |
| 等級3 | UA値≦1.54 |
| 等級2 | UA値≦1.67 |
| 等級1 | – |

Note that the government is aiming to try to eliminate the lower levels  (1-3) by 2025 so newly built houses are more insulated and energy-efficient. But this is still up in the air.

Various architectural firms and house-building companies also have specialties, such as building extremely earthquake-safe homes or designing gardens. Interestingly, the CEO of the company we went with told us that Osaka has the most companies that specialize in gardens!

Updated Website

If the company doesn't update its website with its current work, it likely means they don't have many clients, which is not a good sign. The company we're going with frequently updates its website and even posted the first design proposal for our house last week! It's a nice way for prospective and current clients to get various ideas for building their own dream homes.

Reviews by Other Customers

Another obvious point but you don't want to go with a company that has dissatisfied customers.

Location

House-building companies, especially smaller ones, can only travel a certain distance when it comes to building your house. Our company will only travel up to an hour's distance from Higashi Osaka, which meant that we couldn't consider any land that was too far away; otherwise, we would have to go with another company.

Time Frame

There may be a waiting list for popular companies. We really liked a local contractor in Chiba but the company had a 1.5 to 2-year wait, which may not be ideal when you're paying both the rent on where you currently live as well as the mortgage for your land while the house is waiting to be designed and built.

If you want a well-built house, this will also take some time. Our house will take five months to build (after finishing the design portion) and is estimated to be finished by June 2023. However, if you want your house to be built fast, it can be built in three months by a larger building company, but the quality is another issue, so this may be the more expensive route depending on how your house will be built.

Paperwork is another thing to consider as once the design is finalized, it needs to be submitted to the city for approval, which also takes time. (2023 update: We submitted the paperwork for our house in December 2022 and construction began in February 2023.)

Whether They Sell Land

Some companies have their own land for sale, which means you don't have to pay additional real estate agency fees.

Whether They Have Connections

Good real estate goes fast but if you go with a local contractor or architectural firm that has connections with real estate companies, finding good land can be much less of a hassle.
In our case, we decided to go with a local contractor in Osaka. After reading the pros and cons of the list above, you might wonder why we made this decision. I'm not going to share the name of the company we're working with for privacy reasons (you can contact me if you want to know) but here are the reasons we chose them:
It's a family-owned business
The CEO is very hands-on. He gave the initial presentation about the company, explained in detail how they design houses (I had to revisit high school physics and math for a bit there!), replies immediately to my husband on LINE, visited every plot of land we were considering (and there were many), and wrote in detail about pros and cons of the plots of land he visited. Oh, and he's great with kids.
They do both design and construction — no third party
They have won multiple design awards in Japan
They use a newly designed way to build government-certified earthquake-safe and insulated houses called SE工法. This method also allows you to have more freedom when it comes to the layout of the house, especially if you want an open floor plan or big rooms as it requires fewer pillars and beams compared to typical houses built in Japan.
Around 600 companies in Japan as of 2022 use this method as it requires a certified SE construction management engineer. After the framework is built, the homeowner receives a certificate of authenticity. This certificate is useful to prove your house was built using this new method if you plan on selling later on.

You can find companies that specialize in this method here.
They build passive houses, which are energy efficient, highly insulated ( UA値≦0.46), and air-tight (C値 = <1)
0.87, and focus on getting the most sunlight. (They collaborate with an engineering laboratory at UTokyo in order to design and build houses that are energy efficient — cool in summer and warm in winter.)
Another one of their specialties is designing gardens
Their pricing is very fair when considering the quality of their homes and the all-around service they provide.
They hire another company to conduct a construction audit on the finished house to ensure the quality (such as airtightness) and document it for future reference
The company has connections with banks, meaning our mortgage interest rate is pretty low for a non-internet bank (more on that in Step Five)
Meeting with Companies
Once you narrow down the companies you are thinking about hiring, you'll need to meet with them to discuss your needs and whether they will be the right fit for what you want in a house.
We met with five companies in Kanto. The first meeting with each company was online due to the pandemic where they gave us an overview of their company and price range, asked us what kind of house we were hoping to build and the status of our land search, and so on. We narrowed down the companies to three for the second meeting where they each showed us a house they had recently built or were in the process of building (one in Chiba, one in Tokyo, and one in Saitama).
In Osaka, we contacted four companies and visited model homes for two companies. The decision to go with the company we're using was pretty much instant the moment we saw the model house. It also helped that the CEO was the one who met with us first and did an amazing presentation about the homes they build. It's clear he has a passion for building beautiful passive houses. I also enjoyed how he used a laser pointer on the floor to distract our whiny toddler like she was a cat so we could focus on the explanations.
Fourth Step: Searching for Land
There are two main ways to look for land — through a real estate agent or on your own. We chose the latter because it's cheaper but note that you have to be fast because good land is snatched quickly, which we learned the hard way. More on that later.
I was mainly responsible for looking for land online (asking real estate agents to send us new land was fruitless, they were all terrible). I used two sites:
I decided against using LIFULL HOME'S  because I didn't want to be overwhelmed with searching too many sites. There's also a site called ニフティ不動産, which compiles listings from several different real estate sites, but the UI is awful.
at home also usually has the exact address of the land, meaning you can go see it without wasting time booking an appointment with a real estate agent.
Using at home, I searched for land (土地) under the following conditions:
within an hour by train to Osaka-Umeda Station
under 35,000,000 yen
over 100 m²
within a 15-minute walk to the station
no house on the land that needed to be torn down (
no requirement to use a building company that owns the land (
Unfortunately, there is no option to select if a plot of land is near schools, so this is something you need to ask the real estate agent or look into yourself.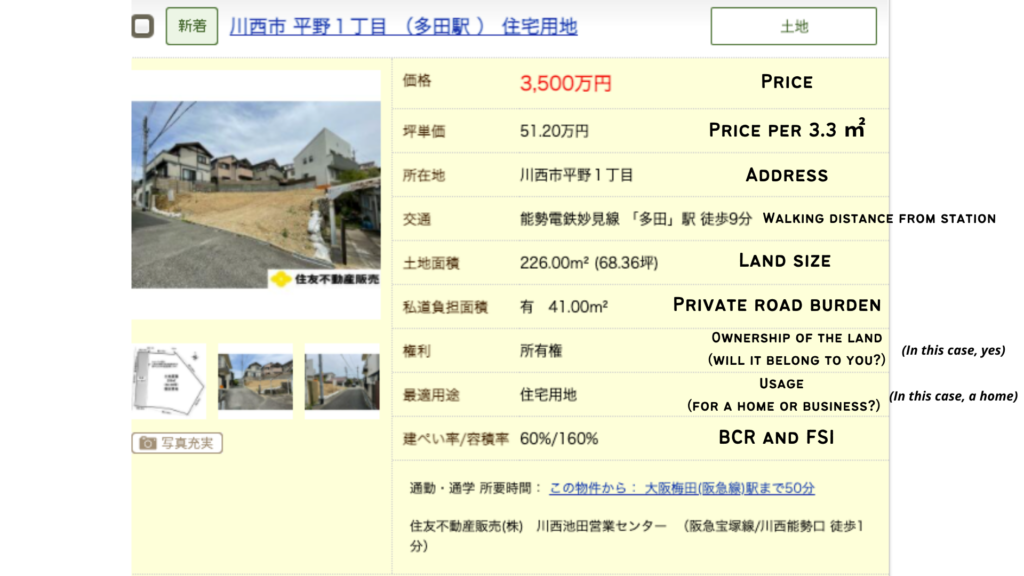 Other things to keep in mind are the building coverage ratio (BCR)  (建ぺい率 | kenpeiritsu) and the floor space index (FSI) (容積率 | yousekiritsu). The BCR is the building area divided by the land area, so a BCR of 60% with land that's 100 m² means that the area of your house can only be a maximum of 60 m². The FSI (sometimes known as floor area ratio) is the total floor area divided by the land area. This means that an FSI of 160% with land that's 100 m² allows you to build a house that has a total area of 160 m².
Also, note that some land may have a private road burden (私道負担 | shidoufutan). This is part of a road that you own and will use, but if something happens to this road (such as it getting cracked in an earthquake), you (and possibly others that own the road as well) are responsible for fixing it. Most people tend to avoid buying land with this as it can be expensive and, as the name implies, a burden.
(Note that if you don't have your heart set on a particular company to build your house, you can look for land under 注文住宅 | chuumon jyuutaku on Suumo, which is a custom-built house but the company that owns the land will build your house. Sometimes if you go directly to these companies for a consultation, they might show you some land they just acquired and haven't listed yet, which might just work for your needs and budget.)
Lastly, consider the surroundings of the land. The rental we lived in before we built a house was along a busy street, which meant that we had garbage flying onto our parking spot all the time, and once someone spit on the seat of one of our bikes. There was also a small path as well as an apartment building behind the house, so there was garbage there too. Much more than in the front because it was "hidden". It was quite horrifying to see how people did not care about throwing trash into someone's yard, and this was a very reputable area of Osaka. The only way to prevent people from doing this is to build a high fence.
This all happened in less than two years of living there, and I would not recommend it to anyone. Thankfully we won't have this problem with our new property.
Now that's out of the way, I'll share our search for land.
Off to a Good (?) Start
In the beginning, we went to a real estate company regarding a plot of land to see if there were other options. But the guy was young and inexperienced, so he took us on a two-hour drive to see plots of land we absolutely hated. After that, my husband and I just directly visited any new land that we thought could be a possibility. And there were so many. I can't even remember how many plots of land we looked at.
In early February, my husband saw a listing for some land that was the right size and right price in Kawanishi, Hyogo. There was no photo of the land so we figured we should at least look at it and were stunned to discover that, unlike the other land we saw, this one actually had a view of the city and mountains. We would have to climb a steep set of stairs to get there but it was within a 15-minute walk to a major train station with three train lines. An elementary school was also located a five-minute walk away, with no stairs required.
…if you take a slightly longer path that doesn't involve these insane stairs pic.twitter.com/F7dvuh3I6u

— Kay 🌙 (@tinyintokyo) February 12, 2022
There were two other plots alongside the one we saw that were a bit higher up, but they had already been sold, and we had a feeling this one would go fast as well. So immediately after we saw it, we contacted our local contractor and had the architect and CEO take a look at the land the next day.
They were very excited and said it was a great deal for the location, view, and price, especially since the real estate company owned the land so we wouldn't need to pay additional fees. My husband and I decided to go with it, but there would be a mortgage check first. This was the first time my husband would see if he qualified for a mortgage, so it would take a week. After that, it's much faster.
Unfortunately, on the day my husband qualified for the mortgage loan, somebody bought the land with cash (despite not even having decided on a building company apparently, which is risky but oh well, it's their money).
It was quite devastating for us but this seems to be common when looking for land. On Twitter, someone living in Tokyo mentioned that this happened several times to them over the course of two years. They were very happy with the land they eventually bought but I couldn't fathom the thought of taking two years to find land. Maybe if we were younger but with rising costs and the rent for our current home being subsidized by my husband's company only until November 2023, we didn't want to wait.
Get Knocked Down, Get Up Again
I started searching for land like a madwoman and found one in Kobe that had a stunning view of the city and the bay. Unfortunately, the CEO felt that it would be risky because although it was located in a yellow "somewhat" safe area according to the city, it was right next to the mountain so if there was a mudslide, our house and the other houses next door would be the first to go.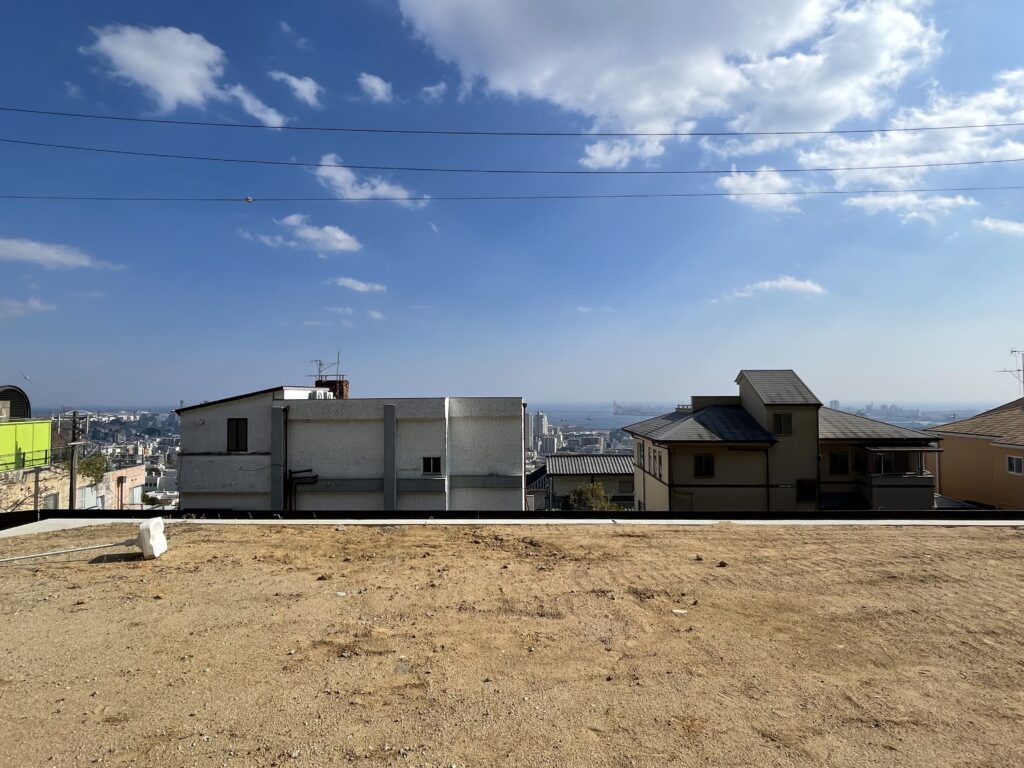 We would have a lovely view from the second floor…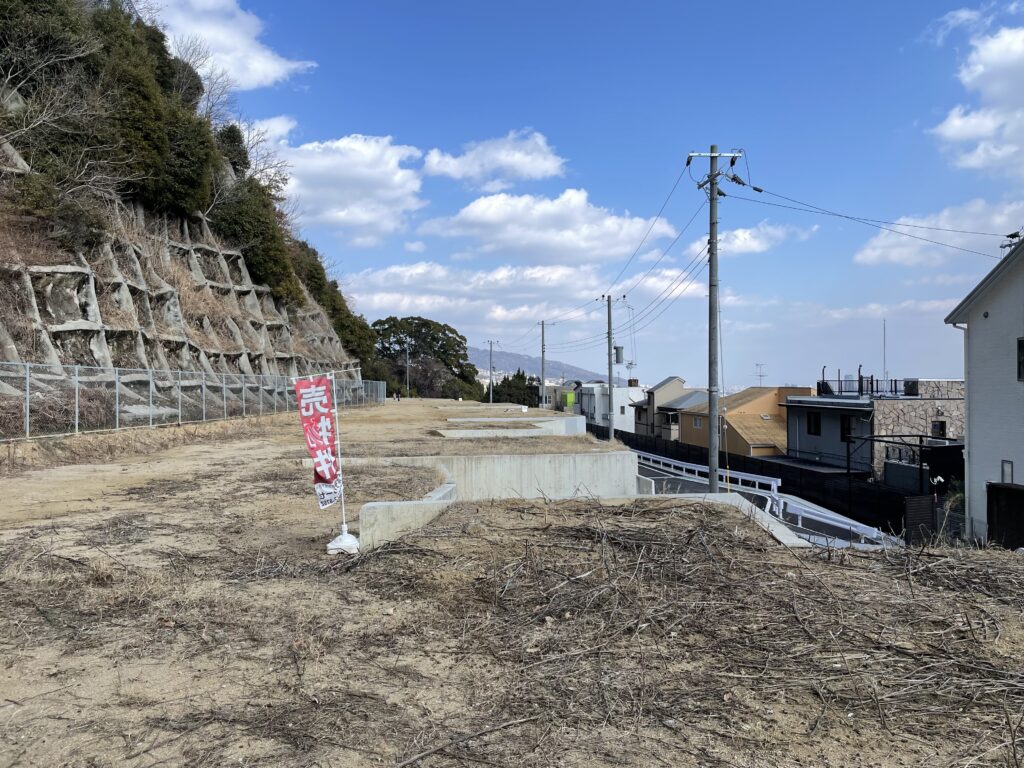 But it's a little too close to the mountain for comfort
Below is a link to a very useful map by the Ministry of Land, Infrastructure, Transport, and Tourism of Japan, which shows whether a plot of land is in a hazardous area. We checked every plot of land we were considering using this website.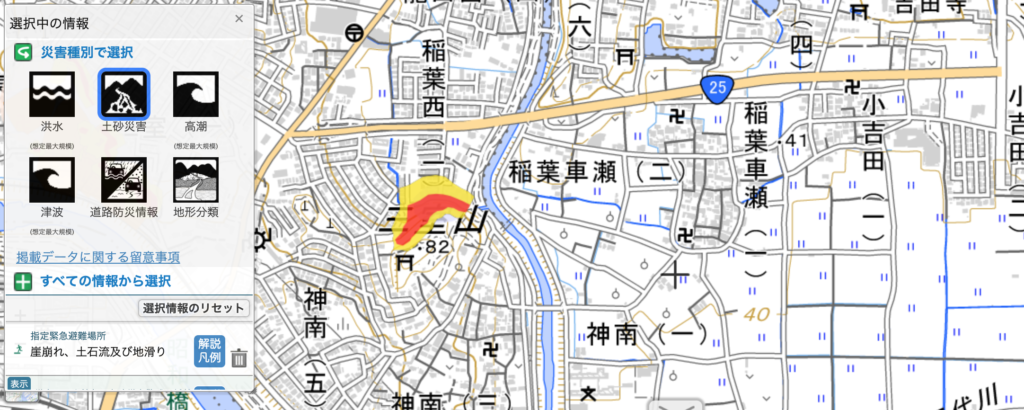 The image above is an example of what a location in Japan may look like on the hazard map (note that this is not the land we were considering). Each box to the left represents a possible hazard: (clockwise from the top left) flood, mudslide, high tide, land category, road category, and tsunami. When you click on a particular box, it will show you whether or not there's a hazard or give you information about the land/road.
In this image, I selected "mudslide", so one area is shaded in red and yellow. This means that there is a chance of a mudslide in that area. If the land you're thinking of is in a yellow area, there may be a chance of a natural disaster potentially destroying your home. If the land is in a red area, it's recommended that you do not build a house there.
Since the land we had been considering was so close to the mountain, there would also be a chance of encountering animals such as wild boars and lots of insects. On top of that, the 15-minute walk to the station was fine going down but it was really tough going up. I can walk long distances and have no problem with hiking for hours but the last half of the walk to the land was all uphill at a steep incline and I had to take a break because I was wiped out. In summer it would be excruciating.
Lastly, the land wasn't cheap. It was under budget but just barely. Despite the gorgeous view, there were too many cons to living there.
(2023 update: We were in the area over a year later so we decided to look at the land again and… less than half of the plots were sold! It was also very scary being so close to the mountains and my daughter started screaming about there being a ghost and wanting to go home, which she has never done before, so I'm glad we decided against it!)
Things are Looking Up…? Maybe…?
Soon after, I found another plot of land, this time in Takarazuka. The land had an old house (more like a shack) and several trees that would be demolished by the real estate company to make six plots of land for sale.
The local contracting company's CEO and architect couldn't evaluate the land until it was developed, which would take three to four months. We also found out that the height of the land would be reduced, meaning we would likely get the roof of someone's house in our view from the second-floor living room we planned to have. So in the meantime, my husband signed a non-binding contract for the land. Once the land was developed, he would sign the binding contract.
(Update: As of February 2023, the land STILL hasn't been developed! We're guessing they hit a snag with the city.)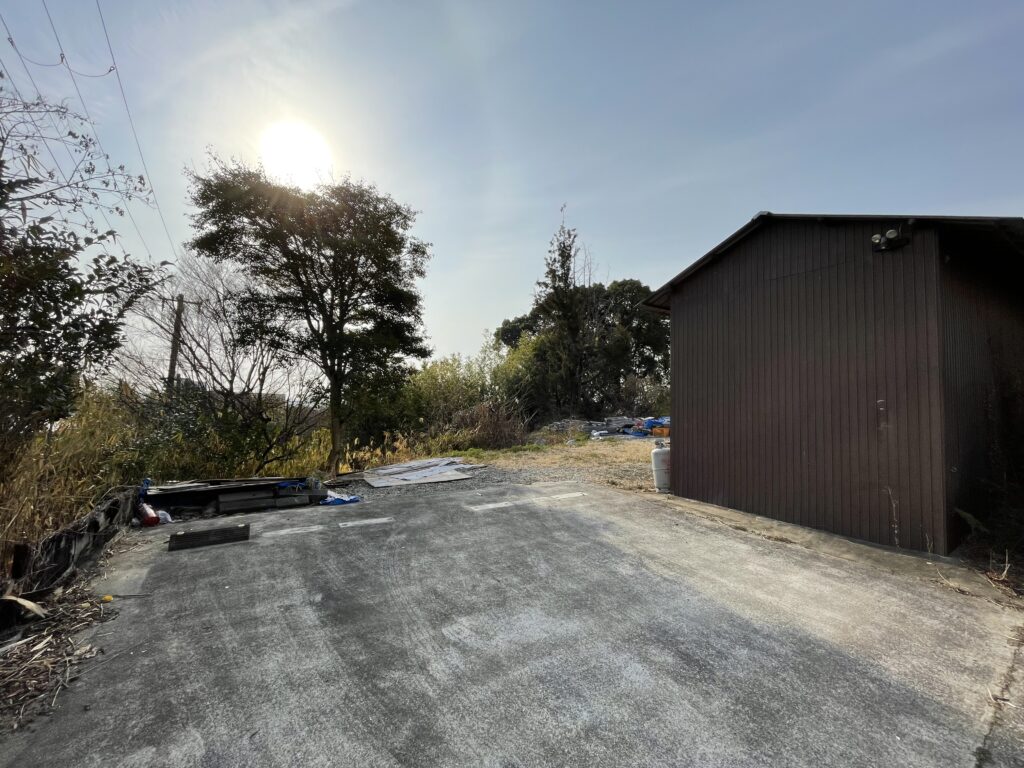 Lots of work to be done here
We decided that we would continue to look for land while we waited for the land to be fixed and checked out places in Nara and Kyoto, but none were what we wanted.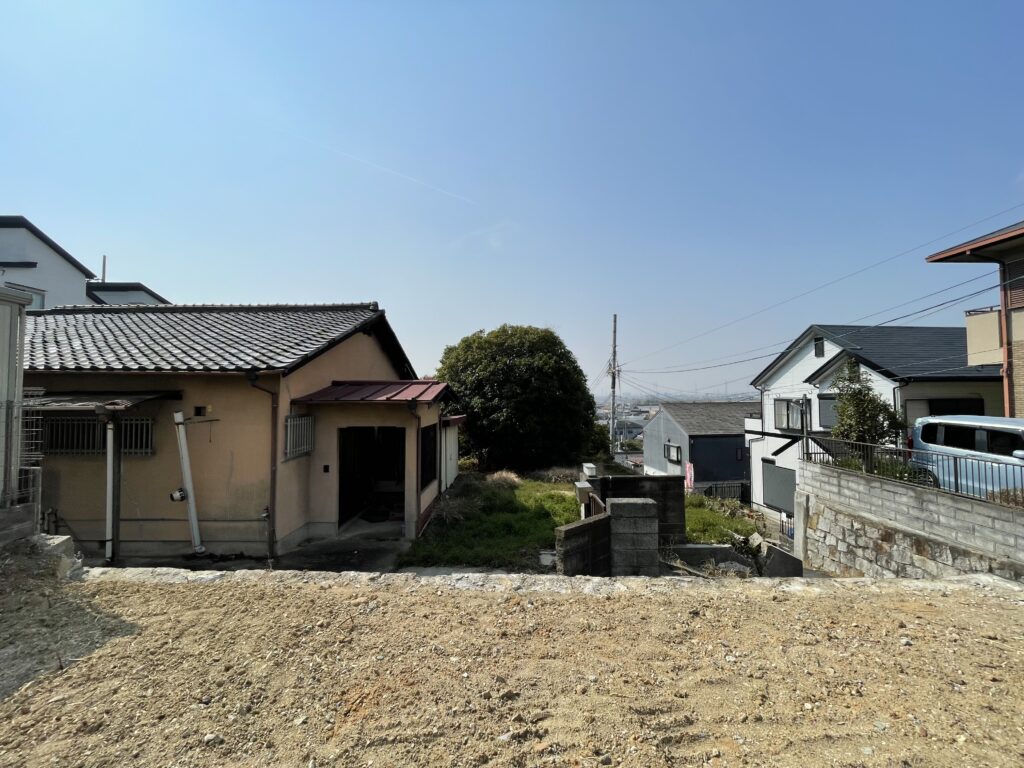 Not bad but not quite what we want… 
And then one day, my husband sent over some PDFs of land from the real estate agent handling the land we were considering in Takarazuka. I noticed all of them had "bus" written on the commute section, so I rolled my eyes and texted a firm "NO" to my husband.
But then I started thinking.
Many of the real estate agents and the local contracting company's CEO mentioned that houses with a view tended to be located on hills (unsurprisingly) and the best views were far from the station. I didn't want to take a bus but maybe I needed to compromise somewhere, especially as my husband and I work from home, so commuting is not really an issue for either of us.
Making a Compromise to Find THE ONE
So I started searching for land which included taking a bus to the station and one caught my eye. The area was newly developed and reminded me of the suburbs in my hometown in Canada. The bus ride from the station was only five minutes, the bus stop would be super close, and it seemed like I could easily ride my bike to the station as well. It was also only 30 minutes from Umeda!
I sent it to my husband who was visiting his parents in Hiroshima with our daughter and he said he would look at it on the way home.
I wasn't expecting much since he didn't seem thrilled about having to take a bus to the station either but I was surprised when he came home and said he loved it. He excitedly showed me pictures of the plots of land for sale, which all had beautiful views of Osaka city, Osaka Bay, and the mountains. Each plot was also nearly two times larger than the land we couldn't get in Kawanishi.
A few days later, I took a look at the land with just A, partially so I could see what the commute would be like with a small child. Although the station is small and the bus situation a little annoying as it's currently not that frequent as the area is still being developed, I liked how many essentials were within walking distance of the land itself, such as clinics, Family Mart, a grocery store, as well as schools.
And as I saw in the advertisement for the land, the neighborhood is filled with new, gorgeous houses that remind me of Canada. The view as you walk to the land is also stunning, with large lush green mountains but enough of the city to give a lit-up view of bright lights at night.
Rather than the land going to whoever passed the mortgage check first (or paid in cash), this particular land was sold according to a lottery system. There were several plots of land that were for sale and in mid-April, they would draw a name to determine who "won" the land. After losing the previous plot of land in Kawanishi to someone who could pay in cash, and knowing that something similar could likely happen with the Takarazuka land, we found this lottery system to be very appealing.
The CEO of the local contracting company we decided to use also quite liked the area. We had initially thought we would apply for a corner plot that was slightly bigger than the others but he said that since it was on the corner, there wouldn't be much privacy if we wanted lots of windows and a view from the second-floor living room (which we did). He recommended the plot next to the corner one instead, which surprisingly no one had applied for (likely because it was the same cost as the corner plot but a bit smaller). The bus stop was also one house away, so close that we would be able to see the bus coming from our house and run outside to catch it. No waiting in the heat, rain, or cold!
We hoped that no one else would apply for that plot of land as all the other ones had at least two applicants. Had the CEO not selected that as the best plot in terms of view and lighting, we never would have considered it.
We applied for the lottery and then waited. Applicants could change their minds up to an hour before the lottery but no one did so the land was automatically ours! My husband and I had expected the worst so it was almost hard to believe. We got the land!
(2023 update: All of the plots in the area, including ones with no view at all, have been sold. Our new neighbor also sold their place in Ashiya to build a house in this area, which is especially reassuring that we made the right decision as Ashiya is quite a desirable neighborhood in Kobe! Oh, and our daughter hasn't mentioned a ghost even once.)
Fifth Step for Buying Land in Japan: Down Payment and Applying for a Morgage Loan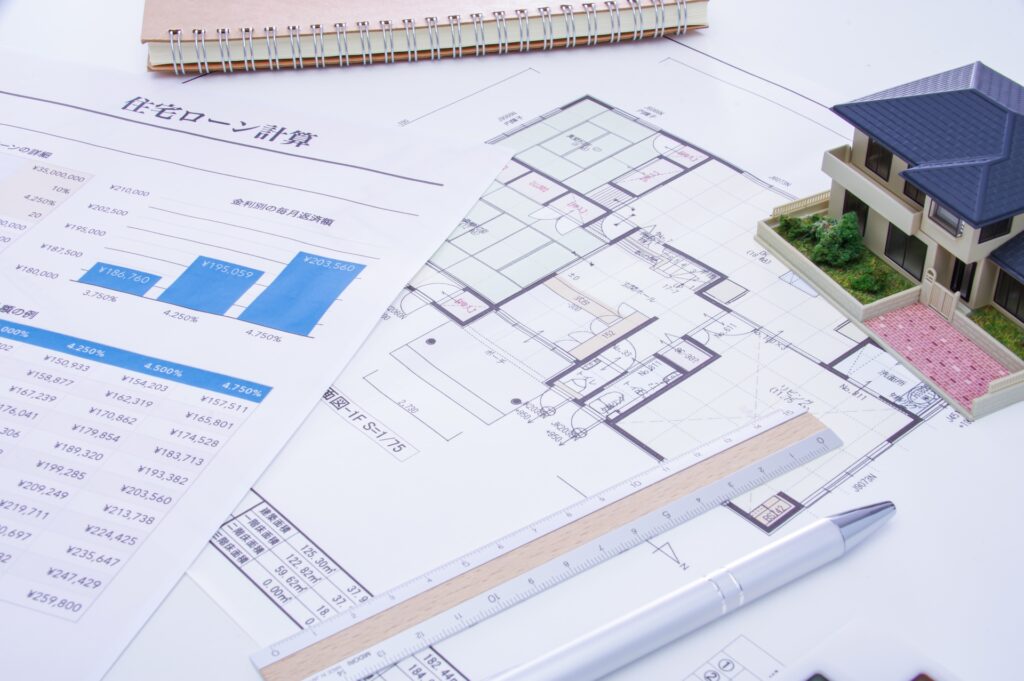 If you go with a big house developer, they will make a layout of the house for you so you know what it will look like before you make a down payment and sign the contract for the land (sometimes even before the mortgage check so you can let the bank know more accurately what the cost for the house will be).
In our case, after we "won" the land in April 2022, my husband had to go to the real estate agent to apply for the land (although it was pretty much ours at this point) and our local contractor helped us with the pre-mortgage check for the loan. It took about 4-5 days. Once it was approved, we put 10% down and signed the contract for the land.
Then my husband had to gather and submit a number of documents for the mortgage, which the local contractor handled on his behalf. The local contractor also made a rough design of our house to submit to the bank as the actual design process takes time. (The house we're actually going to build looks nothing like the submitted plan so far, but there's no problem with this when it comes to getting approved for the loan.) Once it was approved and everything was finalized (June 2022), we started paying the mortgage for the land (July 2022).
Note that internet banks like SBI, Rakuten, au, and AEON have lower interest rates; however, you alone are responsible for handling all the paperwork for the mortgage, which is very time-consuming. Mortgage loans through internet banks also require that the house is built within a year.
If you're having trouble getting a loan, my advice is to check with every bank possible in Japan. Do not get defeated! Some foreigner-friendly banks include CITI bank and SMBC (Prestia). It's much easier to get a loan if you have PR but still possible even if you don't.
Here is a general idea of the list of the documents you usually need to submit to apply for a mortgage loan, which you'll need to get from your employer, the bank, as well as city hall.
Now, if you're a foreigner with a Japanese spouse and wondering if you should be on the mortgage/land ownership documents as well, there are pros and cons to this. Do your research and if possible, speak to a bilingual lawyer who specializes in this area.