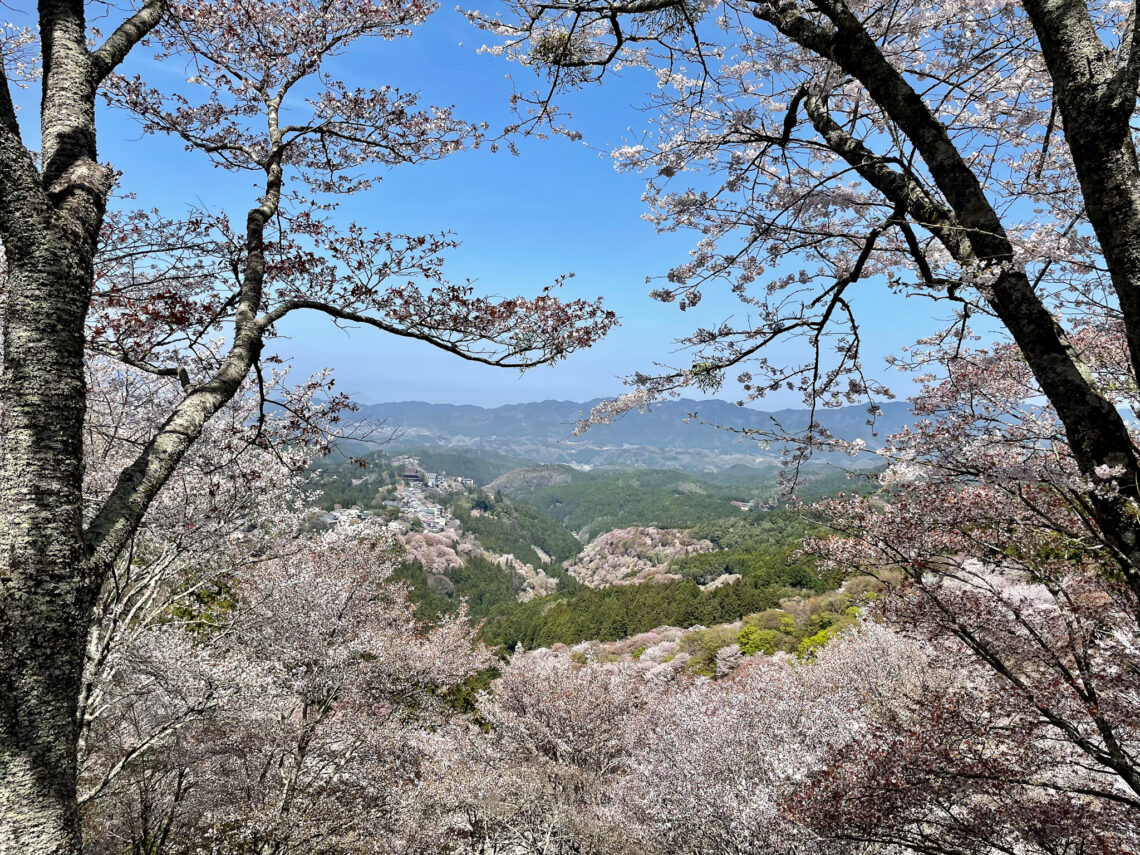 Hiking Nara's Mount Yoshino for the Best Cherry Blossoms in Japan
During the second weekend of April, my family visited Mount Yoshino (吉野山) in Nara to take in their famed cherry blossoms, and it did not disappoint. This kind of topic isn't something I typically write about but I feel like it has to be shared because despite living in Japan for a decade now, I had no idea about it until moved from Kanto to Kansai. And my husband, who was born and raised in Japan, agrees with me when I say the cherry blossoms in Mount Yoshino are hands down the most stunning in Japan. There is no better place to see thousands of sakura in one glance.
Hiked Mount Yoshino today (and yes, with a toddler!). The thousands of sakura nestled in the mountain is breathtaking. Hands down the best place to see cherry blossoms in Japan! pic.twitter.com/1H6jMaT2Rd

— Kay 🌙 (@tinyintokyo) April 10, 2022
Mount Yoshino is located in, unsurprisingly, Yoshino, a southern region of Nara Prefecture in Japan. In 2004 it was named a World Heritage Site although it's been famous for hundreds of years because of its breadth of cherry blossoms, boasting over 30,000 cherry blossom trees of various species. This means if you visit during cherry blossom season, you will be treated to a beautiful sea of pink below you as you hike up. Mount Yoshino also has stunning fall foliage, so it's a good place to visit in autumn as well.
There are four main parts to Mount Yoshino:
Shimo Senbon (下千本): the base of the mountain with the earliest blossoming trees
Naka Senbon (中千本): the middle part of the mountain with shops, restaurants, and temples and shrines
Kami Senbon (上千本): the upper part of the mountain with a more beautiful view of the trees
Oku Senbon (奥千本): the top of the mountain with the latest blossoming trees
Going to Mount Yoshino
There are two main ways to get to Mount Yoshino.
By Train
This is probably the most common choice for people, especially those without cars. By taking the Kintetsu Railway from Osaka to Yoshino Station, located in Shimo Senbon, you don't have to worry about getting a parking spot or paying for one. Yoshino Station is also closer to the mountain than the larger parking areas. The only trouble is that the trains are packed during cherry blossom season. If you want to be guaranteed a seat (especially if you have a young child), try to get a reservation for a limited express train.
After getting off the train, you have the option to take a bus or ropeway to the Naka Senbon Bus Terminal to help cut down on walking time (definitely recommended if you have a child!). However, you can still see some lovely cherry blossom trees if you decide you don't want to go further.
During cherry blossom season (late May to late April), the bus runs twice an hour from Yoshino Station to Naka Senbon Bus Terminal. The one-way fare is 450 yen.
The ropeway (Yoshino Ropeway) runs four times an hour from Senbonguchi to Yoshinoyama Station and costs 800 yen for a round trip (450 one way).
By Car
We chose to go by car and I believe we will do the same next year if we decide to go again during cherry blossom season. At first, we thought the train would have been faster since the station is closer to the mountain than the larger parking areas. But after seeing how many people were waiting for the bus both from and to Yoshino Station and how many were unable to get on the train, we decided that for us, a car would be better.
There are several parking spots in and around Mount Yoshino. The ones in the mountains are very few and after they fill up, the road to them tends to close to prevent cars from obstructing the road. The ones further away require you to take a shuttle bus to the beginning of the trail; however, if you park at the closer spots, you have to walk, so in a sense, I think the further parking areas are better.
The cost of parking is 2000 yen and the shuttle bus to Naka Senbon Bus Terminal (see the map further below) is free. The parking lots are open from 7 AM to 6 PM (last entry at 3 PM) on weekends during cherry blossom season.
The bus stop near the furthest parking area is located at 第1駐車場 (Parking Lot 1). This is a short walk across a bridge from the furthest parking area and despite the number of people you may see lined up for the bus, it moves pretty quickly as the buses run quite frequently, so don't panic!
Read this for more information on parking during cherry blossom season (in Japanese only).
Hiking Mount Yoshino to See the Best Cherry Blossoms in Japan (with a Toddler)
The title of this section has "with a toddler" in it but this is only because that's exactly what we did — hike Mount Yoshino with a toddler. However, if you want to try the hike with your baby, I think it's possible. I didn't see anyone with a baby doing the hike (or anywhere in the vicinity, now that I think about it) and I do not recommend bringing a stroller, but if you have a good baby carrier like Ergo and have your diaper bag with you, I think you should be okay.
Mount Yoshino is a great place to hike any time of year, but of course, cherry blossom season provides an otherworldly experience. We went on April 10th and the cherry blossoms were already in full bloom, although the flowers on some trees had already fallen. It's hard to predict exactly when the trees will be in full bloom, but to get a general idea, use this website.
We planned this trip fairly last minute so we were quite lucky as I was expecting most of the cherry blossoms to be gone. However, the trees tend to bloom later in Mount Yoshino compared to nearby cities like Kyoto and Osaka. However, this meant that there were tons of people, far more than I was expecting.
If you're planning on visiting Mount Yoshino during cherry blossom season, I highly recommend staying somewhere nearby. There are several small ryokan or Japanese-style inns you can stay at but the ones in the mountain book up fast and are more expensive when it's high season. The less expensive ones don't necessarily have a bath in the room so you have to use a shared one, which might not be possible if you have a child still in diapers.
It is possible to do this as a day trip if you live close enough but I don't recommend doing this with a small child if you live more than an hour away. For us, the trip was two hours one way.
We decided to stay at a hotel in Nara an hour away because we thought we would go to Mount Yoshino on Saturday and then stay at the hotel at night as it was on the way home. However, something came up so we ended up leaving Osaka later than we hoped and by then, the roads to Mount Yoshino were jam-packed. Instead, we decided to visit Kashihara-Jingu (橿原神宮) and Hasedera Temple (長谷寺), which are among the most stunning shrines and temples we've visited in Japan. Then we had some yakiniku for dinner at Geihinkan, a chain restaurant in Nara that is delicious but affordable (absolutely make a reservation if you're going on a weekend).
Visited 橿原神宮 and 長谷寺 in Nara yesterday. Both absolutely beautiful in their own unique ways. My husband isn't much into shrines and temples but even he was impressed. pic.twitter.com/4kqRsVUQfT

— Kay 🌙 (@tinyintokyo) April 9, 2022
The next day, we arrived in Yoshino at around 8 AM on a Sunday morning and ended up parking at the furthest parking lot, which required us to take a shuttle bus from 第1駐車場 (dai ichi chuushajou), located a short walk away across a bridge in River Field Yoshino. Despite having arrived an hour after the parking lot opened, it was almost full and we had to park on the side furthest from the bridge.
As we headed to the bus stop, I noticed that people were in a range of clothing, some in proper hiking gear and others in heels. My family was in sneakers and comfortable clothing, but we didn't have the intense hiking gear that older people without children had. I don't think it's necessary to be completely decked out but it doesn't hurt if you already have the items on hand.
We also had our Ergobaby Omni Carrier, a jacket for A (just in case), the usual diapers, wipes, etc., some snacks, and some water.
Things I wish I had brought?
bentos or onigiri
more water
a backpack instead of a purse and my yellow Pikachu bag from Mister Donuts (don't judge me, it's light and fits the Ergo perfectly!)
sunglasses
hats
a portable charger for my phone
There was a long line at the bus stop, which reminded us of lines for rides at Tokyo Disneyland before the pandemic. But we only had to wait for about twenty minutes to get on a bus and thankfully my daughter was able to sit down in one of the priority seats while my husband and I stood. And then came the most stressful part of the journey — the bus ride.
The bus ride took about forty minutes due to the traffic and a small one-way tunnel. At one point the bus had stopped completely for over ten minutes and I overheard an old lady standing next to me tell her friends that this was the first time the bus ride took this long. For a second I thought there may have been an accident, but I soon realized that the larger than normal crowds were likely because people got vaccinated for COVID so after abstaining from visiting for two years, they all came out in droves.
After the long bus ride, we finally arrived. The bus stopped at Naka Senbon Bus Terminal, which is halfway up the mountain. From the bus stop, there are two paths you can choose. The longer route down a road will lead you to some cute restaurants and shrines while the shorter route up a set of stairs has fewer restaurants, but they both merge at one point. We chose the shorter route, mainly because everyone else was going that way.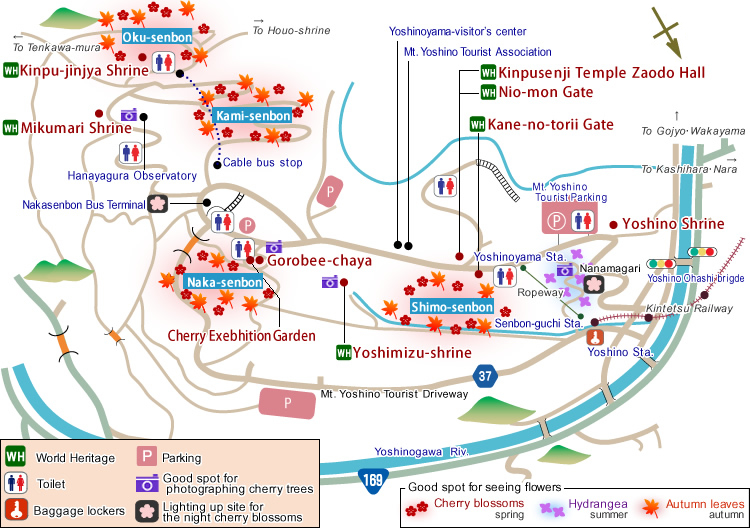 An English map of Mount Yoshino by the Mt. Yoshino Tourist Association. We started our hike at Nakasenbon Bus Terminal.
Once we made our way up the stairs, we saw several people waiting at another bus stop and learned that the bus would take you near the top of the mountain, to a location called Oku Senbon Guchi near Kinpu Shrine. This area is very famous for its view of cherry blossoms. However, we overheard someone saying that the wait was over an hour long. The "bus" itself is more like a shuttle van, so it could only fit a small number of people at a time.
Although it would have been nice to take the shuttle bus up and then hike down, we decided to forgo the wait and just hike up.
Right off the bat, we were greeted by lovely mountain views and cherry blossoms, although some of the leaves on the trees had already begun to turn green.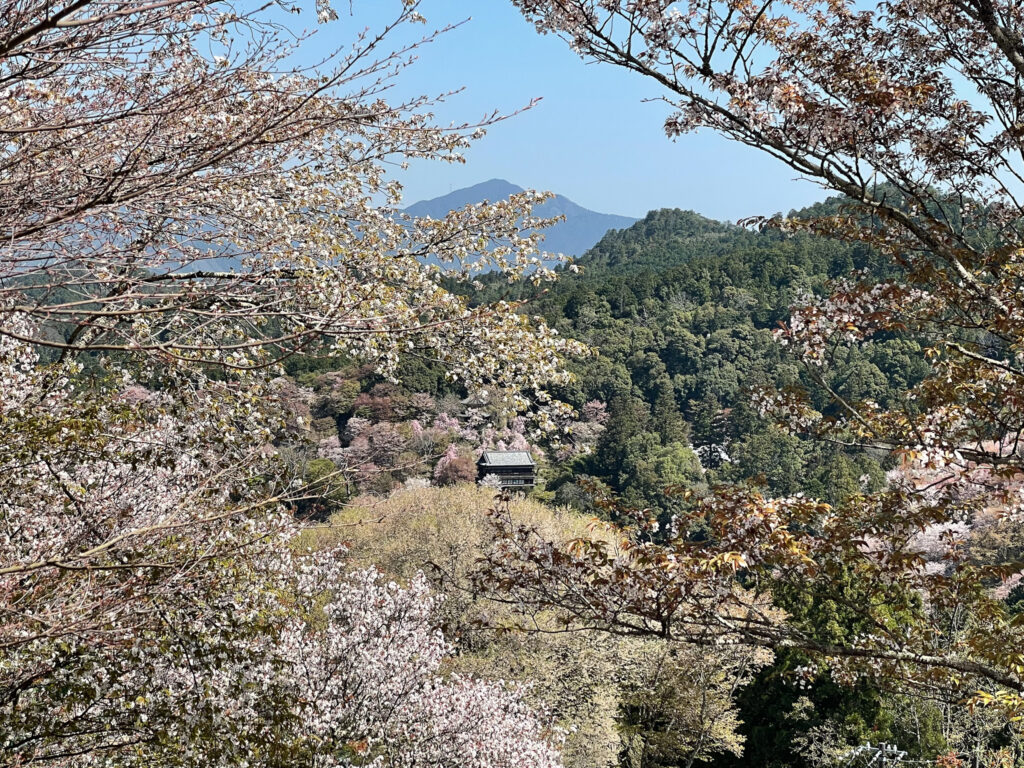 A few days earlier there would have been much pinker but this was beautiful enough for me
And right off the bat, my two-year-old demanded to be held and refused to go in the baby carrier. She finally sucked it up and walked, although my husband gave in and carried her from time to time.
We decided to hike to Yoshino Mikumari Shrine (吉野水分神社), which would take about 45 minutes. The start of the hike isn't that intense (are they ever?) so it's great for children. There's a small rest area where you can buy sakura ice cream and souvenirs. The views are also stunning.
The higher we went, the more we were treated to beautiful views of sakura below us. It was a great motivator.
About 45 minutes into the hike, we reached the Hanayagura Observatory (花矢倉展望台), which is one of the most famous places to see cherry blossoms in Mount Yoshino, and it did not disappoint.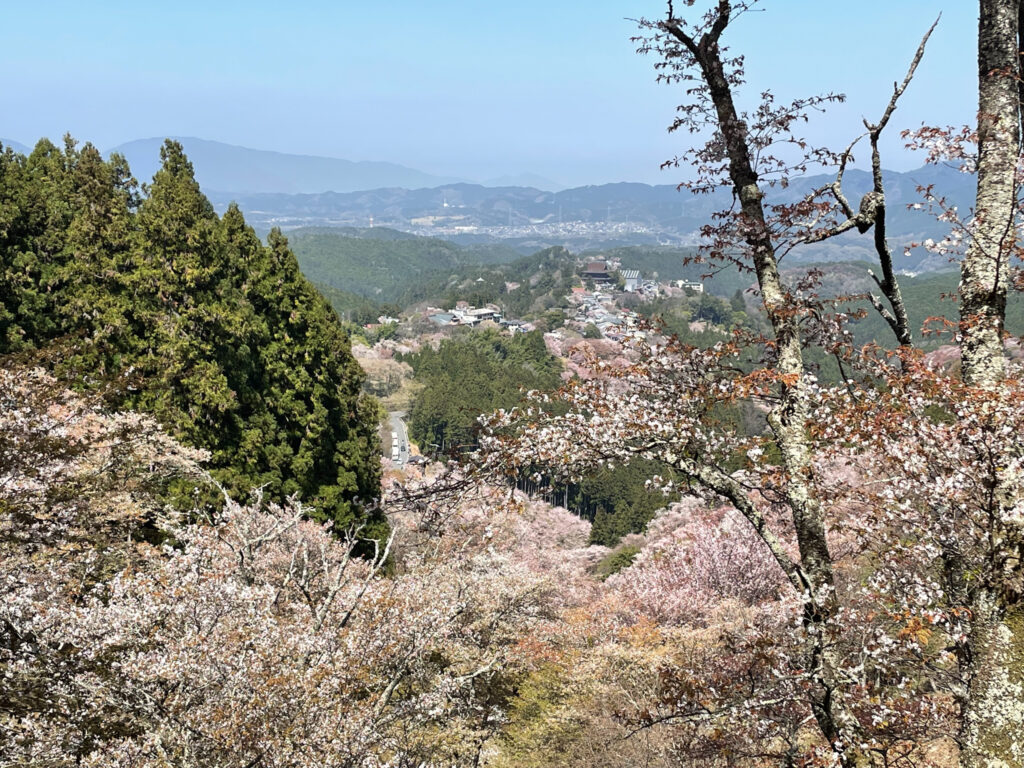 No better place to have hanami than this!
Some people decided to have a small picnic in this area so we decided to have our snacks and drinks as well. This is the time I started regretting not bringing a bento. I thought there would be more restaurants or food (and there would be… just not for a while longer).
After eating and taking a ton of photos, we continued on to Yoshino Mikumari Shrine, which was a short walk away.
The shrine is small and there was a line for the goshuin, a stamp you can get when you visit shrines and temples in Japan. The line was quite quick, though, and I took lots of photos of my husband and daughter, and the weeping cherry blossom trees as I waited.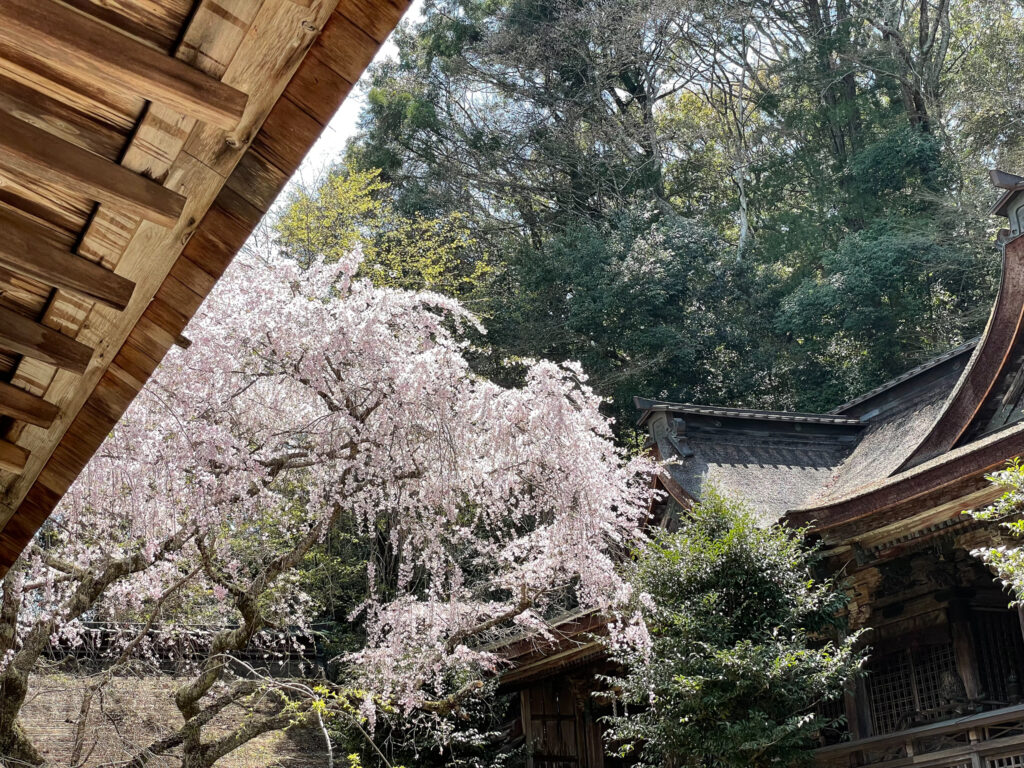 With a view like this, I didn't mind the wait at all (although it was pretty short anyways!)
At this point, we wondered whether we should continue up, and since we had only been hiking for an hour, we felt that we had enough energy to continue going. So for another half an hour, we made our way up, this time to the Takagiyama Observation Deck (高城山展望台). The path up was steep and had lots of stairs, so it was somewhat harder than before, especially for my husband who was carrying our daughter in the Ergobaby.
When we finally made it, our daughter had a lot of energy and ran around in a grassy area near the observation deck. There was also a group of older Japanese hikers making yakiniku (!) and my husband and I decided when we were retired, we would do the same. But right now there was no way we would be able to haul all that stuff up the mountain as well as our toddler!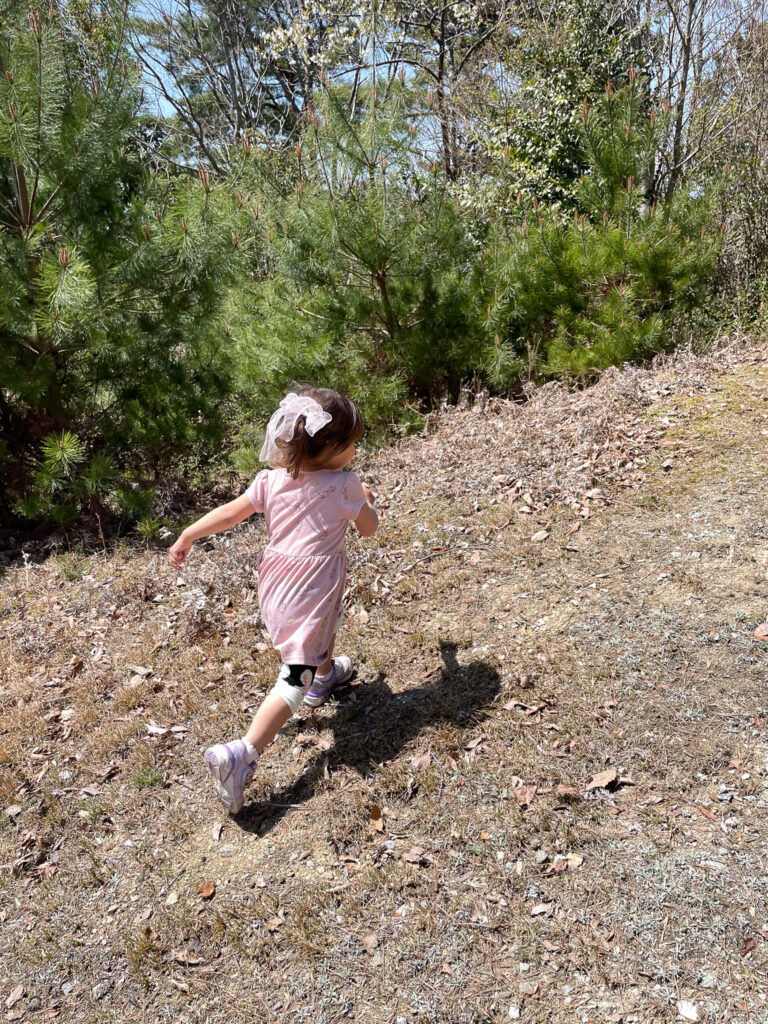 My toddler had lots of energy since she was carried most of the way up
The view was lovely but given how steep the path is, I don't think it's a must-see if you have a small child with you, especially as there weren't as many cherry blossom trees as the Hanagura Viewpoint. (However, if you're visiting during the tail end of cherry blossom season, this may be the best place to still see cherry blossom trees in full bloom.)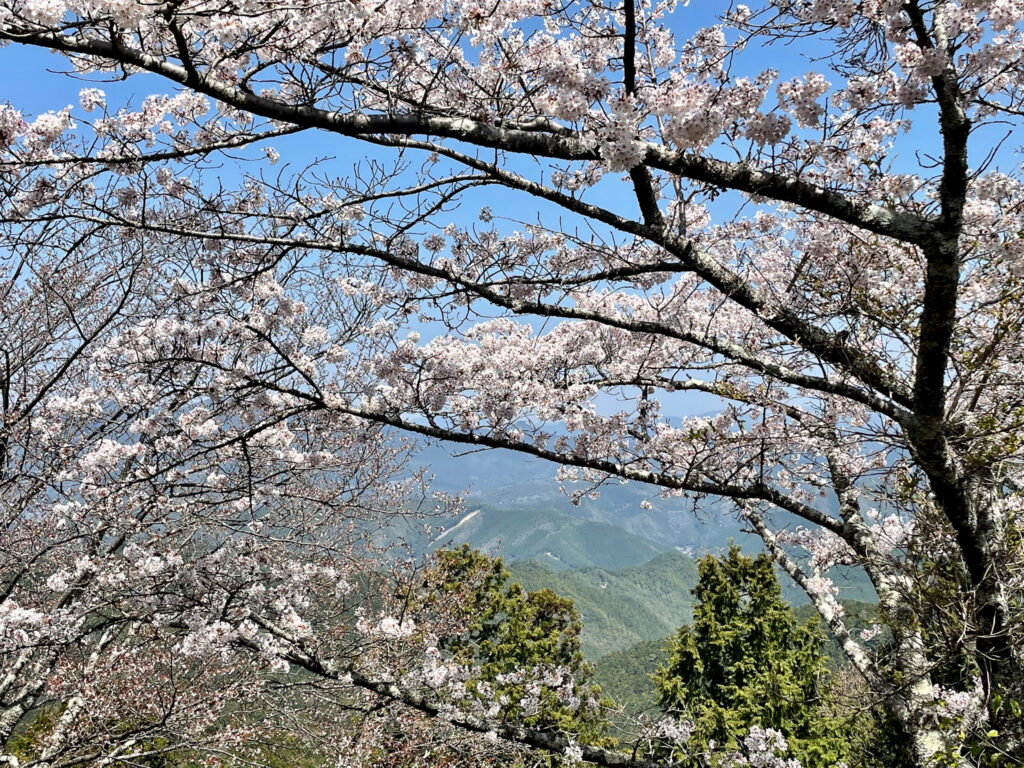 View from the observation deck
By now it was around noon and my husband and daughter started getting hungry, so they decided to head back to a small cafe they had seen earlier. I decided to continue to visit Kinpu-jinja Shrine (金峯神社) and I wish they had too because the bus stop for the shuttle bus heading down was only a five-minute walk away at Oku Senbon Guchi. I tried to tell him but the reception wasn't good. (Oh well, I guess my husband got his exercise in.)
The path up from the stone torii gate to the shrine is lined with gorgeous cherry blossom trees and there are two areas where you can look down and see a vast number of trees below you. One area had a guy holding up a rope to prevent people from going further (worst job ever) while the other area near the toilets had people climbing over a log that looked like it had been strategically placed to prevent people from going in.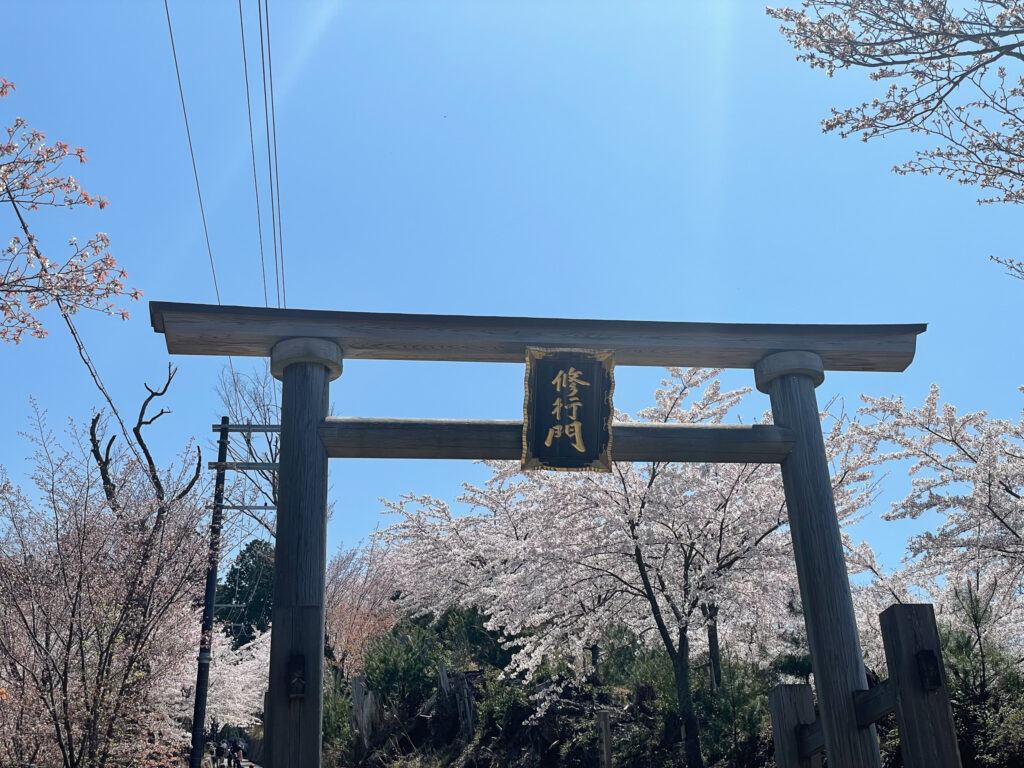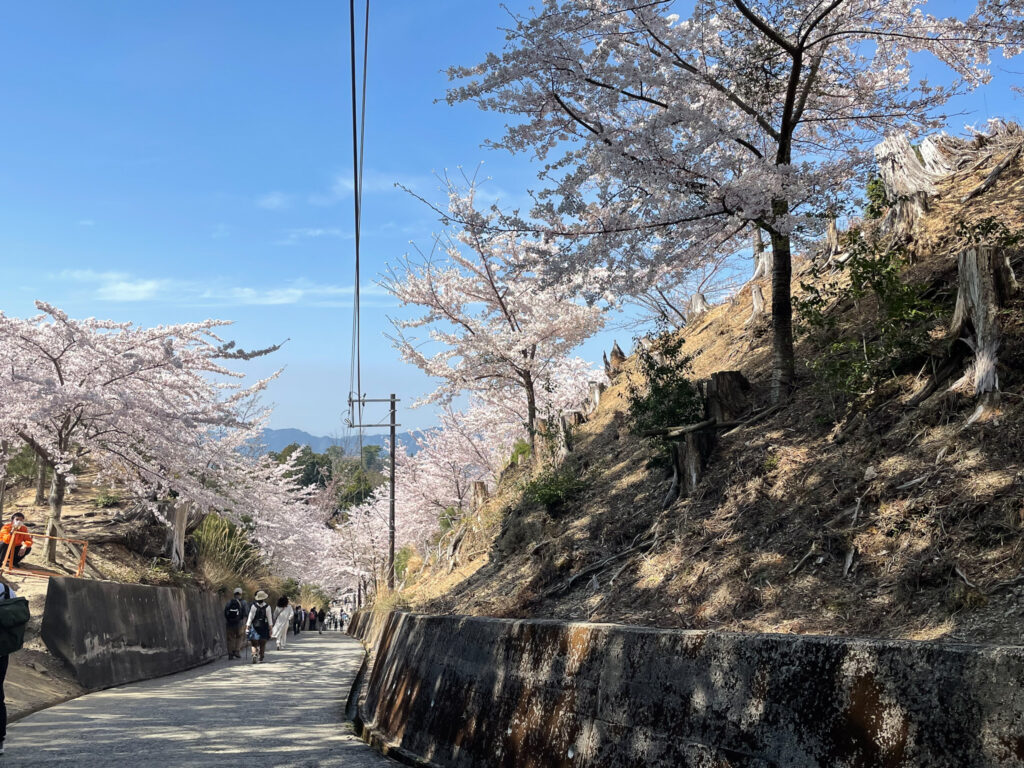 See the guy in orange to the left? His job was to hold one end of a rope. I wish I could have given him a beer or something.
When you're in Rome, do as the Romans do, so naturally, I also climbed over the log as well, and I'm glad I did because the view was unbelievable. I was also glad that I didn't have my toddler with me because the fall is steep and is dangerous for a child, especially a toddler. (The brother of a friend of mine in his twenties died when he was wearing sandals during a hike and fell off a mountain. You can never be too careful. And now that I remember this, I feel a bit stupid for doing that but … the view was something else.)
At this point, I tried to send a photo to my husband but it didn't send due to poor the reception. My phone also began to die and I realized I didn't have my portable charger with me, which meant I had to take pictures sparingly. What a time to forget the charger!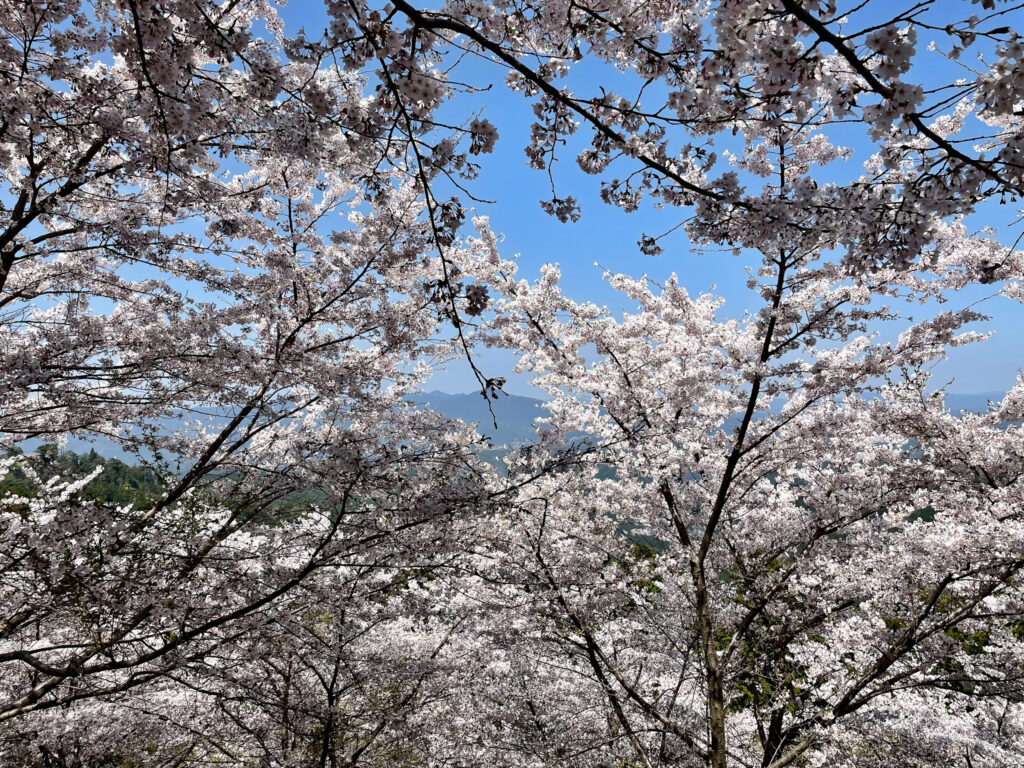 Kinpu-jinja Shrine is even smaller than Yoshino Mikumari Shrine and there isn't much to see in terms of the shrine itself, although you can get a simple goshuin from there as well. I climbed up the small set of stairs to give some money to the offering box and pray.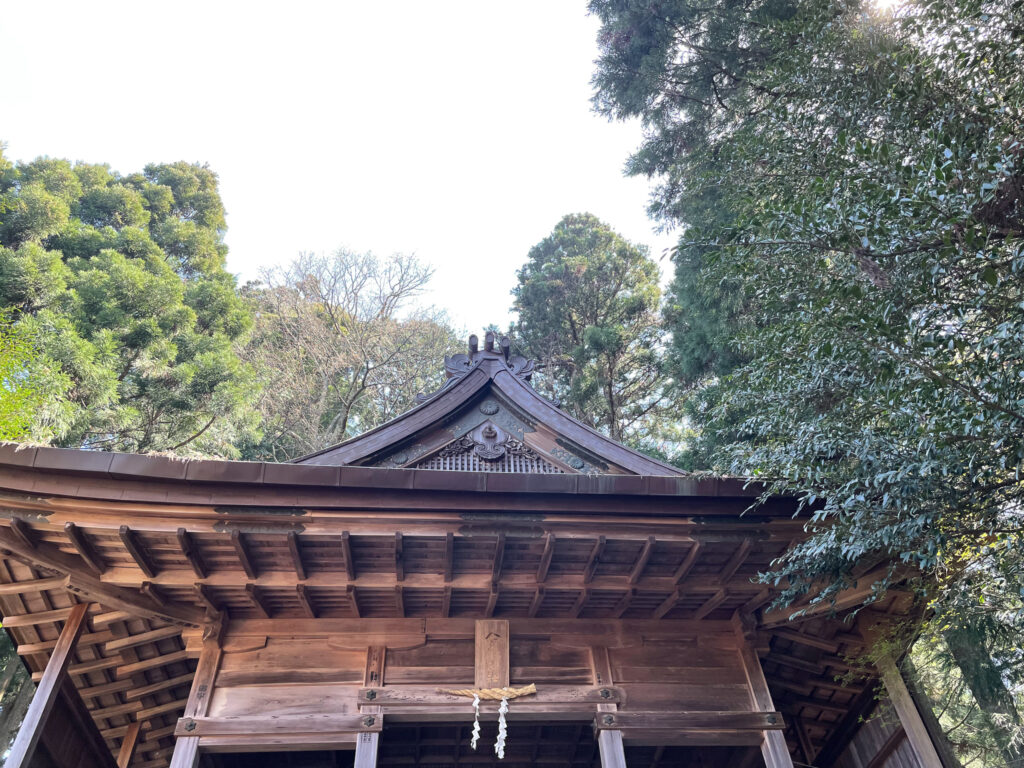 If you're with a toddler, I think climbing up to Kinpu-jinja is completely doable (it should take about two hours but of course, this will change depending on how many breaks you take) and I absolutely recommend it. But as a reminder, don't take your child to the area with cherry blossoms near the washrooms that you are probably not supposed to enter as they may fall.
From here, you can head down to the torii gates to Oku Senbon Guchi where the stop is for the shuttle van going down or you can continue up. I am crazy and I continued going up.
There were far fewer people the higher I went. I decided to take the route to the location where Anzenji Temple (安禅寺) used to exist. I then decided to go further to 四方正面堂跡 (I believe this means "The Site of Shiho-shoumen Temple", but I couldn't find any information in English and my husband couldn't find any information in Japanese about exactly what Shiho-shoumen is, but we're assuming a temple because of 堂). Less than ten minutes into the walk, I was treated to these views of the mountains: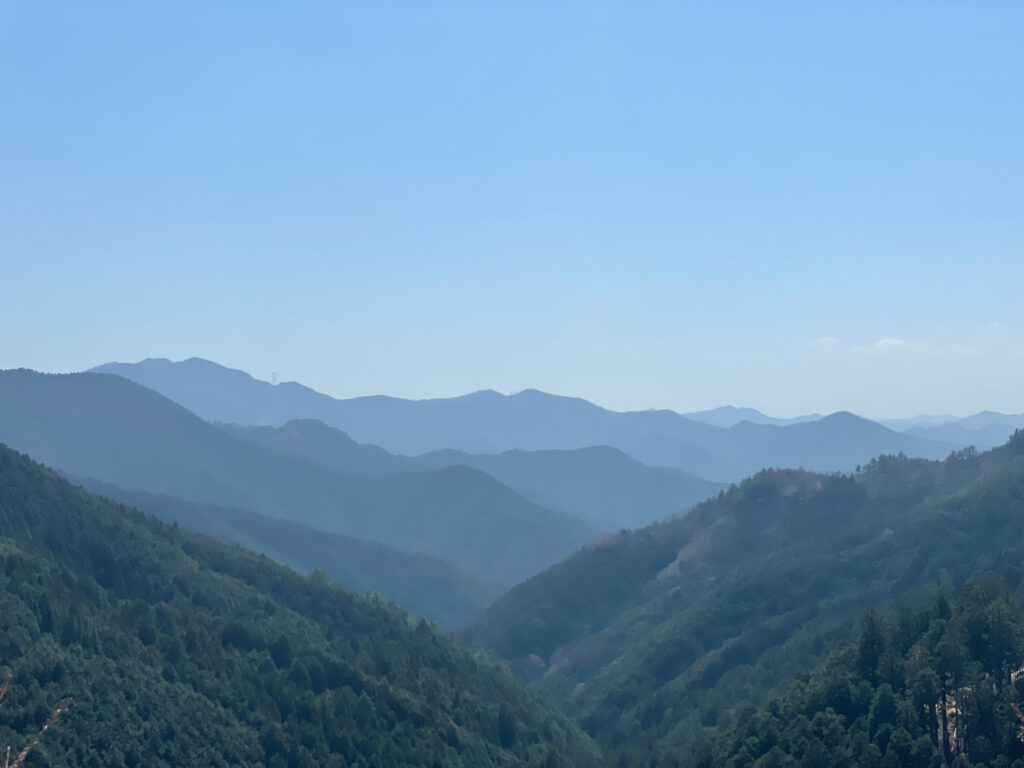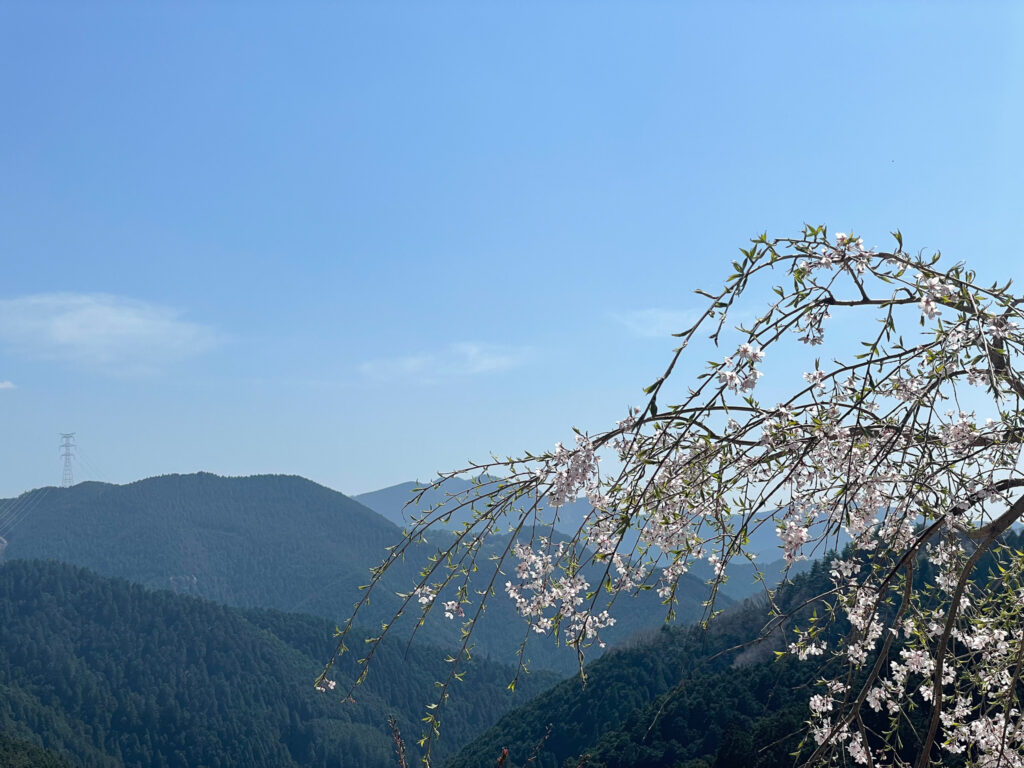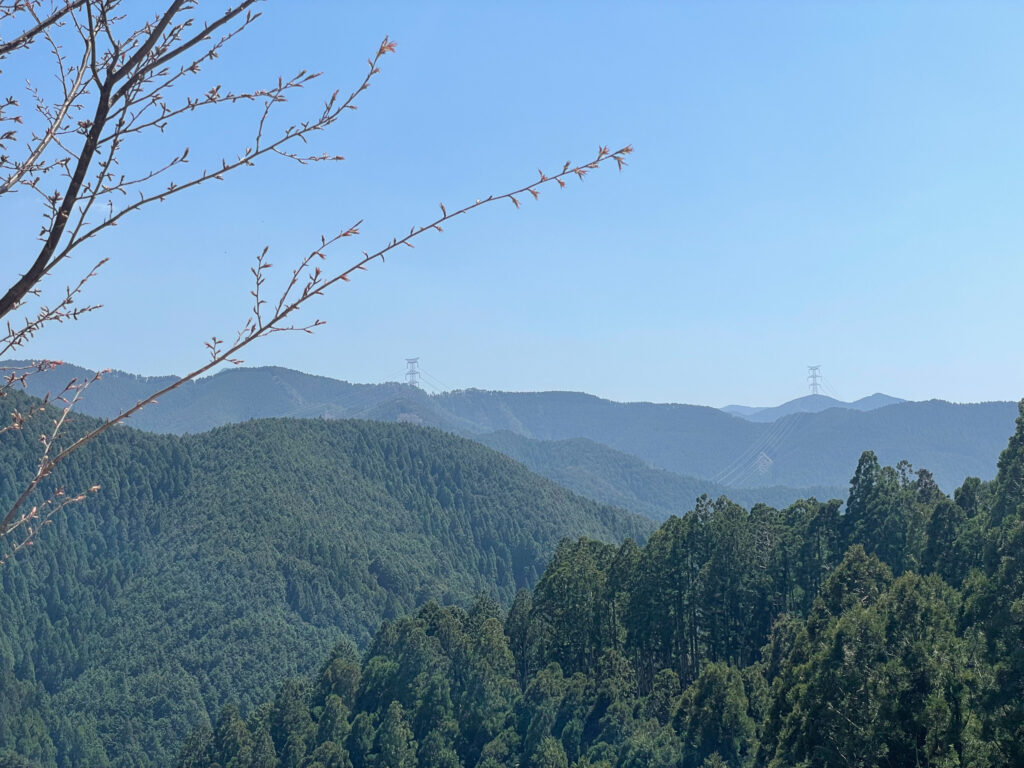 It was so beautiful. The mountains were lush and green, the air was crisp and there were hardly any people. I loved it. It was an introvert's dream. I sat down on a bench and just enjoyed the view while sipping on a chai tea latte I had brought with me. (You know, those Starbucks cup kinds you get from the convenience store.) Some of the trees had been cut down and in its place, cherry blossom trees would be (had been?) planted, so I imagine in the future my daughter will be enjoying a sea of pink in front of her if she does the hike.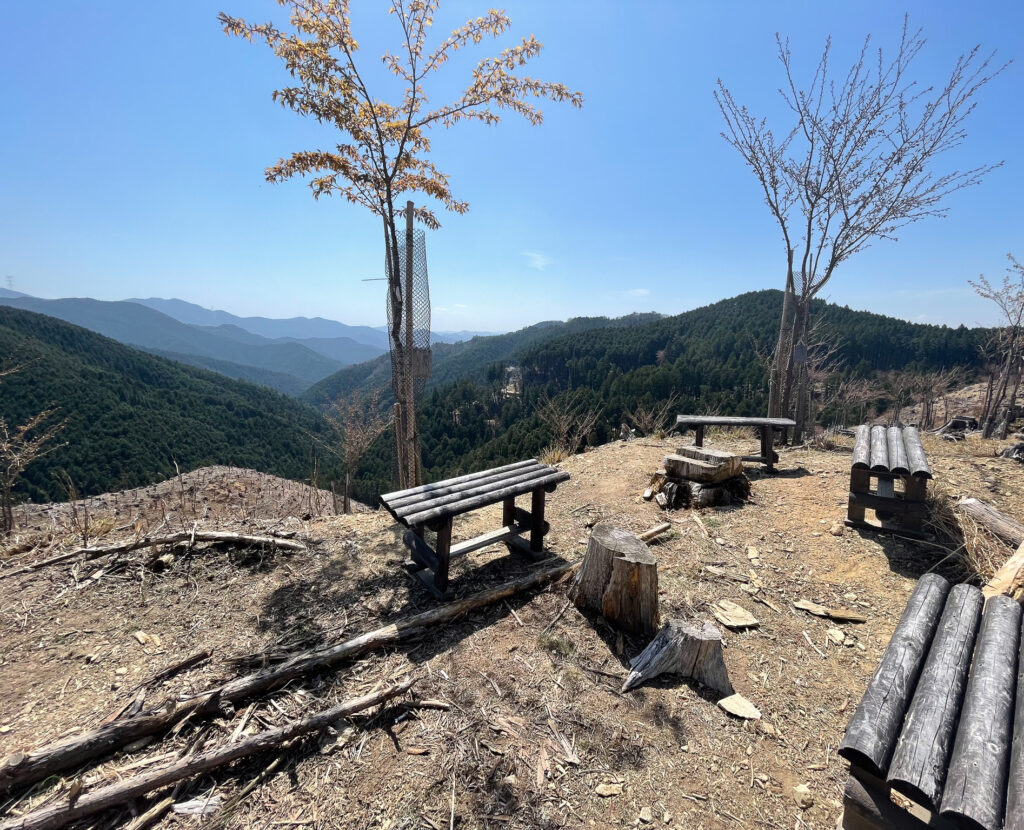 When I was done, I decided to head down.
This is where the path got a bit tricky. I decided to see Saigyo House (西行庵), which was a hermitage where a poet named Saigyo spent three years in the Heian period (794 to 1185). The path going there is quite narrow and right on the side of the mountain, so you need to wait at some spots to let people coming from the opposite direction pass. Otherwise, there is a high chance one of you is going to fall. I would never bring my toddler, even in the Ergo, along this path. So again, if you have a small child, just head back after you reach Kinpu-jinja.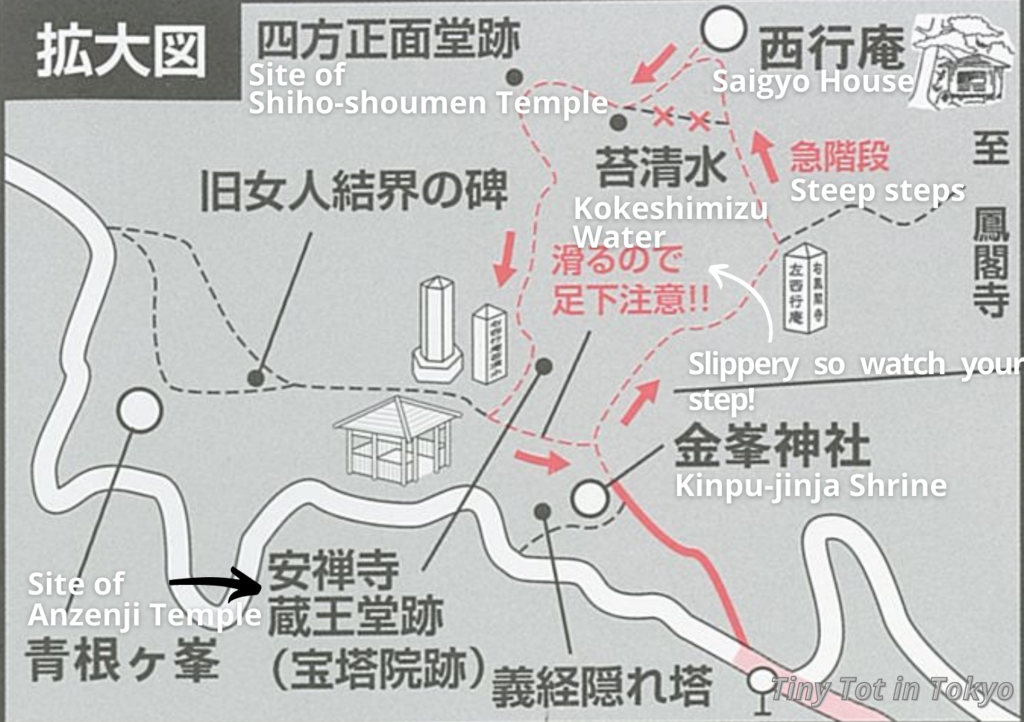 I probably should have paid attention to the warnings on the Japanese map more.
(This section is also not on any English maps as far as I know, so the English text is by me!)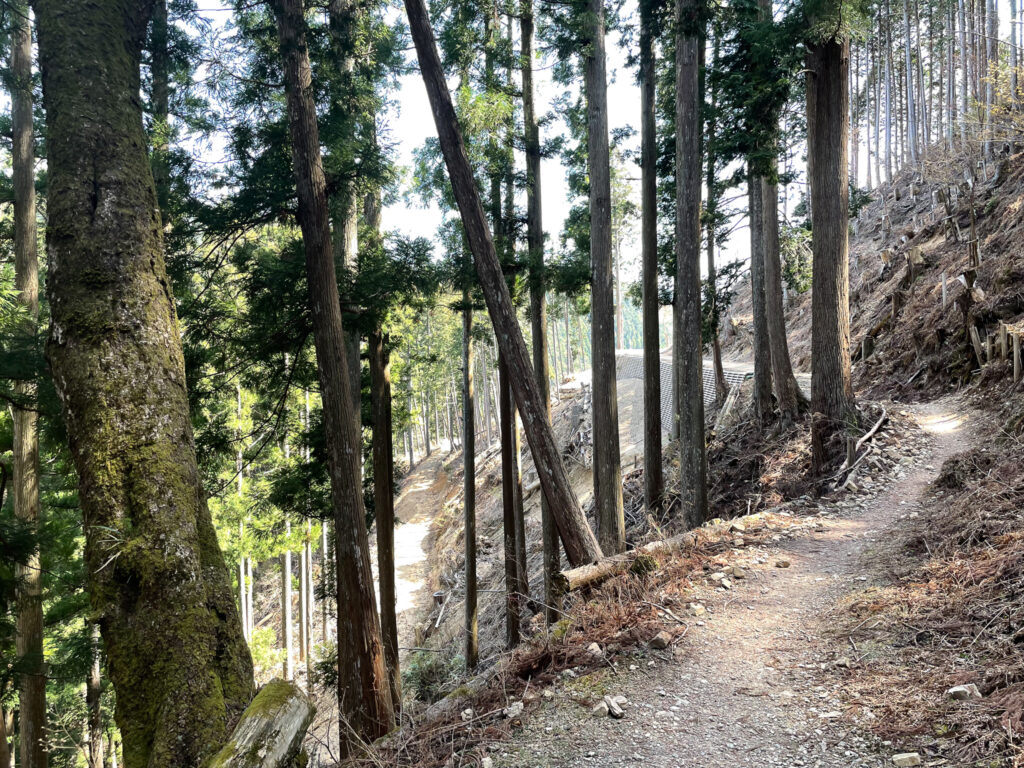 This wasn't even the most narrow path; there was no way I could have taken a photo of that with the people coming from the other direction! But as you can see, even this isn't toddler-friendly.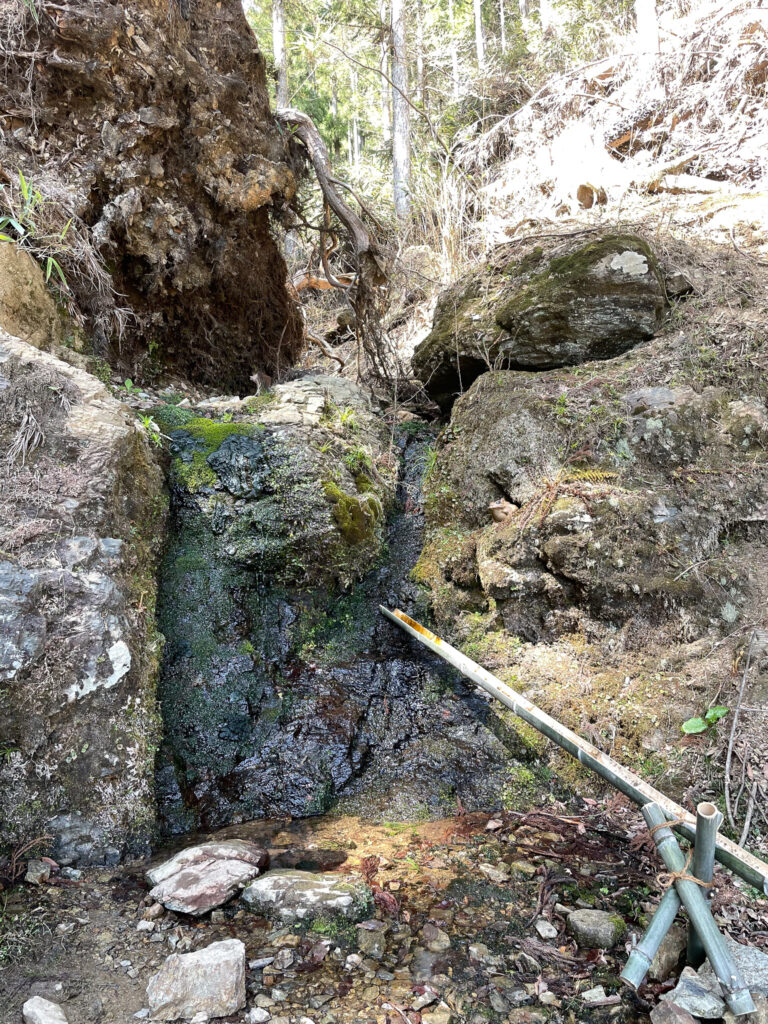 Kokeshimizu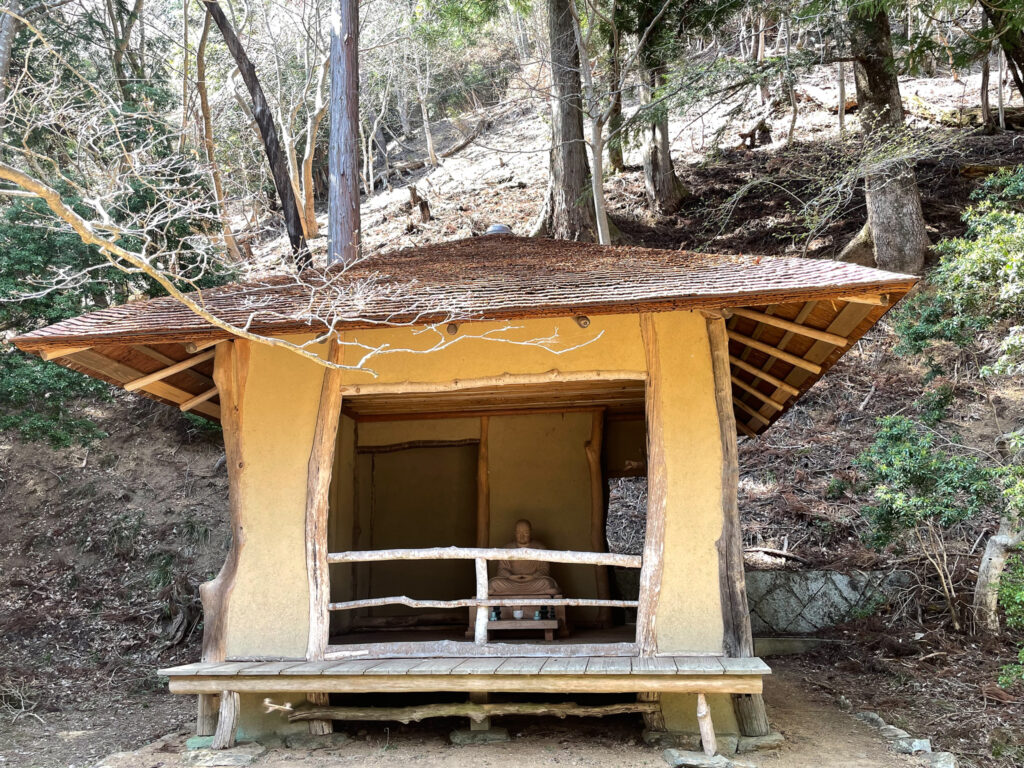 Saigyo House
After reaching Saigyo House, a small hut that contained a wooden statue of Saigyo, I finally headed to the Oku Senbon Guchi shuttle bus stop past Kinpu-jinja to go down to Naka Senbon. I made sure to get a ticket (located across the bus stop) before lining up and luckily got the very last seat, although another bus would arrive in 15 minutes. The journey down, which took around 20 minutes, was very winding and made me think that our daughter would have thrown up had she taken that shuttle bus. Maybe it was a good thing my husband completely missed the bus stop and walked down.
When I reached Naka Senbon at around 2:40 PM, I found out that my husband and daughter had already gotten on the shuttle bus to the parking lot. At this point, I got a bit lost trying to make my way back to the bus stop for the parking lot bus as it's on the other side of the bus stop to go up the mountain. I asked someone directing traffic and then walked to the bus stop, stopping by two shrines on the way to get some more goshuin.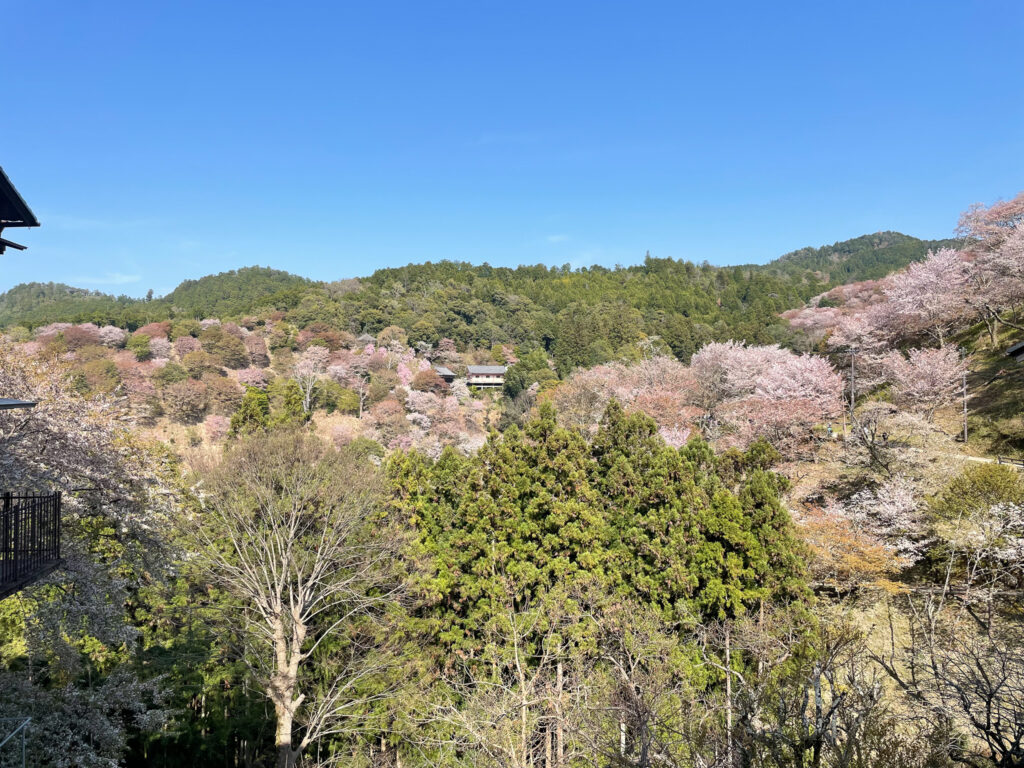 The last photo I took before I reached the bus stop
The line for the bus to Yoshino Station was very long but there were only a few people lined up for the parking lot bus. Both of these lines were next to each other, so although someone was holding a sign to distinguish the two, I made sure to double-check with them. I waited for about five minutes before the bus came and unlike the way up, I was able to sit for the journey going down, which took about 45 minutes due to traffic.
My husband stopped by a Lawson near the parking lot to get some onigiri for A so we ended up arriving at the parking lot at the same time. It was perfect timing. By now, 4:15 PM, many of the cars were gone and I was a bit surprised that people had finished hiking Mount Yoshino so quickly. Or perhaps they took the bus to the very top and back down again? It took me about two hours to climb up from Naka Senbon to the Takagiyama Observation Deck with a toddler, one more hour to get to the top of Oku Senbon alone, an hour back to the small shuttle bus stop at Oku Senbon Guchi, 45 minutes to Naka Senbon, and then about 15 minutes to walk to the shuttle bus station, making the journey take about five hours in total. If you go without a child and much earlier in the morning, I imagine it may be a lot faster.
As we drove away, my husband and I talked about how we would like to visit again, next time in the fall this year (and perhaps not any time soon during cherry blossom season because as stunning as it is, we're not fans of crowds).
But if you haven't been in spring, Mount Yoshino needs to be added to your Japan bucket list.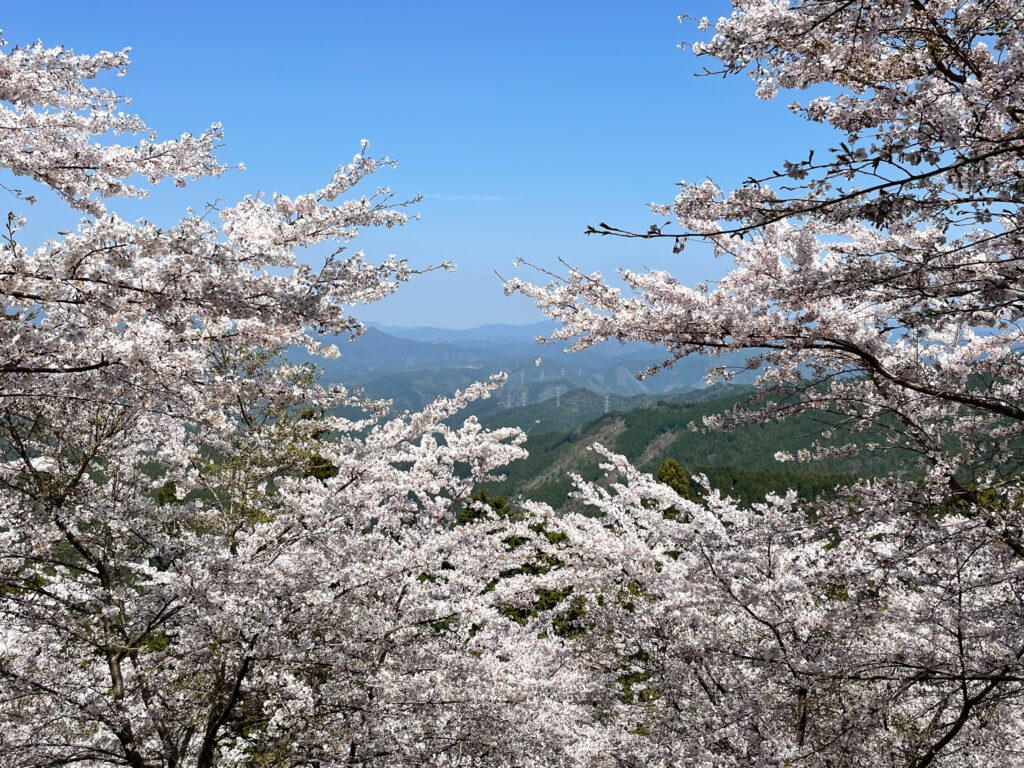 ---
There were a lot of places mentioned in this article, so to help give a better idea about where to go or what our route was, check out this map:
Note that this map includes places that we did not see (mainly between Yoshino Station and Naka Senbon Park as we took a shuttle bus), but may be of interest to you.
And again, if you have a small child with you, I recommend taking the shuttle bus to Naka Senbon Park and then hiking or taking another shuttle bus to Kinpu Shrine before walking or taking the smaller shuttle bus back down.
Lastly, if you are visiting Japan, I highly recommend getting the JR Pass. This pass will give you unlimited travel all over Japan using trains operated by the Japan Railways (JR) Group. This includes Shinkansen (or the bullet train)! I honestly wish I was able to use the pass because it would save me so much money.
With the JR Pass, you can also secure seat reservations for free, and this is especially recommended if you're traveling during peak seasons like Golden Week (end of April to the beginning of May), Obon Season (mid-August) or the New Year (late December to early January). It's also worth making a seat reservation if you wish to guarantee a seat on a specific service or are in a large g roup that wants to sit together.