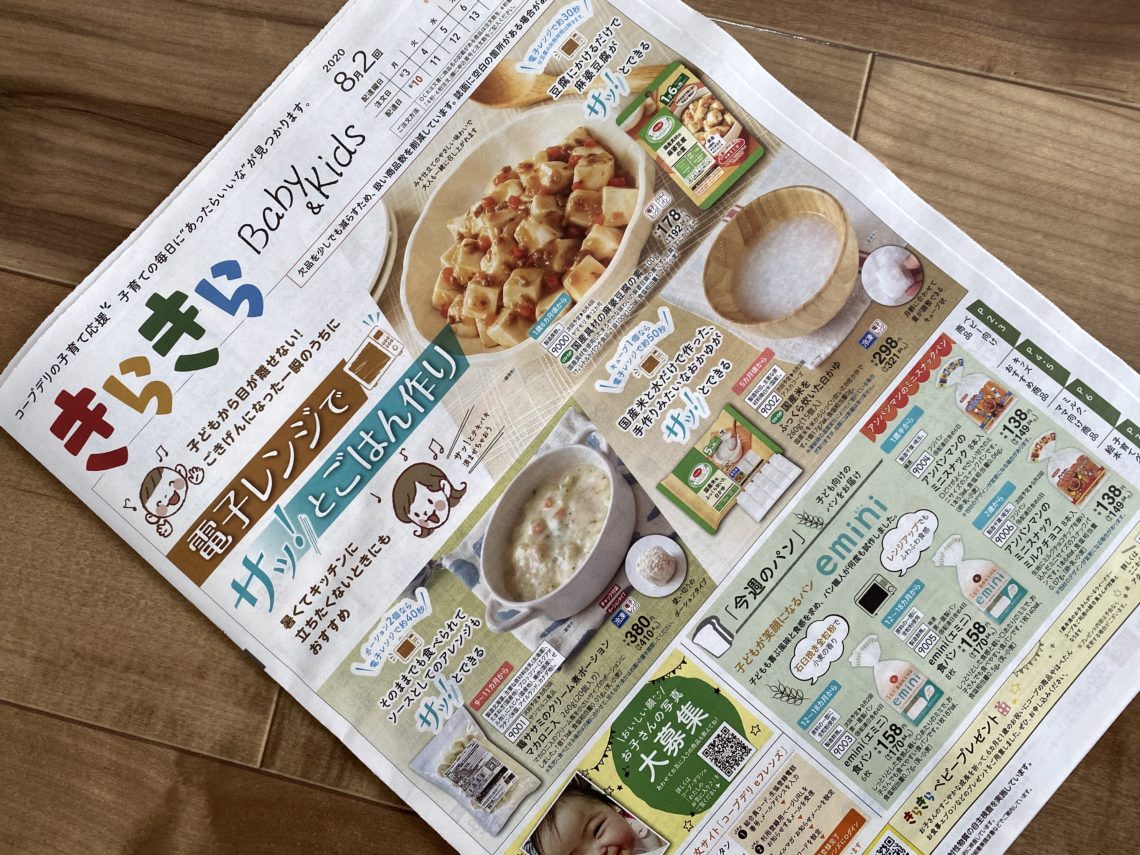 Co-op Deli Grocery Delivery in Japan: きらきら (Kira kira) Baby Food
As a new mom, I was a bit overwhelmed when it came to feeding my baby solids for the first time. Making the purees alone when she was five months was especially time-consuming for me but I didn't want to continually give my baby something instant.
Enter Co-op Deli. Co-op Deli is a grocery delivery service in Japan that delivers straight to your door for a small fee, and if you're a new parent, that fee is waived for the first month.
There are a lot of great reasons to join Co-op Deli if you're a new and busy parent, such as their range of reasonably priced groceries, meal kits, and of course, baby food. When you join Co-op Deli, you'll receive many catalogs and within them will be one that lists items exclusively for babies and young children called きらきら Baby & Kids.
For a look at another grocery delivery service that offers great food for children, check out my review on Pal System!
きらきら Baby & Kids: Baby Food in Japan Delivered Straight to Your Home
The きらきら Baby & Kids catalog offers a range of items for little ones, such as baby food, formula, drinks, as well as books, diapers, and bath-related goods. Their products go on sale as well so at times you can get quite a good deal on certain items and don't have to worry about carrying bulky packages of diapers or heavy cans of formula since it'll all be delivered straight to you.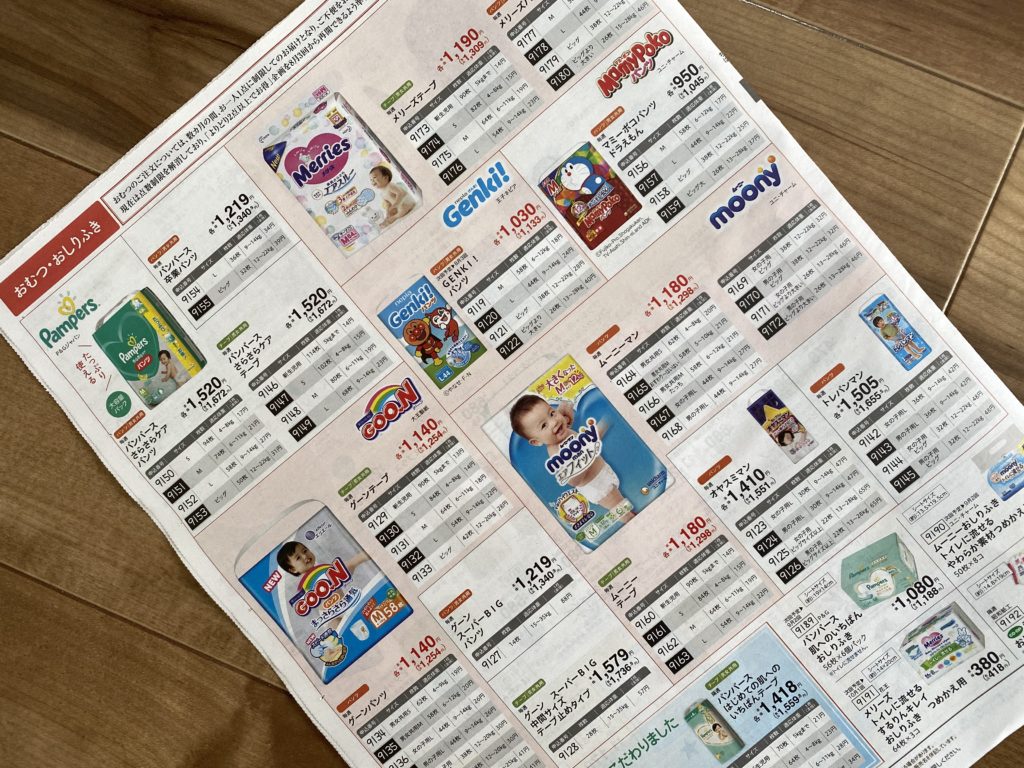 Their Co-op brand baby food (きらきらステップ) is made of natural and local ingredients so I feel better about giving it to my baby. When my daughter was just starting out with solids, using their frozen purees saved me a ton of time and my daughter liked everything they had to offer. Their catalog also lists some easy recipes so you can have a better idea about how to use their products to make different kinds of meals for your baby.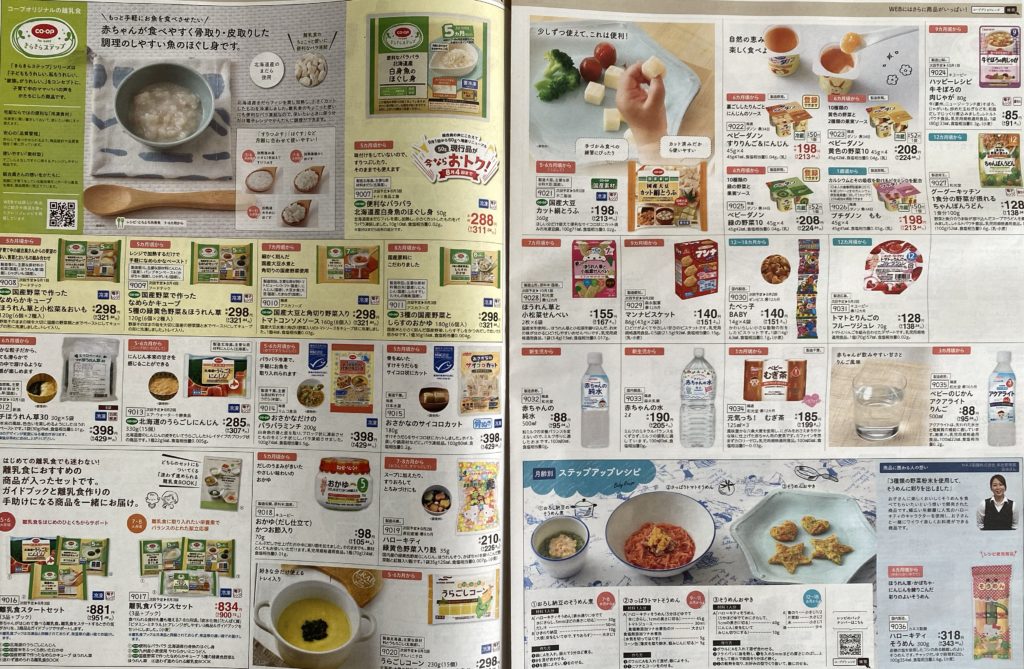 As mentioned in my inaugural post about Co-op Deli, there are various benefits to using Co-op Deli if you're a parent:
On your child's half-birthday and first birthday, you will receive some free or discounted items.
Co-op Deli offers an 赤ちゃん割引 or Baby Discount in which the delivery fee is free for a certain number of weeks depending on which Co-op Deli you're a member of. For instance, Co-op Mirai offers free delivery for 52 weeks while Ibaraki Co-op offers free delivery for 104 weeks. After that period, the discount changes to a 子育て割引 or Child-rearing Discount in which the delivery fee is free if your order is more than 3000 yen. For Co-op Mirai, orders under 3000 yen will have a 180 yen delivery charge and there will be an 80 yen charge if you don't order anything that week.
They offer a wonderful selection of baby food to help make your life easier, such as frozen purees and formula, as well as baby products like diapers. I personally love their frozen baby food and prepped frozen veggies because it's made of all-natural ingredients and means less work for me! The きらきら Baby & Kids catalog, as well as the Co-op Deli website, also clearly indicates the age from which a baby can have a particular product.
Their meal kits are delicious and wonderful to have for busy new parents who don't have enough time to cook (although personally I find the portions tend to be small, and I say this as someone who doesn't eat very much to begin with). Of course, these meal kits are also great for busy people who aren't parents as well who want to quickly prepare a home-cooked meal and not have to worry about planning, prep, and food waste.


The free and discounted items you can get on your child's half-birthday and first birthday.
My Favorite Baby Food from Co-op Deli
Here are some of the items my daughter tried from Co-op Deli and that I would recommend. Of course, all babies are different so what my daughter liked might not work for other kids.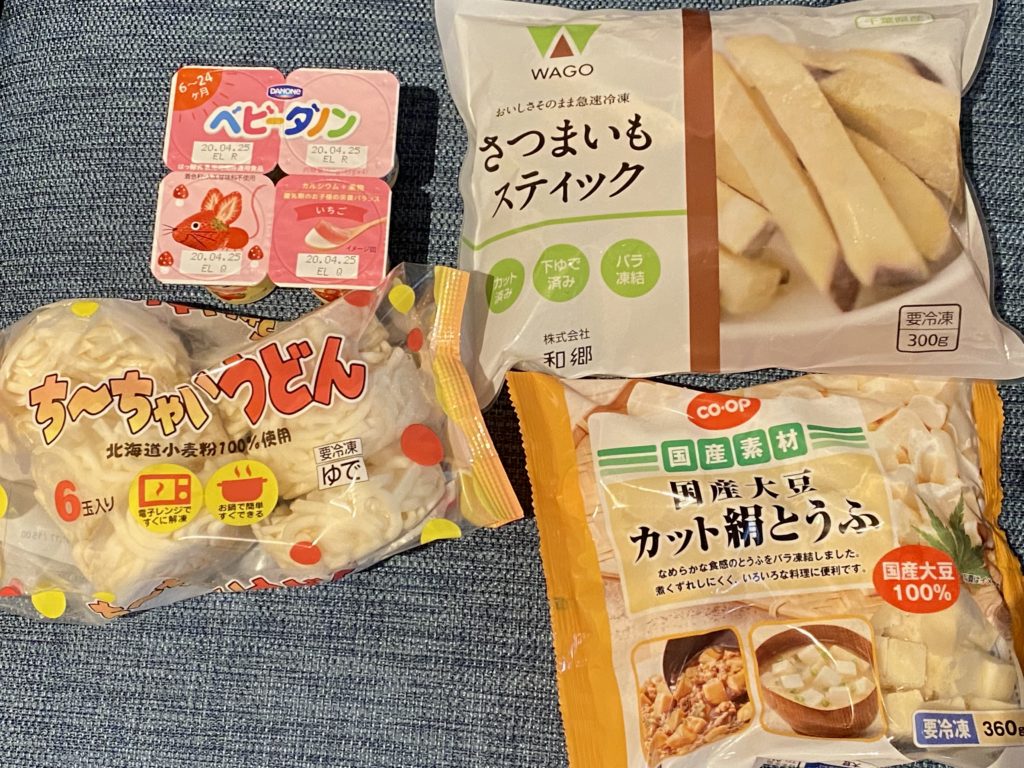 Clockwise from the top left: Strawberry Baby Danone yogurt, sweet potato sticks (these are great for your baby to perfect feeding themselves by hand), cut tofu (I use these mainly in miso soup for my daughter and as it's already cut into cubes, it's very convenient to use. I also don't have to worry about the expiry date as much), udon (these are the perfect portion for babies but are a bit long so they do require some cutting before serving).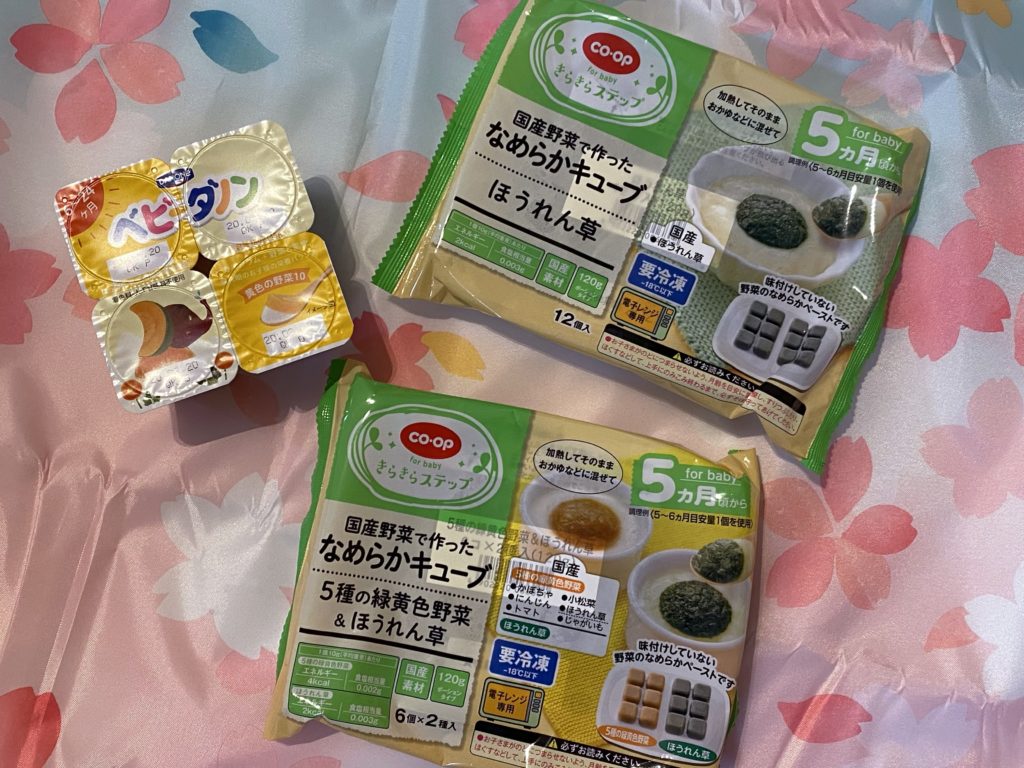 Clockwise from the top left: more Baby Danone yogurt, pureed spinach (5 months and up), and a mix of pureed spinach and pureed vegetables (kabocha, carrot, tomatoes, potatoes, spinach, komatsuna). These were so easy to use in many different kinds of dishes, and best of all I didn't have to go through the trouble of washing, boiling/steaming, and then pureeing all of those veggies myself!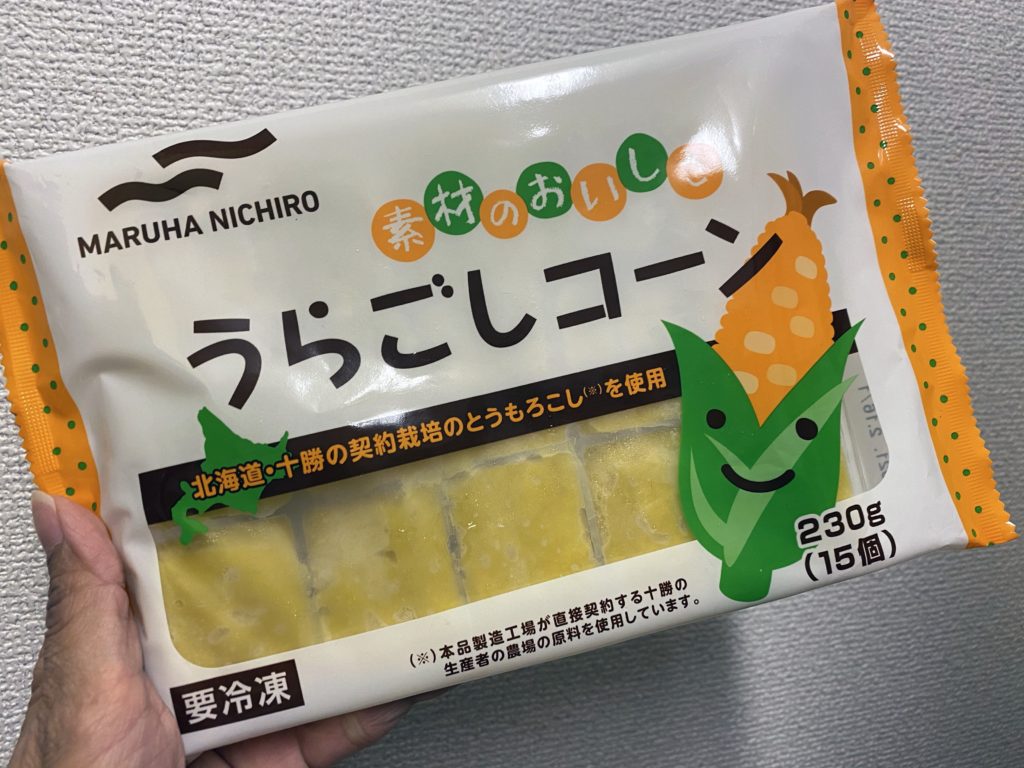 Strained Hokkaido corn cubes, which are suitable for babies 5-6 months and up. I love to use these for easy side-soups and gratin. My go-to soup recipe when I don't have time is to microwave one or two of these with 15 ml of milk and then mix it with 60 ml of instant vegetable soup.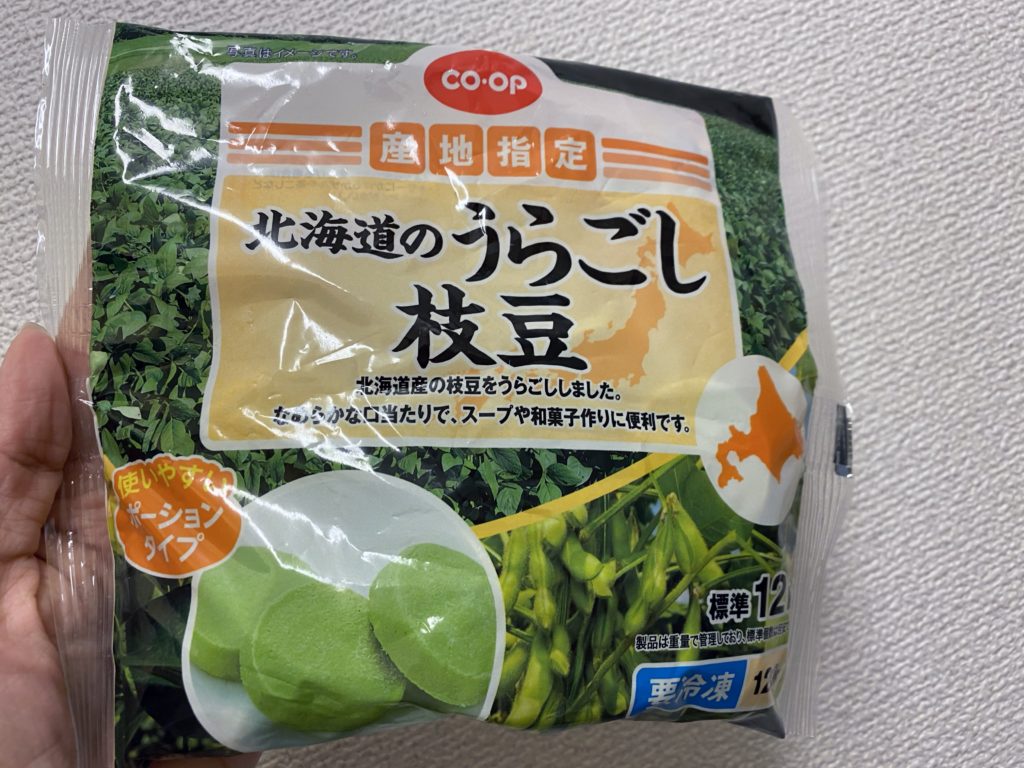 Strained edamame. I use these to make oyaki (dumplings). These are suitable for 6 months and up.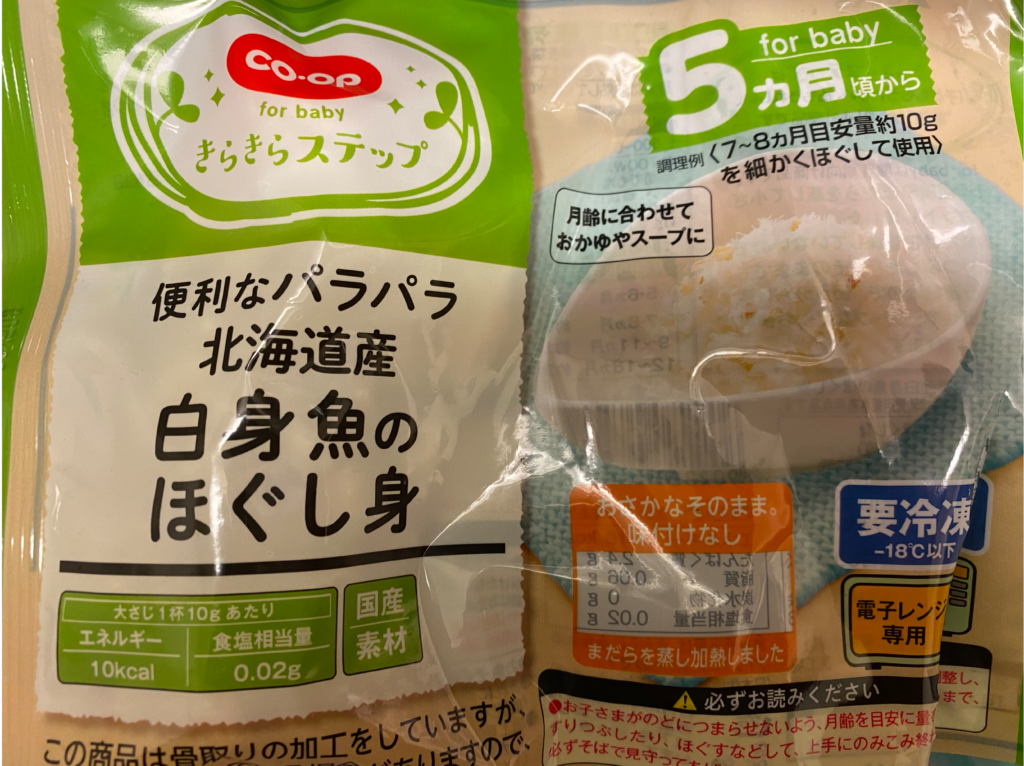 Boneless white-meat fish from Hokkaido that's cut into small pieces. I hate cooking fish with a passion so this saved me when it came to feeding my daughter because all I had to do was measure and microwave it. It's really versatile as well so I could use it in a lot of dishes. As you can see in the image above, this product is suitable for babies 5 months and up, so right when they start solids! (I would recommend pureeing it with a tiny bit of formula or vegetable soup or cutting it up very finely for the first few weeks.)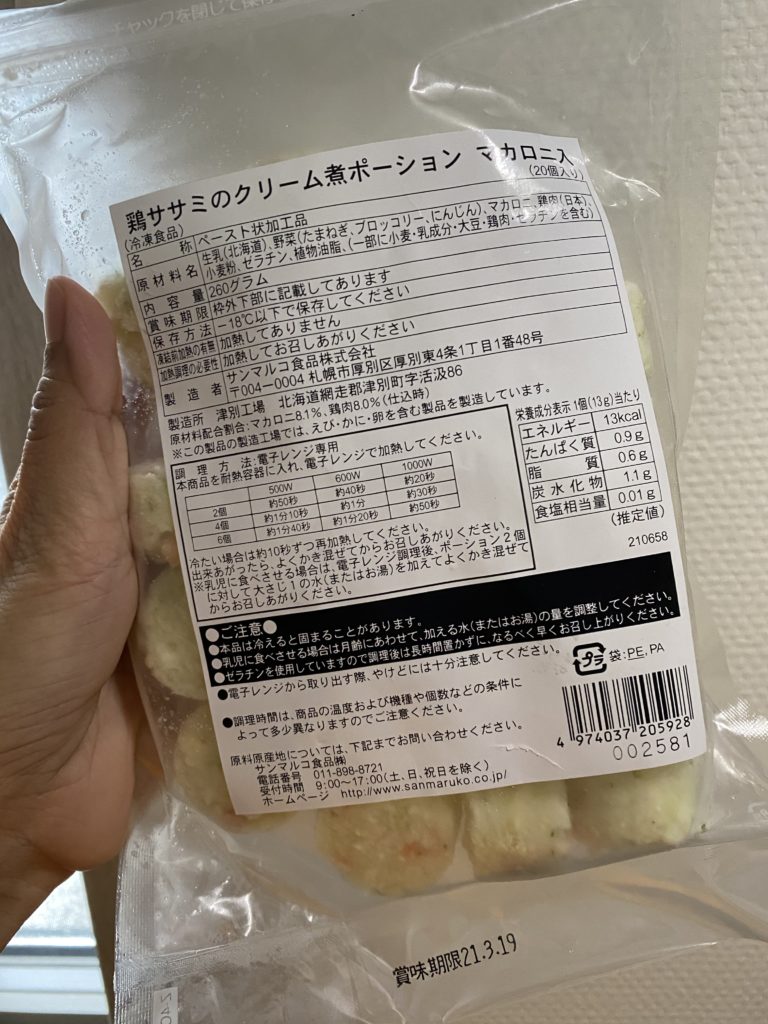 Chicken stew with macaroni for babies 9 months and up. My daughter likes having this as a side with bread.
How to Search for Baby Food on Co-op Deli's Website and App
Finding baby food on the Co-op Deli website and app is very simple.
Visit the Co-op Deli eフレンズ website and sign in (make sure you're a member first! To find out more, visit this website or read this post).
Go to the ウィークリーコープ tab.
Enter 離乳食 (rinyuushoku or baby food) in the キーワード search box on the left side of the page, click the orange 検索 button, and a variety of baby food will come up in the search result. Click on the item to see more detailed information, like ingredients and for what age the product is suitable for (月齢).
For the app, you can search by name or by category. To search by name or keyword, simply go to 商品を探す tab in the navigation bar and enter 離乳食 into the search bar.
You can also search by category from the same 商品を探す tab. Click on カテゴリから探す, go down until you find 離乳食, tap and you can further filter your search by age (starting from 5-6 months), which is pretty awesome.For more information on how to order from Co-op Deli, check out this article.
Co-op Deli Meal Kits
For busy parents, sometimes you just don't have time to make a proper meal, especially when you have a newborn. This is why the meal kits are wonderful as everything is prepped and ready for you to have a fresh, home-cooked meal. All you have to do is follow the cooking instructions (which usually involves throwing everything into a frying pan).
By the time we signed up for Co-op Deli, our daughter was 8 months old and we didn't really need to have a meal kit as she had calmed down enough that we could (finally) cook and eat proper meals. However, we were curious and decided to order one, specifically a chicken and winter vegetable dish with a black vinegar sauce.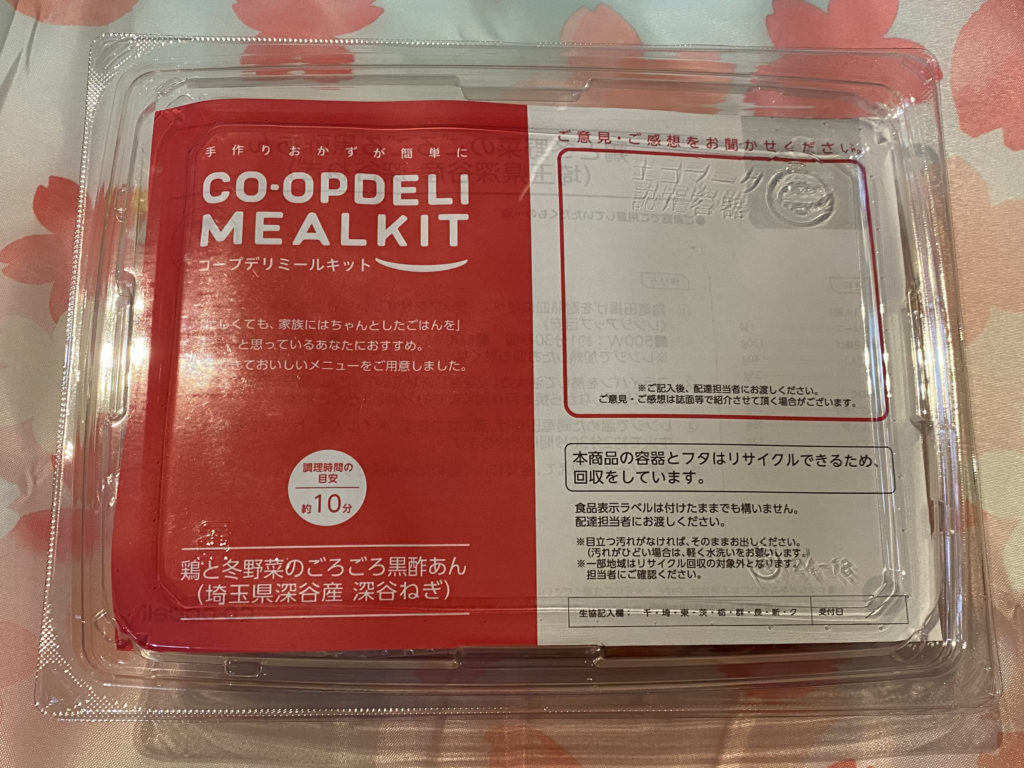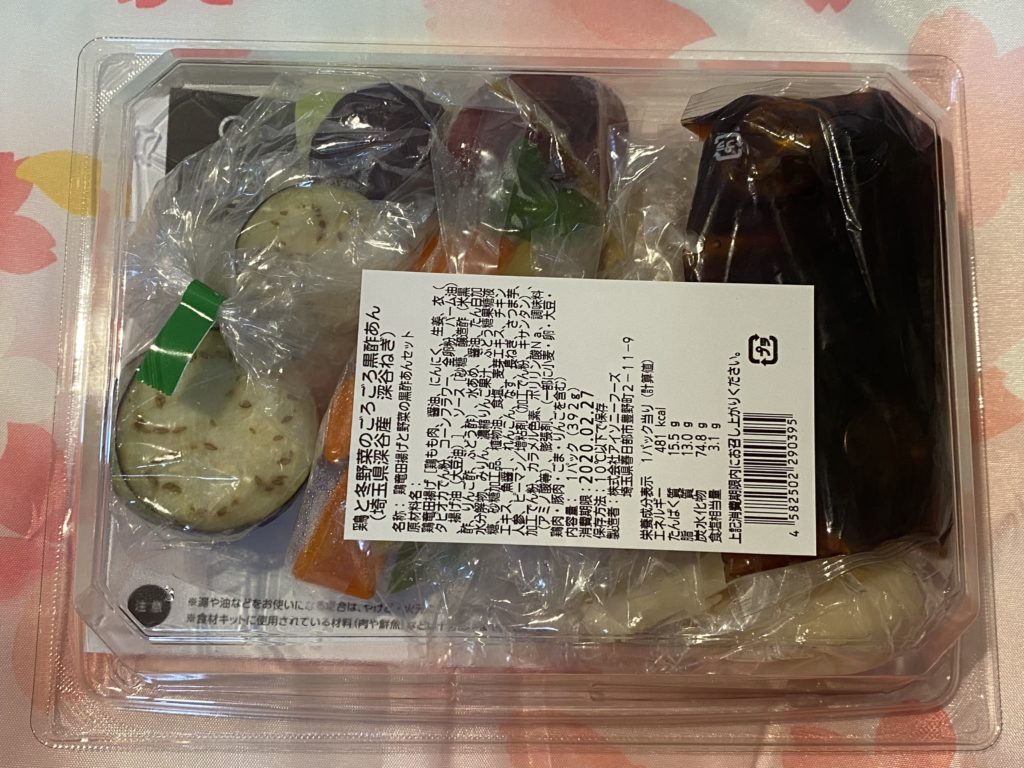 It was easy to make and took about ten minutes, as specified on the package, and was delicious. However, although it contained two servings, my husband and I found that it wasn't enough for us and we were still a bit hungry afterward. Maybe because it tasted so good? But at the price, we did expect a bit more.
As our daughter turned one last month, we were able to get a meal kit for half-off so I'll make sure to update this post with a review on that meal kit as well in the near future. Hopefully it will satiate us!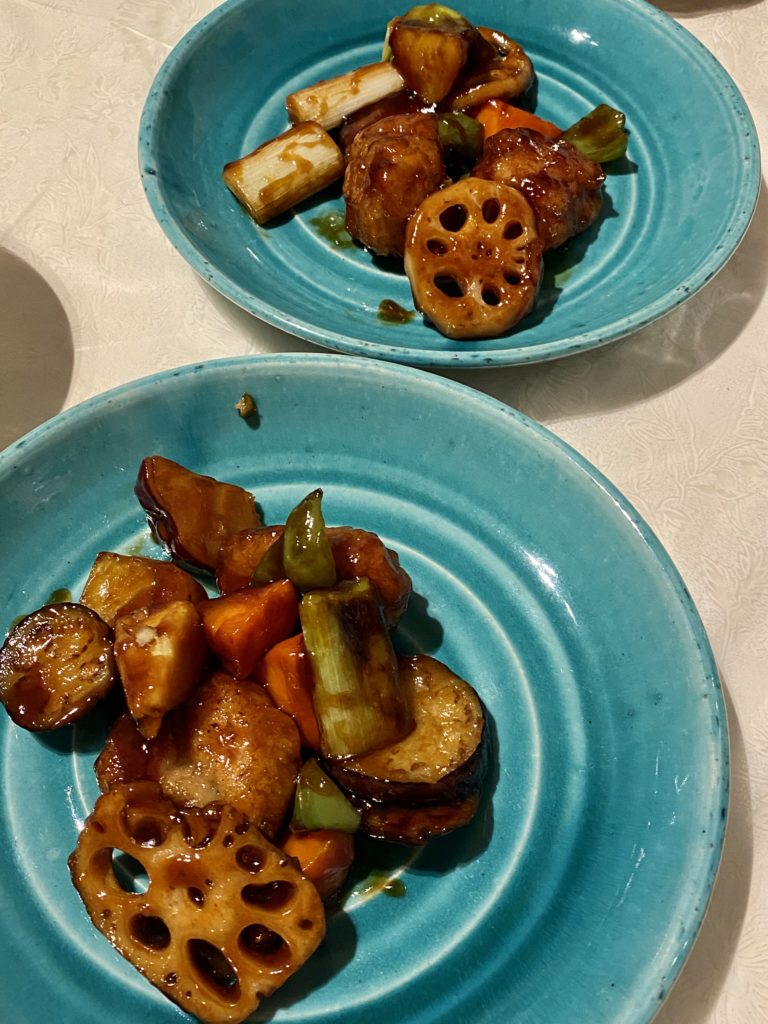 ---
I hope this look at baby food from Co-op Deli was helpful for all of you parents and parents-to-be out there. For a look at another grocery delivery service that offers great food for children and meal kits, check out my review on Pal System!