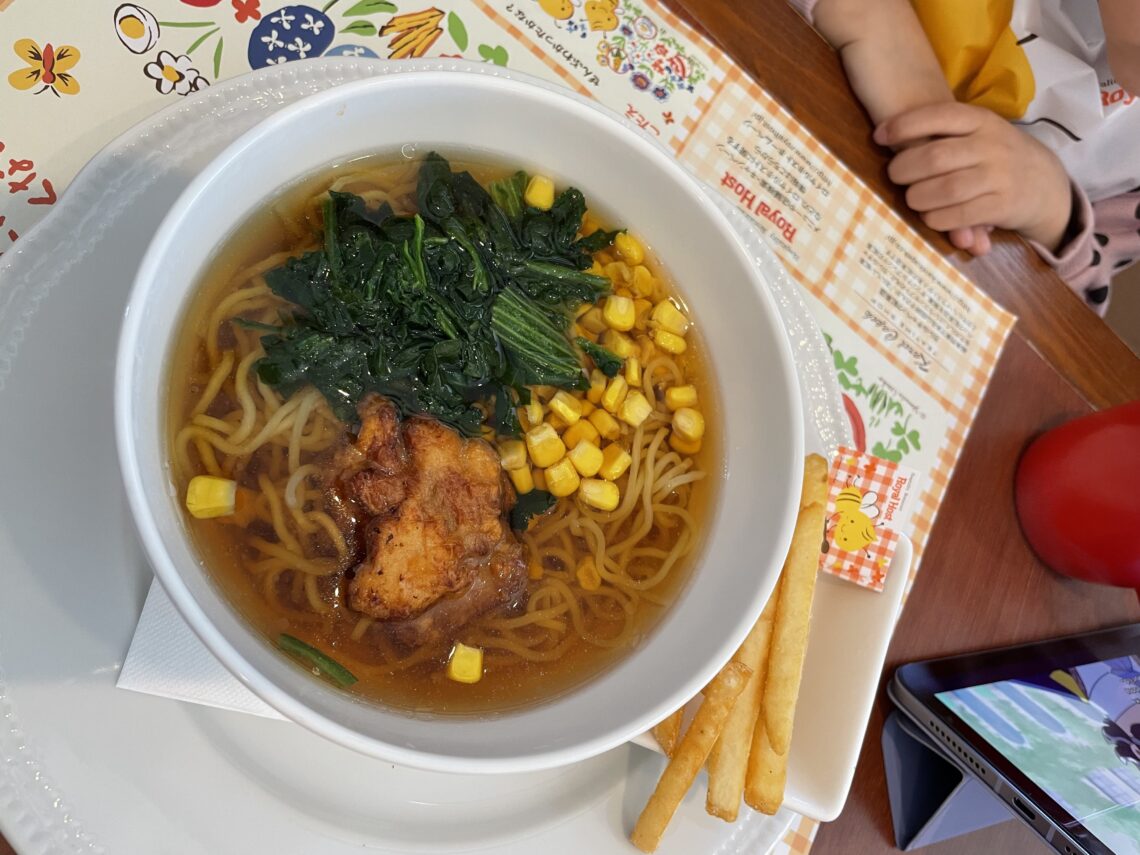 What to Eat at Restaurants in Japan with Toddlers and Kids
If you're visiting Japan or even living here and wondering what your toddler can eat at restaurants in Japan, I've got you covered.
Since we're building a house, we've been having to eat out at least once a week while rushing from one appointment to another. At first I was apprehensive about letting my toddler eat at a restaurant but now I know where are the best places, what she likes, and what kind of restaurants to look for.
What Food Can Toddlers and Kids Eat at Restaurants in Japan?
Below are some toddler and kid-friendly meals that my daughter loves and yours might enjoy as well. Restaurants usually serve these in kids' sets and some even include toys!
Of course, your child can enjoy other types of food too — my daughter has had teppanyaki wagyu in Kobe and Okonomiyaki at Okonomimura in Hiroshima as well as Okonomiyaki in Osaka. But if you want something foolproof that your child will likely enjoy, then you'll want to consider these.
Udon (うどん)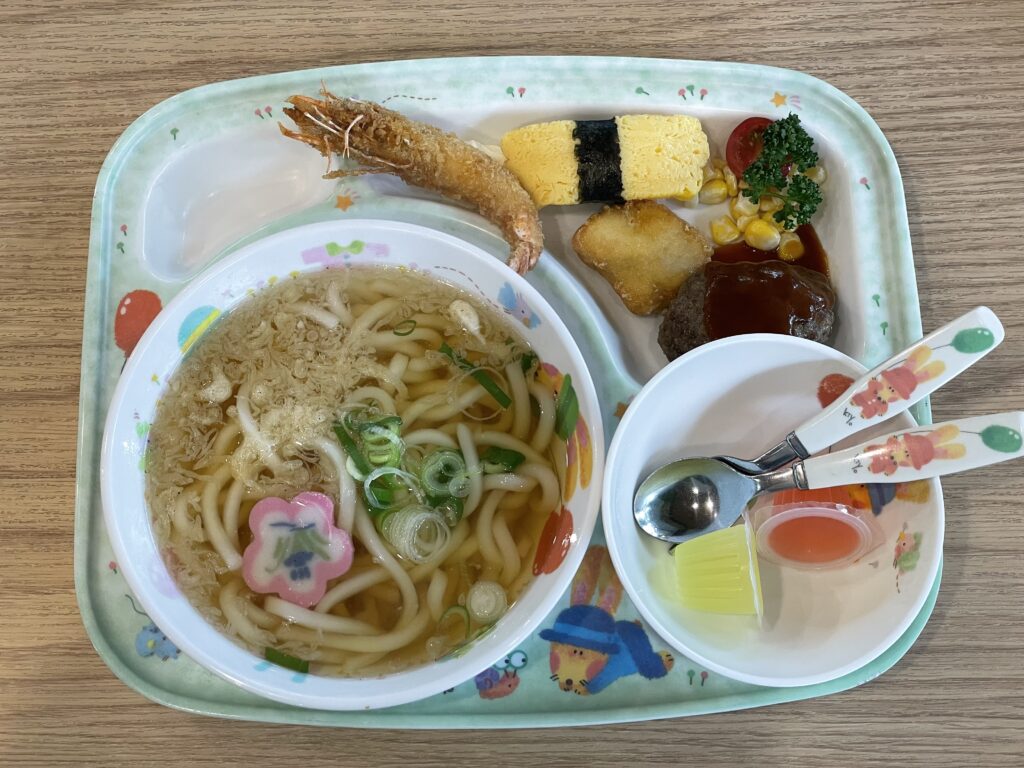 This is a favorite of kids in Japan as they love the noodles (which they cutely call "churu churu", the sound made when noodles are slurped). The flavor isn't overpowering although if your child hasn't had udon before, they might not like the texture. It's worth trying though, especially as it isn't that expensive.
This is also a good option for babies if you cut the noodles up using a fork, knife, or one of these little useful doohickeys.
Ramen (ラーメン)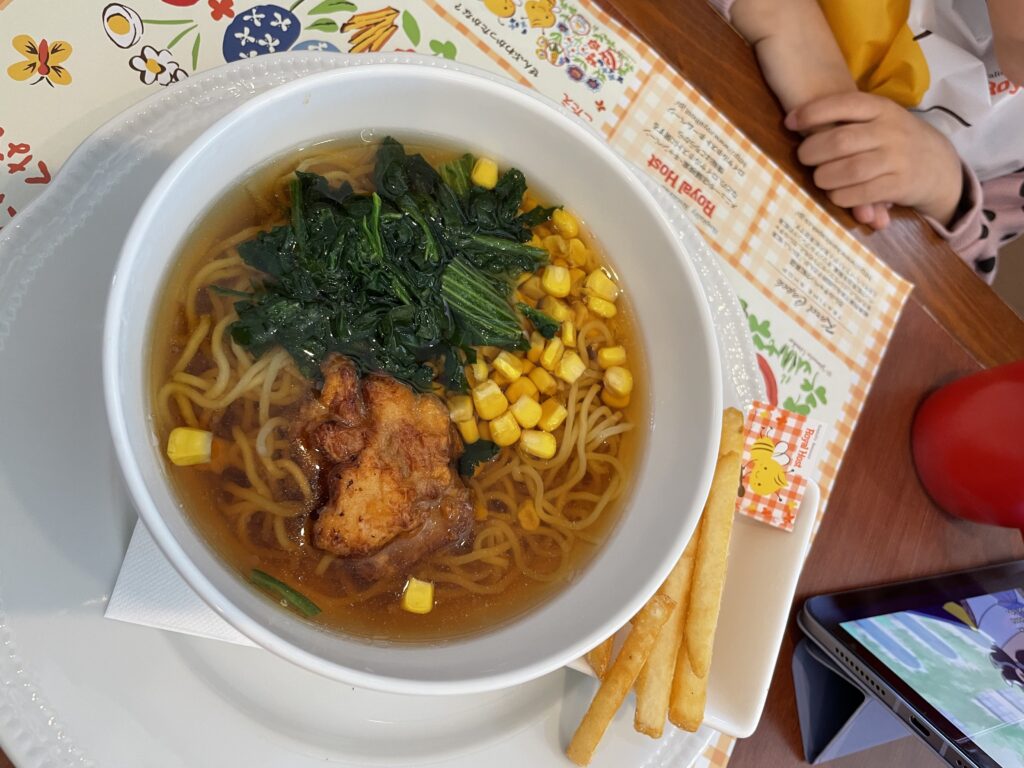 Another favorite of kids, although not as healthy as udon. There is usually some sort of vegetable in it, such as corn, and if you're ordering from the kids' menu, the broth tends to be lighter, so not as full of fat and sodium as typical ramen.
Chahan (炒飯)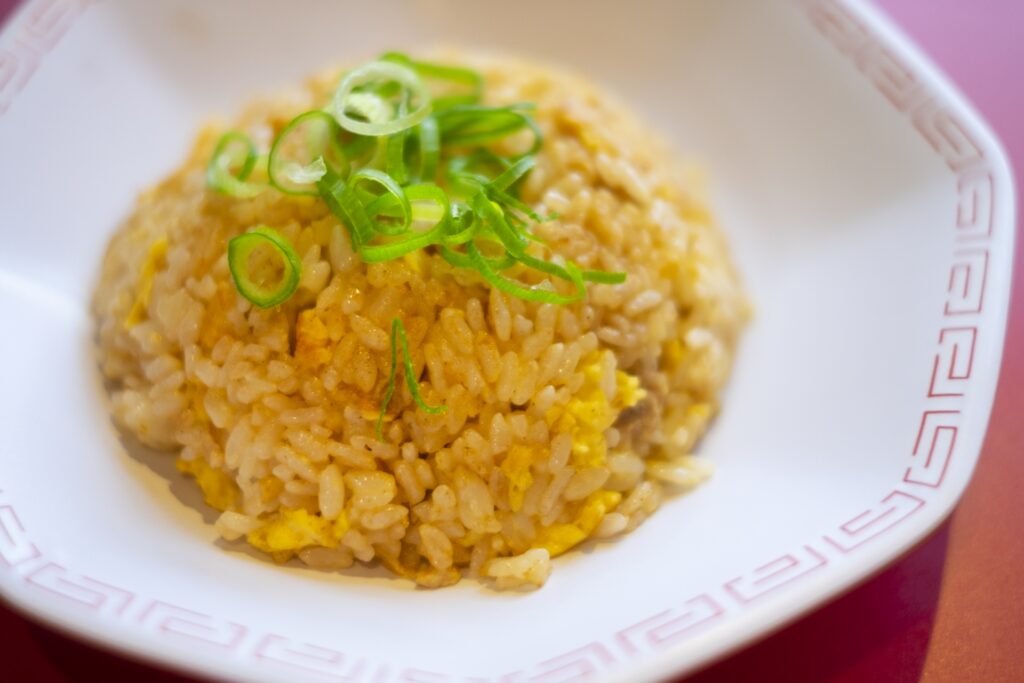 Who doesn't love fried rice? Fried rice, called chahan in Japanese, is easy to eat for kids, flavorful, and has meat and veggies so you don't feel too bad about your child missing some food groups when they eat it.
Gyoza (餃子)


My daughter is obsessed with gyoza, which are fried dumplings. I don't know if all kids are but I included it on the list because she loves it so much that she even asked to eat it on her third birthday! Note that the inside tends to be very hot so wait for it to cool down or cut it in half before giving it to your child.
Curry Rice (カレーライス)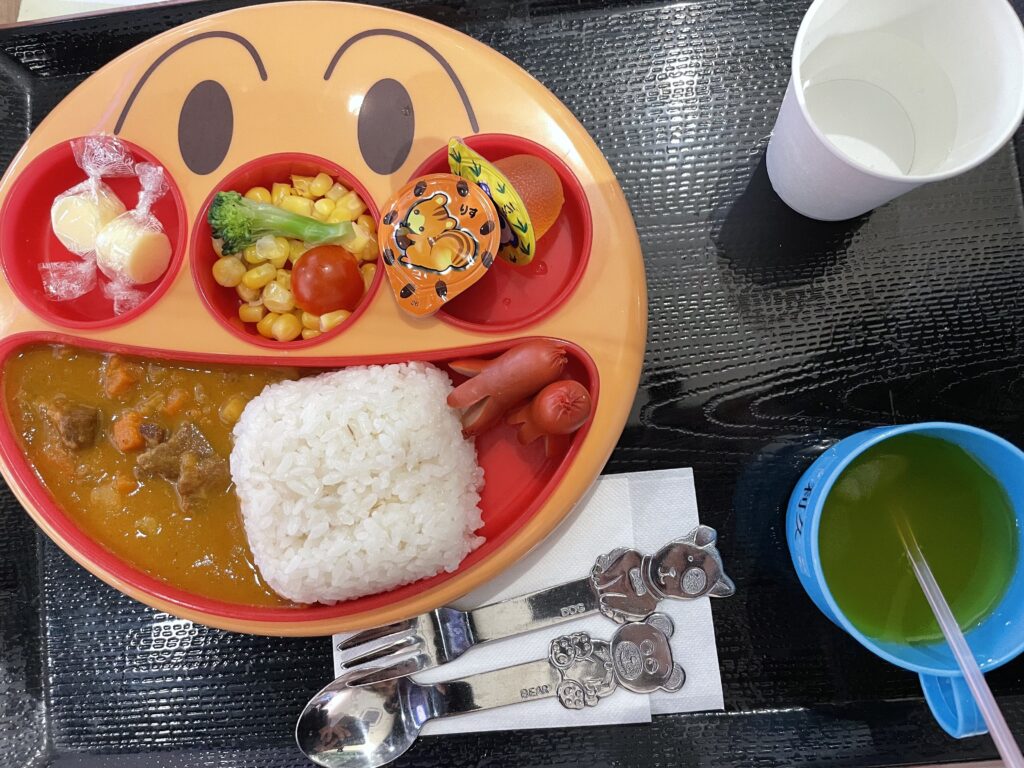 This comfort food consists of Japanese curry with rice. Restaurants that serve this for children, such as family restaurants, ensure that the curry isn't spicy and suits picky kids.
Hamburg (ハンバーグ)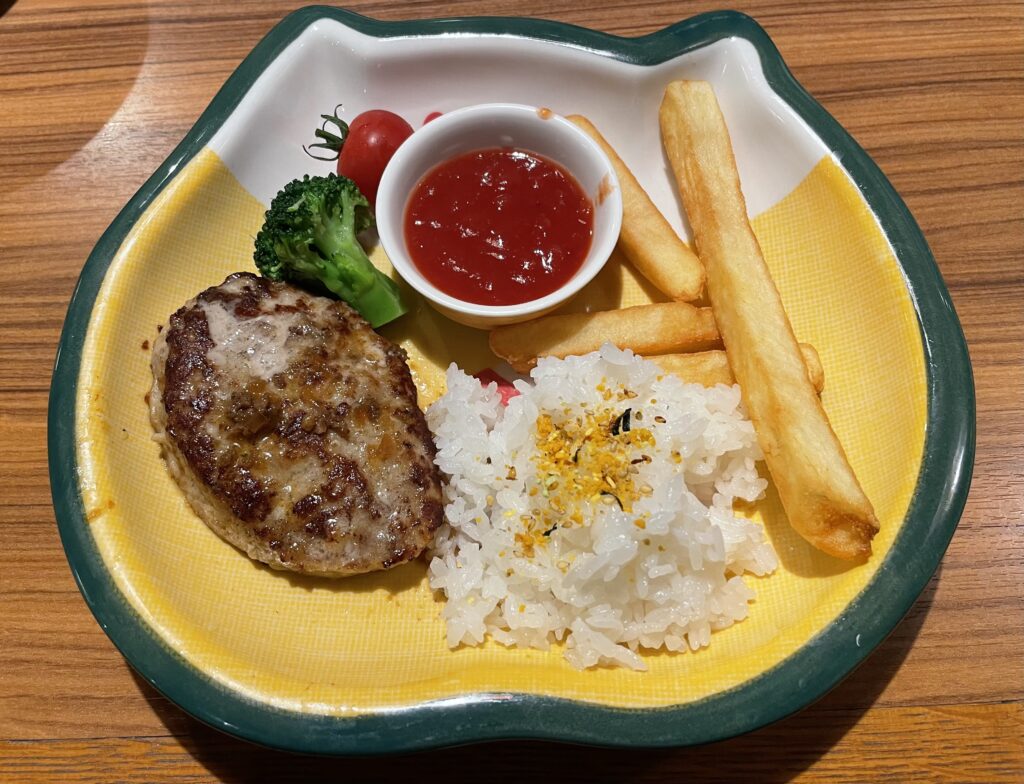 Hamburg is the Japanese way of referring to Salisbury steak. If ordered from a kids' menu, they tend to be the perfect size for children and aren't overly seasoned nor come with too much sauce (or any in some cases!). These are typically served in set meals, which include rice and a veggie side.
Omurice (オムライス)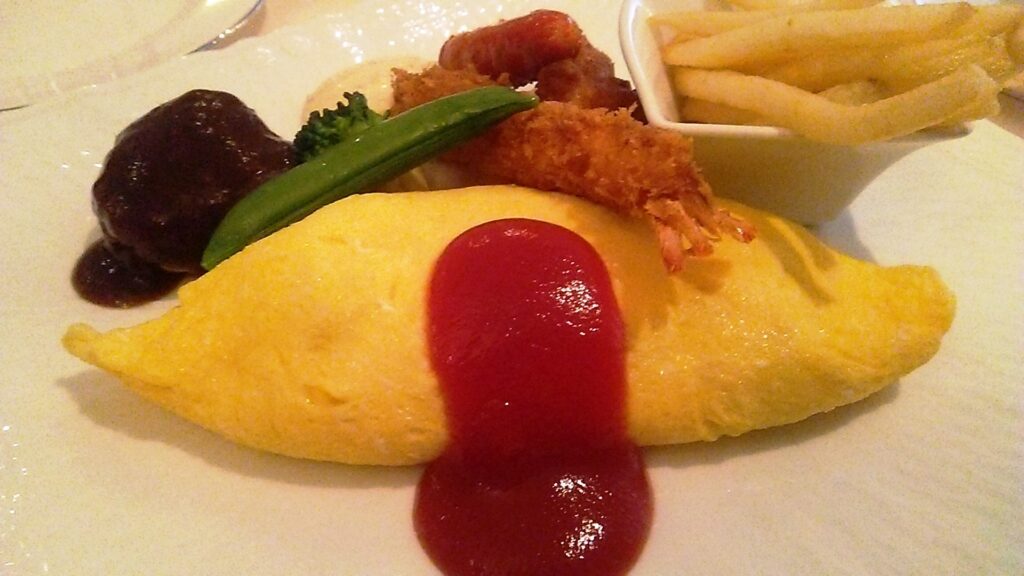 This is the ultimate children's comfort dish (although of course, adults love it as well). Fried rice flavored with ketchup is nestled within an omelet and then topped with more ketchup. If you're a kid, what's not to love?
Soba (そば)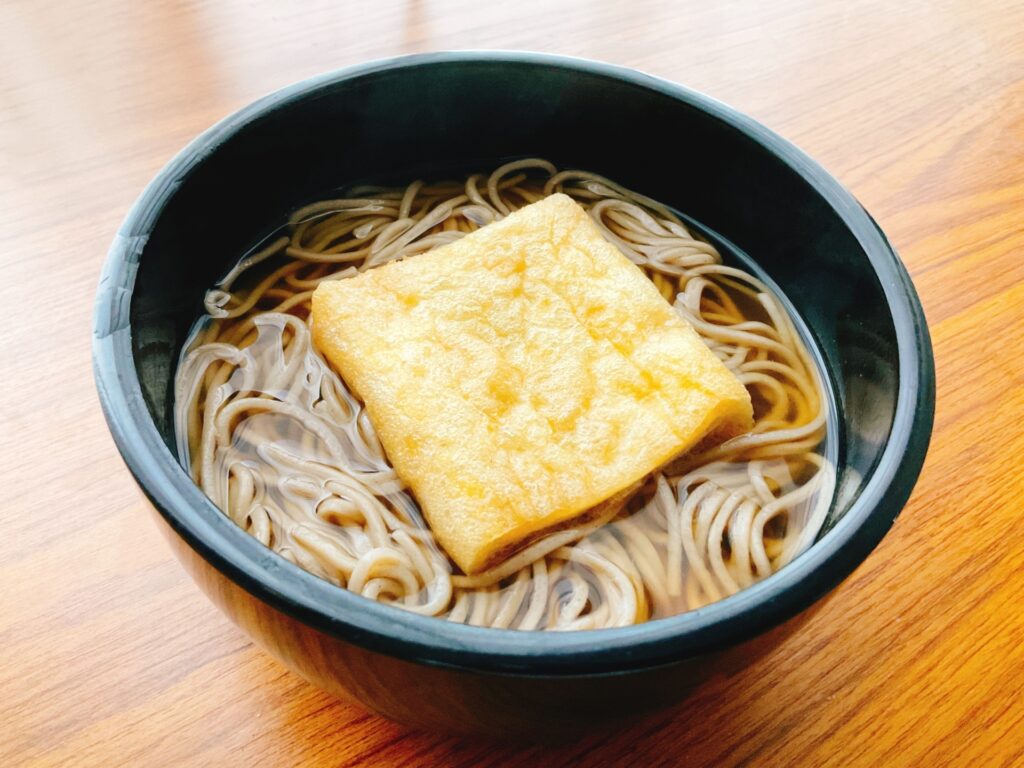 Soba is both healthy and kid-friendly. Your child might not like the taste but my daughter likes it the moment she first had it at age two. Note that some children might be allergic to buckwheat so I would recommend not having it at a restaurant if they haven't tried it before.
Sushi (寿司)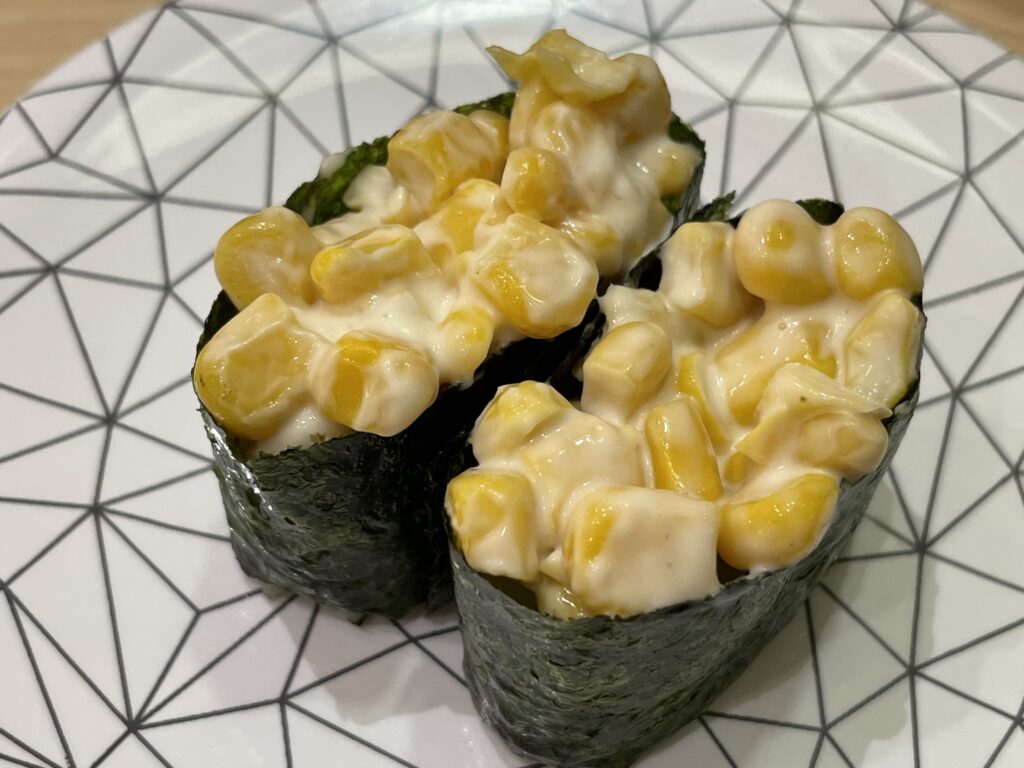 Now, you may want to avoid anything raw when it comes to your toddler. However, sushi joints (especially kaiten or revolving sushi) have lots of kid-friendly options, such as tamagoyaki (卵焼き= fried and rolled egg), kappa maki (かっぱ巻き= cucumber roll), inari sushi (いなり寿司 = tofu pouch sushi), natto maki (納豆巻き), and corn sushi.
Note that in Japan, people believe that children can start eating sushi such as salmon and tuna from between 2.5-3 years old. Of course, as a parent, it's up to you whether you want your child to try having sushi between that age range. My daughter had her first tuna and salmon nigiri when she was 3.5 years old. She had no adverse reaction but she didn't like the taste and spit it out. This is pretty common in small children, it took my nieces quite some time before they started enjoying raw fish.
Pasta (パスタ)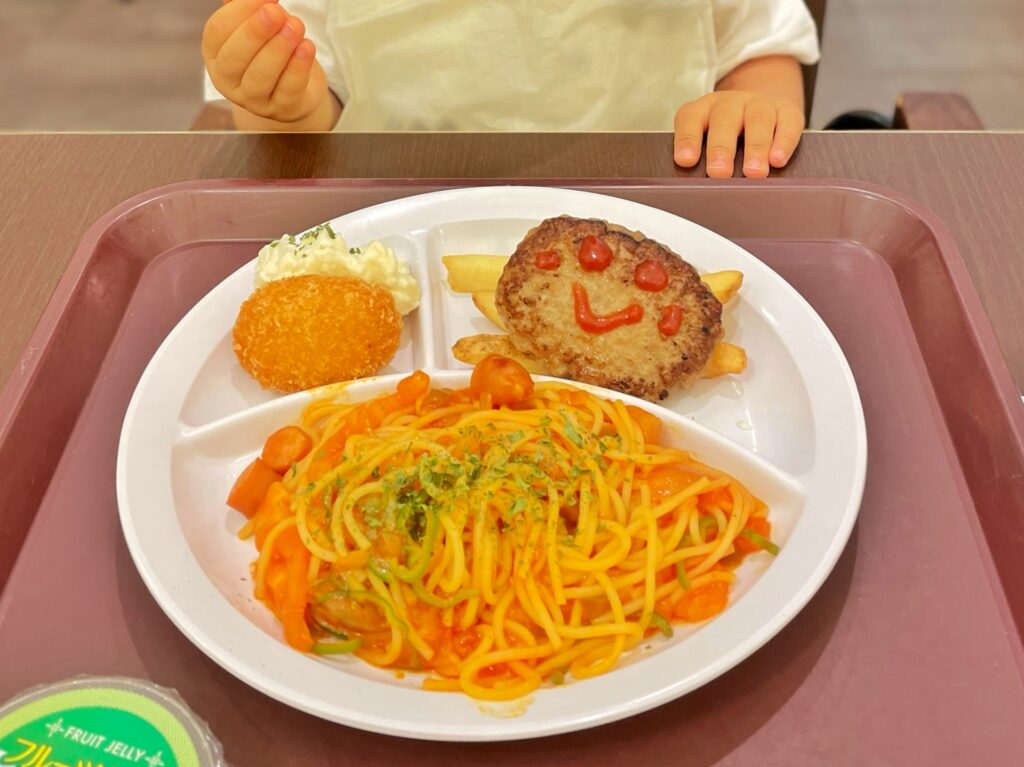 Okay, so if you're visiting Japan you might be wondering why on earth you'd like to try pasta. Well, the pasta here tends to be made according to Japanese tastes, so it's not quite what you'd have at home if you get pasta from a family restaurant (more on that later). My daughter particularly likes Napolitan (ナポリタン) pasta, which is spaghetti, green peppers, mushrooms, and onions served in a ketchup sauce. (I can hear Italians crying right now!)
Pizza (ピザ)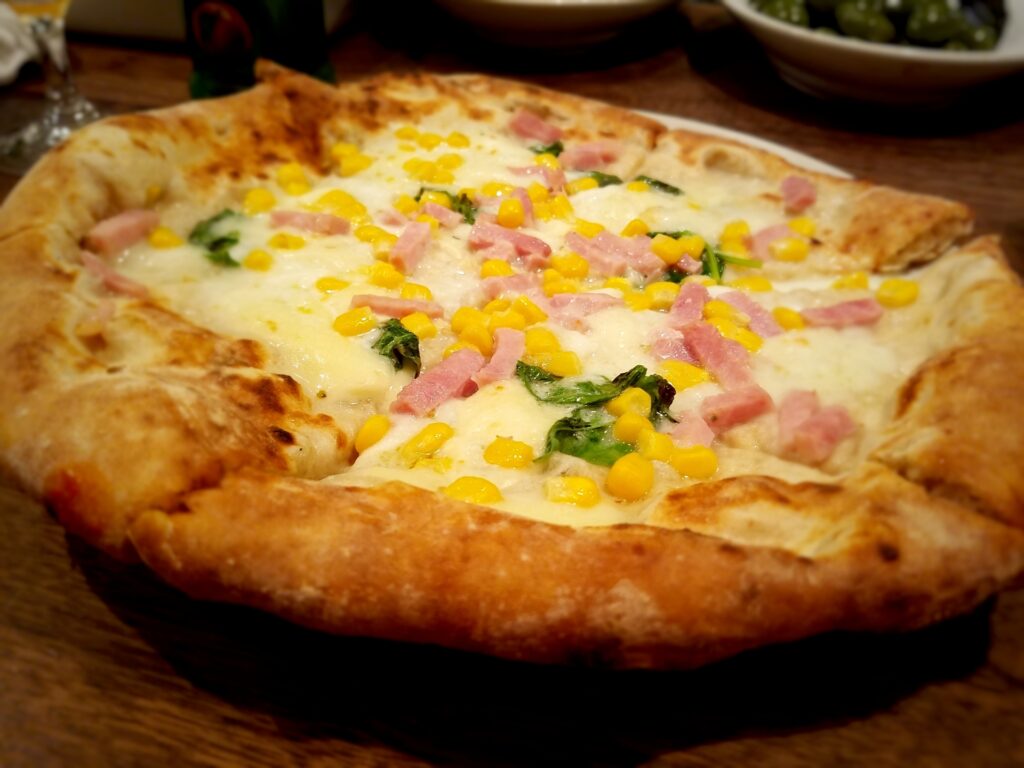 Just like pasta, pizza in Japan is unique and made for the tastebuds of locals. Popular flavors for kids include Margarita as well as Mayo Corn (マヨコン) — that's right, mayonnaise and corn pizza, and my daughter loves it. (I could never, but I won't stop her if she wants it!)
Recommended Restaurants in Japan for Toddlers and Kids
As long as the place doesn't have only counter seating with bar stools or isn't a bar/izakaya, there are plenty of restaurants where you can take your child. I'm going to focus on places that are known to be kid-friendly and tend to provide meals just for kids (called お子様・おこさま).
Family Restaurants
Family Restaurants (ファミリーレストラン) are probably among your best bet for a kid and budget-friendly place for your child to eat. Their menus tend to have something for everyone and a mix of Western food as well as Japanese.
/
ワンコイン&半額クーポン配布🎊
\

すかいらーくアプリクーポンご利用で!
マルゲリータピザ、若鶏のグリルが500円のワンコイン!
さらにお子様にはキッズうどん、キッズハンバーグがクーポンで半額に✨👀

第一弾は2月21日まで!お待ちしております🍴

— ガスト【公式】 (@gusto_official) February 9, 2023

I like the selection of food here, especially their Salisbury steaks with cheese inside, as well as the kids' menu. They also have a Lucky Set menu that includes a free go at their capsule machines for a toy such as Hello Kitty or Paw Patrol (as of early 2023). Gusto also has a robot cat server, which is a huge hit with my daughter (and let's be honest, me as well!).

View this post on Instagram

この季節限定のあつあつメニュー❣
ぜひご賞味ください😊✨

💎鶏肉と干し鱈のコク辛鍋~ミニごはんつき
💎豆乳と黒酢のピリ辛スープハンバーグ~シェントウジャン風
💎ビーフシチューハンバーグドリア
💎国産豚ロース肉のオーブン焼き~トリュフソースhttps://t.co/uctif0h4my pic.twitter.com/mueSzx8nFy

— デニーズ公式🐾 (@Dennys_PR) February 5, 2023


This is not the same Dennys as the chain in North America. The menu is completely different as it's suited for Japanese tastes. Their menu is extensive and they have an extensive kids' menu as well as free drinks for kids ages three and under (110 yen for 4 and up).

今日は大晦日⛩

2022年も今日で最後ですね。
今年も本当にありがとうございました✨

みなさん良いお年をお迎えください🤗#びっくりドンキー pic.twitter.com/ZRA6O7oH7q

— ハンバーグレストラン びっくりドンキー (@bikkuri__donkey) December 31, 2022

I love the name of this place, which translates to "Surprised Donkey". They're known for their Salisbury steak, which are pretty good, and the jungle/forest-like decor will make any child excited. Their menu also has a lot of options for kids, perfect for a picky eater.

/#ラヴィット!🐰
ミシュランシェフが選ぶ ˗ˏˋ BEST10 ˎˊ˗
結果発表~👏🎉
\

TBS系列で放送📺の情報バラエティ番組
「ラヴィット!」で紹介された
【ミシュランシェフが選ぶBEST10👑】はこちら‼️👇

2/22(水)から始まるフェアメニューもランクイン😆✨
お楽しみに~❣#ジョリーパスタ pic.twitter.com/16ic2paqlz

— ジョリーパスタ【公式】 (@jollypasta_jp) February 17, 2023

Abbreviated to Joripa, this Italian chain restaurant is a favorite of families and is bound to be packed on weekends. Their pasta options for kids include tomato base, cream base, and Japanese style in two different sizes. For some reason, though, my child always gets the hamburger!

週末はお子様と一緒に #ジョイフル へ☺
ジョイフルの #キッズメニュー はたくさん種類があって
迷ってしまいますね🤔💛

食後のデザートにぴったりの
みかんゼリー付きのメニューもあります🍊#おもちゃ もついてきますよ💛 pic.twitter.com/LGF0LkBD8X

— ジョイフル【公式】 (@joyfull_info) February 19, 2023

This is another family restaurant with a ton of options and typical kid favorites. The kids' menu also comes with a toy and comes with unlimited free drinks for kids ages three and under.

View this post on Instagram

This is one of my favorite family restaurants. The food is quite good, in particular the steaks! They also have a kids' menu with typical favorite Japanese food for little ones and the meal comes with a toy. Children ages three and under get free unlimited drinks as well.


Some of the toys kids can choose with a meal at Royal Host

The meals in their special allergen menu also don't contain the following: crab, shrimp, soba, egg, milk, wheat, and peanuts (but of course, this may change at any time so please ask the waiter just in case or use the Google Translate app to scan the menu if it's only in Japanese!).

Note that this is among the more pricier family restaurants, although I think it's worth the extra cost when considering the quality.

#すき焼き風包み焼きハンバーグ は
ホイルを開けると…

/
ほわ〜っとすき焼きの香りと
グツグツのハンバーグと野菜が…🤤🍖
\

できたてアツアツをお楽しみください☺️🫶#季節のひとさら #ココス pic.twitter.com/OqtkZj3LQa

— ココス【公式】 (@cocos_campaign) January 21, 2023

This is a standard family restaurant with Japanese and Western food. They specialize in breakfast buffets, Salisbury steak, and crispy fries. Coco's has plenty of options for kids as well and sometimes you can buy an accompanying toy with the meal for an extra 100 yen or so. Children under the age of three who order a kids meal get unlimited free drinks.

It's quite affordable but I wouldn't say it's one of my go-to's, but I do like their baked potatoes. They also have a similar robot to Gusto that delivers your order to your table. However, it doesn't have a kitty face and you have to press a button after you receive your meal, which makes it a little more work to use.

View this post on Instagram

This is another popular Italian restaurant chain in Japan, but it's considerably cheaper than Jolly Pasta. If you're on a budget, this is the best place to visit, especially if you're curious about Japanese-style pasta. The taste isn't too bad, either, when you consider the low cost. The kids' menu, however, doesn't have too many options.

おいしくて楽しい🎈
おこさまおにぎりプレート🍙で
親子ジョナサンはいかがですか?🌈

自分でふりかけをかけたり
海苔をまいたり…

親子で一緒にお食事を楽しんでいただけたら嬉しいです🤭❤ pic.twitter.com/HoBHfeVGvO

— ジョナサン【公式】 (@jona_official_) February 6, 2023

This is owned by the same group that runs Gusto. They have a standard kids' menu that comes with a special coin so your child can get a capsule toy.

\食べ放題するなら #和食さと/
左から順に…
🔸#さとしゃぶ
選べる2つのお出汁で心行くまで #しゃぶしゃぶ を✨
🔸#さと式焼肉
「#焼肉×鍋」のハイブリッド食べ放題♪
中央の"焼肉エリア"でアレンジだって、し放題🙆
🔸#さとすき
ごちそう感が、「すきやき」ならでは😎
https://t.co/9MahKGnOnM pic.twitter.com/O34lOzC9Jw

— 和食さと【公式】 (@washoku_sato_PR) February 10, 2023

If you're looking for a family restaurant that only serves Japanese food and has a kids' menu, this is a good option. The food, which includes tempura bowls, udon, soba, nabe, and sushi, is reasonably priced. The kids' menu allows children to customize their order, such as choosing the type of rice dish and noodle dish for their set meal. Older kids can also make their own temaki sushi.
If you're looking for one of these restaurants, just input the name of the restaurant or ファミリーレストラン (family restaurants) into Google maps. You can also use the map below, which lists a fraction of the aforementioned family restaurants you can find throughout Japan.
Other chains that are child-friendly include:
Gyoza no Osho ・餃子の王将 (if you order from their kids menu, your child will get a huge bag of Japanese snacks!)
Sushiro・スシロー
Kappa Zushi・かっぱ寿司
Hamazushi・はま寿司
Kurazushi・くら寿司
Bamiyan ・バーミヤン
If you have a baby, you might want to check out Chano-ma. There are several locations across Japan and I wrote about one called latte chano mama in Shinjuku, which I visited with my daughter when she was a baby.
If you're looking for some kid-friendly and themed restaurants, the following might be nice to visit in Tokyo:
In Kansai, I recommend the following:
I'm still new to Kansai so if there's anything you would recommend, please let me know!
Helpful Japanese Phrases When Visiting Restaurants in Japan with Babies and Toddlers
Below are some phrases that I feel would be helpful if you're going to be eating out with your little one in Japan.
Are kids allowed?
子供は大丈夫ですか?
Kodomo wa daijoubudesuka?
Do you have high chairs?
子供用の椅子がありますか?
Kodomo youno isu ga arimasuka?
Can I see the menu?  (<— If you want to see the menu before being seated to make sure there's something your child can eat)
メニューを見せてもらえますか?
Menu wo misete moraemasuka?
Is there a changing room?
オムツ替えするところはありますか?
Omutsugaesuru tokorowa arimasuka?
Can I get a small plate?
取り皿もらえますか?
Torizara moraemasuka?
Can I have a children's spoon and fork?
子供用のスプーンとフォクがありますか?
Kodomo youno supoon toh fohku ga arimasuka?
Can I get a bib?
子供用のエプロンがありますか?
Kodomo youno ehpuron ga arimasuka?
If your child has allergies ↓
子供は—のアレグギがありますので、これは—–が入っていますか?
My child has an allergy to —–. Does this dish have —- in it?
*point to dish on menu* Kodomo ha [food allergen] no aruregi ga arimasunode, korewa [food allergen] ga haitteimasuka?
Overall, I've found restaurants in Japan to be very accommodating when it comes to small children, or at least my daughter who doesn't have the tendency to run around the place (I actually haven't experienced many places where kids weren't seated in one place). I think only once we were asked to lower the volume of the iPad she was watching but that's all!
Of course, we always check beforehand if small children are allowed, especially if we're making a reservation. Kyoto is especially notorious for not allowing small kids into fancy places!
---
Are there any restaurants you would recommend that are not on the list? Let me know in the comments!