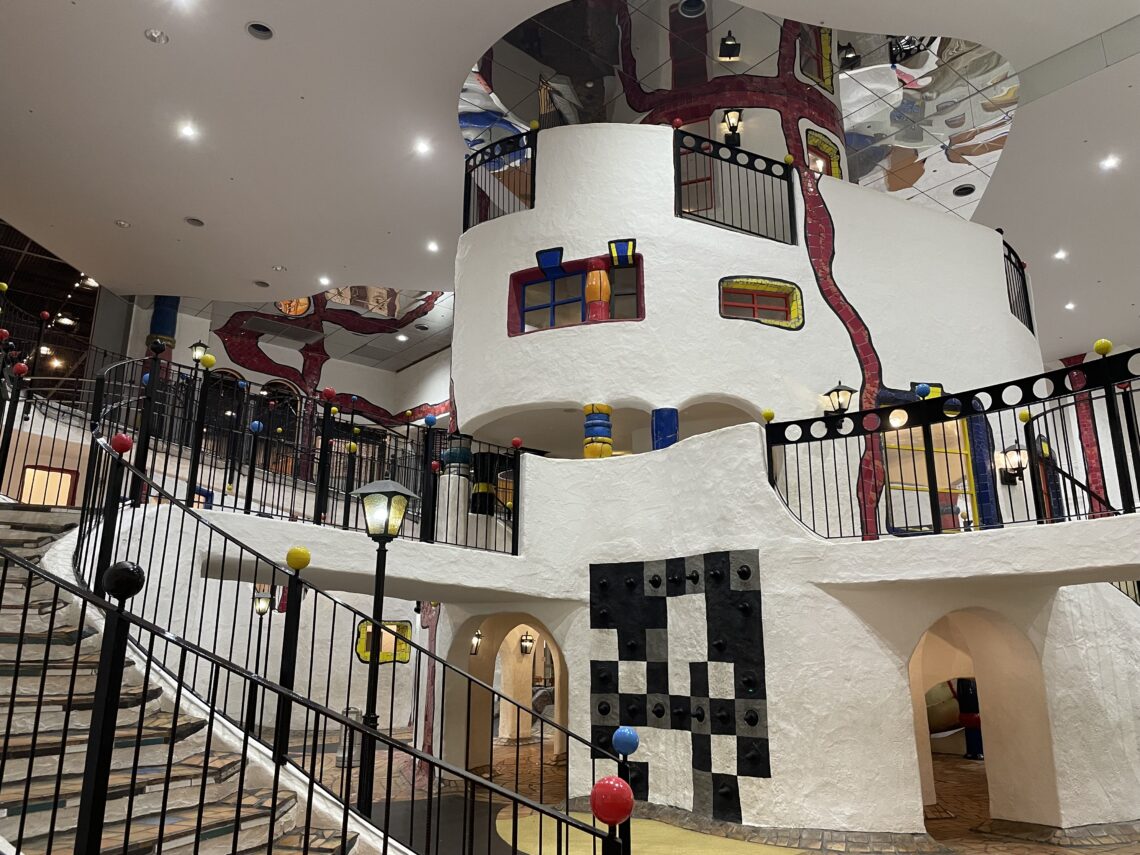 Visiting Kids Plaza Osaka in Japan with a Toddler
If you're looking for somewhere fun and educational indoors to take your toddler or small child in Osaka, look no further than Kids Plaza Osaka. My three-year-old daughter loved this interactive children's museum and based on the other kids, I imagine most kids do!
What is Kids Plaza Osaka?
Kids Plaza Osaka is a museum for preschool and elementary-aged children that introduces them to science, culture, society, and technology. True to their motto, "learning by doing", it is filled with three floors of activities for kids and very kind (mostly elderly) staff who are more than happy to help and encourage kids to try.
View this post on Instagram
This place is especially perfect for days when you want to escape the rain or heat as it's completely indoors. It seems like the employees also speak English, which is immensely helpful if you don't know Japanese.
After you arrive and pay for your ticket at the automatic ticket booth, I recommend starting off by heading straight to the fifth floor and then working your way down.
Discovery Floor (Fifth Floor):
Science
When you first arrive on the fifth floor, you'll be greeted by the Science section, which is filled with fun things for kids to learn while doing.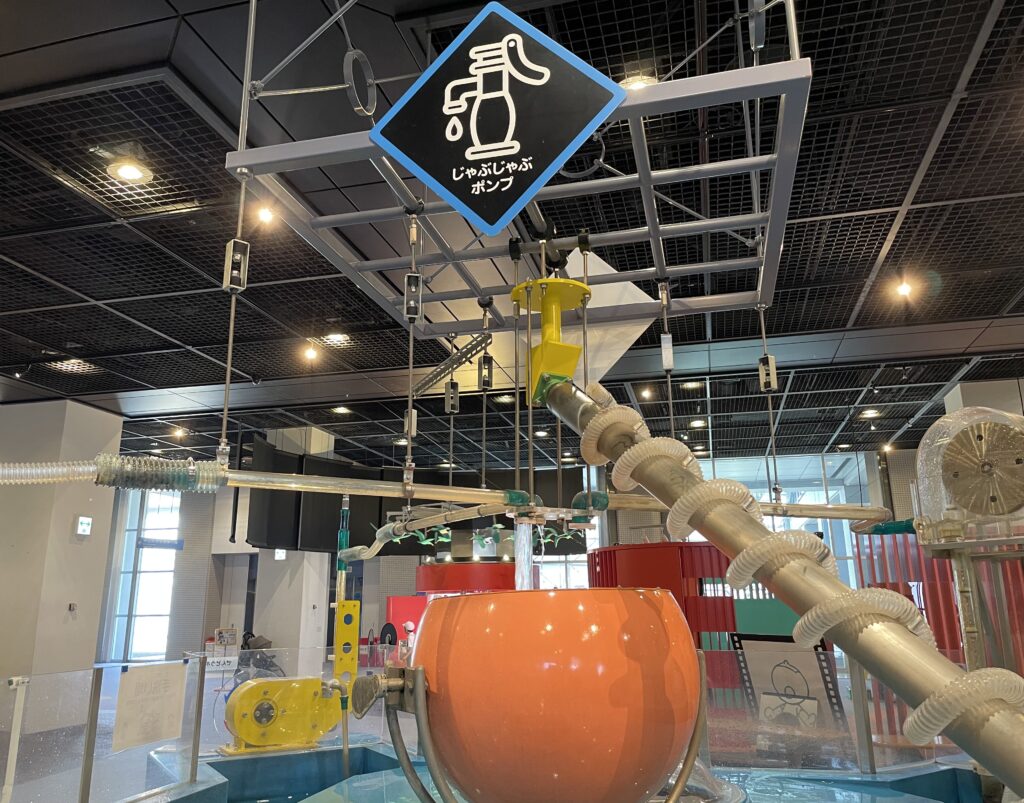 Kids can learn about fluid dynamics by rotating levers, pushing pumps, or going underneath a clear plastic dome and watching how water travels through a huge interactive display.
There is an area that introduces elements of nature that have actual insects, turtles, and small freshwater fishes that kids can look at, as well as a cave-like structure that kids might enjoy exploring (my daughter was too scared to go inside and screamed if even I tried to take a peek). Kids can also do activities like matching tails to fish.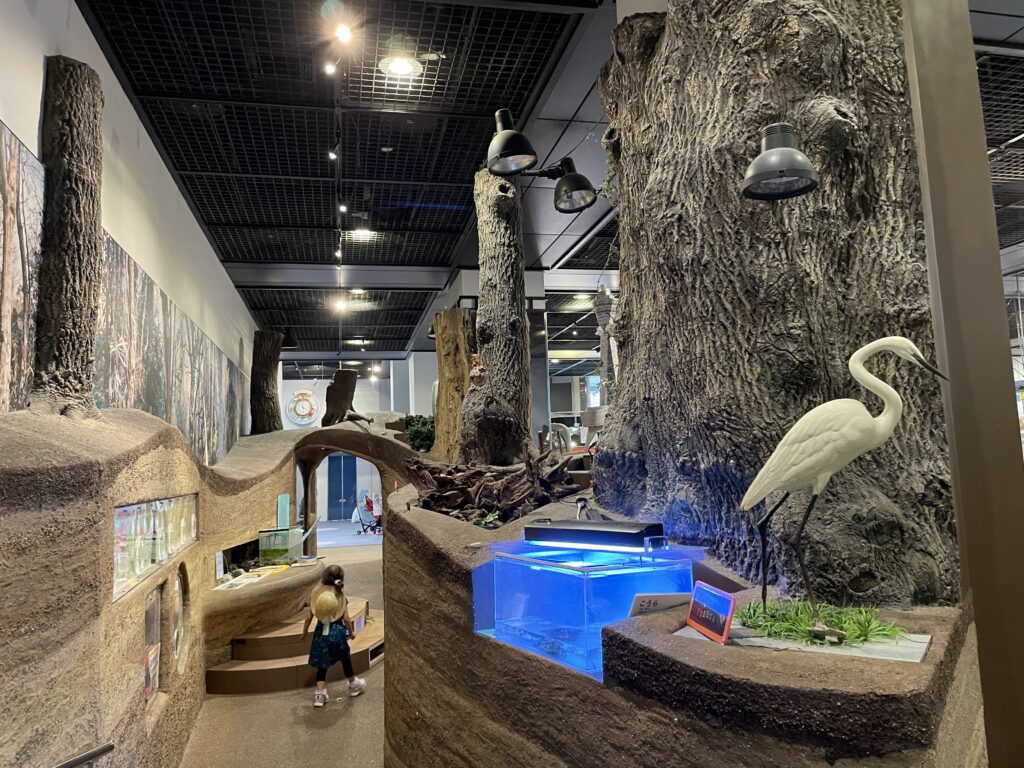 In the からだ図鑑 (Picture Book of the Body) area, kids can see life-size illustrations of all the vessels, muscles, and bones that comprise the human body, as well as put together a skeleton.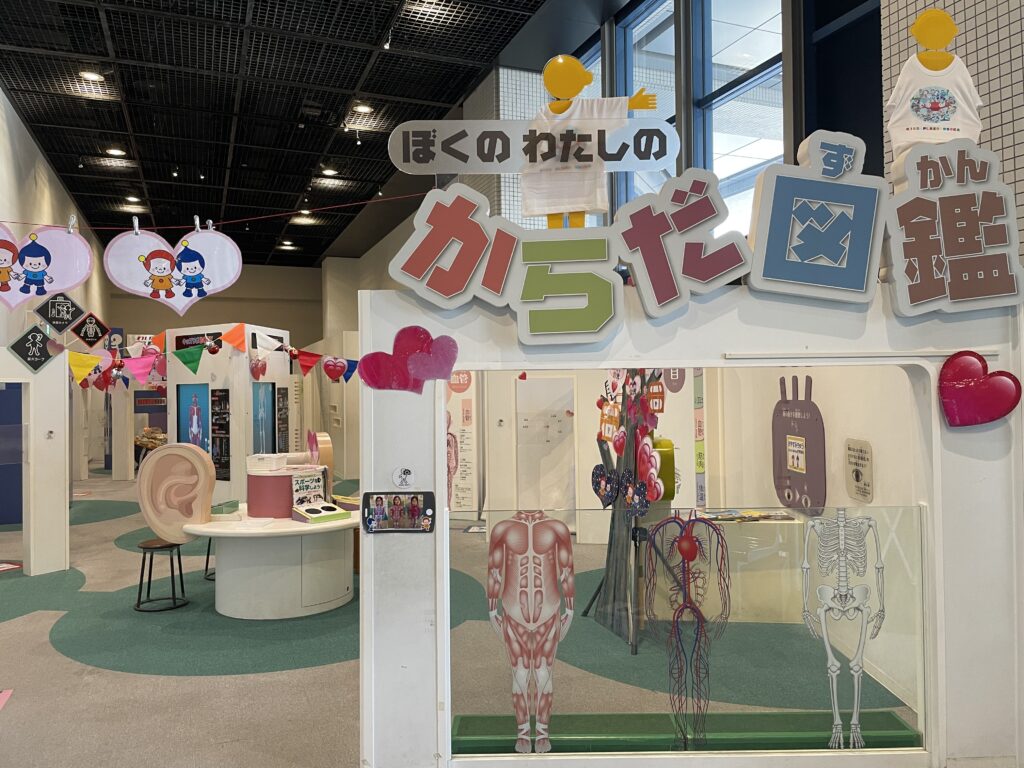 My daughter especially enjoyed learning about physics by sending small balls down various types of paths and seeing the differences in how the ball moved.
Her favorite, though, was the bubble area. With the help of the employees, she mastered being able to create huge bubbles on her own and was so proud of herself. Kids can also get "encased" inside a massive bubble! My daughter did it twice and it looked really fun, I kind of wish I could have done it! (If you want to see it in action, watch the video below.)
As she's three, my daughter was too little to fully enjoy some parts of the science section, such as one where kids could sit on a cushion and the force of their weight would launch a ball. But the older kids seemed to love it!
Society
In this section, kids can learn about the importance of barrier-free environments. For instance, they can experience what it's like to go through station gates and get on the train while in a wheelchair. Unfortunately, there was no wheelchair available on this day (I'm not sure if it was temporarily or permanently removed). It was fun looking at the old-school ticket machine, though.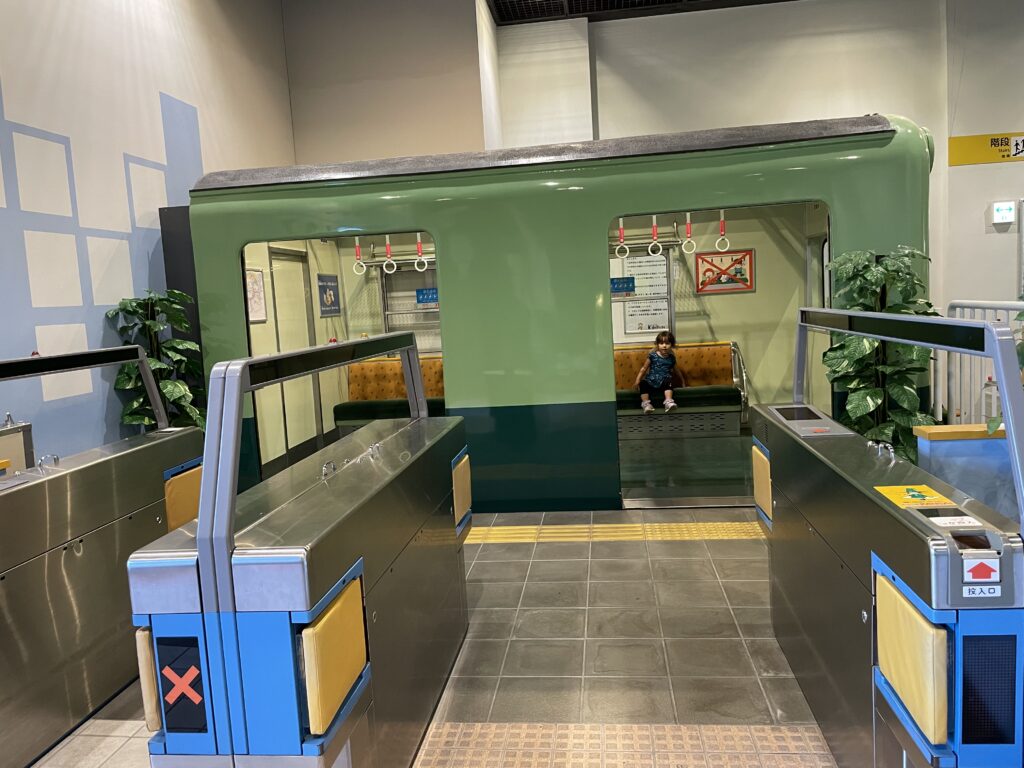 There is also an area where kids can try to guess what a shape or item is through touch.
Culture
Unsurprisingly, the culture section introduces children to various cultures. There are dioramas as well as areas where kids use blocks to build pyramids, dress up in traditional cultural outfits, and play different musical instruments from around the world. I thought my daughter would enjoy being able to play all the bongos, especially considering how much I have to stop her from touching instruments at second-hand shops, but she probably spent less than a minute on each thing before running off. (There was too much to do!)
There is also a Kids Plaza Hall and a TV Studio, but both were closed when we went so I can't report on them, as well a huge slide that lets kids go down from the fifth to third floor. However, kids need to be at least 100 cm tall to use the slide, and my daughter didn't make the cut.
Adventure Floor (Fourth Floor):
This was my daughter's favorite floor, mainly because of the small grocery store where kids could pretend to shop and scan their items. Kids are supposed to choose three items that total exactly 1000 yen. They don't get any sort of prize, the employee just rings a bell, but it's a great way for them to do Math and learn how to budget.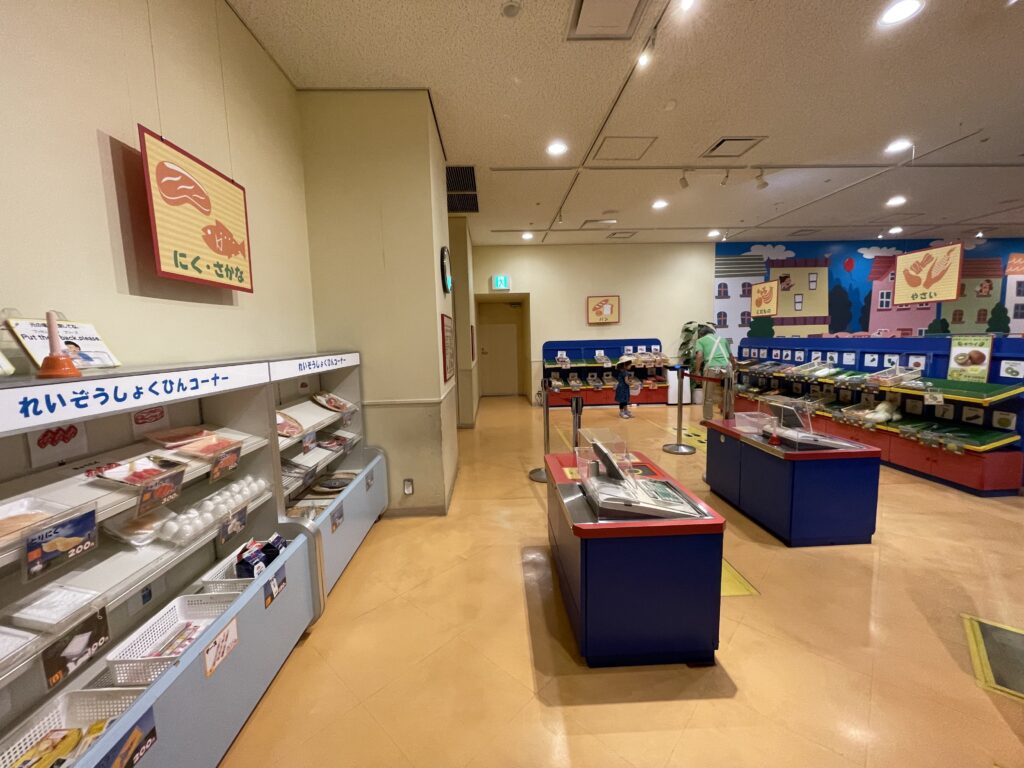 My daughter was too young to try having her groceries add up to 1000 yen but just shopping and scanning alone was loads of fun for her. The items are also very realistic but child-sized, so it's easy for little ones to grab and put into their baskets.
We came and went from this area and I'm fairly certain my daughter spent at least an hour here!
Kids Street
As you may have guessed from the grocery store, the Adventure Floor simulates a little town with a clinic where kids can use stethoscopes, a salon with different magnetic hair pieces, a police station, a post office, and little food stalls.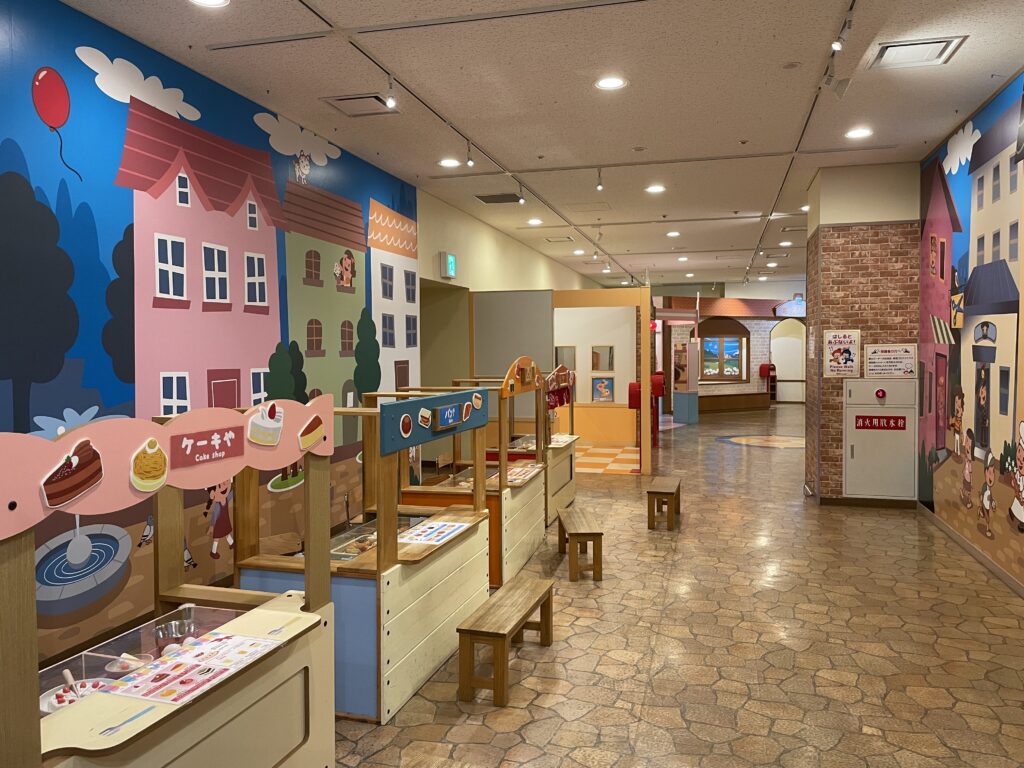 It seemed like the elementary school children really enjoyed getting postcards from the staff that had numbers they had to match to various mailboxes. (My daughter hilariously opened the mailboxes after kids had put a postcard inside, took them out, and then randomly put them into other mailboxes. But don't worry, no one checks whether the kids were correct or not and there's no score or prize to be won, it's all about the experience.)
Kids Lab
This lab allows your child to do a little experiment to learn about science. They have two to three demonstrations a day and limited seats, so if you're interested, I would suggest checking out the available times first and then signing up.
The topic for the Kids Lab that my daughter and I attended was rainbows and how different types of light, such as from a candle or a string of lights, refract. My daughter absolutely loved it and enthusiastically answered every question the staff asked.
Note that the Kids Lab is in Japanese but there is a staff member who speaks English if you need help. Please also be considerate of other attendees and try to keep it down so that everyone can listen to the instructions.
Library
Kids can freely read different picture books in the library. I wasn't able to take a look because my daughter had no interest and wanted to do other things.
Make sure you remove your shoes before going inside!
According to the website, there is also a small playroom on this floor for babies and children up to age six but I didn't come across it. (It may have been closed.)
Creativity Floor (Third Floor):
This floor was probably my daughter's least favorite, perhaps because there isn't that much to do as many activities were closed.
Among the activities that were open included drawing a picture on a tablet and then seeing their drawing process afterward on a big screen, as well as seeing your silhouette on a big screen.
My daughter did enjoy jumping on a platform to make a model train move.
There is also a white building-like structure in the middle of the Plaza, which spans from the third to fifth floors. This is meant to be a "Kids Town", which was made by an Austrian designer. My daughter absolutely loved exploring this place from top to bottom and then back again, which is a little maze-like (so make sure you keep your eye on your child because they can disappear in an instant!).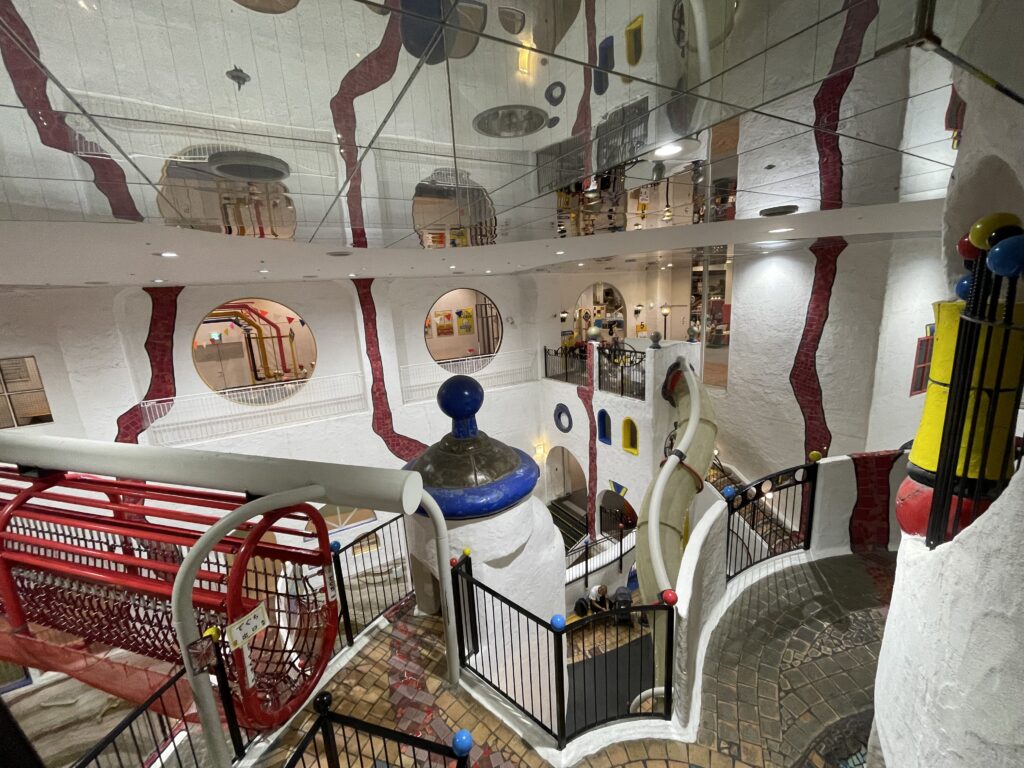 The building also allows kids to climb up the walls in various ways. Some were too difficult for my daughter, like using a rope, but others, like the one pictured below, were just right.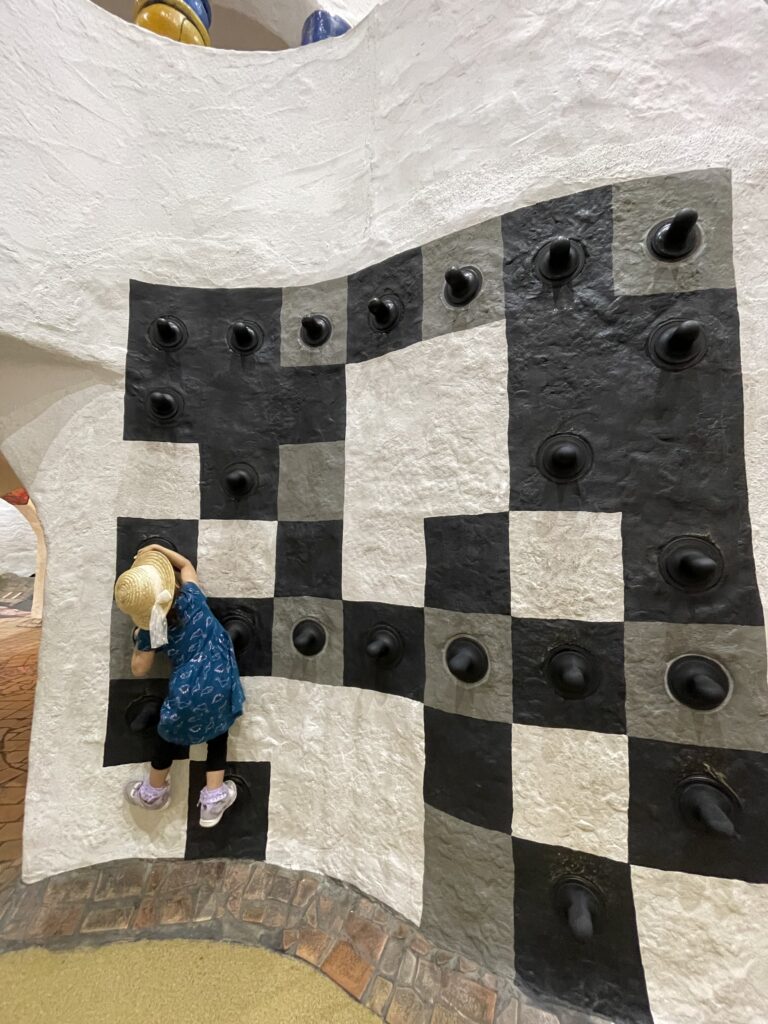 When to Visit Kids Plaza Osaka
Kids Plaza Osaka is open almost daily from 9:30 AM to 4:30 PM except for every second and third Monday of each month and New Year's holidays. (Click here for the schedule.)
As this place is popular with school groups, I would recommend visiting on a weekday at around 1 PM. Otherwise, it will likely be very crowded with school kids who are running all over the place (and without a teacher in sight). I haven't visited on a weekend but I've heard that it is also quite busy.
If it's really busy or you feel like popping out to get some food, it's no problem. As long as you have your ticket, you can come and go from the third floor as you please. Note that the last entry is 45 minutes before closing.
We spent a surprising four hours here, so make sure you give yourself ample time because if your child is anything like mine, they want to see everything and then do everything over and over again! She did not want to leave.
Entry Cost for Kids Plaza Osaka
Adult
One day: 1400 yen
6-month pass: 4700 yen
Annual pass: 8700 yen
3 years to 6 years
One day: 500 yen
6-month pass: 1700 yen
Annual pass: 2700 yen
Elementary School to Junior High School-aged children
One day: 800 yen
6-month pass: 2700 yen
Annual pass: 4700 yen
Getting to Kids Plaza Osaka
One especially nice thing about Kids Plaza Osaka is that it's located a three-minute walk from Temma Station, which is only one stop away from JR Osaka Station on the Osaka Loop Line.