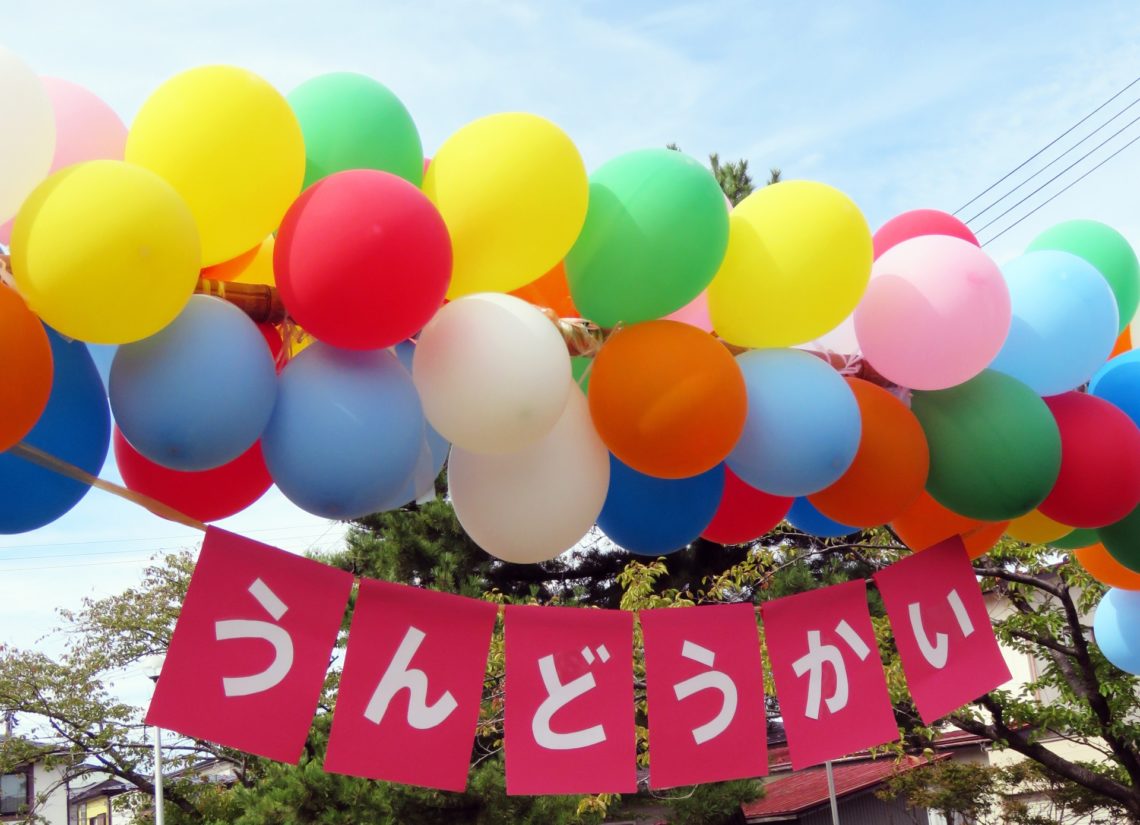 Undoukai (Sports Day) at a Japanese Daycare
Last month, my daughter (Baby A) had her very first Sports Day (運動会 ・ undoukai) at daycare!
Sports Day is an event held by schools in Japan, usually in the spring or fall, in order to promote being active and encourage cooperation among peers. The only Sports Day I had ever seen (and participated in) was many years ago when I was on JET, and the students were in high school, so I had no idea what to expect at a Sports Day for toddlers!
About a week before the event, my husband brought home a sheet of paper from the daycare, which had the lyrics to a song I had never heard before in my life (but this shouldn't have been a surprise, I'm still learning about Japanese children's songs). The song also had choreography, and guess who had to learn this in time for Sports Day?
The song was called ラララぞうきん (La la la cleaning cloth) and every day after work that week, I lay my fussy 16-month-old on the floor and practiced the song, which involved lightly poking her, moving her legs back and forth, squeezing her thighs, or patting her tummy as if she were a cleaning cloth that I was sewing, washing, wringing, or folding. My daughter was practicing this song with the daycare teachers as well so it wasn't unfamiliar to her and she seemed to enjoy it.
On a chilly Saturday morning, we headed to a nearby community hall for the event. We were allowed to invite relatives but given the situation with the pandemic, we decided against it. At the entrance, we received a cute program shaped like a hat that also had our daughter's picture inside of it.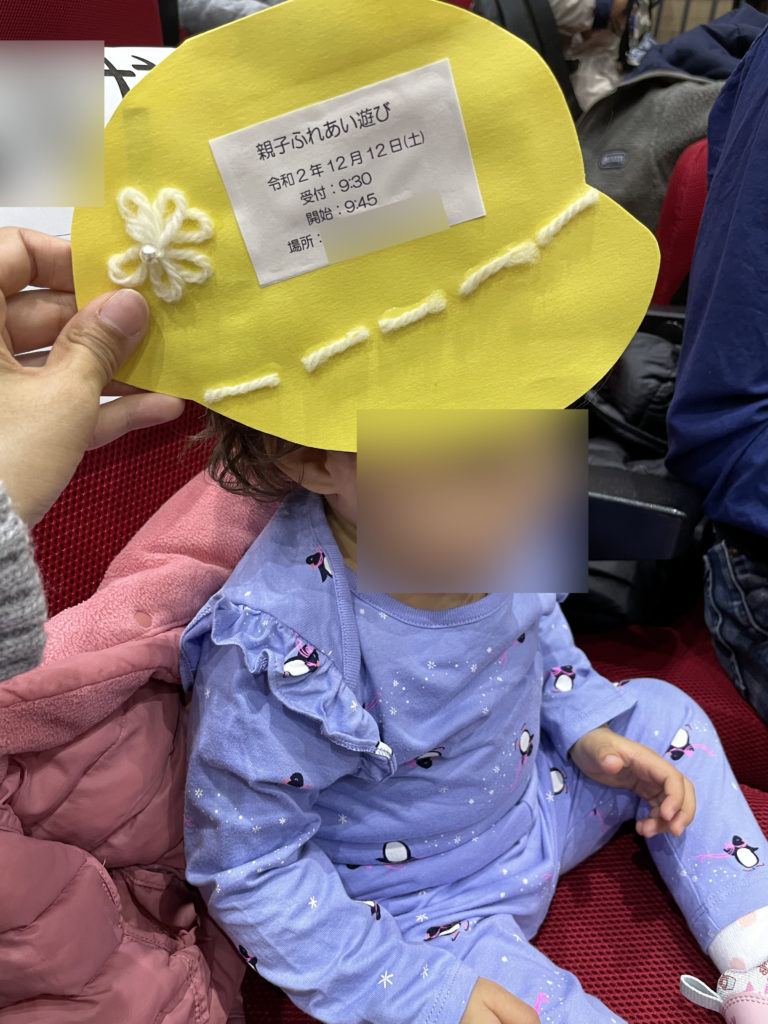 Baby A with the adorable hat-shaped program
We had assigned seating and there was ample space between all of the families, which was a relief. The undoukai started off with a greeting from the manager, who briefly went over the activities for the day (10 events in all!) before all the children got together on the floor with their parents to do a dance called どうぶつ体操1・2・3. Unsurprisingly for me, I had never heard of this song but surprisingly for my husband, he hadn't either!
The youngest children, who were in my daughter's Hiyoko or Chick class, were confused and not really dancing while the older toddlers were having the time of their lives dancing with their parents. Apparently, they had practiced this song at daycare before the event but perhaps the new environment or all the people were too much for the littlest ones.
Afterward, it was time for the second event, which featured the Hiyoko class. This event was called ぴよぴよかけっこ 〜ママのところへ急げ!!〜and involved the toddlers racing to their mother. (The title did make me raise an eyebrow and wonder what they would have done if the only parent at the event was the father.) I wasn't expecting much but when it was time to go, my daughter dashed from my husband, who was at the start line, straight towards me. It was somewhat surprising because she is definitely a daddy's girl so I didn't think she would want to leave him! She ended up in second place (which isn't saying much because there are only three other kids in her class) but I was so proud of her!
One thing I regret is that I did not have my phone with me at the time. The other two moms recorded their kids running to them and unfortunately, I wasn't able to do that so make sure you don't make the same mistake as me and have your phone on you at all times at your child's undoukai! We brought our DSLR camera and a tripod to record the event but there was no space to place the tripod, unfortunately.
The third event was the one I was dreading and had practiced for — 親子でニコニコ〜ラララぞうきん〜.
Following one of the daycare teacher's instructions, the other moms and I formed a circle and sat down with our legs stretched out in front of us. We then lay our toddlers face-up on our legs. I hadn't practiced the song like this and it was a little uncomfortable having a 9 kg baby stretched out on my legs. Now that I think about it, I can't remember the last time I had sat like that!
Baby A was surprisingly calm during the song but also seemed confused and equally uncomfortable. One of her classmates, Baby R, was not having it and rolled off of his mother, refusing to lie down for the song. I wasn't sure if I was doing the movements correctly but since we were in a circle, it was easy for me to glance at the other moms and follow what they were doing.
The next five (!) events were for the older toddlers:
ママのところによーいどん!
This one featured the Usagi class with kids around two years old. The event was similar to the Hiyoko class's earlier race, except at the end, the toddler jumped onto their mother's back and then the mom would carry them and run to the finish line. One kid ran to another kid's mom, which was pretty hilarious.
ダッシュ!!ダーッシュ!!
This was a race for the Panda class, who are around three years old. They had to run on their own to the finish line, although some kids were too excited and ran to the finish line before they were supposed to.
できるかな?
Both the Usagi and Panda class participated in this event, which was dancing to a song called できるかな?, which is based on Eric Carle's book できるかな?  (From Head to Toe). I had never heard of the song before and neither had my husband, but it seems like it's quite popular? The song was fun but quite long.
くまさんどーこだ?
In this event, members of the Usagi class worked with a parent to flip large cards on the floor and try to find one with a bear. After finding the bear, they had to run through a tiny obstacle course to the finish line.
おむすびころりん
This was a more advanced version of the previous game for the Panda class. One thing I didn't like about this particular event was that there were paper headbands that both children and their parents had to wear, but of course three-year-olds have much smaller heads than adults so their headbands kept slipping over their eyes and getting in the way.
As Baby A didn't participate in these events, it was pretty dull for her and the other kids were also getting restless. For the できるかな? song, I made her mimic the movements from my lap and she really enjoyed that. Thankfully, she was finally able to participate for the last two events.
In an event called 親子でみかん詰め放題, the toddlers and their parents had to race to a box of mikan and gather as much as possible within a certain time period before running to the finish line — however, there was a catch. One parent had to put as much mikan as they could into a plastic umbrella bag while the other helped their child try to get mikan into a cute little Christmas tote bag.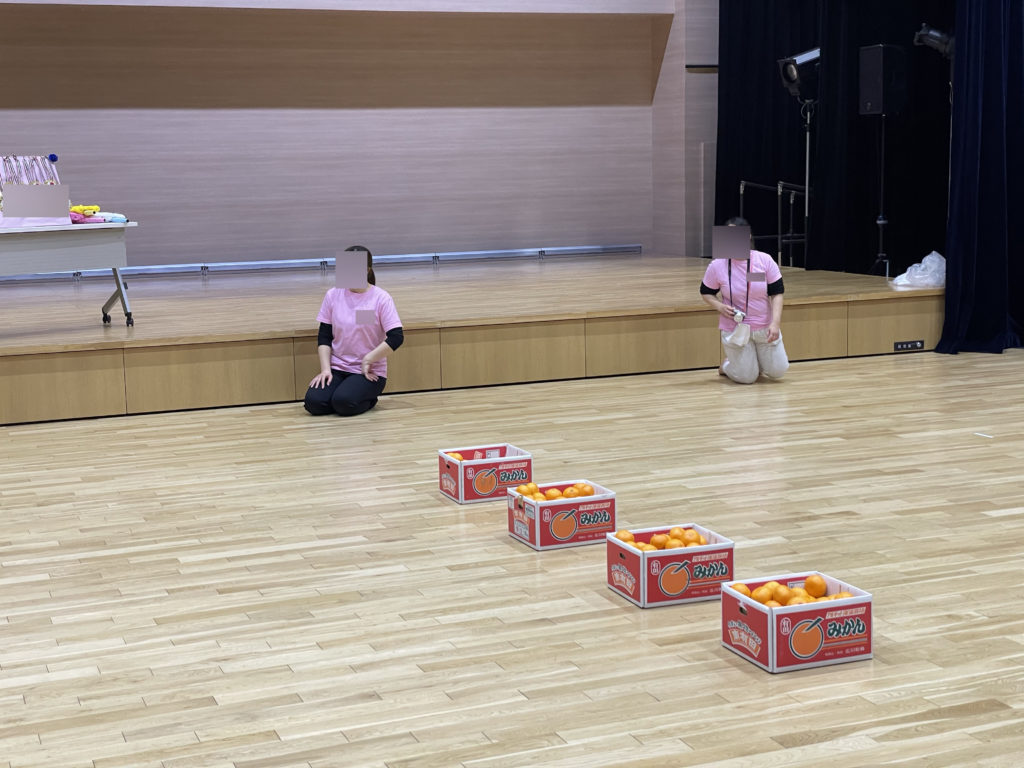 The boxes of mikan
We were up first with the other Hiyoko class families. My husband and I decided that I would collect mikan in the umbrella bag while he would help Baby A. I tried my best to fill the umbrella bag with mikan while the ultra-popular theme song from Kimetsu no Yaiba, Gurenge, played in the background but it was surprisingly difficult! When time was up, Baby A had collected one (she was confused most of the time) and I was embarrassed to discover that I had collected the most mikan compared to the other two parents! However, I felt better after seeing how much mikan the other parents after us took (maybe after seeing the foreign mom just go for it, they decided not to hold back?).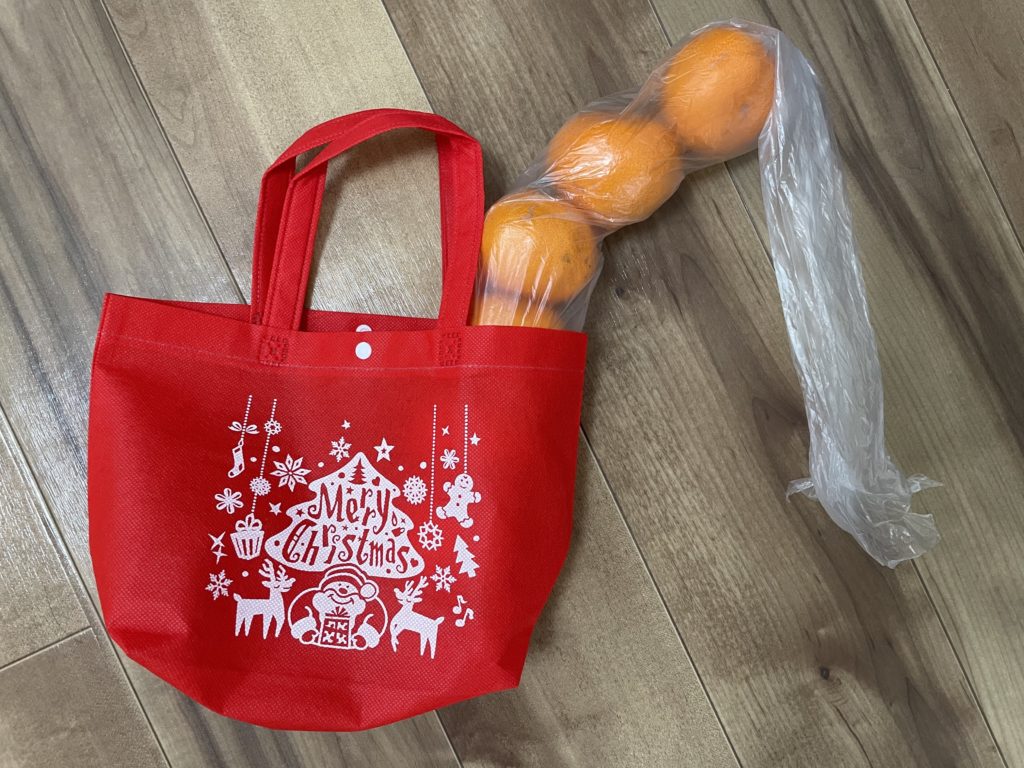 My haul and Baby A's bag
The teachers also participated in this event at the end. One teacher didn't end up getting any mikan at all while another completely filled the umbrella bag!
All of the children and their parents participated in the last event, 親子でメリーゴーランド.  We were divided into groups and each given a plastic ball with a shiny colored paper attached to it. We then had to throw the balls in turns onto a rainbow parachute that the daycare teachers were holding and run under the parachute. I have fond memories of parachute games when I was in elementary school in Canada, so I was happy to see a similar game being played in Japan.
At the very end of the undoukai, we took a group photo and all of the children received adorable, handmade medals with their pictures on them. It was a wonderful memento and I appreciate all of the time and effort the daycare teachers put into making them and holding such an enjoyable 運動会. As someone who hated these kinds of things in elementary school, I'm actually looking forward to next year's Sports Day and I hope my daughter has just as much, if not more, fun!