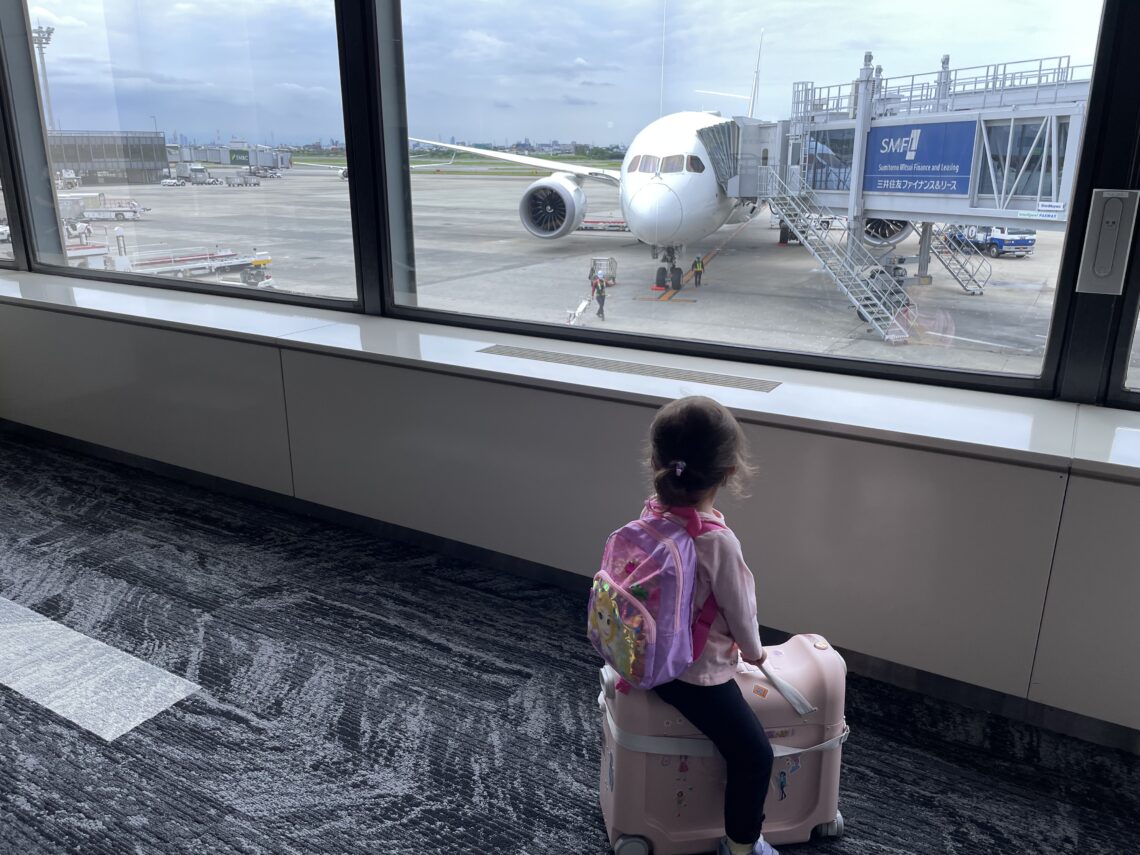 Traveling Internationally by Plane (During COVID) with a Toddler: Japan ⇔ Canada
It's been a month since I returned to Japan after traveling to Canada with my toddler and I think I've recovered enough to finally be able to write about it.
I think that under normal circumstances, traveling with a toddler on your own shouldn't be such a hassle. And my daughter did pretty well overall, better than I anticipated actually. But the journey was long to begin with, the longest I had ever taken from Point A to B, and I now know that I will never, ever take that kind of flight again.
Now, this article is not meant to be doom and gloom! I want to honestly share my experience flying internationally during a pandemic with my toddler, one of the worst-case scenarios I think. After reading about my experience, I hope you will be better prepared or even relieved that I survived and you will as well if you're traveling on your own with a small child.
How to Prepare for Your International Flight with a Toddler
Preparation is key! Keeping your toddler comfortable and entertained is so important, especially to prevent meltdowns. It's hard for adults to travel for long hours, imagine how it must feel for a small child with a short attention span and tons of energy!
Here are some of the things I got that really helped and I recommend other parents to consider as well:
I am SO glad I purchased this! The STOKKE JetKids Bed Box is small but very functional. Bring it as carry-on luggage and then stow it under your child's seat on the plane. After you've taken off, pull it out, open it up, and take out the mattress inside. Lay the mattress on your child's seat and on top of the suitcase and viola! Instant bed for your child to stretch out their legs, sleep, and relax.

I'm short so I was able to place my legs on it diagonally as well, which was really nice.

Now, the mattress is of course great, and there's some room in there as well to put books and small toys, but your child can also RIDE on the Bed Box! This helped me SO MUCH. I can't emphasize this enough. Toddlers can be slow and take forever to walk somewhere, but with the Bed Box, I was able to pull my daughter through the airport using the Bed Box while I hurried to make my connections. She loved it too, it was a very fun ride for her, which a lot of people commented on as well ("That looks like so much fun!" etc). I also had a few parents ask me about it!

So yes, GET THIS. And also, practice having your child ride it at home so they're used to it and won't fall off when it's time to use it at the airport. It comes with stickers as well, which my daughter had so much fun with when personalizing her Bed Box (we added some Precure stickers from Daiso as well).

I made sure to get lots of books and magazines for my daughter to keep her occupied, but she really loved this water coloring pad by Melissa&Doug. Fill the pen up with water (ask the flight attendant for some) and then let your kid paint the white pages using the water, which reveals beautiful colored scenes. After the water dries, the page turns blank again, allowing them to paint over and over and over again.

My daughter loved it so much that when we got home, she used an uchiwa to fan the pages so that they would dry faster! They come in various types, such as vehicles, fairy tales, ocean creatures, and so on, which is why I'm planning on getting another one for my daughter for Christmas!

Wishlist Item

Pack something portable that your child would LOVE or has always wanted. Make sure they don't see it before the flight.

My daughter really wanted Disney sticker books from Daiso, a Paw Patrol activity book, and a Licca-chan doll, so I got her those. She was ecstatic when I pulled them out at the airport and on the plane!

You can also get them a tablet to keep them entertained while they're at the airport (or if they don't like the in-flight entertainment). A friend of mine got her son an Amazon Fire Kids Tablet, which comes with free downloads of apps, movies, and shows for one year. My daughter played with it after we came back to Japan following our trip and I wish we had gotten it! (My daughter just watched shows on our iPad mini during the trip to Canada.)

Usually, the headphones that airplanes provide aren't quite the right size for small children, so it's best to bring a pair for your child. My friends used these CozyPhone ones when they traveled abroad, which their kids loved.

I got these JVC wireless headphones to connect with our iPad mini as I wanted something we could use in the car as well. I liked these because your child can decorate them, which my daughter had a lot of fun with, but in the end, she didn't want to wear them. She preferred to hear nothing over putting them on! These don't have wires to connect with the entertainment system in the plane though, so please keep that in mind.
You also want to make sure you have the basics!
Sanitizer wipes

These are not only to wipe down your kid's hands but also things like airplane trays, tables at airports, etc.

This should be pretty obvious! Make sure there aren't any meat products, and no juice boxes either (Canada at least is really strict when it comes to liquids).

One of my friends thought of bringing lollipops to help ease her child's ear pain due to air pressure change, which I think is a great idea. (My kid didn't have a problem though, surprisingly!)

Diapers+Wipes/Training Pants

Goes without saying!


If your child is toilet training like mine, don't forget this as you don't want to undo all your hard work! I use this foldable portable toilet seat for when we go out in Japan as well so it's very handy and a great investment, especially for the low price.

Change of clothes

Make sure to have spare clothes, not only for your child but for you as well in case your child gets sick on you or spills something on you.

There are also some issues with luggage getting lost more often than before, so if try to bring a few sets of clothes in your check-in luggage if you can.

Speaking of lost luggage, one good way to track your luggage is by using an Apple AirTag. I am really glad I invested in a pair and put these in each check-in suitcase because I was able to track it on my phone in real-time. I felt a lot less stressed when it came to picking up my luggage because I knew it had arrived at the airport it was supposed to be at (which I had to do THREE TIMES on the way to Canada).

I'm planning on putting one of these in my kid's backpack when she goes to preschool by bus next year so I know exactly where she's at as well. These are also good for putting on your keys or in your car if you tend to have trouble finding where you parked.

They carry cases for these at Daiso, too!

eSIM

Before you go, you should probably get an eSIM as well. I used Airalo and it was excellent, especially for such a low price. I was a little skeptical of Airalo because it was so cheap and easy to use for what they offered but I had no problems and even had data left over at the end of the trip! They offer eSIMs for over 190 destinations as well.

In case you're wondering what an eSIM is, here's an overview from Airalo:
eSIM stands for an "embedded" SIM card. This means that the SIM is pre-built into the device and all that a user needs to do is scan a QR code and download an eSIM profile for the destination she is traveling to, onto the device. Installation is done instantly and the eSIM can be activated once the user reaches the destination. This way, travelers do not need to worry about connectivity when they land at their destination.
Apps, Apps, and More Apps
A few days before your flight, your airline should email you regarding immigration and COVID procedures. In terms of going to Canada, this involved downloading the ArriveCAN app and following the steps.
In order to leave and come back to Japan, I also had to download the MySOS app (which I believe they've changed now to Visit Japan Web) and the 接種証明書アプリ(vaccine certificate app).
An annoying thing about the MySOS app was that despite that I had three vaccinations, it only showed up as two because I got my first two vaccinations in one prefecture and the third in another, which meant that the PDF had two pages — one for each prefecture. But the app only read the first. This caused the final page —the result — to show up as yellow (checks required) instead of blue (good to go) when I came back to Japan, and I had to show the immigration officer in Narita that I indeed had three vaccinations but the proof for the third was on another page. This wasn't an ideal detour when I had less than two hours to catch the last flight of the day to Osaka.
To make things easy for you, print out your vaccine certificate(s) so you can show it to the immigration officers quickly.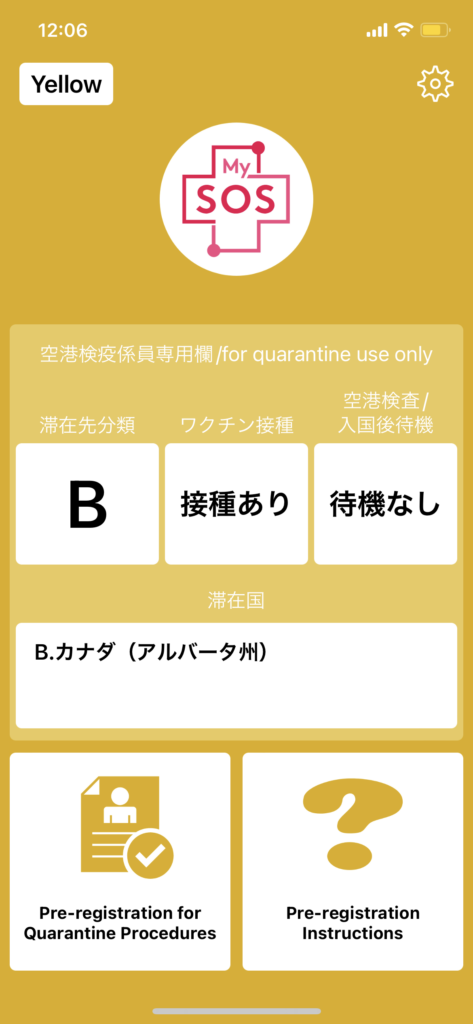 Traveling Without Your Spouse — Kidnapping Accusations?
One thing I was worried about was traveling outside of the country without my husband and being suspected or accused of kidnapping my kid. Although I hadn't heard of this happening to anyone I knew, I didn't want to take chances and edited a simple "consent form" that I found on the Government of Canada's website and then translated it into Japanese. Then I got my husband to sign it.
Consent Letter for Child Traveling Abroad 
To whom it may concern,
I, NAME OF PARENT NOT TRAVELING 
Address:
Telephone and email: 
am the parent with custody rights, access rights or parental authority over the following child: 
Name:
Date and place of birth:
Issuing country, number, date of issue, and issuing authority of passport:
This child has my / our consent to travel with 
Name:
Relationship to child:
Issuing country, number, date of issue, and issuing authority of passport:
I / We give my consent for this child to travel to: 
Destination(s):
Travel dates:
to stay at the following address:
Telephone and email: 
Signature:
Date: 
子の海外渡航についての同意書
 
氏名:
住所:
Eメール:
電話番号:
ご担当者様、
私は下記の子に対しての養育権を所持しております。
   
氏名:
生年月日:
出生地:
パスポートの発行国、国番号、発行日、発行官庁については下記の通り:
上記の子に対して、下記の者との渡航を認めます。
氏名:
子との関係:
パスポートの発行国、国番号、発行日、発行官庁については下記の通り:
私は子の下記の渡航について同意します。
目的地:
旅行日程:
宿泊予定地:
電話番号:
Eメール:
Signature:
Date:  
I never ended up having to use the form, although when I arrived in Vancouver, Canada the immigration officer asked where Dad was. He had no issue with the answer "working in Japan" and let us continue on our way.
The Journey to Canada from Japan
When I booked the tickets to Canada, I knew that I needed to give myself enough time to go through immigration and make connecting flights, so instead of a 17-hour trip, I booked a 19-hour one. This meant more time at Narita.
Due to COVID, there were no direct flights from any airports in Osaka to Canada (at least in western Canada). This meant I had to go from Osaka to Tokyo and then to Vancouver before getting on my final flight to my hometown.
But it wasn't that simple. The flight from Osaka to Tokyo was Itami Airport to Haneda Airport, and then from Haneda Airport I had to take a bus to Narita Airport. This was especially tough to swallow because I used to live relatively close to Narita! Close in the sense that I only had to take one train to get there!
I also had to pick up my check-in luggage at Haneda, bring it on the limousine bus, and then check it back in at Narita. I was panicking about how I would do all of this with a toddler.
Let me share what kind of luggage I brought with me:
 Two massive check-in suitcases (at the weight limit)
A huge ADIDAS travel backpack  (honestly the best, I fit so much into it and it was great for storing documents that I could easily access)
My purse
I didn't want to take a suitcase as carry-on luggage because I wanted to pull my daughter on the Bed Box with one hand while having the other hand free to do things like pushing a cart filled with luggage. It's also much easier to open a backpack (which contained things like my laptop and iPad) than a suitcase when going through security.
The flight from Itami to Haneda went smoothly, and I was surprisingly able to get the suitcases onto the cart without breaking my back. As I had planned, I was able to push the cart with one hand while pulling A on the Bed Box with the other.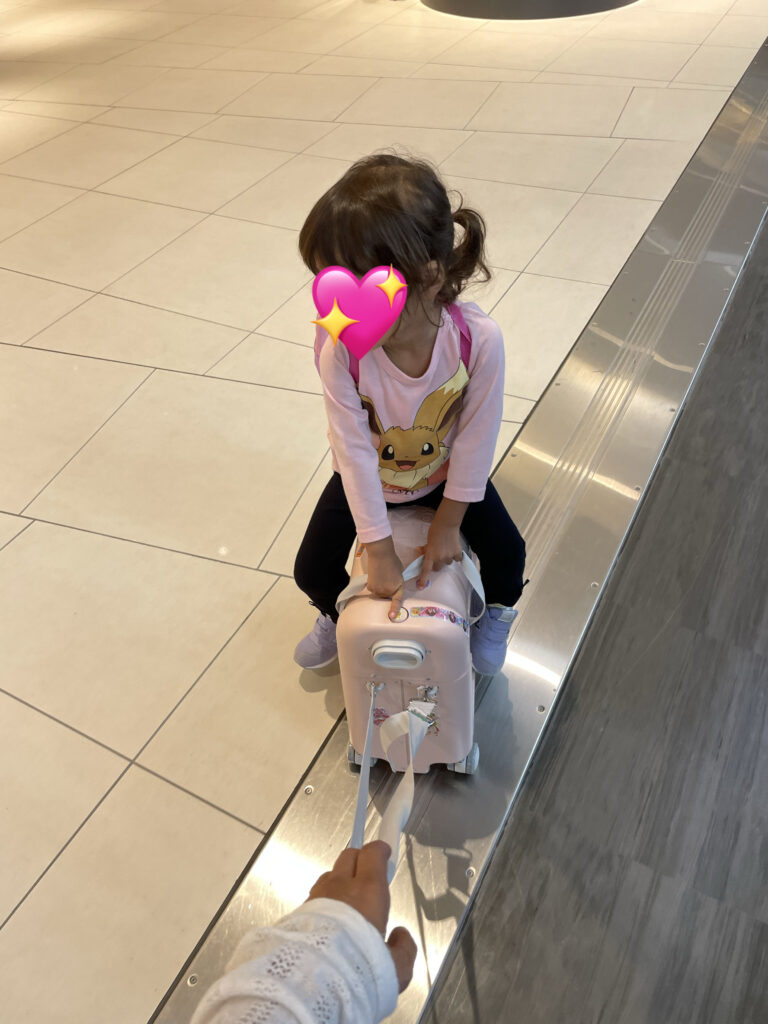 Now I don't know if it was just where I was looking, but Haneda had NO carts with seats for kids. In fact, I never found any carts that I could use with seats for kids at any of the airports I traveled through, which was strange. At times during my trip at various airports, I would put A on the handlebars if she was really tired and/or whining. I know you're not supposed to do that but I was at a loss as I couldn't carry her and she was tired of riding the Bed Box.
I booked the limousine bus in advance so it was quick and easy to get on, and they thankfully took care of the luggage. The trip was over an hour and I was already exhausted by the time we reached Narita, but this was just the beginning.
It was a bit difficult to get a cart while trying to keep an eye on my daughter as well as the luggage but I managed yet again. At Narita, the JAL staff quickly checked the ArriveCAN app and my vaccination documents before I was allowed to check in. I used my daughter's Canadian passport on the way to Canada to make everything smoother for immigration (I would use her Japanese passport on the way back).
The flight ended up being an hour delayed, during which my daughter looked through her new Paw Patrol book and watched some shows on the iPad. When it was finally time to board the flight, we didn't get priority because my daughter was three, but they let us board one group ahead of the one we were supposed to board with. I don't know if this was because the airline, JAL, didn't care or they're laxer when it comes to people with kids. I didn't see them turning anyone to the back of the line and I doubt everyone was boarding at the right time.
The flight went relatively smoothly, although I was a bit annoyed at the flight attendant asking me to move to the side when I was trying to put luggage into the overhead compartment instead of helping me. I'll just say that when it came to the international flights, JAL wasn't the best. Their flights were delayed by an hour, the flight attendants never noticed when I pressed the flight attendant call button (at least four times), and I was almost skipped for meals. On the way back to Japan, there was a drunk guy sitting across from me who spilled beer into the aisle and they gave him another can when he had obviously had enough.
One nice thing about JAL, though, is that they give cute toys to kids, so my daughter now has two wooden planes and a plane-shaped pouch. She also had a plastic model of a plane that you had to put together but it fell apart on the plane and I couldn't be bothered to find the pieces.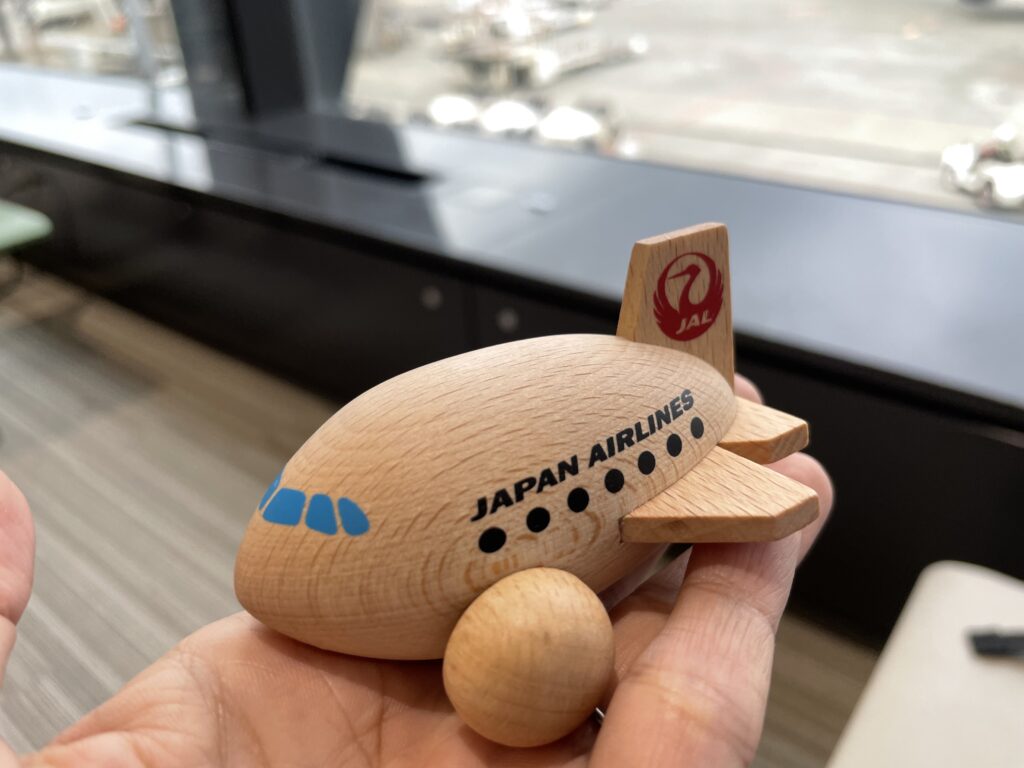 My daughter slept for most of the 10-hour flight to Canada on the mattress from the Bed Box. Sometimes she watched children's movies in the in-flight entertainment but she never wanted to wear headphones.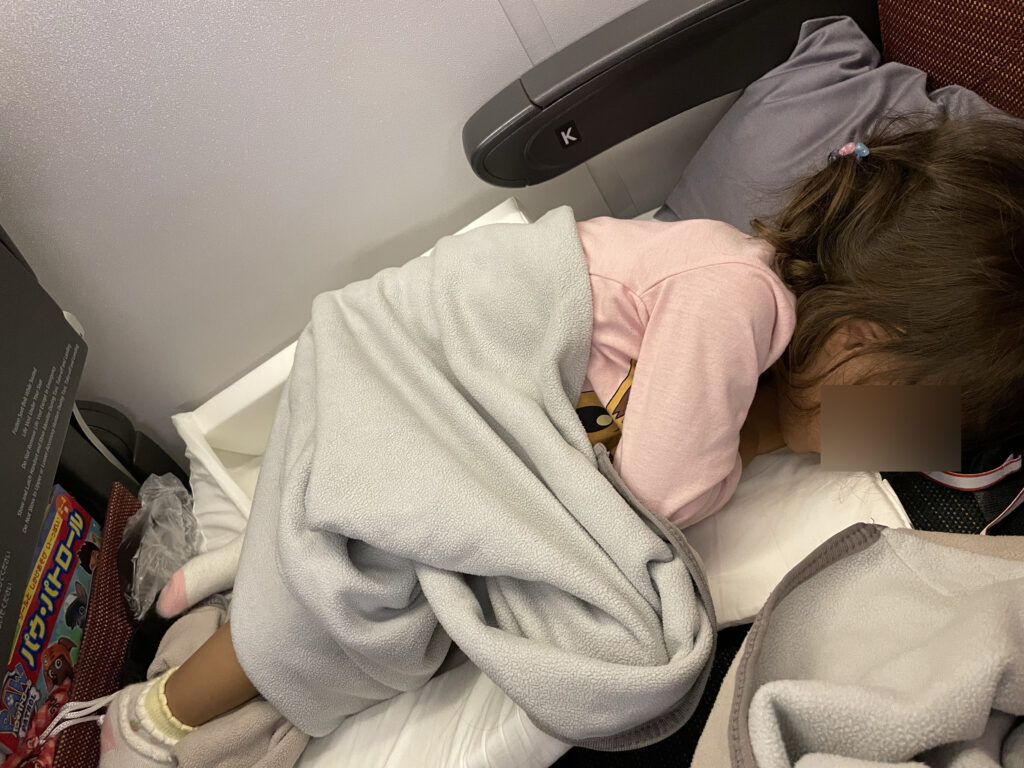 The first meal for my daughter, which was dinner, was absolutely adorable. She loved it and ate quite a bit. She slept through her breakfast, though. My meals were pretty subpar, which was disappointing because I felt like JAL had better meals in the past.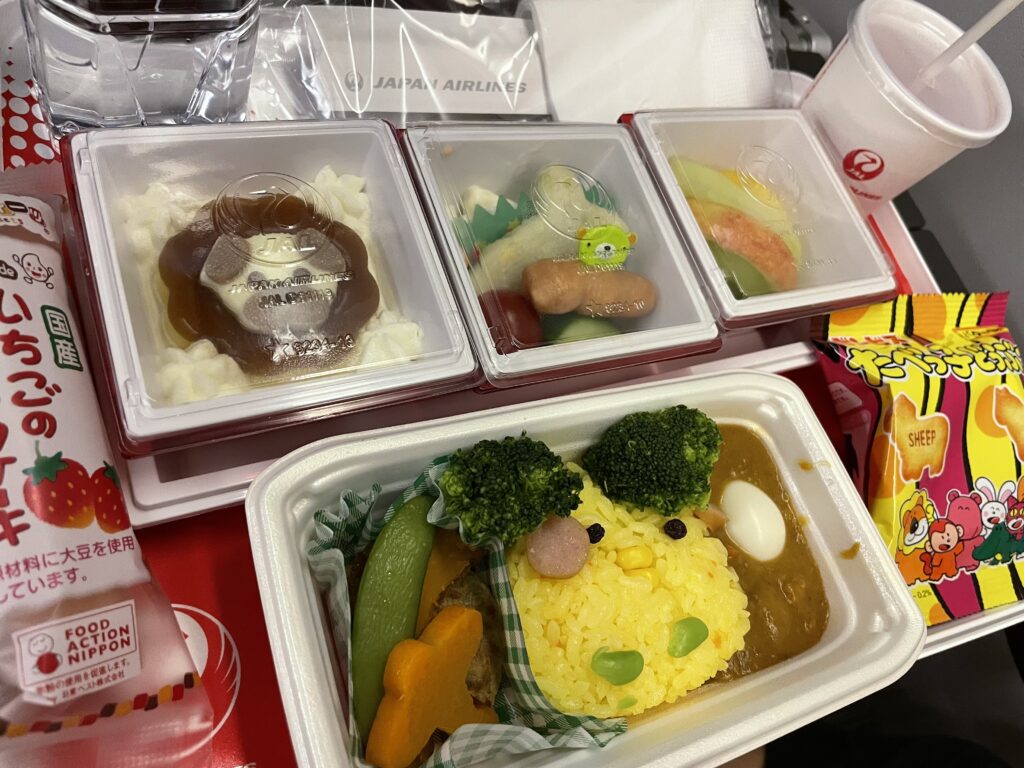 When we were close to Canada, I was told that they would help us with our connecting flight as we were late. I was relieved until we arrived and a representative for WestJet told us that they rescheduled our flight to four hours later.
Four. Hours. Later.
Now, we could have made the flight had someone helped us. In fact, I got through immigration at Vancouver International Airport very quickly, the bags also arrived fast, and then I hurried from the international section to the domestic, which was really hard with a toddler as it was far. But alas, when I went to the WestJet counter, they told me that they gave my seat and my daughter's to other people.
The security checkpoint at Vancouver was a mess. There weren't enough bins so I had to wait for more after I had sent my laptop through, but the person in front of me kept taking them. I was panicking that someone might take my laptop because it had already gone through.
Security was also intense, much more so than the security in my hometown airport when I was returning to Japan. My carry-on luggage was flagged for having liquids, which I forgot needed to be placed separately in a clear bag. It seemed that a bunch of other people had forgotten this as well because the luggage that needed to be checked was piled up.
I waited in line and when it was finally my turn, the security officer went through things like my makeup bag and even opened up my solid deodorant. I found it pretty offputting as he had gone through other luggage as well and was touching items I use on my body and face.
Due to this, it took thirty minutes to get through security, and by this time we had a four-hour wait until our last flight.
But my daughter had enough.
She started crying and screaming, and I couldn't blame her. I asked her if she wanted something to drink but she refused, simply staying in one spot and wailing. I think she did pretty well considering this was her first international trip and she had to transfer three times over around 18 hours.
A nice woman at the information center at the airport came up to us and said she would watch my daughter while I grabbed some juice from the store ($4 CDN for 500 ml of grape juice!). My daughter quickly cheered up after having the juice and talking with the woman.
I also took her on a bathroom break and used the portable toilet seat but the toilet itself wasn't clean. It made me really miss Japan, and I hadn't even gotten to my hometown yet!
When we finally got on the last flight, someone that had been on the flight from Japan was sitting next to us, which made us wonder why WestJet couldn't have tried to help get us all on the previous flight.
The flight was short and my daughter slept the entire time. Unfortunately, once we arrived, it took us ONE HOUR to get our luggage because of problems with the conveyer belt. This was the last thing we needed after such a long trip. By the time we got the luggage, 24 hours had passed since we left Osaka.
Heading Back to Japan
The trip back to Japan wasn't as awful, thankfully. Domestic security in my hometown was fast (I made sure to put all liquids, personal hygiene products, and makeup in my check-in luggage this time!) and I didn't have to pick up my luggage at Vancouver Airport, which was great because I had three large check-in suitcases this time. (My daughter received lots of goodies from my friends and family.) We had to wait for two hours at Vancouver Intl Airport for our connecting flight and my daughter enjoyed playing in the little indoor playgrounds.
The food court had very limited options, unfortunately, and we had to wait in a huge line to get a chicken burger from A&W, which my daughter devoured when we finally got it. About 30 minutes before our flight was set to depart, I was called to the boarding gate where they checked my residence card. Shortly after, there was an announcement that the flight was delayed because the plane was late arriving. This was the same thing that happened when we left Japan. I was surprised because I expected better when it came to JAL.
I started panicking as I only had two hours to get through immigration at Narita and make the flight to Osaka, the last flight of the day. Otherwise, I would have to stay overnight in Narita, which I did not want to do with a toddler.
I asked the agent at the boarding gate whether we could get help making our connecting flight at Narita but he told me I would have to ask the staff once I got there, which wasn't helpful. I was also told I would need to pick up my bags at Narita, which contradicted what I was told when I dropped off my bags at the airport in my hometown as they said the bags would go straight to Itami Aiport. The agent explained that immigration would take a while and it was likely I would miss my connecting flight, which was why I needed to pick up my bags. This made me panic even more. (Looking back, I don't even know if this was true, and if it wasn't, why would he say such a thing?)
I texted my husband to see if he could call and they told him there was nothing they could do. So when it comes to getting help when you have a small child, JAL would not provide any assistance in my case.
By the time the flight was finally ready to take off, one hour delayed, I spent the entirety of it a bundle of nerves and couldn't even sleep. When I'm very stressed, I start to get sick so I was nauseous as well. Thankfully my daughter slept for most of the flight although she didn't really eat the meals when she woke up (and missed breakfast once again). (And I was once again ignored by flight attendants after pushing the call button and finally snapped after they quickly went to a drunk guy sitting close to me who pressed the button but ignored me.)
The flight arrived in Narita sooner than I anticipated and despite being an hour delayed, I had only lost 30 minutes. I was able to zip through immigration while pulling my daughter on the Bed Box. There was basically nobody in the reentry line, which helped immensely. The immigration officials were pleasant (that is, didn't treat me with disdain), which I had never experienced before. But maybe it was because I was with my kid? I also used her Japanese passport this time as we were entering Japan.
The luggage arrived quickly and I was able to get a JAL representative who was unloading the luggage from the carousel to help me load my suitcases onto a cart. Similarly, my luggage wasn't even checked by customs (unlike in the past) so I just handed in my declaration form and zipped to the domestic section.
The journey from the international section to the domestic at Narita was also a lot easier than it was in Vancouver but I was sweating profusely when I arrived at the gate. A bus ride later, we were finally on the last flight of the journey. I was feeling quite sick at this point and spent the flight trying not to throw up. Meanwhile, my daughter slept. (Thank you, A!)
When we landed at Itami Airport, my daughter refused to get off the plane as she wanted me to carry her, but it was impossible with the bags and her Bed Box. (Not to mention I was feeling very sick.) A flight attendant took the Bed Box so I could carry my daughter off the plane and thankfully she sat on the Bed Box so I could pull her to the baggage carousel.
I got another JAL staff member to help me with the bags when they arrived and finally, finally, FINALLY the solo-parent journey was over. Seeing my husband, my daughter jumped off the Bed Box before we even got through the gate and ran into his arms and cried.
It was a long journey but we survived. It would have been much better without the delays and if JAL would have been more helpful (apart from the staff at baggage). I'm not sure if this is common or the pandemic lowered their standards, but I'm not sure whether I would use their service again when I travel abroad. Unfortunately, it seems like other airlines aren't any better but I would love to be proved wrong! Despite how unhelpful JAL was, though, my toddler handled the trips like a rockstar and I am so proud of her.
Have you traveled abroad with your toddler lately? How was the trip? Let me know in the comments!