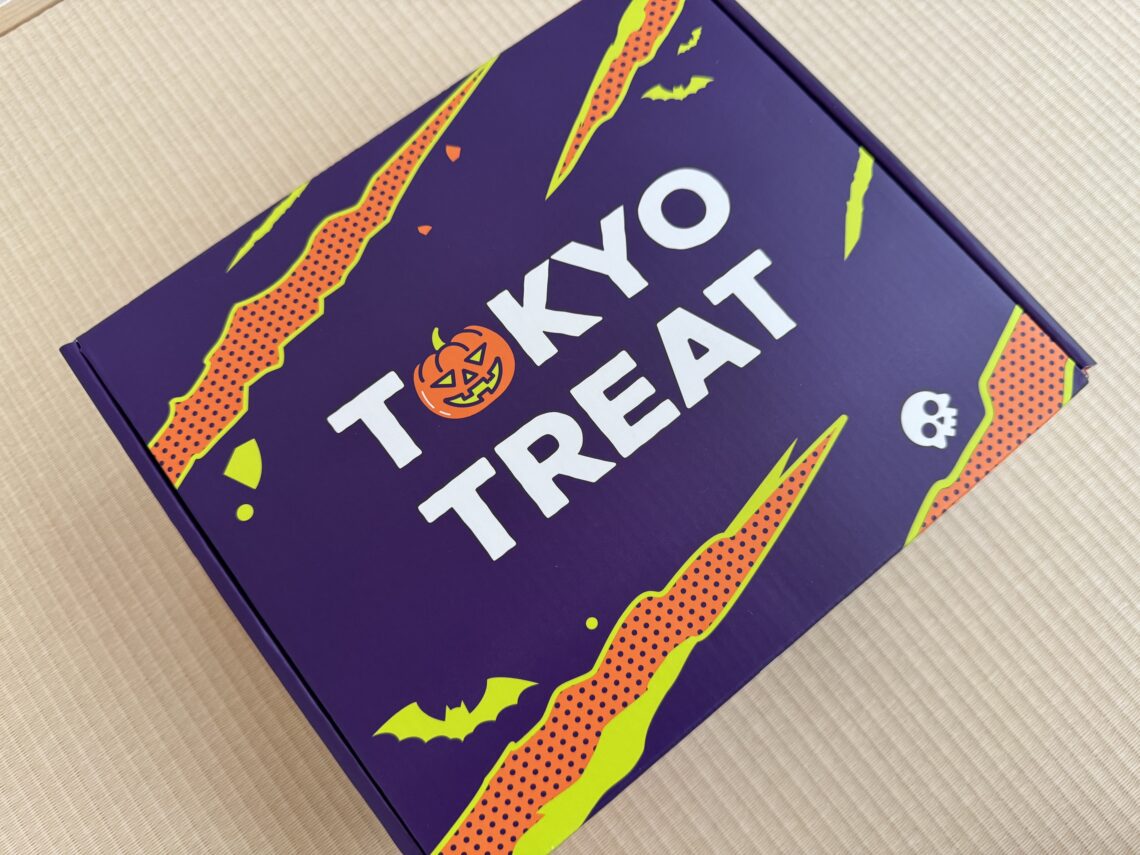 Reviewing TokyoTreat's Halloween-Themed Japan Snack Box
TokyoTreat, which the same parent company runs as Sakuraco, kindly sent me their Halloween Snackhaul box to try with my daughter. I love Halloween, as does my daughter, so I was quite excited to receive this one. 
Similar to Sakuraco, TokyoTreat is a subscription box that contains 15-20 Japanese sweet and savory snacks. They offer a different type of box every month, but customers worldwide can choose how often they want to receive a box. 
You can also choose gift plans, and having gifted many Japanese snacks over the years to friends and family, I would recommend this as well.
Unlike Sakuraco, TokyoTreat is more casual and offers everyday snacks that are popular with people in Japan of all ages. The contents of each box are listed on their website, as well as allergens, so there's no guesswork when trying to figure out if the food is safe for you and your family. 
First Impressions of the TokyoTreat Halloween Snackhaul Box
I was a little surprised when I received TokyoTreat's box and found that, unlike the Sakuraco box, it was not packaged in bubble wrap. However, since the box itself is quite sturdy, was sent within Japan, and didn't have any damage to it, this wasn't a big deal. I just wonder whether packages sent overseas are more securely packaged.
I loved the Halloween look of the TokyoTreat box, which also looked a little retro with the neon colors giving off 80s/90s vibes. The contents of the box were similarly nicely packed as the Sakuraco box, and also came with a Culture Guide, a high-quality book that contains descriptions of each item in the box as well as some information about Halloween in Japan.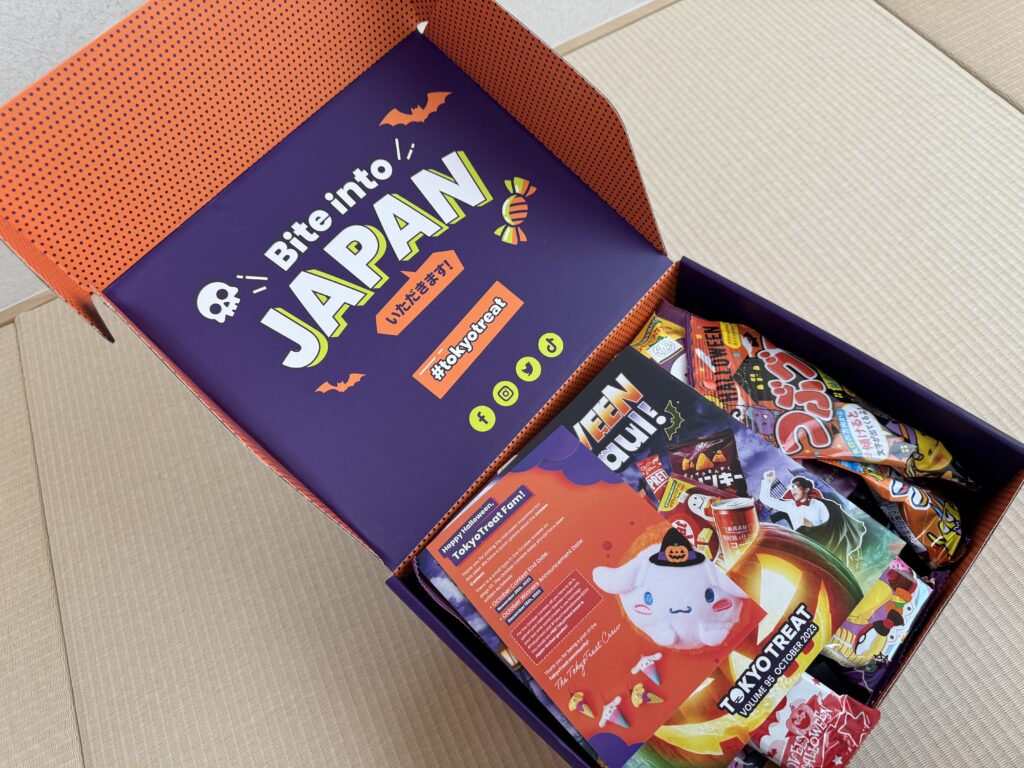 The box was packed to the brim with snacks, almost all of them spot-on in terms of being related to Halloween, which I appreciated. 
When comparing the Sakuraco box to TokyoTreat, one key difference (aside from the fact that Sakuraco's snacks are artisan-crafted) was that Sakuraco came with a ceramic, whereas TokyoTreat's had a drink and a package of instant noodles. TokyoTreat's also contained a full-sized package of mini-KitKats, so there were more snacks in the box, especially to share with others.
I felt that the snacks in the TokyoTreat box were more kid-friendly as well, which is likely why my daughter was super excited when I showed her the contents of the box and instantly started pointing at everything she wanted to try right away. (The cute Halloween theme helped as well!)
Trying the TokyoTreat Box With My Family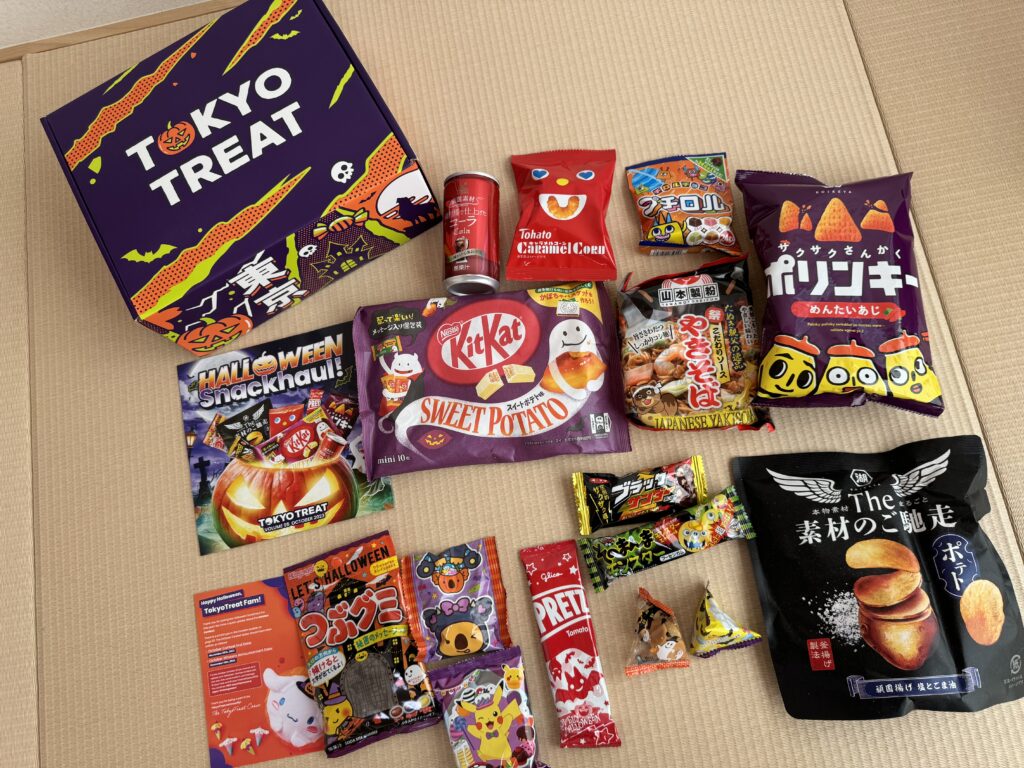 Just like last time, the tasters were the same:
Japan born-and-raised husband 
Four-year-old daughter
And me, the Canadian and long-term Japan resident
Here's what we thought about each snack:
KitKat Sweet Potato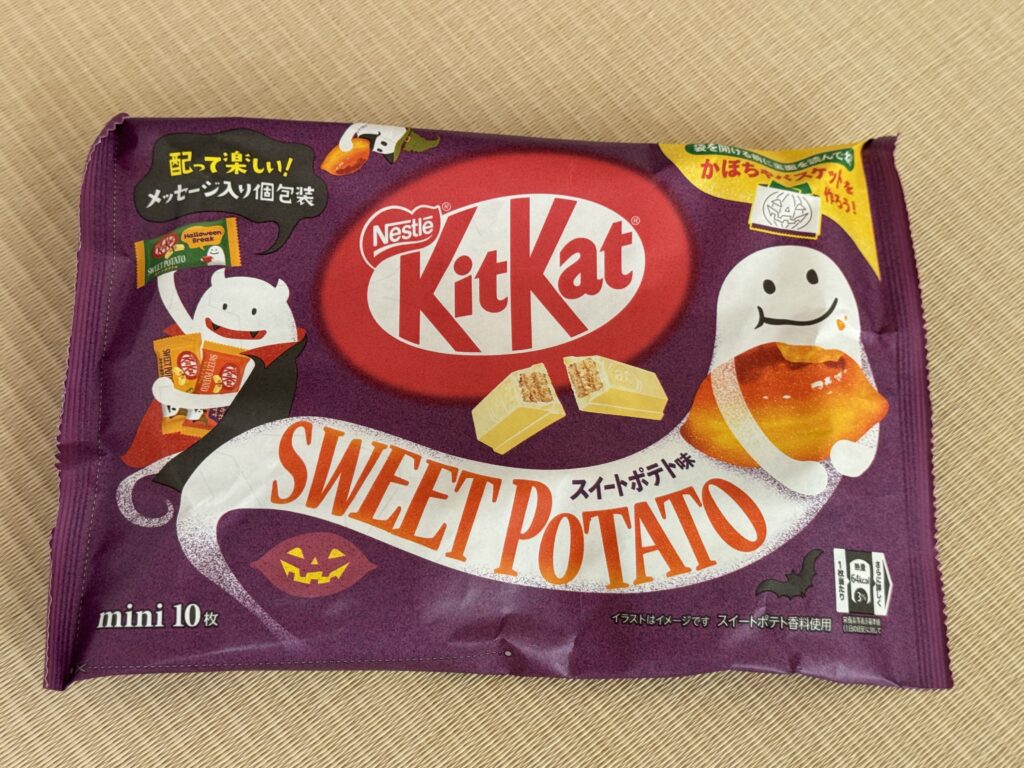 We've had these before as they are commonly found at Japanese supermarkets during autumn. I'm not a fan of white chocolate so I wouldn't have bought it again on my own, but these sweet potato KitKats are definitely worth trying as they do smell and taste somewhat like sweet potato! Well, sweeter sweet potato since these are chocolate and personally, I find the taste artificial. 
Needless to say, my toddler loves these and would gladly eat the entire package if she had the chance. The individual packages are great for sharing, especially as there are ten, and the various Halloween illustrations are adorable. 
Husband: "It's good but a little too sweet. Could use more sweet potato flavor."
Toddler: "Mmm, it's so good!"
Koikeya Salt & Sesame Oil Potato Chips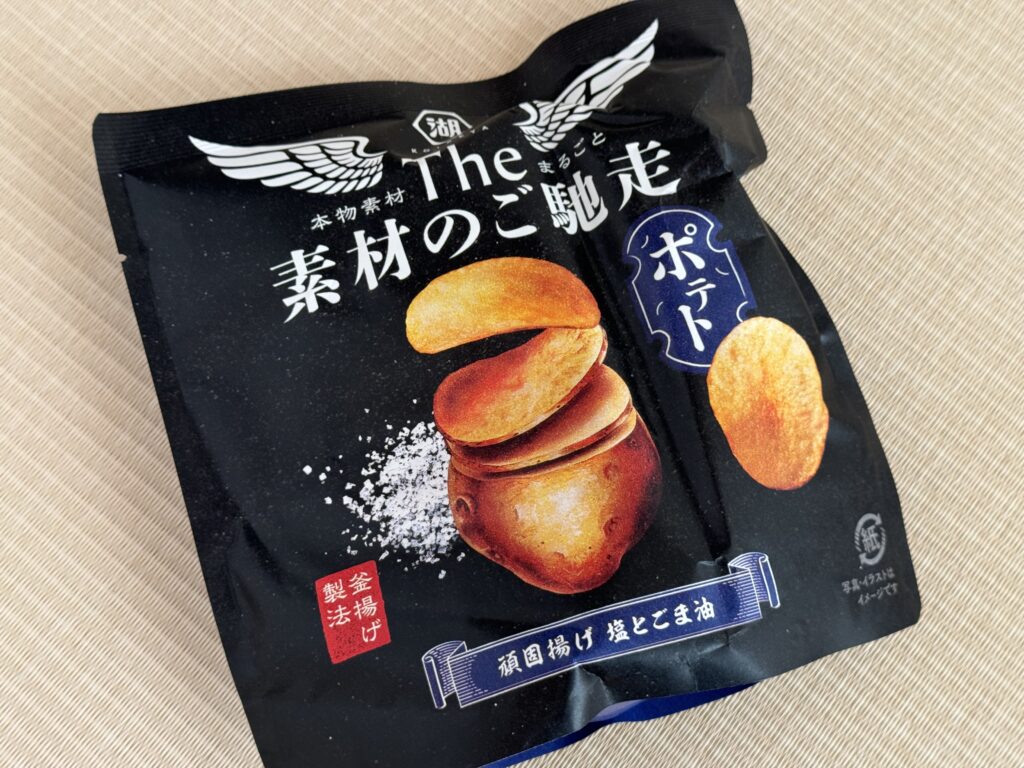 This is another snack I've had before as I'm quite a fan. They remind me of kettle chips and the taste isn't overly salty. I can easily polish off a package of these in one sitting so I have to be careful! The packaging also doesn't help because it's not that easy to close using a clip.
To be honest, I can't taste the sesame oil so these are more like regular potato chips for me.  
Most toddlers love potato chips and my daughter is no exception. The same can be said for husbands as well.
Husband: "Mmm, oishii (delicious). I like the crunchy texture."
Toddler: "It's so good!"
Kobe Japanese Cola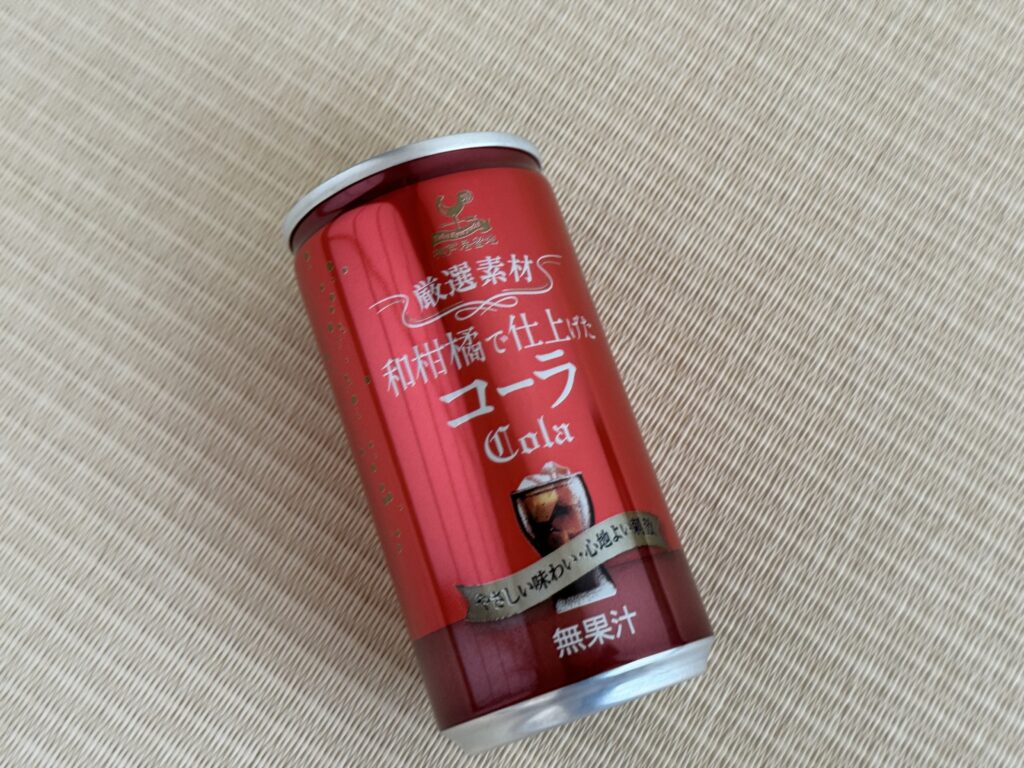 This was something new for me and it was an interesting experience. It's like a lighter Cola Cola, which was nice to try but it's not something my husband or I would have again. My husband felt like it was similar to drinking a cola gummy, which I can kind of see.
My daughter can't have anything carbonated so she didn't try it.
Tohato Caramel Corn Puffs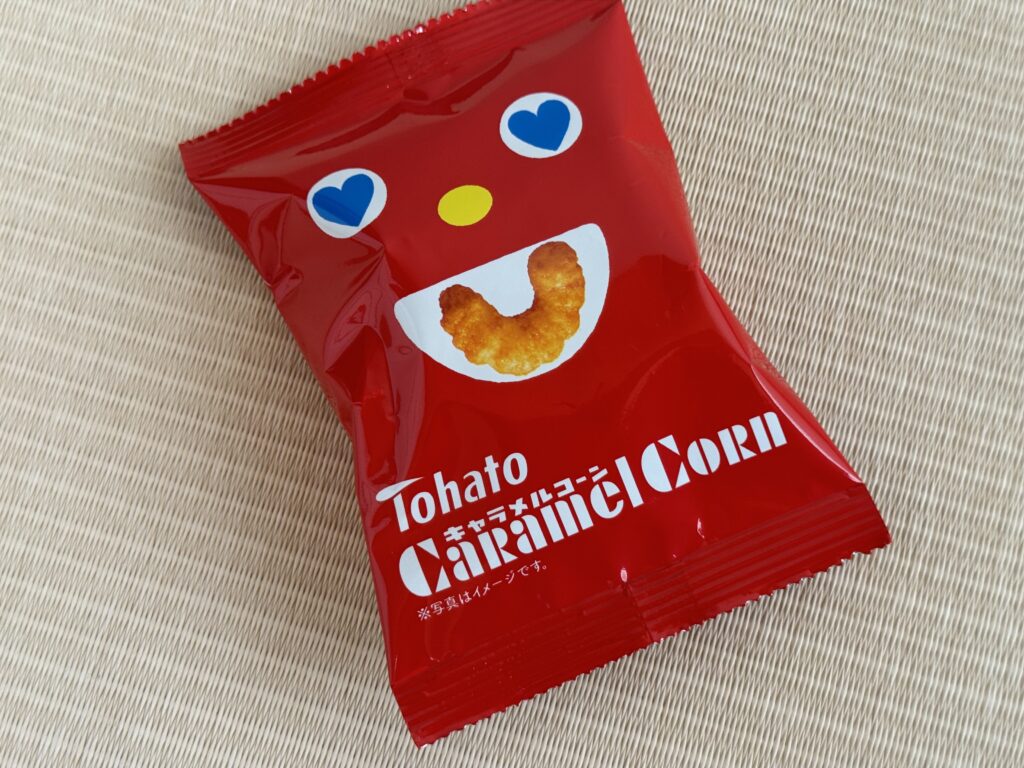 These are super popular in Japan, although I felt like it was the second least Halloween-like snack in the box. (The Culture Guide says that it's a Halloween classic but I don't see the connection…?)
I've never been a fan of caramel corn and I find these taste like sweet Cheetos, which I don't like.
Husband: "Kids will probably like this."
Toddler: "It's sweet!"
Polinky Mentaiko Corn Snacks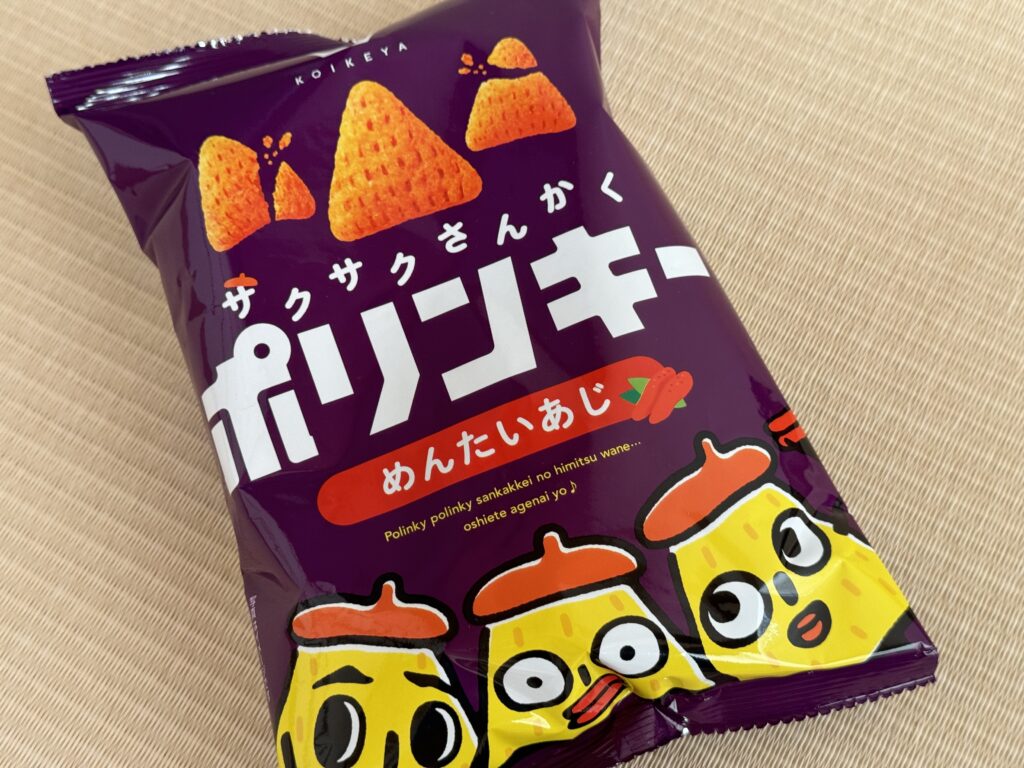 I had never tried these before because I don't like mentaiko but now I realize the error of my ways. These are AMAZING. Hands down my favorite thing in this box, so thank you to TokyoTreat for introducing a long-term Japan resident like me to something new that I now love! (Err… my waistline might not be so happy though!) My husband even apologized for not telling me about these and half-jokingly said, "Sorry I haven't been a good husband to you" (I accepted his apology). 
These are like a way better version of Bugles. They are light, airy, and have a perfectly crispy texture to make eating them very addictive. The slightly sweet and spicy taste of the pollack roe is excellent as well. Not fishy at all! I could have easily polished off the bag on my own in one sitting.
But I am kind and shared the bag with my family.
Husband: "Mm, umai (scrumptious). I've loved these chips since I was in junior high school."
Toddler: "Mmm, it's so good!" (Please forgive her having the same reaction to everything, she's only four after all!)
Monster Bubble Gum Energy Drink Flavor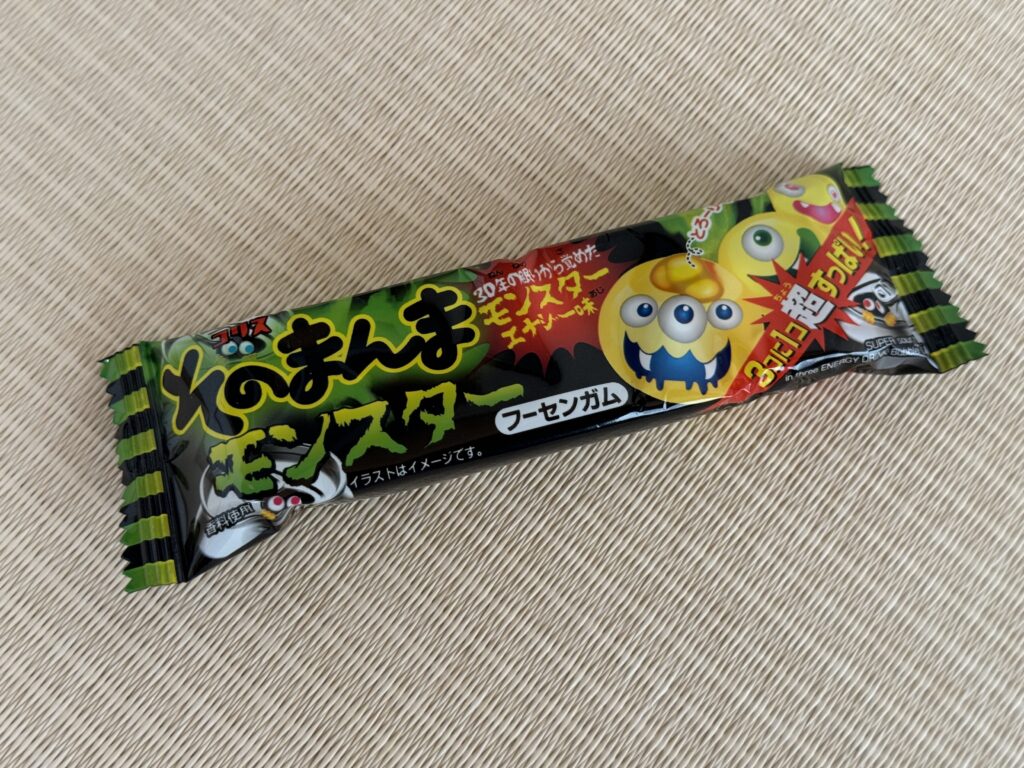 And here is where we go from something I loved the most to something I did not enjoy at all. These lemon-shaped gums were adorable to look at but tasted way too sour and soft for me. I ended up spitting it out.
My toddler can't have gum and my husband refused to try it after seeing my reaction.
Halloween Tomato Pretz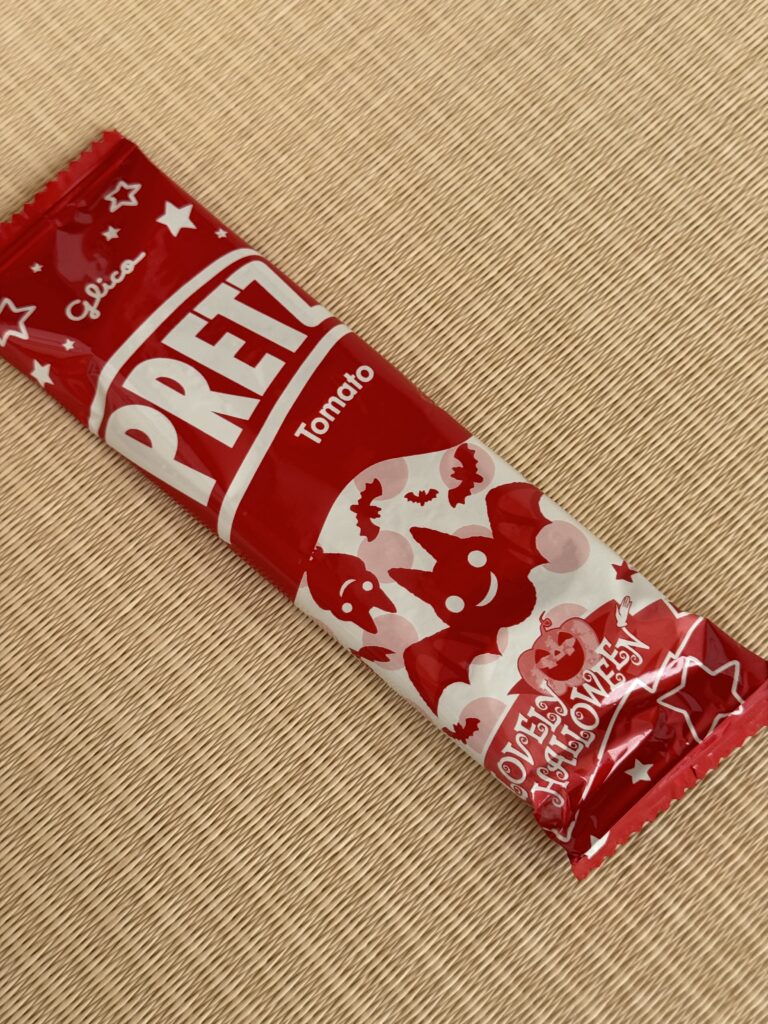 Pretz, the savory Pocky, is something almost everyone has had in Japan. These tomato-flavored ones are delicious and reminded me a bit of a pretzel-version of ketchup chips, which are beloved by Canadians. They are nicely crunchy and there are plenty in a pack to share with others. 
Husband: "Good. It would be better with a beer. I think you'd like these if you like tomato flavor."
Toddler: "It's so good!"
Halloween Jelly Bean Gummies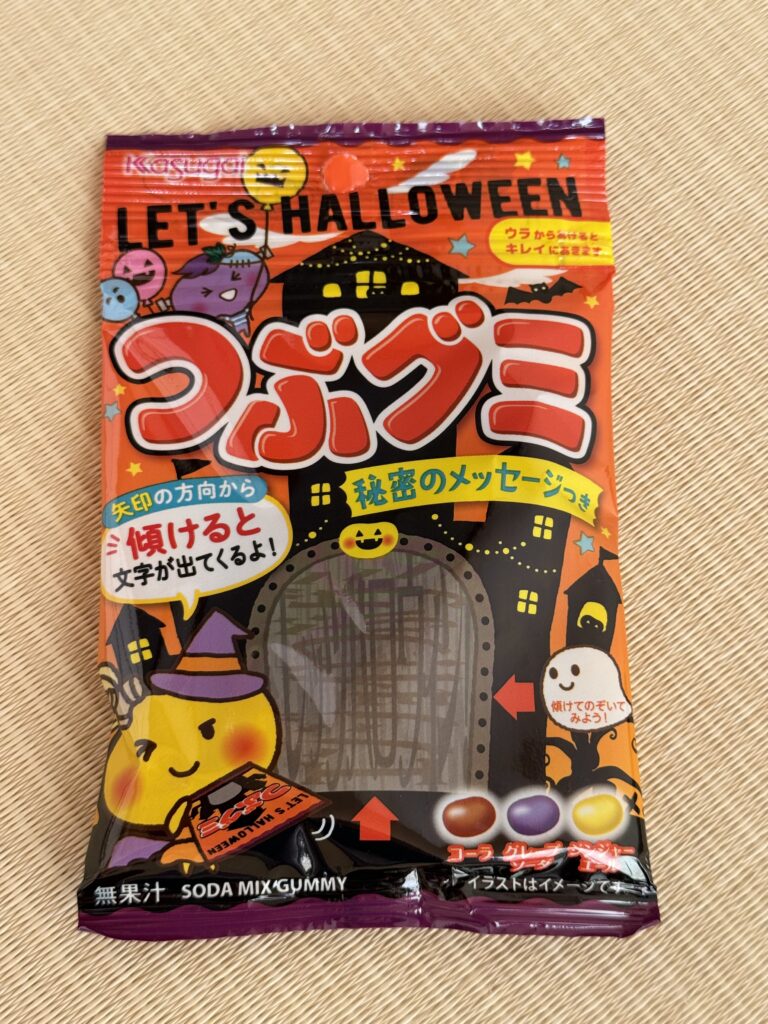 I really liked how this is a full-sized package of gummies that contains three different flavors. Each gummy was a little fizzy with the right amount of chew.
My daughter said they tasted "spicy" (probably the fizz) and happily proclaimed, "It's so sweet!". My husband said that these were pretty standard tasting but he's never been into jelly beans or gummies, so I didn't expect him to be blown away. Out of all the flavors, cola was the best.
There's apparently a "secret message" on the package, but I guess TokyoTreat didn't explain that in their Culture Guide since it's in Japanese.
Tanuki Yakisoba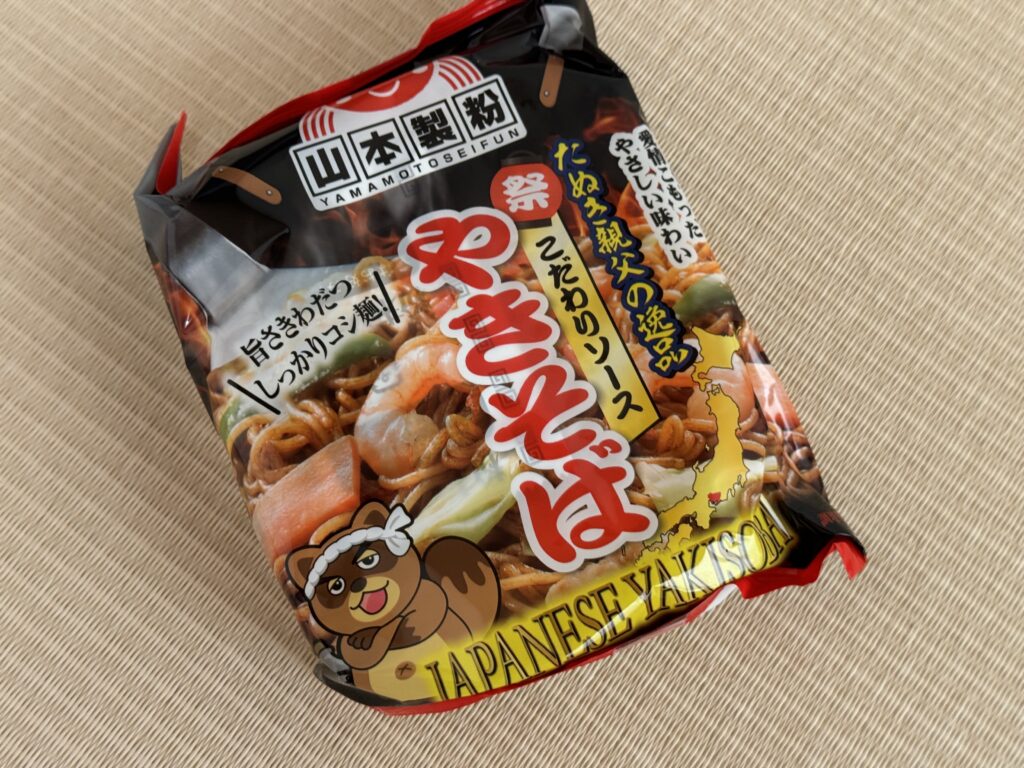 I'm kind of curious about why they decided to include this package of instant ramen (perhaps because it's vegetarian-friendly?) and found it among the least Halloween-themed products in the box. 
We cooked it according to the instructions and added some green onions as well. It's not enough to really share among a family so we served it as a side along with some other things. The taste is pretty standard for instant yakisoba. Nothing too special but decent and good to try if you haven't had instant yakisoba before. As my husband put it, "It's Japanese Soul Food."
My toddler said this yakisoba tasted "oishii" (delicious) and I can see this being popular with kids because what kid doesn't like stir-fried noodles?
Black Thunder Cookie Bar
Okay, this is something that once you've had it, you can never go back to a life without them. Black Thunder is amazing. It's crunchy, chocolatey, and yet not overly sweet. The balance is perfection.
Husband: "This is the best thing in the box. Sweet and crunchy. Now I want coffee!"
Toddler: "Good! It's so sweet and good! Mommy, I like this so much!"
Pokemon Halloween Choco Pie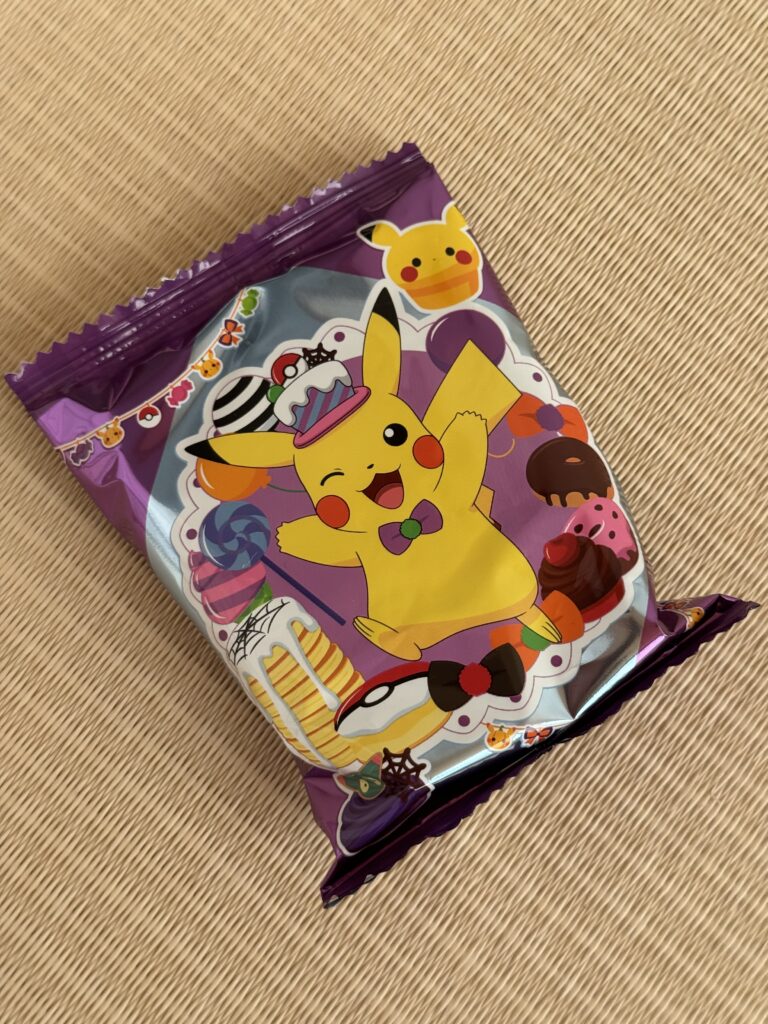 This one made my daughter super happy because what kid doesn't like Pikachu? Unfortunately, this was the only snack that was destroyed with the chocolate coating stuck to the wrapping and it generally being a crushed mess, perhaps because of the other snacks inside the box.
I am not the biggest fan of choco pies (wagon wheels) because the soft texture and sweetness are a little too much for me, but my daughter happily devoured it. 
I was a little surprised to see in the Culture Guide that this contains traces of alcohol but kids eat this all the time in Japan so I don't think it's a big deal…?
Husband: "Tastes like Angel Pie. It's okay."
Toddler: "Mmm, this is my favorite one! Pikachu! Pokemon!"
Halloween Mini Hi-Chew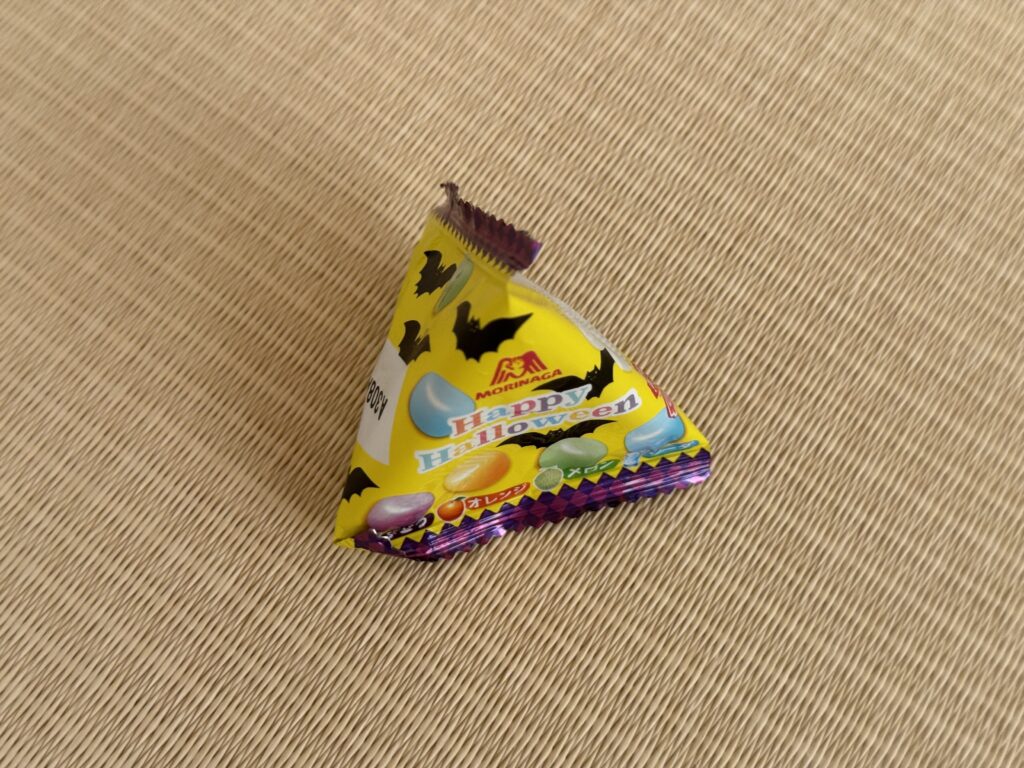 This is also something I've never had before but although I like Hi-Chew, I didn't like these minis. The texture wasn't for me and they got stuck in my teeth. 
My daughter, however, liked how sweet these were and happily ate more.
As these mini Hi-Chews are hard and round, I'm a little worried about this snack being a choking hazard for small kids.
Husband: "It's more for kids, not me. But I also don't like Hi-Chew."
Koala March Halloween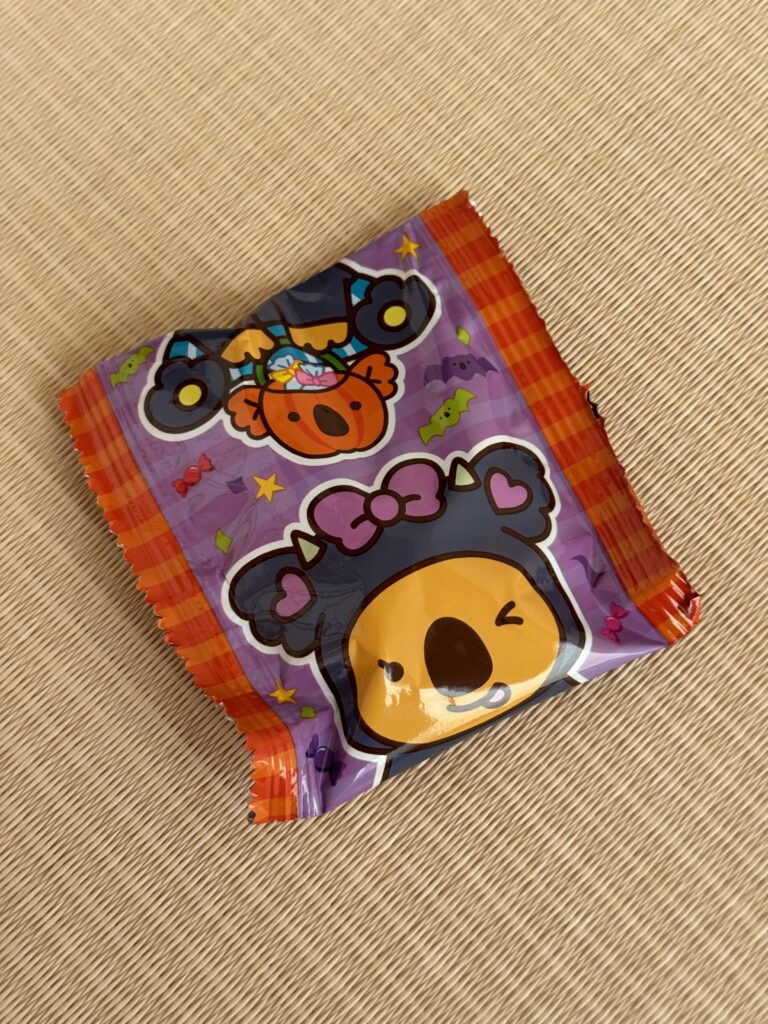 These Japanese Koala-shaped cookies with chocolate inside are popular worldwide for a good reason. They're bite-sized, delicious, and easy to share with others. The Halloween packaging on the ones in the TokyoTreat box is adorable as well and the koalas inside are dressed in little Halloween costumes like witches and vampires!
Husband: "I like it."
Toddler: "It's so sweet!"
Teeny Tiny Monster Chocolates (Puchiroru)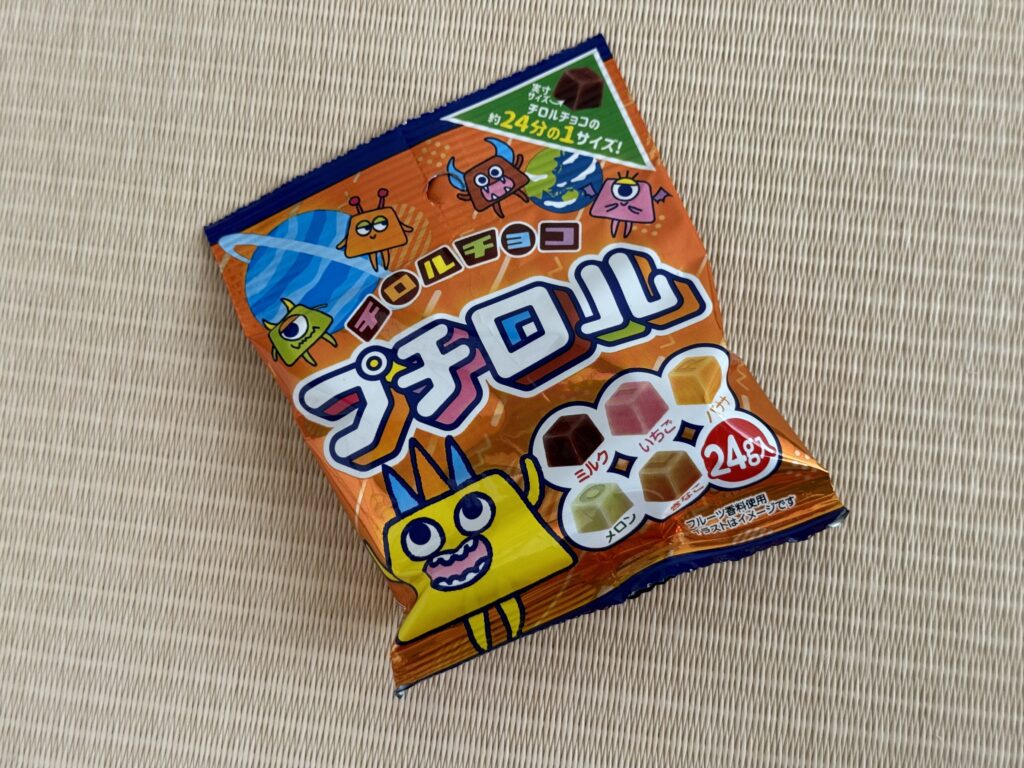 These are mini versions of a popular chocolate commonly found at convenience stores and supermarkets called Chiroru Choco (チロルチョコ). It's really fun to try all five flavors, and the size means you can easily do so without getting too full or overloaded with chocolate. It's also perfect for sharing.
My entire family were fans of these and we all agreed that kinako, or roasted soybean flour, was the best taste. You can mix these flavors as well, which we haven't had the chance to do yet but will happily try out over the next month.
Mini Halloween Cookies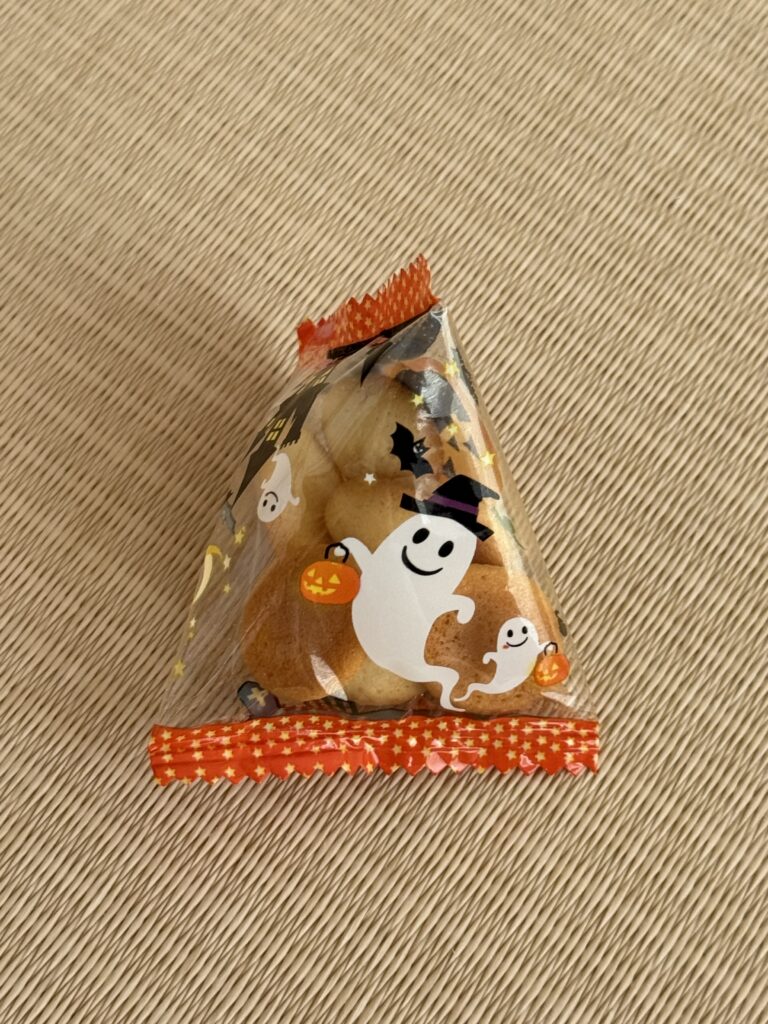 These were my husband's least favorite as he felt they were stale, but my daughter and I didn't feel the same way. They taste softer than expected but we both thought they tasted good — light and crispy, and perfect for sharing as well.
Would I Recommend the TokyoTreat Subscription Snack Box?
If you have small kids or you're a fan of trying different snacks from Japan with a theme, then I would definitely recommend this box. Just like the Sakuraco box, I felt that they had a good selection of snacks and the accompanying Culture Guide is very helpful.
 

 

View this post on Instagram

 
My daughter was so happy when she saw this box and everything inside. She excitedly told her father about it, hugged me, and said, "I love you so much, Mommy! Thank you!". I am not kidding nor was I paid to say this. She was that happy. So you might want to try it once just for that reaction.
As I've mentioned in my review of the Sakuraco box, it's up to you as a parent to decide what your child can eat from the box. But I will say that I think the snacks in this box are more kid-friendly than Sakuraco's.
I also believe some snacks were not very suitable for the box because they got damaged due to heat (like ones with chocolate) or simply got crushed (like the choco pie).
If you're interested in trying out a box or two, visit the TokyoTreat website. And if you use the code TINYTOT, you'll get $5 off your first purchase!