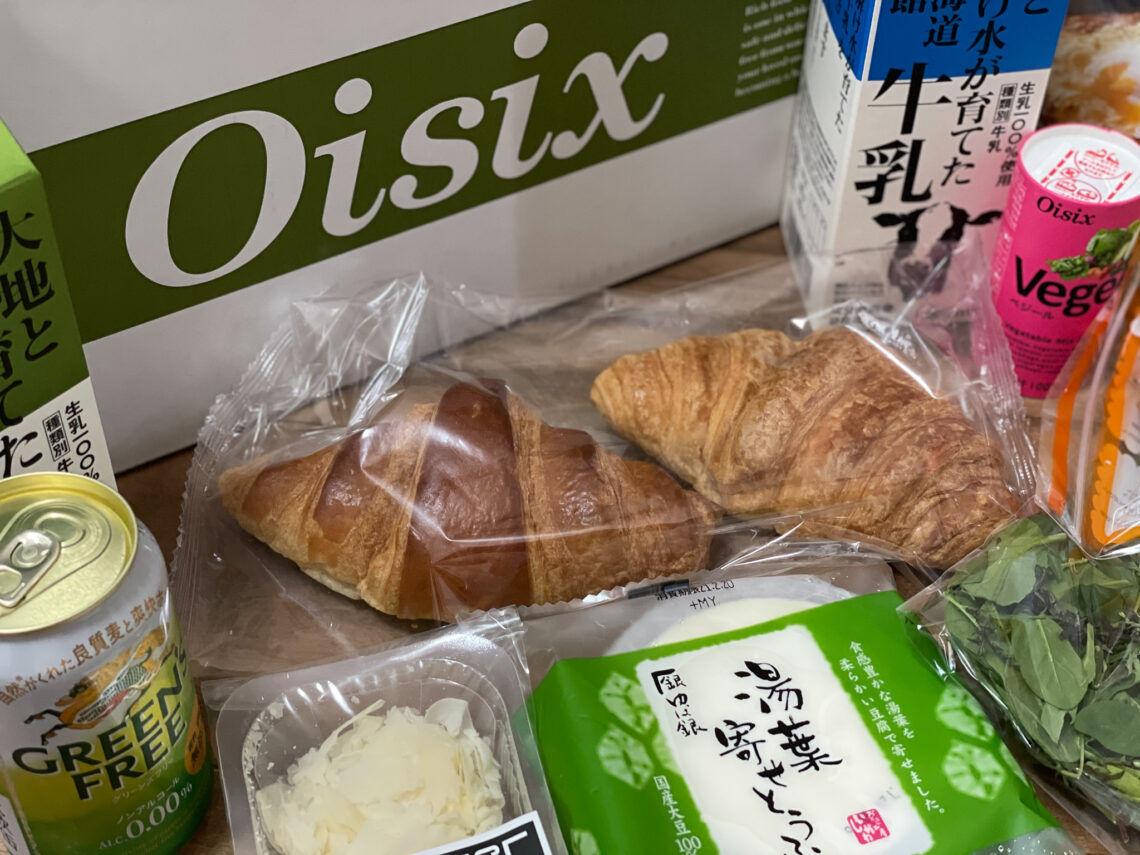 Reviewing Oisix: A Meal Kit and Grocery Delivery Service in Japan
Two weeks ago, I was talking to my coworker about how to save money on groceries and she brought up Oisix, a service in Japan that delivers fresh and frozen meal kits straight to your house once a week, as well as other groceries. She said she saved time and money every week by using this service, didn't have to go to the supermarket during the pandemic, and also got some free staple items in her monthly plan such as milk and eggs. As a busy working mother, this sounded pretty good to me but was it really worth the cost?
If you've been following my blog for a while, you know I can't resist testing these things out.
I've used Co-op Deli for a little over a year now for grocery delivery, although I usually only order items when they have a sale or if I need some easy, frozen food for my daughter. I tried their meal kits twice and although it tasted fairly good, I couldn't justify the cost. (I would absolutely recommend their meal kits, however, if you have a newborn and are struggling with making fresh meals because unless you're one of the lucky ones with a unicorn baby who sleeps all the time, it's a challenge.)
Update: I'm now using Pal System. If you're interested, check out my review of this service! 
I was curious, though, and I liked that Oisix as a company focused on providing meals that were family-friendly and something their staff would be comfortable giving to their own kids. Their meat contains no hormones and they also have a wide selection of fresh organic fruit and vegetables, so provided this and after taking some additional benefits such as freebies into consideration, I decided to give it a go.
Signing up for Oisix
Signing up online was very simple (a lot less complicated than Co-op Deli and didn't involve any phone calls or visits, or flyers!).
Since my coworker introduced the service to me during a campaign, I was able to get:
5000 yen worth of coupons (1000 yen off per weekly transaction)
free delivery for orders over 4000 yen for half a year
one month free membership to the 牛乳とか飲み放題会員 plan, which would allow us to order three products, such as milk, croissants, eggs, cheese, bread, etc., for free every week, and get 20% off fruits and vegetables. After that, this membership becomes 1400 yen per month so to make it worth it, you would have to order from Oisix at least twice a month.
one free juice
one free can of Kirin alcohol-free beer
They have different campaigns/offers available for people ordering for the first time. For instance, you can try a variety of products from Oisix for half-off.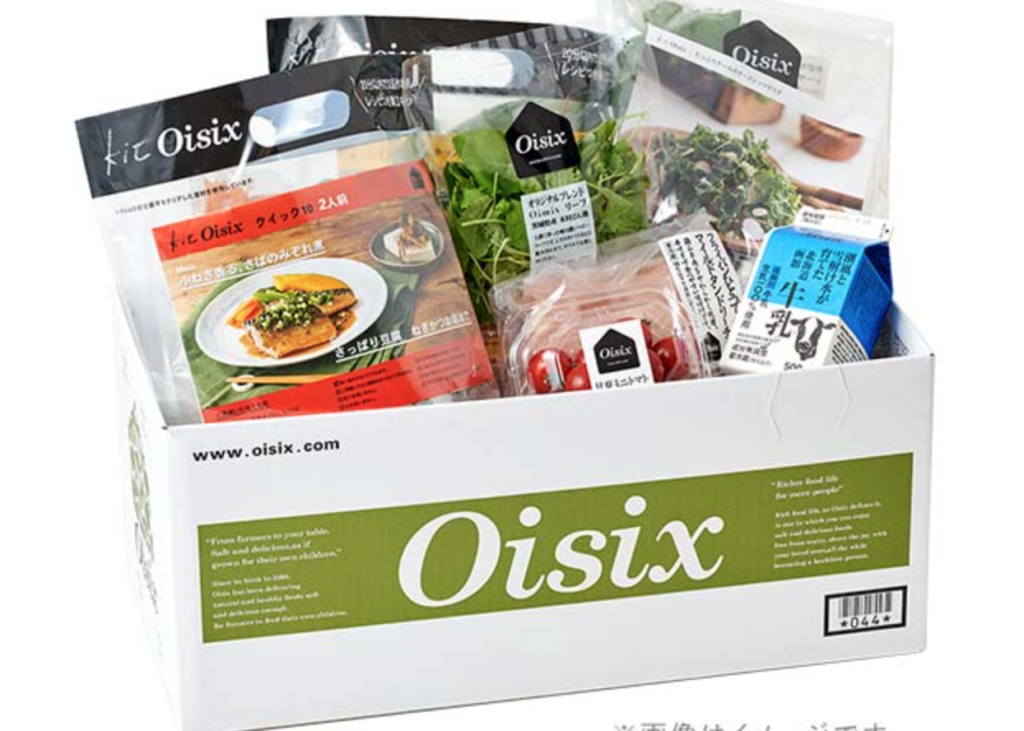 (I'm not gonna lie, I kind of wish I had been able to try this trial box out!)
What's Available and Ordering
After you sign up, you'll see that you already have items in your cart! It's nice in the sense that you don't have to choose but you have to be careful to check your cart every week and remove what you don't want because items will be added to it and then ordered automatically by the weekly deadline.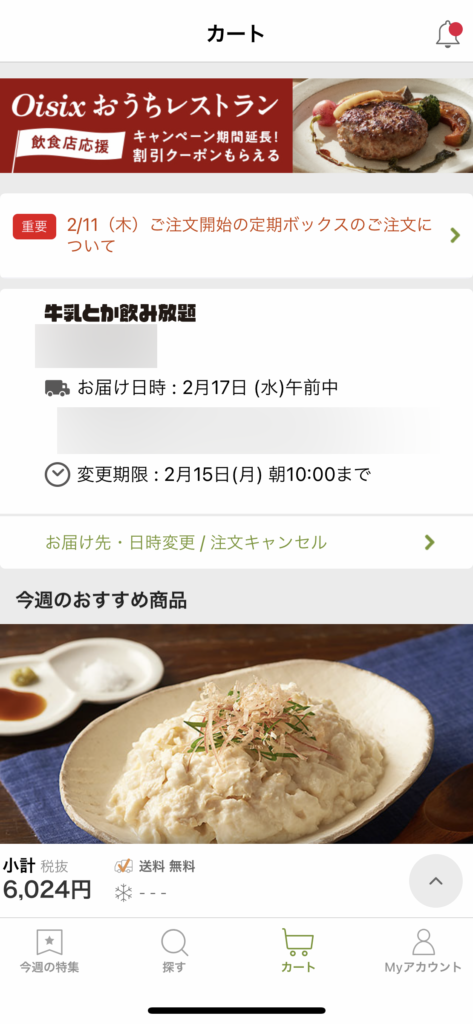 Excuse me, how did 6000 yen worth of items end up in my cart?
I wanted to use my PC to order but the PC site was slooooow so I ended up just using the app on my smartphone.
There are several categories from which you can order Oisix products:
Oisixの人気献立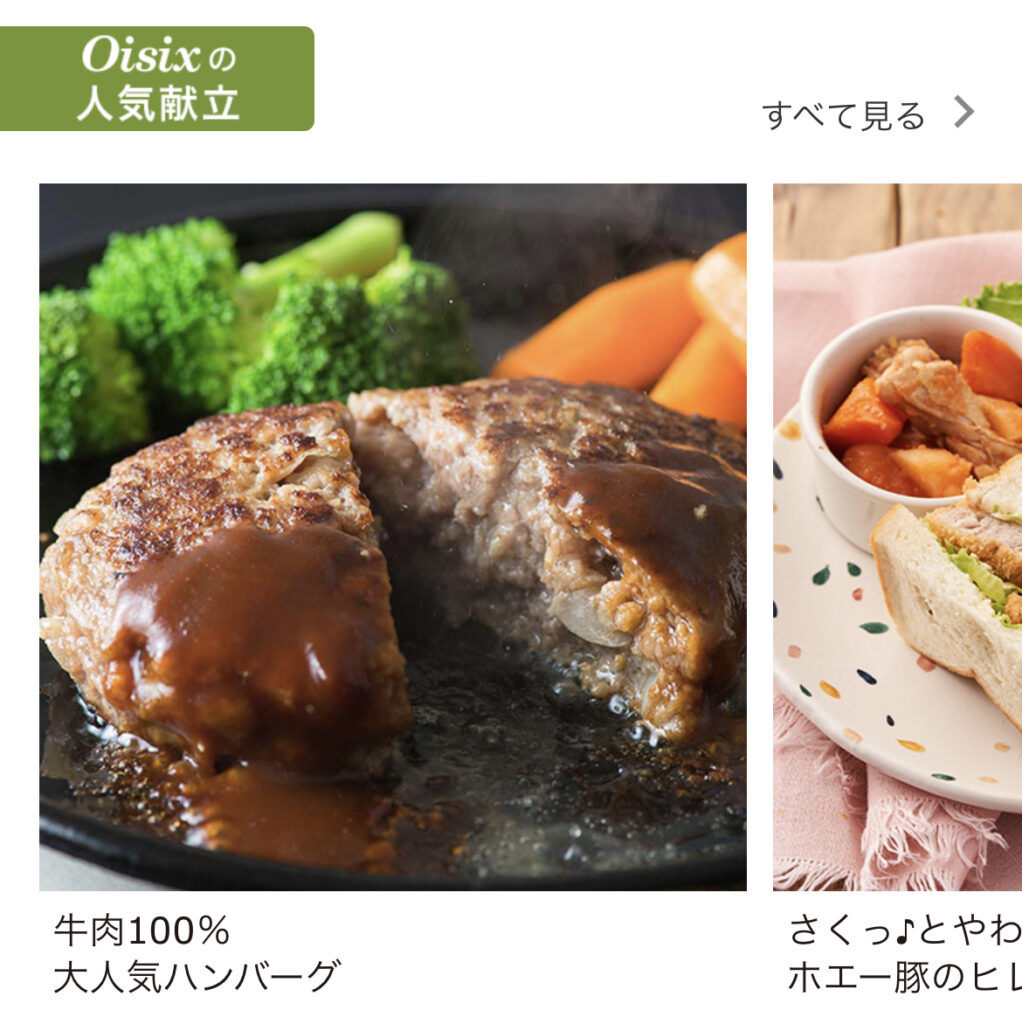 This category contains popular food products on Oisix, such as prepped meat and fresh vegetables, frozen fried rice and gyoza, and so on.
Kit Oisix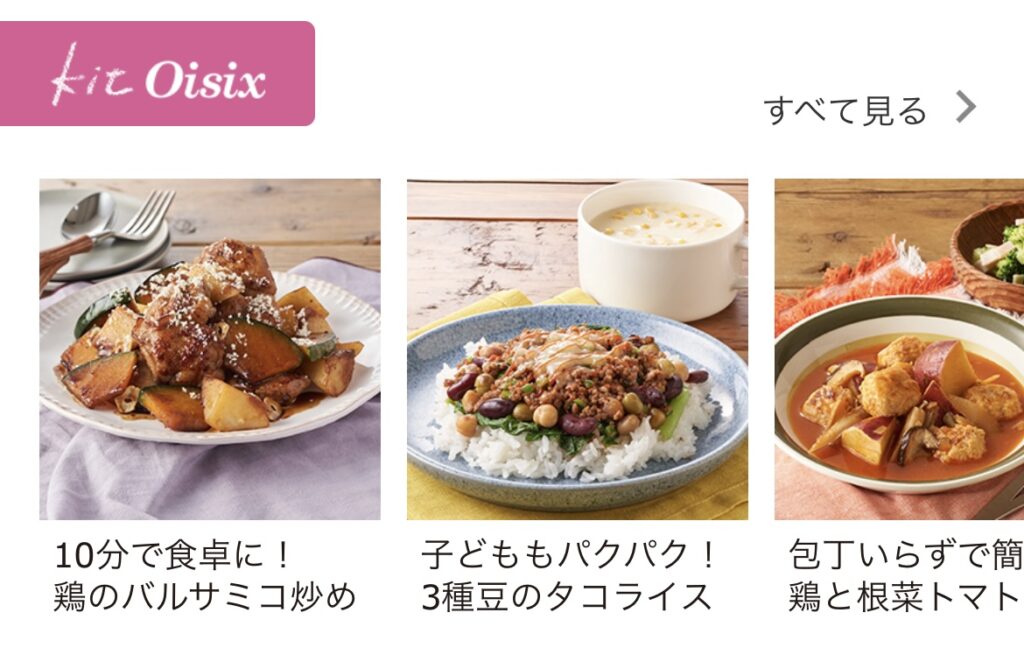 These are meal kits that come with a main dish as well as a side for two or three people. These meal kits are usually balanced so you can get protein and veggies. There are new meal kits almost every week and they have special "fairs" where a particular cuisine will be highlighted, such as Okinawan food.
I had a hard time finding a meal kit that I could eat because I'm quite picky. Sometimes the main dish worked but the side dish was NG, or the opposite. I also don't like cooked fish and a large portion of meals had that as the main dish.
On the positive side, their meal kits come with little icons to let you know if it's kid-friendly, how much prep is involved (do you need a knife? Cutting board?) as well as clean up.

The meal kits come with mostly everything you need, but you still need to have some staples on hand like soy sauce and oil. Each meal kit will tell you what you need to have at home (that is, what won't be provided).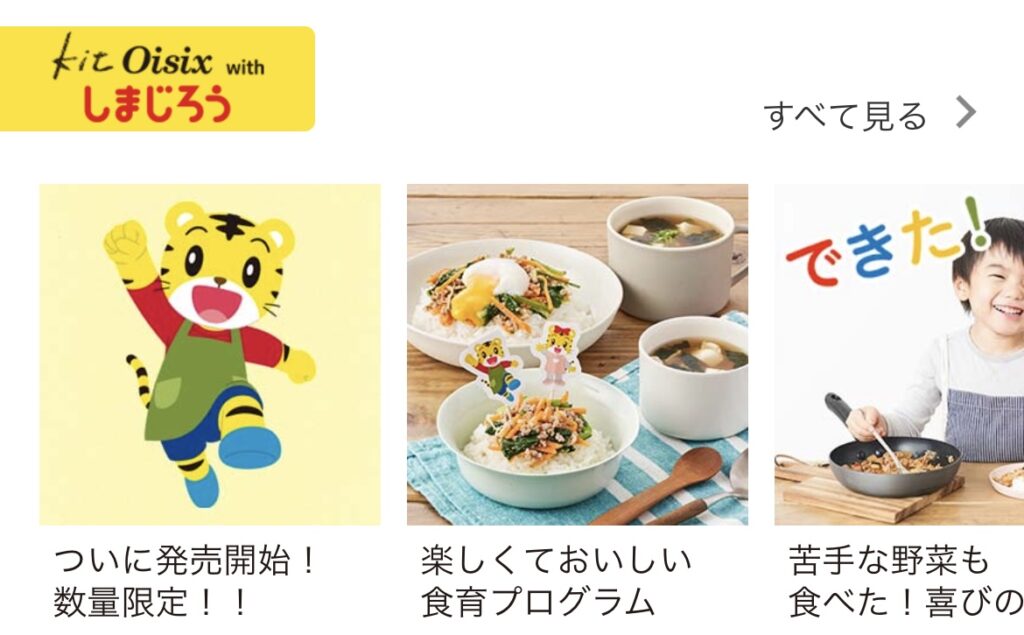 They also have a special meal kit called  Kit Oisix with しまじろう (Shimajiro) to encourage kids to cook with their parents in the kitchen and hopefully overcome any food they don't like to eat. This meal kit is presented in a package with the popular Japanese cartoon tiger Shimajiro on it and comes with a cute instruction manual featuring illustrations of Shimajiro preparing the meal, and stickers. A few lucky kids can also win some free items like a Shimajiro plate and bowl set. My daughter is too young to try this at the moment but it seems like a fun idea, especially since the recipe is meant to be easy for kids to follow with their parents.
牛乳とか飲み放題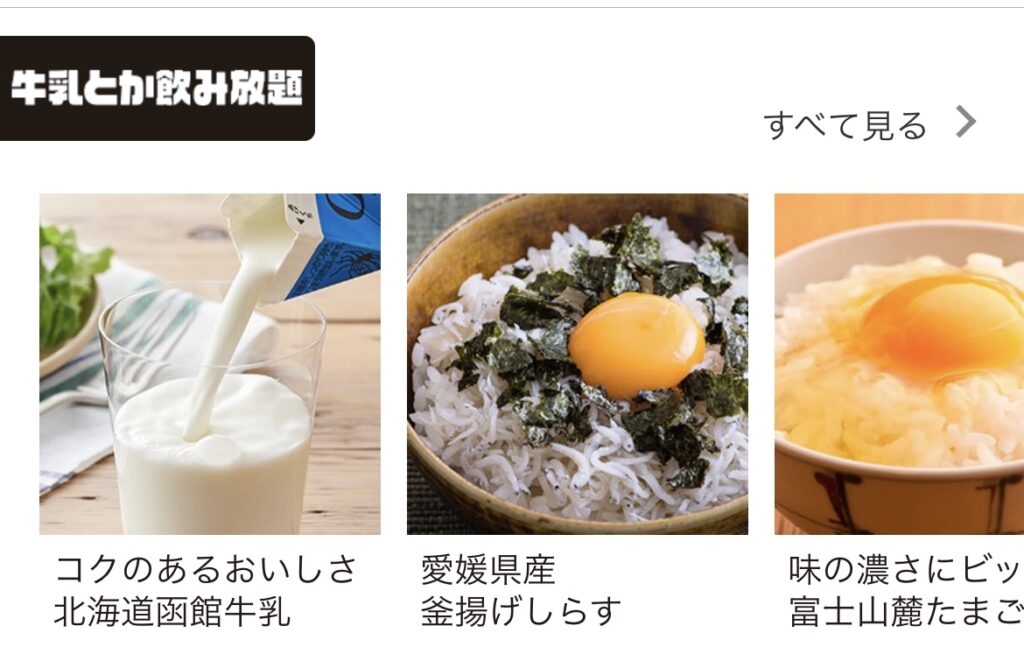 If you're signed up for this plan, you'll be able to choose three items from this category for free, such as milk, cheese, eggs, etc. (It's not really 飲み放題 [all you can drink] though if you can only order three cartons of milk but moving on…)
サラダ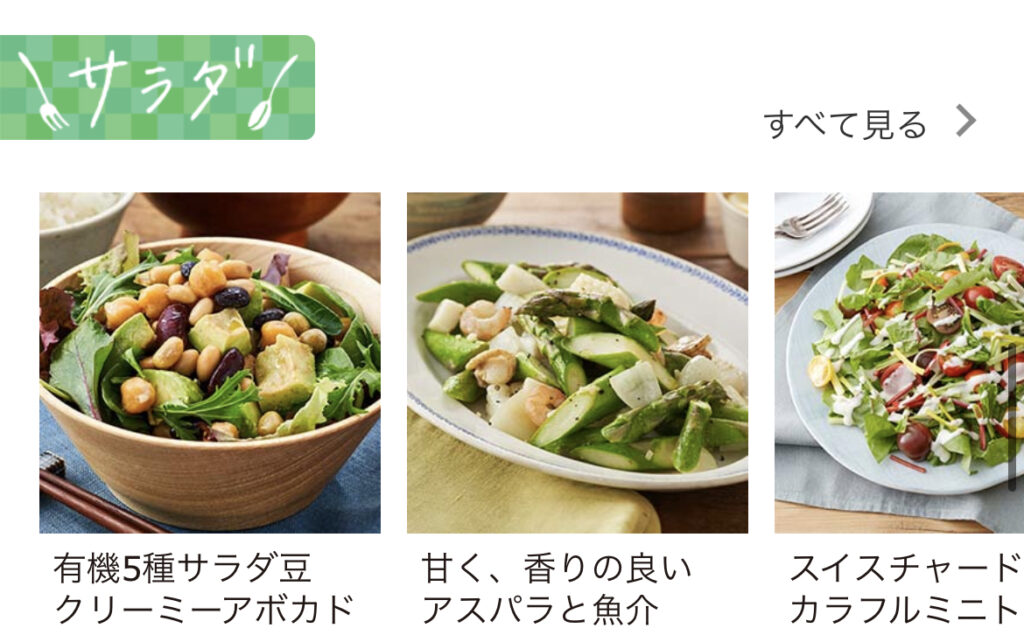 Pretty self-explanatory, although it consists more of items needed to make different salads rather than a salad-type meal kit. It's nice for those who need some new ideas for salads and be able to buy everything they need with a click or a tap.
Purple Carrot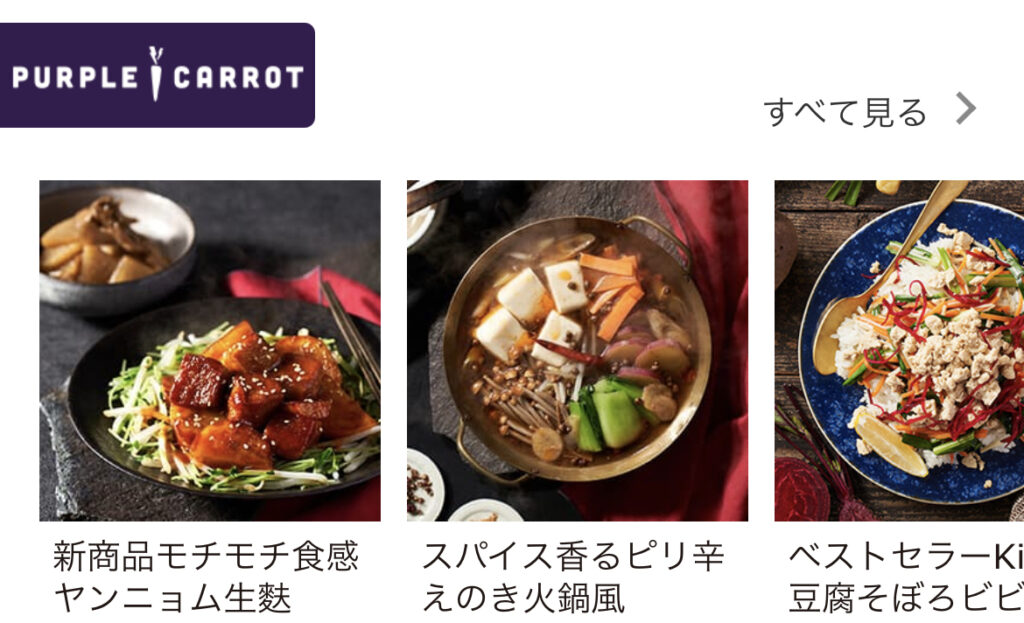 Purple Carrot is a plant-based meal delivery company from the US that has teamed up Oisix to provide vegan meal kits. Although the selection is minimal, it's still a great start when considering how difficult it can be to find vegan food in Japan. We've tried a few of these meal-kits and they are quite good!
Craft Market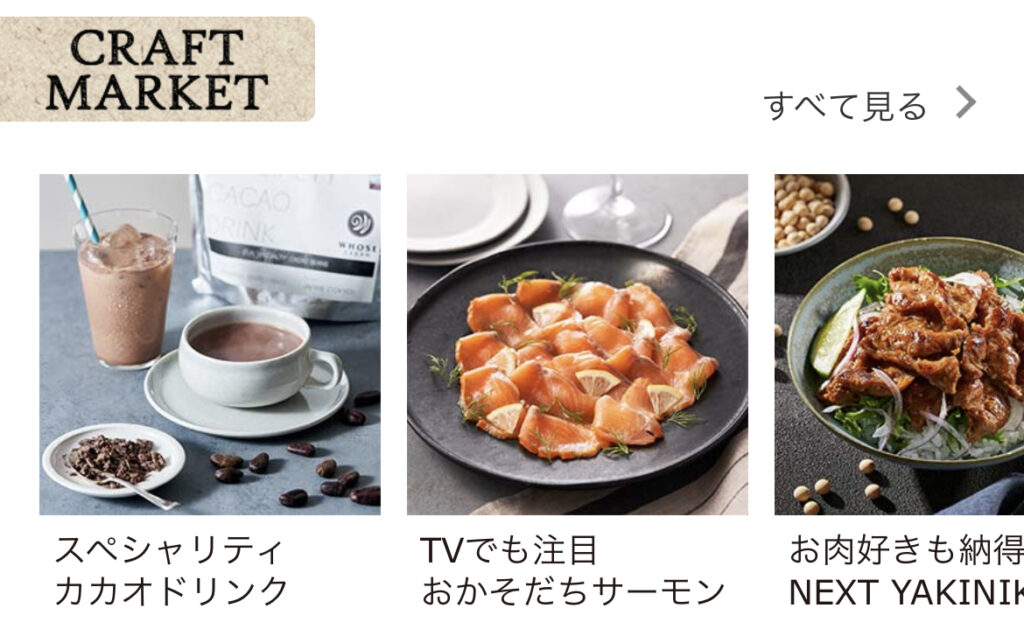 If you feel like treating yourself to something fancy like chocolate or ice cream made from specialty stores in Japan, this is a category that you may want to check out. They also have baby food that's free of preservatives and artificial coloring so if you're going to start giving your baby solids (that is, purees) soon, this might be for you!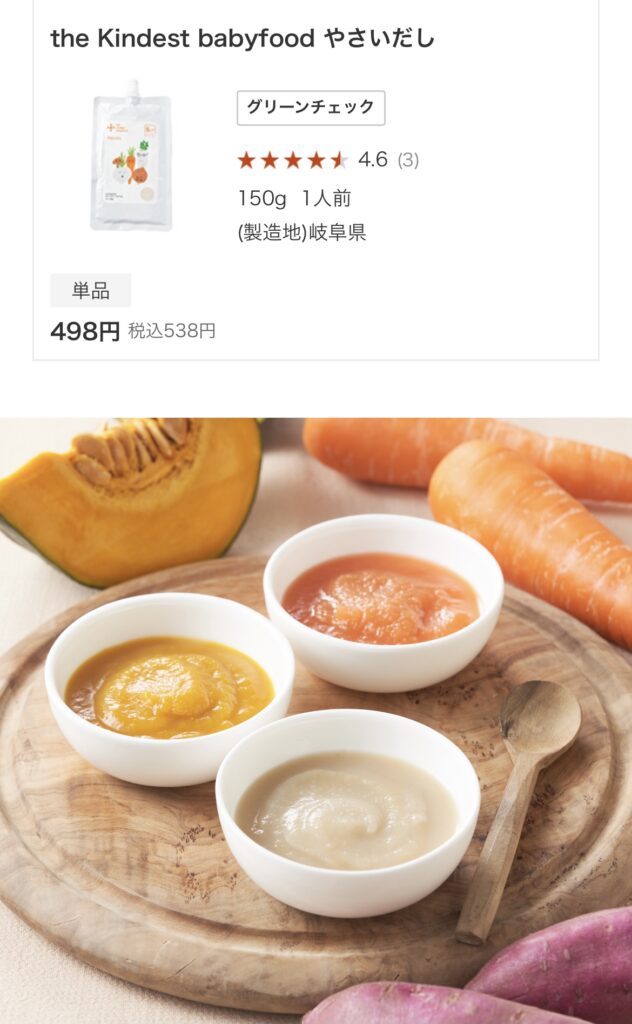 ちゃんとOisix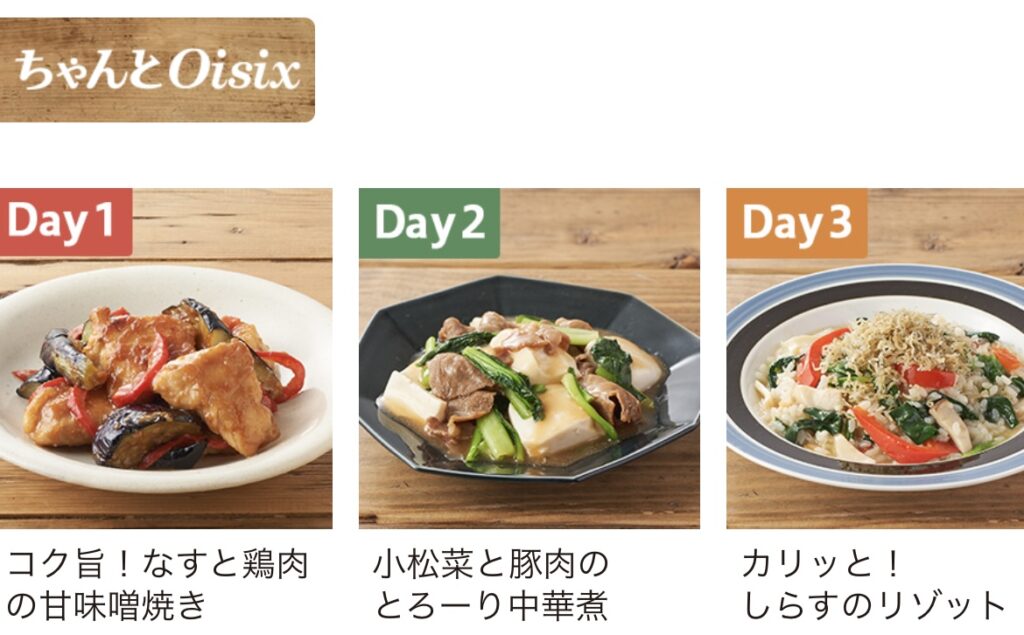 These are meal kit sets that focus on healthy food for two to four people over three days or five days, so it's perfect for those who really don't want to plan their meals over the week. It's also much cheaper than getting their individual meal kits, especially if you're ordering for four people. Unlike their individual meal kits,  ちゃんとOisix comes with two side dishes. However, it still works out to around 600 yen per person per meal if you're getting meals for two, which is a bit expensive in my book if you're going to be doing all of the prep and cooking.
今週のお買い得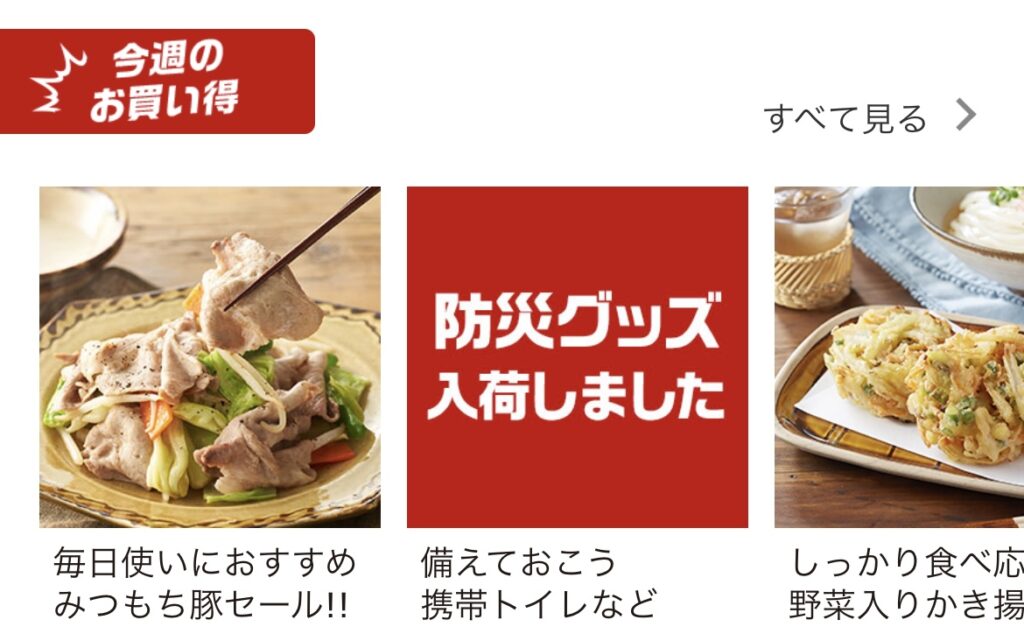 These are weekly discounted items. The discount for most items isn't that great (usually around 5% or 20-30 yen) and when you compare the price to that of similar products in grocery stores, it's just not worth it for me, personally.
Seasonal/Special Events
Every week, Oisix highlights seasonal food and/or food from a particular region in Japan (and sometimes even from other countries!).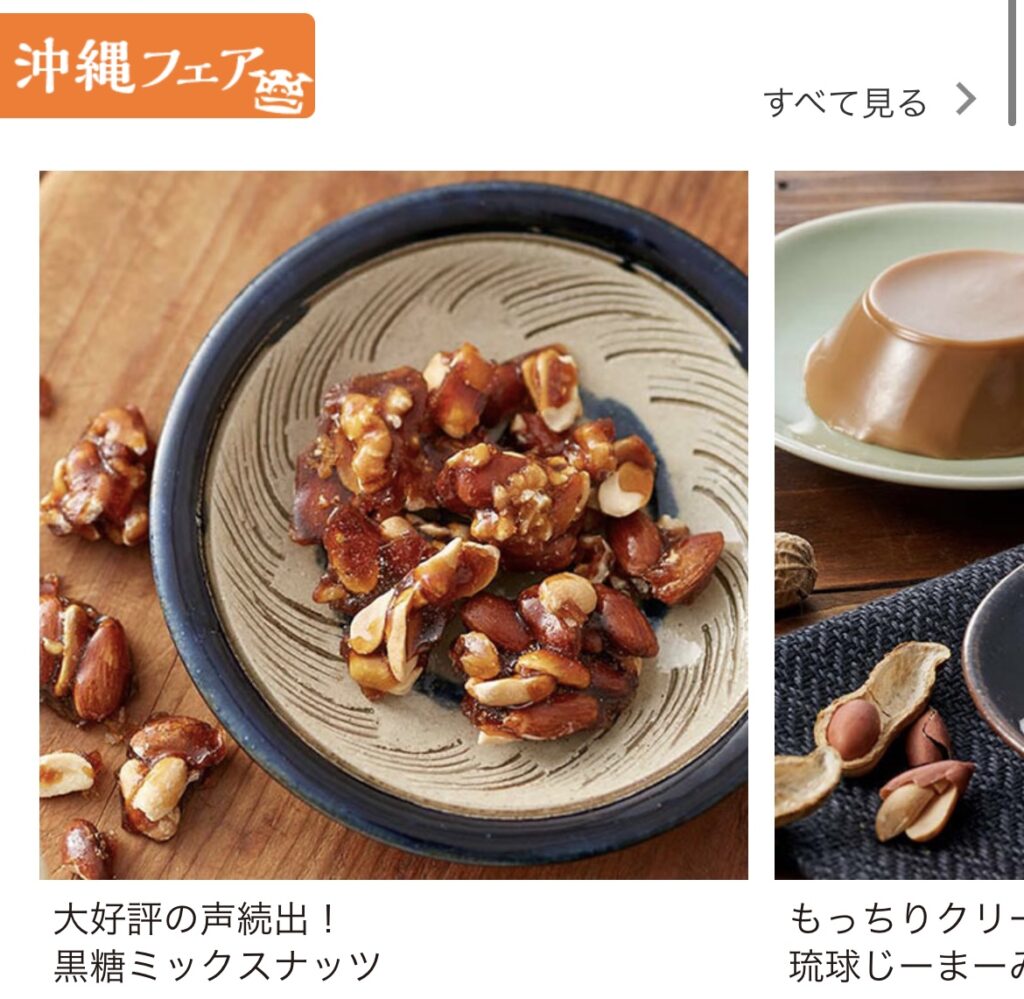 Some additional points to note:
Most products, including meal kits, have ratings so you can see what other people thought of them.
None of the meal kits come with rice.
You can also see which prefecture most products are from.
If you're an Oisix member and live in Honshu, delivery is free if you order more than 6000 yen worth of products. Non-members have to order more than 8000 yen for free delivery.
There is no membership fee but items will be automatically added to your cart every week, so you have to delete whatever you don't want before the deadline (or cancel your membership).
You can choose the day and time you want your weekly delivery.
Frozen items have a 200 yen delivery charge if you order less than 1200 yen.
When we registered, we decided to have our order delivered the following week on Wednesday morning, so after we selected what we wanted, we had until Monday morning to change or cancel our order.
Delivery Day!
As scheduled, the delivery arrived on Wednesday morning, and I'm not going to lie, I was pretty excited because I felt like I was getting a present (okay, yes, a present that I paid for). Everything was nicely packaged and in good condition.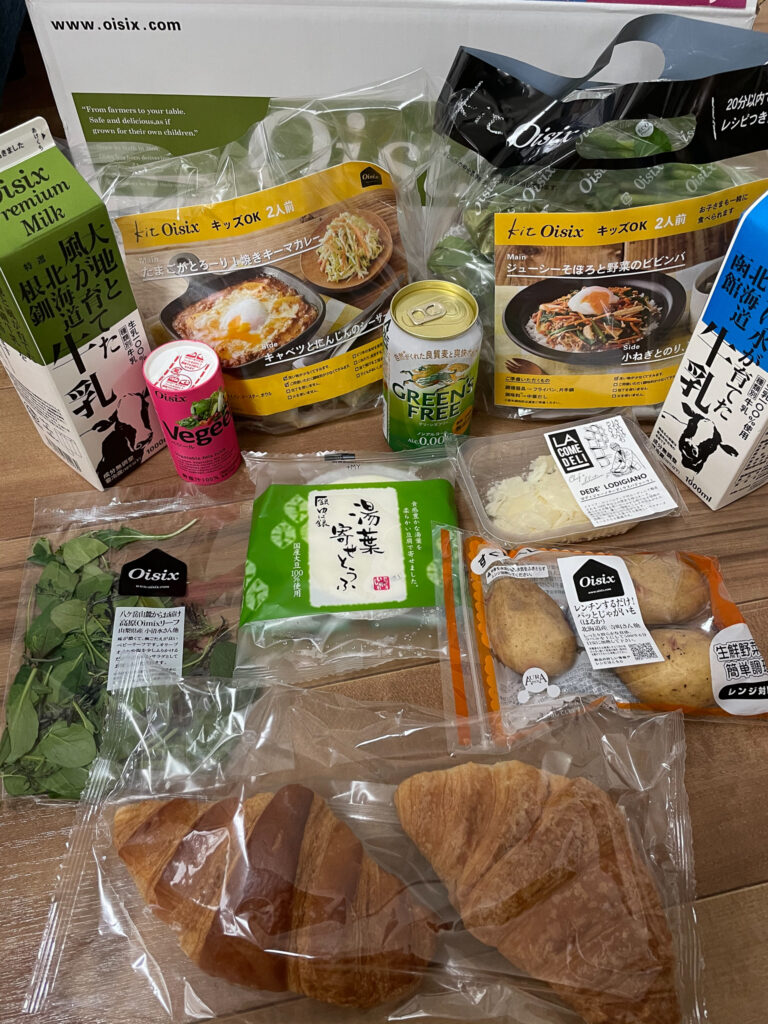 Above was my haul of fresh food with some free items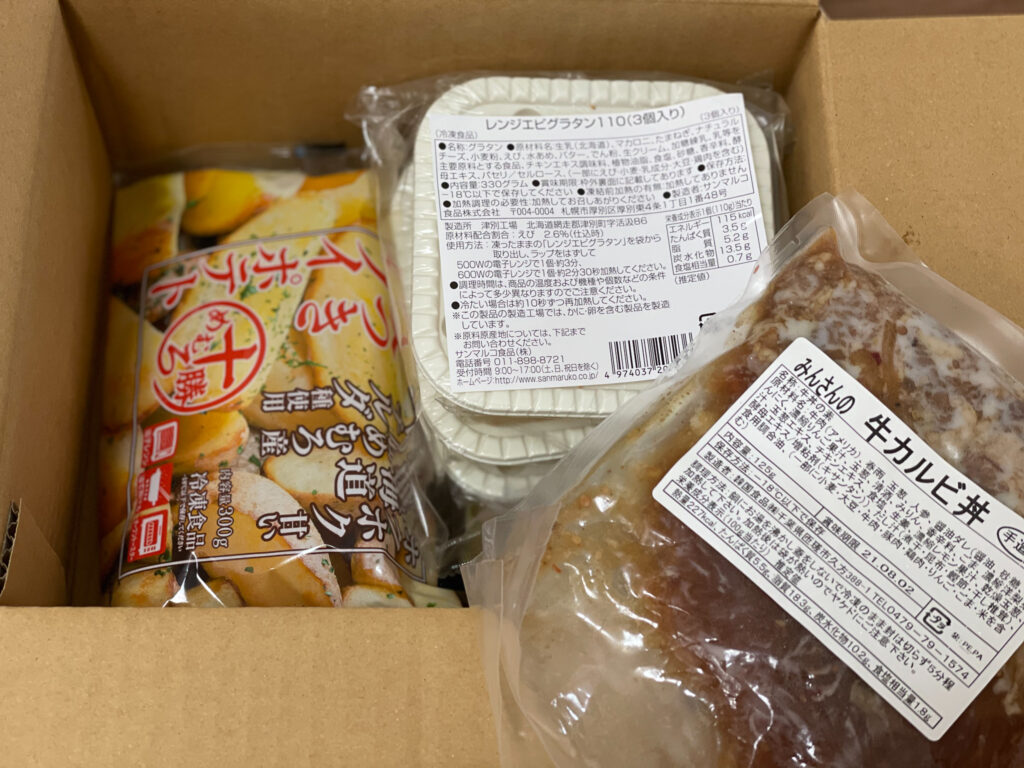 And this was my frozen food haul.
The meal kits were quite big, so I ended up popping both in the vegetable drawer of the fridge. Both needed to be used within four days and had been prepared two days prior to delivery. I decided to make them ASAP to ensure freshness.
Making the Meal Kits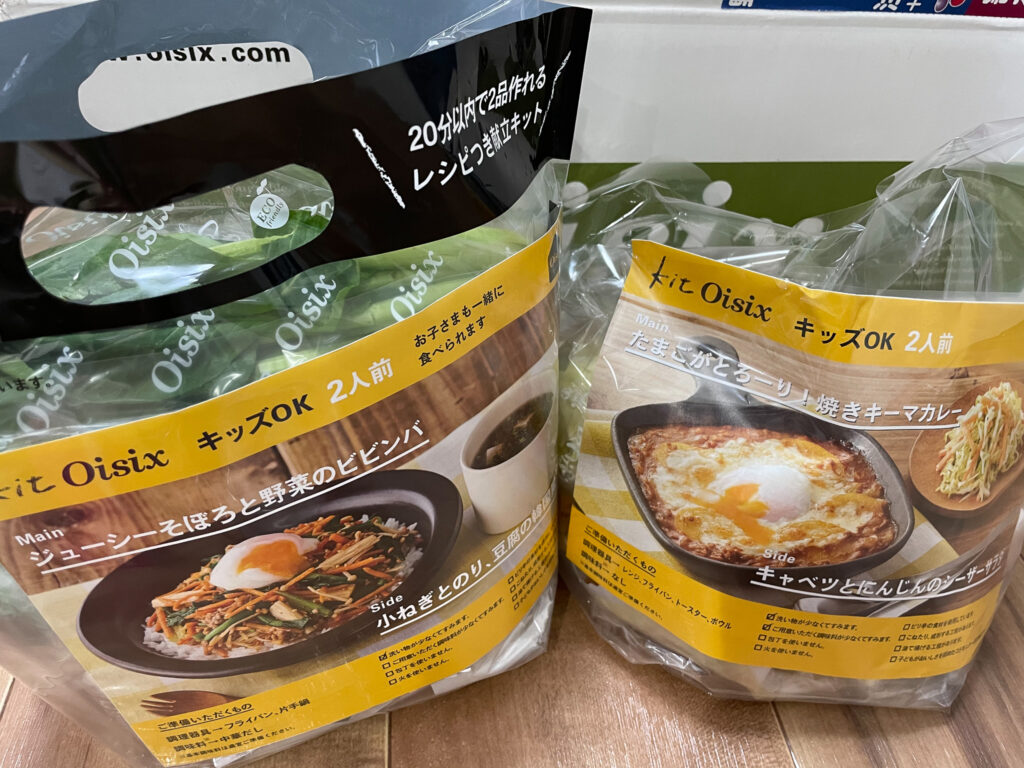 I decided to make the keema curry (焼きキーマカレー) meal kit, which claims to be kid-friendly, that night for dinner. The first thing I noticed was that there was way more prep involved than for a Co-op Deli or Pal System meal kit. I had to wash, peel, and cut the potatoes as well as chop the onions. Granted, it was my fault to order this meal kit because it clearly states (and is depicted as well) in the recipe description that all that prep is required. Prepping and cooking took about 40 minutes, longer than stated on the recipe card because the onions took forever to cook, and my toddler was not happy with the wait.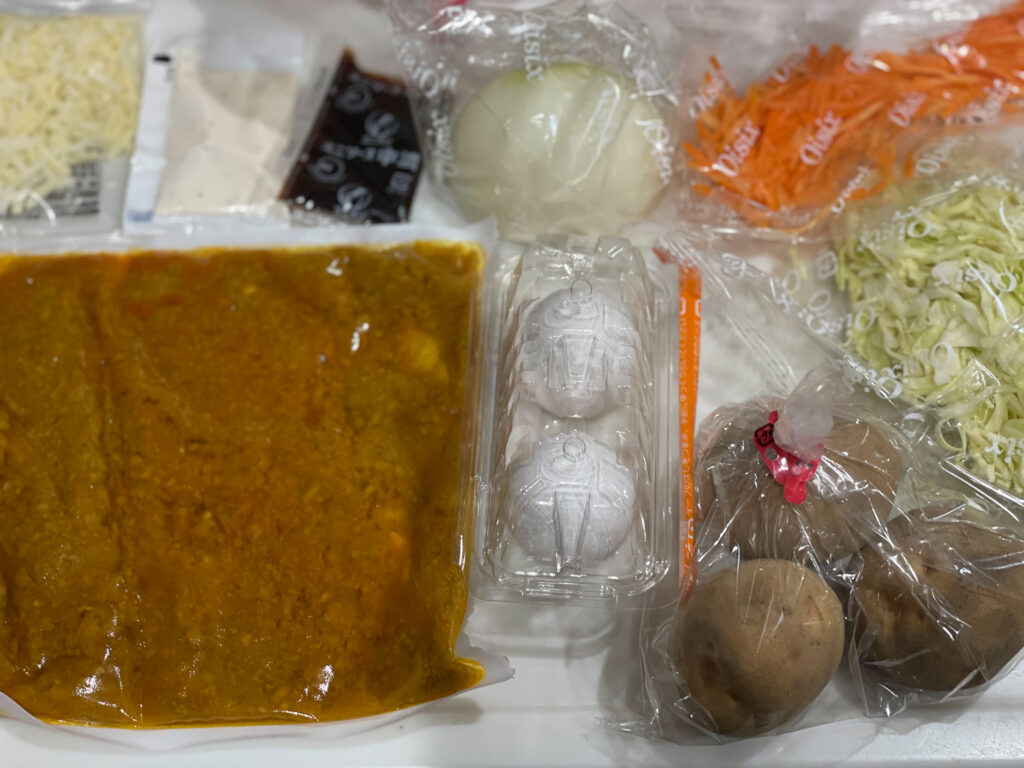 The provided ingredients for the keema curry and side salad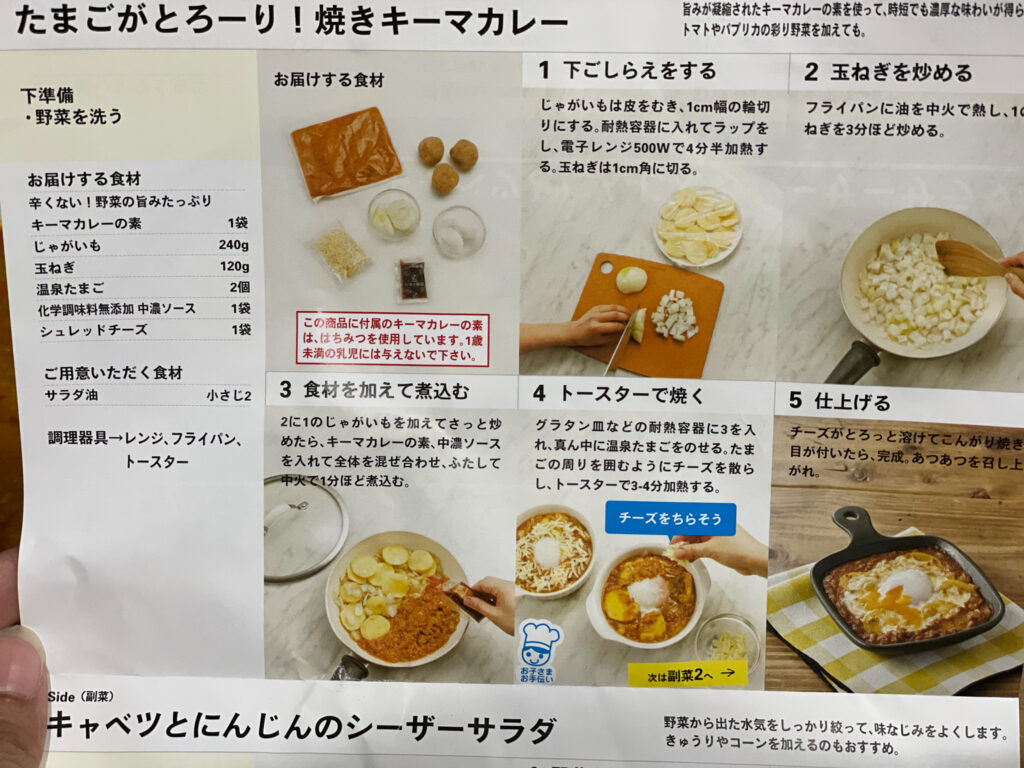 The very easy-to-follow recipe card
I also had to use my own rice, which made me wonder why people just wouldn't order a bento from Hotto Motto or Origin? It's cheaper, no prep or clean-up involved, and faster!
Despite it boasting a 4/5 star rating, the keema curry meal kit tasted… okay? The flavor was lacking and it certainly wasn't something I would get again, especially for the price. My husband and I both felt like it was a 3.5/5. The toddler ate about half of it but not before throwing a tantrum because she's (unsurprisingly) not a fan of new foods.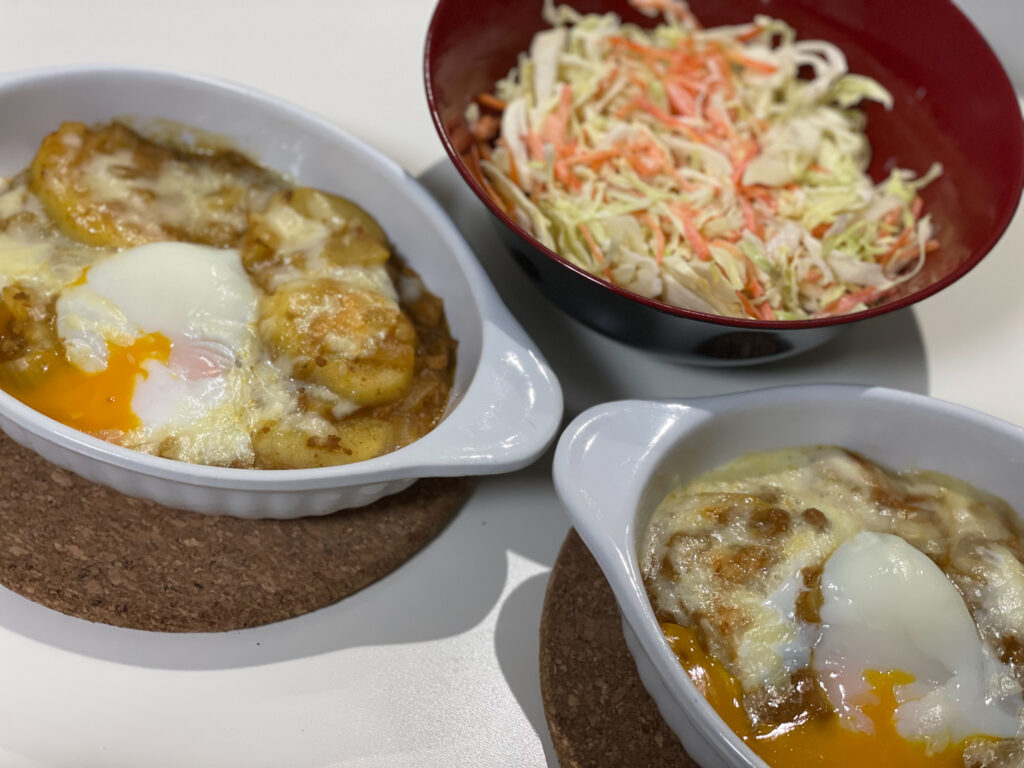 It looked better than it tasted… 
The next day I made the bibimbap (そぼろと野菜のビビンバ) meal kit. Although there was still chopping involved, it was much faster than the keema curry meal kit because I didn't have to wash and peel potatoes. I unfortunately didn't have the 中華だし that was required for the side soup so I just used sodium-free vegetable stock and it worked pretty well.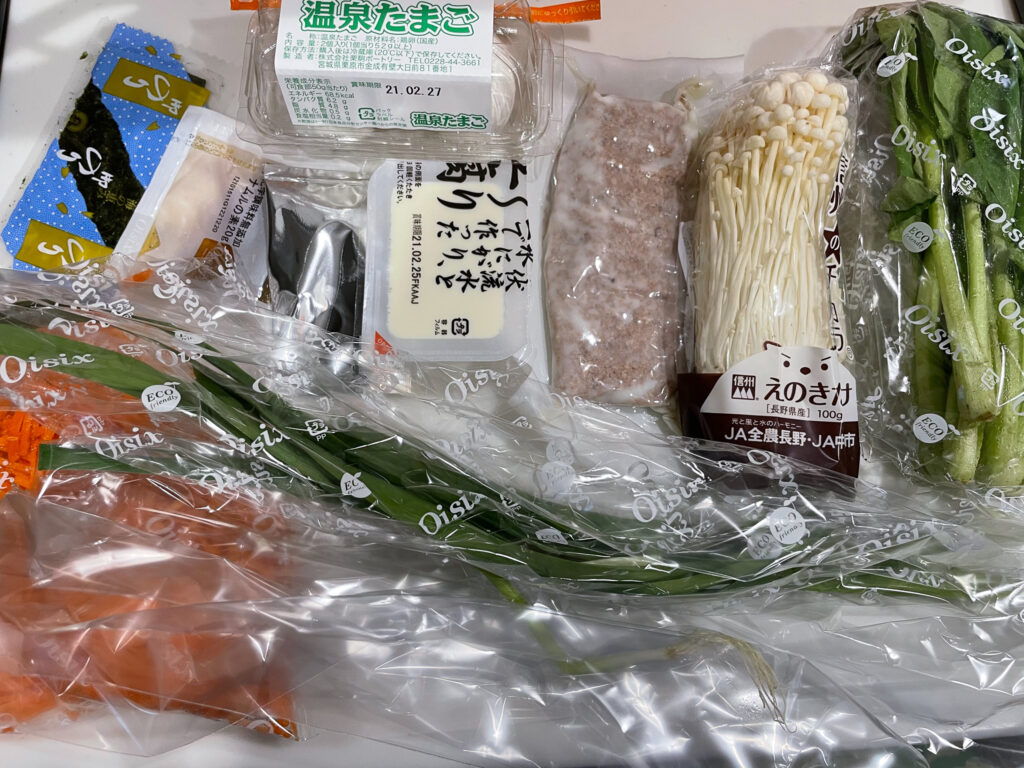 The ingredients for the bibimbap and side soup
The recipe card 
This meal kit is one of the most popular on Oisix with a rating of 4.5 and it was … again, okay. It was not something my husband and I would get again, especially since the toddler wasn't a fan.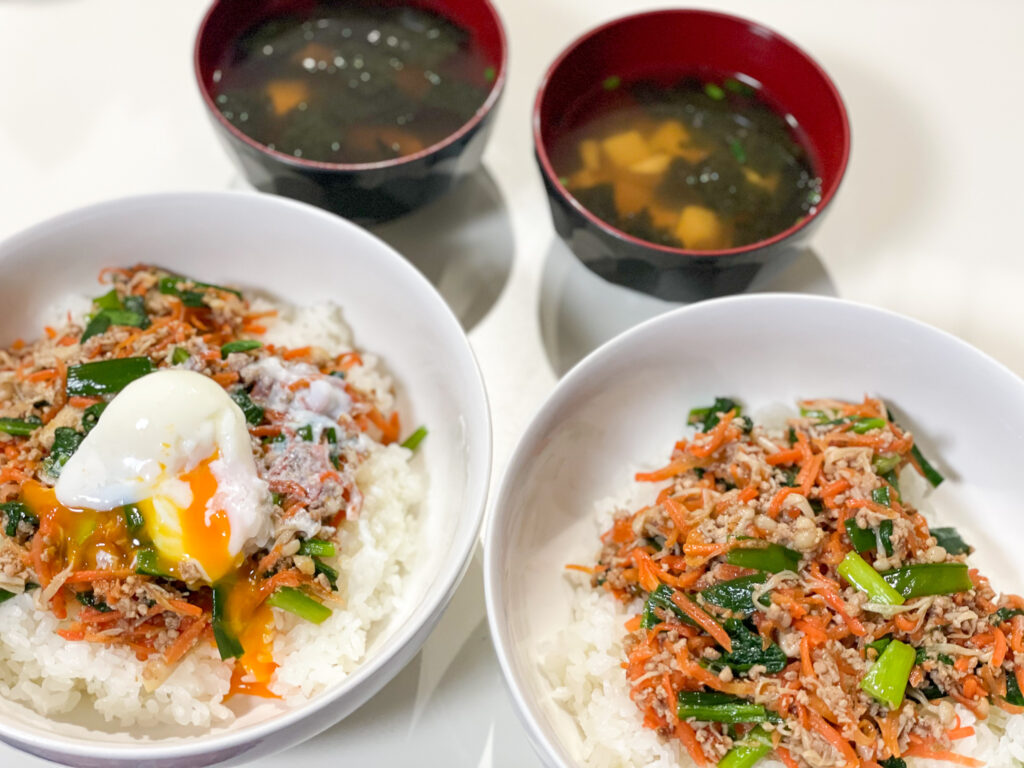 (Note that both of the meals come with onsen tamago (soft-boiled eggs) but we didn't feel comfortable giving that to our toddler, not to mention she hates eggs, so her portion was egg-free.)
View this post on Instagram
The Frozen Meals
These are hit or miss. I had hoped the mini shrimp gratin would be a decent lunch for me but it felt like I was eating mostly white sauce. My husband thought the kalbi bowl (みんさんの牛カルビ丼) was fine and although I liked the japchae, I was not a fan of the beef (which is supposed to be the main star of the dish!) and gave it all to my husband. But remember, I am a picky eater.
Since I initially wrote this post, we've tried a few more of their frozen foods. I can wholeheartedly recommend their frozen spinach gyoza and corn gyoza, as was their frozen shrimp pilaf meal kit. Their cheese katsu (豚ミルフィーユカツ) was also delicious and restaurant-quality. It was only available once but I hope they bring it back because I would absolutely order it again.
The 単品 Groceries
I had no complaints about the a la carte groceries that we got. My daughter happily drank the milk, the croissants tasted decent (although had that packaged conbini bread taste to it), the salad and potatoes were good, and I absolutely loved the 湯葉寄せ豆腐. Their vegetables definitely taste fresh and better than the ones I get at my local supermarkets.
Overall Impression of Oisix
Pros
It's very convenient, especially when it comes to the meal kits, since you don't have to think about what to make for lunch or dinner
There's variety as the meal kits tend to change every week and they have weekly specials
Everything is delivered straight to your door, which is great for new parents and especially nice during a pandemic. If you're not home, they'll call and keep your delivery until you're able to receive it.
The meal kits come with detailed instructions that also have images
You can learn how to cook Japanese food and use ingredients such as vegetables you've possibly never tried before
You can get ideas for recipes from the meal kits, meaning you can buy the ingredients on your own for a lower cost at the supermarket if you want to make a particular meal again but without the kit (I've kept the recipe cards for the meal-kits that my family has enjoyed)
All of the ingredients are portioned in the meal kits so there's no waste (not counting whatever your child throws on the floor, of course)
The products are wrapped in plant-based plastic so it's eco-friendly.
Most products have ratings
They have vegan meal kits
Meal kits also have icons to let you know how much prep/cleanup is involved, if it's kid-friendly, etc.
Freebies!
You can use coupons and points to pay for products. For instance, I used 800 points and a 1000 yen coupon to get 1800 yen off my total bill
There is no membership fee and you can choose and day and time you want your weekly delivery. Signing up is also very easy.
Cons
It's way more expensive than getting groceries at the grocery store, Co-op Deli  or Pal System
It takes considerable time to scroll through all of the available items on the app
The website is impossibly slow
The items come in a box, which is annoying to dispose
The meal kits are not the best for picky eaters
Some dishes require quite a bit of prep
In the same vein, some dishes can take more time than expected to make
Sometimes you may not have an ingredient on hand, such as a sauce or seasoning, that is required for the dish but not provided. You have to prepare your own rice as well.
Every week items are automatically added to your cart so you have to stay on top of checking it — otherwise, it'll be automatically charged and delivered to you!
So should you try Oisix?
I think if you're not a picky eater and don't have much time, it may be worth it to try Oisix, especially if you order from ちゃんとOisix, which provides you with meals for up to four people for three or five days. This way, you get a healthy, balanced meal and don't have to worry about meal plans, going shopping, and then most of the prep.
Despite that I wasn't entirely impressed with Oisix with my first order, I decided to order from Oisix a few more times and was quite pleased with what I got. Recently my husband and I have been very busy with work and exhausted from our toddler going through a sleep regression, so we really didn't want to have to think about what to make for dinner and it was nice having something ready for dinner in the fridge.
Here are the meal-kits I would recommend:
青菜と3種豆のタコライス
シェフ御用達野菜のグリルサラダ
ゴロッとえびのピラフ
ココナッツカレー (vegan)
濃厚トマトシチュー (vegan)
If you want to try Oisix, I suggest taking advantage of their trial campaign and checking out whether this service will work for you and your family.