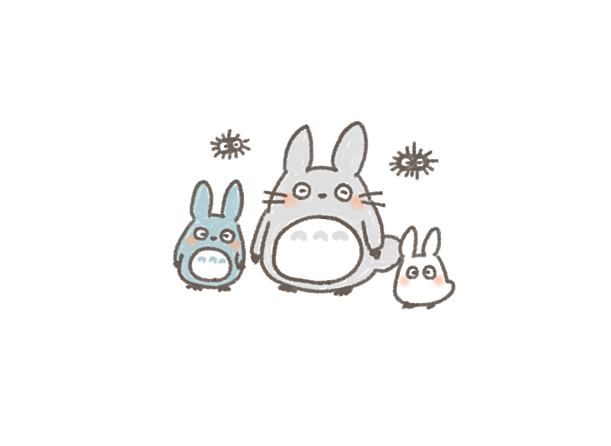 Beyond Cute Studio Ghibli Baby Products
I am a huge fan of Ghibli, so back when I was expecting my daughter, I was beyond excited when I found out that they offer a wonderful selection of baby products. These make excellent gifts for new parents who adore Ghibli or even for yourself (okay, for your baby… but happy parent means happy baby, right? And these items below are guaranteed to bring a smile to even the most exhausted parent's face!).
If you're interested in any of the products below, click on the name or image for more information.

How adorable is this! This outfit is perfect for Halloween but come on, you don't need an excuse to dress your child up like the Nekobus. (And the soft material means it's going to feel extra-good when you give them snuggles.) According to the manufacturer, this is meant for children ages 3 and up but one reviewer said it was a bit tight for her 2-year-old, so it's probably best to buy it if your child is around one and then they can grow into it later if needed.

This set would make a great gift for a newborn. Bibs are always useful and look at how adorable those little booties with the acorns are!
I got this for my daughter when she was a newborn and she loved playing with it. The size is perfect for tiny baby hands, it's light and safe, and the quality is excellent — I've washed it in the washing machine (in a small laundry bag) several times and fifteen months later it still looks as good as new. This rattle is also very affordable so it's a nice gift if you want to give someone a congratulatory present but don't have that much of a budget, or want to get it as an add-on to another gift.

If you're a Catbus fan, then you'll be pleased to know that there's an equally cute Catbus rattle as well.

Blocks are an excellent way for babies to practice their fine motor skills, so what better way to introduce them to this basic but important toy than through a Nekobus building block set? This set contains a variety of colorful wooden shapes, and the Catbus that contains the blocks not only has different slots through which children can put the appropriate shape, it also functions as a little car that the child can pull around. Its multifunctional nature makes this an excellent educational toy, perfect for developing and strengthening a baby's cognitive skills.

I bought this without hesitation after seeing it in a Ghibli store in Tokyo Station before my daughter was born. She adored it and had a lot of fun opening the flaps and uncovering the soot sprites and little Totoros. The cat bus tail also squeaks when you press it! I've washed this book several times and it's still in good condition, so I think it's definitely worth the price.
This isn't exactly a baby product but I feel like I would have loved to get it for my baby when she was a newborn — she would have looked so cute lying on it! It would make for a nice tummy-time mat as well, all you have to do is buy a small standing mirror from the 100 yen shop and your baby is good to go!

For those who breastfeed and love Totoro, this absolutely adorable pillow is a must-have! And how cute would a baby look nestled in the middle or propped on it for tummy-time? (Click on the image or name and check out the reviews for proof, someone very kindly posted a picture of their little one in it and the cuteness almost made me want another baby… almost.)

This bath towel allows you to not only dry your baby but also see how much they've grown. How nice is that? There's also a Totoro one available.

This is another cute but functional item. Once babies start solids, they will soon need to be able to master drinking out of something other than a bottle, and this adorable straw cup decorated with Chibi Totoros is the perfect way to get them to start. Suitable for children 8 months and up.

With all the spitting-up a precious little newborn is going to do, bibs are a must-have for any new parent. And the cuter the bib, the better. There's also a blue Totoro (or Chu Totoro) one as well. 
This is the ultimate gift for a Ghibli fan who is going to have or has just had a baby. It's packed with towels and an adorable Ghibli baby toy, as well as diapers (which every new parent will appreciate). You can customize the cake too by selecting the type and size of diaper you want (if you're not sure, check out my review of newborn diapers in Japan).
There's also a Kiki's Delivery Service one (I recently discovered that my daughter loves Jiji so I regret not getting her that rattle!).