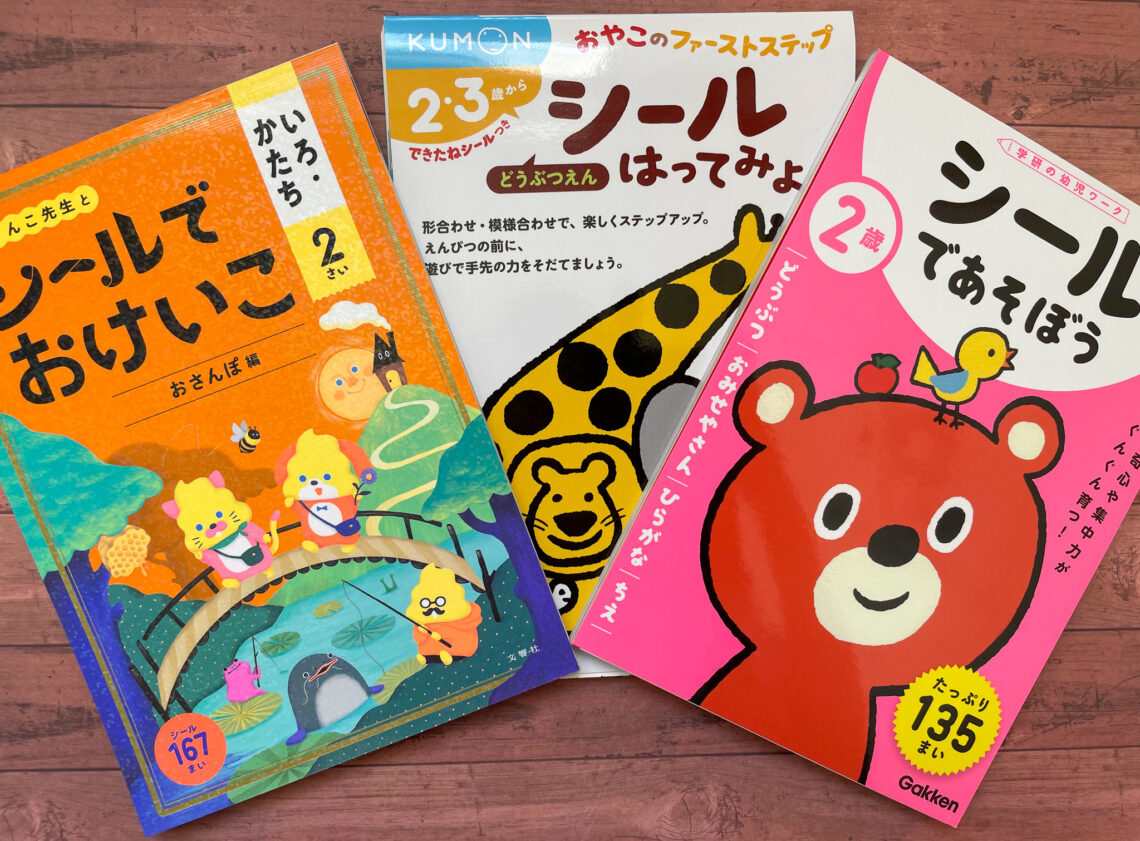 Sticker Workbooks for Toddlers in Japan
Like most toddlers, mine is obsessed with stickers (シール). So when I stumbled upon sticker workbooks, I thought it would be a great way for my daughter to get some learning in and practice her fine motor skills while doing something she enjoyed. (Not to mention as a parent at home full-time, I needed new ways to keep her occupied!)
Of course, it's possible to make or print your own sticker worksheets but it does take some time to prepare (drawing, printing, buying stickers), and the loose paper around the house may not be so ideal. Homemade sticker worksheets also tend to focus on circles, so it is somewhat limiting. This is why I prefer workbooks.
In this post, I'll be sharing my thoughts on sticker workbooks by three different companies in Japan and whether it's worth trying out for your little one. All of these workbooks contain "you did it!" or "great job!" stickers, so whenever your child completes a page, they get to place one of these stickers on that page.
Target ages: 2 to 3
Number of stickers: Unspecified, and I'm not about to count!
Number of pages: 64
This sticker workbook series is by Kumon, a familiar educational organization that focuses on helping children succeed in learning. In fact, my husband attended Kumon when he was an elementary school student and I guess it worked because he was always at the top or near the top of his class.
The one that I got, pictured above, focuses on zoo animals (どうぶつえん・doubutsuen), although there are several different kinds looking at categories such as the supermarket, seasons, and vehicles.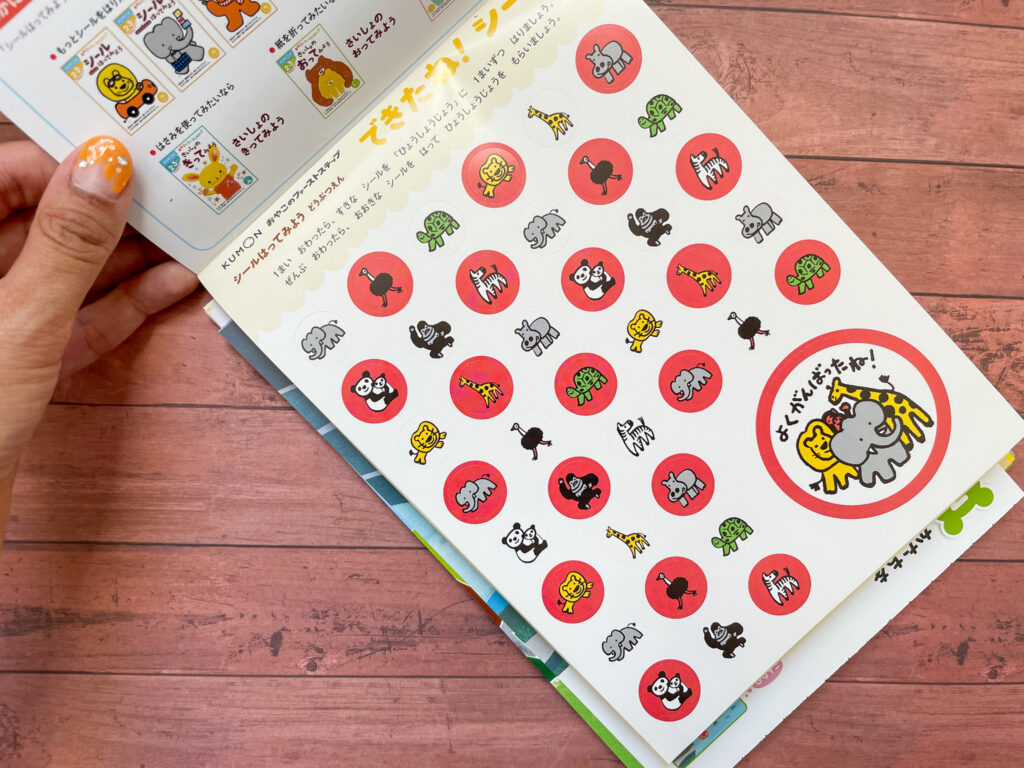 "You did it!" stickers for when a page is completed.
The zoo animals book contains pages with various animals and different ways your child can place stickers on the pages. For instance, they can place a sticker on an animal to fill in a shape (triangle, circle, square, etc) or fill in their face (eyes, nose, mouth). There are also stickers of animals that your child can place in an outline of the animal or anywhere they like on the page. The variety of ways my daughter could use the stickers really appealed to me. (I discovered she's not very good when it comes to placing a sticker in a specific spot, but that's okay, she's only two after all!)
Each page also has information for parents regarding how to use the stickers, what to do if the child is having trouble, and how to engage the child with the content on the page.
Despite these nice points, this book was, unfortunately, the worst out of the lot.
All of the stickers are at the beginning of the book, which is annoying because you either have to cut the page out or keep flipping back and forth to get the sticker for a certain page. The pages are also one-sided, so although the book looks thick, it's not and is simply wasting paper.
My daughter also went through this book the fastest out of the lot despite it being the first that she tried. She was almost finished with the book in two nights!
What disappointed me the most was that the book completely fell apart before my child was done with it! The binding is absolutely terrible, and because of that alone, I will not be purchasing any other books in this series again, nor can I recommend it to another parent. However, the book has high reviews on Amazon Japan so perhaps it's worth trying out if you're curious?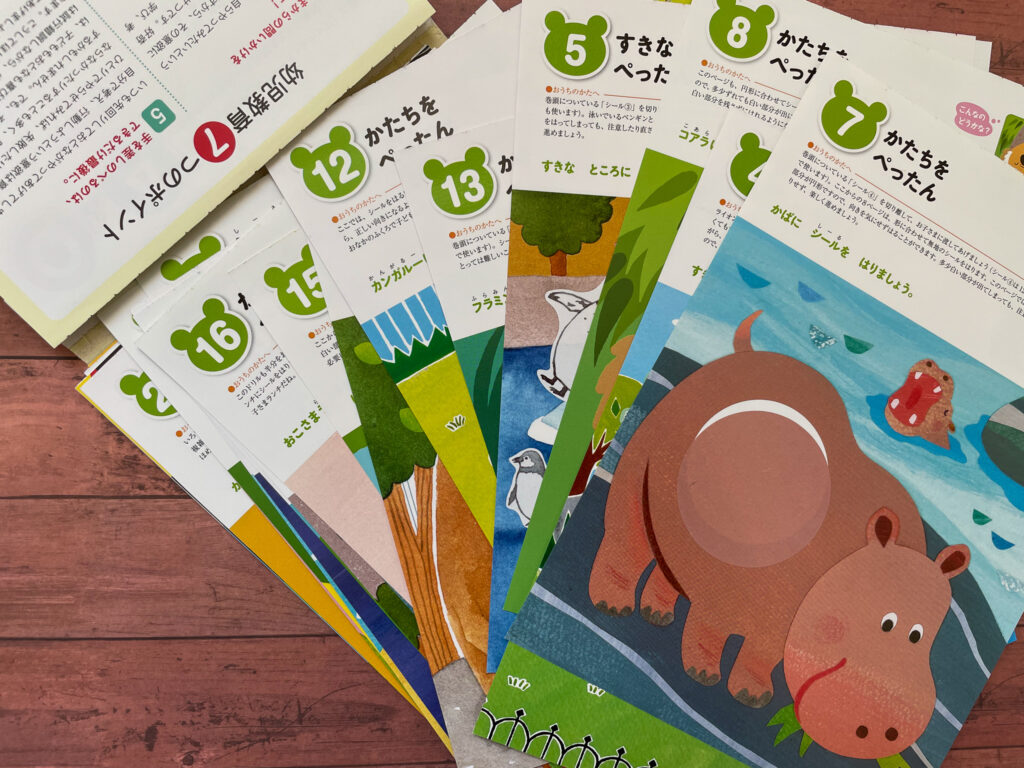 Oh noooo!
Target ages: 2-3
Number of stickers: 135
Number of pages: 64
This book is by Gakken, another famous education company in Japan. Similar to the aforementioned sticker workbook, this one comes in various kinds. The one I got focuses on animals, stores, hiragana, and judgment.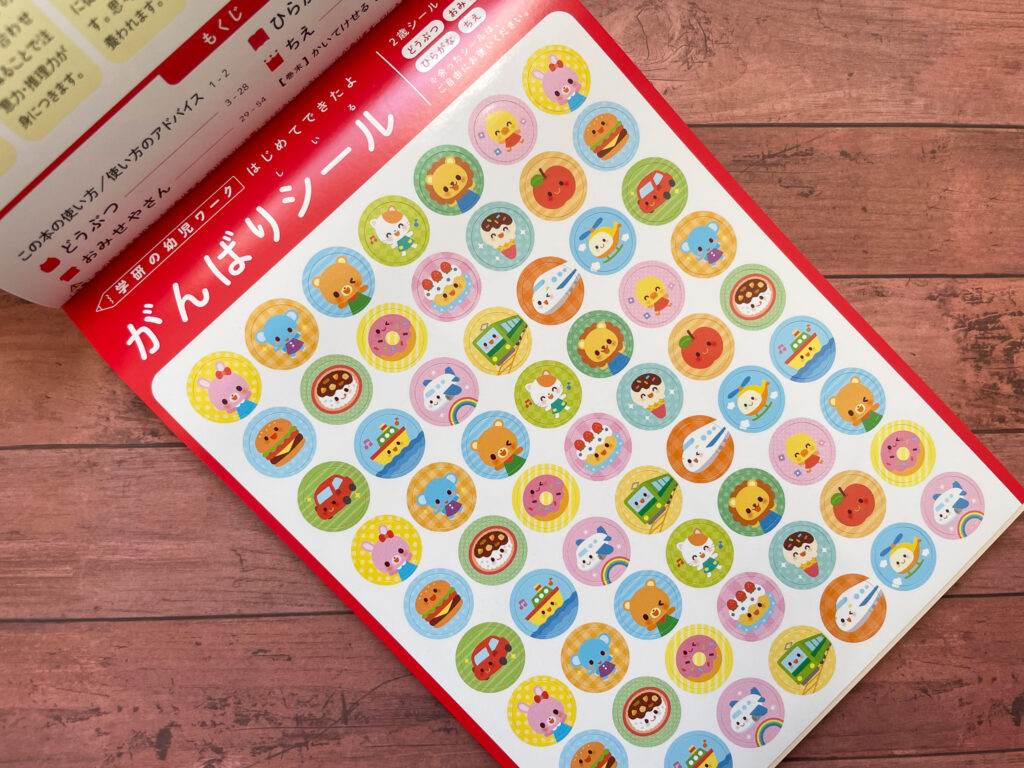 "You did it!" stickers.
There are many things I liked about this book. Firstly, the pages are double-sided. One side uses stickers while the other side has an activity, such as drawing a line between two objects, saying the name of an animal, identifying what/where something is, pointing out which object is bigger/larger in quantity, or spotting the differences between two pictures. For this reason, you can use the book repeatedly even after the stickers are finished.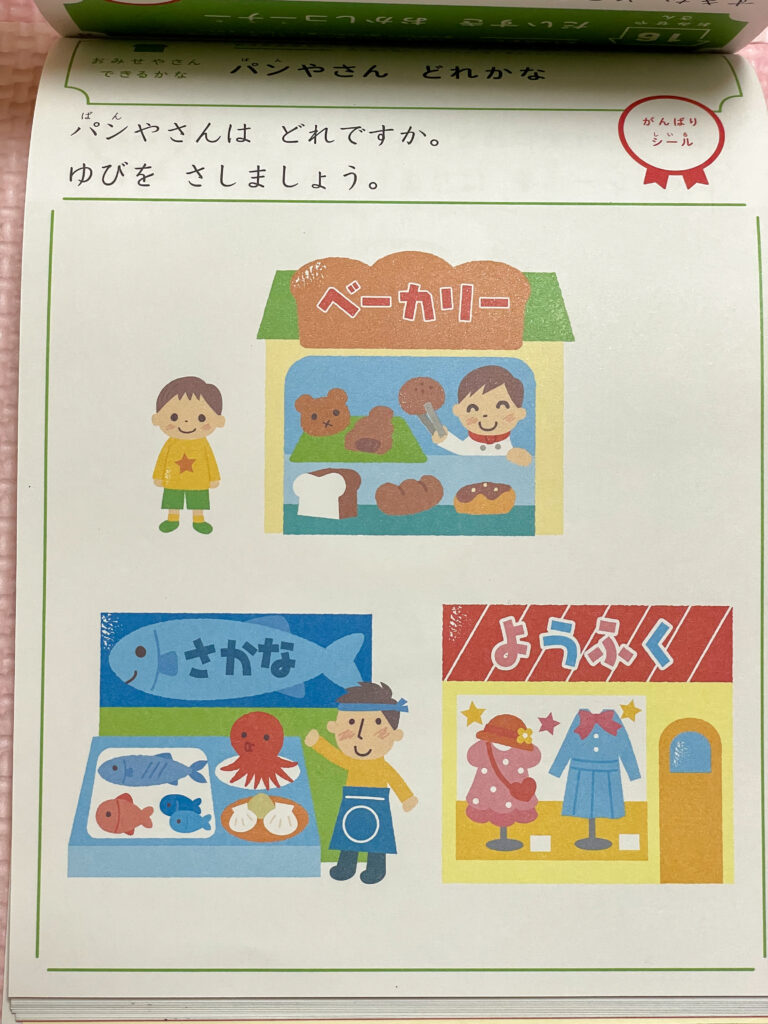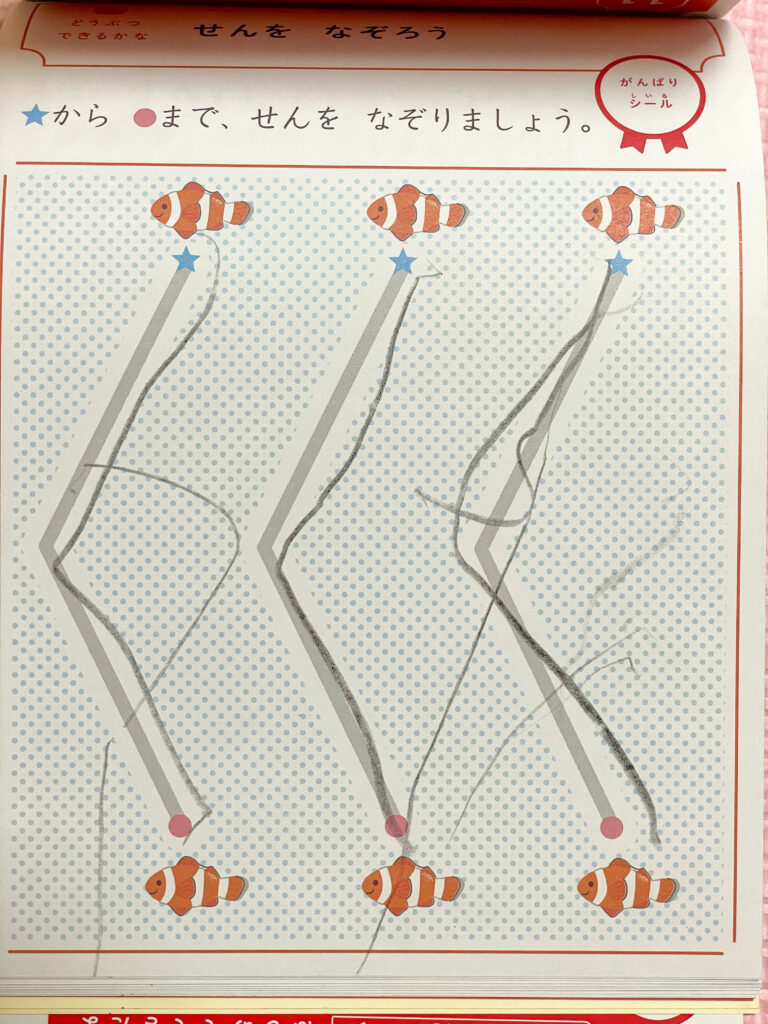 In terms of the stickers, the activities are also similar to the Kumon book. Children use the stickers to fill in shapes on animals or place an animal in a specified spot. They can also freely place stickers on certain pages.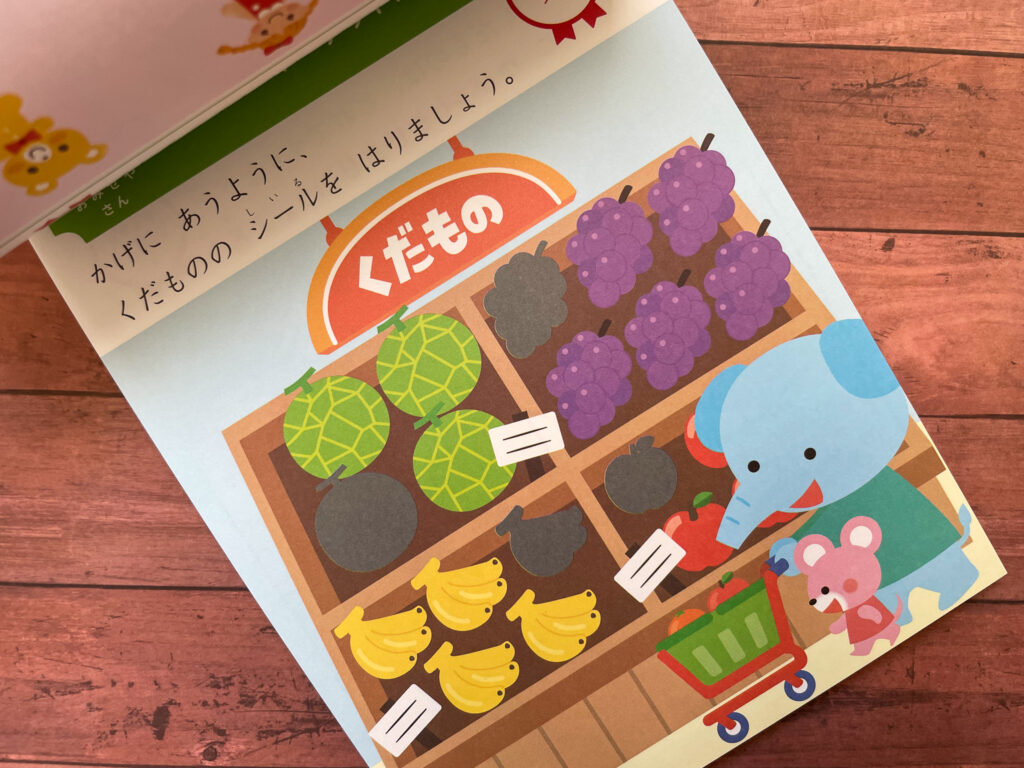 I also liked how it had activities looking at four different areas (animals, stores, hiragana, and judgment). Hiragana is still a bit too advanced for my daughter but I'm happy with the exposure she's getting to it through the book.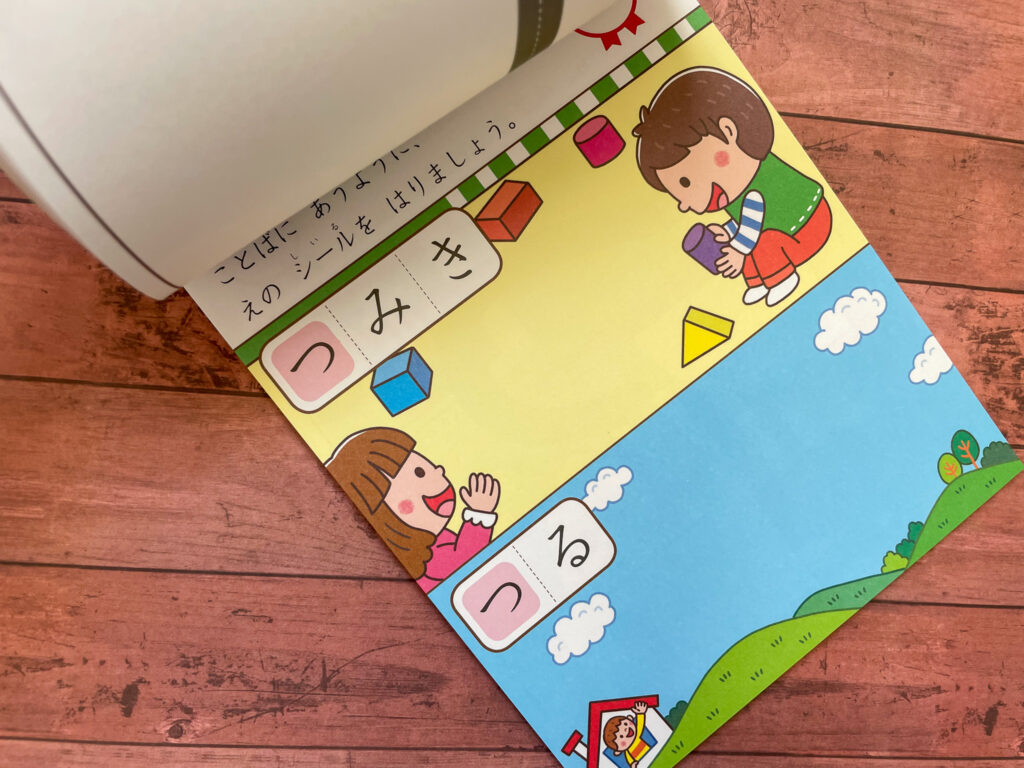 I only have two complaints about this book. The first is that like the Kumon book, all of the stickers were at the beginning. I ended up cutting out the pages so that I didn't have to flip back and forth. The stickers are also large and easy to handle but at times my daughter would rip them accidentally when peeling them off the page, so I peel half of it for her to prevent this from happening. Despite these problems, I will buy some of the other books in this series.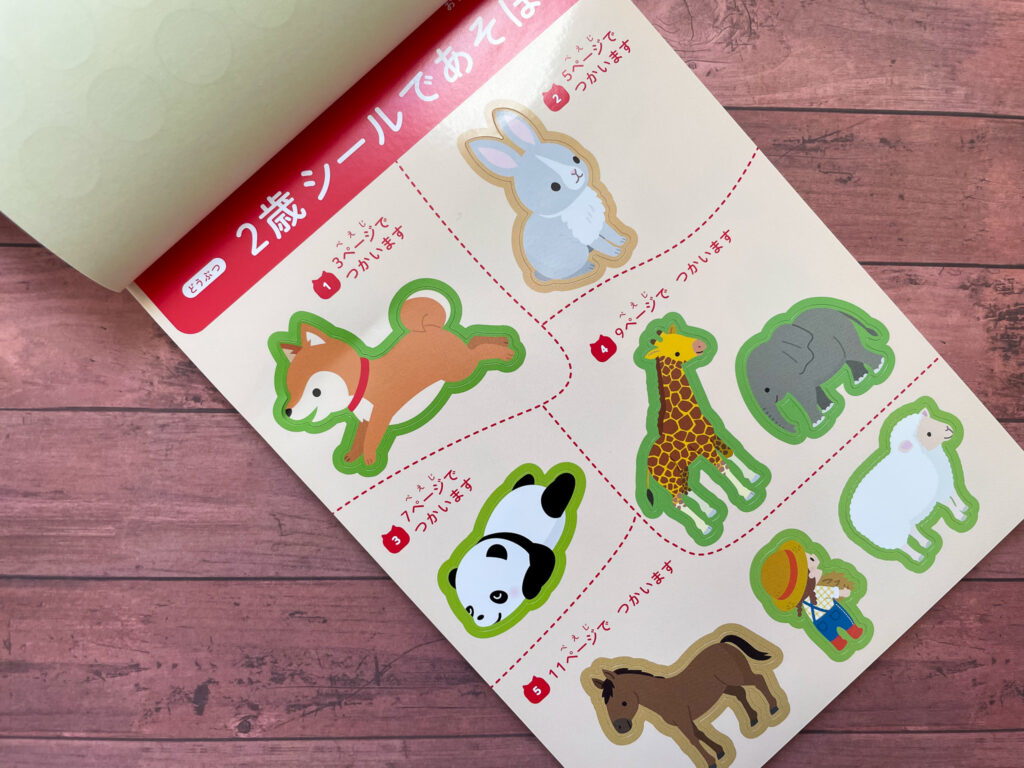 Target ages: 2-4
Number of stickers: 167
Number of pages: 16
Have you ever heard of うんこ先生? It is as the name suggests: a teacher that is poop (Mr./Ms. Poop?). I'll never understand Japan's obsession with poop but anyway, うんこ先生 is a popular educational series where all of the characters have heads shaped like yellow poop.
Despite how much I am not a fan of poop (honestly, changing poopy diapers is one of the worst parts of being a parent for me) nor toilet jokes, these books were much better than I expected. (I say "books" because I bought a set from Amazon Japan, which worked out to be cheaper than buying each book individually.)
The book pictured above focuses on colors and shapes, and each book has a different learning target, such as hiragana, numbers. It's less packed than the Gakken book but at the same, your child can concentrate on mastering one concept. Each book also has a very simple story. This particular book features a story about the characters going on a walk and what they come across.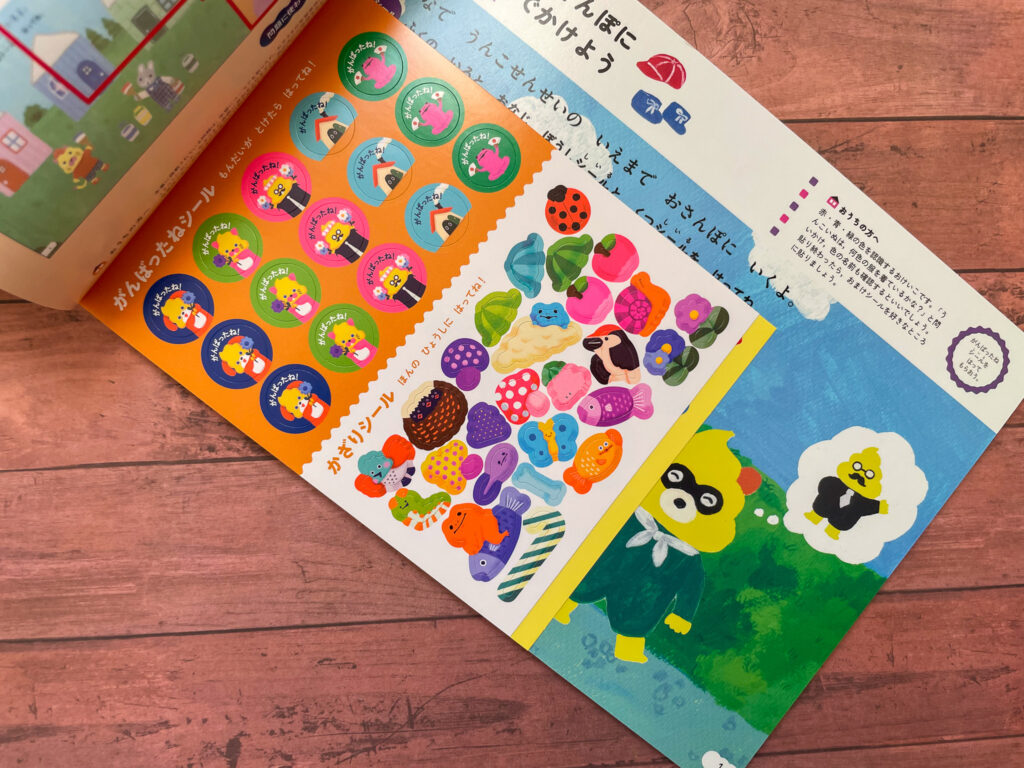 "You did it!" stickers.
Like the other books, stickers are placed in specific spots or freely on the page. One thing I really liked is that the stickers are not all at the beginning of the book. Instead, one page of stickers is placed in between the pages, making it a lot easier to use.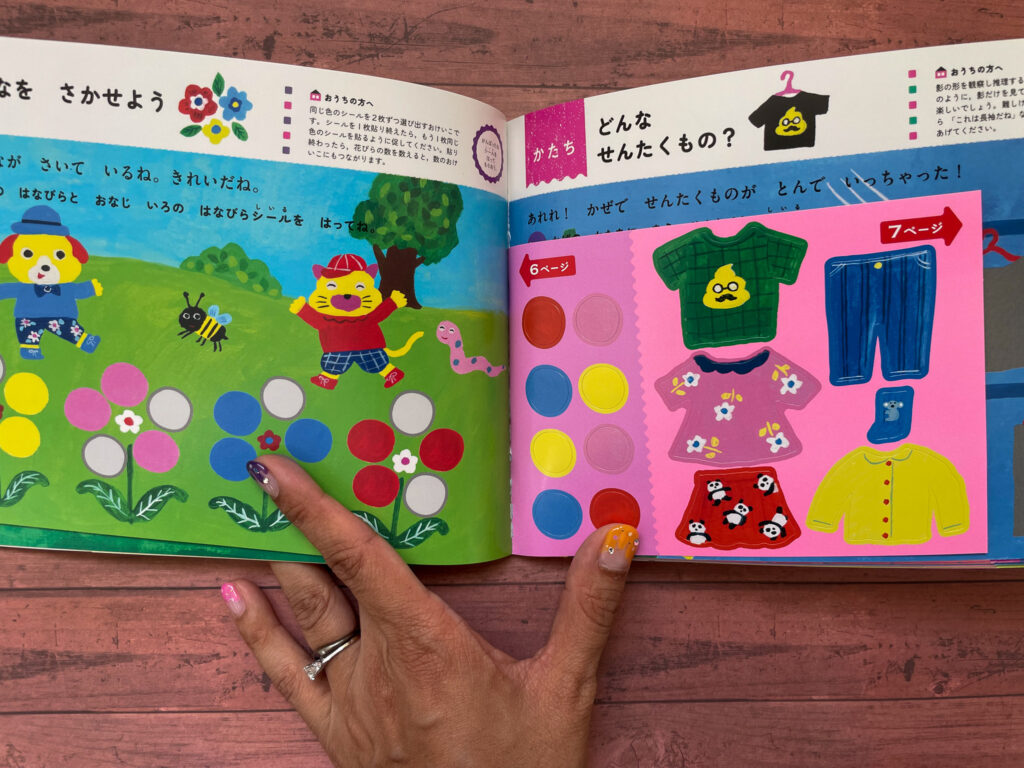 The うんこ先生 books are very vibrant, with a sparkly cover, and the pages, as well as the stickers, are much sturdier than those of the other books. These books have significantly fewer pages than the other two mentioned earlier; however, your child can place many more stickers onto a page.
Unlike the other books, the うんこ先生 books have じゆう (free or extra) stickers in addition to the ones meant for each activity, meaning that they can be placed anywhere and doesn't even have to go in the book. The stickers can also be peeled off the pages so your child can use them again in a different way. It's not super easy to peel off the stickers, though, so you will have to do it and maybe find a place to put the stickers before your child uses them.
---
So there you have it! Have you tried any of these books? If so, what did you think? Let me know in the comments!
P.S. Daiso also has sticker workbooks, along with some other kinds for toddlers. However, I haven't bought one because I felt like the quality wasn't worth it for me. But it's nice to pick up if you need something quick and educational to entertain your child with!