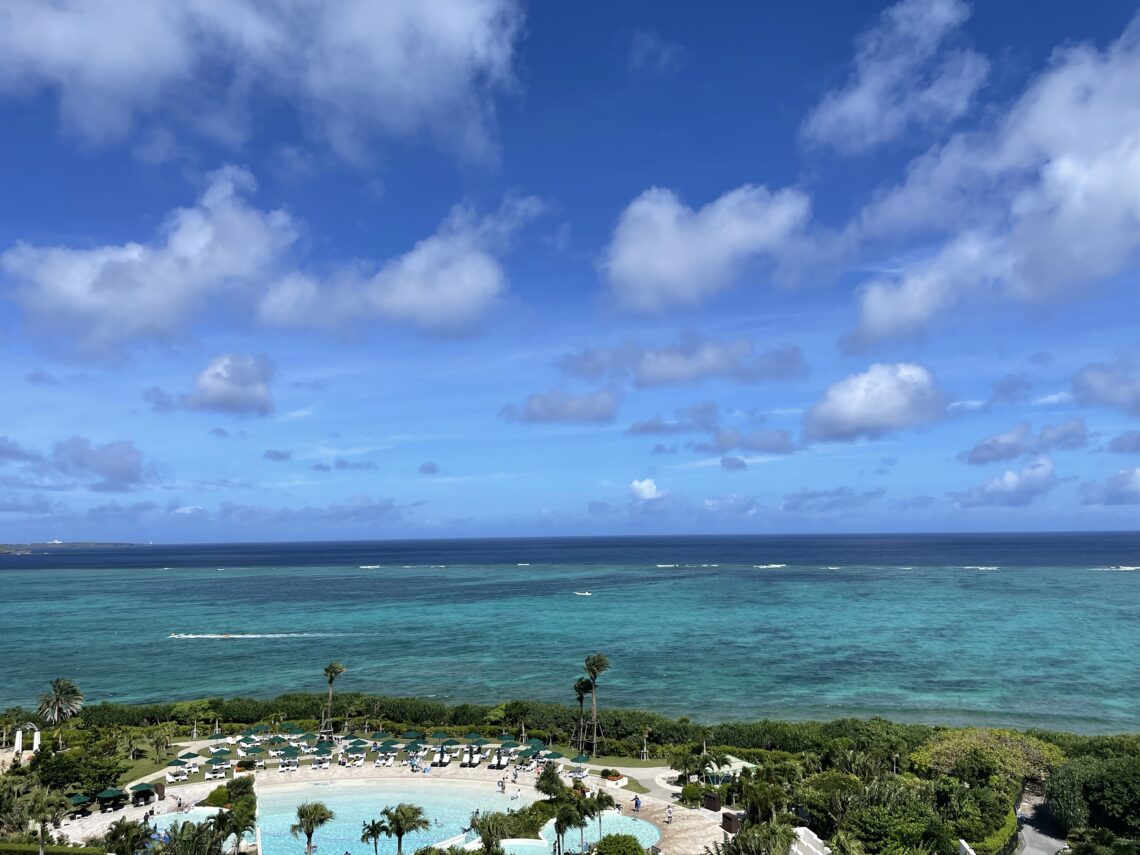 Hotel Monterey: Kid-Friendly Resort in Okinawa
Last month, my family visited Okinawa and stayed at the Hotel Monterey Okinawa.
I've been to Okinawa four times before, but this time would be my first time traveling with my daughter. My husband didn't want to drive and we wanted a stress-free, relaxing trip, so we decided it would be best to stay at a resort that we could enjoy even if it rained.
As many of my readers have children and may be interested in traveling to Okinawa with their little ones, I thought I would write about our experience staying at the Hotel Monterey Okinawa with a three-year-old.
8年ぶりの沖縄最高でした!
🐚 🌊 🐠 ☀️ 🏖 pic.twitter.com/r6AKxBtuqw

— Kay 🌙 (@tinyintokyo) July 19, 2022
At the end of the article, I'll share some places you can visit with your small children if you decide to check out the rest of the island.
Note that this is not a sponsored post.
---
Overview
According to their official website:
Hotel Monterey Okinawa Spa & Resort is a luxurious resort overlooking the famous Tiger Beach. We have realised our signature European theme by a unique fusion between the elegance of British Colonial architecture and natural beauty of Okinawa. We invite you to immerse yourself in ultimate luxury, comfort and relaxation.
Indeed, the hotel is absolutely beautiful and the service is excellent. We were greeted at the door and our bags were carried up to our room.
We booked an Ocean Bath room, which had (unsurprisingly) a bath overlooking the ocean. Staying in this room also gave us premium club benefits, such as free use of beach chairs and parasols (usually 2000 yen to rent) and free drinks in the Tea Lounge (although the draft Orion Beer is the only thing worth getting. Maybe also awamori if you haven't tried it or like it). We also got 6000 yen worth of coupons to use in the hotel, such as to buy souvenirs, drinks, snacks, or rent something to use in the water.
As expected, the room was big and gorgeous with a fantastic view of the ocean and pools. To quote my daughter, "Wow! Best ever!"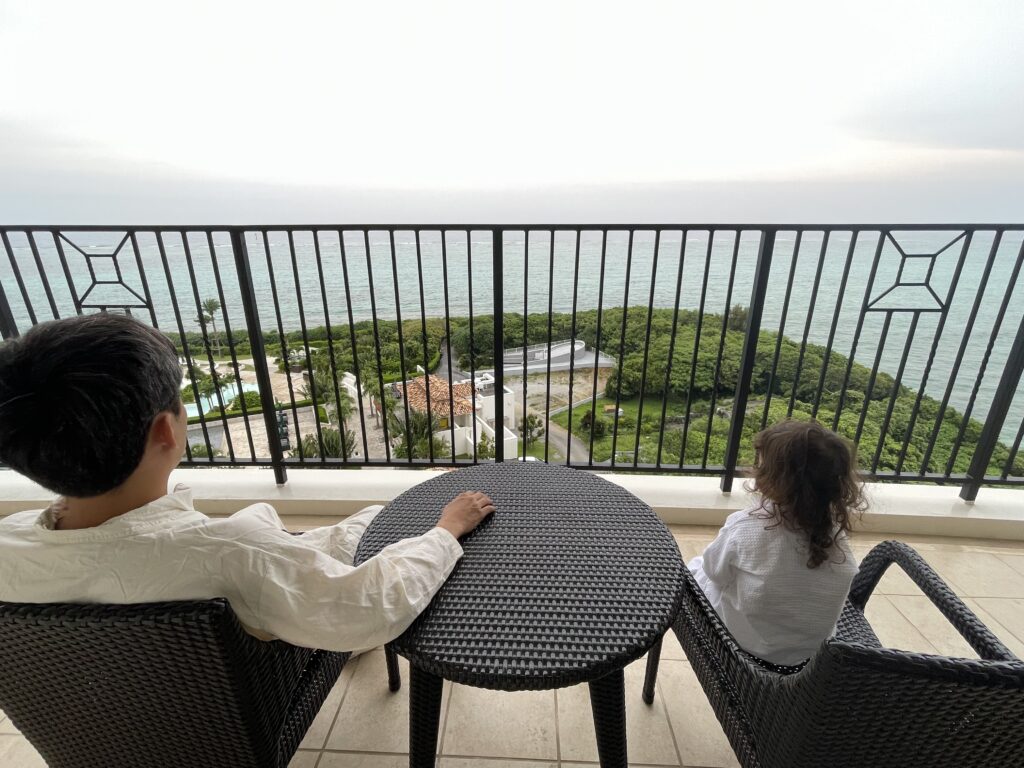 The room had two single beds pushed together, giving plenty of space for all three of us to sleep comfortably. The pajamas provided by the hotel were unbelievably soft, although the one for our daughter was a tiny bit too big.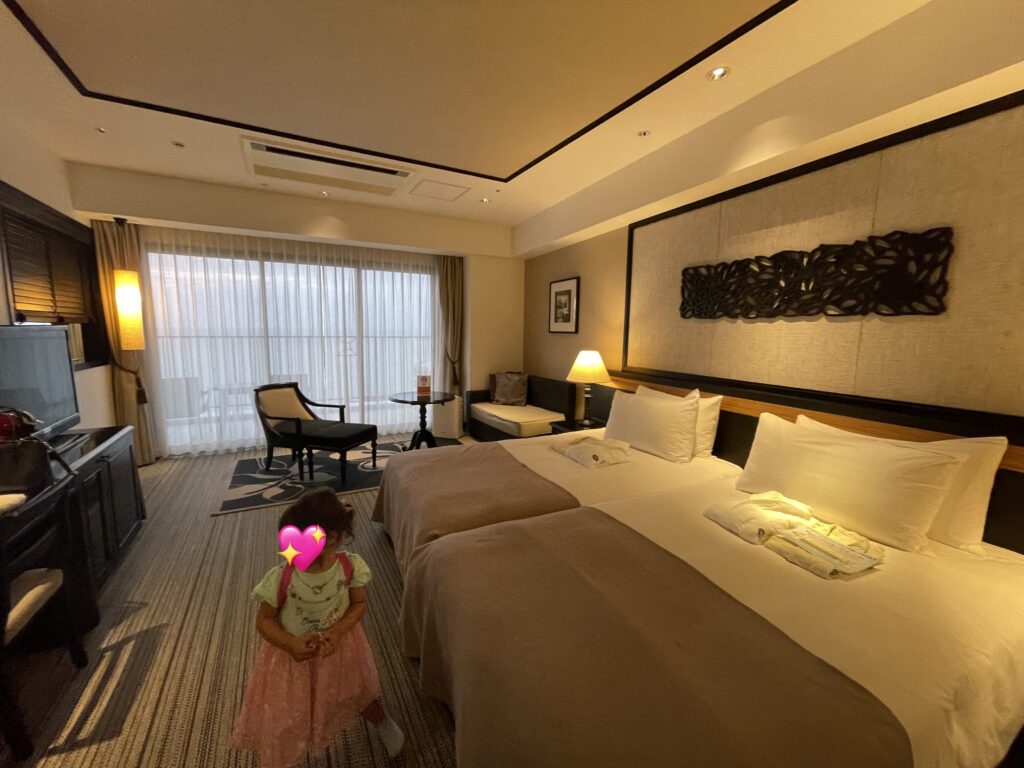 We got water and some free beach sandals, which was nice, as well as the usual amenities and a toothbrush for our daughter.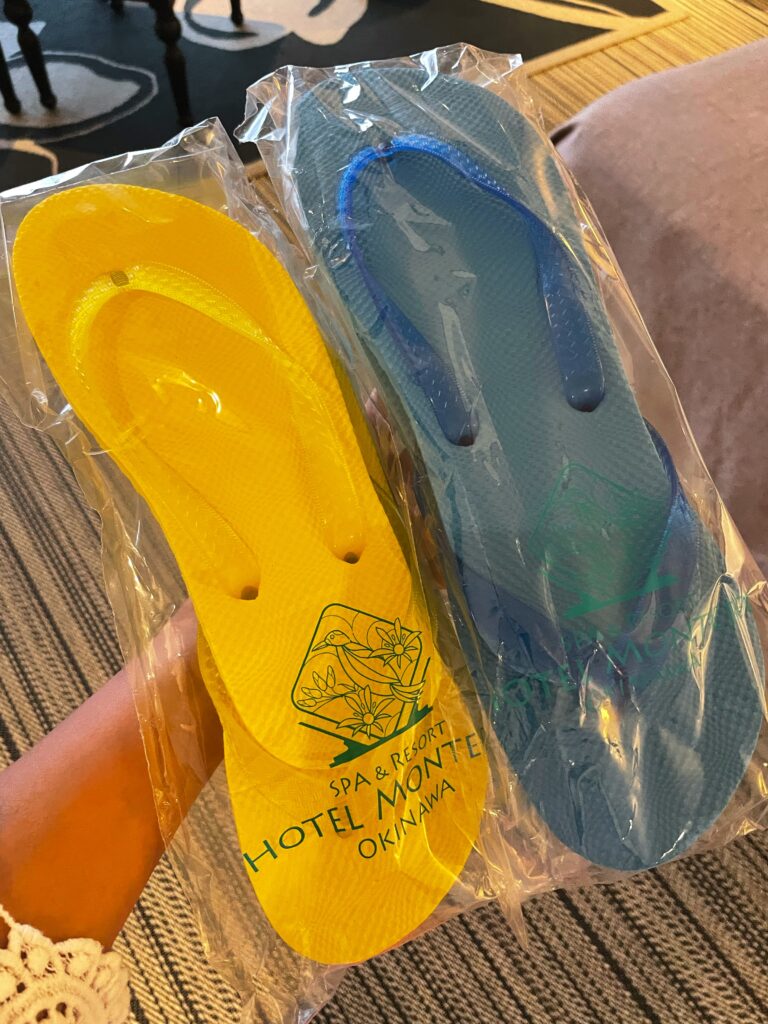 If you don't get the room cleaned, you get a 1000 yen coupon per day to use for something at the hotel. But with a toddler, we could only manage to go one day without having the room cleaned. The hotel was so busy that despite putting up a sign at 9 AM for cleaning, by 3 PM our room still hadn't been cleaned so we had to call and ask them to do it.
I also wouldn't recommend having your baby/toddler crawl on the floor of the room as people wear their shoes in the room (we didn't but stuck to slippers) and the floors aren't deep cleaned. I dropped some sunscreen on the floor and when I wiped it, the tissue was black with dirt (eek!). I guess this is common in western-style hotels, though. (I've been staying in ryokan for too long I suppose…) I felt that the outer corners of the tub could have been cleaned better as well as there were small black flecks of… something on there. We asked them to clean it again and the flecks were still there.
Food Options
Hotel Breakfast Buffet
Our plan included breakfast and we had two restaurants to choose from, one specializing in Japanese-style breakfasts and another with a buffet (Sea Forest). I'm not a fan of Japanese breakfasts so we went to the buffet breakfast every day during our stay.
You can also get room service for breakfast but the options are more limited. We weren't sure what would be included and since our daughter is so picky we decided that going to the buffet was the best option.
The buffet breakfast is quite popular, so if you don't want to wait, the best time to go is between 6:30-7:00 AM. Otherwise, you may be waiting for around 10 minutes for a table.
I didn't take a photo of the food unfortunately but here's what you can expect:
traditional Okinawan food
various types of bread
typical Japanese breakfast food (tamagoyaki, salted salmon, rice, natto, miso soup, etc)
typical Western breakfast food (pancakes, scrambled eggs, omelets, bacon, sausages, etc)
curry rice
banana smoothies (soooo good! And you can add rum to it if you like, although I didn't)
fruit
cakes, cream puffs
The quality is decent, nothing to rave about but a few things are bound to make you want seconds (their Okinawan yakisoba is quite yummy). It also wasn't too crowded when it came to getting food.
Despite the variety of food, including sweets, our daughter only really ate four things: corn, corn soup, a few bites of a croissant, and nori.
There are also some tables near the window so you can have a lovely ocean view, although if you go first thing in the morning, the windows can be fogged up and you won't be able to see anything.
Hotel Restaurants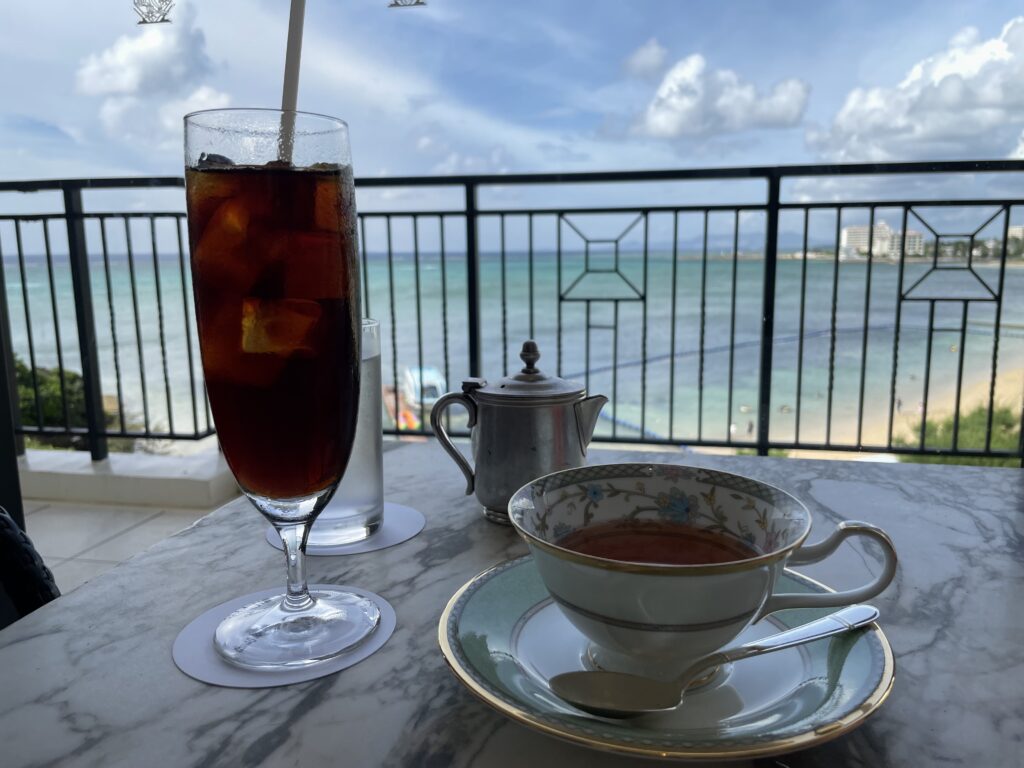 There are seven restaurants in the hotel, although we only went to three:
Sea Forest Buffet Restaurant
Restaurant Escale (French)
TEPPANYAKI Kobe
Zuientei (Japanese)
Tea Lounge (not many tables and not many options when it comes to food)
Tiger Beach Cafe
Sunset Cafe (surprisingly decent pizza, so it's nice to get something from here when you're at the pool)
Surrounding Restaurants
There are also plenty of other options for food outside of the hotel. There's both a LAWSON and Family Mart within walking distance (about 8 minutes) as well as several restaurants and izakaya specializing in traditional Okinawan food.
Two restaurants I can recommend are:
沖縄とんかつ食堂しまぶた屋 前兼久店

This place specialized in Okinawan tonkatsu and it's delicious! We had a variety plate of tonkatsu as well as shabu shabu and were stuffed. The breaded tofu is also divine. They have a little pickles bar too, so it's doubtful you'll go home hungry. Definitely a bang for your buck.

Breaded tofu

Shabu shabu

Tonkatsu moriawase
This restaurant is extremely popular, so you need to make a reservation to get a table. It's pricey but worth it. I love how the inside is decorated and the teppanyaki steak is fantastic. The drinks are also super cute.
Ishigaki gyu is amazing! 😍 also got lobster… from Canada 😂 pic.twitter.com/4dgAQbHpGz

— Kay 🌙 (@tinyintokyo) July 18, 2022
Fun in the Sun for Little Ones
One reason we booked this hotel was because of its pools.
The Hotel Monterey has four outdoor pools (located at Sunset Garden) and one indoor pool (Blue Reef). The outdoor pools include a wave pool, a pool for kids with a round, dome-like slide that they can jump on and then slide down (Bubble Hill Pool), a pool with a water slide for kids, and a pool for older kids (Main Pool).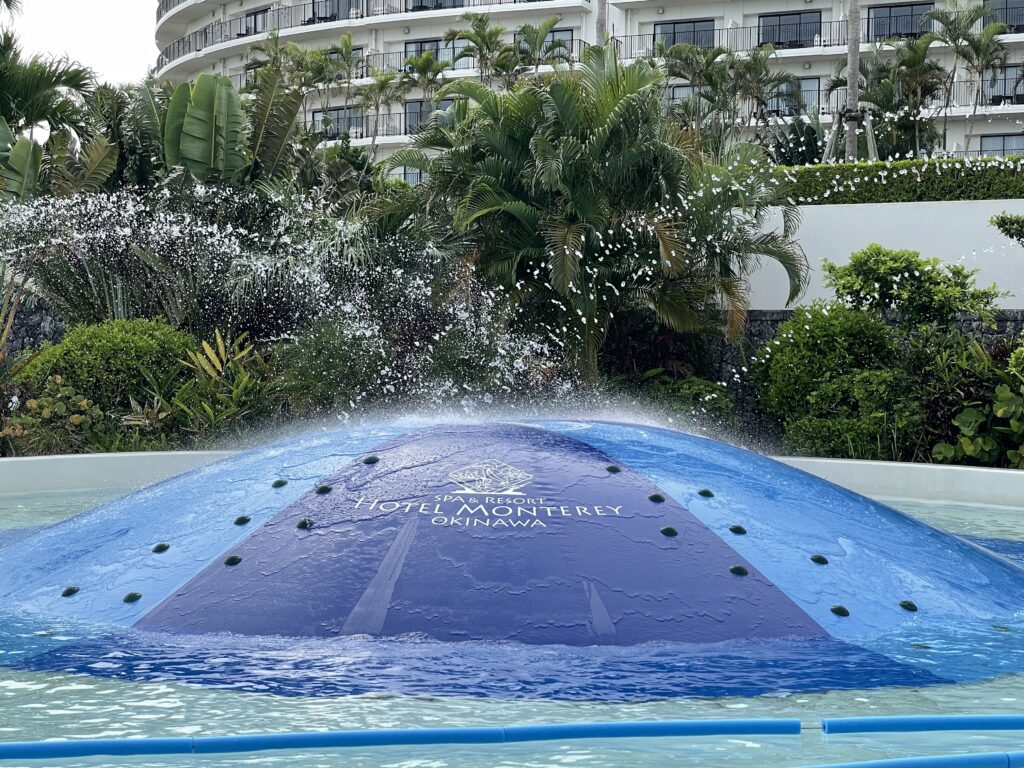 Although our daughter was old enough to use Bubble Hill Pool, she was too scared to attempt climbing it and we weren't allowed to go on it with her, so we spent most of our time by the wave pool as that was our daughter's favorite. She stayed there for almost six hours on our first full day at the hotel and had the time of her life.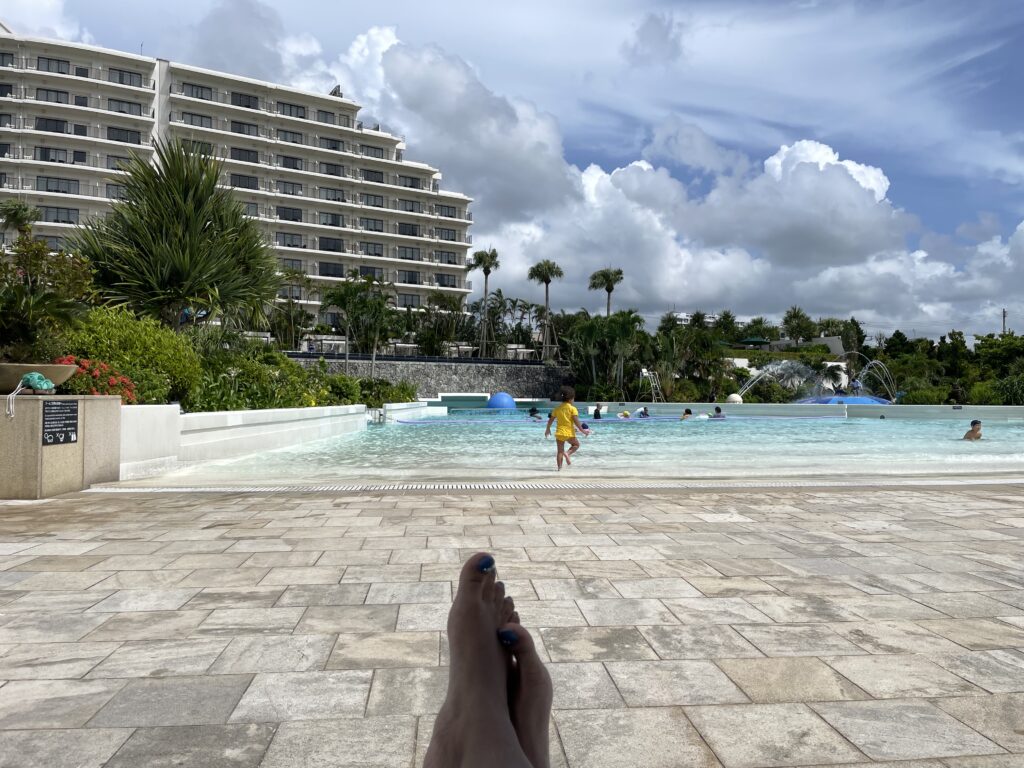 On the second day, she finally wanted to try the water slide, and my husband and I took turns going down it with her. Repeatedly. She loved it. And it was pretty fun (but we're also old and started to feel a bit sick after the 10th run.)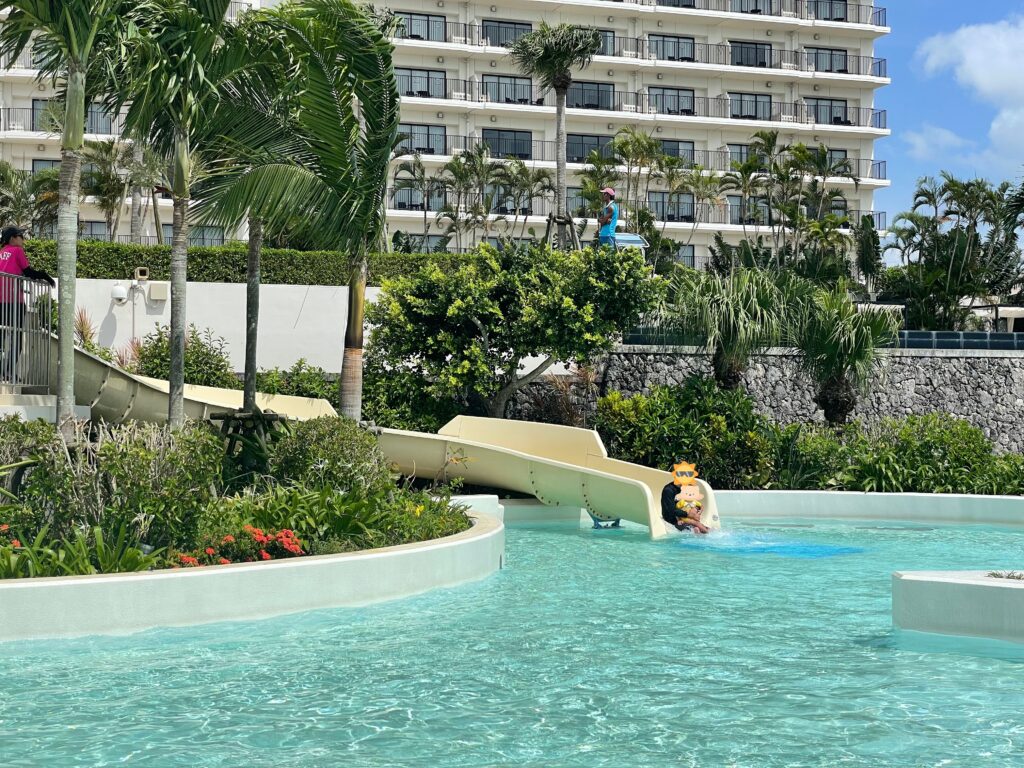 Our daughter was too small for the Main Pool but my husband and I took turns using it. It has a gorgeous view of the ocean, so it was nice to swim up to the edge and just float while watching the crystal blue stretch of water ahead. I could watch my husband and daughter go down the waterslide as well and wave to them.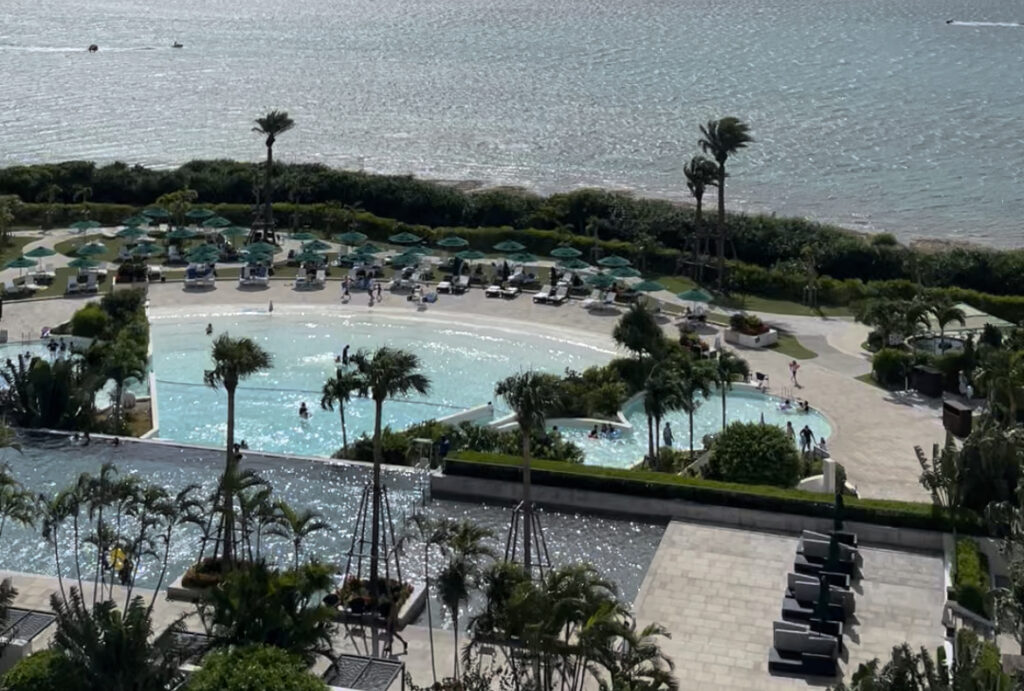 There's also a touch pool in Sunset Garden near the pool with the water slide, which has small fish, starfish, and sea cucumbers. My daughter was too scared to touch anything but she liked running to the touch pool occasionally and looking at all the different sea creatures.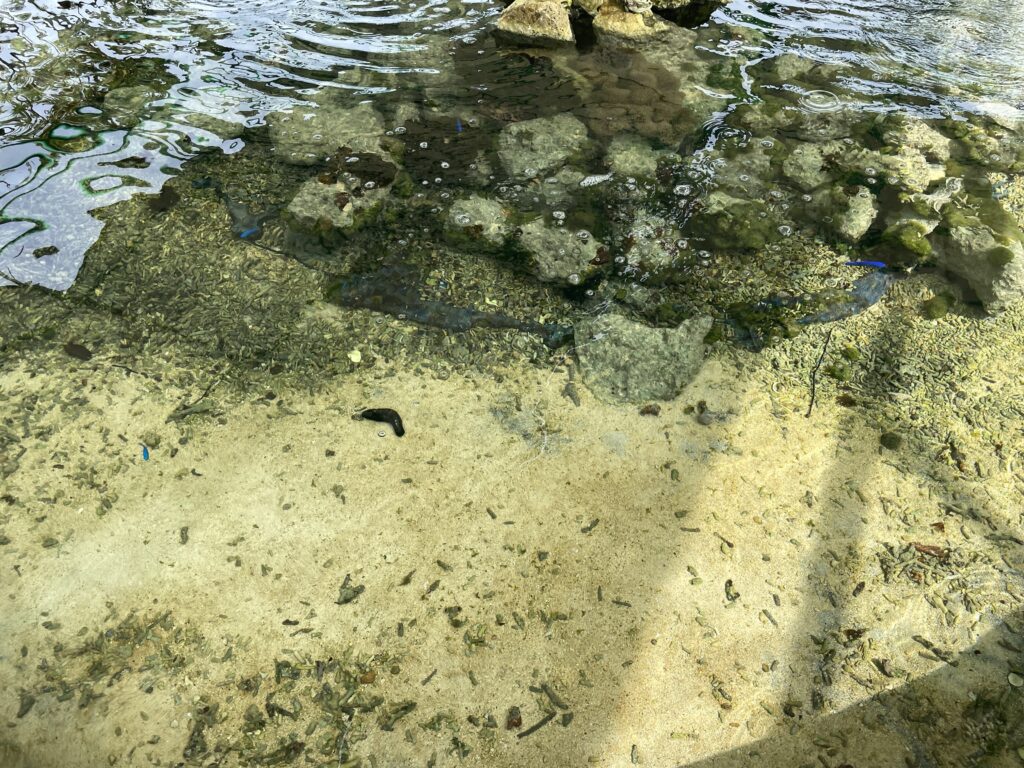 My only complaint is that the hours are too short (9 AM to 7 PM). By the time we arrived on the first day at 7 PM, the pool was closed.
The beach, Tiger Beach, is quite nice and kept very clean. However, it was quite windy during our stay so my daughter wasn't able to enjoy playing in the sand that much as the flying sand hurt. The wind also sent a parasol flying so they couldn't be used most of the time, making it too hot to stay on the beach.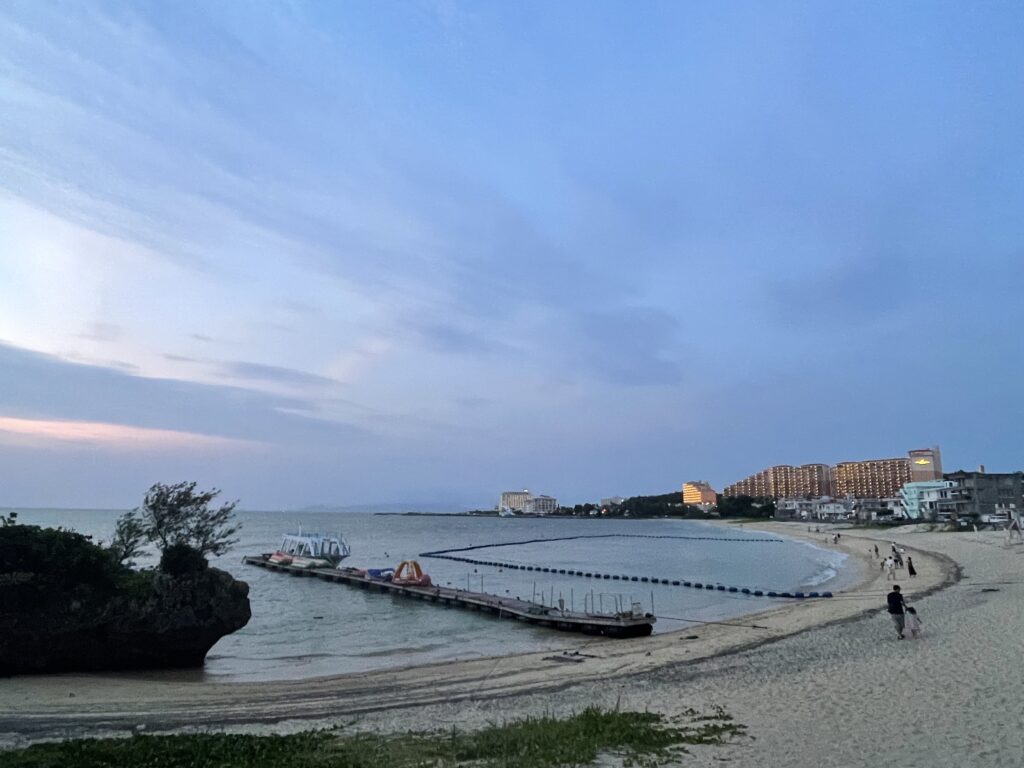 There are a variety of sand toys your child can use for free, so you don't need to bring your own (had I known this, I wouldn't have brought any!). They can also rent swim rings, although I don't think there are any for very small children.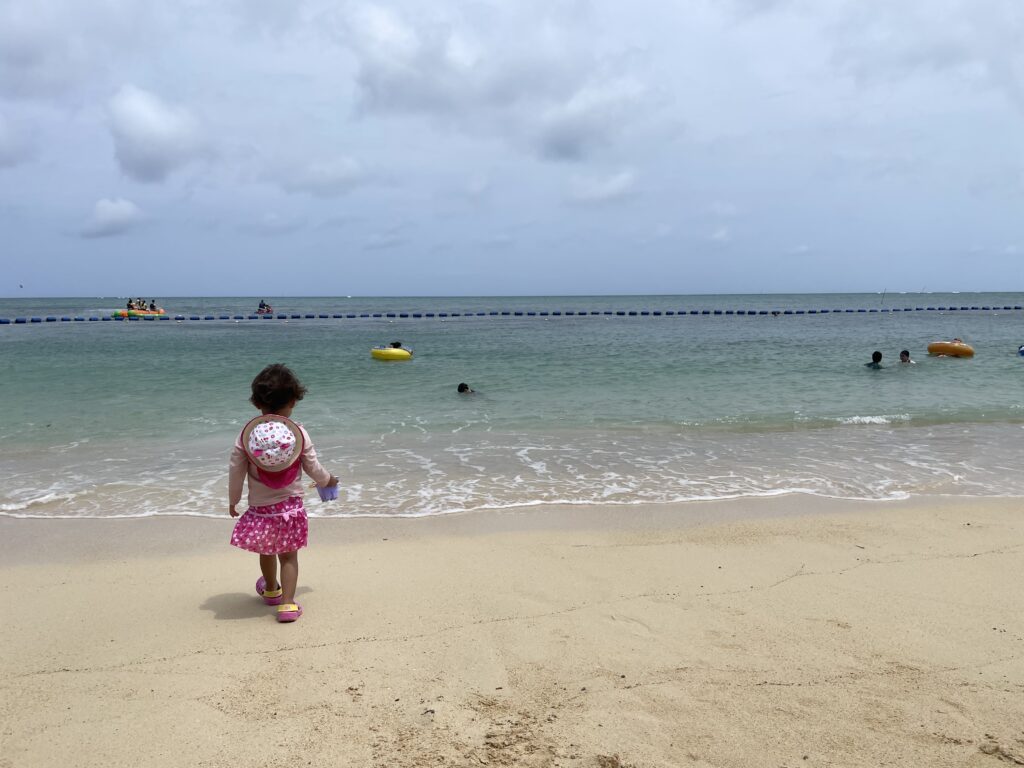 I spent quite a lot of time floating in the ocean in a swim ring while my husband watched our daughter, who was too scared to go in the ocean and instead stayed at the pool.
Other Activities
There are additional activities you can do with your child through the hotel, such as the following:
Cruise on a boat with a glass bottom
Paddle boats
Arts and crafts (like decorating clay shisa and making tropical-themed candles)
We didn't do any of these, though, due to time constraints and our daughter probably hating the first two.
Rainy Day Options
We were very lucky that it didn't rain during our stay although it was forecast to. However, if it does rain, there are some things your child can do inside:
Indoor Pool (Blue Reef)
We didn't use the indoor pool (although it looks like it has a small slide that toddlers might be able to use)
Playroom for Babies

Playroom for Toddlers (and up?)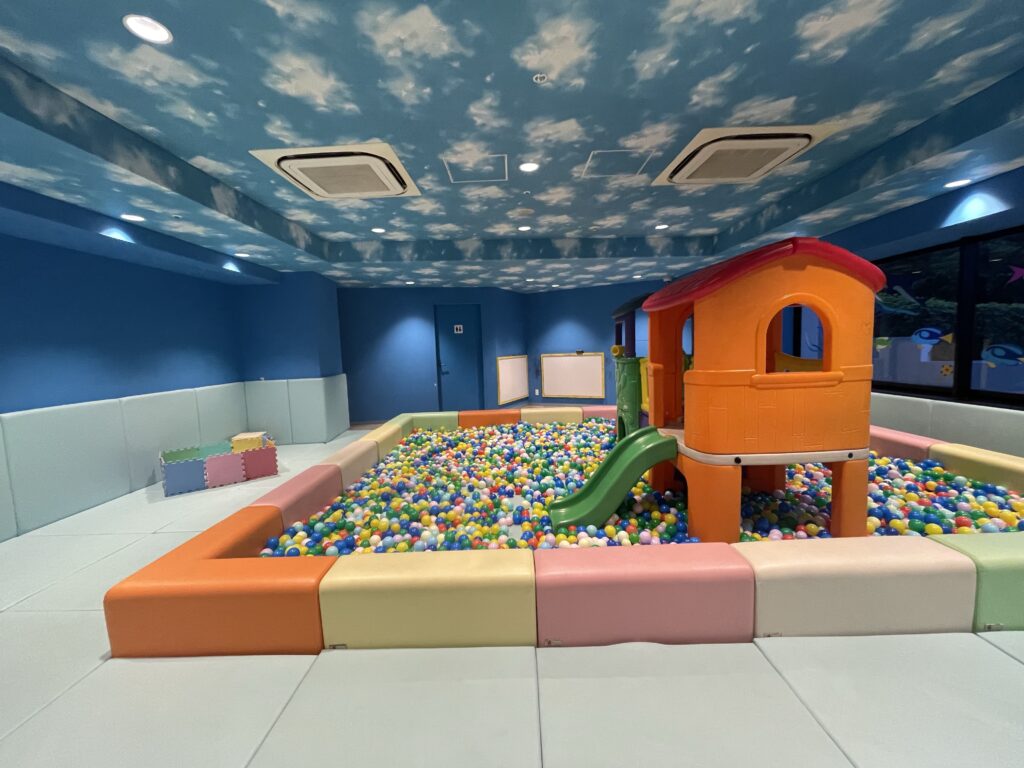 How to Get There
The Hotel Monterey Okinawa is located in the Kunigami District facing the East China Sea.
It's about an hour away from Naha Airport and if you don't have a car, you'll have to take either a taxi (around 10,000 yen one-way) or an airport limousine bus there (children ages 3-11 years cost 770 yen, and people ages 12 and up are 1,530 yen).
The limousine bus doesn't run that often and during peak season, the last bus is at 17:40, meaning if your flight is delayed like ours was, you may end up missing it. Our flight was 1.5 hours late, so we missed the 16:50 bus we had booked but thankfully we were able to rebook for 17:40. We had to run through the airport, with a toddler, to make it by the skin of our teeth.
I'm guessing the hotel doesn't have its own limousine bus because most people rent a car, but for those of us who just want to relax at the resort, it's unfortunate.
Overall
My daughter had a LOT of fun staying here and it was perfect for a three-night two-day trip without a car. If we were staying longer, a car would have probably been needed, or we would have moved to stay at another hotel for the other days.
It's not a perfect hotel but it does have a lot of things for kids to do, so if you want to visit Okinawa with a child and don't want to move around a lot, I would recommend staying here. I think it would also be a great place to visit for a babymoon if you just want to take it easy and lounge by the pool with the occasional dip inside.
And fun fact, it turns out my husband and I had visited this hotel back in 2014 when we were planning our wedding! We never ended up getting married in Okinawa and went for a traditional Japanese wedding in Hiroshima instead.
Husband and I just realized that we visited the hotel we're currently staying at the last time we visited Okinawa 8 years ago. We looked at the chapel for our wedding (top left) pic.twitter.com/Kl7wb5szx4

— Kay (@tinyintokyo) July 18, 2022
Where to Visit in Okinawa with Small Kids
Although we spent our Okinawa vacation relaxing at a hotel, here are some places I would recommend taking your kids if you feel like exploring the rest of the island.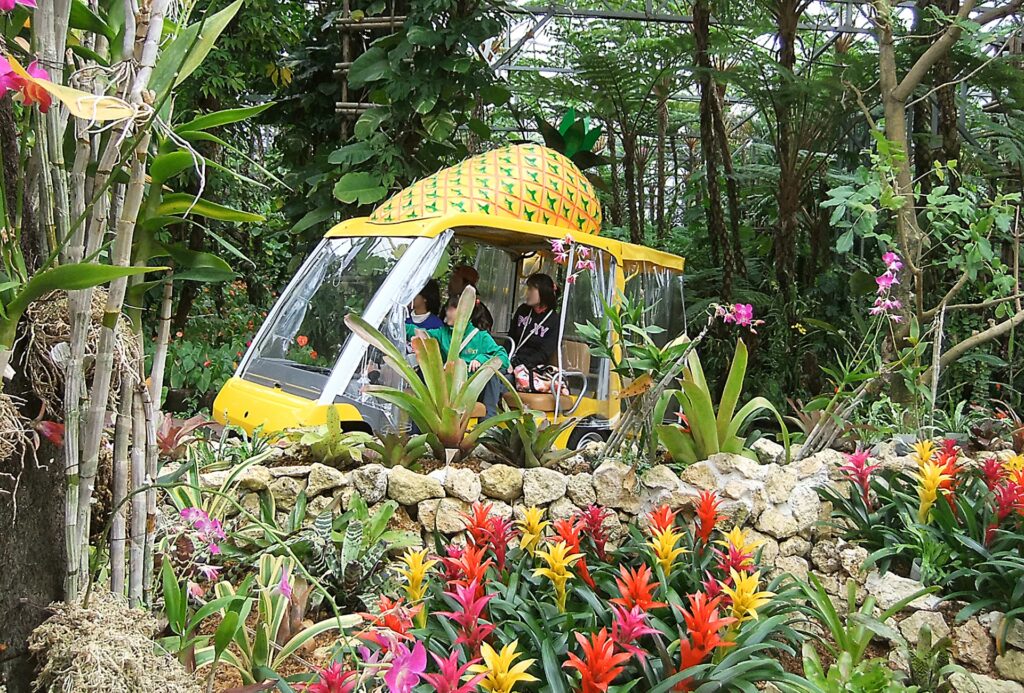 Unsurprisingly, this is a park featuring pineapples! You can explore the lush grounds in a Pineapple cart, see pineapple mascots,  and try pineapple treats. I visited back in 2010 but I would happily bring my daughter here on another trip!
One of the largest aquariums in the world, 
Okinawa Churaumi Aquarium lies
on the coast and boasts tons of aquatic wildlife, including whale sharks. They also have dolphin shows and a deep sea tank. I've visited twice and I look forward to bringing my daughter here on our next trip.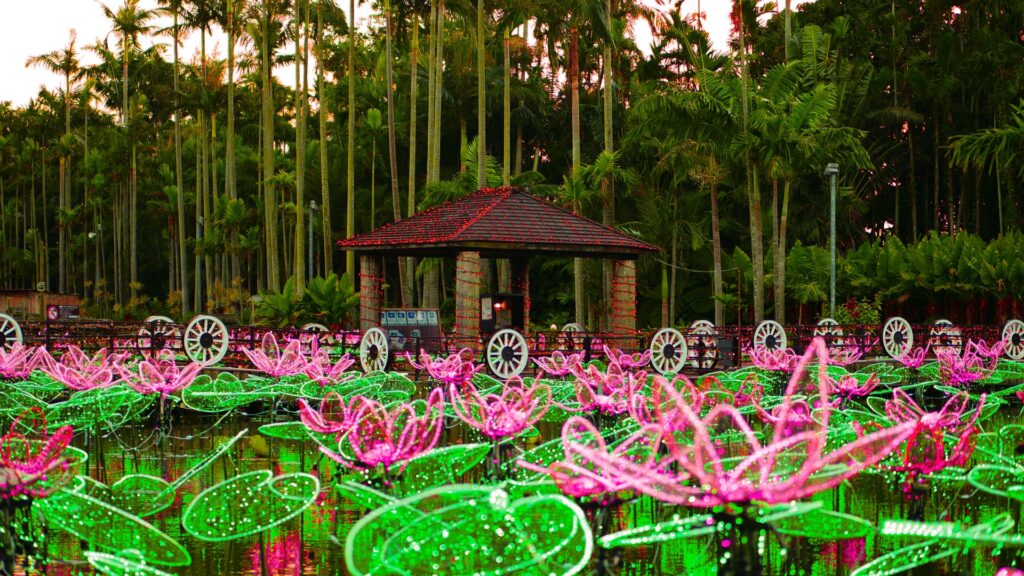 If your child enjoys gardens and illuminations like mine does, then they'll have fun exploring the lush grounds of this garden. They can also see various animals such as monkeys, tropical birds, and capybaras.
I love the atmosphere here and find it's an enjoyable place to walk around and take photos, especially with the fun benches.
---
Have you been to Okinawa with your little one before? Where would you recommend staying or visiting? Let me know in the comments!