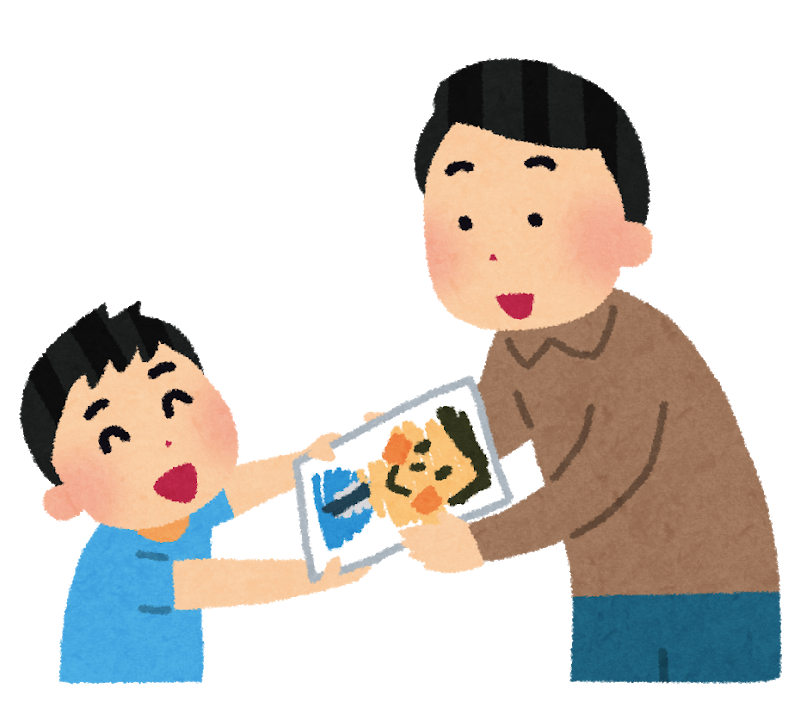 Easy Father's Day Handmade Gifts from Babies and Toddlers
Father's Day (父の日・chichi no hi) is right around the corner but finding the perfect gift can be challenging. In Japan, Father's Day falls on the third Sunday of June every year. Common presents include sake, beer, snacks, or something handmade. My husband loves gifting me with handmade cards, so I've been returning the favor by giving him something handmade by our daughter. Handmade gifts are not only cost-effective but are also one-of-a-kind. It's also a great way to capture a time in your child's life and development, whether through a handprint or footprint, a photo, or their artistic scribbles (there's a story in those lines, I'm telling you!).
So to help any parents out there who are looking for the perfect Father's Day gift that's handmade, here are six simple DIY presents that I've found on YouTube that any tiny tot can help out with. Although most of these videos are in Japanese, they are easy enough to follow that you don't need to understand the language to be able to make the craft. The last video, however, is in English… in fact, it's made by me and my daughter!
Handmade Footprint Tie Message Card for Father's Day
This one is super easy and adorable! All you need is a piece of construction paper, a white piece of paper, finger paint, and something to write with. For child-friendly paint, I recommend てのひらえのえのぐしろくまくん and PALM COLORS.
Father's Day Handmade Key Hook Present
This is a functional present that's you can make with kids ages 2-5 but it does take a bit more work on your part. To make this key hook, you need a is a frame, construction paper, finger paint, glue, scissors, crayons, double-sided tape, a black marker, a photo of your child, and a hook for the key. Pretty much all of these items can be found at any 100 yen (dollar) store. As mentioned earlier, I recommend てのひらえのえのぐしろくまくん and PALM COLORS for child-friendly paint. If you're looking for baby and toddler-friendly crayons, check out Baby Color Crayons (my daughter LOVES these).
Handmade Uchiwa (Japanese fan) Gift for Father's Day
July in Japan is hot so what better gift for Father's Day than an uchiwa? For this one, you can be really creative and glue on your child's pictures or handprint/footprint, have them color on it, and decorate it with stickers. The possibilities are endless!
DIY Father's Day Photo Frame Present

This gift gets points for reusing something you likely have in your home — a milk carton! Along with that, you need a hole punch, string, construction paper, crayons, glue, scissors, double-sided tape, and a photo of your child. This is another craft where you can be creative with your child and have them decorate the construction paper that will be the frame using finger paint, crayons, and stickers.
Handmade Mask Holder Gift for Father's Day
This is both super creative and useful — a case for masks! You can reuse any paper shopping or gift bag for this craft. You also need to pick up a scratch prevention sheet (ひっかき傷防止シート), snap fasteners (メタルホック), double-sided tape, white paper, and crayons, which you can find at any 100 yen store. This is another gift that your child can decorate with crayons and you can put a footprint/handprint inside.
Father's Day Handmade Bookmark and Coaster
In this video, my daughter A and I share two easy handmade Father's Day gifts — a coaster and a bookmark. I wanted to make something that used things I already had in the house (and most people in Japan likely will as well), that my daughter could help out with and put her personal touch on, and was functional. Everything you need can be found at Daiso or any other 100 yen store and you can get the paint on Amazon Japan (てのひらえのえのぐしろくまくん or PALM COLORS ). I also got the crayons, Baby Color Crayons, from Amazon Japan as well and as you'll see in the video, these crayons are very easy for toddlers to use.
Please leave a comment and me know if you try making any of these DIY Father's Day gifts! I'd love to know how it went.