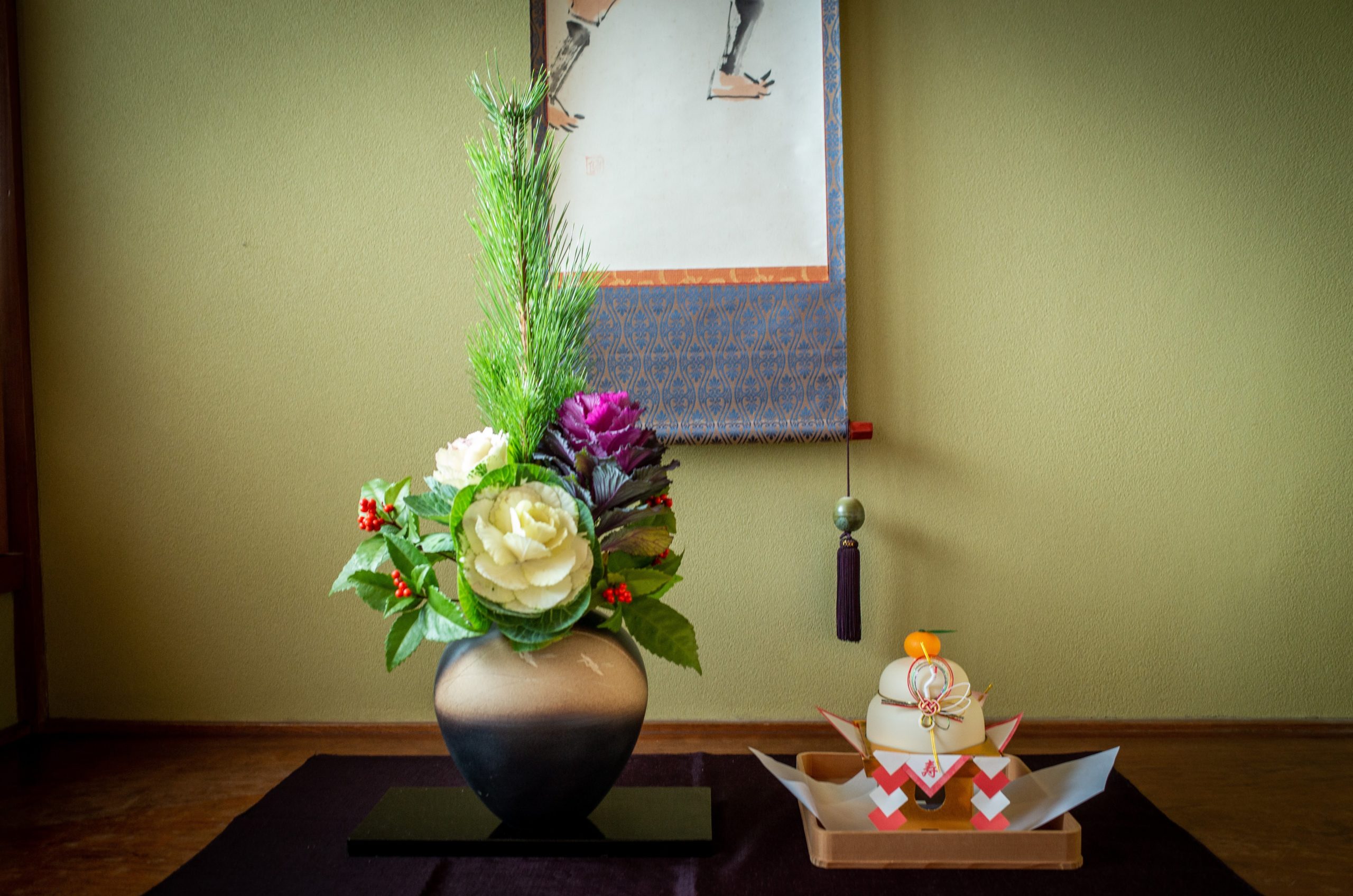 Baby's First New Year's in Japan
Ever since my husband and I moved back to Japan, we have spent every New Year's at his hometown in Hiroshima. It's something I always look forward to and this year was especially exciting as we would not only be introducing Baby A to the rest of my husband's family but also meeting my cousin-in-law's daughter who is around the same age as Baby A.
In the past we went to Hiroshima before New Year's Day and spent New Year's Eve with my in-laws watching 紅白歌合戦 (Kouhaku Uta Gassen), a special show on NHK that's aired only on New Year's Eve where popular artists sing new and traditional songs, and eating 年越しそば (toshikoshi soba), a simple New Year's dish that symbolizes crossing into the new year by letting go of hardship. This year, however, we decided to ring in the new year in Tokyo and then head to Hiroshima on January 1st via Shinkansen.  
On January 2nd, my mother-in-law woke up at 5 AM to start preparing osechi ryori, which is traditional food eaten on New Year's, as well as other dishes. Normally I would help out but as I was busy with Baby A, my husband and in-laws lent a hand at setting up. There were fifteen family members who would be coming over to celebrate the new year, which meant a lot of work for my in-laws.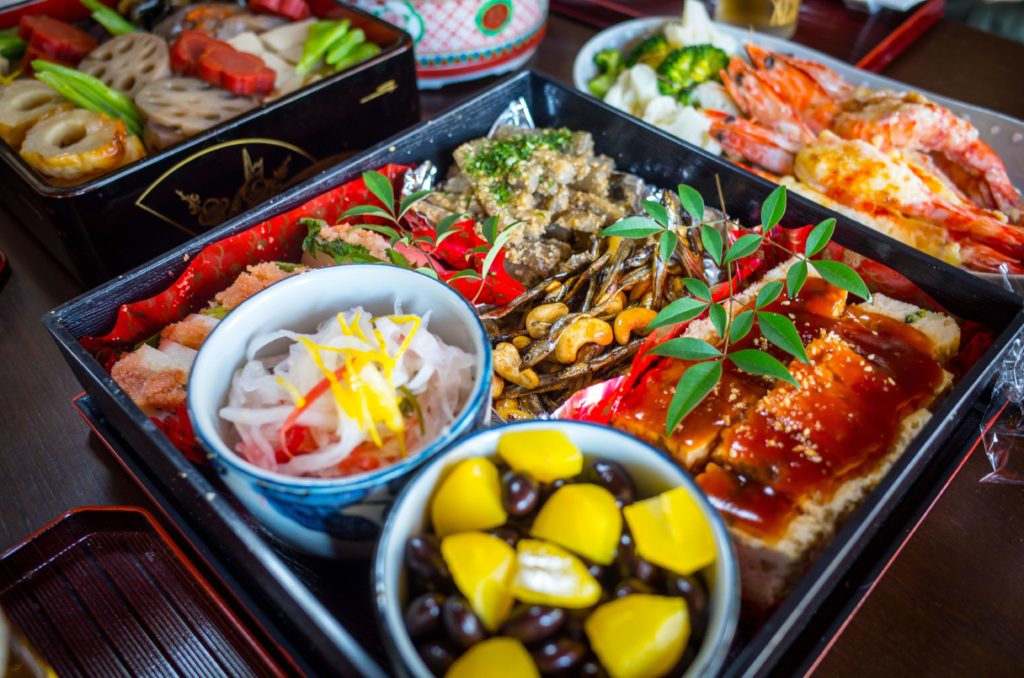 Osechi ryori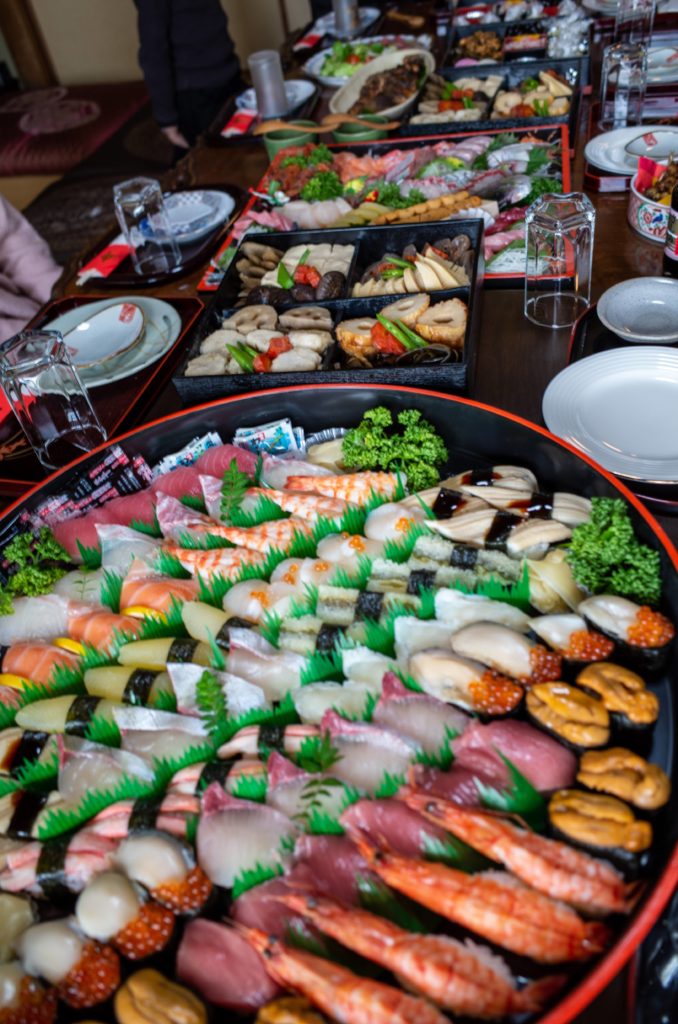 What would a New Year's celebration in Japan be without sushi?
Family began arriving at 10:30 AM, the first being my cousin-in-law, her husband and their two daughters, O and R. At last year's お正月 (oshogatsu), my husband and I announced our pregnancy to the family, and we were surprised when my cousin-in-law had the same news. In fact, our due dates were only two days apart! Due to complications, however, her baby was born a month and a half before Baby A and was in the NICU for two months. We were so happy and relieved when she was discharged and even more so to finally meet her almost half a year later. R was a bit smaller than Baby A and very calm in comparison. It was fun to see the two babies interact with each other (Baby A may have taken a rattle from R, oops) and to talk with my cousin-in-law about baby-related topics.

New Year's in Japan usually involves eating, talking, and eating again, which is exactly what we did. Children also receive お年玉 (otoshidama), which is a monetary gift given in a small, cute envelope from family members. Baby A readily grabbed her お年玉 from her aunts and uncles, causing them to laugh and comment that she already knew the value of money. After consulting with each other, my husband and I decided to open a bank account for her and deposit any monetary gift Baby A receives. We're not sure at what age we will give her access to her account, however.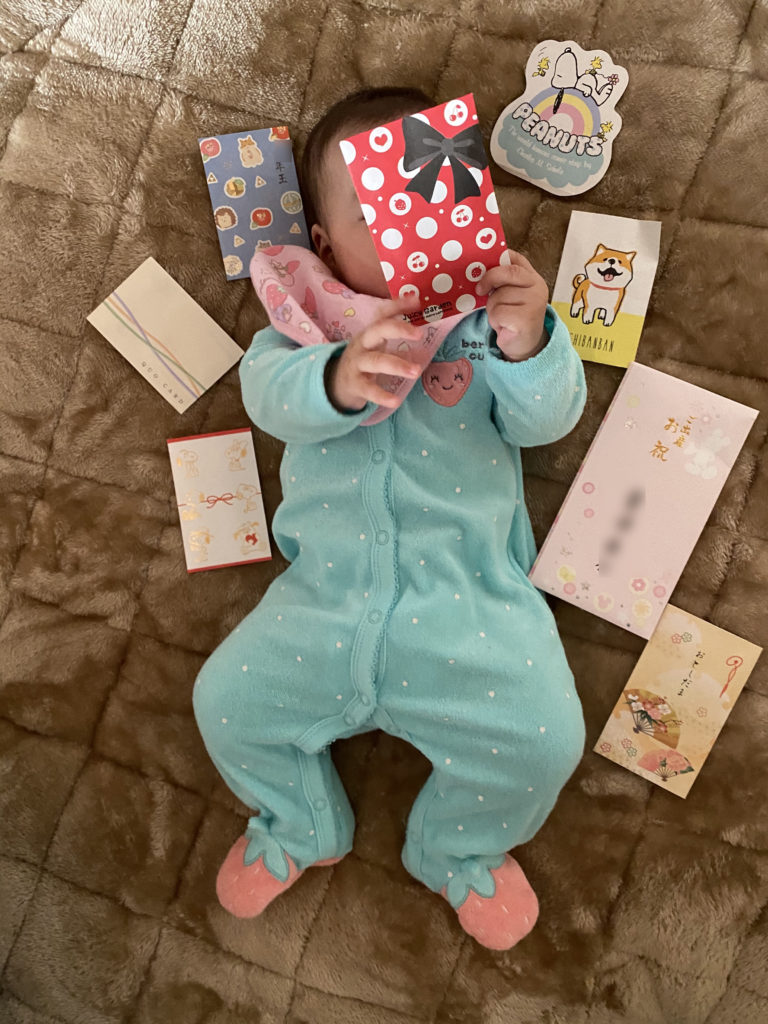 Checking out her お年玉
Baby A enjoyed playing with her cousins, all girls ranging from 5 months to 10 years old. (We like to joke that it's the 女子会時代, or Girls Party Generation.) Even Baby A's 3 year old cousin couldn't get enough of hugging her and patting her head while saying, "よしよし." It was adorable. There are no children around Baby A's age on my side of family so I'm very grateful that my husband's side has so many children. She also got to meet her great-grandfather, who is almost 90 years old and usually bedridden but put on his finest outfit and came to visit to see his newest great-granddaughter. None of my grandparents are still alive so it was unbelievably special for me to see Baby A being held in his arms.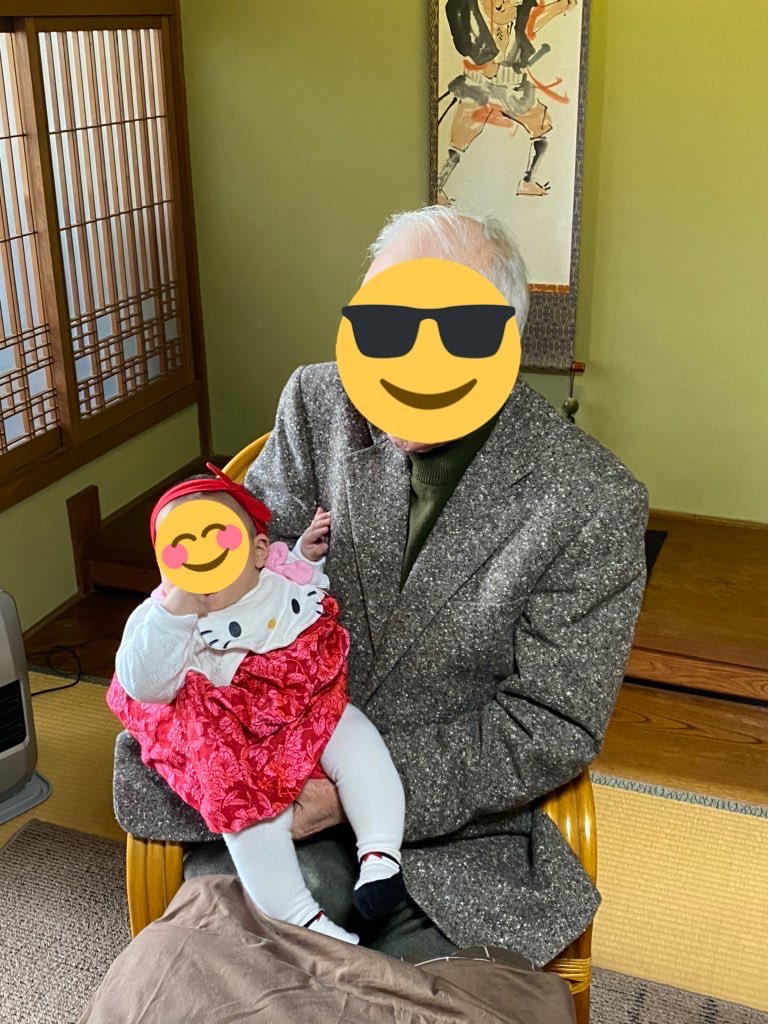 Baby A with her great-grandfather
Near the end of our trip, we went for 初詣 (hatsumoude), which is the first shrine visit of the year. After giving a small offering and praying at the shrine, we drew our fortunes and my husband and I both got fairly good ones. 2019 had been the most eventful year of our lives so we can only imagine what 2020 has in store for us as new parents.