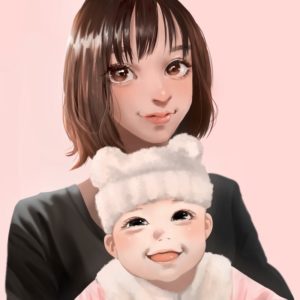 Hi, I'm Kay! Thanks for stopping by!
I'm a Canadian mom who worked at a Japanese office in Tokyo for six years before moving to Osaka in late 2021 and becoming a freelancer. (For an explanation of why I'm not changing my blog name despite now living in Osaka, check out this post!)
In November 2018, my husband and I were overjoyed to find out that we were expecting our first child, expected in July 2019. However, being pregnant in a foreign country came with many questions and concerns, so I decided to start this blog to share my journey as a mother-to-be, a new mom, and now the mother of a toddler in Japan.
There are many resources on pregnancy, childbirth, and child-rearing in general. However, although these stages in life are universal, there are a lot of differences in terms of how different countries approach them. There is some information available in English on having and raising a child in Japan; however, it's relatively scant, which is why I want to share my experiences, as well as those of other foreign parents, and provide as many resources as possible so that future parents in Japan aren't on Google 24/7 or asking numerous questions in Japanese on Twitter (like I was).
As I also have a MA in Psychology, I hope to use this platform to share my knowledge about cultural differences in development as well as pregnancy and child-rearing. 
If you're a parent or a parent-to-be and have any questions or need support, please don't hesitate to contact me. You can also contact me for freelance writing or translation opportunities. 
Please also note that none of my posts are sponsored as I want to provide my honest, bias-free opinion and reviews on products related to pregnancy, child-rearing, and life in Japan as well as places that I visit with my family.